Okay, I'm gonna risk the wrath of bookworms all around the world, but I'm gonna say it - listening to audiobooks is easier.
We all have busy schedules and need to multitask, so that's the logical way to enjoy a good story.
Still with me? Okay, good.
So, what is the best audiobook service on the market?
We looked at all the top options out there and singled out the very best among these services.
Some of the most important things we looked at include:
LIbrary size

Genres available

Deployment

App features

Pricing plans

Free trial

And more
With that said, let's check out our seven best audiobook services at the moment.
Read More
How To Choose the Right Platform
So, how do you decide what's the best audiobook company for you to turn to?
Let's look at the key things to pay attention to:
Library size
Probably the first thing you may want to consider when signing up for an audiobook service is how many titles it offers.
Audible is the absolute king when it comes to library size with its 425,000 titles. However, some other services have been growing their databases and also offer hundreds of thousands of audiobooks.
Genres
It's not only about how many titles a service offers, it's also about what you can get.
Some platforms specialize in certain niches, meaning that they're not necessarily the best option for every user out there.
For example, Audible has the majority of the highest-rated audiobooks, including the most popular titles at the moment. At the same time, services such as Blinkist focus on non-fiction, making them a more suitable option for students or anyone doing some kind of research.
Deployment
Also, consider this when you're choosing between several services - do they have an app? Is it available for the devices you usually use?
You don't want listening to audiobooks to become a chore, so the easier you can make it, the better.
The good news is that the majority of top audiobook options work on all mobile devices. So, whether you have an Android or iOS, you should be able to run them. They also often offer PC apps you can use.
Those without an app require you to download the file and transfer it to your device. While this requires some technical know-how on your part, it's nothing most users shouldn't be able to handle.
App Features
Apps also offer an array of features that can help you have a better overall listening experience. Usually, they have customizable reverse and fast forward buttons that ensure you can quickly skip between different scenes.
With listening to the human voice is one of the most effective techniques to put yourself to sleep, many users need a sleep timer.
Audible even has a car mode for those who enjoy listening to audiobooks while driving.
Pricing Plans
If you want the best audiobook subscription for you, it also has to fit into your budget. Top services range from entirely free to monthly credit you can spend on bestsellers and other popular titles.
Some platforms, such as Scribd, even offer unlimited access to their libraries as long as you have a monthly plan. They usually lack the latest and most popular titles, though.
The free trial available in the deal is another thing to consider as it's usually the best way to test the platform before subscribing. Most of the top platforms offer it, but you have to leave credit card info when signing up for it. Then, you can cancel your subscription before the company charges you for the first time.
Wrap Up
There you have it:
Now you're familiar with the best options on your market. Finding the right audiobook subscription service shouldn't be tough, no matter how niche your taste in literature is.
So, what's the next title on your to-listen list?
What is the cheapest way to listen to audiobooks?
LibriVox is free! It offers a public domain library with classics and non-fiction audiobooks. If you want a cheap audiobook subscription with newer titles, you can join Kobo for $9.99.
Which audiobook service is the best?
Audible, owned by Amazon, is the best audiobook service you can opt for. It has the largest audiobook library with over 425,000 titles.
Is Audible free for Prime members?
No, Prime membership doesn't include Audible. You need to sign up for Audible Plus or Audible Premium Plus subscription. Prime members do, however, get certain perks compared to other users.
How can I listen to unlimited audiobooks?
Only some audiobook services offer access to unlimited audiobooks. Scribd has the best such deal on the market.
Is there a Netflix for audiobooks?
Netflix doesn't offer audiobooks but if you want a similar service, Scribd is the closest thing. It's the best audiobook service if you want unlimited access to a library of audiobooks.
Dejan Cvetnarevic
Dejan is a techie at heart who always dreamed of turning his fascination with gaming into a career. He finds working for TechJury a perfect opportunity to express his views of all kinds of different software. Being an avid reader, particularly of fantasy and sci-fi, Dejan pursued a degree in English Language and Literature. When not at his computer, he's watching sports or playing tabletop games.
Leave your comment
Your email address will not be published.
You may also be interested in:
14 Best Video Streaming Services for 2023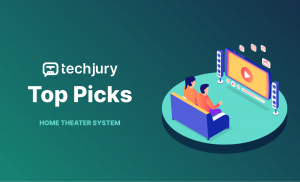 18 Best Home Theater Systems for 2023
11 Best 8 Inch Subwoofers for 2023