For good tracks to sound great, monitor speakers are a must.
We know they aren't cheap, but that's not entirely true!
In fact, we found some of the best budget studio monitors out there.
We reviewed 12 affordable studio monitors, so take a look at:
Their specs, design,

sound

quality, special features, and performance.

How they perform compared to stereo speakers.

What you should consider when buying this audio equipment.
Ready to go?
Read More
What Is a Studio Monitor?
Also known as loudspeakers, studio monitors are built to reproduce sound in its raw and uncolored state.
Audio engineers refer to its sound output as having a 'flat response'. It means that audio frequencies aren't enhanced or de-enhanced so you can get an accurate playback. Monitors are the standard equipment for home and professional studios, as they are meant for recording, editing, and mixing tracks for production.
Simply put – if you want to hear the truth in your music, use the best studio monitors.
Studio Monitors vs Speakers
Although we loosely refer to them as speakers, studio monitors have a clear distinction from the other.
Let's take a closer look.
Stereo speakers are built for one thing – to sound good. Their job is to enhance your audio playback. Whether it's to amp up the bass, amplify the mid-tones, or enrich the highs, speakers work to please your ears.
Studio monitor speakers, on the other hand, are focused more on delivering an accurate playback. It reproduces audio waves and frequencies as they are – flat and uninterrupted. As a result, the tracks you play may not be the most mind-blowing sound, but they are the most truthful. It's an essential quality if you're creating music, and you want to spot the tiniest details in your mix.
So – between studio monitors vs speakers, who wins?
Speakers are a much better option if you're using them for entertainment avenues, like a music lounge or a home cinema. But if you're into music production, video editing, or gaming, the best budget studio monitors – like the ones on our list – are what you need.
What Should I Know Before Buying a Studio Monitors?
It's hard to score a cheap studio monitor with uncompromised quality. We've laid out a bunch of great options here.
But if you still find yourself questioning which one is for you, these might help.
Frequency Range
One of the most important things to consider in choosing the best studio monitors is the frequency range. It's a great measure of how well your loudspeaker can reproduce the sound across the audio frequency spectrum. Most monitors we've included on our list fall between the 80hZ - 20 kHz response, which is the key to getting a clear and accurate output.
Connection Type
What do you plan to use these monitors with?
Good connectivity guarantees that you can integrate the best budget studio monitors with some of the most essential gadgets we use for music. That includes, but not limited to:
computers

audio interfaces

mixing consoles

smartphones

turntables

record players

boom boxes
And a lot more.
For this, a stereo RCA and aux input is a must for flexible usage. These will allow you to connect your audio set to all line-level sources you have in your studio.
Modern studio monitors are built like wireless speakers, too. Through WiFi or Bluetooth connectivity, you can use these professional loudspeakers for casual listening or streaming as well.
To name a few options, the best Bluetooth studio monitors are the IK iLoud Micro Monitors, JBL 1 Series 104-BT, and Edifier R1280DB.
Active vs. Passive
Active studio monitors have a built-in amplifier. They are self-powered, so they don't require an external source to be able to reproduce the sound. On the other hand, passive studio monitors require an external power amplifier connected through a speaker wire.
Most of the monitors we've included on our list are the best powered monitors on the market. So, no need to worry about an extra amp purchase if you pick one above. If you prefer to have a passive monitor set, however, the Mackie CR4 is a two-speaker combo of an active and passive monitor.
Field
All monitors have their own listening configurations. Audio engineers refer to them as near-field, mid-field, or far-field. It basically describes the amount of space these monitors can fill with their sound, while keeping the accuracy and consistency untainted.
Near and mid-fields are often used for listening in smaller spaces. They are meant to sit close to the listener as the sound is directed straight to your ears for a closer listening experience. The best nearfield monitors include the PreSonus Eris 3.5, KRK Rokit 5 G4, JBL 305P MkII, Mackie CR3, and ADAM Audio T7V.
Meanwhile, far-field monitors have the ability to reproduce sound that's optimized for a larger room. So even if you move around while you listen to your mixes, you won't miss a detail. One great example of this type of field is the PreSonus Eris 4.5.
Price
Professional mixers and audio engineers usually spend around $1000 to get good studio monitors. But not all great sets are that expensive. All monitors we've included on this list are all budget options. But if you're really taking it down to the wire, just take note of these price points:
The best studio monitors under 100 bucks include the PreSonus Eris 3.5 and the Mackie CR3.
If you have the budget, you can invest in mid-range sets like the IK iLoud Micro Monitors and Adam Audio T7V. These are slightly higher price points but are still under the 300-dollar mark.
All the rest fall into the category of the best studio monitors under 200 dollars.
Top Recommendations and Reviews
Acoustic Tuning
Available
Wondering where you can find the best studio monitors under 200 bucks? There's one right here.
The PreSonus Eris 3.5 is a studio monitor pair you can get for just $99. With its sleek profile and attractive price tag, this dual set is easy on the eyes. It's light and compact, so if you like to prop up some speakers on top of your desk, this would be a great option.
For its low cost, the overall build is quite impressive. The exposed composite woofers reproduce low frequencies very well, and the silk-dome tweeters handle the high end just the same. It isn't as premium as other well-known brands, but the quality is still above standard.
Main controls sit on the front, which makes for an easy maneuver. You'll find the power switch, volume knob, and plug jacks for aux input and headphone output within quick access. Additional RCA and TRS inputs also allow for more flexible usage. You can connect them to any line-level source you may have. Clearly, these are good studio monitors with a bunch of connectivity options.
All these pieces – put together into one fine-looking set. The matte black finish adds an extra layer of elegance too!
And the best thing about it? It's designed for multimedia use. Whether it's for multi-tracking, editing, audio mixing, gaming, or straight-up listening, you can count on these units to sound great. Ultimately, it's a great tool for music production.
But sounding great isn't the only thing you should expect from a monitor speaker. Its real purpose is to clarify all the sound elements on your track, so you can get accurate playback. This set does that successfully. The sound is perfectly balanced, and all frequency responses are clear and crisp. Not much of a surprise, since it offers a good range of 80 Hz - 20 kHz response. That makes it one of the best home studio monitors.
The bass is solid, but to get a more punchy response, these monitors will need a separate subwoofer. But that's just a little extra. On their own, they still do good and have everything covered in the audio aspect.
You can also manipulate the set's built-in acoustic tuning controls. That way, you can properly calibrate the sound according to your space. Just keep in mind that it's a nearfield monitor, so its max potential is best used in smaller spaces.
Not a lot of small studio monitors perform this well, that's why we think the Eris 3.5s are a complete standout.
So if you're on a real low budget but still want your speakers to sound exquisite, this set is made for you!
If you're searching for nearfield monitors that combine natural sound and great design, the KRK Rokits are an obvious choice. We've spotted these units in a lot of home and commercial recording studios, which means they're an absolute music staple.
The new KRK Rokit 5 G4, in particular, caught our attention.
It's the fourth update to the classic Rokit 5s. The lineup has been consistently well-constructed, and this one's no exception. It's made even more compact but it never lost that solid durability.
Design-wise, it's still got that iconic black and yellow body that the speakers are known for. If you want white studio monitors, though, the set now has this variant called White Noise.
Now down at the sound department, this generation comes with some cool new features.
KRK finally used Kevlar for both the subwoofer and tweeters, which is what you'll typically find in professional studio monitors. It's a great addition since Kevlar drivers are known for their ability to reproduce and distribute sound consistently. They also offer very low distortion. As a result, all frequency responses have impeccable clarity. Besides, 43 Hz - 40 kHz is a pretty good range. This alone makes it an ideal DJ monitor speaker.
Another major upgrade is the built-in digital signal processor (DSP) for the equalizer. This makes tuning much easier and versatile, as you get 25 different settings for conditioning your audio environment. Plus, you can access it through an LCD screen. Better tuning options mean better acoustic resonance!
To make this easier, you can just download the KRK app, connect the monitor, and manage all your EQ settings right there. You can also take advantage of its real-time Room Acoustic Analyzer. This helps you figure out the proper placement for your speakers so you can achieve the best sound.
It uses a Class D power amplifier, which is rare for budget studio monitors. Not only does it keep your device cool in varying temperatures. It also keeps your audio integrity intact. A brickwall limiter built into the amp also maintains your speaker's good response at all volumes.
We noticed some slight vibrations, but that didn't bother us much. If you have more sensitivity to this, it's nothing that a few isolation pads can't fix.
At $149, the Rokit 5 G4 is definitely one of the best cheap studio monitors with uncompromised quality.
Got a mini studio? Or perhaps a bedroom workstation? If that's a yes, then you want space-saving and efficient speakers for your audio work. We'll tell you now that the best budget studio monitors you can pick up are the IK iLoud Micro Monitors.
It's a pair of two small desktop speakers – probably the smallest on the market. The 3-inch drivers are tiny, but they reproduce a large, booming bass with the help of neodymium magnets. The silk-dome tweeters are just about the same size, and they bring clarity and crispness to a whole new level.
The monitors' lightness gives them that easy portability. That means you can set up a project studio anywhere and bring these with you. It's plug-n-play, so no complicated maneuvers here.
Like other powered studio monitors, you don't need an external amplifier to get these working. It's bi-amplified. And just like the KRK Rokits, it uses a Class D amp and a digital signal processor (DSP) to balance the dynamic range. It also helps keep your device functioning well at all times.
The wired connections include an RCA input, as well as a 3.5 mm headphone jack. Wireless works, too, with Bluetooth connectivity. That's why these loudspeakers aren't just for recording or mixing; they're good for listening parties too!
Aside from its compactness, what makes the best monitor speakers ultra-flexible is free-field positioning. Both speakers have a kickstand so you can raise or lower them when they sit on your desk. It also comes with a mic stand thread, which spares you the extra accessory purchase if you want to put them on poles.
These speakers don't hit the ground, thanks to the isolated base. This reduces the vibrations in sound reproduction for low frequencies – even when you're listening at max volume.
Again, these are highly portable studio monitors, but it has more potential than its size. These have been called "reference monitors" simply because they allow you to get an accurate listen to your audio mixes. So, the sound it reproduces isn't just good. It's also finely detailed!
You can get this dual speaker system for $299. It's a little higher than most price points on our list of the best studio monitors, so if you're out to explore some mid-range options, this is worth considering!
The M-Audio BX4 is a set of two versatile powered studio monitor speakers.
It's designed to bring out the best sound in all types of media! Whether you're recording a track, playing a game, streaming a show, or DJ-ing, you can rely on this device to serve its purpose.
The speaker drivers are made with black Kevlar material, which is basically the gold standard for top studio monitor brands. Not only does it feature solid durability; it also reproduces audio in its clearest form. So if you want to hear the absolute truth in your low frequencies, this audio set can give it to you.
The acoustically-inert MDF cabinet features a bass reflex, too.
As for the high frequencies, you have the natural silk-dome tweeters to handle that, and they handle it very well. The company also infused a computer-optimized waveguide to generate good stereo imaging along the high end.
Ultimately, this makes for a highly immersive listening experience.
Now, to integrate the best studio monitor with your other audio devices, you're gonna need proper connectivity for it. Luckily, these speakers have it. You'll find a couple of RCA inputs on this device, which you can use to connect an audio interface or a sound card. An AUX phono input and headphone output are also in sight, so you can connect your phone and other gadgets very easily.
And great news – this package comes with a lite version of Avid Pro Tools. It's the holy grail software for artists and music producers, so that's a huge plus. You'll be getting the Pro Tools First M-Audio Edition, which is a program designed by the company in collaboration with Avid. With this, you'll have access to 20 plugins you can use for multi-tracking, audio mixing, or editing.
Even better, you can get the speaker set for just $149! With a price this low and specs this good, it's one of those cheap studio monitors you can fully trust. It may not be as feature-rich as pro-grade speakers, but for homegrown artists, producers, and audio engineers, this set is more than enough!
If you're a mobile worker – setting up project studios wherever you please – you'll love the JBL 1 Series 104-BT. These loudspeakers are the tiniest of the bunch, but looks can be deceiving.
Small profile, massive sound – that's what these 2 studio monitors are all about.
They come in black and white colorways, which can easily blend well with any type of setup. The monitors look sleek and sharp like two little mini pods, and the build quality is solid. The metal grille finish adds an extra piece of protection as well.
The 104s deliver great lows, mids, and highs. But, that's not much of a surprise considering the 60Hz - 20kHz frequency range. The low-frequency woofer and soft-dome tweeter take charge of reproducing a clear and deep sound, plus a wide sweet spot. If you happen to be looking for studio monitors with good bass, this is the one.
Another great edge to this speaker set is the Class D amplifier included. You'll usually find this in mid-range professional monitors, so seeing this in an entry-level set is a pleasant surprise. With this, you'll achieve impeccable sound consistency, plus all possible distortions are reduced.
You can enjoy both wired and wireless sound with this studio monitor pair. Wired connections include an RCA input, as well as a balanced TRS connection. This gives you enough flexibility to connect the monitors with audio setups such as a home audio system. You'll also find an aux input and headphone jack which comes in handy for your mobile devices.
And if you like to go wireless, just fire up your gadget's Bluetooth connection and pair it with these monitors. Great for music streaming!
The only feature it's lacking is the ability to tune the sound according to your space. Some of the best budget studio monitors have it, which made us wonder why it's not present on this set. But don't get us wrong; these speakers can still pretty much adapt to any audio atmosphere on their own. Just note that these are nearfield monitors.
The 104s retail for $179, which is a slight step-up for a budget monitor. But having taken a closer look at its features, it offers tremendous value for its tiny figure.
Connection options
Numerous
Mackie monitors are some of the most well-known pieces in the audio realm. Its entry-level sets offer more features than you'd expect from the relatively low price.
The CR4s are one great example. The $139 price tag is enough to engage buyers who want basic monitors with enough potential. They are multi-purpose, so they can be used for a wide variety of multimedia work. From recording to video editing to gaming to audio mixing, these loudspeakers can handle anything.
These studio monitor speakers aren't called the Creative Reference series for nothing!
You can take them anywhere as their size makes them portable. But, they are meant to sit comfortably on your home desktop or small studio. The build is composed of solid fiberboard and a wooden cabinet, which helps deliver that clear and natural playback.
Aside from the coated woofer and silk-dome tweeters, you'll find a few bass ports 'round the back. This allows the speakers to reproduce the low-end frequencies more consistently.
It's not bi-amplified, so this dual set comes as a pair of an active and a passive studio monitor. The powered one uses a Class AB amplifier, which keeps all sound distortions at a minimum while keeping the system's efficiency at peak. The other one is an unpowered speaker. However, it contains a built-in switch that lets you choose which speaker becomes active or passive.
And guess what – you get an extra accessory. The package includes isolation pads you can use to minimize vibrations. Even at max loudness, you won't hear that ringing sound thanks to these.
You can connect these monitors to practically any audio source available. The passive monitor houses all the ports that will connect it to the active monitor. The latter contains all the connectivity, which includes RCA inputs, TRS connections, and an aux input for mobile devices.
The frequency range is 70 Hz - 20 kHz, which is quite good. It can, however, fall behind the best studio monitors for music production. We've heard responses much flatter than this, and low frequencies that are much punchier. This is why that makes this set a better option for editing, watching, or casual listening.
Acoustic Tuning
Available
If you're searching for mid-range speakers that are still quite easy on the pocket, the PreSonus Eris 4.5 is worth looking at. The $199 price tag comes loaded with features that are comparable with some of the most expensive speaker sets on the market.
It's a pair of self-powered studio monitors that look like your average speakers. Nothing fancy in terms of aesthetics. But, we will say its unmistakable design lets it fit into any studio setup. The matte black finish is clean and sleek, plus the blue weaving on the front gives it that extra pop.
But enough about the looks. Let's talk about this set's real asset – the sound.
It's equipped with a woven composite woofer, which does a great job at reproducing low frequencies with a punchy response. It also disperses the sound very well, resulting in a more accurate output with no coloration.
As for the high frequencies, the silk dome tweeter handles them with finesse. The playback along the high end comes out smooth and refined. Plus, its rich dispersion pattern gives it a wide sweet spot. That makes it one of the best studio monitors for mixing. You can move around the room and still hear the truth in your mixes in every spot. The frequency range falls between 70 Hz to 20 kHz, which is pretty good.
Various connectivity options also let you hook up your 4.5s to any line-level source. It features both stereo and RCA inputs, which covers pretty much the basic connections. Be it your mixing console, audio interface, record player, or your smartphone, integrating these devices is easy.
The best studio monitor speakers also come with a headphone amplifier. With this, you'll be able to check your mix using your headphones or cut an overdub without having to repatch the cables.
The only downside to this set is that the bass responses can fall short for some tracks. It's the same note we've had with the PreSonus 3.5s. But with the addition of a separate subwoofer, these loudspeakers would simply dominate any studio!
JBL has been producing some of the most fantastic speakers for decades, so it's no surprise that the JBL 305P MkII made it to our list. This single studio monitor comes at an entry-level price, but it's stacked with some pro-level features.
It's a little bulky, so if you like big speakers, you found the right match. The all-black box design looks industrial, and its size can fit into a mid-sized studio. The glossy finish on the rims is a departure from the usual matte monitors on the market. But we don't mind the slight change-up.
It looks flashy – the good kind, of course.
As for the build, it uses a powered woofer to cover the low frequencies. That means you don't have to hook up an external amplifier to get this loudspeaker in action. The response is flat, which is the key to hearing all the tiniest details in your playback. The frequency range touches the 43 Hz to 24 kHz spectrum, which is why it's the best studio monitor for audio mixing.
You want your speakers to adapt to any environment, which is where tuning comes in. Luckily, this monitor gives you the freedom to configure.
It comes with acoustic tuning controls so you can adjust the response according to your space. The best thing about this is the 3-position HF Trim switch, which lets you adjust the high frequencies to your liking.
Similarly, the built-in Boundary EQ feature prevents the low end from giving off a bolstering sound. Bass has always been JBL's strongest suit, and this monitor made that much clearer.
Unlike the JBL 1 Series 104-BT, this speaker doesn't offer wireless connection. Instead, you get a Balanced XLR and 1/4" TRS inputs for a wired connection. That's pretty standard, so even without wireless connectivity, you can still work on your mixes with other audio devices.
At $119, it's among the cheapest monitors for music production. It will surely satisfy both hobbyists and professionals alike!
Entry-level Mackie studio monitors have a good rep in the audio circle. These devices have been known to deliver studio-quality sound for a fraction of the cost. The CR3s are the perfect examples of that.
For just $89, you'd be surprised how many features are packed into this dual audio system.
If you've seen the CR4s, these are the more affordable and scaled-down versions of those monitors. They're just as portable and lightweight, if not more. The loudspeakers are also wrapped in that matte black design and neon green framing.
With that price point, we didn't expect many premium pieces in these small studio monitors. After all, the set isn't trying too hard to be a luxury item. Its build is pretty basic, but still solid enough to power a seamless audio work.
The 3.5-inch woofer is small, so these units are best used as nearfield monitors. So if you're a bedroom artist or producer, you won't have to worry about the sound getting lost in your space. These monitors have a frequency range of 80 Hz - 20 kHz. That should be good to bring out a detailed response across all low, mid, and high frequencies.
You can also find a nice variety of connectivity options on this set. On the front, you have easy access to AUX and headphone inputs. This means you can directly connect your phone or your gadget for extra usability. At the rear, you'll find the RCA and TRS inputs where you can connect other devices such as a phonograph record or home audio set.
What's missing is the ability to tune these monitors according to your space. Most of the best budget home studio monitors have it as a standard setting, so it's a little unfortunate these speakers don't have that. But that's not much of a dealbreaker. You can still calibrate your sound profile to match your audio atmosphere. Just use an audio interface or music software!
It's hard to find an incredibly cheap studio monitor that performs this well. So if you're a mixing beginner and you want the best value for your money, get your hands on this audio set!
If you want to take multi-tracking and audio mixing seriously, maybe it's time to get yourself a pair of professional studio monitor speakers. A great choice would be the ADAM Audio T7V.
These are two self-powered speakers that are best suited for nearfield use. So if you're building up your own small workstation, these are a marvelous addition. The size is almost towering, which also prevents it from being portable. That's why they're meant to stay in the studio.
It uses a 7-inch polypropylene woofer with a bass extension that reaches 39 Hz frequency. As a result, you get a punchier response for the low frequencies without that annoying ringing sound. As for the highs, the U-ART accelerated-ribbon tweeter delivers smooth and clear outputs that touch the 25 kHz mark.
With this frequency range, these are easily among the best budget studio monitors that offer an unfiltered, full-bodied sound.
The dual set is bi-amplified, with each cabinet housing two Pulse Width Modulation (PWM) amps for the drivers. One notable high-end feature on this set is the Class D amplifier that delivers 50 watts to the woofer and 20 watts to the tweeter. It helps keep the sound distribution consistent while keeping the hardware in good condition.
At the back, you'll find all the connectivity options available. You get an XLR and RCA phono input, which is typical of recording studio monitors. This gives you enough flexibility to use this set alongside an audio interface or a dedicated speaker set.
For its size, though, we've expected the monitors to pass the fairfield test. But the way it's built, these devices are limited to smaller rooms, and through nearfield listening. If you also like to move your speakers in and out of the studio, it might be a little challenging as they are a little bulky.
But with the full-range sound, flat response, wide sweet spot, and gorgeous design, these budget studio monitors are still a worthy pick for audio junkies. It can hold up well in long hours of music and video production in the studio.
The $249 price tag is a little higher than most sets here. But for professionals, it's definitely a steal!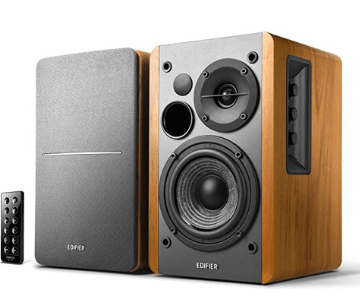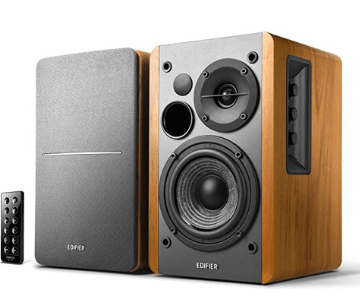 If you want monitors that look just as good as they sound, take a peek at the Edifier R1280DB.
These bookshelf speakers are an absolute standout in a rather saturated all-black market. The wood grain side panels look gorgeous, making them easily blend well in a homey interior. If you're not a fan of exposed woofers, lucky you. These monitors come with clip-on protective fabrics that cover the front body. You can easily remove these baffles as you please.
Sporting that classic look, this set comes in two design variants – black and natural wood finish.
The build is quite impressive, too. These are both self-powered studio monitors, so no need for an external amplifier to get into action. Just plug-n-play!
It's also equipped with all the essential tuning controls. By flicking some switches and turning some knobs, you can easily adjust the equalization according to your preference. That includes manipulating the treble output, bass, loudness, and so on. This lets you calibrate the sound so it matches your audio atmosphere.
One great edge these Edifiers have over some of the best home studio monitors is usability. It's got great connections, including Bluetooth. That means you can wirelessly listen to basically anything through your phone or any Bluetooth-enabled device.
Additional connectivity options also include RCA, aux, optical and coaxial inputs. With these, you'll be able to connect your monitors to a computer, sound card, or entertainment system very easily.
Unlike other cheap studio monitors, this package comes with a wireless remote too! You have access to pretty much all buttons and controls built onto the speaker. That includes the power switch, volume control, source selection, and EQ manipulation.
Loudness is its top asset, which is why it's an ideal set for home use. We wouldn't say the same for serious audio work. Some of the best studio monitors on this list have a flatter response, which is the main thing to look for in a monitor that's meant for production.
But for newbies, this is definitely a great place to start. $129 is not much of a huge spend for monitors speakers this good!
Wrap Up
Sound quality isn't just the end-all, be-all of the best studio monitors.
It's a mix of solid build, flexible connectivity, a wide frequency range, and a workable sweet spot.
After all, monitor speakers don't just sound great. They're supposed to sound natural, accurate, and consistent all the way through.
Each monitor on our list was able to deliver that, and so we gave them our seal of approval. And the best part – they're all affordable!
Should I buy monitors or speakers?
Studio monitors are a must-have if you're doing music work. That includes recording, editing, audio mixing, or mastering. Monitors are built to reproduce a clear, accurate, and sharply detailed sound, making them an essential tool for music makers.
But that's not to say they're no good for entertainment and multimedia use too. Many audiophiles who are into Hi-Fi music prefer the best studio monitors for streaming, blogging, video production, and more.
Do I really need studio monitors?
If you're a musician, artist, producer, or audio engineer, studio monitors are a must. Even if you're just a bedroom creator and a desktop workspace is all you have, investing in monitor speakers can turn your setup into an instant studio.
How much should I spend on studio monitors?
Nothing fancy here. The best budget studio monitors we've compiled on our list cost anywhere between $99 to $299. That's quite the deal since good monitors usually cost around $1000.
Nero Peña
Nero is an all-around wordsmith with a degree in Communication Arts— not the vicious emperor you might know in history books. He's an avid reader. A frisky writer. A tech enthusiast and occasional binge-watcher. He likes long walks on the beach. Enjoys deep thinking and shallow conversations. Hates ketchup. Panic! At The Disco.
Leave your comment
Your email address will not be published.
You may also be interested in:
16 Best Gaming Keyboards for 2023