Whether you want to analyze your own driving or want assurances in the case of a car accident, a dash cam can be an important vehicle accessory. But they don't have to be expensive. We've pinpointed 8 of the top-rated dash cams and our experts reviewed them based on:
Price

Recording quality

Features

Installation

And, overall performance
Read our quick table of facts, car dash cam reviews, and guides, and you'll surely find the best dash cam under $100.
Read More
Field of view
170° Wide Angle
Now at just $99.99 MSRP, the V1 car dash cam from Rexing is an affordable full HD solution that can capture 170 degrees of footage day and night, and it's very easy to set up.
Let's take a closer look:
The lens is top-notch, providing a wide field of view via 6 layers of glass, though the experience you get from the AR0330 tech is dependent on where you position it on the dash. Fortunately, it can be toggled, so there is some leeway in that department.
Recording is done locally to your installed microSD card, so it's best to ensure you use one with a particularly high storage capability. Else, you might have to switch down from 1080p HD to the lesser 720p.
'VGA' is an option, but the quality is so low it's almost pointless to use especially when you've just purchased a full HD device.
The saving grace is that the V1 can automatically begin to overwrite recorded footage once the card is full. This should give you enough time to eject it and make use of it as evidence if you need it. Leave it running and overwriting if nothing untoward or worthy of saving has been captured recently.
It's worth noting that it also records audio using an inbuilt microphone in case you also need to capture any verbal exchanges or altercations.
The build quality of the V1 is high despite being so small. In fact, its 6.6 by 5 by 3.4inch dimensions make it perfect for being discreet - often desired by drivers who might need to capture incidents without other parties being aware.
One of its standout features is its G-Sensory memory lock. It can detect that a crash has taken place and immediately stops recording and stores the footage. That means you'll always have the footage of the incident, though we don't think this is a perfect solution - there may also be things that need to be recorded after an accident has taken place.
It would be better if there was a timestamped memory lock, e.g. the lock occurs for 10 minutes after the crash is detected, or things just keep recording if there's space left and no risk of overwriting. None of this is a deal-breaker, though. It's a good feature that could just be rethought slightly.
To help the camera see better at night, Rexing has implemented Wide Dynamic Range. Since there is always some form of lighting available while driving, night vision is not always necessary. WDR is the next best thing. It provides high detail in dark environments, a bit like HDR does for watching movies and gaming on TVs.
As far as setting up, the Rexing V1 couldn't be easier. It comes with an adhesive mounting plate which the dash cam then slides in and out of. All you need to do is hold the power button to turn it on and it's ready to begin recording right away. There is also an intuitive M menu button on the side to change settings, such as recording resolution and formatting your microSD card.
It does not come with its own card, so you will need to buy one of these before you can begin recording.
For the price, this is one of the best dashcams currently on the market.
FIELD OF VIEW
140° Wide Angle
Nextbase is one of the leading brands in the dashcam sector. Its 222 model looks almost the same as the previous 122 version. It's, however, more compact and offers a larger 2.5" HD IPS display on the back. Both of these small changes make a huge difference.
The device is smaller in size, meaning that you can neatly fit it behind your central view mirror and get a good view of the display. The bigger screen makes it easier to hit buttons from the driver's seat. The only button you'll ever really have to press though is the big red one. It saves a clip and prevents the camera from looping it over.
Like many other top dash cams of the second generation, the 222 has a magnetic mounting system. When installing it, all you have to do is remove the cover from the front part of the camera and connect it to its windscreen mount. However, this dash cam also comes with adhesive and suction mounts, giving you the choice of how you prefer to attach it.
Setting up the 222 is еasy as pie. All you have to do before you're good to go is to insert your microSD card and set the date. Then, if you wish, you can play around with the settings.
You can adjust the exposure from -6 to +6, but our tests showed that leaving it at zeros works the best, no matter the time of the day.
You can also set the camera to record audio.
Filming in 1080p at 30fps is the standard in this generation of cameras, and that's exactly what the 222 offers. The footage is very good for a dashcam under $100, providing plenty of detail. The night vision feature also performed well in our tests. Colors are fairly accurate but you lose some detail in the areas on both sides.
It has a 140-degree viewing angle, which isn't exactly the best we've seen but it's enough for six lanes of traffic in most situations.
In terms of storing footage, Nextbase recommends using its own branded microSD card. The manufacturer has built and tested them specifically for its dash cams. Like all other Nextbase Series 2 dashcams, the 222 supports anything up to 128GB.
The parking mode is surprisingly good for such a cheap dashcam. The device enters sleep mode and cranks up the sensitivity when you turn the vehicle off. In this state, it can provide surveillance for over a week. The moment it detects a bump, the camera jumps back to life and records for three minutes. If someone bumps your car and still parks near you or loiters before driving away, the 222 will get them on video.
The G-Sensor is another neat addition. In case of impact, the camera will protect the video of the incident, so that you won't overwrite it by accident. The feature can also be activated by speed bumps, potholes, heavy acceleration, etc.
At $79.99, Nextbase 222 is an affordable dash cam that offers amazing video quality and a stellar parking mode. However, the lack of some extra functionalities such as Wi-Fi and GPS disappointed us a bit.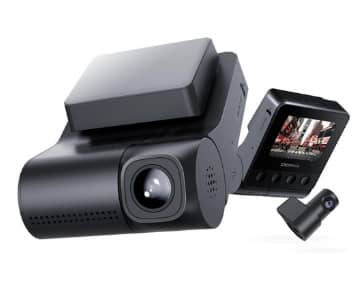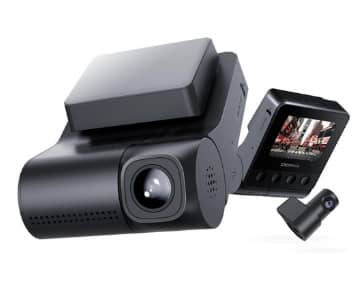 Field of View
Front (140°) / Rear (125°)
Its standard Z40 version consists of a front camera with six optical lenses and 1 infrared light. It's capable of capturing footage in up to 2592x1944p resolution. Powered by the Sony IMX 335 sensor, this top dash camera can produce videos with tremendous texture. It doesn't let the smallest details go unnoticed.
To ensure unmistakable crisp visuals, the Z40 leverages DDPAI's very own Realcube hyper-realistic image technology. This innovation fine-tunes the pixel arrangement of every frame, resulting in mind-blowing sharpness, spot-on colors, and high brightness.
To avoid any image distortion, DDPAI opted for a field of view of 140° instead of 170°. This angle isn't exactly panoramic. But it's wide enough to provide this front camera with adequate peripheral vision.
Equipped with a super capacitor, this budget dash cam can operate within 20–70°C (68–158°F). After you turn it off, it won't go to sleep right away. It would still record an extra 3–4 seconds.
In terms of storage, the Z40 supports up to 128GB microSD cards, which are sold separately. Thanks to its D²save dual-channel storage tech, every moment it records gets backed up on its NAND Flash automatically.
This high-quality dash cam can protect your footage in the event of a collision.
If its built-in G-sensor detects sudden shock, it will shoot and lock 10 seconds of footage on autopilot. This way, you can have important evidence for insurance purposes. This emergency video is immune to loop recording, so don't worry about it getting inadvertently overwritten.
When it comes to aesthetics, it is sleek, compact, and unobtrusive.
According to the Z40's manual, its dimensions are 81x61x33 mm (3.19x2.40x1.30 inches). And its two-inch in-plane switching screen permits clarity and brightness enhancements, video preview, and data overview.
To eliminate a major blindspot while inside the vehicle, you can pair it with a rear cam.
Compared to the front unit, the rear one is smaller, contains five optical lenses, and doesn't support dual storage. It records just 125° views, but it can rotate 360°.
Moreover, it can come with GPS. It can display key statistics about your location, speed, and more. The GPS also unlocks Sense Reality, an effect that can turn your ordinary recordings into pulsating racing videos.
Using the DDPAI app, you can publish your content online with ease.
As a dash cam with WiFi, you can remotely preview and download your footage through its mobile app. It comes with a microphone too, so your recordings will have audio.
Furthermore, the DDPAI app has a slew of editing tools too. If you need to polish your recordings, you can take advantage of its filters, music, and special effects, among others.
Lastly, you can beef up this dual dash cam further with 24-hour Parking Protector. Although it's active all day, its intelligent hardwire kit can keep the camera on without draining your vehicle's battery.
With its time-lapse feature, it slows down the content recording and plays it normally to conserve more energy. And if you hit something while parking, you'll get a voice alert.
The basic version of this dash cam has a price tag of $99.99. However, the product's cost could surge by 91% if you go the whole nine yards.
In other words, experiencing the Z40 in its full glory can be an expensive proposition. But its dazzling features make it worth it.
VanTop H610 10" 2.5K Mirror Dash Cam
VanTop H610 10" 2.5K Mirror Dash Cam
Resolution
2560 x 1140p (2.5K)
Field of view
160° Wide Angle
Screen size
10" IPS Touch Screen
The VanTop H610 is an impressive piece of kit for just $99.99, giving you dashcam recording of up to 2.5K (better than full HD), from the convenience of your main mirror. It's still classed as a dashcam.
Not only does the product contain a front-facing camera and display that you attach to your rearview mirror, but you also get a rear camera and associated cable as well. You can simultaneously view and record what's going on in front and behind you at all times.+
The concept of a mirror dash cam can be confusing, because how does it impact the regular mirror itself? In effect, it completely replaces your rear mirror by using straps to attach the display over it.
If you turn everything off the display itself functions just like a traditional rear mirror, albeit a little bit darker. In terms of safety, it's actually best to have it turned on and showing you what the bright and clear lens is seeing. It's one of our top dash cam recommendations because it totally improves your traditional mirror.
Just don't make the mistake of attaching it below your existing mirror. Firstly, it might all just fall down because it isn't designed that way, and it will certainly be harder to move into the right position. You'll also have too much going on with your windscreen and this might actually distract you from driving and seeing adequately out front.
So, follow the instructions and get the 10-inch mirror shaped display secured where your traditional mirror would usually be. You'll actually get a wider, clearer, and safer view from behind than normal.
The front-facing camera slots in behind and to the side of the display. All you see when driving is a mirror, albeit a high-tech one.
The front camera provides a 160-degree viewing angle, while the rear camera is slightly less at 140 degrees. Both are capable of simultaneous 2560 x 1140P (2.5K) recording, while the display mirror itself shows you a 320 x 1280 screen resolution. You also get surprisingly good audio recorded separately from both cameras.
It mainly allows you to swipe through a regular rear or split-screen display, a brightness setting, and the power off button. Other adjustments should be made before you set off on your journey.
Recording is done to a microSD card you easily slot into the device, which will probably need formatting first. You can set it to loop mode so that it overwrites itself once the card is full rather than having to constantly replace it. Should you have an accident it ensures that a portion of time is securely saved.
Other modes include split-screen (front and back), time-lapse, license (zooms in on licenses), and parking mode.
We found the setup instructions to be easy to follow and everything you need is in the box, including:
rear-facing camera extension cord

in-car charger

mounting tape and screws

dust-magnet cleaning cloth

12-24VDC input voltage car adapter, 5V, 2.5Amp output

.
Our only advice is to make sure you have everything positioned well and the controls tested and gotten used to before you go on any long journeys. Other than that, it's definitely high on our best dash cam 2021 list.
Apeman Mini Dash Cam 1080P
Apeman Mini Dash Cam 1080P
Field of view
170° Wide Angle
If you're looking for the best dashboard camera that's on the small side, the APEMAN Mini dash cam is a very affordable full 1080p device that you can pick up for less than $50 online. Doubling up for only little extra lets you record the rear of your vehicle as well.
It's extremely easy to set up. Simply slide the glass suction cup into the slot at the top of the device and then place it somewhere just off from your vehicle's rear mirror. An easy twist clockwise locks the suction in place. If you want to be secretive you could also attach it lower down, and the mechanism also makes it a good portable dash cam.
On the other side of the camera is the power cable slot, which you then plug into your cigarette lighter holder/power outlet. The cabling is long enough to hide along the door trim and under mats, so you have nothing dangling down. We used some strong tape to help as well.
The cam simply powers up when your ignition is on, revealing what's ahead on its small 3-inch LCD display.
Obviously, its main purpose isn't to double up as any kind of mirror or visual aid at that size. It's the ideal size to show you the settings and menus which are controlled by the four buttons down the right-hand side. Power, menu/ok, and up and down.
The real benefit is the crystal clear 1080p, 30fps, HD recording that is sent to a microSD card (not included), which also features night vision and Wide Dynamic Range (WDR) when driving in the dark. That's one of the best dash cam with night vision options in the mini range. This allows you to save detailed evidence of accidents and other incidents night and day.
The camera also records in a wide 170-degree viewing angle, capturing everything in front and almost everything to each side. That's ideal if an accident occurs on a 3-lane highway or anybody approaches your driver or passenger window.
A particular standout feature is the vibration censor night-time recording feature. This allows you to leave the camera on overnight in standby mode. It will automatically turn on and begin recording if it senses vibrations, capturing any would-be criminals and car thieves in the act.
Although it only supports 32GB microSD cards which seems needlessly small when 128GB exists, it's especially good at automatically looping. You don't have to worry about the footage unless something noteworthy needs your attention. If it detects an accident, night-time vibrations, or you purposefully save a period of time, these clips are protected from being overwritten. You have any evidence, should you need it.
Other helpful features include parking sensors, audio recording (which is good quality and can be turned on and off), and easy microSD card ejection so you can transfer video to another device. Not bad for a budget dash cam.
Crosstour CR900 Dual Dash camera
Crosstour CR900 Dual Dash camera
Field of view
170° Wide Angle
If you're going to be recording from your car then you may as well go the whole hog and get a dual option for front and back. One popular solution is the Crosstour CR900 that you can pick up for around $100 online. It is easily the best car camera recorder for front and back.
Because it's quite small and shaped like a wedge, you can position it in a stealthy manner if you don't want anyone to see you are recording. Both front and back are essentially identical, providing full 1080p HD video and good quality audio to capture any verbal exchanges.
Footage is sent in MP4 format to a 32GB microSD card. You can view footage on the fly from the 3-inch settings display or transfer it from the card to your computer or other devices for larger viewing.
Quality is undoubtedly 1080p, but it does sometimes suffer from glare and doesn't have the best results at nighttime. The rear camera seems to suffer worse than the front, but overall, you can still make out major incidents even if distant detail isn't quite there. It is still a lot better than what was available even just 5 years ago and not bad for a dual cheap dash cam.
Each camera has a wide 170-degree viewing angle, allowing you to capture the full width of a wide highway and approach your driver or passenger doors. Furthermore, the camera itself can be physically positioned 240 degrees to fit your preferred position.
The locking file feature isn't automatic like other cams. So, if you want to save a portion of the video after an incident you have to physically press the button on the side.
You can however set it to loop mode which will automatically overwrite existing footage on your microSD card once it becomes full. The downside is it doesn't support higher than 32GB, which isn't a lot if you do a lot of long journeys. Still, if someone is involved in an incident, they'll probably have the wherewithal to lock the footage accordingly so we may be overstating this as an issue.
To set up there's a cigarette adapter that takes both cameras in one. Just be careful with the 5.9m (19.4ft) long, rear camera cabling as this might not be quite long enough for some vehicles.
At an entry-level price and a dual setup, this is a good option for those on a budget.
Field of view
170° Wide Angle
At just $49.99 MSRP, the V1 Wi-Fi is a top dash cam from Akaso and one of the most affordable Wi-Fi supported options on the market. It records in full 1080p HD with audio and has many of the features that cameras twice or three times its price support.
Wi-Fi connectivity and GPS are primarily used in conjunction with your smartphone. The two are paired, which allows you to control the camera's settings and get a bigger view than the few inches of display that the camera screen itself provides. The app is self-explanatory, and you won't have any issues with it. It's our top pick in the Wi-Fi dashcam category.
Thanks to the GPS it also becomes a dash cam with a speed indicator when using your phone as the display.
Nonetheless, for safety reasons, we'd make sure this is left with a passenger or you affix your phone itself to the dash, so as not to become distracted while driving.
The camera itself is best positioned beside your rearview mirror giving you a relatively centered 170-degree field of view. It is enough to capture the entire highway and most roads, sidewalks and beyond. It also utilizes Wide Dynamic Range (WDR) which improves image quality in the dark.
That's without mentioning its nano-coated 6G lens, F/1.8 large aperture, and SONY IMX323 sensor, which reduces noise and improves image clarity. Our daytime test allowed us to easily distinguish a car registration plate at some distance.
Like most dash cams, it records its footage to a microSD card but unlike others, you actually get one in the box. Granted it's just 16GB but they advertise up to 24 hours if it continuously records in HD. You can always upgrade the card to a maximum of 128GB in the class 10 range.
Looped recording is supported, so you don't have to worry about deleting footage manually or constantly replacing the cards. Instead, it will automatically overwrite footage when the card is full unless you tell it otherwise.
The Akaso V1 also uses G-sensor motion sensor dash cam technology that can sense the smallest of collisions and lock that portion of video from being overwritten. The evidence is there should you have been in an accident that needs clarification.
Another helpful feature is the parking monitor that can sense when a person or another vehicle is close to the car and begins recording. If nothing more obvious occurs, the camera will shut off after 30 seconds. If force is detected it will keep recording, protecting you from thieves and vandals, and capturing footage of any crashes that take place when you are outside the vehicle.
What's particularly cool is that if you're parked close to your home, you can tune in via the Wi-Fi connection and your phone.
Setting up couldn't be easier. There's a simple suction/adhesive cup that attaches to your windscreen and a standard in-car power cable that goes into the cigarette/auxiliary power outlet. As long as you keep this connected, the camera will automatically startup with your ignition and power down and save clips within 10 seconds of turning the ignition off.
There's also a USB cable that can connect to your computer, phone, or other devices for transferring clips, a car crowbar to help hide wiring, cable clips, and 2 brackets to aid the adhesive.
Getting all of these features and such a great image makes this easily one of the best dash cam under $50 solutions.
Field of view
Front (170°) / Rear (130°)
Depending on what online store currently has stock, you can pick up this dual dash cam from anywhere between $45 and $70. This is superb value for money considering you're getting full 1080p video and audio recording at both the front and back of your vehicle. It's also packed with extra features. Easily the best value dash cam in the dual setup.
First off, to get the cameras installed all you have to do is screw the front one into its suction cup and stick it to your windscreen and then power it with the usual in-car supply. The backup cam is a little more involved and comes with a bracket. The instructions are illustrated and easy to follow. All the wiring can be easily routed under mats or under the rubber seals that run around most car door frames.
The front cam provides an excellent 170-degree field of view to get a full picture of the road surrounding area. The rear is slightly less at 130 degrees, which is less than the Van Top if you're doing a dash cam comparison. Both feature the industry-standard Wide Dynamic Range (WDR) which helps capture detail during low-light nighttime driving.
You'll need a MicroSD card to record your footage on to, with support up to 32GB and automatic looping so old footage is overwritten when the card becomes full. To protect important footage when the G-Sensor detects a sudden collision, an 'SOS file' is created that has to be deleted manually, thus ensuring you don't lose any evidence.
You can transfer any footage straight from the card to another device that supports it or use the supplied USB cable. It will be treated as a USB stick/removable storage drive for you to copy files to your PC.
We were particularly glad to see that the rear camera has a parking aid, so when you're reverse parking you get virtual markers on the display to help you get into those tight gaps. This helped bump it up to one of the best-rated dash cams.
Meanwhile, when parked up at night, a motion and vibration detector can kick the camera into gear to record any would-be thieves, vandals, or collisions, saving any SOS clips accordingly.
If all of this wasn't enough for such an affordable dual dashcam, CHORTAU will give you an 18-month manufacturer's warranty. If you buy directly from China you also get a 30-day money-back guarantee. You also get lifetime tech support should you have trouble operating the cameras or something goes wrong.
Overall, this is the most affordable dual dash cam and easily made our best dash cams under 100 list.
What Is a Dashcam?
Simply put, a dashcam is a camera that you use within (or sometimes on the outside) of your vehicle as a digital video recorder while driving and stationary. The name dash cam comes from the fact that they are usually front-facing and typically used from the dashboard area of the car.
However, a dashcam can still refer to a camera that records at the rear of the vehicle, replaces the front mirror or other setups. It's just the catchall term for a camera used for a car or other road vehicle.
Unlike parking cameras, the main purpose of a dashcam is to record what's going on just in and around your vehicle in the case of a crashл road rage incident, an exchange with law enforcement officers, traffic stops, etc.
Dashcam footage is routinely used as evidence in legal, civil, and regular and insurance fraud cases because it can show video of what happened. They are especially effective and affordable today with HD and up to 4K recording quality, often along with audio as well. The top dash cams in our list don't go higher than 2.5k resolution but all are under $100, so you're getting great value for money.
When combined with an event data recorder (black box) you stand in a good position should an accident not be your fault.
Is It Worth Buying a Dash Cam?
Yes, there are many benefits to buying top-rated dash cameras, especially those that record in HD and with audio. The main one being gathering evidence if you are involved in any kind of accident or incident on the road. This can help considerably with insurance, legal, and civil cases if the footage can shed light on what happened and who is to blame.
Dash cameras are also a useful theft and vandalism deterrent. If criminal suspects are being recorded they are likely to have second thoughts. And, even if they do commit a crime and your camera is stealthier, you have a chance of recovering evidence to implicate them.
Furthermore, although parking cams are another class of camera, some regular dashcams offer parking support and can double as parking cameras.
Those that completely replace your rearview mirror often provide a bigger and clearer display than a regular mirror, further improving your safety on the road.
With dashcam cost coming down and technology getting better, there has never been a better time to buy an onboard camera.
How To Choose the Best Dash Cam
Picking the best budget dash cam isn't easy, especially with all the features available and different specifications. Here are some of the factors we considered ourselves when looking for the best cheap dashcam:
Dash Cam Price
Fortunately, in 2021 a good dash cam is not expensive. You're looking at only spending between $50 and $100 to get a good quality HD image and most of the useful features available on higher-end models. Our personal pick for the best dashcam under $100 is the Rexing V1, but there are many other cheap dash cams out there.
Resolution
At the least, you want to buy a dashcam that can record in full 1080p HD. This means you get no grain or 'noise' and the picture remains clear for some distance, capturing number plates and other finer details.
While some of the top-rated dash cam solutions can go up to 4K, the current highest from our dashcam reviews is the VanTop H610. It does 2.5K and is the best driving camera for replacing your mirror.
Of course, other factors play a role in overall image quality, such as the lens quality and certain post-processing features. Most people will do just fine with any 1080p solution and you shouldn't settle for less if you're paying between $50 and $100.
Note that 1080p is what the recorded video will be in. I.e. when you export it from your microSD card. Not all camera displays themselves will be displaying 1080p live as you drive.
The point is that you will have a good quality image should you need it as evidence later.
Night Vision
The good thing about driving in 90% of places, especially if you have your lights on as expected, you aren't in complete darkness. So, you don't need true night vision technology and that could even be detrimental to identifying exactly what's going on in the footage.
Instead, the current standard for night driving is called Wide Dynamic Range (WDR), which allows the cam to pick up finer detail when it is dark, a bit like High Dynamic Range in TVs, monitors, and CCTV cameras.
If you want a good quality image in low light, look out for WDR.
Size and Display
If your camera comes with a display, it is not essential for it to be a large one. In fact, a large display is going to obstruct your vision if you affix it to the windshield and potentially distract you. That's unless the display itself acts as a rearview mirror as seen with the excellent VanTop H610 10" 2.5K model.
Nonetheless, the size of the display and camera is worth considering. Are you going for something discreet, because you don't want people to know you're recording? Or, are you happy for it to be fairly large and on display as a form of deterrent to thieves and road users prone to rage?
Wi-Fi
Wi-Fi on automobile dash cameras is mostly intended as a way to connect to your on-person smartphone and that's the only feature most support. You can create a display (secondary display if your cam already has one), that allows you to:
see what's happening live, control some of the settings

easily download clips

monitor your vehicle as it's parked outside your home.
Dual or Single?
Most people opt for a high-quality dash cam that faces frontwards. They're easier to install and more likely to capture road accidents and verbal altercations. However, a dual setup with a backup cam covers you for rear accidents and often doubles up as a rear parking aid. Everyone knows how annoying reverse parking can get.
The good news is you can pick up several good quality dual cams for less than $100. With a bit of DIY cable tying and hiding, they're not that much harder to install.
Recording Modes
The best dash cam under $100 options come with several important recording modes and features that you should definitely look out for.
Looping:

This is usually an automatic process (at least if you turn on the setting) that

overwrites a full microSD card with new footage

. You don't have to manually delete files or constantly buy and replace cards.

Time-Lapse:

Not a necessary feature but fun for replaying long journeys.

Reduced Resolution:

For saving space or if you're having performance issues, you should be able to lower recording quality from 1080p to

720p

, or a lower format commonly called VGA.

Sensor/Motion Detector:

Used both during a collision or when you're parked and away from your vehicle, the

camera will sense motion or worse and begin recording

to capture any evidence.
Extra Features
There are numerous extra features and to look out for that can make your dashcam experience more worthwhile. These include things like:
Clip locking:

This is called different things by different brands, but clip locking is the process of automatically recording an accident and safely storing the clip, so it isn't overwritten by the looping process.

Parking Aids and Sensors:

So, you have an easier time reverse parking with help from the camera and virtual lines/grids.

Audio alarms and phone alerts,

so you know if an incident may have occurred while you're away.

Speed checker:

Checking and sometimes recording your and other road users' speed, which can be helpful if there is an accident dispute.

USB support:

Allowing you to transfer clips easily

to other devices or even steal the charge from the camera that is hooked up to your car's power supply.

GPS:

Allowing you to know exactly where you are at any given time; often accompanied by a map feature or tied into your smartphone's maps app.
Brand
All the brands on our list are reputable and well known for producing some of the best budget dash cam solutions but others certainly exist and only just missed our list. These include the Cobra dashboard camera and the Xtreme HD dashboard camera.
As a rule of thumb, make sure to check user reviews and ratings before determining whether you're looking at a good brand or not.
Wrap Up
We've taken a close look at the best cheap dash cam solutions for 2021, reviewing 7 of the standouts. The presented options are tried and tested and we guarantee you'll love them.
So, what are you waiting for? Go and get yourself a shiny new dash cam!
Is it illegal to use a dash cam?
No, generally it is not illegal to use a dash cam in the US but there can be local state regulations that dictate how you can position the camera on your windshield. The main concern is that it does not distract you or obstruct your view while driving.
Depending on your state you should look up your local laws to ensure your chosen product and the way you've installed it meets regulation.
In the UK, you don't need permission to install a dashcam, though there are separate laws that again dictate that nothing should obstruct your view. So far that has rarely extended to cameras. However, if you are involved in an incident the police may have the right to view any footage you've recorded as evidence.
These types of regulations are much the same in Europe and across the rest of the world, but you should always check your local laws before installing a dash cam just to be sure.
The only exception is if you are driving on private property rather than a public road, in which case you would need permission from the owner to film.
Do dash cams record speed?
It depends on the make and model of your dashcam. Some record speed while others do not. The best thing to look out for are cams with GPS - this is usually the basis for recording speed and timestamps based on location.
For example, the AKASO V1 with WiFi can record speed thanks to its GPS. The data is easily accessed via your Wi-Fi-connected smartphone.
You can, however, usually turn speed monitoring off if you do not want any data associated with how fast you are traveling. Check the dashboard camera reviews to find more details about speed recording.
Does a dash cam record when the engine is off?
Even with the ignition off, cars still have power in their battery and therefore electricity running through it. That's how you can use your key clicker to open doors when the ignition is not on.
Most cameras allow this power to be routed to your dashcam so you can record while parked up at night or when you are otherwise away from your vehicle and the engine is off.
Typically, unless you specify otherwise and this is an option, the recording won't be constant as this could drain the battery. However, via the use of sensors, the camera can detect when another vehicle or person is close, tampering with your car, or a collision has occurred. It will turn on recording to capture important evidence.
Check the model of the cam carefully to see what features it has and how may or not implement recording while the engine is off.
What's the best dash cam for the money?
Based on our hands-on dash camera reviews, we believe the best camera in terms of bang for your buck is the AKASO V1. It is just $49.99 and comes with full HD and Wi-Fi connectivity. If you can stretch closer to $100, then the Rexing V1 is the best all-rounder. The Apeman Mini Dash Cam is the best value for money low profile dash cam, and the CHORTAU Dual Dash Cam is the most affordable front and back dual package.
If you're looking for the best dash cam under $100, every single one on our lists meets this specification. You won't be paying over the odds. However, if you're looking for the best 4k dash cam or a larger 4 camera dash cam system, you'll typically have to pay more than $100.
Keelan Balderson
A qualified journalist and longtime web content writer, Keelan has a passion for exploring information and learning new things. If he's not writing or pushing his own brands, you'll find him watching pro wrestling or trying not to rant about politics online.
Leave your comment
Your email address will not be published.
You may also be interested in: