Gaming is a little more intense than your average desktop browsing session. So, many people look for additional features from their PC desk for gaming. We've narrowed our search for the best gaming desks down to 17, looking closely at:
Price

Size

Sturdiness

Features

Ergonomics

Adjustability

Gaming Extras

Assembly
Our in-depth reviews and guides are waiting to help you choose the best gaming desk.
Read More
Top 16 Gaming Desks for 2023
GTRacing Gaming Desk GTZ03
Eureka Ergonomic Z1-S Gaming Desk
Walker Edison Gamer Command Center
Respawn 2000 Gaming L-Desk
Mr. Ironstone Gaming Desk
GreenForest L-Shaped Corner Desk
Thermaltake Tt Gaming Level 20 GT Battlestation Computer Gaming Desk
E-Win 2.0 Edition RGB Gaming Desk
How To Choose the Best Gaming Desk for You
Choosing the best gaming desk is a personal affair. Yes, there are some core features that every desk requires, but the exact one you choose to fit your style of gaming will depend on several factors. Here's what our experts think you should consider:
Price
Honestly, a lot of the products in the gaming market are overpriced. The cost of desks can vary wildly without much difference in their performance. There are undoubtedly cheap colorful options that slap gaming on the side and be done with it. We've avoided most of these in our reviews because we want performance.
You can expect to pay anything from just over $100 for large standard desks to up to $2,000 for cutting-edge desks that include lots of technology and features.
A good middle-ground hovers around the $300-$400 mark, where you get high build quality, lots of extra features, but without obscene levels of technology.
There are also competent options at around $200 as well. Ultimately, if you do your research well you can get some good value for money in a market that is saturated by gimmickry.
Check out our reviews to find the best gaming desks at multiple price points, as well as our 'best for' picks to see those that excel in different areas. Ultimately you should be able to find a desk that suits you.
Sturdiness and Build Quality
One of the main problems with bog-standard computer desks is they're not always that sturdy and are made of cheap materials. We need a dedicated gaming computer desk; something that's durable because it gets a lot of use, but also something that will not move or shake.
All of the desks in our list have been tested for basic sturdiness and build quality. But if you're searching independently, you should look out for several things:
Steel or Aluminum Frames: Simply put, steel or metal, in general, is sturdier and more durable. It's also easier to assemble and keep clean. Of course, there are some exceptional all wooden desks out there too, but this is real wood treated to last a long time, not chipboard coated with a wooden gradient sticker. It's just rarer to find a wood gaming desk because it doesn't suit the modern gamer aesthetic.
Feet: A good computer desk needs some form of non-slip feet, whether these are suction cups, rubber, or softer plastic. Especially if you'll be using the desk on hardwood, laminate, or otherwise slippery floor surfaces. Another good feature is adjustable feet that can change height ever so slightly to accommodate wonky flooring. This will keep your desk level but make sure you get it right else you'll create an unneeded wobble instead.
Surface: The surface of the desk should also be well made. It doesn't necessarily have to be thick or follow the same metal/aluminum principle of the frame.
Many are made of MDF with a textured coating. Just make sure it's not going to dent, warp, or scratch easily, and comes with a maximum load limit.
Style
Do you want a colorful and vibrant 'gaming style' desk that draws attention to itself and looks cool on Twitch? Or are you in a shared living/family space or home or work office, where it needs a more professional look?
Fortunately, many of the best gaming desks have a variety of color options that range from plain black to racing blue. Regardless of the overall style, you might also consider the color and vibe of your other gamer gear and the entire room.
Adjustability
Fortunately, most gaming desks are high enough off the ground to accommodate those of us who are tall and/or have long legs. But there are people that still need some extra height and if that's you, you'll want to look for height adjustability.
There are a couple of options here depending on your budget, such as regular manual height adjustment that locks into place or involves twisting a roller. As long as the build quality is good these are absolutely fine. Then there are more expensive premium options that are motorized, pneumatic, and/or electronic; controlled by remotes or buttons on the desk.
Again, if built well these adjustments work smoothly and quietly. We advise looking out for the option to save heights with programmable buttons and presets, so you aren't trying to find the same position as before.
Height adjustable desks also typically allow you to reach a height high enough to accommodate a standing position. This is ideal for gamers who want to stretch their legs, but also for those that sometimes require a standing workstation for work and projects.
Others simply like to stand because they think it's better for your posture and circulation. These are all things to consider.
Ergonomics and Comfort
It's no good having a desk that you use for extended periods of time if it's not ergonomic – the fancy word for comfortable. The best desk for gaming setup is one that provides support.
If you're someone that struggles with aching joints or bad wrists, you probably already have some form of extra padding. Many desks provide a softer surface area for added comfort or special ergonomic designs that provide better wrist alignment.
For example, the Respawn 2000 Gaming L-Desk has beveling at the edges of the desk to support your wrists. The E-Win 2.0 Edition has an overall 5-degree slope down the middle where the mouse and keyboard would be to improve alignment.
You will also need to take into account the positioning of your monitors and whether to get an adjustable monitor arm. Keep in mind the height of your chair and desk and how this relates to the height of everything else.
It can be quite the task to get everything just right, but some ergonomic features on a gaming desk certainly help you get there.
Size and Monitors
There is no set size for the best desk for PC gaming, but they are bigger than your average variety. They typically start in the mid-40s and can reach up to 70 inches long, while offering widths to accommodate monitors, keyboards, and accessories. You won't find anything smaller than a 20-inch wide computer desk for gaming.
So, firstly you need to consider whether you can actually fit one in your desired location. At the same time, you also need to figure out how big you really need the desk to be, with the most important factor being your monitor.
If you're rocking a 50-inch ultra-widescreen monitor, then that's about all you'll be able to fit on a typical singular gaming desk. That's unless you move it off to one side and use a grommet hole to mount a secondary smaller monitor and position it at an angle.
However, most desks on our list can fit multiple monitors in the 21 to 30-inch range. If they come with one or two grommet mounts you can fit even more.
Although there will be a maximum weight limit, this is usually far higher than what you'll be able to accomplish, so don't worry.
An L or U-shaped computer desk for a gaming PC adds even more space and can turn your room into an entire office. You can pack these with screens, but they're mostly designed to accommodate multiple PC towers, printers, network equipment, and have space for paperwork and filing. Then again, some of us gamers have a lot of accessories as well.
Shape
Personally, we have never found shape to be a huge factor in choosing the best computer gaming desks. A slightly curved gaming desk is a bit more ergonomic and helps you tuck in closer for immersion (good with a curved monitor), but it really doesn't make a big difference.
It's the corner L and U-shaped desks that really add a different dimension and quite literally need you to measure your room's dimensions to get them to fit properly. In the L-shape, you typically sit on one of either side (short side of the L or long side of the L). With the U-shape, you sit in the center where the curve meets its peak, which means you'll be twisting and moving around in your chair. If you're going for either style of desk you have a lot of things to put on it. There isn't a better solution unless you just store things away in drawers.
(Come to think of it, the gaming desk with drawers seems to have fallen out of favor).
L and U-Shaped desks are ideal for offices, but since we're focusing on gaming, they're also optimal if you're creating a streaming or podcast studio and have cameras, mics, etc.
Our pick for the best L-shaped desk for gaming is the Respawn 2000. The GreenForest Corner Desk is a cheaper L desk for gaming but is also well suited to the office environment.
Other mild shape differences include a dropped down level for your keyboard and mouse, and an extended shelf on top of the desk so you can have a raised monitor.
Gaming Extras
Top computer desks often come with little extra features that supplement the gamer experience. These might include:
Accessory Stations: A fancy way of saying a hook that will hold your headset, headphones, wiring, or perhaps a gamepad.
Cup Holder: To securely store your drink out of the way, so you don't knock it over and dry your equipment.
Cable Management: Holes in the top of the desk for your monitor cables to thread through. These often double-up for grommet mounts so you can install a monitor arm to mount your monitor.
Racks: Small shelves to rack up a few gamepads or games in cases.
Charging: Sometimes the above racks have USB ports for charging or the desk itself will have a mat or specific portion where you can lay items for smart wireless charging.
RGB Lighting: RGB LED lighting that can shoot up the legs and/or around the tabletop make for some cool gaming desks. Depending on the model and software this feature can simply provide a light show or a constant color or sync up with color from games to provide added immersion.
Gaming Surfaces: As well as often having a pretty good surface for gaming to begin with, many gaming desks will throw in a mat/pad/surface.
Top Recommendations and Reviews
Modular magnetic ecosystem
Available
We all know how much trouble cables can cause in a gaming setup. The new Secretlab MAGNUS desk makes managing them easy with its modular magnetic ecosystem.
Many top computer desks have some kind of cable trays that help you keep your workspace tidy. However, none of them have been designed specifically to help you eliminate all the wiring with ease.
As the name suggests, Secretlab MAGNUS relies on magnets to get the job done. It uses them to keep things out of your eyesight during your gaming sessions. The table makes it easy to attach any of the accessories the company has designed specifically for it. These are cable anchors, fastening straps, headphone hangers, and more.
The magnets are really strong and all form a good grip, meaning that none falling off.
Definitely the biggest draw of this desk is the cable tray you can find in the rear end. It flips easily and reveals a huge unit for all of your cables and a surge protector. The entire thing has been designed so that you can access it from all sides without having to move the desk.
In terms of size, the Secretlab MAGNUS desk takes up 1.5m in length and 70cm in width. It's not the bulkiest table out there, but it offers all the strength that you need. While it weighs 40kg, it can support up to 100kg.
The best part of it is that it does all this while looking lightweight, especially compared to some other gaming computer desks on the market.
Cable management is what the MAGNUS desk is all about, but there's a lot more it has to offer. There's also the metallic finish that really makes the desk feel expensive. And if you want to give it a more gaming look, you can easily attach a special RGB led strip.
Probably the biggest issue is the price. Secretlab creates products of high quality, as we know. And although this is the company's first venture into gaming desks, it's still quite expensive.
The desk is available on the company's site for $499. However, the price doesn't include any of the accessories we mentioned above. If you want the cable anchors, fastening straps, and other extras, you have to get them separately. This can increase the price all the way up to $800.
So, if you're ready to spend a bit more, the Secretlab MAGNUS desk is a great choice.
Size
62.99 x 32.29 inches
Design
Sturdy steel frame
Mouse-friendly surface
Yes
The Arena Gaming Desk from Arozzi is simply designed but effective – easily capable of accommodating a 3-monitor set up, with nothing blocking your leg room. You can tuck your gaming chair underneath, too. It comes in multiple color variations and can be picked up for $399 MSRP, though you're likely to find a better deal.
Part of what you're paying for is good solid build quality. The sturdy legs and frame are made of steel to accommodate a load of up to 176lbs. The desk surface is MDF with a non-slip matte finish so your keypad, mouse, and other accessories won't necessarily need any extra pads.
However, it comes with a roll-out mat that is the exact table size. It is also water-resistant in case you accidentally share your coffee with the desk.
The whole thing is 14 sq. ft and a little over 5ft wide, easily supporting three large monitors even with regular base stands, or a couple of curved ultra-wides for that added immersion.
If you set things up with a mounted monitor arm, things get even better. You'll have more than enough room for speakers, gaming keyboards, and other peripherals.
There are also three equally spaced holes at the back to grommet mount your monitors or simply manage the wiring. The space is endless.
We love the shape – a straight back and understated curvature to the front. The 'A' Arozzi logo is boldly displayed across nearly half of the surface area of our mat. The design is nice and certainly gives off the gamer vibe.
One key feature is the adjustable legs that allow you to go from 27.95 to 31.88 inches from the floor to the base.
As standard, the desk is black with the red logo mat, but there are another five color choices. You can go for pure black to remove the patterning or change the leg color to blue, green, red, or white. Mats that come with these will have the same color spanning the perimeter.
While you can certainly get cheaper desks, this is a high-quality product that looks great and is large enough to accommodate gamers. One of the best computer desk all-rounders available.
Height
Electronically adjustable
Size
71 inches x 33 inches
Elite is not just a fancy model name for ApexDesk's series of standing desks. This work and game station is of premium build quality and its height can be adjusted electronically. Of course, that's not going to be cheap – it's around $600 to get it brand-new.
If you have the money, it's worth it. The desk is wide and deep enough to accommodate as many conceivable monitors as you desire, along with your keyboard, mouse, speakers, microphone, router, etc.
The raw specs are 71 inches long by 33 inches wide. The electrical height adjustment provides a range of 29 to 48 inches off the ground. You can use it standing up or sitting down with room for the longest of legs or gaming chair. This is simply the best desk for gaming in terms of overall space.
The look, however, does not scream gamer and it is not marketed that way. There are no flashy colors or patterns. But there are lots of sophisticated color combinations that look professional in the office and can suit any room in the house – gaming or otherwise.
The top of the desk comes in Black, American Walnut, Light Oak, White, Red Apple, Red Cherry, Teakwood, and Rustic Grey.
The frame can either be black or white. It is made from industrial-grade steel, topped with MDF. This can accommodate up to 225lbs, so you're unlikely to overload it.
The electric height is controlled by a 6-button LED remote. Four of those buttons can be programmed to remember fixed heights, while the other two are simply up and down. The mechanism is smooth and rises by 1.5 inches a second.
It's not loud at all. If you're worried about it breaking down, the electronic parts are covered by a 2-year manufacturer's warranty, while the structure is guaranteed for 5 years.
Assembly is a bit more involved than the average desk and takes about an hour. As long as you follow the instructions you should have any issues.
Overall, the ApexDesk Elite Series is sleek and shapely – clearly high-end gaming computer desks. Though you still might want to add some mats for better mouse performance.
GTRacing Gaming Desk GTZ03
GTRacing Gaming Desk GTZ03
Feet
Adjustable, non-slip
Materials
Scratch and stain resistant
The GTZ03 model gaming PC desks from GTRacing are an affordable yet functional choice. At just $145.99, they offer a larger playing surface and raised stand for placing your monitor. This allows further space because you can place items underneath the stand.
It's 108cm by 60cm, giving you more than enough room for your gaming keyboard and mouse, speakers, and other items. It also comes with a variety of baskets and hooks. There's a speaker hold that can double as a CD/DVD holder, a cup holder so you're less prone to spillage, and a tablet holder – not commonly available on other desks for gaming.
You can secure your tablet upright or longways. It is perfect if you need it at arm's length for any secondary functions to your computer. If you don't have a tablet, it can hold a Kindle or e-reader, book, magazine, notepads, etc.
The desk has a cable tray at the back. It's not a complete cable management solution, but it allows you to lay your cables neatly and guide them down to their sources without getting too tangled. Alternatively, it can also hold an actual power strip itself, so you don't have any cabling on the floor. Again, since it's just a metal tray, you could find some other use for it as well.
The desk itself is sturdy and well designed, with a curved front some you can tuck in close for intense gaming. It uses a two-footed leg construction, so you get complete leg room under the desk, which stands comfortable at 70cm high.
The feet are non slip and you can adjust each one so you can get perfect leveling, even on uneven flooring. Meanwhile, the desk's top surface is carbon fiber, making it scratch and stain proof, and very easy to wipe down.
You can adjust and completely remove the monitor stand. It hooks to the back of the desk and can be slid left or right. At 58cm wide and 16.5cm tall it can accommodate almost any monitor.
Smaller gamers may do better without using it at all. The choice is all yours.
Setting things up was easy enough. Everything is pre-drilled, and all the required hardware is included. It takes just a few minutes to follow the labeled instructions and tighten a few screws.
Aesthetically it's clearly a GTRacing gamer computer desk – bright red monitor stand legs and red branding down the side of the desk's main legs. But that's not an issue if gaming is your primary impetus to buy it.
And, at just $145.99, it's our top pick for those that want a raised monitor, but don't want to spend much.
Eureka Ergonomic Z1-S Gaming Desk
Eureka Ergonomic Z1-S Gaming Desk
Cable management
Available
The Z1-S is not the biggest on our list but it's still a good gaming desk. It has lots of little extra design features and elements that hardcore gamers and streamers will love. It's also quite affordable – $169.99 MSRP.
The whole thing is 44.88 inches long and 25.2 inches wide – a small gaming computer desk compared to most. It will still take a couple of smaller screens on stands, or a particularly large 40 inches by itself without any issues.
There are also two grommet holes for cables or monitor arm mounting. It can withstand a staggering 500lbs of weight so there's nothing to worry about.
Most of the frame is metal with some other elements. At its core it is robust, and it comes with non-slip, almost suction-cup style adjustable feet, so it's not going anywhere unless you want it to. These will only rise by a centimeter and are more designed for uneven surfaces and stability. Most people won't need extra height anyway as it stands at 30.75 inches, which will accommodate even the tallest people sitting in bulky gaming chairs.
So, what makes it so perfect for gamers? Here's a quick rundown:
The left-hand side has a hook for your headset or headphones, and the right-hand side has a cup holder.
A control pad stand that supports three or more controllers and game cases, to keep your immediate favorites.
A hanging PC tower or games console holder to keep everything secure, easy to wipe down, and to aid airflow.
The entire top of the desk is layered with a smooth carbon fiber texture, so it's non-slip, comfortable, and you don't need extra mats.
You get a large rubber non-slip mat with an 'ultra-soft' surface and durable edges anyway.
Then there are the add-ons like the:
Gaming keyboard tray to free up more on-the-top desk space.
Eureka gaming chair.
We can't talk about the Z1-S without mentioning its RGB LED lighting that shoots along the edges of the desk. It supports 8 modes – whether you want your colors to be immersive with your game or you just want a light show.
Needless to say, all these features come for less than $200 – we were more than impressed.
Walker Edison Gamer Command Center
Walker Edison Gamer Command Center
Design
Professional and sleek
Size
51 inches x 20 inches
Materials
Steel framed with tempered glass
When something is called a command center, you know you're in for a treat. The Gamer/Writer model from the Walker Edison furniture company doesn't disappoint.
It's like two or four desks in one, depending on whether you go for the single L-Shape or full U-Shape option.
The first thing you'll notice is this isn't aesthetically a gamer desk. It's made from a durable steel frame and topped with premium tempered safety glass. This isn't slippery but you'll need a gaming mat or at least a mouse pad to get the proper texture for gaming. It's also sturdy, with small rubber feet to stop sliding on hardwood floors.
We like its sleek understated look, which would suit any home or office. As a 'command center', it's not beefy at all, it just gives you a lot of surface area.
Although it's a little dated – it doesn't have grommet holes for cable management or mounting, and the desk isn't really suitable for c-clamp monitor mounts – it's big enough for up to 3 or 4 monitors.
Features include a keyboard tray that slides out from the center and a slot for your PC tower to sit under the desk and away from any feet. Each section of the desk can actually be unhooked for your own open-plan configuration.
The main part of the setup before the corners is 51 inches long, 29 inches high, and 20 inches in width, without accounting for the slide-out keyboard.
Personally, we prefer the full U-Shape as-is, so we can pretend to be commanding the starship Enterprise.
Joking aside, if you need a lot of surface area, these are good gaming desks and can be bought for about $380 online. However, the vibe is more suited to an office or home environment. You won't be wowing your Twitch viewers with RGB lights or spinning monitors, but it still gives you all the space you need.
Respawn 2000 Gaming L-Desk [GD]
Respawn 2000 Gaming L-Desk [GD]
Looking for the best L-desk for gaming? The Respawn 2000 Gaming is the true gamer equivalent of the above Walker Edison. It can be picked up for roughly the same price of $399.99 MSRP. It got the stamp of approval at the 2020 ESPORTS Awards, and our own testing proved it to be sturdy, spacious, and ergonomic.
It comes in 4 colors; green, grey, red, or blue, but the bulk of every choice is black. The color simply applies to a couple of feet and accessory stations.
As the name suggests this is an L shaped desk (sometimes called a gaming corner desk). In this context that means it curves around the gamer when sitting in the center but not in a full U. Affixed atop the desk is a shelf for one large or two smaller monitors. There's nothing stopping you from adding another couple on each side of the L. The shelf itself is 39 inches long and 10 inches in depth.
The entire desk is 66.25 inches around and 29.5 inches high, which is suitable for most people to fit under just fine. You can also add your speakers and other gamer gear. To the left and right you get a place to hang your headset, headphones, or other accessories. On the right, you get a handy cup holder to keep drinks out of the way and to prevent the dreaded spillage.
At first glance, the ergonomic sloping/beveling of the desk edges didn't really make an impression but after a few hours of gaming, we could feel how it was supporting our arms. And, while we're still not entirely sure what the surface coating is (the manufacturers don't say), it has some softness to it.
The frame itself is sturdy steel, with many legs and supports to prevent wobble.
Despite all of these elements, setting up didn't take much more than an hour because it was packed in two parts with various aspects preassembled and an easy-to-follow manual. All of the necessary hardware is there, and the screws use a hex key rather than a screwdriver. If yours comes less assembled than ours, check out their installation videos on the official website.
This is easily the best PC gaming desk if you want an L-shaped one.
Holes for cables
Available
Unquestioningly a gamer's desk from design to accessories, the Vitesse is a 55-inch straight desktop with a 23.6-inch width to accommodate all you need. It doesn't overload until it reaches a weight of 260lbs.
It's also one of the most affordable, selling online for less than $130. For slightly more you can find a huge 63-inch version.
For that great price, you get a surprising number of features, including:
two grommet holes for cables or monitor mounting
a headphone rack to the left
cup holder to the right
a small portable shelf to support your gamepads or games in their cases.
The rack itself has 4 USB ports on the base for charging any device.
There's also a bit of an odd plastic storage tray at the back of the desk. We'd never complain about extra storage, but it's hard to reach. It is likely to end up filled with junk rather than anything useful.
Although the PC gaming table surface is made of premium density fiberboard and a smooth PVC coating, they also throw in a large mouse/gaming mat.
Overall, we found the Vitesse sturdy, though the build quality is slightly poorer than some of the more expensive desks on our list. To help keep things in place it has long feet and four leveling pads to maintain a horizontal position.
Looks-wise it has red striping and the Vitesse logo writing right across the desktop, as well as similar designs on the legs. Some of the marketing describes this as 'racing style'. Either way, it's most certainly a gaming desk and wouldn't suit an office or necessarily a living room either.
Other color options include a redder 'sport' version and a black one with white detailing.
Out of all of the desks, we reviewed this was the most difficult to assemble and didn't have the best instructions. Furthermore, if we had to pick one fault it's that the surface tends to be extra fond of attracting dust and dirt.
However, in the grand scheme of things, these are only small issues with what is a feature-rich desk for gaming. Superb value for money.
Mr. Ironstone Gaming Desk
Mr. Ironstone Gaming Desk
Surface area
45.3 x 29-inch
We don't know who Mr. Ironstone is, but he makes a competent desk that you can buy for less than $150.
At 45.3 inches long and 29 inches wide, these aren't the biggest or best gaming desks in this class but they're more than enough to fit a large single monitor or two smaller ones. You'll have space for your keyboard, gaming mat, and other accessories. There are also two grommet holes for cable management or to mount monitor arms.
The manufacturer doesn't state a maximum weight limit, but we think it's sturdy enough to hold at least two grommet-mounted monitors on the heavier side.
It follows a familiar pattern when it comes to features, giving you a cup holder on the left and an accessory hanger on the right, perfect for headsets and headphones. However, you don't get any free accessories like a gaming mat or gamepad rack.
Looks-wise, it's not the best either. It's a regular rectangle desktop with a slight curvature at the front. That's not a problem at all. It's the cheap-looking red sticker labeling on the leg saying Mr. Ironstone and the slogan 'Creating champions' along the left edge of the desktop that put us off. We get the feeling this was a generic yet functional product that someone white-labeled with their own branding and did a poor job of it.
We're also not a big fan of the cross-legged design with central support. It's not wobbly, but it reduces legroom and is prone to being used as a footrest which could warp over time. The two central supports also look flimsy and pointless. The adjustable feet at least keep things level.
The assembly process was simple enough. There weren't many parts and the instructions were easy to follow. It has all the screws, but you will need your own screwdriver.
Overall, Mr. Ironstone's gaming desk does the job. In fact, it does it quite well. It just isn't our favorite design-wise.
We'd say only go for the Mr. Ironstone if you can find a special discount somewhere or the Vitesse is out of stock and you need a desk of this class quickly. It only just made our top gaming desks list.
GreenForest L-Shaped Corner Desk
GreenForest L-Shaped Corner Desk
Surface
Sturdy and non-slip
As far as corner or L-shaped desks go the GreenForest brand has provided a simple and far more affordable model than other similar desks. Its basic black design allows it to fit into any office, gaming room, or living room without looking out of place.
Find it online at prices between $120 and $140.
For gaming, it provides all the space in the world but none of the extra features of the best gaming desks. One side of the L is extra long at 39 inches, while the shorter side is 25.2 inches. Both provide a width of 18.9 inches – it is spacious and capable of accommodating multiple monitors, speakers, gaming accessories, etc.
It lacks grommet holes for mounting monitors or cable management. However, this thing is big enough that having your monitors on their regular stands is not going to take up all the space. Not by a long shot.
It also comes in 3 distinct pieces that you can separate into your own configuration. You can also double up for a U shape and have yourself a full-blown mini-office.
If you do want to use it for gaming the MDF top and basic coating are not suitable for precision movements, so your mouse will need an additional gaming mat. The legs and supports are also made of engineered wood rather than steel or another metal, but it never feels cheap or weak.
Quite the opposite, the desk is heavy, sturdy, and wobble-free. It accommodated our multi-hour Call of Duty session without any problems functionally, though we did add an ergonomic wrist pad because there's no softness to the desk.
Furthermore, things are kept level and stable by adjustable 'foot cups'. It's not going anywhere unless you purposefully move it there.
The box came with all the right hardware to set things up including the tools themselves. We had it together fairly quickly with two people following the instructions provided.
Overall, this GreenForest model is great value for money and suitable for the home or office. It's the best computer desk for gaming in the L-shape if you're on a budget.
Thermaltake Tt Gaming Level 20 GT Battlestation Computer Gaming Desk
Thermaltake Tt Gaming Level 20 GT Battlestation Computer Gaming Desk
Size
59 inches x 27 inches
Materials
Sturdy and durable
The Level 20 GT Battlestation by Thermaltake (Tt) is not just an excellently named gaming desk but a heavy-duty adjustable one at that. It doesn't rely on electronic tech or flashy gimmicks either, it's just a good designed, well-engineered product.
This beast is 59 inches in length and 27.5 inches in width and is therefore capable of supporting one large or multiple small/medium monitors, alongside everything else.
It also has a grommet hole for efficient cable management or for mounting a monitor arm, further extending its multi-monitor capabilities. With a maximum weight limit of 220lbs, you're never going to overload these computer desks gaming.
Where the Battlestation really stands out is with its height adjustment. You can turn a regular sitting desk into a standing workstation with 7 levels of adjustment. The default level is 28.9 inches; you can go a little higher if you're particularly tall or extend it to the full 40.7 inches if you want to stretch your legs.
As far as stability and sturdiness it was one of the best desks we've reviewed. It has large non-slip feet and the entire frame is made of enhanced durable steel. Meanwhile, the top of the desk is made of P2 quality MDF, with a scratch-resistant high-pressure laminate.
It also comes with a free full surface gaming mat that improves precision and is thick enough to provide comfort for your wrists. The rubber base ensures no slipping and it's easily removable to clean underneath.
We're also fans of its professional look. It comes in one black color with some small white branding – you can fit in with any office, living room, or gaming environment.
The only catch is it will set you back $400 MSRP – it's worth it for the build quality alone. This thing will last forever and is one of the best computer gaming desk choices for sturdiness.
E-Win 2.0 Edition RGB Gaming Desk
E-Win 2.0 Edition RGB Gaming Desk
RGB lighting
Programmable
Size
47.2 inches x 26.8 inches
Surface
Heavy-duty carbon fiber
If you don't have enough gaming peripherals and devices with RGB lighting, then why not add it to your desk itself? That's what you get with E-Win Racing's second edition of their RGB gaming desk, but it's not all gimmick. You also get a competent desk, lights, or no lights.
With a surface area of 47.2 by 26.8 inches, it has all the space you need for large single or multi-monitor setups. The two grommet holes provide clean cable management or the ability to add two dual-monitor mounted arms for up to four screens in total. Even then you'll have space for your keyboard, mouse, and speakers.
It's also 30 inches in height, pretty much the industry standard to accommodate tall people.
The desk's tabletop is made from heavy-duty carbon fiber with the ideal texture for mice, so there's no need for an additional gaming pad. There are thousands of light-reflecting points within the fiber for superior tracking capabilities. When testing Call of Duty we found it to be just as responsive and precise as our gaming mat alternatives.
The designers have also gone with a unique ergonomic 5-degree slope that covers the mouse and keyboard area. We were skeptical at first but after gaming, for multiple hours it does offer some extra comfort thanks to the alignment. Just make sure your chair and monitor are at the right height for it to make a difference.
As for overall build quality, sturdiness is not an issue. It's quite a beefy structure and the legs are made of aluminum with a crossover design. There are also adjustable non-slip feet that keep things level and exactly where they should be. There's no wobbling or shaking and we did give it a bit of a push.
So, let's get to the fun part and the RGB lighting. All you have to do is plug the desk's USB cable into your PC and it should be automatically recognized. You can then choose your favorite colors or sequences or the best feature, dynamic mode. This syncs with the predominant color on-screen while gaming for a more immersive experience. The lighting shoots up the legs of the desk and emits from the perimeter of the tabletop and you can control it with buttons on the desk itself or via software.
E-Win's 2.0 edition also gives you a bunch of extras with your purchase – a clip-on cup holder on the left-hand side and a multi-function wireless charger, for example.
You can get all of this for the MSRP of $399, but it's worth it as it looks good compared to any gamer's computer desk.
Room for hard drives
Available
Materials
Steel and tempered glass
Gaming PC desks just got a lot more creative. The Lian Li DK-05F is a tech-rich workstation that doubles as a desk and a computer case all at the same time. If you were looking to save space, what better way than to get rid of the tower altogether?
The desk itself is around 55 inches wide by 30.7 inches, making it more than capable of handling one large monitor or multiple monitor setups.
Because it's a bit more delicate than your typical piece of MDF there's no grommet hole and we wouldn't advise a clamp either, but at this size, you really don't need one. Regular monitor stands will still leave plenty of room for all your other desktop needs.
Furthermore, you can adjust the height of the desk from between 27.1 inches at its lowest sitting position to 46.4 inches for a full standing workstation. All this is done smoothly and silently with motorized up and down buttons, that can have four preset heights programmed.
These are alongside buttons for power, fans, and RGB lighting if you want to draw more attention to this peacock of the desk world. You also get 4 USB ports, a microUSB port, mic and headphone jacks, and a VR-ready HDMI port.
The surface has two options; one is made of durable tempered glass that lets you peer inside at all the wonderful components that make this thing tick. The other blocks this out if you're likely to find it distracting. What you do choose to go inside is up to you but there's space for two extended ATX motherboards. You could even run two of the best gaming rigs from the best gaming desk.
There's also ample room for several hard drives, 360mm graphics cards, a PSU of up to 280mm, and multiple cooling systems. To aid airflow the desk even has seven built-in fans at the rear, and it's liquid cooling-ready, with the ability to fit one 480 and up to three 360 radiators. All the mounts for the reservoirs and pumps are ready to go. This allows for a high-end gaming PC to run like a dream.
We cannot stress how high the build quality is either. It's perfectly molded, full steel and glass with non-slip padding, and not a wobble in sight.
The catch of course is that none of the main internal components to run your rig are actually present. With a little know-how, you can easily switch out the parts from your existing tower or hold off on the 'desk' until you're ready to upgrade.
Retailers like Newegg allow you to choose from the compatible parts you want with their custom PC Builder feature.
For the privilege of owning one of the best gaming computer desks, you'll need to spend at least $2,000 before the hardware. But if you have that money to spend, the experience is definitely worth it.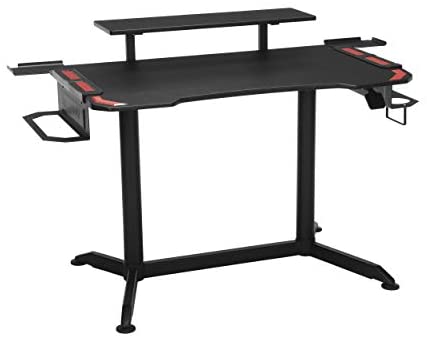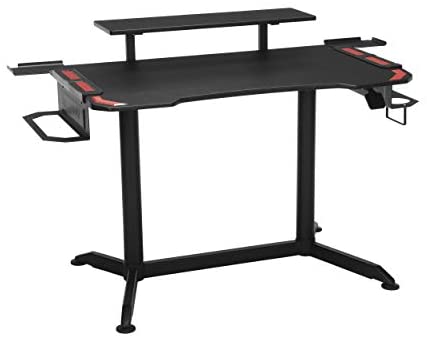 Speaker holders
Available
Our second entry from Respawn is the 3010 computer desk for gamers. It offers a similar high-quality build with a regular rectangular shaped design, though it's far from basic.
Starting with the surface area, you get a 52.6-inch-long tabletop, by 23.6 inches wide. This provides ample room for multi-monitor setups or a single monitor for those of us with huge ultra-wide models.
Either way, you can also benefit from its raised monitor shelf to give you a better line of sight while providing extra space underneath. Our only real issue is that it isn't easily removable or slidable.
We love the smooth surface design that slopes at the front for improved forearm and wrist support. There's curvature across the front so you can tuck in close for immersive gaming.
The 3010's stand out feature is its lever controlled pneumatic height adjustability. It allows you to go from its 28.125-inch sitting position to a 43.875-inch standing position. This makes it ideal for those that need a standing workstation or gamers that want a break from sitting down. There aren't any presets, so you'll probably only switch between the two extremes.
The frame is made from sturdy steel and features four spider-style feet with non-slip pads, meaning no moving or wobbling while trying to game. The only annoying design choice was to stick a bar right across the middle of the floor.
Granted, it offers superior support but it's also prone to being kicked by your foot or used as a makeshift footrest. This itself could end up causing stability issues. It's not a deal-breaker though, just something to make note of.
There's also a bunch of gaming extras that provide extra utility. You get a large hook on the left that can hang multiple headphones, headsets, or your office ties. While on the right you get a sturdy cup holder to stop you from backhanding your drink all over the desk.
There are also two useful speaker holders that extend beyond the desk, so they do not have to take up any of the actual desk surface area itself.
If we want to be nitpicky the desk does lack cable management. However, it really isn't that hard to keep your cables tidy folks.
Visually the 3010 is most certainly a gaming desk but its coloring is not over the top. You can choose from light blue, mint green, red, or almost unnoticeable in dark gray. In that sense it wouldn't look out of place in any room you need it.
Overall, Respawn has provided a high-quality adjustable gaming desk with some useful extra features and ergonomic elements. You can pick it up for $340.99 MSRP.
Wrap Up
Whatever you need out of your desk, we hope our guides and reviews of the best gaming desks have pointed you in the right direction. Whether sitting or standing, taking up a large U shape or a traditional position at one side of the room, there's something for everyone.
However, if you still haven't made up your mind on the best gaming desk for you, check out our answers to some of your commonly asked questions below:
What desk do pro gamers use?
Pro gamers, streamers and competitive gamers use a wide variety of top-rated computer desks depending on their tastes. Plus, if they're sponsored or at a tournament, you'll probably see them rocking a certain brand solely because they get paid to. But you won't see them with a cheap gaming table.
They'll usually go with the more ergonomic variety of desks with the most legroom to make long and/or intense sessions more comfortable. For that reason, it is not uncommon to see pro gamers using the Arozzi Arena Gaming Desk, Eureka Ergonomic Z1, E-Win 2.0 Edition, and others that we have rereviewed. Corner desks for gaming are also on the rise among the pros.
What is a good desk size for gaming?
When choosing a computer gaming desk your main consideration regarding its size is whether it will fit your monitor(s), peripherals, and all your accessories.
A good desk size for straight gaming is anywhere from 44 inches long to around 70 inches, depending on how many monitors you want to accommodate. Width is not such a big concern unless you need desk space for other non-gaming reasons. A good width size is anywhere from 25 inches onwards. This will allow you to easily use your keyboard, a gaming surface, and standalone mic comfortably.
Fortunately, all of the desks we've reviewed fall within these sizes and can easily accommodate large monitors of around 50-inches, and multiple monitor setups of smaller sizes.
There is also height to consider. You'll want at least 29 inches from the floor to the base of the table, so you have enough leg room and clearance for a gaming chair. If you're particularly tall or want a standing option, you can also find gaming desks with adjustable height.
If you are a gaming streamer and have extra gear for recording, you might consider a larger L-shaped gaming computer desk or U-shaped desk.
Of course, you can still game with one screen and not many accessories. For that purpose, you can still find the odd small gaming desk that has similar design elements without as much surface area.
Are gaming desks worth it?
Yes, gaming desks are certainly worth it if you are a hardcore gamer. What you'll get depends on the exact model, but typically gaming desks are worth it because:
They're bigger to accommodate more monitors and accessories and therefore also have higher weight limits and durability.

They have more leg room and clearance for gaming chairs.

They have extra stability and sturdiness, so you don't experience movement, slipping, or shakiness to interrupt your game.

They have experimental shapes and designs for gaming comfort and ergonomics.

They have grommet holes for cable management or mounting monitor arms.

They come with special surfaces designed for gamers, either for comfort/ergonomics and/or to aid mouse tracking and precision. That or they'll throw a gaming surface in with the bundle.

They have extra features like headset hooks, gamepad racks, and cup holders.

They come in more vibrant and exciting color schemes and can include RGB lighting for fun and added game immersion.
Just be careful not to fall for the old marketing ploys. You really cannot get a good gaming desk cheap. Anything less than $100 is probably poorly made and just labeled as a gaming desk to sell more units.
What is the best gaming desk in the world?
The best of anything is subjective but our personal pick for the current best gaming desk in the world goes to the ultra-high-end Lian Li DK-05F.
For $2,000 you get an exceptionally engineered steel and tempered glass desk, with electronic height adjustment and all the space in the world.
But it's not just a gaming desk, it's also a chassis that opens. It can accommodate up to two high-end gaming rigs with water cooling and 7 fans. You quite literally build your gaming PC inside a premium desk.
That being said, we wouldn't use that for competitive gaming or in a tournament/arena setting. They're almost too luxurious and don't have ergonomic features on the surface.
For the best gaming desk in that context, we'd give the edge to the Arozzi Arena. It is followed by many of the ergonomic and awesome gaming desks that make use of space with accessory hooks and holders.
Keelan Balderson
A qualified journalist and longtime web content writer, Keelan has a passion for exploring information and learning new things. If he's not writing or pushing his own brands, you'll find him watching pro wrestling or trying not to rant about politics online.
Leave your comment
Your email address will not be published.