The best gaming speakers combine quality audio with immersive features. We've nailed down 10 of the top, all which stand on their own merit. We look at:
Price
Immersive features
Audio quality
Connectivity
And more
Read on to find the best speakers for gaming for you!
Read More
Logitech G560
These Logitech Lightsync speakers are among the most immersive on the market. If you want high-quality digital surround sound with lights, these should be high on your list. You get two excellent control options, Bluetooth and Aux, and a subwoofer. Our all-round favorite.
DTS:X Virtual Surround Sound
Yes
Razer Nommo Pro
If you want a near-audiophile sound when gaming, you can't go wrong with this new set of Razer gaming speakers. The Nommo Pro is a huge upgrade over earlier versions bringing better audio and Bluetooth connection. Of course, it is designed properly - with two satellite speakers grabbing all the attention.
Bluetooth 4.2 connection
Yes
Frequency range
35 to 20,000Hz
Razer Leviathan
The Razer Leviathan is among the best gaming soundbars available. Sit it behind your keyboard and instantly transport it to a world of crisp audio and 5.1 surround sound for immersive gaming. The added subwoofer thumps out bass you can feel in your chest.
5.25-inch downward firing sub
Yes
Digital surround sound
Dolby
Audioengine A2+
Game in high-fidelity with Aufioengine's A2+ aptX Bluetooth wireless and USB speaker set. These powerful stereo boxes look great in black, white, or red. Moreover, audio is rich with excellent frequency response by eliminating digital signal processing. They're a top choice when looking for high-quality speakers for PC use or smart devices.
Bluetooth wireless support
Yes
Great sounding stereo
Yes
at Creative Sound Blaster Katana V2
Creative Sound Blaster Katana V2
Some gamers like to switch between their PC and console. If you fit the description, you need to check out the RGB-lit Blaster Katana V2 from Creative. Whether you pair with your computer, console, projector, or TV, this soundbar will deliver stellar audio.
Logitech Z906
Logitech comes through with certified 5.1 theatre surround sound via its impressive Z906 system. That means five speakers and a powerful subwoofer, all of which can sit comfortably on a medium-sized desktop. With 1,000 watts, there isn't much competition for the best 5.1 gaming speakers.
THX, DTS and Dolby-certified
Yes
Connections
Six simultaneous
Physical control console
Yes
LG UltraGear GP9
The UltraGear GP9 from LG thing can double as a Bluetooth speaker, despite sporting gamer-centric RGB lights and an aesthetically-pleasing grille. On top of this, it comes with a very reliable built-in microphone.
Logitech Z407
Logitech's Z407 provides powerful audio and Bluetooth pairing for the modern gamer and mobile device user. The compact design will fit on any desktop. You won't get a more affordable and high-performing set of PC speakers with subwoofer.
Creative Pebble Plus
It's amazing what you can get for $50. The Creative Pebble Plus represents some of the most stylish speakers on our list, and you get a subwoofer for that extra kick. Desktop gamers will appreciate the 45-degree angled drivers and easy plug-and-play setup.
Speakers
Unique spherical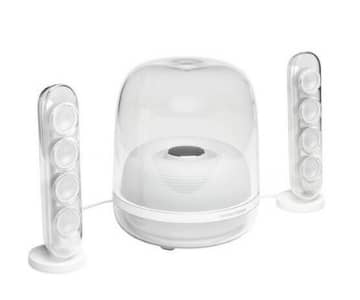 at Harman Kardon SoundSticks 4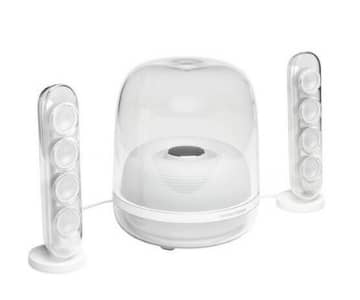 Harman Kardon SoundSticks 4
The fourth incarnation of the Harman Kardon SoundSticks are some of the best Bluetooth speakers available. The see-through design is an immediate head turner! Complex sound can boom through a room without so much as a crackle. Set it up in minutes and stream your favorite music from any device.
Iconic transparent design
Yes
Dome subwoofer
Powerful 100W
Logitech Z625
Logitech's bass-heavy Z625 sound system easily made our list of best PC speakers for gaming. They are one of the few THX-certified gaming PC speakers on the shelves, and the monstrous sub adds to thumping 400-watt peak power. Pick these if you want a heavy and accurate sound.
THX certified 2.1 system
Yes
Connections
Three simultaneous
How To Choose the Ideal Speakers for You?
Choosing the best gaming speakers for you depends on your budget, the medium of gaming, and whether watching movies or listening to music is also important. Here's what to look out for:
Price
The top options are generally not at the highest end of the market. This means prices in the hundreds not thousands. Unless you're setting up a studio or live event. Or if you're a music audiophile, you can expect to spend between $50 and $300. Higher prices usually reflect audio quality, surround sound, and extra power from a subwoofer.
Bass
Bass represents the low end of the sound frequency and is an awesome experience at loud volume. The trouble is it has always been difficult for sound systems to produce loud bass that is clear and detailed. Cheap speakers quickly get distorted.
If you want impactful audio from explosions, car engines, and in-game cinematic music, you want to choose speakers with good bass. A physical bass dial is also a plus because it lets you control the amount of bass. E.g., a game with lots of audio can be unclear if the bass is too high.
If you really want to feel it, a subwoofer improves bass performance and power. The downside, however, is subs take up extra desktop space and aren't always practical in close proximity living situations.
The best gaming speakers for PC or console usually come with a subwoofer.
Audio Quality
The overall quality of the audio is also important. Modern game developers do not need to overly compress audio to fit on discs or cartridges, and the scores and effects get more movie-like by the day.
To fully appreciate the game, you need speakers that can reproduce its sounds as intended. There are many measures of 'audio quality', including frequency range and bass. THX is one gold standard that used to be reserved for cinemas.
Surround Sound
Today's gaming is all about feeling like you're really there. Sound plays a huge role in creating this illusion. At the least, you want stereo speakers. When properly separated, you get two channels beaming different sounds from their respective in-game locations.
Add in a subwoofer to create a 2.1 sound profile and most directions are covered. This setup is excellent for driving games, getting the rumble from the engine and the draft from cars passing either side.
However, the ultimate experience is surround sound, using four or five satellite speakers. This way you could have two behind you, so you can hear the enemy creeping up. For a 5.1 setup, the best sound system for gaming is the Logitech Z906.
More speakers obviously mean more space is required. Moreover, it's going to cost more. An alternative is to use headphones and digital surround sound.
Space and Soundbars
If space is a concern because you have a small desk, one solution is a soundbar. This is a long horizontal bar, effectively containing several internal speakers (drivers). They allow good sound distribution across the length of the bar without taking up too much space.
For gamers, placing a soundbar behind your keyboard or along the width of your display for a boost in sound quality and immersion.
The best soundbar for gaming is the Razer Leviathan.
Inputs
It's all good having a high-quality speaker set, but does it actually connect to your computer or games console easily? What about your mobile devices, TV, or music system? Always make sure to check what ports there are.
For PCs, the most common solution is a 3.5mm aux. The wire goes directly from the powered speaker or sub to your soundcard's port at the front or back of the tower. USB audio is also a possibility, though be careful as some speakers only support USB as a power source. Wiring a mobile device like a smartphone can often be done via the headphone jack, which is just another aux.
A common but older method is RCA. RCA cables connect your speakers to older TVS, Blu-ray and DVD players, and games consoles. They also connect different sound components together and are recognized by their yellow, red, and white ports and corresponding cables.
It's not uncommon for speakers to now offer HDMI as a less messy alternative to multiple RCA cables. In the same vein, the lesser used but equally simple optical audio port can connect audio via a single cable to compatible devices.
You should now have a good idea of how to connect your speakers. If you have a lot of different devices, the more inputs the better. Some of them allow you to easily switch between sources.
Bluetooth
In 2022, many are looking for wireless connectivity for convenience and less clutter. Bluetooth rarely means the speakers have no wires at all. At the least, they usually need power. The Audioengine A2+ is the best wireless speaker set that's truly wire-free.
The standard feature is Bluetooth pairing. This lets you turn on your mobile device's Bluetooth finder and stream music directly to the speakers within a reasonable range. By the same token, you can usually control the playlist, volume, and equalizer settings remotely.
RGB Lighting
RGB lighting is a fun addition to any gaming rig. If you have multiple RGB peripherals and accessories, your speakers can join the party in synchronization. The likes of Razer Chroma and Logitech Lightsync not only give you a vibrant light show, but they also extend the game world by matching the colors onscreen or responding to a specific action.
For example, your speaker LEDs might pulse red if your character is low on health.
Top Recommendations and Reviews
Logitech G560
Brand: Logitech
Logitech G560
Brand: Logitech
DTS:X Virtual Surround Sound
Yes
Logitech has done an exemplary job of combining high-quality audio with Lightsync technology. It immerses you in the gaming experience rather than distracting you. Moreover, the tone down button allows you to adapt to the real-world lighting in your environment so it's not too bright in dark conditions, for example.
These cool speakers give you a typical rainbow color cycle by default. This remains when you use hardware control via Bluetooth or Aux. You'll also notice colors starting to synchronize with the beat of the audio using this control method. You use this for pairing with devices like your phone when playing music.
However, using Logitech's Gaming Software gives you even more options. The best setting for gaming is the screen sampler, which syncs with your display to suck you into the on-screen action.
In simple terms, this takes the colors currently shown in-game and extends them onto the backlights of the speakers. The G560 has four rear-facing LEDs per speaker and two at the front. Because this option relies on the rear LEDs, it works best by positioning them towards a wall. This shouldn't be a problem if you use a typical desk against wall setup.
Other software settings include emitting just one fixed color and breathing mode. You also get the default rainbow option.
The complexity of the lighting depends on the game you're playing. You can define screen areas manually for most games to get basic color replication. However, things get exciting when the game itself supports Lightsync.
For example, you may experience low ammo or health indicators, red kill-shots, siren flashing in tense situations, etc.
In terms of audio, these are high-quality speakers with great digital surround sound. Where many provide distorted or tinny results, Logitech's is rich and clear. Of course, this isn't on the level of music-focused speakers and true 5.1 or 7.1 setups. But if you want to know where the bullets are flying from in Fortnite or Call of Duty, it's excellent.
You get the best results when using your headset, though it's still impressive when you position the speakers to the left and right of your monitor.
Furthermore, these are Logitech speakers with subwoofer down-firing. This makes deep in-game sounds like explosions deliver an extra thump that's extremely satisfying. However, for music it's a bit too much. Moreover, there's no physical bass control on the speakers, so if you're using Bluetooth your device needs to be able to do the work.
In conclusion, these Logitech computer speakers are perfect for gamers that want a loud, light immersive experience, with good directional sound capabilities. Pick it up for $189.99 to $200, which is great value for money.
Razer Nommo Pro
Brand: Razer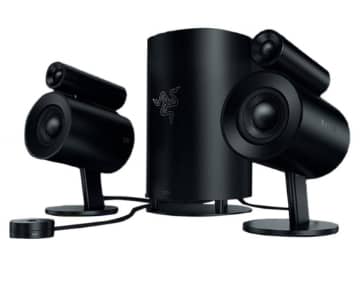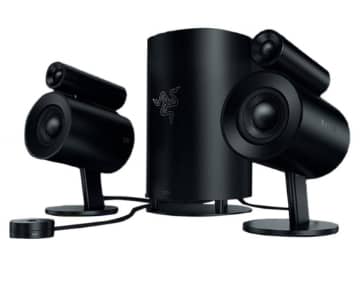 Razer Nommo Pro
Brand: Razer
Bluetooth 4.2 connection
Yes
Frequency range
35 to 20,000Hz
While three times the price of the Nommo Chroma, the new Nommo Pro speakers bring a significant upgrade in performance. However, they still feature the original's recognizable RGB light rings under the round base.
Resembling sci-fi pistols for increased precision, these speakers can definitely fit into every gaming setup. The 2.1 system also includes a cylindrical subwoofer and a small USB control dongle.
Each speaker is made of smooth black plastic.
But don't worry!
Your fingertips won't be visible.
Also, the entire set is much lighter than you'd assume.
In terms of connectivity, the Nommo Pro offers a variety of options - analog, Bluetooth, USB, and optical. Bluetooth 4.2 is a welcome feature, as it wasn't available on the other option. The 3.5mm jack plug is there as a nice backup option.
With a frequency response of 35 to 20,000Hz, the audio quality has improved a lot from the previous version of the Razer gaming speakers. The Nommo Pro boasts a lot of volume and smooth basslines.
While you can enable Dolby Virtual Surround Sound technology, you'll hardly ever need it as the soundstage is already very good. The positioning of left and right speakers is very accurate, which is often crucial for gamers.
Of course, the system also works with Razer's Synapse software. You can use it to control both RGB lights and volume. When it comes to colors, there are some presets available but you can fully customize them according to your likes.
You only have to install Synapse when setting up the speakers. Outside of that, all you have to do is link the satellites with the sub and connect your input. It's essentially a plug-and-play setup.
The Nommo Pro may not be for everyone because of its hefty $500 price tag while other good speakers for gaming hover at around $200. However, this system is definitely worth it as it's safe to call it a near-audiophile gaming set. If you add it to your gaming setup, there's no doubt you'll hear some sounds in your favorite games you were never even aware of.
Razer Leviathan
Brand: Razer
Razer Leviathan
Brand: Razer
Downward firing sub
5.25-inch
Digital surround sound
Dolby
The beastly leviathan is a powerful soundbar and sub that easily surpasses most standard speakers with subwoofer for PC gamers. This time it's all about that booming bass rather than a theatrical light show.
Place the bar behind your keyboard with the sub to one side or even underneath the desk. This produces the perfect gaming experience, with multi-directional Dolby digital surround sound. Feel it head-on, from each side, and then get peripheral sound from distant noises as well.
In practice, it really does feel like you're in the center of the battlefield. The downward-firing sub is the icing on the cake, giving that extra thump when experiencing in-game explosions or other deep sounds.
Furthermore, the Leviathan is an excellent option for music playback or watching movies. The only irk here is the controls are on the soundbar itself, so you'll need to set things to your liking before relaxing on the couch. Bluetooth can solve this problem, however, when connected to smart devices. Moreover, you don't need to power the sub, so there's no excess wiring.
At the top of the soundbar, you'll find ports for power, optical and 3.5mm audio inputs, and the subwoofer. I.e., you don't have to use it if you don't want noise complaints. It also comes with two different feet, allowing you to use the bar flat or at a 15-to-18-degree angle. The latter works best if you're sitting above it while gaming, as the sound travels up to your ears, not forward to your torso.
Despite the great performance, the soundbar and sub are on the small side. This is ideal for desktop use. The bar measures 19.6 x 4 x 3 inches and is all black with a metallic grille. Inside are 2.5-inch midrange drivers and two 0.75-inch tweeters. You get 30 watts of combined power. The sub is also 30 watts.
To sum up, the Razer Leviathan is a small yet powerful solution if you're looking for the best soundbar for gaming. You get all the bass you need with the standalone sub, producing little distortion. Yes, you don't get true 5.1, but the digital surround sound is great for gaming. It's also versatile, working seamlessly via Bluetooth and optical audio out. Hook it up in an instant to your PC, console, TV, or smart devices. Get it today for just $206.99.
Audioengine A2+
Brand: Audioengine
Audioengine A2+
Brand: Audioengine
Bluetooth wireless support
Yes
Works with any device
Yes
Great sounding stereo
Yes
Audioengine's $269 A2+ has set the bar for true stereo speakers in the wireless era. That doesn't just mean they connect to devices wirelessly. You do not need to plug this into a power outlet to function at all. They provide around 70-hours of playback on full charge.
Of course, wireless connectivity is also a strong point. It uses aptX Bluetooth technology to pair with your phone or other smart devices. Just push the pairing button and you're away.
Traditional options also include dual analog input and output, direct aux, and USB. There's a standard power supply with an AC cord, alongside the modern USB method.
For PC gaming speakers, you can set them in stereo, either side of your monitor. Angling them slightly upwards is better if you're not using headphones. You get a great frequency response at the lower end, resulting in hard and accurate bass. The only time we got distortion was when pairing with a smartphone. Even so, you still get full performance up to about 75% volume.
For louder vibrating bass you can attach a secondary subwoofer via the output at the back. This isn't necessary, however, unless you're going for a loud music session. At the higher end, vocals and percussion are clear and bright due to the Silk tweeters.
The lack of digital signal processing allows classical and jazz to shine. You might even hook up a vintage turntable or 80's tape deck via the analog. The trade-off for gamers is a higher overall audio quality, but less directional sound. A good headset and some Windows tweaks can still replicate this digitally, making for some of the best wireless computer speakers.
Design-wise, you'll notice excellent build quality. The traditional box-like speakers come in matte black, glossy white, or a head-turning glossy-red. These encase 0.75-inch dome tweeters and 2.75-inch aramid fiber woofers. Combined, you get 60 watts of power.
In the box, you'll find two meters of traditional speaker wire, a USB cable, power supply, and detachable AC adapter, and an audio jack. The speakers have a microfiber bag and so do the cables.
In short, the Audioengine A2+ hasn't designed its speakers specifically for gaming. However, they're some of the best wireless speakers you can find in stereo. They're perfect for your desktop, whether you're gaming, listening to music, or watching videos.
Creative Sound Blaster Katana V2
Brand: Creative
Creative Sound Blaster Katana V2
Brand: Creative
The original Creative Sound Blaster Katana was a popular choice among gamers. It had some minor issues but Creative addressed them all in the latest iteration of the device. The new Sound Blaster Katana V2 has quickly emerged as the best soundbar for gaming if you care about aesthetics.
It's also important to mention that this is a multimedia soundbar, meaning that you can have it deliver audio from your PC, console, projector, or TV.
When you first look at the speaker, it has a sleek, matte black build that can go well with any TV. This is the case both with the soundbar and the subwoofer. But when you turn it on, that's when the show really starts. The device is equipped with flashy RGB lights that most gamers crave. They create a pleasant diffuse effect and are fully customizable.
At the front, there's an LCD panel that can tell you the volume and what source you're playing audio from. Next to it, you'll find a 3.5mm jack, which is ideal for when you want to use headphones instead.
Of course, Creative didn't think about appearance only. Not only is the Sound Blaster Katana V2 an improvement over the previous version, but it's also one of the best-sounding soundbars for gamers. It efficiently delivers a room-filling sound and can reach a total power of 250W. Some traditional speakers are more powerful but this places it among the best gaming soundbars on the market.
In terms of size, the Blaster Katana V2 measures 23.6 x 3.1 x 2.4 inches, The soundbar can suit most gaming setups but it also works well with TV setups that aren't gigantic.
The metal grille guards two 0.74-inch tweeters and two 2.5-inch mid-range drivers. The dedicated subwoofer has a 6.5-inch driver that can produce some powerful bass tones.
As for connectivity, you don't have to worry about a shortage of options on this soundbar. It includes USB-C, HDMI ARC, aux in, optical in, SXFI out, and Bluetooth 5.0 connections.
With the device comes a thin and easy-to-hold remote control that controls all of its features.
At $379.99, Creative Sound Blaster Katana V2 falls under more expensive speakers you can pick up for your setup. But given its multimedia properties, incredible sound, and stunning RGB effect, it's definitely something to check out.
Logitech Z906
Brand: Logitech
Logitech Z906
Brand: Logitech
THX, DTS and Dolby-certified
Yes
Connections
Six simultaneous
Physical control console
Yes
Logitech delivers in spades if you're looking for true gaming surround sound speakers. This is a full 5.1 setup, with four THX-certified vertical box speakers, a horizontal center channel, and a powerful 165-watt subwoofer. It measures just 16.5 x 9.9 x 9.25cm, so even a medium-sized computer desk can theoretically fit everything.
The first thing to mention is that at 1,000 watts altogether, this will make your house rumble. That's a plus if you want to really feel like you're in a warzone. The downside is you're going to make your neighbors think they're also at the battlefield. Ultimately, it's a compact home theatre system, not designed for your average desktop gamer. But if you have the right environment, it makes gaming about as loud and immersive as it can get.
You control everything via a cabled console, though you yourself can interface with it by remote control. This includes power, input switcher, and input mode (i.e., 5.1, 4.1, and 2.1). You also get volume, bass, and can mute the entire system!
It supports six inputs at once. In other words, you can hook up your PC, games console, TV, music system, etc., and cycle through them. Furthermore, it has slots for headphones, audio inputs, RCA connectors, digital coaxial, and optical. It lacks USB and HDMI, however, meaning your best option for PC and other devices is a straight VGA, or VGA to HDMI adapter. Likewise, you'll need an aux to micro-USB to connect your phone if it doesn't have an audio jack.
As you would expect, the Z906 delivers superior bass, not just from the sub but also from the satellite speakers. Overall, the sound is crisp and accurate, more than worthy of the THX ultra-high-quality certification. Added digital decoding also supports detailed surround sound from DTS and Dolby digital sources. At just $299, they're easily the best 5.1 computer speakers when it comes to quality for the price.
The system comes in matte black, and nothing particularly stands out in terms of design. Everything is sturdy and compact, however, and will look just fine alongside other black tech.
In conclusion, Logitech offers an exceptional set of THX speakers. Not only is it in contention for the best sound system for gaming, but they're also not far off the best mid-range speakers for any home entertainment purpose, period.
LG UltraGear GP9
Brand: LG
LG UltraGear GP9
Brand: LG
Mini computer speakers, especially soundbars, often don't deliver in terms of quality when it comes to audio from gaming. However, that's not the case with LG UltraGear GP9.
This device really opens up the soundscape and makes all sound effects impactful. It even has an FPS profile that makes it easier to hear enemy footsteps and figure out the direction they're coming from.
Two sets of 2-inch woofers and 0.8-inch tweeters deliver this superb audio quality. Given that the LG UltraGear GP9 doesn't have its own subwoofer, this is exactly what you'd expect. It has a maximum output power of 20 watts, meaning that it's not something you'd want to use for your home theater.
However, this soundbar has another surprise up its sleeve. It comes with a 2,600-mAh battery that also allows it to act as a wireless speaker for PC or a Bluetooth speaker you can take anywhere with you. It can go for up to five hours before you have to recharge it.
Since it can double as a portable speaker, it's natural that this soundbar is somewhat smaller than some other options on the market. At 14.8 x 2.9 x 3.9 inches, you can easily carry it around but the device is still sturdy enough to sit in one place on your desk.
The design immediately gives away that this soundbar has been made specifically for gamers. LG placed the RGB lights conveniently so that they can light up grilles. In the dark, the effect is quite striking with the light spilling across the desk. You can control it through LG's Xboom app.
On top of the device sits a tactile and chunky volume dial. While quite large, this thing really adds to the overall look of the device. Around it, you'll find buttons for controlling the soundbar and a 3.5mm headphone jack.
Another thing that makes the LG UltraGear GP9 worthy of a place on this list is a surprisingly very good built-in microphone. If you don't want to wear headphones, you can rely on it to deliver quality audio to your teammates even if you don't sit directly in front of the soundbar.
When releasing this device, LG put a hefty $500 price tag on it. Even though the UltraGear GP9 gets in contention for the best soundbar for PC gaming, this was quite a lot. However, at the time of writing, it's on sale on Amazon and you can pick it up for only $269.
Logitech Z407
Brand: Logitech
Logitech Z407
Brand: Logitech
Logitech's Z407s are a pair of the best cheap computer speakers you'll find for gaming. For just $79.99, you get stereos, a subwoofer, and Bluetooth connectivity at a range of 20 meters.
They're also quite powerful, clocking a total of 80 watts, including the 20-watt sub. You'll experience rich lows and bright highs, for a great desktop gaming solution. They excel here because most users don't need excessive volume when sitting over their display playing video games.
If you want volume at its max at a party, however, it produces some notable distortion. You expect this at this price range. You might also find the hardwired cables to be a little short, so don't buy this if you've got an odd setup that requires a lot of distance.
The all-black design is conservative and familiar. One unique feature is the ability to use the satellite speakers vertically or horizontally. They connect via RCA cabling to the subwoofer. The sub also has a micro-USB port and 3.5mm aux input. Therefore, you have two ways to connect to your computer. Mobile devices can connect via the 3.5mm jack or Bluetooth.
When you want to sit back and relax you can use the PC compatible remote control, which comes with AAA batteries. It's a peculiar design, like a push-button or buzzer, though it couldn't be easier to use. One click is for playing and pausing. Two clicks skip the track, while three clicks go backward in the playlist. The surface also rotates for volume, clockwise to increase, and anti-clockwise to decrease.
Ultimately, 2.1 Bluetooth computer speakers at this price are rare. You get rich balanced sounds if you don't overdo the volume, and everything is still small enough for your desktop. We rate the Z407 as our top cheap computer speakers with a sub. However, judging from performance, they could easily cost more.
Creative Pebble Plus
Brand: Creative
Creative Pebble Plus
Brand: Creative
Speakers
Unique spherical
Another set of good cheap speakers for PC users is the Creative Pebble Plus, available now for less than $50. At such a low price, there are some tradeoffs. For example, there's no bass dial, only one input, and a few too many wires for our liking. That means no Bluetooth or wireless connectivity either. Sound is surprisingly powerful and clear at high and low-end frequencies, however. Plus, you get a subwoofer!
Firstly, let's talk about design. You'll love the stylish spherical shape, which looks great in any room. Meanwhile, Creative perfectly angles the drivers upwards to deliver precise sound when sat at your desktop. Not bad for a cheap computer speaker.
Secondly, the box-shaped woofer measures just 8 x 5.9 x 7.7 inches, so it doesn't take much of your valuable space. At 4 watts, it also won't blow you away. Yet, the audio still booms when you're up close and personal playing a game. Just remember, you'll have to control bass digitally within your operating system.
Meanwhile, the overall sound quality is crisp and deep, but the bass most certainly distorts if you crank the volume up too much. In other words, this isn't the ideal sound system for loud music.
The Pebble Plus cables are all hardwired, so if you like to keep them hidden, you're out of luck. One cable connects to the sub, another connects the two speakers, and a 3.5mm input cable to connect to your computer. Although there is a USB cable, this is strictly for power. You cannot receive USB audio.
For anyone on a really tight budget, these are still gaming speakers PC users can appreciate. They deliver rich audio and some bass. Just note, at this price point, you are going to forgo some of the more modern features.
Harman Kardon SoundSticks 4
Brand: Harman Kardon
Harman Kardon SoundSticks 4
Brand: Harman Kardon
Iconic transparent design
Yes
Dome subwoofer
Powerful 100W
Call it the jellyfish, a food processor, or the most iconic design in the 2.1 speaker range. But whether you love or hate the see-through design of the Harman Kardon SoundSticks, the raw performance is undeniable.
The fourth edition marks 20 years since the original and they continue to be some of the best desktop speakers. Now you get a modern Bluetooth sound system with true stereo separation. Whether you're on your iPhone, Android smartphone, or virtually any other device, getting a connection is easy. Just push the pairing button at the back of the subwoofer and your device will discover it. You then have full control remotely.
Alternatively, you'll find all the controls on the sub itself. These are touch-sensitive and you get a plus and minus for volume at the front and power at the back. The main gripe is a lack of bass control. Furthermore, there isn't an app to modify equalizer settings officially. Instead, you will have to make do with your computer or device to replicate this.
So, let's dive into exactly what Harman achieves by this bold design. The vertical sound sticks sit on white bases and evenly distribute sound at a slightly tilted angle. Each satellite has four 1.4-inch drivers, resulting in balanced and clear sound at high and low frequencies. Volume distortion is also not an issue thanks to good DSP implementation. The cabling is long, so you're unlikely to have to hide them behind a large monitor.
You can really separate them for a genuine stereo effect, which is perfect for immersive gaming. You can hear someone running towards you from the left and firing shots from the right.
The speakers are 20 watts. You could rely on these alone, but it's the 100W sub that packs a serious punch. Affectionately called the UFO, this dome-shaped bad boy produces some powerful vibrations. It's ideal if you want loud, punchy, distortion-free bass. However, your desk or table needs to be wobble-free to accommodate, else the vibration itself is going to get annoying.
The speakers are nice and slim, measuring 10.6 x 3.3 x 3.3 inches. Positioning the sub may need a bit more consideration, but it's still compact. It measures 10.9 x 9.1 x 9.1 inches. There's no Lightsync style rainbow lighting, but the system does give off an almost ominous white glow when in use.
As well as Bluetooth, there's a single 3.5mm input and a mini-USB service port. It doesn't include an audio cable, but by now most people have drawers full of these.
Whether you want loud booming Bluetooth gaming speakers or to stream music from your mobile devices, the Harman Kardon SoundSticks are high-quality head turners. Pick up the set for $299.95.
Logitech Z625
Brand: Logitech
Logitech Z625
Brand: Logitech
THX certified 2.1 system
Yes
Connections
Three simultaneous
Logitech has jumped from the Z623 to the Z625. This offers several upgrades including an optical input for console gaming. The 2.1 speakers and subwoofer set maintain premium quality audio with THX certification. This means you get clear and detailed sound across the frequency range, with superior accuracy.
The two satellite speakers sit nicely on your computer table, connected to a rugged subwoofer which you might place behind the monitor, on a shelf, or below the desk. The overall design is compact but aggressive, fitting right in with its powerful 400-watt peak power. Only Logitech's own Z906 theater system matches this. All components are matte black with glossy elements. Logitech built them to last, and they're heavier than most, with rubber feet to prevent slipping.
The speakers also angle nicely and contain one full-range driver each. The right satellite houses all the controls including power, volume, and a coveted bass dial. Alongside you'll find a 3.5mm aux-in and a separate headphone jack, so you can get an even more engaging experience with a gaming headset. It'll also keep the neighbors off your case at night.
Other inputs include RCA, and that optical for a clean TV connection without unnecessary HDMI or ARC. Of course, this also means DVD and Blu-ray players, as well as console gaming.
If you're looking for the best speakers for computer gaming with high-performing bass, the Z625 excels at the low-end. Although Logitech aims it at gamers, you'll still enjoy watching movies or listening to music. The bass dial also allows you to fine-tune just how much rumble you want.
To conclude, the Logitech Z625 perfectly combines sub-supported bass and power, with precision and accuracy. What's more, you get full control. Its inputs support everything from smartphones to games consoles, and you get it all for only $149.99.
We can't call them the best budget speakers, but they might be the best gaming speakers in terms of performance to price ratio.
Wrap Up
Whether you're looking for the best PC speakers for gaming or a solution for home entertainment needs, we explored the leading options available in 2022.
Nab one of the bargains to instantly upgrade your display's native audio, stream from your mobile device with Bluetooth speakers or get full-blown surround sound with a room-shaking subwoofer. The choice is yours!
Keelan Balderson
A qualified journalist and longtime web content writer, Keelan has a passion for exploring information and learning new things. If he's not writing or pushing his own brands, you'll find him watching pro wrestling or trying not to rant about politics online.
Leave your comment
Your email address will not be published.
You may also be interested in: