Traveling and camping in an RV is an experience like no other. Yet, it's not uncommon to be left uncomfortable due to stagnant airflow and a lack of electricity.
As such, we searched for the best generator for RV air conditioner units and found nine standout models.
Check out the below reviews to find the best generator for RV air-conditioned travel.
Read More
This newer model from Champion is a quiet generator for RV use, thanks to its repositioned fans and other design specs. It produces about half the noise as the original Champion 3500-watt model. Even so, its open frame still makes it louder than many of the fully enclosed generators.
It's rated at 64dBa, which is not much louder than a human conversation at 23 feet.
At 4,000 starting watts and 3,500 average running wattage, it can easily handle air conditioning units and other large appliances like fridges.
To get going, simply pull the cord. To the right is the control panel with useful modes like Eco and LED lights to warn of potential overloading.
You get 12V, 120V, two 120V DC outlets, and USB support. One tank of fuel produces an impressive 17 hours of power at 25% capacity.
At $480, the design of the 7117 GP2200i W model fully encloses its compact inverter generator. It provides quiet, clean, and stable power to support your air conditioning and electronic needs. Meanwhile, the 1.2-gallon fuel tank runs for nearly 11 hours at 15% capacity.
You get an on/off/choke switch to make startup easy, while economy mode reduces fuel consumption and noise levels. This is great when focusing its use only on air conditioning and not other appliances.
Furthermore, you can connect a second generator in parallel to double its 2,200-watt power and reduce strain on either generator.
Sporting a molded carry handle, it should be high on your list if you're looking for a portable RV generator to power your AC.
This beastly 4,400-watt generator doesn't tick the box for quietness, but it does handle AC and everything else you may need to power in your RV. Its dual-fuel technology lets you use either propane or gasoline. Moreover, MX2 technology supports 120V and 240V simultaneously. You can get up to 8 hours of power on a full tank of fuel.
The DuroMax wants you to have a long-lasting experience, so it will automatically shut off when oil is low or if there's a power surge. That's without mentioning the generous three-year warranty.
Being on the larger size, it sits on wheels for easy maneuverability. This makes it one of the top portable generators for RVs of this size.
Oil and voltage regulators
Yes
4750W surge/ 3750W rated
Yes
The 4750-watt electric generator for RV campers has an electrical start but runs on gasoline. The WEN 56475 is easily portable due to foldable handles and a set of wheels. It has a huge four-gallon tank and can run for 10 hours at half load. Meanwhile, it keeps you safe with low-oil shutdown and voltage and overload protection.
It's especially safe to operate in the wilderness because of its spark arrestor. This prevents the potential ignition of any nearby flammable debris.
It also has an excellent warranty, providing two years of support from service technicians in 1,000 locations across the US.
It's available for around $499, which is exceptional value considering it's the most powerful of our picks.
Briggs & Stratton fully encases its quiet generator for RV air conditioner units in durable plastic. You can take it practically anywhere with its convenient carrying handle, pull-out wheeling handle, and set of wheels.
It also has a ton of outlets, including four standard 120V/20As, a single 12V DC, a 30-amp locking outlet, and a USB port for device charging. It can also run in parallel with a second generator.
You can fill this 3000-watt model with up to 1.5 gallons of gasoline, which will run for 10 hours straight at a quarter power load. This is more than enough for running the AC overnight.
Its slow engine speed further aids noise reduction and reduces emissions.
You can find this well-engineered and high-end inverter generator for roughly $1,600. It's our pick for being the best versatile of the bunch.
Champion's 3400W model is one of the best quiet portable generator options on our list. With a 59dBa rating, it is no louder than a conversation from several feet away. This is mainly due to its fully enclosed design. For ease of transport, it has a two-handle design for carrying along, with one being extendable for use when wheeling it into place.
You get two standard outlets, a 12V DC car-style outlet with a dual USB adapter, and a 120V 30A RV. Although 3,500-watts is perfect for powering an AC and other appliances, you can easily double its outage with its parallel kit that allows for the simultaneous hook up of two generators.
It operates on gasoline and propane.
If you're looking for the best quiet RV generator, the Honda EU2200i is up there. It operates between 48 and 57dBA, often more silent than regular conversations. This upgraded model provides 2,200-watts, which is suitable for most ACs.
It's also great for overnight power, running for just over eight hours on less than a gallon of fuel. A full tank on full load can run for 3.2 hours, and you can double up with a parallel cable. You can monitor all of this with the accompanying Honda My Generator app, which allows you to stop the generator via Bluetooth.
The EU2200i is incredibly portable, designed in one enclosed unit with a molded handle. At just 47lbs, you'll have no trouble moving it around.
It currently costs $1,299.
Lightweight and portable
Yes
At an affordable $414.14, the WEN 56200i provides 2000 watts of power and is exceptionally lightweight and quiet. It operates at around 50dBa and weighs just 48.5lbs. Aesthetically, it is both eye-appealing and convenient to use.
It comes with two 120V/15A household outlets, a 12V DC, and a USB port to charge your devices. You'll also find an eco-mode switch, parallel connection, and indication lights for low oil and power overload.
The 56200i is ideal for leaving the AC on while you sleep, as it can run for over 9 hours at a quarter load.
Mufflers for low sound
Yes
Westinghouse is another contender for being the best quiet generator for the money. The iGen2200 gives you 52dB at 25% load for less than $500. It's more capable of powering most air conditioners.
The generator comes in racing blue or camo color schemes in a completely encased design, making it perfect for the wilderness. It's portable, too, weighing just 46lbs with a jug-like handle. It's the lightest we've come across.
It's also one of the few models reviewed with two USB ports. These accompany two 120V standard household outlets.
Its inbuilt safety features include overload and low oil shutdown. Plus, you get a three-year warranty and lifetime technical support.
How To Choose The Right Generator for an RV Air Conditioner?
Choosing the best generator for RV appliances and ACs has a lot to do with how often you use your electronics and the climate. Here's what you should consider.
Price
Well-made portable AC generators will always cost you a few hundred dollars. Price is usually reflective of its power in wattage, but other features play a role too. You can expect to spend from as low as $400 to well over $1,000. The 2200W Honda EU2200i is the most expensive on our list.
Power
Air conditioning units are one of the more power-hungry appliances you'll find in a recreational vehicle. Therefore, you need to look for a generator with sufficient capacity to meet the AC's power needs.
Generators express power in wattage, and anything from 2000W and above can accommodate an AC unit. However, particularly powerful ACs or RVs with numerous appliances may require a model with a range of 3400W to 4000W or more.
Outlets
A generator's outlets are one of the most important factors in determining the type and number of devices that can be connected. Most commonly found are 120V household outlets that accommodate most items, from hairdryers to TVs.
Some air conditioners require a 3-prong AMP outlet, which most generators have. Just make a note of the amperage and voltage numbers. The generator needs to be higher than the AC. For example, a 14A, 100V air conditioner will work with a 30A, 120V amp outlet.
It's also common to get a 12V DC outlet, similar to ones found in car consoles, along with a USB port to charge your devices.
Parallel Generators
If you are a heavy user of power and need to run an AC unit alongside many other devices, it's possible to operate two generators in parallel. This is a simple cable that connects two of the same models together.
Not only does this give you more power, but it's also more energy-efficient.
Controls
You don't want a generator with too many controls, as such may become confusing. You can expect an on-off switch for electric start generators, a pull cord to start up the traditional way, and possibly a switch for eco/power-saving mode. There should also be safety indicator lights.
Some models will have a display giving out fuel and power readings.
Furthermore, it's becoming increasingly common for generators to have Bluetooth and a mobile app, so you can check in on performance and even turn the generator off.
Noise
The amount of noise a generator creates is a primary consideration for two reasons. First off, if you and your family are sleeping in an RV, you most likely prefer not to be disturbed by loud generator noise. Secondly, if you require electricity within a populated area, there's a good chance others will not appreciate a noisy one.
Makers of the quietest generators for RV owners tend to have Eco or low power modes and are generally less powerful.
Most generator manufacturers will specify a decibel rating, so you know exactly how loud they are.
Enclosures
If you want a quiet portable generator for RV power, you're going to get the best results with one that is enclosed. This simply means it encases all noisy components and mechanics in plastic or another material.
Furthermore, accidental burns and injuries are preventable with the generator fully enclosed.
Portability
If traveling about, chances are you don't want a cumbersome generator. You should expect a quality RV generator to come with carrying handles. Moreover, the larger ones will have wheels to avoid any heavy lifting.
Handle designs often fold away for more compact storage, while others are hard-molded for lasting durability.
Fuel Type
RV generators use gasoline as their primary fuel, while some use propane and diesel. Certain model designs work with more than one fuel type. For ease of start, many have an electric start instead of pulling the recoil cord.
Fuel Life
Fuel efficiency determines how long a generator operates at a certain percentage of power use. Manufacturers usually express this as hours per load - for example, 10 hours at a quarter load. The load refers to the power consumption, not the amount of fuel in the tank. However, the measure might also state how many hours of use per tank, half tank, etc.
Size
Size matters when it comes to power and sound. The lightweight generators RV owners tend to choose are compact, portable, and quiet. However, they often lack sufficient power capability to run an AC unit along with other appliances.
On the flip side, large generators tend to be more powerful but less portable. They're also typically louder.
Wrap Up
Picking the right generator to run an RV AC unit can potentially be a bigger headache than first anticipated. Fortunately, our top nine picks shed light on many available options to help guide your decision.
Keelan Balderson
A qualified journalist and longtime web content writer, Keelan has a passion for exploring information and learning new things. If he's not writing or pushing his own brands, you'll find him watching pro wrestling or trying not to rant about politics online.
Leave your comment
Your email address will not be published.
You may also be interested in: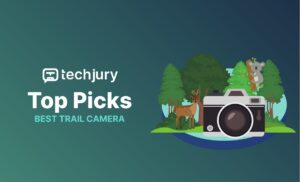 11 Best Trail Cameras for 2023
8 Best Dash Cam Models Under $100 for 2023