The popularity of video content is skyrocketing. More and more people are creating live content for other internet users. Whether you're looking to stream on YouTube, Twitch, or Facebook Live, you need quality equipment.
To help you start building your arsenal, we singled out the best lights for streaming you can find. When scanning the market, we looked at the features that'll impact the quality of your streams the most, including:
Power

Support kit

Design

Rotation

Durability

Price
Let's dive into it.
Read More
2,900K - 7,000K
Color temperature
Elgato is a popular manufacturer offering various products, including the Key Light, one of the best lights for streaming available. If you can afford it, this device is something you won't regret buying. However, streamers who're working on a budget will find it to be out of their reach.
Overview
Elgato Key Light is a premium light that every streamer would want as a part of their setup. It's one of the best-performing devices, both in terms of power and flexibility. The kit includes the light, power supply, and its own steel desk mount. The product is excellent for streaming as it's easy to control using your phone or computer.
This Elgato stream light lets you set the color temperature between 2,900K and 7,000K while the maximum output is 2,800 lumens.
In case you want less power, there's the Air version with 1,400 lumens. This device was designed specifically to illuminate small work areas.
The opal glass face ensures balanced lighting, meaning that you don't have to worry about any glare in your video.
It's safe to say Elgato Key Light has the best LED light panel for streaming. It consists of 160n premium OSRAM LEDs with multi-layer diffusion technology, which offer impressive lighting.
You can adjust the height of the panel according to your likes and needs. It goes from 26 inches up to 38 inches. You can also mount it on your desk and use the many close-range illumination customization options available.
Features
The product can be controlled easily via WiFi using your phone. It connects to any iOS or Android device. Additionally, you can manage it through your PC or Mac, which comes in handy when you're streaming and don't want to get up just to adjust your lighting.
You need the Elgato's Control Center software or the Elgato Stream Deck app for your phone to control this streaming light. There's also the physical version of the Elgato Stream Deck. If you have one, you'll be able to turn your Key Light on and off with a single click of a button.
Overall, the product fits into the Elgato ecosystem flawlessly. While this doesn't mean much if you don't already own some of its products, it's still a great selling point.
Although the cable isn't hidden within the device's base, Elgato Key Lights has a channel in which you can slot it. So, if you don't want your lighting setup for streaming to show up on your live streaming service account, the device can handle it for you.
Price
Elgato Key Light is available for $199.99. The product is on the expensive side but is worth it. Alternatively, you can get the air version for $122.98, which is still somewhat costly compared to other products.
Fovitec 3-Light Fluorescent Studio Lighting Kit
Fovitec 3-Light Fluorescent Studio Lighting Kit
Fovitec is a renowned manufacturer in the world of lighting products. So, if you're looking for streaming lights for your setup, its 3-Light Fluorescent Studio Lighting Kit is a great solution. While somewhat expensive, the kit includes absolutely everything you need to go live.
Overview
This set includes two straight stands and a boom-style overhead with a single bulb. So, you can be assured it puts out all the light you need. Compared to some other sets available, the system is massive. Its size makes it the best lighting for streaming in medium or large areas.
Fovitec 3-Light kit comes with fluorescent lamps for your lights. Once it arrives at your doorstep, you'll have all the equipment to go live. Each lamp is 45W and offers a color temperature of 5500K. The light output is 1500 lumens.
When it comes to design, Fovitec did a fantastic job. All three lights are easy to set up and use. In addition, the straight stands come with the same height adjustments. Both can go from 32 to 90 inches in height, and the boom arm is adjustable from 30 to 58 inches.
The large adjustment head is also included in the packaging. The knobs are decently sized, and you shouldn't have any trouble using them.
The kit is very portable. Everything in it fits nicely into the bag that arrives with the lights. There's even some room left to spare for your other equipment.
The 3-Light Fluorescent Studio Lighting Kit makes great lighting for live streaming. Just bear in mind that it comes with 11 light bulbs you need to attach. Unless you have some experience setting up similar types of equipment, it might take some time to start your stream.
Features
This kit isn't just one light you can mount on your desk. Fovitec offers the entire setup that definitely helps improve the quality of your video. Just the fact that there are three separate lights means that there will be no shadows in your stream.
Another feature is that each of the stands has three switches that make it super easy to control the light in your stream. You can choose which bulbs you want to have turned on to make the lighting exactly as you imagined.
While having many adjustment options is great, it might take some time to learn how the configuration works.
Price
An important thing to mention is that this isn't the most affordable lighting kit. At 189.95$, Fovitec 3-Light Fluorescent Studio Lighting Kit is on the expensive side.
Lume Cube Broadcast Lighting Kit
Lume Cube Broadcast Lighting Kit
Color temperature
3200K to 5600K
You can pull off some streams with minimal equipment. If you plan to go live on your laptop, the only thing you're missing is one small light. Lume Cube Broadcast Lighting Kit is exactly what you'll need. While not the most extensive kit out there, it holds all the power you need for your stream.
Overview
This simple out-of-the-box solution is an ideal webcam lighting option for streaming. When you order this Lume Cube kit, you get the panel, telescoping tripod, vacuum mount, and USB cables for powering the device.
No matter what kind of setup you're running, Lume Cube Broadcast Lighting Kit can do a decent job of improving the quality of your video. It comes with 112 9 watts LED lights on a 4.75-inch diagonal surface. The color temperature is adjustable from 3200K to 5600K in 100K increments.
Although strong, the light isn't very effective when you're far away from the camera.
One of this device's key features is that you can mount it in five different ways. The tripod extends from 12 inches to 30 inches, while the base is about 6 inches. You can attach the panel to either when you need some desktop lighting. But there's also the vacuum mount that makes connecting it to your laptop a breeze.
At the bottom of the tripod, there's a ring that can lock the legs in one place. You can easily overlook this part unless you examine the stand carefully. The legs are strong and rubbered to prevent scratching.
Also, bear in mind that the panel is somewhat heavy. If you mount it on your laptop and flip the screen backward, it may take the entire thing down.
Features
The Lume Cube feature we like most is the little readout on the back. It tells you everything from the battery status to color temperature. This makes staying in control over your YouTube or Twitch lighting even easier.
The device can run on the battery. It may not be a feature streamers often use, but it can be convenient. At 1% brightness, Lume Cube Broadcast Lighting Kit can last for up to 16 hours. If you set it to maximum, it runs for about 90 minutes. When you're not using the battery, you can power the device with a USB cable.
Price
You can find the Lume Cube Broadcast Lighting Kit on Amazon and the company's website for $99.95. Compared to how much some other webcam or desktop lights cost, it's by no means a budget device.
When you check out the Lume Cube website, you'll also find a deal that gets you a lighting kit and video call light bundle for $159.95.
The company offers a one-year warranty for both deals.
MOUNTDOG Softbox Lighting Kit
MOUNTDOG Softbox Lighting Kit
Entering the streaming scene can be challenging. You're still unsure whether you'll continue to do it, but you need to get some sort of lighting. Without it, your name will get lost in the sea of streamers without pro equipment.
Luckily, there's a product that may be perfect for you. We present to you the MOUNTDOG Softbox Lighting Kit.
Overview
If you're a beginner looking for softbox lights, we think you'll like this set. Unlike some other options on the market, the MOUNTDOG Softbox Lighting Kit includes everything you need for your setup.
The kit includes 95W bulbs with standard E27 sockets. The bulbs are energy efficient and can last up to 8000 hours. In terms of color temperature, the light goes up to 5500K. Even when streaming in a dim environment, you should be able to feel daylight. It's one of the best softbox lighting kits in small and dark spaces, especially considering the price.
It may not be the brightest light you can find, but it's great value for your money. It provides all the illumination you need in small spaces. As long as you're close to the setup, you can expect your live video to look great.
You can adjust the stand tripod to a suitable height. It goes from 27 to 80 inches according to your needs, and the head is rotatable for 210 degrees.
This softbox light is also very easy to operate. It weighs as little as possible, and you can move it around until you find the right angle.
Features
If you look inside the softbox, you'll see the silver internal face. It helps minimize light loss and spread the light around.
The nylon stone pattern reflectors you get in the set help eliminate shadows from your video. You won't find that quality in all softbox lighting kits. It has a one-piece opening and is also very easy to fold and store.
The case that comes with the light is large enough to fit the entire set when you're not using it. It's also thickened on the outer side to prevent the light or bulbs from getting damaged.
There's no battery case, but this shouldn't be an issue if you stream indoors.
Price
The price is the selling point of this softbox lighting. You get the entire kit consisting of two softboxes, bulbs, and a carrying case for just $68.99. It may not be the brightest device you can find, but it's extremely effective considering the price. You'll hardly find a better value for money.
Color temperature
3,300K and 5,500K
When buying lights, you have to look for something that best fits your needs. If you need a cheap kit that you can operate manually, there are some options available. Emart 60 Light LED makes the perfect lighting for streamers who often move their equipment around.
Overview
The kit consists of two lights, each with its own body. A tripod-like stand that pops up from the bottom of the body lets you place the devices anywhere you want. You can test the placement in your room and figure out what looks the best at the given moment.
It's a great option among cheap portable lighting kits on the market. While not as powerful as some other sets, it performs well on streams. The color temperature goes between 3,300K and 5,500K. In terms of the lumen, it stands at 1,400, making it suitable for more conditions.
You also have to keep them in close contact to be fully effective. However, that may cause eye strain during long streaming sessions.
Each light is easy to operate. You just plug it into an energy source using a standard power cable and turn on the switch on the bottom of the unit. The maximum height is 11 inches, but you can adjust the angle to 180 degrees.
Once your streaming lighting setup is ready, you can choose the colors that work the best with your background. Besides white, there are additional orange, blue, and red gel color filters. They're easy to mount, and in our tests, the red filter performed the best. Using other filters still resulted in more white or yellowish light.
When it comes to flexibility, you can tilt each light 90 degrees backward and forward.
The only downside is that it isn't dimmable. However, switching between the white and orange color filters can help you get the shade you want.
Features
The manufacturer mentions the quadrilateral heat dissipation as one of the kit's best features. There are large holes on the back of the unit that effectively eliminate heat. While LED light panels for video streaming generally don't produce much heat, this is still a nice feature to have.
The lights in the panel are SMD LEDs which provide wider illumination and more accurate color temperature. This also helps the light lower its heat output and energy usage.
Price
At just $29.99, Emart 60 LED is a more affordable lighting option. That's especially the case considering how portable the devices are. At that price, the lights perform even better than you would expect.
So, if you're looking for a portable cable lighting option, you can't go wrong with Emart 60 LED.
Mactrem 6-inch LED Ring Light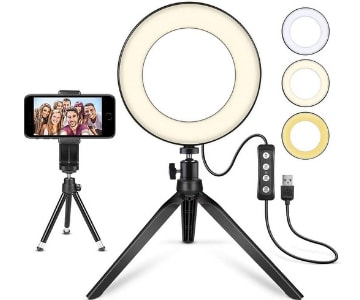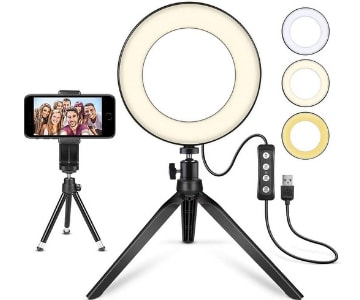 Mactrem 6-inch LED Ring Light
Mactrem 6-inch LED Ring Light is among the best practical and portable light kits available. Although primarily a device aimed at users who film their videos using their phone, you can use it for streaming.
Overview
This ring light's design suggests it's a great light for video recording. It comes with an 11-inch stand and, as the name suggests, a 6-inch LED ring-shaped light.
In terms of power, Mactrem 6-inch LED Ring Light performs just as you'd imagine. This small ring light is all about lighting your face. That's why YouTubers use it as a table lamp for makeup tutorials and similar videos.
While not as powerful as stream-first lights, it may be enough to illuminate your streaming spot. It offers three modes, including white, yellow, and a white-yellow combination.
There's a 2.8-3.9 inch smartphone mount you can attach to the ring. You can also mount the light around a standard camera with a stand of its own. Another thing you'll love about it is that you can rotate the panel for 360 degrees.
Due to the composition, this ring light can create some charming catchlights during portrait photography as well.
Assembling the product is a real piece of cake, and you can do it in a matter of seconds. The mini-tripod stand doesn't offer top-notch stability, but it gets the job done. It's versatile, and you can play with it to find the best lighting for streaming on YouTube or Twitch.
Features
It's crazy how many different shades you can get with this little device. We already mentioned it has three lighting modes that can give your stream an entirely different look. But there's more. This ring light also lets you switch between 11 brightness levels, resulting in 33 light effects.
The remote is attached to the cable of this video LED lighting. It comes with four buttons and is easy to use.
The light is powered through a USB cable, making it easy to connect to your PC, laptop, power bank, or a standard USB adapter. It doesn't have a battery, so you need an energy source to run it.
Price
Mactrem 6-inch LED Ring Light is available at $19.99 on Amazon, which is an excellent price for a device with so many effects.
Overall, it's the best budget lighting kit for video streaming on your phone.
Color temperature
3200K to 5600K
Neewer has numerous Amazon-certified top-selling products, and Super Slim LED light is one of them. Its ultra-thin composition and energy-saving bulbs helped it attract a lot of attention in the world of live streaming.
Overview
While some products by Neewer are premium, this device provides cheap lighting for video streaming. Not only that, but the light is as tiny as it gets. Whether you have a small setup or you want something you can easily carry around, this can be an excellent light for you.
You get the LED panel, mount base with ¼ inch screw, battery, and battery charger in the kit. But the light stand isn't included, so you might want to think about ordering one separately.
The panel rotates for 360 degrees, and you can flip it vertically for 180 degrees.
This Neewer lighting kit is a legit option no matter what kind of content you stream. It doesn't provide the maximum power, but it'll definitely help you improve your video quality. It has a solid and durable panel equipped with energy-saving LED lights and consists of 144 15W bulbs. In terms of color temperature, it goes from 3200K to 5600K.
The light also lets you adjust the brightness in the range between 0% and 100%.
Features
One unique feature is a well-designed display on the backside, which tells you everything you need to know about your settings. It includes battery life, brightness percentage, and color temperature.
Beneath it, you can find the knobs that let you increase and decrease the amount of light. Being able to stay in control of your settings is ideal for when you want your stream to look great. This cheap lighting for YouTube or Twitch makes achieving the shade you want as easy as it gets.
Our testing found that the kit does a great job when you adjust it for the time of day you're streaming on.
It's easy to notice that this isn't a premium kit. First of all, the power adapter isn't included. So, if you stream for longer amounts of time, you'll need to order one separately. Otherwise, you can go live until the battery dies.
Also, there's no remote control, so you have to get up every time you want to change the settings.
Price
At $39.49, you shouldn't overlook Neewer Super Slim. It's the best lighting for video at that price, and you'll love using it.
However, if you want to build a pro setup, you'll have to spend some more money on a stand and other additional features.
Neewer Dimmable Bi-Color LED
Neewer Dimmable Bi-Color LED
Color temperature
3200K to 5600K
Out of the box, you can notice that this light stands out from other products in the same price range. Neewer Dimmable Bi-Color LED is almost entirely made from aluminum, making it one of the strongest LED video light kits on the market.
Overview
No light on the market can beat this product when it comes to building quality. All parts of the panel beside the black plastic battery holders and interface are made from aluminum.
It's good value for money, but you don't get much in the kit. The stand or battery aren't included. However, the light is powered with standard Sony batteries. In this Neewer light kit, you'll find the panel, power adapter with a cable, and a great-looking soft case.
Long-lasting LED lights power the panel. It includes 480 bulbs, half of which are white while the other half is yellow since it's bi-color. The color temperature range is between 3200K and 5600K.
This product from Neewer is often used for professional video production, and it's the best lighting for a green screen you can find.
Features
Not only is this light fixture insanely strong, but it also comes with some cool parts other products don't have. There's also the U-bracket, also known as the yoke, that makes the entire product look more premium.
Combine the build quality and portability, and you get one of the best LED lights for video streaming. This product from Neewer is powered by two batteries that you can easily attach to the back. You can stream from absolutely anywhere without having to worry about it getting damaged.
Next to the battery holders, you'll find separate dimmer knobs for both white and yellow lights. The product lets you play with different shades until you find the one that works for you. It's also possible to mix the amount of white and yellow you desire.
As for ease of use, you can't go wrong with Neewer Dimmable Bi-Color LED. Removing the diffuser is a piece of cake if you want the light to be even stronger.
This light is often used for portrait photography and does an amazing job of lighting small spaces. So, whether you're looking to stream indoors or outdoors, this is one of the best LED lights for your gaming setup.
Price
Priced at $99,99, this bi-color light isn't the cheapest one you can get. This is especially the case since you don't get the stand with it. Plus, if you want to use it without cable, you have to order batteries separately. Still, it's a reasonable price considering the quality of the build.
If you want to build an entire Neewer kit right away, you can find different deals on the site. For instance, you can get two of these panels with the stands for $219.99.
Why Do You Need Lights for Streaming?
Amateur streamers rarely use any lighting for their videos. They don't see the point in investing in equipment if they'll only go live occasionally.
But when going pro on YouTube or Twitch, getting some lighting for video recording or streaming is a must.
Think of it this way. The only way viewers can engage with you is if they see you. You can't always rely on daylight to get the job done, and household lighting fixtures will only get you so far.
Therefore, a little bit of help from more advanced technology is necessary.
The amount of light you should introduce depends on what you want to achieve. Sometimes, just a little bit of face lighting will make your stream look much better. But if you want your entire setup to show on the screen, you'll need more powerful light sources.
Unlike some other streaming equipment, lighting is affordable. Although some premium devices are expensive, you don't have to spend a lot on them if you don't want to. Some cheap bright lights can look great once you go live. The key is to know what to do with the setup you have.
You should also give some thought to the lighting accessories. They may not be necessary, but things like a photography umbrella can come in handy in some situations.
How To Choose the Best Lights for Streaming for You?
Quality lighting is critical if you want the video in your stream to look good. You shouldn't just go and pick the first kit you come across. Instead, you have to find lights for streaming that fit all of your needs.
But how do you know what to look for?
Don't worry; we got you covered. Here's a list of things to pay attention to when choosing lights for your stream:
Watts
Powerful lights are a crucial part of every streamer's arsenal. You can buy the cheapest lights you come across, but will that be an upgrade over your household lighting? Probably not.
If you want good lighting, you need strong devices. To identify lights that can upgrade your video, you have to look at two different segments - watt and lumen.
Let's talk about watts first.
There's no standard when it comes to how powerful lighting options are. They range from 50 to 10,000 watts. Assuming that you're not trying to replicate the sun, you don't need the strongest lights available. An excellent way to start is to look for anything between 500 and 1,000 watts.
Lumens
What many novice streamers don't know is that watts don't determine how bright the light is. Instead, wattage is a measure of how much energy the light source consumes.
So, if you're wondering what measurement we're after, the answer is the lumen. It's a term you simply have to become familiar with when shopping for stream lighting for your setup.
So, how do watts and lumens stack up?
Think of it this way; a standard 60-watt incandescent light bulb equals 800 lumens.
Just remember that this comparison is limited to general purposes only. Whether you're shopping for a streamer lighting option or something else, check watts and lumens separately.
Color Temperature
Lighting kits for video streaming differ in all sorts of things. One of the major differences to pay attention to is the light color temperature. Based on the type of bulb, the light can look cooler or warmer in the video. The human eye can perceive this variation as well.
Let's look at an example. Try comparing cool fluorescent lights in a doctor's office to a cozy living room setting. The former have more white or light blue tones while the latter look more yellowish. That's the concept of the color temperature, which is measured on a scale of Kelvin. It's one of the key things to take into consideration when building your lighting setup for streaming.
To give you an idea of how different color temperatures work, we'll look at some of them here. Let's start with 1000K. That's a dark orange tone you can see in candlelight. Moving up is 4000K which is the color of a standard incandescent household bulb. A color temperature of 10000K is sky blue. Most streamers use something around 5000K, which is the color of the direct sunlight.
Brightness
The best lights for video streaming usually give you an option to adjust brightness according to your likes. These kits can help you take your streams to the next level to manipulate the light manually.
Each product has its own brightness settings, but they usually go from 10 to 100 and can be adjusted by 10.
Rotation
Most people stream in small spaces. Whether you go live from your living room or gaming room, chances are you could use any extra space you can get.
So, naturally, you don't have enough space to move your stream lights around.
Also, it's almost impossible to place the light under 90 degrees and get the angle you want.
That's why, when building your setup, you might want to look for a light that rotates or is easy to move around. It's the best way to ensure you can get the right angle in even the smallest spaces.
Plus, if you need to adjust your lighting while you're live streaming, you don't have to move the entire setup. You can rotate it quickly and go on with your stream.
Stand
Stands are another thing to take into consideration when buying a light for streaming.
They come in all sorts of sizes and shapes, and picking something that fits into your setup is extremely important. For example, massive lights won't be effective if you stream in a small space.
Sometimes, a small webcam light is a better choice depending on the size of the room.
Some lights arrive without a stand, and you'll need to attach them to something. Some even have desk clamps instead. Before you decide on the light you want to get, think about how flexible you need the stand to be.
Price
Buying good lighting for streaming is a big step in your YouTube or Twitch career. It's important to pick something that fits your budget and still helps you step up your game.
The good news - these lights are available in all price ranges.
So, whether you're ready to spend $35 or $250, finding products you like won't be tough.
Even if you decide you don't want to spend too much, you can't just pick any device in that price range. By looking at specs and other info, you should be able to identify the best budget lighting kit for video streaming among the options available.
How To Position Your Lights for Streaming?
As you might've guessed, there's more than one way of setting up lighting for your live stream. It all depends on what kind and how many lights you have.
With that said, let's check out some of the most common ways to position lights for streaming:
Three-Point Lighting
The most common placement streamers use is called the three-point setup. It uses three sources of light that are arranged in different angles to provide a balanced shot.
The key light goes right behind or next to the camera. Once you have it set up, you can add your fill lights. One goes under the key light while the other goes behind and acts as a backlight. It creates a contrast between you and the background.
This is often considered the best video lighting setup you can choose whether you're streaming or filming for YouTube.
Loop Lighting
The next setup we have to mention is loop lighting. There are two ways you can achieve it.
You can use your key light only and place it next to the camera above your eye level. It helps remove your shadow from the background when filming in front of a wall or sheet. Instead, you'll see just a little bit of it on the opposite side of your nose when you get the angle right.
To eliminate unwanted shadows, you can add a fill light at a different angle.
This setup is the best lighting for Twitch streaming, and many content creators use it. It doesn't require a lot of equipment, and you can fit it into small spaces.
Back Lighting
Whether you're looking for YouTube or Twitch stream lighting, you probably want your viewers to see you better. That's what the two setups mentioned above do.
But sometimes, you want them to pay attention to something in the background of your stream. The best way to do that is by using a backlight.
For stunning backlighting, you need an extra light pointing directly at your background.
If you're unhappy with the way your background looks, there are ways to fix it. You can order a green screen bundle and set it up instead. Combine your new background with the best LED lighting kit you can find, and your streams will look great.
Wrap Up
The YouTube and Twitch scene continues to grow at a rapid pace. Not only that but more and more organizations and individuals are streaming live via social media and other platforms.
This growth has impacted the lighting market, and we've seen some fantastic devices emerge. Many of them have been built with different uses in mind, and it's all about finding the best lights for streaming that match your setup.
We came up with top devices in all categories. If you checked out all the reviews, chances are you've already discovered the kit that fits your needs the best.
What lighting is best for streaming?
Elgato Key Lights offers the best lighting for streaming. If you're thinking about streaming professionally and can afford to spend a bit more, this light from Elgato is an excellent choice. Some other, more budget-friendly devices are also available but come with fewer premium features.
What color light is best for a webcam?
If you want the best webcam lighting, it's a good idea to choose a kit with both white and yellow light. Some of these devices even let you mix the two colors until you figure out what looks the best in your video. You can also find some kits that include purple, blue, and all sorts of other color filters.
Do I need a ring light for streaming?
A webcam ring light is a decent option for live streaming. While there are bigger setups available, this type of device can light up your face just the way you want. However, when streaming in large areas and far away from the light, you might need a more professional kit.
How do I light myself for streaming?
Nowadays, adding some extra light to your stream is easy. All you need to do is pick up a device designed especially for video production and going live. In the post above, we listed the best lights for streaming on the market.
Dejan Cvetnarevic
Dejan is a techie at heart who always dreamed of turning his fascination with gaming into a career. He finds working for TechJury a perfect opportunity to express his views of all kinds of different software. Being an avid reader, particularly of fantasy and sci-fi, Dejan pursued a degree in English Language and Literature. When not at his computer, he's watching sports or playing tabletop games.
Leave your comment
Your email address will not be published.
You may also be interested in: