Computer monitor arms that mount to your desk or wall are the ideal way to save space and improve the movability of your screen. We've tested and reviewed the leading products on the market and narrowed it down to 15 that are worth your money. To help you find the best monitor arm we looked at:
Pricing

Single and dual setups

Weight and size limits

Adjustability and performance

Ease of installation
Read on to see which made the cut in our best monitor mount list and check out our guides and FAQ.
Read More
Ergotron LX Desk Mount LCD Arm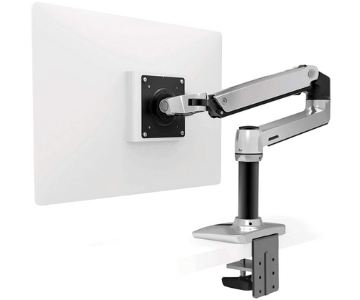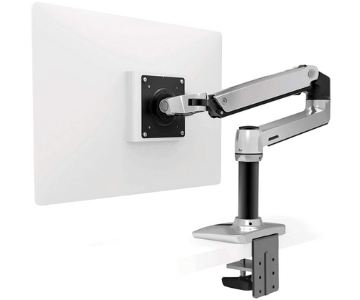 Ergotron LX Desk Mount LCD Arm
Ergoton is one of the leading manufacturers of ergonomics, including high-quality and functional desk arms, and it doesn't disappoint with the LX Desk Mount. Do away with your regular computer monitor stand and save lots of space.
Setting things up is easy and there are instructions. You get to choose between traditional base clamps or a grommet clamp, depending on your table and individual preferences. Once you've got it where you want it, it's time to take your VESA compatible monitor and carefully attach it to the plate.
Thanks to thumbhole screws you can easily do this yourself without a helper. We're also glad to see some nice cable management hooks and slots to keep things tidy.
Not only does the LX look good in its sleek, polished aluminum design, but it can also be maneuvered just about anywhere while keeping your screen 100% stable from slips or wobbles. This includes walking treadmill desks as well.
Specifically, you'll also get 75-degree of tilt and a full 360 degrees of pan from the monitor plate itself before you even contort the two-pronged arm. The latter rotates and raises in the middle and at the base.
Ergotron has designed this arm to withstand 20lbs of weight, which shouldn't be an issue for most modern screens and 32" in size guaranteed. You can always go over this but that will void your warranty.
One area the LX stands out (or up) is its different sized arm options. There's the standard 7" pole for your average desk user and a 13" pole for those who are taller or may be using it on a treadmill desk or other setup.
We tested the LX with our trusty 24-inch monitor on an old wooden desktop table, newer style office bureau, and a Yo-Yo treadmill desk and couldn't fault it in any way. It uses a spring counterbalance and just an overall sturdy design that absorbs all kinds of shock.
To conclude, if you want a no-hassle, high-quality, and stable arm, go with the Ergotron LX. You can also get an Ergotron dual monitor arm for a slightly higher price.
Its name is a little cheesy, but the Mount-It! MI-7C12 certainly is great if you need a versatile desk mount for your monitor. It comes in two versions:
the cheaper single $79.95 'articulating spring arm'
the dual monitor mount for $114.95, which lets you mount two monitors at once.
These are pretty affordable prices in the high-end computer monitor arms market. Both come with a 5-year warranty.
In terms of compatibility, as long as your screen is VESA compatible you can mount between 13" and 27-inch screens on either version. So, one on one, or up to two 27 inches on the dual version.
Note: This refers to the latest versions. The original manufacturer-run limited them to 24 inches, but it's rare you will come across these if you're buying brand new.
No weight limit is specified but, as long as you aren't trying to weld an old CRT on there, we think you'll be ok. We used two 27-inch monitors to test things and didn't notice any sign of them being too heavy for the arm.
When we say the product is versatile, we mean it. It has 3 or 6 swivel points, depending on the version, giving you 180 degrees rotation at the screen plate, along with 90/40-degree pan/tilt, 360 degrees rotation in the middle, and 180 degrees at the base. The front part of the arm can be adjusted up and down by 13.5 inches, while the base can also be moved up and down. Simply put, you'll pretty much be able to get your monitor in any position you want while doing away with your bulky monitor stand.
Installing the MI-7C12 is fairly straightforward when you read the instructions. It comes with all the hardware and has a traditional desk clamp that is somewhat padded to prevent damage if overtightened. You also get cable management under the arms to keep things tidy.
We found the overall build quality to be good and there was very little (if any) sign of wobbling when we put our screen through the paces.
ATUMTEK Dual Monitor Arm Stand
ATUMTEK Dual Monitor Arm Stand
Although it's a brand name you probably haven't heard before, this is one of the gems in our list. The dual monitor arm is VESA compliant and can support two 15 to 32-inches monitors. Each arm can hold up to 19.8 lbs – that's more than enough for a standard 32-inches display.
In terms of movement, the adjustable monitor arm allows for -90°/+85° tilt, 180° swivel, and 360° rotation. Simply put, you have a lot of liberty in adjusting your displays to achieve the optimal position.
Furthermore, you can adjust the height with 13.6", which gives you plenty of options to achieve perfect positioning.
Now.
Let's look at the design.
The aluminum construction is durable and the gas springs can endure 50,000 fatigue tests (and you'll just fall in love with the sound they make). They work extremely smoothly, and the tension gives that high-quality feeling. What's more, it feels extremely solid. The only downside is that the product comes only in one color – gray. Although the monitor stand doesn't shout luxury, it's definitely looking good and will fit any desk.
Unless it's made of glass, that is.
There's a lot to like about this mount besides its price(less than $100), though. The adjustments are extremely easy to make, and the assembly is a piece of cake. Furthermore, the installation itself takes less than a minute. You've got two mounting options – C clamp and grommet mounting, which isn't something that rare, but definitely worth mentioning.
The package comes with everything you need (except for a screwdriver), including cable management covers. And while on the subject – you get free shipping for the US, UK, and several other European countries.
All in all, the ATUMTEK dual monitor stand is a good investment if you are searching for a solid, durable, and affordable product. We wouldn't call it the best monitor stand out there, but for two arms at this price, it doesn't get any better than ATUMTEK.
The Jarvis monitor stands are a thing of beauty and efficiency in equal measure. This Dual model is no different in that regard. Its design is all about flexibility.
The two arms can support both monitors and laptops if you add a matching tray. It's VESA 75mm or VESA 100mm compatible, covering a wide range of screens. It can accommodate anything from 13'' to 32''. When it comes to weight, it can support up to 19.8 lbs — decent enough.
Now, let's take a closer look at the arms' mobility.
The full height extension range is 6.7''-19.9'', which will suit even the tallest users. And since it uses a gas-spring mechanism, adjustments are pretty smooth.
Furthermore, this dual monitor mount has four swivel points in total. Starting from the base, it can rotate 270 degrees. The middle part of the arm ("the elbow") is capable of a full 360-degree swivel. The next one up is the joint connected to the screen plate — 180 degrees. Finally, the screen plate itself can tilt 180 degrees.
Overall, it's an impressively bendy stand — ready to handle any configuration or Limbo dance contest.
It comes with a clamp mount that can fit desks up to 3.35'' thick. You can also mount it through your work surface, grommet-style.
However, as always, precise positioning can be a problem with double monitor arms!
Depending on the depth of your desk and its position, you could have a hard time perfectly aligning your monitors. This isn't the type of stand you can cram on a small desk next to the wall. You'll need extra space to adjust it properly.
On the brighter side, it's a very aesthetically pleasing mount that will spruce up any workspace. It comes in shades of black, silver, and white. It also has built-in cable management — an elegant solution for your unruly cable nest problems.
Finally, the fair price ($179) paired with a whopping 15-year (!) warranty seals the deal. If you're not willing to cash out for a premium double monitor stand with an equally premium price tag, this is the next best thing.
Ergotron MX Wall Mount LCD Arm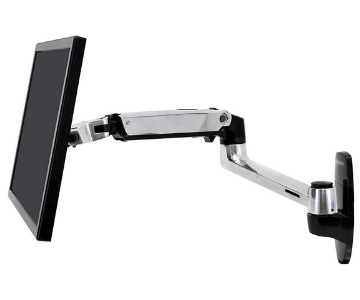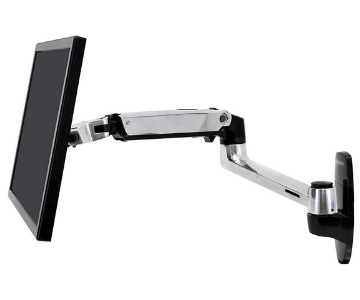 Ergotron MX Wall Mount LCD Arm
Known for both their desk and wall mounts, this option by Ergotron is sturdy and maneuverable and gives consumers all they could need from wall mount monitor arms.
It can support LCD displays of up to 42 inches and up to 30lbs in weight, making it ideal for gaming or entertainment.
The base of the mount allows you to lift the screen by 5 inches, while the middle section and monitor-side mount allows for 80 degrees of tilt and Ergotron's patented 360 degrees of pan. There's also 90 degrees of rotation and extension of up to 16.7 inches for taller people. In other words, no matter where you will be sitting or standing, you'll be able to get a good viewing angle.
This was particularly useful for getting a portrait view of photos and documents instead of scrolling.
The Ergotron arm movement is smooth and sturdy once in position, and the polished aluminum material and sleek design give it a premium feel. Most importantly it's great and shock-resistance and if you're worried about anyone bumping into it when not in use, you can easily push it back to the wall or to the side to reduce such accidents.
The monitor arm wall mount comes with all the required hardware and can easily be fitted by one or two people with the VESA adaptor brackets. There are also cable management slots to keep your dangling cables looking neat, and there are a few added accessories you can buy like extension cords if you feel they're needed.
You also get Ergotron's generous 10-year warranty, which is more than generous, to say the least.
Compatibility-wise, the majority of modern LCD screens should work with this mount if they have VESA and even then, you can buy workarounds to create a VESA mount anyway. Nonetheless, the manufacturer has attempted a full list of compatible displays if you want to be 100% sure.
Overall, these are the best monitor arms with wall mount support.
The Fully Jarvis Monitor arm ticks all the boxes for displaying your screen at an affordable price of below $100. It's simple to assemble, is sturdy and smooth with lots of maneuverable positions, and you get a 5-year warranty on top. It even comes in 3 colors (white, black, and grey), which is quite rare.
So, what exactly can it do? It can provide between 34cm and 50cm of height to your monitor to help the taller people among us and complete 360-degree swivel for portrait and landscape modes. This saves you trouble if you've been searching for a vertical monitor stand.
The middle joint can also rotate 360 degrees, while the base can make it to 270 degrees. You can also tilt the screen for even more finely tuned viewing.
Overall, it's a great space saver, allowing you to use pretty much the full surface area of your desk if you push the screen back to the edge, but it can also obviously come right out if you want a closeup.
To set things up you'll need a VESA compatible monitor no larger than 32 inches and the arm is guaranteed for up to 20lbs of weight. It's a standard desk clamp, so simply unscrew until it slots on the edge of your table and retighten until sturdy. Alternatively, there's a separate mounting pack for grommet 'through the desk' mounting. All the nuts and bolts required are there and the bulk of the arm is already pre-assembled.
You also get a plastic cable management clip that does the job reasonably well if you don't overdo it.
Looks-wise, it's sleek and shiny and the white version looks great if you have other white aspects to your work area.
At this price point, it doesn't get much better than the Jarvis. The build quality feels much higher than it should and there was no wobbling when doing typical tasks at our test desk. One of the best monitor arms for those on a budget and if you're looking to spend a bit more you can get dual arms for two screens for $135.15 MSRP.
Kanto DMS2000 Dual-Monitor Desktop Mount
Kanto DMS2000 Dual-Monitor Desktop Mount
If you want to save space on your table and make your screens more maneuverable, then the Kanto DMS2000 Dual-Monitor mount for desktops is the ideal solution.
It supports display sizes between 17 and 32 inches on either arm via VESA mount, which pretty much covers most computer screen use. It worked perfectly when we used our two 27-inch test LCDs.
It's very easy to set up, taking us no more than 5 minutes, and as well as the required hardware It also has the hex keys included. The bracket comes pre-mounted, so just unscrew until the clamp fits your desk and then retighten until stable. There is also a long screw and bracket for a 'through-hole' setup if you're willing to go right through your bureau.
What particularly stands out with this dual monitor desk mount is its 'gas shock system' which allows for smooth raising or lowering of each screen, much like how a traditional computer chair raises and lowers. In this case, you can get up to 9.5 inches of extra height.
In terms of range of motion, you'll get a 25-degree viewing angle, forwards and backward where the monitor mounts the arm. Furthermore, each screen can swivel a full 360 degrees for portrait and landscape, while each arm can be maneuvered for 23.3 inches of reach. It also has a good cable management system to keep them tidy and out of the way. However, we found once you start getting to 4 or 5 wires, the acrylic holder starts to become overloaded.
Our only concern is Kanto will only guarantee monitors up to 16.5lbs. Although this is still very heavy where modern screens are concerned, it is quite low compared to other mounts on the market.
During testing, we experienced no wobble and overall, the arms are sturdy and of high quality. At close to $270, we wouldn't expect any less. For something cheaper, Kanto has a whole range to choose from.
3M Dual-Swivel Monitor Arm
3M Dual-Swivel Monitor Arm
A high-quality dual monitor desk arm is often quite difficult to buy because some companies manufacture them to overload, making them unstable. However, the 3M 'Dual-Swivel' model is at the higher-end of the market and that's reflected in the $280 to $300 price range. For that, you get optimum sturdiness in all positions and the ability to accommodate screens on each arm of up to 27 inches and 20 lbs.
Now you can save desk space and maneuver your dual monitors in any way depending on the task at hand. For general use, push them back side by side and get full use of your table, extend their height by 12.4 inches or swivel either screen for portrait or landscape viewing.
You can also move each arm in and out, and side to side independently, giving you full positioning control.
Setting things up is relatively straightforward and will work on all VESA MIS-D 75×75/100x100mm compliant monitors. It holds itself via a traditional desk clamp, so unscrew and retighten as required. We personally prefer to attach it towards the back of the desk so you can fully push your screens to the edge and make full use of the space.
We found the Dual-Swivel to work well – there's no looseness as there is with cheaper models. Every turn and tilt is sturdy and remains in position with no wobble or slipping.
Fortunately, you won't have to worry about parting with upwards of $300 as you get a full 5-year warranty from 3M for all of their monitor mounts, including the dual swivel.
Overall, if you want competent dual monitor stands that can provide all conceivable positions and look pretty good doing it, the 3M Dual-Swivel Monitor Arm is a great choice. However, there are cheaper models on the market without much difference in performance.
Weight Capacity
20lbs each arm
The VIVO V102AM is designed for large wide and ultra-wide screens, which usually come with a huge adjustable monitor stand that takes up a lot of room. VIVO solved this problem by designing a desk mount they advise to clamp at the back of your table. This allows you to do away with the PC monitor stand completely and get full use of the available space. What's more, it also supports dual ultra-screens, which looks great if you combine two curved screens for immersive gaming.
The solid steel construction can support 22lbs of weight on each arm and monitors between 13 inches and 38 inches, which shows you just how much space you can save.
You'll get 15 degrees of tilt for your preferred viewing angle, the 360-degree rotation should you be in a spacious open-plan office, and 180-degree swivel – you can go portrait but not all the way back around. Functionally, it's, therefore, the same as 360-degree. You'll also get a good cable management system to keep those wires in check.
The Vivo monitor mount is fully VESA compliant. It also has a heavy-duty c-clamp and its clearance is good enough to absorb most of the shock and vibrations. It's also technically two clamps in one for extra support.
However, we don't know whether it was our desk or just the inevitable result of using a heavy screen, but we did experience some sagging. This required tilting at the monitor to correct the viewing angle. Personally, we didn't find it a massive inconvenience and the build quality is still good.
Looks-wise it's fairly basic and made from solid steel which is where it gets its durability. However, what it lacks like looks it makes up for in price. You can pick up this functional dual monitor or ultrawide mount for $60 at Walmart and less than $100 at most online retailers. That's a steal considering you get dual ultra-wide support and similar mounts are over $200.
Ultimately, if you're on a budget and want a similar experience to higher-end mounts, this desk mountable Vivo monitor stand is the one if you need an ultrawide monitor mount.
Amazon Basics Premium Single Monitor Stand
Amazon Basics Premium Single Monitor Stand
Don't let the 'basics' branding put you off, this $100 desk mount for single screens does everything you need it to and looks quite stylish in aluminum silver. There's a slightly different model in black that pops up from time to time as well.
Just be aware that it is definitely a mount, not a stand, despite the confusing wording. This is designed to do away with your regular monitor stand and save space.
Functionally, it's your standard back or side of desk screw on clamp with VESA mounting to the screen, both of which couldn't be easier to set up. There are also two sets of screws included – twisters that you can tighten by hand or regular ones that require a screwdriver.
The arm can handle 11.2kg or 24lbs in weight, which is a good amount in this market and covers pretty much everything as long as the monitor itself is no bigger than 32 inches.
Its maneuverability comes from three main sections of the arm. The VESA mount can tilt 70 degrees backwards if you're standing or 5 degrees forward if showing your screen to someone else. It also can rotate between portrait and landscape mode for touchscreens or those that are tired of scrolling down documents or portrait images.
Secondly, although it doesn't give precise measurements the central part of the arm can be rotated or moved back and forth. Meanwhile, the base arm can be adjusted for height in case you are on the taller side.
The 'Premium Single Monitor Stand' compares very much in price and performance to the Ergotron LX. It really boils down to which you can find cheaper at any given time, and whether you're bothered about 'Amazon Basics' being embezzled on the side of the arm.
Functionally though, we cannot fault it. It's strong and sturdy, doesn't shake, and positions just as you need it. For a bit more money you can also get a dual monitor stand in the Basics range.
NB North Bayou Monitor Desk Mount Stand
NB North Bayou Monitor Desk Mount Stand
A chunkier edition to our list, the NB North Bayou Monitor Desk Mount Stand looks better in more aggressive gaming or office environment. Functionally it ticks all the right boxes and is also one of the cheapest options on our list.
The latest model the F80 is gas spring loaded for smooth maneuvering and can be picked up for less than $60.
So, let's get to the raw facts. It's VESA compliant at both 75x75mm 100x100mm, so will fit almost all modern monitors. It will also be compatible with screens measured up to 30 inches and weighing up to 20lbs, which gives you a lot of room for choice in the current desktop screen marketplace.
The arm produces a wide range of positions, including a backward tilt of 85 degrees and a forward tilt of 30 degrees. It also offers a full 360-degree swivel for seamless portrait and landscape views – ideal if you've been searching for a regular swivel monitor stand.
Height can also be adjusted 13cm upwards and downwards from the standard even position, allowing for the perfect line of sight regardless of your height or seat position. The base can rotate 220 degrees and the center joint – 360 degrees.
North Bayou gives you the choice between a standard heavy-duty C Clamp to affix to the back or side of your desk or a Grommet 'through the desk' solution if your table is compatible or you're a DIYer.
We were particularly impressed with the cable managed system that encases the entire solid metal arm in plastic tubing that's nice and durable and keeps things tidy. Oddly there is a USB hole, which is not functional, and no USB cable is provided. This was either a dropped design element or intended for cable management but the way it's positioned is not of much use
Ultimately, the look might not be for everyone, but it doesn't get more affordable than $60 for a sturdy gas/spring-loaded monitor arm that can be placed in almost any position.
The Duronic DM352 is an affordable and mountable 2 monitor stand that provides a comprehensive range of positions for LED/LCD monitors weighing up to 17.6lbs each. Screen suitable must be between 13 and 27inches in size.
The DM352 can be picked up for around $75 which is a great price for a high-quality dual monitor mount. So, let's take a closer look at what it can accomplish.
The arms are attached to a 40cm/16-inch pole and can be adjusted along with its full height (not including screen size itself), making it ideal for taller computer users or those at standing workstations.
Each arm can be extended 43cm/ 17-inches out in front and rotated on the pole 360 degrees, as long as you move the other arm accordingly. This means you can spin the screen in either direction.
There are also two sections to each arm and each joint can be rotated a further 180 degrees. The VESA plate attached to either screen also allows the screens to be rotated 360 degrees so you can have two vertical dual monitor stands. On top of that, you can also tilt the monitors back or forwards for your preferred viewing angle.
Simply put, you can put your screens anywhere you want them and still ultimately save space by removing those cumbersome regular computer monitor stands.
Installation is straightforward and the instructions will guide you along adequately. You simply tighten the c-clamp on the side or back of your desk between 0.5 and 6.8cm. Twisting screws and a lever help you loosen the arms on the pole for easy height adjustment. You can also opt for a grommet setup if your bureau has a hole for doing so
Cable management is not the most advanced, but you do get a plastic hook to thread through to help keep things tidy.
Depending on the retailer you can pick the DM352 up in either black matte or polished silver color. Either option is heavy-duty and sturdy and passes the shaky test that many two monitor stand solutions fail.
Chief Kontour K1D Dynamic Desk Clamp Mount
Chief Kontour K1D Dynamic Desk Clamp Mount
There's more to like about the Chief Kontour than just its name, this stylish dual monitor mount for desk environments is also one of the beefiest on our list, guaranteeing 25lbs per screen. You can also reach up to 30 inches in screen size.
Made from forged aluminum, you can choose from low gloss silver or black finishes, though both provide the same impressive range of motion for monitor arms in dual setup.
You'll get up to 13 inches of height adjustment using a smooth gas-spring and locking mechanism, portrait and landscape rotation at the screen end, which can also be titled 75 degrees backward and 10 degrees forwards.
The arms themselves can be extended to a maximum of 21.6 inches and rotated 180 degrees. That's just not possible with a regular desk monitor stand.
The combination of positions and sturdiness make this ideal for all kinds of office, clinical, and even industrial environments, or just to save space on your home desktop.
The device is fully VESA compliant and will clamp to almost any desk via c-clamp or grommet hole. It stands out from the competition thanks to its patented '3-step installation and quick-release', which almost does away with VESA for a simple sliding in and out mechanism.
The latest model is also scalable, allowing you to go from dual VESA mount to an extra two arms for a fluid four-person workstation. We were also impressed by the 'tool-free' cable covers that snap in to place and run along the arms for great management.
The price can vary quite wildly depending on the retailer, but you can find this online from between $170 to over $400, reflecting slightly different models and upgrades. Because of this, make sure to read carefully the features and accessories in any listing you find.
Regardless, this is about as high-end as arms go. It's definitely worth it if you have the cash but also perhaps a bit over the top for individual home use.
Weight Capacity
19.8lbs each arm
Vari (formerly VariDesk) specializes in workstation solutions and its dual monitor mounts are one of the best premium options out there.
From its high-quality base/clamp that you can install in minutes without a drill or screws, to its dualling arms that can both rotate 360 degrees at the same time. The product is built well and looks good. You can pick it up in black and silver (a combo color) for $195 MSRP.
Its positioning begins on the pole where both arms are separate but due to a design arc not necessarily higher than the other. Here you can adjust height several inches while also rotating a full 360 degrees to suit open-plan workstations and teams of users.
Next the arms themselves extend 27cm before they hit the joint, which can be pushed back and forth for broad viewing angles.
The arm is fully VESA compatible and these plates can turn each screen 240 degrees while pivoting a full 360 degrees for easy vertical monitor setup and back to landscape viewing.
Cable management consists of a long and spacious slot through the main arm and then a plastic hook near the base to guide it down away from the table.
While the company likes to promote its own desks, which are indeed good products, the Dual-Monitor Arm works just fine on any clampable option. It will not shake or wobble as long as the desk itself is sturdy. Each arm can take just under 20lbs of weight and handle screens between 13 and 27 inches.
Assembly is straightforward and comes with all the necessary components and tools. You don't even need your own screwdriver to get the job done quickly.
In conclusion, Vari has come up with a truly high-end dual monitor arm that's easy to assemble, smooth to maneuver, and has all the possible positionings you could want.
Ergotron LX Desk Monitor Arm Tall Pole
Ergotron LX Desk Monitor Arm Tall Pole
Get the same great Ergotron LX experience but with an extended pole to suit taller people sitting down or for an optimum standing workstation experience. You'll get an added 9.5 inches of extra height, which when coupled with other extensions and ergonomic positions allows you to place your screen virtually anywhere your project requires for maximum comfort.
This Ergotron monitor arm can hold screens up to 34 inches and 25lbs in weight, covering practically all modern LCD screens on the market. And, it is of course, fully VESA compatible. To mount the other end to your table you can also choose between the typical c-clamp or grommet 'through the desk' solution.
The Ergotron LX can tilt your screen backward 75 degrees for standing, pan it around 360 degrees to show other people or for open plan environments, and rotate it 360 degrees for seamless portrait and landscape viewing. And, thanks to the middle joint you can bring it closer or push it back when not in use.
Cable management is also good, slotting through two hooks and then the entire second joint of the arm before flowing off behind your bureau.
Depending on what monitors and desks you use, you can go for a cool looking polished silver or a clinical white (looking at you, Apple users). Either way, the overall look is stylish, and the build quality is towards the top-end of the market.
What To Look For When Searching for the Best Monitor Arm?
If you're looking to purchase an arm but aren't sure of all the factors involved, this handy guide will help you find the best monitor arm for you:
Price
Monitor arms tend to come in three price levels:
Those less than $100 (typically all single arms, except for a few brands)
Those over $100 where dual-monitor arms become a consideration,
High-end products that are closer to $200 or more.
For example, our budget choice (the NB North Bayou) is $60 or less, while our high-end pick (the Chief Kontour K1D) is around $200 with similar models reaching $400.
Single, dual, or more?
Next, you will need to consider what setup you're aiming for. Do you need the best monitor mount for a single screen, or do you plan to make space for two? Some models even allow more than two and that's without accounting for using the edges of a sturdy desk for two screens and a traditional stand for a large central monitor. The possibilities are endless.
Once you know the number of screens you want to accommodate then you can start looking at models, pricing, and compatibility.
Compatibility
There are several things you need to consider. The first is VESA compatibility, which refers to where the screen meets the monitor VESA mount plate.
Both products need to meet the VESA standard to be able to screw together and this is usually 75×75 or 100×100, with a lot of products supporting both at the same time. Check the prospective mount to make sure they match up.
Arms also have guaranteed weight and size parameters that you must meet to stay within warranty and for the arm to function correctly. The screen size typically starts at 13 inches and can reach up to 34 inches. The weight limit is usually at least 20lbs.
Mounting options
On the other end of the arm, where it meets the desk are two installation options. The most common is the c-clamp, a simple mechanism that unscrews and then can be retightened to fit the edge of your bureau. You can fit it on the side or on the back, though this can depend on the design of your desk. Most will have some kind of padding in case you clamp down too hard.
The less common fitting that is often included as a secondary option is called a grommet screw/base. This literally goes through your desk and is usually only used for ones that already come with a grommet hole as a feature. Neither option is necessarily more secure, it often depends on the table itself.
Adjustability and Range
Adjustability and range of motion is the key feature of an arm and the main benefit of purchasing one. While you can get a regular adjustable monitor stand for a desk, mountable arms offer even more movability. These are the common features you will find, with the best including all of them and possibly more:
Height: Usually adjusted up and down on the main pole, while some offer further adjustments along the arm or at the VESA plate.
Panning: Sometimes called a monitor swing arm, panning is the ability to spin around on the pole and sometimes further along the arm. Even a dual monitor arm can accomplish this.
Extension/Retraction: The arm coming off the pole is separated into two sections by a joint which can extend and retract, i.e. bring the screen closer to your or push it further away.
Tilt: The ability to tilt backward on the VESA plate (e.g. if at a standing workstation) or tipped forwards for a downward viewing angle.
Swivel: Allows the screen to spin around on the VESA plate independently to allow a widescreen monitor to enter portrait mode, which is ideal if you've been searching for a vertical monitor mount.
The degrees to which these motions can be performed vary from product to product.
Adjustment Mechanism
If a product uses gas-spring technology, it means its height and often other adjustments are made using compressed gas rather than the elasticity of a mechanical spring. Simply put, this provides a smoother experience and is typically found on more expensive, higher-end monitor arms.
Alternatively, you will find mechanical springs that are louder and harder to engage. Both mechanisms will be coupled with numerous joints and hinges for rotation, tilting, and swiveling.
Higher quality products tend to stay away from locking mechanisms or levers which take extra time and effort to use and will allow most screens to stay in their set position automatically.
Warranty
All of the monitor arms we've reviewed come with a manufacturer's warranty and if you're buying outside of our list it's wise to ensure a warranty is included too. This will guarantee that the arm will function correctly for between 3 and 10 years (depending on the product) and entitles you to repairs or replacements if it fails.
This will only apply to correctly installed monitor arms that are not fitted to overloaded or oversized screens.
What Is Gas Spring Technology?
An adjustable monitor arm involves more than just a few joints else it would swing and wobble all over the place. Traditional arms were either static and not maneuverable at all or mechanical, which still works quite well, but is cheaper, louder, not as smooth, and in a lot of cases poorly implemented.
Most of the monitor arms we've reviewed have moved on to gas spring technology which provides silent movement, more tension (so you don't push too hard and break something), and an overall smoother experience. It also helps your screen to stay in place with less chance of wobble or slippage.
Gas spring technology requires sealing and literally uses compressed gas contained within, rather than elastic deformation found in mechanical versions. That means that while the performance is better it can also have a shorter lifespan because seals break and the energy lost.
Fortunately, the monitor arms we review tend to come with lengthy manufacturer warranties, so if they fail naturally you are entitled to have it fixed or replaced.
If you have the money, we always suggest going with a gas spring arm, unless the product is particularly cheap or lacks a warranty, which could mean it's poorly implemented. Overall, nothing beats the smoothness of gas spring arms.
What Are the Benefits of Quality Monitor Arms?
If you're looking to replace your regular stand with a good quality arm there are many benefits you may or may not have considered:
Desk Space
Typically, the larger your screen, the more space its stand will take up to keep it stable. Nonetheless, if you'd like to reclaim some of that desk real estate the most logical way is to install an arm or monitor wall mount. That way the base can be completely removed, and you can then use the space underneath the monitor.
Multiple Monitors
No matter what your subsequent setup, having one arm installed makes room for additional screens. You can have one on an arm and one sitting on the desk as usual. You can have a 3-monitor setup with a central stand and two arms on either side. That's without mentioning the fact that some arms support two or more screens themselves.
The possibilities are endless and if you like immersive gaming or do a job that would benefit from several screens, things can start to get really interesting.
Ergonomics and Movability
Unless you get a really cheap static arm, all good quality monitor arms can be positioned in multiple ways:
altering the height to get optimum eye level
tilting back and forth (particularly useful for certain standing workstations)
panning around (often a full 360 degrees)
the screen itself spinning so you can have it in the rare (yet often practical) portrait mode.
So, not only does a monitor arm save space it also makes good use of it. A simple benefit is you can push it out of the way when you want to make full use of the desk or prevent children and animals from messing with it when it's not in use.
Teamwork
Arms aren't just for the sole homeworker, they're also for bustling workplaces of all varieties. From regular offices and trendy open-plan Silicon Valley tech havens to clinical settings and the industrial floor, monitor arms make workplaces and workspace more efficient and aid in teamwork.
Comfort
Another key reason to get an arm is comfort. The truth is, many people sitting at desks have them poorly configured, straining their eyes at bad viewing angles, slouching in their chair and harming their posture, or stretching their neck to see properly.
While normal monitor stands can be shunted around, often with a lot of effort, most of us pick a spot and get on with it, even if it isn't very comfortable. An arm solves all this because you can position the screen for optimum comfort, and you can do so easily and smoothly.
Productivity
When you factor in all the other benefits of monitor arms, a comfortable and equipped worker is a productive one, and that benefits individuals and employers alike. There is less clutter and mental distractions, less of a need for leaving the desk area due to aches and pains, and overall, more efficiency. Whether you're intensive gaming, designer, in the office, or on the factory floor, the use of monitor arms is a big productivity boost.
Modern Looks
Let's face it, a multi-screen setup using desk mounts just looks good. Whether you're in a modern 'smart home' or at an office that likes to stay ahead of the curve, monitor arms add to the overall vibe of an environment.
Conclusion
If you're looking for a monitor stand for desk environments, mountable arms are the next step for your home or office. They conserve space, allow for multiple screens on a single pole, and add unrivaled adjustability and positioning. This makes for a comfortable, efficient, and productive work or game space.
The best monitor arm regardless of price, or something in between, if waiting for you among our top reviews.
What should I look for in a monitor arm?
Exactly what you should look for in a monitor arm depends on your own needs, but generally, you will first need to make sure that it is VESA compatible (and that your screen is too). Your screen will often already be fitted to a VESA mount stand which needs to be removed.
You'll also need to check the size and weight limitations of the arm. Size refers to the manufacturer size of the monitor in inches, while weight is the maximum they can guarantee will be safe. e.
Most desk mounts use a c-clamp that grabs like a hand at the bureau, while some also offer a grommet mount for options that have a hole already designed into them.
You'll also want to check the range of motion and positions that the monitor can accommodate. Do you need to be able to swivel it to portrait mode? Extend the height? Push it back and forth? And what mechanisms does it use to accomplish this? Mechanical or gas and spring?
Do you want to mess around with a locking mechanism or have a smooth and seamless experience? Either way, you'll find many more features than even the best monitor stand that sits in the middle of your desk.
Most of these factors will check out if you choose an option from our review list above.
Is a monitor arm worth it?
Whether an arm is worth it depends on how you use your screen and table. If you mainly sit with one screen facing straight and do not require much space on the top of the bureau, then you can stick to regular monitor stands for desk or workstations.
However, if you need lots of space - which even the best monitor stand takes up, or if you often move the screen or you'd benefit from a portrait mode, then an arm can be a very useful solution. They are particularly beneficial for those that need the height when using a standing workstation or if you want stability and movability on a treadmill desk.
It can also help if regular space is taken up by one large main screen and you want to mount smaller secondary screens on the sides. Whether you need much movability or not, arms can vastly increase the efficiency of space and your ability to add more monitors.
Pricewise a good desk monitor mount falls around $100 and you can ones below that. Then there are the higher-end premium products over $100 and even $200. In that sense, they can meet most people's budget and are worth it from a financial point of view.
How long do monitor arms last?
Like any product eventually, an arm will begin to fail and they don't live as long as the best monitor stand options for traditional setups do. Fortunately, they're designed well enough that your screen won't just crash to the floor, but you'll start to notice loosening in its movement or a loss of pressure for gas and spring arms long before an entire arm will collapse.
Generally, sealed gas and spring arms are more likely to break quicker than regular mechanical ones but provide smoother performance. Likewise, arms that are more complex with more parts are statistically more likely to fail first. There is also naturally more pressure on monitor wall mounts than desk mounts.
All that said, fortunately, unless you are overloading the arm or otherwise voiding the warranty, they are typically guaranteed from 3 to 10 years from a good brand like those on our list.
Ultimately, despite their modern vibe, arms aren't a great feat in engineering and generally outlive the screen they hold.
How do I know if my monitor is VESA compatible?
VESA is a mounting standard for TVs and computer screens that can come as a VESA monitor stand or arm mount. There are different VESA specifications, but most modern screens are either 100 x 100 mm or 75 x 75 mm (both sometimes called FDMI MIS-D). This refers to the distance between the four screw holes.
Fortunately, almost all modern screens that are found at reputable retailers are VESA compliant and will say so either on the box, in the manual/instructions, or even on the back of the monitor itself. You can also easily search your model online to find out if it is.
When a modern screen or arm says its fully VESA compliant or a universal monitor stand, it means it can fit both 75x75 and 100x100 mm variants. If your monitor only has one of these sizes, the arm will fit that one with four holes spare.
Can you mount a curved monitor?
Yes, as long as the monitor is VESA compliant and fits the weight limit of the arm or wall monitor mount in question, there is no reason why you cannot mount a curved screen. Curvature is not that extreme in most cases.
That being said, there may be slight differences in the monitor's ability to maneuver fully because of its shape or it may actually squeeze better into certain positions. All you need to look for is the weight limit and size of your monitor, just as you would with a flat one.
If in doubt, check with the manufacturers or retailers of both products who should easily be reachable online.
What is the best monitor arm?
Based on our reviews we believe the overall best monitor arm, if not considering the price, is the Chief Kontour K1D. It can be mounted to a desk via clamp or grommet. It can perform all of the adjustments and positions we're aware of and does so smoothly via a well-implemented gas-spring mechanism. It also supports a strong 25lbs per monitor weight limit and can be easily upgraded to up to 4 monitors. There's a lot of extra design touches that put it at the top of its class, such as a quick screen release sliding mechanism that doesn't require unscrewing anything.
If budget is a consideration the best value for money for a single-arm is the Fully Jarvis, which is less than $100. If you need an affordable dual solution, we'd go for the Mount-It! MI-7C12/C24 which is currently $110.49 MSRP.
At entry-level, the NB North Bayou is remarkably well made and functional for $60, and the VIVO 102AM is the best monitor wall mount.
Basically, the best monitor arm depends on your personal needs.
Keelan Balderson
A qualified journalist and longtime web content writer, Keelan has a passion for exploring information and learning new things. If he's not writing or pushing his own brands, you'll find him watching pro wrestling or trying not to rant about politics online.
Leave your comment
Your email address will not be published.