50 3D Print Ideas to Get Your Creative Juices Flowing
You won't believe what cool 3D printing ideas exist. Some people are doing wonders with a touch of creativity and a 3D printer at hand. Such ideas can even grow into a legit business.
Let's have a look.
What to 3D Print?
Home-use 3D printers take DIY projects to a whole new level. It's an innovative way to create something according to your own unique pattern. How brilliant is that? We all need a cool device like that, don't we?
The working principle is simple—you make a computer model, and it's printed out layer by layer using polymer resin, wood filament, or even metal. You can print useful objects like hangers or something cool like a dinosaur toy.
Printing three-dimensional items for your household or just for fun sounds like a fantastic idea. Let's look at some of the best projects to start with.
Beginner 3D Printer Projects
Now, if you are a beginner 3D print enthusiast, you may want to start with something easy. Begin with a straightforward model you'll use to test your printer and skills. Think of it as getting familiar with the device.
Cable Guards
We all know how smartphone cables tend to break right at the connection. But if you own a 3D printer, that's an easy fix.
A cable protector may not be one of the most exciting things to 3D print, but it's a safe choice for beginners. The model is pretty quick to make, and you'll find it a handy thing to have in the household.
Dice
Image credit: CADENAS SERVICES d.o.o. (CC BY 4.0)
Dice is the perfect variation of the commonly printed calibration cube. It's pretty easy to print because of its simple shape. The only thing that you have to add is the dots.
So instead of printing a standard cube, try printing dice. You can use it when playing board games and tell everyone you made it. Cool, right?
Cali Cat
Image credit: 3DPrintBunny (CC BY 4.0)
The Cali Cat is often used for 3D print calibration. It's a much more enjoyable element to print than the simple cube.
The cat is among the cute 3D print ideas. It's also a benchmark model for beginners, which some keep as a souvenir.
If you like it that much, you can create an entire army of Cali Cats in different colors. Who's to stop you?
Button
Image credit: kriswillcode (CC BY 4.0)
A simple button for your clothes is another easy-to-make 3D print design. You just have to decide how many holes it'll have—two or four.
The best thing is that you can choose whatever color you want or even print all buttons in different colors. Here's to creativity!
Door Stop
Door stops usually come in a triangular shape and they're pretty basic 3D print models. So no more slammed doors in your home because of drafts.
To make it more complicated, you can try to engrave a word on the stopper. Just play with the 3D printing software and see what happens.
Drink Coaster
Image credit: tliu22 (CC BY 4.0)
A round shape, a few millimeters in height, and there you go—you have a drink coaster. Easy-peasy!
It would look much better if you carve some design on it. A few drink coasters later, and you'll be a pro—no doubt about it.
Pen Holder
You can print all kinds of pen holders. A simple cylindrical shape is the easiest choice.
Another suggestion for cool 3D prints is a pen holder in an asymmetric design that will be one of a kind!
USB Casing
Your boring-looking flash drive can be transformed into something fun and colorful. First, measure your USB, then make a 3D computer model with the shape and design you want.
Such personalized cases are practical when you have a few of the same flash drives at home. This way, you'll be able to tell them apart quickly.
Ring
Plastic jewelry is among the popular 3D prints since it's trendy. The improved technology for jewelry printing allows you to make more complicated and precise designs.
As a beginner, you can try the low poly ring. The design is plain but attractive, and rings are small—they can be printed fast and with minimum material.
Chopstick Trainer
A chopstick trainer for your kids or yourself is next in line for the 3D printer. You know how tricky it can be to hold those sticks at first.
You don't have to figure out where to put your fingers anymore. The "fresh-from-the-oven" chopstick trainer will get you used to them in no time.
3D Print Ideas for Home
Making all kinds of cool stuff for the home is now possible thanks to 3D printing. Your DIY projects will become much more inspired as well as functional.
Vase
Image credit: Kamil K (CC BY 4.0)
A vase may sound like something bland, but you can think of any design you want and recreate it three-dimensionally.
You can play with shapes, colors, engraving, size, etc. As long as you let your imagination roam free, you'll be able to produce something exceptional.
Stackable Organizer
Stackable organization mini-drawers are among some of the excellent 3D printer projects. The design process might take longer, or you can just buy a ready-to-print 3D model.
All in all, such an organizer will collect your household's knick-knacks in one place. Men will find it useful in the garage for bolts, nuts, screws, flat washers, and other small items.
Napkin Rings
Image credit: Aaron @ Paper Cuts & Plastics (CC BY 4.0)
An official family dinner will look much better with 3D-printed napkin rings. Surprise your guests with something creative—dainty butterflies, cats, swans, or maybe rose hearts. Remember, you can also print holiday-themed napkin rings.
Smartphone Holder
A smartphone holder is convenient and also one of the cool things to 3D print. You can choose from numerous 3D models or design it yourself.
If you want to play with the software, make a personalized phone holder in the shape of an animal or a plant. It'll be fun to see the outcome.
Kitchen Sponge Drainer
The process of 3D printing a sponge drainer is relatively easy—a rectangular base with an outlet and a grid-like second part on four legs that fit in the base. You can skip the grid piece if that looks too complicated. Or you can think of your own 3D model. Sponge drainers come in all kinds of designs.
Self-Watering Planter
A self-watering planter is one of the best things to 3D print if you love plants. It's convenient when going on vacation. And you don't have to worry about your plant—it'll be well-watered and alive when you return home.
Start with a small planter for succulents or herbs to see how it goes. Then, you can move to bigger pots.
Funnel
A funnel is a functional kitchen item. You probably have one at home. However, you don't have a 3D printed funnel you've made yourself.
Test this idea just for fun—it can even be a mini version to see what happens and how your printer behaves. Even a tiny funnel can find its purpose—e.g., pouring liquid cosmetics from a larger container into a smaller one for traveling.
Egg White and Yolk Separator
So many plastic kitchen objects can turn into 3D printing ideas. Baking often requires egg whites and yolk to be separated.
You can go with the standard spoon-shaped design or try making a double egg white and yolk separator that works with two eggs simultaneously.
Bookmark
Image credit: Oxa (CC BY 4.0)
If you love books, make yourself a bookmark. There are so many designs to choose from, or you can create one on your own.
Turn on your imagination to the max. Try creating a bookmark featuring a favorite book character, for example. Who knows, this may rank among your best 3D prints.
SD Card Case
Can't find your SD cards because they're too small? We hear you! And they always seem to get to the bottom of the drawer.
With your brand new 3D self-printed case, you'll put them in order. It will be small enough to fit in your drawer but big enough for you to find it quickly. Perfection!
Useful 3D Prints
The world of 3D printing is vast. You can choose from various cool, fun, or useful ideas. Good rendering software will help you print whatever you want to.
So what are some useful things you can print?
Clothes hanger
A clothes hanger is a functional home item you can easily 3D print yourself. That's incredibly convenient when you need a spare hanger but don't want to drive to the store.
If you go with a foldable design, you can take it along in your travels. Such a collapsable hanger can easily fit inside a carry-on bag or suitcase.
Phone case
Image credit: NotJannet (CC BY 4.0)
Want a customized phone case? This is definitely one of the useful things to 3D print.
Just measure your phone and think of a design. The great part is that no one else will have the same phone case, and you can print as many designs as you like.
Cable Organizer
In the modern home or office, cables are everywhere. And sometimes, they make your space look unappealing and messy. A cable organizer can solve this issue.
When you have all your cables put in order, your space looks great. A 3D printer will help you make the type of cable organizer you need.
Wrench
Image credit: HD_Creator (CC BY 4.0)
Believe it or not, the wrench is one of the most popular 3D prints for beginners. This tool can be used straight off the printer.
The adjustable 3D printed wrench can also come in handy in later projects around the house. Anyway, it's better to have one just in case.
Laptop stand
A laptop stand is a practical thing to have at home. It serves two purposes—it helps against overheating and holds the laptop at a convenient angle to look at.
When choosing a 3D printing project, you may notice that some laptop stands are one piece while others have multiple parts. Choose one that you have enough skill for. Or… start from scratch with your own model.
Water Bottle Opener
Image credit: bobby (CC BY 4.0)
Sometimes those bottle caps are so hard to open. We've all been there. But there is a solution for that—3D printing a water bottle opener.
It gets ten points for usefulness, especially when you're thirsty, and that cap is so tightly screwed.
Faucet Water Saver
This helpful gadget attaches to the faucet and saves you water. Such faucet attachments are cheap and easy 3D printing ideas because they come with a ready-to-print model and require less filament.
However, you'd have to buy a rubber seal separately, but that's a quick fix.
Spare Key
A spare key can go into your self-printed collection as well. That's quite a useful item to have, just in case.
3D scanners can help you create a precise copy of your key. These devices thoroughly scan physical objects and make exact copies. A spare key is a great starting point.
Q-Tip Dispenser
A sleek rectangular model with a cover is the go-to design. On the bottom there's a protruding part that looks like an open drawer. That's where the q-tips slip for easy access.
Q-tip dispensers are effortless and convenient 3D printer products to try making at home. You can even give them to friends as gifts. They are the DIY version of practical presents.
Survival Whistle
Image credit: Plexi (CC BY 4.0)
A survival whistle is a simple object at first glance, but it can save your life. Carry it in your purse or on a keychain for easy access.
Aim for a straightforward and functional 3D whistle design. Make sure it's loud, easy to grab, and possibly with a hole to attach to your keychain. Such an item can also be used at sports events.
Fun Things to 3D Print
Now, it's time to have some fun with your 3D printer. Practical items are great, but fun and cool objects will take your 3D printing to a whole different level.
Let the magic begin:
Magic Wand
Kids will love a present like this. It can be a Harry Potter style wand or one with a star on top. But don't limit yourself to these suggestions. There are plenty of options to go with for this project.
If you involve the children, they can surely help with some fascinating ideas. Let them add small details to the magic wand with a 3D pen to make the process more fun. Just choose one that doesn't overheat and prepare a proper workspace. It can become messy.
Hanging Bird Feeder
Image credit: Shadowcraft Designs (CC BY 4.0)
Bird feeders are among the cool things to make with a 3D printer for your garden. There are multiple creative designs to suit your taste. Let's not forget about functionality since their primary purpose is to feed birds.
Searching for food can be a challenge for birds in winter. You can make their life easier with a simple 3D printed feeder and some seeds.
Letter Board
Do you know that a 3D printer can produce an entire letter board? Letters, numbers, board, and frame. All of it!
Letter boards are widespread interior design pieces. You can turn them into fun 3D prints by making colorful letters or a board that's not the usual black or white.
Stamps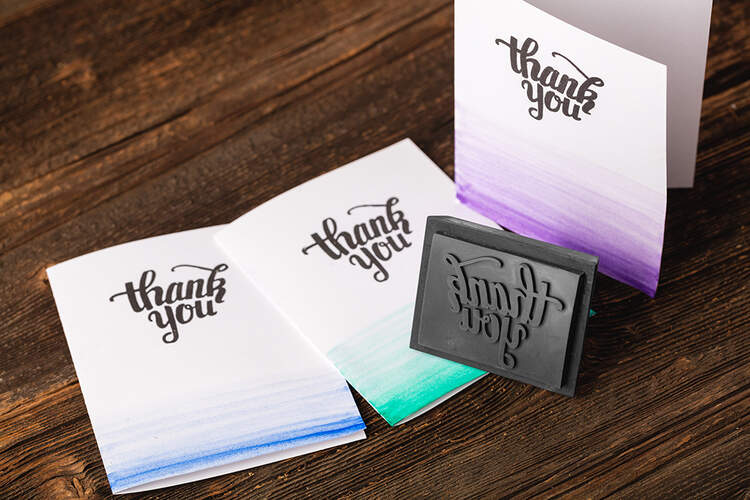 With 3D printed stamps, you can genuinely go overboard. Imagine how many stamp forms you can think of. Not to mention what can go on the actual stamp—letters, inspiring words, shapes, etc. You name it!
Mini Catapult
Looking for cool things to 3D print? We have a brilliant idea for when you're bored. Why not print a mini catapult?
It's not the easiest 3D design. Most likely, it'll have multiple parts for you to assemble. You may also print some mini cannonballs to make the picture complete.
Well, now you have the whole mechanism. Go ahead and try it!
Yoyo
Image credit: lolo_aguirre (CC BY 4.0)
We've already started with toys, so let's continue with them.
The yoyo is simply two connected disks with an axle between them and a thin rope. It's pretty easy to 3D print.
You can add cool engravings to the sides to make it more personalized. Find a good string, and voilà!
Puzzle Plane
3D printer products in the form of puzzles are pretty entertaining. With some thinking, you can make one yourself.
Start with something simple like a plane. The shape is not overly complicated. All you have to figure out is how many parts it'll have and how to attach them.
If that's too complicated, you can find a ready model.
Spinning Top
Image credit: Fx137 (CC BY 4.0)
You probably haven't seen that one in a while. It's another epic toy from childhood. It's also good for stress relief. Watching a spinning top in action has a calming effect.
Making it part of your 3D printed items collection is not too challenging. It's one piece and small, so it won't take much time and material to print.
Avocado Seed Floater
Let's face it:
You have to be a real plant lover to 3D print a floater for your future avocado tree. Avocado seeds are delicate, so it's better to initially submerge them in water, not soil. A seed floater can help with that, so why not print one?
Thor Hammer
Image credit: MediaMan3D (CC BY 4.0)
Thor's iconic hammer is an absolute favorite in the 3D printing community. It looks fantastic on display, but making it large might be challenging for a home raisin 3D printer. Try making it in a smaller size, and you should be fine.
Things to 3D Print and Sell
Selling 3D prints can become a legit income source. You can try to sell your creations if you're confident enough in them. Why not?
However, due to copyright, be aware that you cannot sell someone else's design.
Let's see what can sell well:
Jewelry
Plastic jewelry is at the peak of its popularity now. 3D printed rings and color-blocked beaded bracelets and necklaces have a good chance of selling.
Beads with letters are trendy this season as well. Glasses chains and plastic earrings are also on that list.
Any jewelry design that's creative, artsy, and modern will do the trick as long as you can 3D print it.
Headphone Hanger
Your 3D printing projects can make you a profit if you create unique designs.
Headphone hangers can turn out well on a 3D printer. There are some models available on the internet that look super cool. Get your inspiration from them to make something truly extraordinary.
Moon Lamp
Moon lamps are quite an eye-catcher. The round shape is easy to 3D print. You have to add the Moon surface craters and a stand. Make sure it's an original design, not copied.
It's safer to buy the actual lamp-holder that goes inside. You also have to find a way to attach it to the rest of the construction. Try making one for yourself first to see how it goes.
Any unique 3D printed lamp is a good item to sell since home decor is currently popular.
Figurines
Image credit: Rextruction (CC BY 4.0)
Statues and figurines belong to the group of 3D printed items that sell well. You must be careful because they can be classified as copyright content—especially miniatures from movies, TV shows, or video games.
3D models of mythological creatures and animals are fine if you design them yourself. A good idea is to make custom figurines of pets or people. Buyers would love that.
Wall Art
3D printed wall art is an excellent substitute for paintings. The creative ideas for such art pieces are endless. They can add texture and originality to plain walls.
Here are some ideas:
A fairy for a girl's room

A tree for the living room

A coffee cup for the kitchen

A plane for a boy's room
Six-Pack Beer Carrier
A six-pack beer carrier is a cool 3D print idea that might sell. People could buy it as a fun gift for beer fans. You can also offer custom engraving to make it more attractive for buyers. Personalized items make fantastic presents and are more pricey.
Cookie Cutters
Cookie cutters can be 3D printed in various shapes. And since they are hollow, you won't use much filament. The production cost will be low.
However, plastic cookie cutter sets' prices are low as well. You may enter the market by designing unique 3D prints that no one else has. That way, you can charge more for a set of custom cookie cutters.
Plant Pots
Image credit: thudbuzz (CC BY 4.0)
Try to choose 3D print models that look luxurious, high-end, and one of a kind. That's what people would buy. The production method isn't the main selling point here, but luxury and style are. Keep that in mind.
Plant pots, along with vases, are trendy home decor items that can be printed using a 3D printer.
Wall Clock
If you follow interior design trends, you can think of a wall clock that also serves as an art piece. Your 3D printer will handle the base and the hands of the clock. You can print dots instead of numbers for the hours. It'll look more classy that way. Buy the turning mechanism separately—it's far too complicated to make yourself.
Toilet Paper and Phone Holder
Image credit: Celta (CC BY 4.0)
Our list of 3D printed items that sell ends with something both fun and useful. Some people habitually take their phones to the toilet, but there is no place to put them. A toilet paper holder with a phone shelf perfectly caters to that need.
Wrap Up
The world of 3D printing stimulates both our creative and practical thinking. 3D printers let you materialize objects in the comfort of your home. And you can even sell some of them.
So are you considering buying a 3D printer? Definitely give it a try!
What 3D prints sell the most?
Some of the most popular 3D prints with high consumer demand are:
Jewelry

Planters

Vases

Coasters

Miniatures

Cosplay props
Etsy is the place to go if you sell artsy pieces such as vases, planters, pots, coasters, or jewelry. Your unique creations can also be marketed on Fiverr, Facebook Marketplace, Amazon, eBay, or Craigslist.
Is it expensive to 3D print?
Home 3D printers' prices start from $150 for a mini version and can go up to $2,000 for a more sophisticated industrial model.
For about $20, you can buy 1 kg PLA (Poly Lactic Acid) filament. PLA has a shiny finish and is made from renewable resources such as potato starch, tapioca roots, corn starch, and sugarcane.
Depending on the material and size of the 3D printed item, one object can cost between $3 to $1,000 to create.
What are the dangers of 3D printing?
3D printing might be fun, but there are potential hazards to watch out for:
Breathing in harmful powders and chemicals

Skin burning due to hot temperatures

Skin contact with hazardous solvents and compounds

Risk of explosion and fire
It all depends on your printer and the materials used. But make sure to check the safety guidelines thoroughly in advance.
What should not be 3D printed?
If you have been looking for 3D printing ideas, know that some projects may not be doable.
Some things that can't be 3D printed are:
Fabrics and clothes

Real wood

Paper

Stone

Gold and silver products

Perfect spheres
Easily flammable natural materials are out of the question because of high temperatures.
Stone is too hard. But a compound between stone powder and PLA makes designs look like concrete.
Silver and gold cannot be printed using standard 3D printers.
Producing a perfect sphere can be tricky but not impossible. You'd need to start with a flat base and build the globe upon it.
Velina Nenova
Velina describes herself as passionate media savvy and a versatile individual with numerous different interests, most a result of her Media & Communications BA. She has also developed a keen interest in Digital Marketing and Advertising. Her never-ending desire to constantly learn new things and enrich herself and her ultimate dream to go around the globe before 45 are her driving forces.
Leave your comment
Your email address will not be published.