14 Among Us Statistics To Show How Big It Is In 2023
If you haven't been living under a rock for the last two years, you should have heard about the game Among Us.
It is a 2018 online multiplayer deduction game made by InnerSloth. The game is about teamwork and betrayal in space. The objective is for the Crewmates to complete tasks before Impostors kill everybody on board.
Among Us had 60 million daily players in 2020, which can be considered its peak.
What has happened since then?
Continue reading the following Among Us statistics and find out.
Fascinating Among Us Statistics
Some believe that Among Us is a dead game. However, there are still many people playing it.
But the question is, is the game still popular?
Let's look at some of the most interesting Among Us stats to see if it is.
Among Us has over 400 million players worldwide.
The game had over 163 million monthly players in 2022, down from 235 million in 2021.
The number of daily players in the game Among Us is between 10 and 15 million.
The platform draws over 6,000 players daily on Steam.
From June 2018 to September 2022, Among Us has been downloaded over 500 million times.
Among Us revenue reached $86 million in 2021, up from $24.5 million in 2020.
In the last year, fans have watched close to 70 million hours on Twitch
Impostors win 58% of the time.
The average player is between 14 and 30 years old.
There are currently 5,740,470 players, at the moment.

The Red Crewmate is most likely to be considered as "sus."
How Many People Play Among Us?
1. The average number of monthly players in Among Us game was 163.6 million in 2022, down 30% from 2021.
(ActivePlayer)
235.3 million people were playing Among Us each month in 2021, up from 136.7 million in 2020.
| | |
| --- | --- |
| Year | Average Monthly Player Count |
| 2019 | 87,943,183.00 |
| 2020 | 136,659,397.33 |
| 2021 | 235,274,394.75 |
| 2022 | 163,552,366.92 |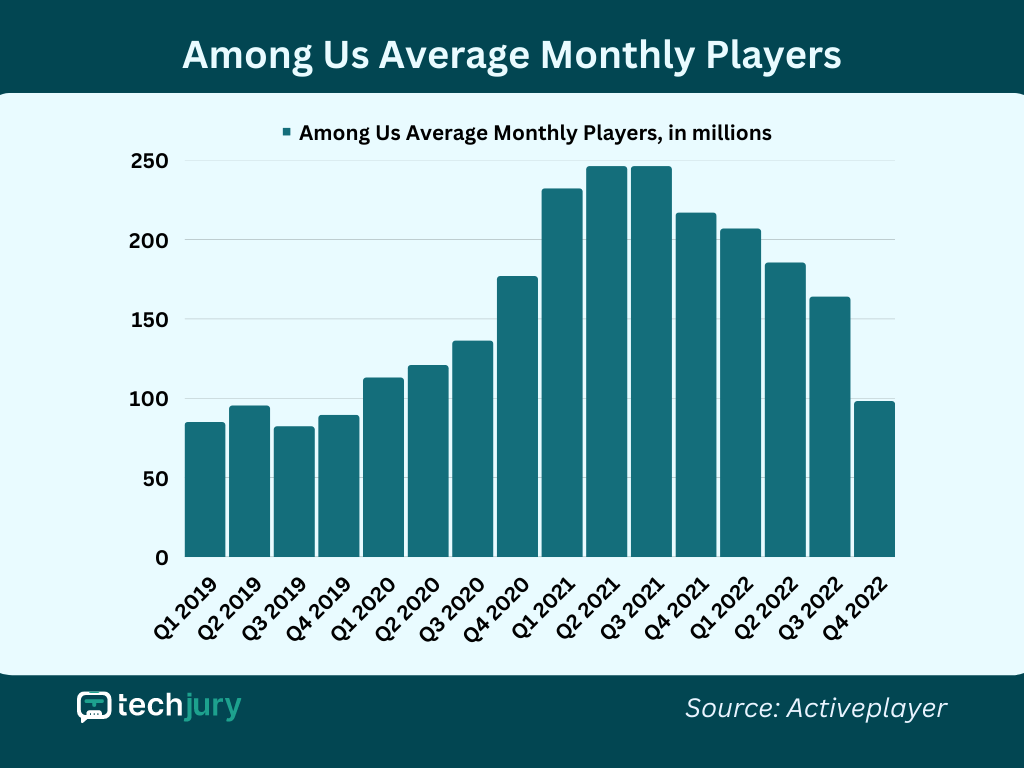 2. In all of 2022, Among Us had the highest number of players in January with 217.2 million.
(ActivePlayer)
In 2022, Among Us player count decreased each month and finally reached 80.1 million in December.
| | | |
| --- | --- | --- |
| Month | Monthly Players | Max Concurrent Players |
| December 2022 | 80,114,487.00 | 5,340,966 |
| November 2022 | 101,805,541.00 | 6,787,036 |
| October 2022 | 112,505,778.00 | 7,500,385 |
| September 2022 | 152,645,317.00 | 10,176,354 |
| August 2022 | 160,905,179.00 | 10,727,012 |
| July 2022 | 178,144,436.00 | 11,876,296 |
| July 2022 | 179,988,434.00 | 11,999,229 |
| May 2022 | 186,948,543.00 | 12,463,236 |
| April 2022 | 189,147,485.00 | 12,609,832 |
| March 2022 | 195,623,001.00 | 13,041,533 |
| February 2022 | 207,644,702.00 | 13,842,980 |
| January 2022 | 217,155,500.00 | 14,477,033 |
3. 10-15 million people are playing Among Us game on a daily basis.
(Activeplayer)
Among Us is a well-designed and highly enjoyable game that has captured the attention of millions of players.
General Statistics
Even if you aren't a fan of the game, below you will find some interesting stats and facts about Among Us:
4. In the last year, fans have watched close to 70 million hours on Twitch.
(Twitchtracker)
Among Us is ranked at #52 on the most-watched games on Twitch.
The average viewer count is about 6,000.
5. The platform draws more than 6,000 players daily on Stream.
(Source: Steamdb, Steamcharts)
At its peak, the single-day Among us player count was 447,476.
The average player count is about 6,500, with a high of 16,767.
At the time of writing, 9,537 are playing the game.
6. Impostors win 58% of the time.
(Twitter)
Imposters win 57,69% of the time, while Crewmates win only 42,31%.
7. The Red Crewmate is most likely to be considered as "sus."
(ScreenRant)
There are 13 colors that players can choose from.
Since the game started, there are now stereotypes based on what color your spacesuit is. Players have attached specific attitudes and behaviors to the colors, which evolved into countless memes. The most famous being "Red is sus," meaning that the red crewmate is the Impostor.
The main perpetrator for this is InnerSloth themselves. They have used the red Impostor in many Among Us promotional images, only solidifying its "sus" nature.
Players should choose their colors wisely.
8. On January 10, 2023, at 3 am (GMT-5), there were 694,632 "Among US" players live.
(Playercounter)
According to Among Us live player count, there are nearly 700K simultaneous players.
9. Of all the Among Us servers on Discord, the best is the official one from Innersloth.
(Beebom)
The server has 401,127 members. It is the perfect place to discuss all things, Among Us. You can easily find a group and play with voice chat in the background. Find the Impostors and boot them.
Among Us Revenue Stats
How does Among Us make money?
Of course, first is the cost of the game, which is $5.
Add to that in-game purchases.
And lastly, because of its popularity, there is a merch store.
Combine this with the number of players and the number of downloads, and you get a nice profit.
10. Among Us revenue for 2021 is $86 million.
(PoketGamer)
In 2020 Among Us made $24.5 million in revenue.
A year later, it increased by almost four times.
As of July 2021, Among Us lifetime revenue was $86 million.
11. Among Us has 530 million downloads.
(BusinessofApps)
Not bad for a game that started with less than 100 players.
Among Us Market Share Stats
Who plays the most by country?
It isn't a surprise that it's the US.
12. The USA has the most players.
(PlayerCounter)
36.56% of all players are from the US, followed by the United Kingdom and India with 5.11% and 4.67%.
13. 3% of all players play Among Us on PC.
(Sportskeeda)
This is surprising because this 3% makes up 64% of the game's revenue.
Among Us Player Facts
The game would not be the same or as successful if not for the players.
And of all of the Among Us stats and facts, this one is a game-changer.
14. Shane Morris (Sodapoppin) made the game explode when he began streaming it on Twitch in 2020.
(ComeToPlay)
Sodapoppin began streaming his gameplay in July of 2020. He had at the time 2.8 million followers and 47,000 views per stream.
15. Congresswoman Alexandria Ocasio-Cortez's stream had 439,000 views.
(Cnet)
What was the third-highest single stream in Twitch history? AOC's stream was three and a half hours long and certainly an exciting way to promote voting.
16. The average player is between 14 and 30 years old.
(Levvvel)
Here is a breakdown of the player ages:
Most players are between

20 and 30 years old

Followed closely by ages 13 to 18

Having players above 30 and below 13 is rare.

Among Us used to be

PEGI 16,

and is now

PEGI 7
Based on these stats, we can assume that most Among Us players are teenagers and people in their 20s.
Wrap Up
As shown by the Among Us statistics covered, we can conclude that the game is far from dead.
Players are still playing as you read this.
Innersloth introduced new features in 2022. Such as the friend list, which players wanted. Also, new roles and cubes.
By the end of 2022, the company will announce Among Us VR.
In my opinion, this will renew the game's popularity.
It's still developing. And with everything new coming up, it will be interesting to see what the future of Among Us will look like.
So if you haven't already, download the game and choose your color.
Deyan Georgiev
Deyan has been fascinated by technology his whole life. From the first Tetris game all the way to Falcon Heavy. Working for TechJury is like a dream come true, combining both his passions – writing and technology. In his free time (which is pretty scarce, thanks to his three kids), Deyan enjoys traveling and exploring new places. Always with a few chargers and a couple of gadgets in the backpack. He makes mean dizzying Island Paradise cocktails too.
Leave your comment
Your email address will not be published.