Can PS5 Play PS3 and PS4 Games? [Backward Compatible Games for PS5]
Dejan Cvetnarevic
Updated · Apr 19, 2023
Sony's latest console, the PlayStation 5, has been in scarce supply since it hit the market in 2020.
The limited output of the console didn't slow demand, even as its price soared.
And if you still can't get your hands on the new PS5 or you're waiting for the price to drop, you're likely wondering "Can PS5 play PS3 and PS4 games?".
We have good news.
Can You Play PS3 Games On PS5?
PS fans can play PS3 games on PS5 but their options are limited.
The PlayStation 5 comes with backward compatibility with PS3 titles, but the PS3 copies are not compatible with Sony's latest gaming console and there is no way to download them on the device.
The only way to get PS3 games on PS5 is to stream them via PlayStation Now, Sony's cloud-based subscription service.
In other words, to get access to the more than 500 PS3 games available, you'll need to set aside $17.99 per month or $119.99 per year for a PS Plus Premium account.
You'll also need a fast internet connection, as games require high speed for smooth performance.
How To Play PS3 Games On PS5
If you have an active PS Plus Premium membership, here's how to cloud-stream PS3 games on PS5:
Turn on your PS5 and log in to your account.
Locate the PS Premium Plus app on your PS5 home screen and click on it.
Select Collections from the top navigation menu.
Scroll down to find the Classics Catalogue.
Click on the PS3 option and select the game you want to play.
Press the Stream button.
Can You Play PS4 Games On PS5?
The PS5 is one of the best gifts for gamers, since not only are you set for the latest titles with a next-gen console, you can also play old-gen games due to the PS5's backward compatibility with the PS4.
More specifically, you can play more than 4,000 PS4 games on the console.
On top of that, you're not limited to Sony's cloud service and there's an option to upgrade a PS4 game to a PS5 version. Some of these games even run with a higher frame rate on the PS5, which makes for an improved overall gaming experience on the most popular console in the world.
How To Play PS4 Games On PS5
For gamers looking to play PS4 games on a PS5 console, the options are nearly limitless.
With a disc
PS4 discs work on PS5 consoles.
To play the game:
Insert the disc into your PS5.
Download the update (if there is one).
From your Games home, select the game hub.
Select your game.
Note: You will need to keep the disc inserted to play the game. Also, you can't use PS4 or PS5 game discs with the PS5 Digital Edition.
Digital
PS5 also allows you to play digitally purchased PS4 games on the console.
To play a PS4 game you own in a digital form:
From your Games home, select the game library.
Find and select the game you want to play.
Download the game (if you haven't already).
Transfer
Alternatively, you can transfer all your digital games and game data from your PS4 to your PS5 via a Wi-Fi transfer.
To do that:
Turn on your PS4 and PS5.
Sign into the same account on both consoles and make sure they're connected to the same WIFI network.
On the PS5, go to Settings and select System.
Click on System Software and select Data Transfer.
Click Continue and select PS4.
A pop-up will appear on your screen that reads Prepare for Data Transfer. You'll need to press the power button on your PS4 and hold it until you hear a beep.
Once the consoles are connected, you can select the PS4 titles you want to transfer and click Start Transfer.
You may be interested in:
Do you need PS Plus to play Warzone?
PS5 Backwards Compatibility Limitations
The PS5 has excellent backwards compatibility, compared to other consoles, but it comes with certain limitations, including:
PS5 consoles do not support PS3 games discs.
The Share menu is not displayed in PS4 games on PS5 consoles.
The HD camera is not compatible with PS5's VR.
The tournament feature on PS4 is not supported on PS5 consoles.
In-game live on PlayStation is not supported on PS5 consoles.
PS4 second screen app and game companion apps do not work on PS5 consoles.
Top Backward Compatible Games For PS5
Here are some of the best titles from PS3 and PS4 that you can play on your new console:
Best PS3 Games You Can Play on PS5
The latest Sony console may be the best one so far, but the PS3 saw some of the best PS titles.
PS5 can play some of the following PS3 games:
Metal Gear Solid 4: Guns of the Patriots
image credit: konami.com
Metal Gear Solid 4 follows the prematurely aged Solid Snake as he goes on one last mission to assassinate his nemesis, Liquid Snake.
It's an award-winning adventure game, with top-of-the-line graphics that boasts an imaginative design, arch sense of humor, demanding gameplay, and incredibly detailed cut-scenes.
The Last of Us
image credit: naughtydog.com
The Last of Us Part 2 was one of the most anticipated games in 2021 and immediately started breaking records when it was released, becoming the fastest-ever selling PS exclusive.
The first part of this action-packed adventure game was no different.
The game follows a smuggler who's tasked with escorting a girl through a post-apocalyptic world filled with hostile humans and cannibalistic creatures infected by a mutated fungus.
The Elder Scrolls IV: Oblivion
image credit: bethesda.com
The Elder Scrolls Oblivion is the fourth game of the Elder Scrolls series.
It's a single-player role-playing video game set within the province of Cyrodiil, the heartland of Tamriel, where players must find the lost heir to their throne and unravel the plot that threatens to destroy the entire home of the Imperials.
If you're a fan of RPG games– the most played game genre– this game is a must-try, with enough content that will have you return to it again and again.
BioShock
image credit: 2k.com
Bioshock is a first person shooter game loaded with weapons and tactics that only a handful of games can offer.
This mind-blowing PS3 game follows Jack, a plane crash survivor who finds himself traversing a haunted underwater world, cleverly named Rapture, where monsters wander the streets.
The game has an incredible story, with a great plot twist, and also boasts excellent visuals and amazing graphics.
Batman: Arkham City
image credit: rocksteadyltd.com
Batman: Arkham City is a 2011 action-adventure game developed by Rocksteady Studios as a sequel to the 2009 Batman Arkham Asylum video game.
Set inside the heavily fortified walls of a sprawling district in the heart of Gotham, this sequel finds inventive new ways to pull in various characters from Batman mythos and throw harrowing challenges in Batman's path.
With its incredible side mission storylines, as well as the wide range of new and enhanced gameplay features, this classic continues to stand above the competition.
Uncharted 2: Among Thieves
image credit: naughtydog.com
Uncharted 2: Among Thieves is a third-person action-adventure shooter that helped turn Sony's fortunes.
This classic masterpiece is best known for its opening, which sees the main character, Nathan Drake, escape a tethering train, which remains one of the best first levels in gaming.
As he goes on an expedition to find the legendary Himalayan Valley, Drake finds himself caught in a dangerous game of cat and mouse against a war fugitive criminal and has little choice but to risk everything.
Looking for something new? Check out the
35 most anticipated games in 2022
.
Best PS4 Games You Can Play On PS5
The second best-selling home console of all time has an amazing catalog of games.
Some of the best PS4 titles that you can play on a PS5 include:
Uncharted 4
image credit: naughtydog.com
Uncharted 4 is one of the best action adventure PS4 games thanks to its immersive storyline and details that are hard to miss.
The fourth entry in the Uncharted series follows former treasure hunter Nathan Drake who is forced back into the world of thieves to find Libertalia, the pirate utopia deep in the forests of Madagascar.
Drake's final adventure, coupled with the puzzles and the combat part of the game, makes it difficult for Uncharted fans to miss out on the adventure.
Bloodborne
image credit: fromsoftware.jp
Bloodborne is a thought-provoking experience that pushes the limits of reflexes and endurance with a constant onslaught and hard-earned progression.
In it, players hunt for answers in the ancient city of Yharnam, which is now cursed with a strange endemic illness, and discover the darkest secrets of what has become a horrific world in order to survive.
Ghost of Tsushima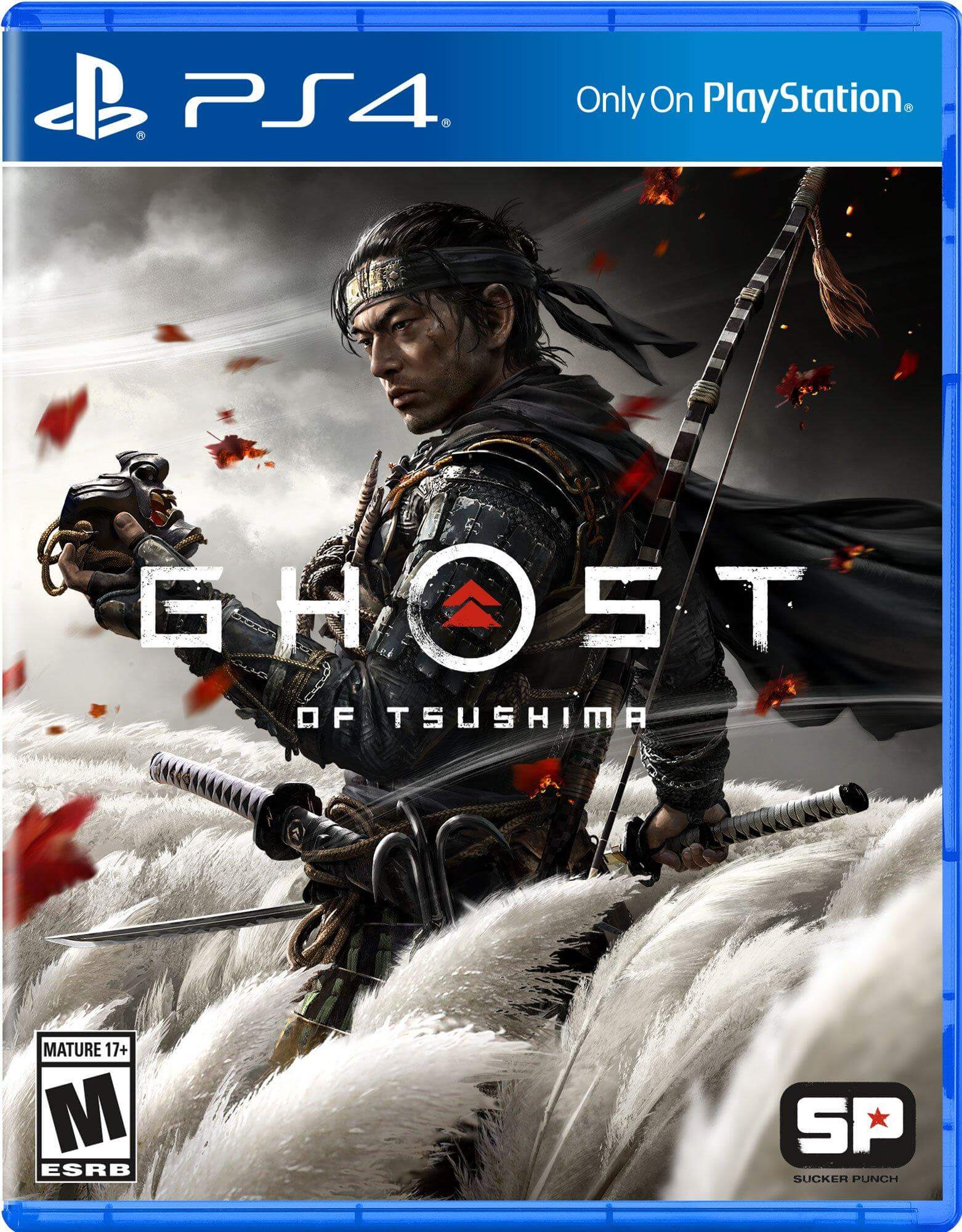 image credit: suckerpunch.com
Ghost of Tsushima is a legendary open-world samurai game with an impeccable commitment to render the most popular historical era in Japanese history.
Set in feudal Japan, the game puts you in control of the only surviving samurai, Jin Sakai, following a brutal attack from the Mongol horde. The island has been ravaged by invaders and it's up to you to recruit allies and use your skills to conduct a guerilla war and force the Mongols back.
The Last of Us Part II
image credit: naughtydog.com
Set 5 years after the events of the first title, the second part of The Last of Us franchise follows Elly as she embarks on another journey through a post-apocalyptic America to find closure.
This PS4 adventure game is the perfect combination of incredible gameplay, cinematic storytelling, and phenomenal acting. Despite the gore and violence, the details in the game are staggering both in scope and detail.
Spider-Man
image credit: insomniac.games
Spider-man is undoubtedly one of the most fun games you can play on a PlayStation console, with a small learning curve and a captivating story that looks and feels authentic.
The game is massive, so there is plenty to do, and swinging around New York in it as the web-slinger himself is so addictive that you'll want to explore every corner of it.
Ratchet and Clank
image credit: insomniac.games
Featuring several new planets, new Clank gameplay, and new bosses, Ratchet and Clank, the PS4 version of the original PS2 game, takes a deeper look at the character's origin stories.
The game has one of the most rewarding gameplays that sets off the beloved characters on an exciting quest as they attempt to save the day and prevent the destruction of entire planets.
The gameplay is exceptionally varied and is a nice reminder of just how fun and lighthearted gaming can be.
Bottom Line
Can PS5 play PS3 and PS4 games? The PS5 and PS3 backwards compatibility might be limited, but you could still play some PS3 titles via the cloud and only with a PlayStation Plus subscription.
And if you're still a fan of PS4 games, you're in luck: The PS5 is compatible with almost all PS4 games, whether you have it on disk or a digital copy.
Dejan Cvetnarevic
Dejan is a techie at heart who always dreamed of turning his fascination with gaming into a career. He finds working for TechJury a perfect opportunity to express his views of all kinds of different software. Being an avid reader, particularly of fantasy and sci-fi, Dejan pursued a degree in English Language and Literature. When not at his computer, he's watching sports or playing tabletop games.
Leave your comment
Your email address will not be published.