25 Awesome Email Signature Ideas You Should Use Today
Velina Nenova
Updated · Feb 07, 2023
When you tell a story, you want everyone to get your punchline, right?
It's like that with email signatures too. The best way to impress your audience is to finish with something extraordinary — not a plain and dull anticlimax. Just like an attractive subject line, some email signature ideas can be memorable.
Let's take a look at a few attention-grabbing examples!
What Is a Good Email Signature?
The best signatures are a bit more creative. A nice email signature provides more than just the basic facts about you and your company. Its design is simple and balanced so that people can remember it easily.
If you want your email footer to leave a good impression, take a look at our tips:
Pay attention to fonts and font styles. Choose something legible and whichever font style you pick, try to be consistent. Don't mix it with other fonts.
If you want to use colors, avoid mixing too many. The safest way to go is to apply two or three colors that match the ones in your logo.
Modern email signatures usually include links to your social media. However, the icons you select should be unified. Use the same size, color, and style.
And remember not to use too many icons. Otherwise, your email block may come across as overcrowded and confusing.
If you add a banner, keep it subtle. It shouldn't be bigger than the block or too small — people won't notice it.
The photo of the user should be professional; avoid using weird shots of yourself.
Include only relevant contact details. For example, if you provide your office phone and you are rarely there, display your mobile number instead.
The disclaimer text should be placed below all the information and its font size should be smaller. Quotes are not welcomed unless they are related to your brand.
You can make your email signature neater by using vertical or horizontal dividers to separate logical parts.
The email signature format should be compatible with mobile screens.
All in all, a visually pleasing email signature should be eye-catching and easy to read.
Essential Elements of an Email Signature
If you want to follow the latest trends, start by searching for the most unique email signatures. We are here to help you with that.
First, you should learn about the basic elements of an email signature. Once you're clear about what they are, you can be as creative as you like.
Let's have a look at what elements you need to include!
Your Name
Email signatures are like digital business cards and your full name is a must! Using just the name of the company is not advisable.
Your Company and Job Position
If you look at some professional email signature examples, the name of the company you work for comes right after you introduce yourself. You should also include your job title and even, if applicable, the department.
Contact information
If you are using your email signature for work, you should provide:
your company's website
address
and phone(s) where people can reach you
You might also add your personal website and number. However, just a few contact details are quite enough.
There is a debate among experts about whether to supply your email address as well. We leave it up to you to decide!
Social Media Icons
Be careful about what social media profiles you include in your email signature. Remember that not everyone wants to see you partying on a Friday night! With this in mind, choose your most professional social media link such as LinkedIn.
Email signatures are the opportunity for recipients to find out more about your brand or business. So, give them the chance to follow your work progress, not your life story.
Picture and/or Logo
A proper email signature has one or the other and sometimes both. If you add an image of yourself people feel closer to you. Putting a face to the name makes communication more natural.
Instead of a photo, you can add a logo of your company to increase brand awareness. Just make sure it looks professional — ask for help from a designer if you don't know how to create one yourself.
Call To Action
The purpose of email marketing is to attract more customers, and an email signature can contribute with a simple call to action. Add a clickable element to your signature that will remind your recipients to read your latest blog post or book an appointment with you.
Are you hosting a webinar soon?
Notify everyone!
Remember to make the call to action subtle so that recipients won't feel forced and rushed to take action. You can also change CTAs to suit your needs.
Disclaimer
You've probably seen some email signature examples that contain legal information. It's not exciting but some companies, such as insurance, legal, and financial firms, have to follow certain regulations. These can vary depending on the country they operate in.
If you need to include some type of disclaimer, use a smaller font size and keep it simple.
Responsive format
Nowadays, almost everyone with a smartphone checks their emails on the go. So, try to make your signature mobile-friendly. Organize your details to fit a mobile screen. Your recipients shouldn't have to scroll or expand to read your signature.
25 Best Email Signature Ideas in 2022
We have done our research and looked at tons of email signatures to come up with a compelling list for you!
Here are the top 25 ideas to turn to when you create yours.
Customers prefer to receive special offers in their emails, so use the chance to offer one in your sign-off. It's a way to sell your product or service without being too direct!
This festive banner sends out a positive vibe. At the same time, it creates the impression of an added afterthought that prompts the customers to visit a sale.
Display Your Image Gallery
Clever email signatures could also show off a bit of your work. It's like a sneak peek into what clients can expect from your company.
An eye-catching email signature is perfect for business owners. Moving logo and an image of the gallery or the food you can find at the restaurant.
A simple but efficient footer.
Moving objects are sure to catch your recipient's attention! The right kind of animated GIF that suits the rest of your email signature's elements can help bring in potential customers.
The 'Book Now' button should be placed just to the right of an enticing picture. Just watching it will make you want to try!
Include Your Handwritten Signature
A handwritten signature is classy and makes your email block stand out. Fancy email signatures that incorporate handwriting add a personal touch to your correspondence.
Also, note how this blogger has seized the opportunity to subtly add two calls to action below his contact details.
The click-through rate will improve if you make your CTA more attractive. So, think up a way to drive more meaningful traffic to your site with a well-placed CTA button.
This simple email signature plugs into this writer's content. The button is small, neat, and straight to the point. You can promote webinars, blogs, and podcasts and even set up a video conference with your clients.
A well-placed button in your banner will encourage the reader to click on it. You can produce an email signature which contains a banner that looks just like a button. The whole banner is clickable but a darker button that says 'Click Here' prompts the reader to explore the photographer's work.
Promote Your Latest Event or Design
That little block of space in your signature can do wonders for you! Use it to show your company's current activity or promotion. Inform the audience about any forthcoming events.
Here, Nora Smith uses her email footer to promote the Blues&Jazz Music Festival, and the banner links directly through to her ticketing site. Good email signatures spread the word first and reap the benefits later!
Improve Sales with a CTA Banner
Have you got a new product or a release you want people to know about? Tell the whole world with an effective CTA banner!
We've already mentioned that with a powerful CTA you can increase traffic to your site. This can also help you drive sales for a particular product right from the email you sent.
This CEO's banner provides a link to her company's reviews and a convenient Amazon button. It's a simple but very engaging signature.
Perfect for the creative sphere, clickable video thumbnails can help you get noticed and promote your marketing goals as well.
This awesome email signature lets people inside the authors' worlds, showcasing their interests and goals. Most importantly, it displays expertise in their respective fields — graphic design and music.
Ask for Feedback on Your Performance
You can use a short and simple question to get an immediate response to how you're doing.
One-click survey in the email signature uses smileys and sad faces to gather feedback quickly and effortlessly. If you need an instant reaction from your customers, you could use this, the popular thumbs up/down, or stars for your survey.
Change Your CTA Banner from Time to Time
Banners need to be changed to match your current campaign. Remember to replace it when the promotion you're advertising ends.
Cool email signatures synchronize the content and the purpose of the email. This branded signature uses the opportunity to wish the recipients happy holidays. Take a look at the social media icons — they are designed in the same festive mood.
Usually, emails are plain black and white. Utilize a pop of color to bring character to your signature. Just be careful to match your branding.
The white space usually dominates in the sign-off. Pretty email signatures try to combine it with a different color background. It's simple and not too colorful, sporting a careful selection of similar shades.
Icons are more noticeable than text links, and adding them to your signature is a modern trend. If you or your company maintain professional social media accounts, designate an icon for each platform.
Take a look at this realtor's email signature. She's put icons of all the platforms connected to her business and special buttons for Instagram and YouTube.
A professional-looking photo is optional. But it certainly helps your recipients see who they are talking to. It's much easier to build a personal connection with your leads and customers if you include one.
Email signature designs with a simple portrait picture like the one above are very common. Here, Derrick used a professional background that matches his business for a more personal touch.
Why not make things a bit more intriguing? Place an avatar image instead of a picture of yourself. Or even use a caricature or drawing.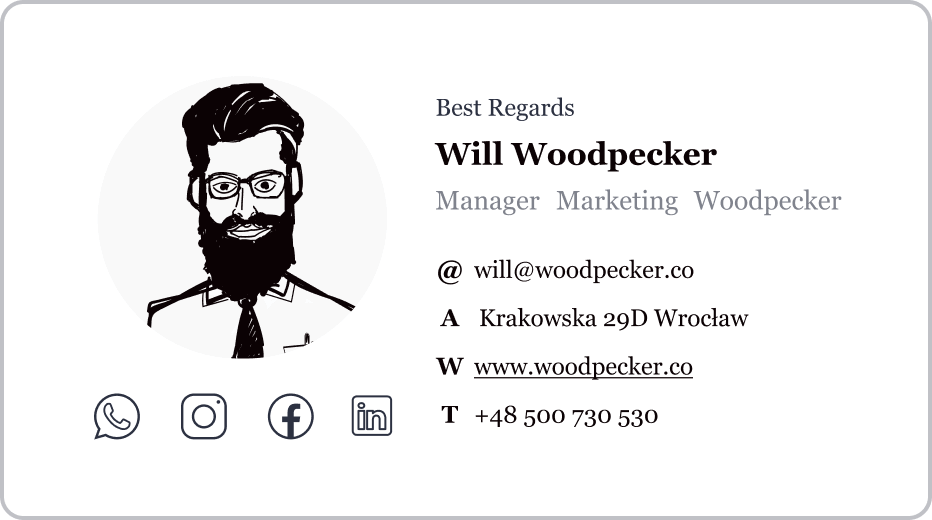 The portrait drawing adds a dash of eccentric creativity to the signature. Even the social media icons look like drawings. How brilliant!
Don't Forget Your Brand Logo
Instead of sharing your image, go with the company logo to boost brand awareness and recognition. Just make sure everything matches your brand voice.
Moving logo adds a little fun to the otherwise serious format of the signature.
We have seen many fancy features and design options but simple email signatures are sometimes more effective. Neat and clear designs will give you the best results.
Minimalist signatures use a rounded profile picture to soften the overall design. The colors aren't vivid and neat social media links are included instead of text or CTA options.
People often read their emails on mobile devices. So if you want your email signature to be readable, the design has to be compatible with mobiles. Keep in mind that your font type and imagery should be legible when scaled down onto smaller screens.
The brand logo, type, and graphic elements of this business email signature example are all scalable and can be read on a smaller device. The social media links can be tapped easily without accidentally triggering an adjacent icon.
It's always best to consult a lawyer about whether you need to put a disclaimer in your signature. Some industries are required by law to display it.
The most common disclaimers cover the following issues:
Confidentiality
Security
Contract misunderstandings
Personal opinions
The General Data Protection Regulation (GDPR)
Email signature examples with a disclaimer are more professional. Simple and serious in color choice and overall style is a successful example. This softens the impression with a smiling portrait of yourself, for instance.
An ecologically themed quote in your signature shows that you and your company are committed to being eco-friendly.
This and other green footers contain a short text with green lettering asking the recipients to conserve paper. This science teacher reminds everyone that we should avoid printing emails and documents unnecessarily.
Even though email footers are used mainly in professional correspondence, some fun email signatures are completely fine if they are in line with what you do.
An animated GIF of someone laughing is a good example. It will make the footer stand out.
Have you recently won an award? Have you published a new book? One of the places to brag about your success is in your email footer. Recipients will be updated about the things happening in your company.
Adding a CTA banner is the most effective way to share your announcement. Link it to a landing page and you're good to go.
Inspirational quotes are not a good fit for every industry. However, if they are appropriate for your brand, you can add them to your signature.
An insightful quote perfectly suits a philosophy student. Quotes make for creative email signatures by adding a fun personal touch to your email footer.
Preferred pronouns are more common in email signatures than you think. Add them if you want to let people know how to refer to you in the third person. As a bonus, your organization is going to be seen as inclusive.

In addition to gender pronouns, Shelly here has used a banner to emphasize the no-discrimination vibe in her company.
The actual address of your business is one of the basic elements you need to include in your signature. However, some companies such as restaurants or shops also include a link to their location on Google Maps. This way people can go from your email to Maps and find you in no time.
Email signature design ideas should be easy on the eye. People don't like overcrowded and disorganized banners. You can use space dividers to make things more comprehensive.
Here, Josh has used the vertical sign "|" to separate his profile picture from his contact details, giving a pleasantly organized look to his signature. Consider using a vertical divider if you need one.
Free Email Signature Generators
Now you know why you need a creative and neat email signature.
But what if you don't know how to create a good one?
Don't worry, we've listed the top three free email signature generators that will do the job for you.
WiseStamp
This generator has a couple of free templates and you can add almost anything, from a quote to a YouTube video. You just put all the information you want to include in your signature and the generator will produce it. The free options are more than enough to create a beautiful email signature.
You can upgrade to the Pro version and get all the available features. The paid version lets you remove the company's branding from your signature. There are also several business plans that offer unified email signatures within your company.
MySignature
This easy-to-use generator can help you make great signatures for your email in no time. You start by selecting the template. There are five free ones you can choose from. You can unlock the rest, starting at $4 per 1 signature package. Once you put all your information in the left-hand sidebar, you'll see the way your signature will look on the right side.
You can add a lot of social media links with MySignature, but it'll make sure your signature remains stylish and doesn't look overcrowded with links. Adding banners and removing MySignature's branding are Pro features.
Gimmio
Previously known as ZippySig, this free generator doesn't require signing up. On the downside, you are limited to choosing from its sample email signatures. If you start a free trial or buy its Pro plan, you can get full access to all the advanced features.
This tool offers:
over 50 free professional templates
many social icon variations
different fonts
You can purchase a signature without a subscription. If you don't mind the limitations of a free template, Gimmio will generate a perfectly functioning email signature for you.
Wrap Up
Now you've gathered all the information you need to design your own professional email footer.
It's time for you to apply some of our email signature ideas and impress your email readers.
Velina Nenova
Velina describes herself as passionate media savvy and a versatile individual with numerous different interests, most a result of her Media & Communications BA. She has also developed a keen interest in Digital Marketing and Advertising. Her never-ending desire to constantly learn new things and enrich herself and her ultimate dream to go around the globe before 45 are her driving forces.
Leave your comment
Your email address will not be published.
You may also be interested in.