Home Office Desk Ideas You Need in 2023
As the remote work trend expands, people are looking for home office desk ideas that will help them remain productive and focused. However, there are so many office desks to choose from, you might get overwhelmed.
Luckily, there are some designs you can't go wrong with. Keep reading to check out how rustic industrial or floating desks can fit in with the style of your home.
Home Office Desk Ideas and Conceptions
Having a dedicated home office lets you isolate yourself from the noisy environment. It also gives the members of your family enough space to leave you be while you work.
The main thing your home office should include is a comfortable and organized office desk.
Then, you should invest in an ergonomic office chair. It will help you keep your posture good and reduce back pain.
Depending on the type of work you do, you might want to get some shelves or drawers, to store all the necessary work-related items and office supplies. You may also want some plants to make your workspace more relaxing.
Here are some home office desk suggestions and designs you'll love.
Combining Old And New
Home office desk inspiration can come from the stuff you already have around you. With a little DIY painting, you could turn your old desk into a modern-looking piece. However, if you're not great with combining colors, you can purchase an antique-looking home office desk and pair it with a modern, ergonomic office chair.
Antique desks often come in mahogany or cherry and give off a sophisticated vibe. Sitting behind these desks will really make you feel the power. Plus, these desks have enough storage space, so you can stop worrying about shelves.
However, if you aren't a fan of dark tones for your home office, you can select an antique white desk. Combine it with a high-back office chair, and you'll get a vintage feel with a touch of modernity.
Rustic Industrial
The rustic industrial style combines the best of rural and modern designs. It includes wooden and metal elements, where wood is the dominating material. If luxury modern home office ideas appeal to you and you don't mind browns, going for rustic industrial can be a great choice.
You can play a bit and combine the deep brown wooden furniture with white or light grey walls to create a powerful contrast in a bright room.
If you like to experiment, deep browns also pair well with deep blues. You can hang a few paintings around your desk for a personal statement. Rustic desks may look minimalistic, but they provide enough space and function without overwhelming you. Add an adjustable faux leather chair in black for the ultimate comfort.
Modern Floating Desk
These types of desks come in all shapes, sizes, and colors. This means you can mix and match your floating desk with almost any surroundings and decor. These desks are called floating since they're mounted on the wall and don't have any legs.
If you're looking for interesting home office workstation ideas, floating desks might be the right choice. They increase the floor space, and if mounted correctly, they're very durable. So you won't have to worry about leaning on them.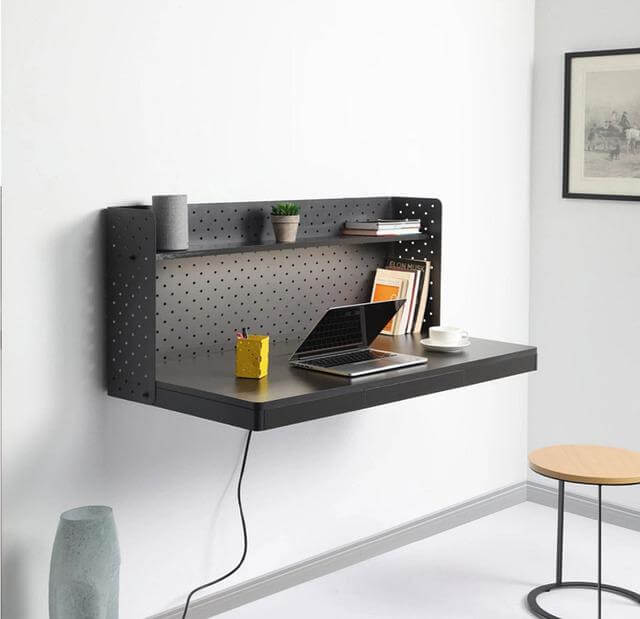 Plus, they're very affordable. A floating desk will make your home office space more clean and open, especially a bright-colored one. Depending on the design, they could also be retractable, giving you more space once you close them.
Bringing In Color
If you often feel uninspired and lack energy when you work from home, try bringing a little color to your workstation area. You can do this even if you don't want to change your current desk and chair.
Look for the latest fun desk ideas online, and don't be afraid to introduce energetic colors such as red, yellow, and orange into your workspace. The easiest way to do this is with a bright desk organizer, colorful rug, or wall paintings. If carefully selected, these additions will act as a great contrast to the neutral tones of your setup.
In case you're ready to replace your old desk, go for white as a basic color and add some painted drawers as accents. Epoxy-topped desks are ideal if you want to include more color in your workspace. However, you'll likely have to DIY or custom order this kind of office desk.
Glass-Topped Elegance Design
Glass is the epitome of timeless elegance, and some of the best cool office desk ideas include glass-topped or completely transparent desks. Combined with metal legs in any color, these desks have a futuristic feel that goes well with other modern pieces in your office.
Moreover, these desks come in various shapes and styles. Glass desks are ideal for small home offices as they make small rooms look airier.
On the other hand, using a dark tempered glass desk can give your home office a mysterious look, depending on how you pair it with other colors. These office desk ideas for your home will instantly give your space a chic look.
Blue Wall Boxes
You can use wall boxes for extra storage over your working desk. They're especially useful if you have a tiny desk.
What's more, painting your wall boxes blue will create a unique and relaxing work environment if combined with light furniture. It's one of those space saving desk ideas that can give your home office a serene and fun look.
Contrast the blue wall boxes with a white desk, include a yellow breathable office chair for added flair, or keep it classy with a grey, modern armchair for a minimalistic look.
Embracing Unusual Materials
If you're looking for creative home office desk ideas, you can consider using some items you already own. For example, if you have an extra door that you don't use, you could turn it into an interesting-looking desk.
The same goes for an old bookshelf or coffee table. When it comes to making home office desks from old furniture, you can get creative – sometimes, even an old nightstand can turn into an interesting piece.
This work requires some DIY skills but making an office desk can turn into a fun project. Check online for some of the best desk ideas – you may find that a wood pallets desk is an interesting thing to make.
T-Shaped Desk
These kinds of desks create an ideal working environment if you share your home office space with someone. These desks are shaped like the letter T and have enough space on each side to fit two people.
If you're looking for simple desks for a large home office, T-shaped pieces are perfect. Like many others, these desks come in various colors, but the most common ones are brown-white and brown-black combos.
T-shaped desks pack a lot of space and drawers - perfect for better organization. Their size, however, means that they require enough room, so you should carefully plan your home office area.
The Fabulous Grey
Grey is a color you can't go wrong with. It's sophisticated, soft, neutral, and balanced – just what a home office should be. This is why you'll see so many grey home office desks that fit the monochrome design.
You can check out executive style desks with enough space to handle your supplies, or minimalistic yet beautiful home office desks that fit every room. Contrasting a dark grey wall with a brighter grey desk puts your focus right where it should be. On the other hand, purchasing a grey desk with some wooden elements can brighten up the space and add a luxurious touch.
Grey office desks are great since they allow you to experiment with other colors. If you're looking into funky home office desks, try combining a light grey desk with some bold designs or unusual decor.
The Modern Minimalist
Modern minimalism excludes the clutter of regular office spaces. This concept is known for sticking to the bare essentials and a monochromatic palette.
Contemporary luxury home office desks often sport clean lines and a design in wood with metal accents. What's more, minimalist desks often come with several drawers, where you can conveniently store all your office essentials.
These desks are ideal for people who lose their focus easily. They're as simple as they come, yet modern enough to fit in any type of interior.
Marble Lasts Forever
Unique desks can incorporate design ideas that include marble and faux marble materials. You might be used to seeing this material in hallways or staircases. But today its presence expands to other home areas – kitchens, bathrooms, and home offices.
The two most common colors are white and black, but it's the marble's pattern that makes such home office desks unique. Plus, marble never goes out of style due to its durability and smooth elegance.
This is why selecting a dark marble home office desk is a great idea if you're aiming for a refined look. Marble is often combined with metals in warm tones, like gold, copper, or brass, so you can easily find a desk that will remain a timeless piece in your home.
Built-in Innovations
A built-in desk, or a credenza desk, is another way of creating more space in the office. Home office built in desk ideas often include a credenza desk set against the wall or perpendicular to it. The purpose is usually to allow you to reach the extra shelves from the seated position at your desk.
Built-in desks are a great way to add space to your home office environment. These desks are often wooden and go well with other wooden pieces. This means you can get creative and furnish a small study in any color to match your place perfectly.
Lap Desk is a Thing
Looking into awesome desk ideas may lead you towards lap desks. These are a great solution if you live in a small space or simply like to relax while working. Laptop bed desks look like bed trays. They're foldable and multi-functional, meaning you can use them on your bed or the floor.
What's more, they're lightweight and portable, so you can take them anywhere you go. Lap desks can often fit 17.3-inch laptops. They are highly durable, and their legs are made of quality metal - your laptop won't slip and the table won't collapse.
Finally, lap desks come in various colors, so you can easily match them with your room. Some come with added space for a tablet, phone holder, and attached mouse pad.
Gaming Desk for Work
Some of the cool office desk ideas include gaming desks. These desks are simple, sleek, and spacious enough to accommodate multiple screens, so you never miss a thing – just like gamers.
Plus, these types of desks often come in an L shape. The added desk area can help you reorganize your home office items with ease. It's also great if you want to place your desk in the corner to save space.
Gaming tables come in different colors and are usually made from metal. You can select the right size and tone for your home office. Some gaming desks also have a monitor stand and iron hook to extend the desktop space.
Walk and Work
Finding the right at home desk ideas can be challenging if you're into fitness. Luckily, there are workstations that you can use on your treadmill, Peloton, or NordicTrack. Treadmill desk attachments are similar to bed desks, but you get the added benefit of burning calories while you work.
Plus, they're adjustable, compatible, and ergonomic. These attachments are non-slip, so your items will remain safe, no matter how severe your training is. What's more, you can use these desks to watch a show or read while on your treadmill.
Treadmill desks are often made of bamboo, but they may be metal or acrylic to match the look of your treadmill.
Standing Desk Ideas
Standing tabletops are some of the most creative office desk solutions. These types of office desks minimize the prolonged sitting risks – back pain, headaches, and joint stiffness. Adding a standing desk to your home office guarantees that you'll occasionally stand up and change position.
Standing desks are height-adjustable, so you won't have issues with your posture like you do while sitting. These desks are often made from a combination of carbon steel and wood, making them very durable.
Plus, they come in various colors and minimalistic designs, so you can pair them well with your standard home office setup. Some standing desks double as sitting desks as well, so you can create a versatile home office with just one item.
What Could Be Used Instead Of A Desk?
In case you're not up to buying a new desk or remodeling an old one, there are probably still some things around your house that you can use instead. With some creative home desk ideas, you can turn an old ironing board into a place for your computer.
If your apartment doesn't allow a full home office setup, go for a coffee table in your living room, a laptop stand, or a CushTop. Finally, you can always use your dining table as a home office desk while you're not eating.
Wrap Up
These unique home office desk ideas will ensure that you always have a comfortable space to work. Depending on your preferences, you can go for a minimalistic design or more sophisticated rustic industrial motifs.
Floating desks will help you save floor space, while built-in areas will fit well into any home. If you like color, don't be afraid to use epoxy table tops. Or go for a completely transparent desk that can fit in with the most colorful interior. And don't forget to show off your unique office desk in your next Zoom call!
Velina Nenova
Velina describes herself as passionate media savvy and a versatile individual with numerous different interests, most a result of her Media & Communications BA. She has also developed a keen interest in Digital Marketing and Advertising. Her never-ending desire to constantly learn new things and enrich herself and her ultimate dream to go around the globe before 45 are her driving forces.
Leave your comment
Your email address will not be published.