How to Add Multiple Photos to Instagram Story?
Do you want to create more engaging content for your Insta without spending hours on your phone? If so, then you're in the right place!
In this article, you'll learn some valuable methods of adding multiple photos to your Instagram stories. We'll give you step-by-step guides, and you can choose the best option for you.
Ready to get started?
How to Add Multiple Photos to One Instagram Story on iPhone?
You probably already know that there's a way to select multiple images and use them to create separate stories.
However, you can also fit them into a single story. There's a hidden feature in the Sticker section that lets you achieve that.
It's time to unravel the mystery of the button that lets you add multiple pictures to your Instagram story.
The steps are pretty simple:
1. Open Insta
2. Press on Your story
3. Choose your background by taking or uploading a photo. I covered my camera and took a blank photo
4. Tap on Draw
5. Pick a color and fill in the screen
6. Click on the Sticker icon
7. Take or upload a photo
8. Pick multiple pictures
9. Use your fingers to arrange them
10. Select the desired shape by tapping on each image
11. Finally, click on Your story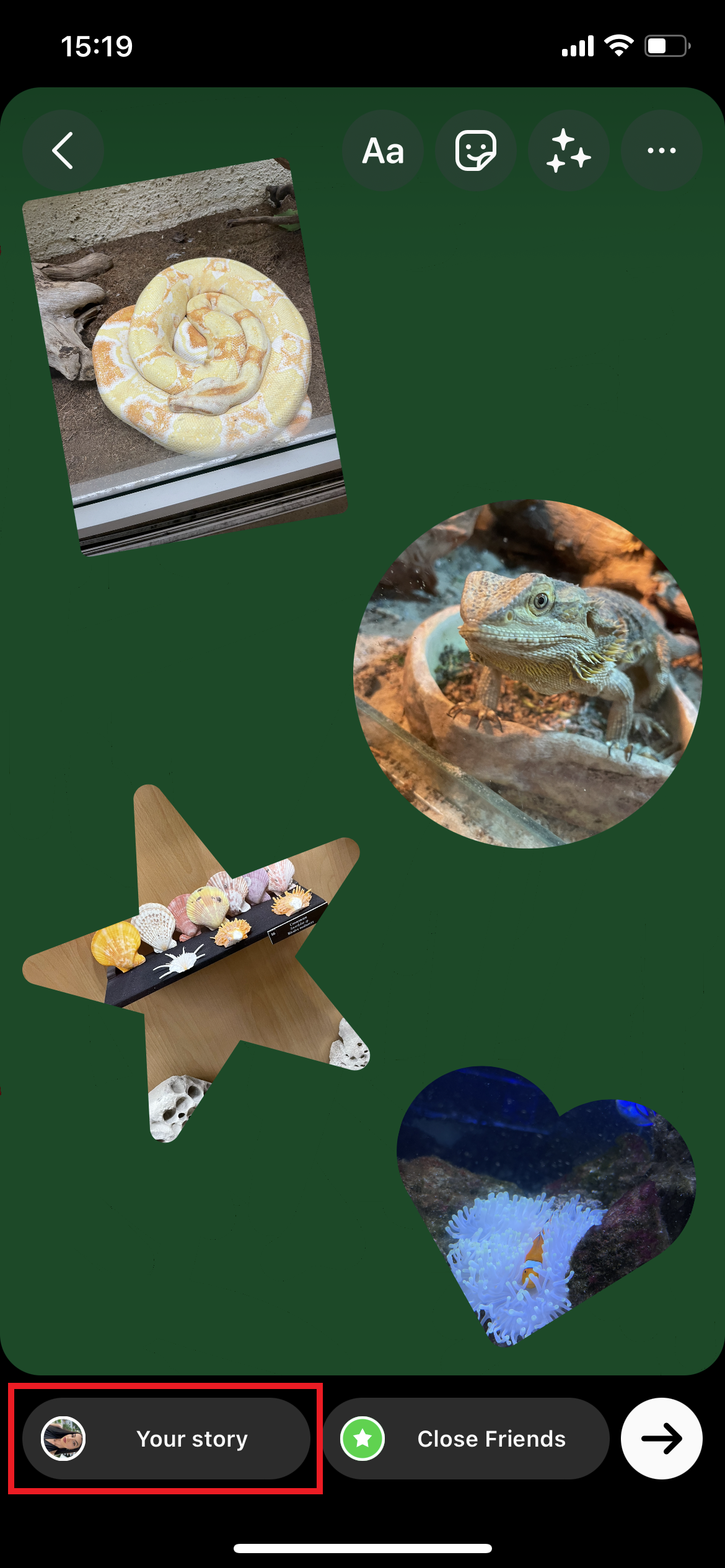 And that's it. Pretty simple, right?
Let's move on to the next method.
Using the Layout Tool
If you don't like arranging, you can use the Layout tool. It lets you choose different grids and make an Instagram story collage.
Here are the steps:
1. Open Insta
2. Tap on Your story
3. Click on Layout
4. Press on Change grid and pick the one you like
5. Take or upload photos
6. Click on the tick button
7. Select Your story
If you've already chosen which pictures to add to your story, the process should take no more than two minutes.
Why Can't You Add Multiple Photos to Your Insta Story?
There's a chance that the multiple photo feature isn't available in your country yet. However, you can try to update the Instagram app to its latest version.
If the issue persists, the only thing left to do is wait for it to become accessible where you live.
How to Add Multiple Photos to the Same Story on Android?
The steps to add multiple images to your Instagram story on Android are pretty much the same as on an iPhone.
Take a look:
1. Open the Insta app
2. Click on Your story
3. Press on the Sticker icon
4. Add or take a photo
5. Pick multiple pics
6. Arrange them to your liking
7. Tap on them to select the shape you want
8. Press on Your story
How to Add Multiple Pictures to an Instagram Story via PC?
Unfortunately, there's no way to add more than one photo via PC. Instagram also doesn't support uploading any images this way.
However, there's a workaround.
1. Open Chrome and tap on the three dots in the top right corner
2. Click on Manage tools
3. Then on Developer tools
4. Select the mobile icon
5. Choose Dimensions
6. Select the mobile interface you want
7. Open Instagram
8. Click on Your story
9. Choose a photo
10. Press on Add to story
How to Create a Collage Instagram Story?
Here's the thing.
There are three different ways to create a collage on Instagram Stories. You can use one of the following options:
Photo sticker

Layout tool

Third-party collage app
We've already covered the first two methods. As for the last one, you can do the following:
1. Download an app like PicCollage, Unfold, or Canva. We chose PicCollage.
2. Open the application.
3. Click on Grids and tap on the one you like.
4. Press on the blank square and select photos
5. Rearrange them however you like
6. When you're satisfied with the results, click Done
7. Press on Instagram
8. Tap on Story
And that's all there is to it!
Ready to spice up your Insta even further?
How to Add Multiple Photos to an Instagram Story With Music?
Another popular way to create engaging content is by adding music to your stories.
Here's the deal:
1. Open Instagram
2. Select your preferred method of adding multiple photos
3. Click on the Sticker icon
4. Press on Music
5. Choose a song
6. Adjust the settings
7. Press on Your story
Wrap Up
Learning how to add multiple photos to your Instagram story is important, especially if you post every day and want to have unique content.
You can achieve that by using the Photo sticker option, the Layout tool, or by downloading a third-party collage maker app.
Whichever method you choose, they're all pretty simple, and you'll be ready within a few minutes.
Easy peasy lemon squeezy! Now you know everything about Insta stories and how to create the best ones.
Simona Yaramova
Simona's desire to be a content writer came pretty randomly. But now, she's dedicated to learning everything about technology and becoming the best at her job. Her favorite gadget is her iPhone, so she has all the know-how about it. She's currently pursuing a Bachelor's degree in English Philology. She is a dog person and dreams of having a Corgi (don't we all?). She likes to cook, read books, and spend time with her family and friends.
Leave your comment
Your email address will not be published.