How to Add Music to Instagram Story [Easy-to-Follow Guide]
Did you know that 86.6% of Instagram users post stories daily?
No wonder Meta is constantly coming up with new features.
The current hype? Stories with a soundtrack.
If you have no idea what we're talking about, this guide is for you.
Read on to find out how to add music to an Instagram story.
How to Add Music to an Instagram Story?
In order to put music in an Instagram story, you have to create one.
The easiest way is through the (+) button at the top right corner of your Home screen. Choose the "Story" option from the drop-down menu.
Another way is to open your camera when swiping to the right on your Home screen. Then, just tap on the icon showing you the "Stickers" tray on your right-hand side. You need to choose "Music". There you will find a chart with some of the best songs for Instagram stories.
How to Add Lyrics to Your Instagram Story?
After selecting your preferred track, it's time to choose where and how to place the music sticker.
You can hide it above the screen if you don't want it to be visible. Yet another way is to make it tiny.
Making it more interactive with lyrics gradually showing on the screen is also a popular option.
Amend the sticker's size in a second with your two fingers only.
You can easily change the style of the music sticker by tapping on it. If you swipe through the length bar, you can choose which exact part to insert. Thus, if you have a favorite chorus from a certain song, you can select it to play over.
Another catchy feature is being able to change the music duration. Here's how to make music longer on an Instagram story:
When adding a song, the default length is 10 seconds. Yet, you can do it from 1 to 15 seconds by tapping on the timer on the left of the music screen.
Once you've finished editing your Instagram story, tap Done and it's going to be uploaded in a few seconds.
If you want to find out how it looks and sounds, you can easily do it by opening the "Your Story" icon. This is how all your followers will see and hear it.
Adding Music to Instagram Story Without Sticker
Ever wondered how to add music to your Instagram story without a sticker?
We know the way.
How to Add Music from Spotify?
Want to add a song directly from Spotify?
No worries, here's the drill:
Open Spotify up and choose a song. Then, all you need to do is tap on the "Share" icon.
In case you don't see it right away on your screen, you can look for it within the three dots button opposite the song name.
After clicking on "Share", a pop-up will appear with the available social-media platforms. In order to post this particular song, hit the Instagram icon at the bottom.
Then, you can upload it through the "Your Story" icon below. And this is it; you're an absolute pro now!
How to Add Music from Soundcloud?
Yet another way to add music to your Instagram story- no sticker - is through the Soundcloud app.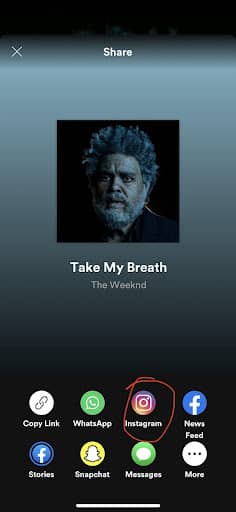 Open up the Soundcloud app and look for the music you want to upload. Tap on the song's at the bottom of the screen.
When the cover comes up, you will be able to see the "Share" icon down next to the song's likes and comments.
Then simply select the Insta icon, and allow Soundcloud to open it. This will take you directly to the story screen displaying the song's cover and name. Select "Your Story" and voila.
How to Add Music from Shazam?
An additional way for that is via Shazam. The app is predominantly used to find songs. However, it could also be helpful when it comes to sharing music on an Instagram story.
So how can you do that?
Open Shazam and let it recognize a song playing currently.
Tap on "Share" at the top and then if Instagram isn't among the apps shown above, select "More". Choose from there.
Afterwards, all you need to do is allow Shazam to open Instagram and you'll see a story music screen with the song's cover.
Select "Your Story" below. It'll be all done and ready to be uploaded in seconds, making the sound better than ever.
How to Add Music from Apple Music?
Until quite recently this was a feature no one had heard about. So what's necessary in order to add music to your Instagram story from Apple Music? You only need the downloaded app and an iPhone updated to some of the latest iOS versions. And there you are- ready to rock your story in a beat.
All you have to do is:
Choose a song

Click on the three dots on the right side of the name

Tap "Share Song" and choose the "Instagram" icon
The rest is easy as pie. Instagram will automatically open with the album's cover on the screen and the song's name displayed in a huge square right in the center.
Why Can't I Add Music to My IG Story?
Most of the time, it's because you're using an outdated version of the app, so one of the possible solutions is to update. If you're using an iPhone, i.e an iOS operating system, you can do it in your App Store. Or, if you're an Android fan, go to the Play Store. The latest version of Instagram should offer a music sticker.
Another trick you can try is signing out of your account, restarting the phone, and signing back in. Or you can permanently delete the app, wait for a couple of minutes and download it back again.
Wrap Up
Well, now you know how to add music to an Instagram story and you can be part of the cool kids.
With multiple options, you can create a unique video that will stand out.
And don't worry if you encounter any issues. Our guide offers possible solutions.
Have fun creating!
Deyan Georgiev
Deyan has been fascinated by technology his whole life. From the first Tetris game all the way to Falcon Heavy. Working for TechJury is like a dream come true, combining both his passions – writing and technology. In his free time (which is pretty scarce, thanks to his three kids), Deyan enjoys traveling and exploring new places. Always with a few chargers and a couple of gadgets in the backpack. He makes mean dizzying Island Paradise cocktails too.
Leave your comment
Your email address will not be published.
You may also be interested in
.