How to Cancel Netflix? All The Methods You Need To Know!
If you're a Netflix subscriber, you'll never run out of great TV. It is, hands down, the most popular streaming platform available today.
But maybe at some point, you've thought of cutting down your streaming services list. Or maybe you're not using Netflix as much as before and don't want to spend money?
I get it. Sometimes you just want to take a break.
Read on to find out how to cancel Netflix.
How To Cancel Netflix?
Surprisingly, canceling your Netflix account is pretty straightforward.
It all depends on how you're being billed - via iTunes, Android, or directly through the app. You can discontinue Netflix using:
a web browser

an Android phone

a tablet

an iPhone

an iPad
But first things first, let's settle some questions.
The good news is that you can unsubscribe from Netflix at any time.
But what happens if you cancel in the middle of the month?
Let's say your billing date is on the first day of the upcoming month. If you unsubscribe on the 15th, you'll still have access to Netflix's content. Once the billing period is over, your account deactivates automatically.
The platform won't charge you after you cancel your membership. No cancellation fees and no commitments.
If you have a gift card or a promotional balance, you can use the platform until your balance runs out.
Also, deactivating your account isn't the same as deleting your profile(s). If you just delete them, you'll still be billed until you actually cancel.
Now, let's look at your options:
Cancel Netflix via a Web Browser
To cancel your Netflix membership, you first need to log in to your account.
Click the arrow at the top right corner of the home page and select Account from the drop-down list.
You should now be able to see everything about your account - billing dates, payment methods, and plan details.
Click Cancel Membership under Membership & Billing to unsubscribe from Netflix. Tap on Finish Cancellation to confirm.
You should receive a confirmation email letting you know that your subscription is officially over. You can restart your membership anytime. Netflix will also save your viewing preferences and personal info for 10 months.
Another option is to go to netflix.com/cancelplan and sign in with the email you use for the account. You'll have two options. You can unsubscribe, or you can downgrade your plan. Choose Unsubscribe.
Next, just click on Finish Cancellation.
How to Cancel Netflix on Android
Open the Netflix app on your Android phone or tablet. Tap your account profile photo in the top right corner of the screen. Scroll down and click on Account.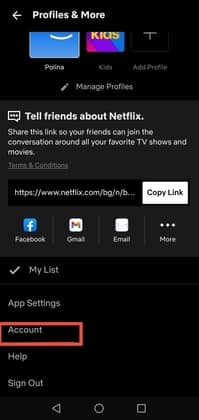 You'll be redirected to Netflix's website to finish the process.
Then, use the steps listed above to cancel Netflix.
Pretty simple, right?
Now, let's have a look at the other devices.
How to Cancel Netflix on iPhone or iPad
Netflix doesn't let users cancel from the iOS app.
To do that, head straight to its website on your iPhone, iPad, or another device. Tap the three-line icon in the top left corner and choose Account. Scroll down the page and select Cancel Membership. Click Finish Cancellation to confirm.
How to Cancel Netflix through iTunes
If you sign up for Netflix through an Apple device, you have the option to cancel through iTunes billing.
Here's how to do it.
Open the Settings app on your device and tap iTunes & App Store.
Click on Apple ID at the top, then select Subscriptions. Tap on Netflix and set Automatic Renewal to Off. To finish the process, select Done.
How to Cancel Netflix on Mac
You can also cancel Netflix via iTunes on your Mac.
All you need to do is open iTunes on your computer. Then, choose Sign In and enter your Apple ID. Select Account and go to Settings. Tap on Manage and click on Edit. Now select Cancel Subscription to quit Netflix.
That's it!
Other Streaming Devices
What about digital media players?
Here's how to cancel Netflix on Roku:
Launch your Roku device and select the Home button on your remote. Scroll to Netflix and click the Star button on your remote. Once the Options menu opens, choose Manage Subscription. Click on Cancel Subscription.
You can also unsubscribe via the Roku website.
Sign in to your Roku account and select Manage Your Subscriptions. Go to the Netflix tab and click on Unsubscribe.
And there you have it. As you can see, it takes less than five minutes.
Some extra steps to follow
Netflix will keep your personal details for 10 months after you've terminated your subscription. If you restart your membership during that time frame, you'll still have access to your profile.
If you want to delete your data faster, you'll have to go through an extra process.
Contact the Netflix Help Center at [email protected] from the email associated with your profile.
What Are Netflix's Best Alternatives?
Netflix may be great, but it isn't the be-all and end-all of streaming services. Many of these platforms will keep you entertained every night on your smartphone, tablet, or smart TV.
Here are some paid alternatives:
Amazon Prime Video
If you quit Netflix, Amazon Prime Video might be just for you! It offers plenty of great TV shows, movies, and original series..
If you're an Amazon Prime member, the Video service is included in your subscription. But even if you don't have an Amazon account, you can sign up directly for Prime Video.
The platform's interface is easy to use. You can search for shows and movies based on your favorite genres.
HBO Max
HBO Max may be more expensive ($10 with ads and $15 for the ad-free version) than Netflix but it has a lot to offer.
It features over 45 years of HBO content and you'll have access to hit TV shows and blockbuster movies. You'll always find something interesting to watch.
Disney+
If you've set your mind on canceling Netflix, Disney+ is great if you have kids or if you love Disney content. The subscription is cheaper ($7.99 a month) than other services and offers a large library of content. Not only Disney originals but also other popular movies - the Star Wars and Marvel series, for example.
Like other streaming services, Disney+ recommends movies and TV based on what you watch.
You can also download content on your device.
Apple TV+
Apple TV+ is another great alternative to Netflix. It costs $4.99 a month. The service is new and doesn't have a lot of content. But for that price, you get high-quality original TV shows and new programs. Unlike Disney+, Apple's streaming platform is available in over 120 countries.
I know what you're thinking. Are there free Netflix alternatives?
Yes, there are.
IMDB TV, Peacock, Crackle, and Pluto TV are the most well-known free streaming services.
The bad news is that most of them are available only in the US.
You can, however, use Pluto TV in Germany, Austria, Switzerland, and the UK. It has a large selection of movies and TV series.
Wrap Up
When your budget is tight, you can always put Netflix on hold. It's just as easy to cancel your membership as it was to sign up. No matter what device you're using, the whole process takes only a couple of minutes. You don't have to worry about cancellation fees or anything like that. Also, the platform won't bombard you with annoying and irrelevant emails.
Well, now you know how to cancel Netflix and what alternatives you have.
Hope you found this guide useful!
Deyan Georgiev
Deyan has been fascinated by technology his whole life. From the first Tetris game all the way to Falcon Heavy. Working for TechJury is like a dream come true, combining both his passions – writing and technology. In his free time (which is pretty scarce, thanks to his three kids), Deyan enjoys traveling and exploring new places. Always with a few chargers and a couple of gadgets in the backpack. He makes mean dizzying Island Paradise cocktails too.
Leave your comment
Your email address will not be published.