How to Combine Videos on iPhone [a Step-by-Step Guide]
Looking for ways to merge different videos?
If so, you're in the right place.
You may want to put your favorite clips together or collect all memories from a recent trip into one.
Whichever the case, you'll now learn how to combine videos on iPhone.
Let's get started.
How to Combine Videos on iPhone?
With your iPhone's native Photos app, you can trim a clip and choose where it starts and ends. But that's about it.
Fortunately, Apple provides a free video editor called iMovie. There's also the option to use third-party applications.
You can download each of the options below from the App Store.
Let's check out the different methods:
Using iMovie
This is by far the simplest way to combine two or more videos on your iPhone. You can choose the transition style and how long it is. Other than that, iMovie doesn't offer much. However, it's completely free of charge and is also easy to use.
Take a look:
1. Download iMovie if you don't have it already
2. Open it
3. When you see the welcome screen, press Continue
4. Select Movie
5. Click Videos
6. Combine video clips on your iPhone by selecting the preferred ones. You can do that by tapping on their checkboxes
7. Press Create Movie
8. Tap the transition icon to choose the transition style
9. Click Done
10. Press the Share button to save the video, share it on social media, or send it to someone.
And that's it.
But what about the other options?
Using Videoshop
Compared to iMovie, which is mainly useful for combining videos on iPhone, this application provides many features to make your clips more personalized.
For example, you can:
Trim

, split, and

merge

clips

Add

music

and

sound

effects, or do a voice-over or lipsync

Use slow motion or reverse

Add text, filters, or animated titles
Videoshop has a free version. If you want unlimited access to all its features, the price is $3.99/month or $23.99/year. It also provides a seven-day free trial.
So, how do you use it to merge videos?
1. Download it.
2. Open it.
3. Click Import clip.
4. Select the ones you want by tapping on them.
5. Tap Done to merge the videos on your iPhone.
6. Slide through the tools to edit your video.
7. Press the Export button at the top right corner.
8. If you wish you can share the clip on social media or save it to your camera roll.
Is the next option better?
Keep on reading to find out.
Using Video Merger
Like the previous app, this one also has both free and paid versions with a seven-day free trial. You'll get to add unlimited clips and music without watermarks. The premium pass costs $2.99, and the lifetime option is $4.99.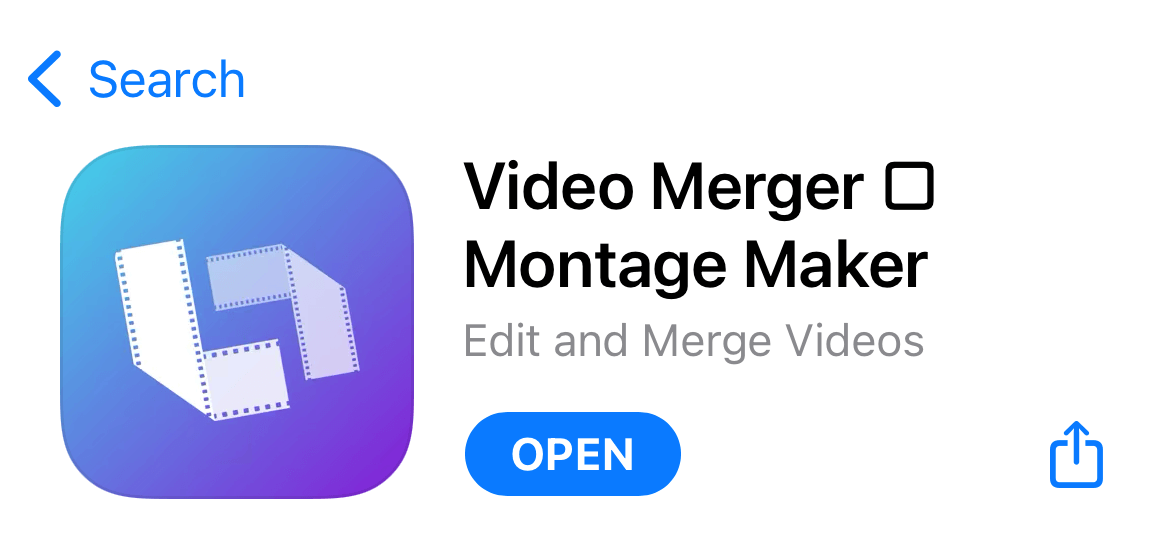 It has a user-friendly interface, and it's easy to use. Plus, it offers a lot more than just merging videos on your iPhone.
You can:
Add text, filters, and captions

Add

music

from your iTunes library or your recordings

Trim

and chop each clip
Here's a step-by-step guide on how to use this app:
1. Download it if you haven't yet.
2. Open it.
3. Click on the Plus button.
4. Select the preferred way to upload your clips.
5. Choose the ones you want to merge.
6. Click Add at the top right corner to add the videos together on your iPhone.
7. Tap on the video you want to edit.
8. Trim, add filters, or adjust the light.
9. Press on the share icon.
10. Select Finalize + Export.
Using FilmoraGo
Last but not least, you can use FilmoraGo.
Take advantage of its free version, or use the FilmoraGo Pro plan. It costs $6.99/month or $34.99/year. It also comes with a three-day free trial period.
Although it's a bit pricey compared to the other options, it has some eye-catching features like:
Fast or slow motion

Templates

Free

music

library,

sound

effects,

trim

and cut audio

Animated text, stickers, filters, and text overlays
It's also effortless to navigate.
Let's take a look at the steps to edit your iPhone videos together.
1. Download it if you haven't yet.
2. Open it and select the option New Project.
3. Select the preferred videos.
4. Tap Import.
5. Add motion effects, background music, text, or filters
6. Press Export to save the clip.
You're all done. Now, you know how to merge videos on your iPhone.
Wrap Up
Combining clips isn't rocket science. The easiest method is to use iMovie, but it doesn't provide any advanced features.
The other option is to download third-party apps.
Videoshop has a free version and offers many personalization tools.
Video Merger also works on the freemium principle and provides basic features.
FilmoraGo is the most comprehensive solution. Its paid plan is a little pricey, but if you want to feel like a professional editor, go for it. And if you just want to merge videos, its free version will suffice.
In case you don't like our suggestions on how to combine videos on iPhone, you can choose any other video editor for beginners.
Is iMovie for iPhone free?
Yes, iMovie is 100% free to use.
How do you Photoshop videos on iPhone?
Use iMovie, or download a third-party app like Videoshop, FilmoraGo, or Video Merger.
How do you combine videos on iPhone without iMovie?
Use a third-party application like Videoshop, Video Merger, or FilmoraGo.
Simona Yaramova
Simona's desire to be a content writer came pretty randomly. But now, she's dedicated to learning everything about technology and becoming the best at her job. Her favorite gadget is her iPhone, so she has all the know-how about it. She's currently pursuing a Bachelor's degree in English Philology. She is a dog person and dreams of having a Corgi (don't we all?). She likes to cook, read books, and spend time with her family and friends.
Leave your comment
Your email address will not be published.