How To Delete Yourself From the Internet?
Reading time:
17 min read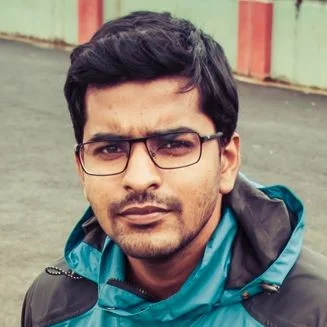 Ivailo Ivanov
Content Writer | Joined October 2021

If I was asked to describe myself using just a few words, I'd go with digital marketing expert, ex... | See full bio
If you think about how much private data you have shared online, you might want to remove yourself from the internet and make it disappear due to privacy concerns.
Although 90% of people are concerned about keeping their data private, only around 15% know how to delete personal information online.
If you're constantly worrying about how your data is used online, read on to learn ways to delete your online presence.
🔑 Key Takeaways
Erase internet presence by deleting accounts from data brokers, social media, shopping sites, etc.
Don't forget to remove previously managed sites and old email addresses.
Personal information gets on the Internet when you engage in online transactions.
Black hat hackers, cookie proliferation, etc., continue to threaten personal web data.
Ways to Remove Your Information From the Internet
The following steps will show you how to limit or delete your data from four of the most popular internet platforms:
Data Broker Sites
Information-collecting data brokers are companies that sell your data to businesses. Most of them only need your data to create their target market profile. However, you may want only some of your personal information to be public.
Here's how to completely erase your personal information from data broker sites.
Step 1: Find out which data brokers have your information.
Data is spread from hundreds of brokers, like Acxiom, Epsilon, etc. Search your full name on search engines to check if any of these brokers actively store your data.
Brokers that have your data will appear on the results pages.
🎉Fun Fact:
Data brokers don't make their records indexable, so Google can't find them. You're in luck if you find your data on one of their sites. People, however, don't actively search for their names through data brokers. They usually just see them by chance, prompting them to opt out of the site.
Step 2: Go to the data broker that has your information
The following prominent data brokers are some of the ones most likely to have your information:
Acxiom
This company aggregates information from millions of people. They have a wide range of data, including political affiliations, religious beliefs, internet consumption, etc.
Epsilon
It's the go-to company for marketing agencies looking to get a clear picture of their target market. Epsilon delves into marketing analytics, databases, predictive modeling, etc.
Oracle
Besides producing database and networking solutions for companies, Oracle often works with third-party brokers to get consumer data.
Equifax
It's one of the most significant credit reporting bureaus, providing financial information for businesses.
Experian
This is another credit reporting bureau in the US within the financial data brokerage industry.
CoreLogic
This data broker provides data for companies in real estate and landlords trying to screen potential tenants.
People-search sites like PeekYou, Spokeo, and Whitepages
These data-sharing sites accommodate the average Internet user's background-checking needs. A background check examines a person's past, including their schooling and employment experience.
Step 3: Create an account with the data broker that has your information.
This seems counterintuitive, but the only way to erase information from data brokers is to create an account with them.
✅Pro Tip:
When creating an account, blur or hide sensitive ID information like your driver's license number. This prevents identity thieves from opening new lines of credit with your information.
Step 4: Request the removal of data from the broker's site.
Here's how to request an opt-out from the most significant data brokerage sites.
Acxiom
Go to Acxiom's opt-out form.
Perform all the necessary steps to complete the request for the removal process.
Approval takes time—you'll have to wait several days or weeks.
You can also contact this number (877-774-2094) to request data removal through a customer service representative.
Epsilon
Go to the site's opt-out form.
Perform all the steps to complete the request not to sell data.
You may also email them at [email protected] or call them at 866-267-3861.
Oracle
Go to Oracle's opt-out page.
Type your personal information and click Submit.
It can take months before the request is approved.
Equifax
Click Equifax's opt-out prescreen page.
Go to "Click Here to Opt In or Opt Out" at the bottom of the page.
Pick "Electronic Opt-Out for Five Years."
Provide some personal information and click Submit.
Experian
Opt out of Experian's services to ensure your data is completely erased. These services are OmniActiation Strategic Services, Direct Mail, Telemarketing, and Email.
CoreLogic
In emailing [email protected], use the subject line "California Privacy Rights Request."
Your email must include statements requesting to remove all data from their databases and opt out of their marketing programs.
Make sure to add your name and address. Wait for confirmation for about a week. Follow up if you're not getting any replies after two weeks.
✅Pro Tip:
Most businesses may require you to request an opt-out once a year because data collection is ongoing regardless of who the customer is.
Social Media Sites
If you search for your name in Google, you'll see that the first results to appear are your social media accounts. Staying incognito from the internet forever requires deleting all your social media accounts.
Here's how to delete your accounts from various social media sites:
1. Facebook
How to permanently delete your Facebook account is shown below.
Step 1: Log in to your Facebook account.
Step 2: Click your profile picture in the top right corner of your Facebook page.
Step 3: Select "Settings & Privacy." Click "Settings."
Step 4: Click Accounts Center on the left side of your screen.
Step 5: Scroll down and select Personal Details.
Step 6: Click Account Ownership and Control.
Step 7: Select Deactivation or deletion.
Step 8: Choose the profile you want to delete and select Delete account permanently.
Step 9. Click Continue.
✅Pro Tip:
Before deleting your Facebook account, you should download a copy of your profile data. To do this, go to "Your Facebook Information." Click "Download Your Information."
2. Instagram
To permanently remove your Instagram account from the online version, follow these steps:
Step 1: Log in to your Instagram account.
Step 2: Once you're in, click More and select Settings.
Step 3: Click Accounts Center and select Personal Details.
Step 4: Select Account Ownership and Control and choose Deactivation or Deletion.
Step 5: Choose your Instagram profile.
Step 6: Select Delete account and click Continue.
📝Note:
Deleting an account through your phone or the website has varying processes. However, once you delete your account on any of the platforms, it will also be non-existent on other platforms too. This applies to most social media platforms.
3. Twitter
To delete your Twitter account, you need to deactivate it first. After 30 days of deactivating your account, Twitter will permanently delete it.
Here's how to deactivate your Twitter account in your browser:
Step 1: Log in to your browser's Twitter account.
Step 2: Click More and select Settings and Privacy from the dropdown menu.
Step 3: Scroll down to the Deactivate your account button on the right side of your screen.
Step 4: Click Deactivate in red.
Step 5: If a prompt box appears, enter your password and click the Deactivate account button.
✅Pro Tip:
Deleting your Twitter account won't delete your posts on search engines like Google. However, you can request that Google delete your information.
Here's how: Visit the Google page to remove outdated content. Paste the Twitter URL you'd like removed and submit your request.
4. Tiktok
If you wish to delete your TikTok account via browser, follow the steps below:
Step 1: Use your browser to access your TikTok account.
Step 2: Click your profile icon.
Step 3: Select Settings.
Step 4: Under Manage Account, click Delete Account.
Step 5: After reading the text inside the box, click Continue.
5. LinkedIn
Follow the steps below to delete your LinkedIn account in your browser:
Step 1: Click your profile photo icon on the left side of the screen.
Step 2: Select Settings & Privacy from the dropdown menu.
Step 3: Under Account preferences, scroll down until you see Close account.
Step 4: Click the arrow beside it.
✅Pro Tip:
Before hitting the delete button, deactivate your Premium subscription first if you're subscribed to one. Also, you might want to consider downloading your data archive.
Profiles on Shopping and Dating Sites
To entirely remove online information, delete any apps or sites with traces of your personal information.
Here's how to delete all accounts from known shopping sites, dating sites, and other online services you signed up for.
1. Skype
Follow these steps to delete your Skype account in your desktop Skype app:
Step 1: Launch your Skype App on your desktop.
Step 2: Click your Skype name in the left-top corner of the app.
Step 3: Choose Setting from the drop-down menu.
Step 4: On the right-side panel, click Close your account.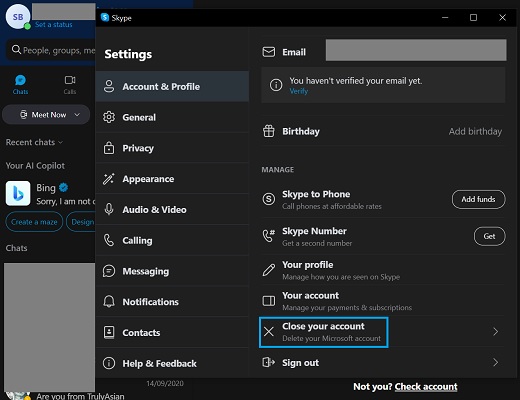 Step 5: A page that allows you to click on the Microsoft account closure page link will load.
Step 6. Log in to Microsoft.
Step 7: Cancel your subscriptions and mark the account for closure.
2. Tinder
Here's how to delete your account on mobile:
Step 1: Open the app on your phone.
Step 2: Tap your profile icon.
Step 3: Click the gear icon (Settings).
Step 4: Scroll down until you find the Delete Account option.
Step 5: Click Delete My Account.
Step 6: Click Skip on the upper-left corner of the screen.
Step 7: Select Click Delete My Account to finalize the process.
3. Amazon
Delete your Amazon account via browser by following these steps:
Step 1: Go to the Amazon page.
Step 2: Sign in.
Step 3: Scroll down to find the "Yes, I want to permanently close my Amazon Account and delete my data" option.
Step 4: Click the Choose Reason button and choose your reason for closing the account.
Step 5: After clicking the reason for closing, click the "Yes, I want to permanently close my Amazon Account and delete my data" option.
Step 6: Click the Close My Account button.
4. Google Play Store
You cannot delete your Play Store account unless you're okay with deleting your entire Google Account.
However, deleting your Google Play Store app only deletes the app, not your Google Play Store account. Additionally, removing a Google Play Store app only removes the account from the device.
📝Note:
Deleting your Google account deletes every service related to Google, such as Gmail, files, calendar, photos, YouTube subscriptions, etc.
So the best thing to do is to delete your Google account. Here's how:
Step 1: Go to Google's My Account.
Step 2: Scroll down until you find the More Options section.
Step 3: Click the arrow beside Delete your entire account and data.
Step 4: Follow the next instructions to delete your Google account.
📝Note:
The same principle applies to the Apple App Store. Your account is linked to your Apple ID. You can't delete your Apple App Store account without deleting your Apple ID.
Other Methods to Remove Traces on the Internet
Another option for online trace deletion is to remove any emails associated with you or that you have been managing.
Audit websites you've been to before. Start by listing all sites you think you've engaged, such as signing up, commenting, replying to forums, sharing, etc.
You can also hire third-party services to complete the rest of the data removal from data brokers.
Here's how to kick-start each process:
1. Deleting or Deactivating Old Email Addresses
Old and unused email accounts put your privacy at risk. These accounts could be ways for someone to impersonate you or try to get the passwords for your other accounts.
To ensure you can locate and delete these obsolete email accounts, follow these tips:
A. Find old email accounts.
You could do this in several ways, such as:
Searching for old usernames and email addresses in search engines.
Checking Facebook and other apps that have connections to your email addresses.
Searching saved logins in Chrome or from any browser you've searched.
✅Pro Trp:
Be prepared to lose access to services and data files connected to your old email accounts. Back up pertinent files and check the linked services in the email.
B. Delete old email addresses from these significant service providers.
Gmail Account
Go through the steps to delete your Gmail account.
Step 1: Go to your Google account settings.
Step 2: Select Data and Privacy.
Step 3: Scroll down to select Download or delete your data.
Step 4: Click Delete a Google service. Fill in the necessary log-in details in the prompt box.
Step 5: Select the trash button beside Gmail.
Step 6: Enter another email address in the dialog box and click Send verification email.
Step 7: Click the link sent in the verification email and follow the next instructions to finalize the account deletion process.
Yahoo Mail Account
To permanently remove your Yahoo Mail account, take the steps listed below.
Step 1: Click on this Yahoo termination page.
Step 2: Read the termination terms and click continue to delete my account.
Step 3: You must sign in again using your Yahoo Mail address. Then click Yes, delete this account.
Step 4: The account is now deactivated and will be deleted after a waiting period. Click Got it to end the process.
2. Taking down old sites in Google
You might be managing some sites and blogs you didn't know about in the past. Here's how to delete them in your desktop browser.
Step 1: List down the sites you remember and have been managing.
Step 2: Open new Google Sites.
Step 3: Navigate to the site you want to delete. Click More.
Step 4: Select the trash button called Remove.
Step 5: Empty your Google Drive trash.
✅Pro Tip:
If you have any articles with bylines submitted to publications and content mill sites, contact site editors requesting the removal of bylines.
3. Using Data Removal Services Like OneRep or Incogni
Remember those data brokers I mentioned above? Here's your solution!
OneRep protects your online (and, consequently, offline) privacy by scanning over 190 data broker and people-search sites to see which ones expose your personal information. Then, they remove it by sending opt-out requests on your behalf. But it doesn't end there: even after your information is gone, OneRep continues monitoring those websites in case anything pops back up. Another great thing about OneRep is they are the only service that confirms the removal has actually happened on all data brokers they send requests to. OneRep does multiple repeated scans for any found record and marks it as removed only after several scannings indicate that it is gone.
Be it a record full of contact details, address history, employment background, criminal offenses, or just a phone number - OneRep removes it all. And if you have any questions along the way, customer support is available via several channels - email, phone and online chat.
OneRep is the most affordable and cost-effective service on the market, with the following pricing plans on offer:
Individual - $14.95/mo, billed monthly, and $8.33/mo, billed annually.
Family (covers up to 6 people) - $27.95/mo, billed monthly, and $15.00/mo, if billed annually.
In addition to individual and family protection, OneRep offers flexible corporate plans for organizations that want to safeguard more of their team.
If you're still unsure whether you really need this service, OneRep's free 5-day trial will dispel any doubts - just give it a try! And in case you decide to remove your records from all data brokers yourself, OneRep has got your back as well! The website provides over 300 opt-out guides and video instructions - all you need to do is stock up on time and patience, roll up your sleeves and do what they say.
Legally, data brokers must remove your data upon request. However, that plea can sometimes be ignored. This is where data removal services like Incogni come in.
Incogni tracks and negotiates for data removal from more than 180 brokers. Some of the data Incogni harvests are names, birthdays, phone numbers, addresses, etc.
Start using Incogni by setting up an account. Here's how:
Step 1: Go to Incogni and click Get Started.
Step 2: Create an account by typing your email address and password. Click Sign up.
Step 3: Check your email account. Find the message sent by Incogni and click the link labeled Verify email. The link will direct you to an Incogni page where you need to fill in personal information.
Step 4: Provide the following personal information–your full name and your most recent full home address. Then click the "Next" button.
Step 5: Read the Authorization form. Write your signature below the form using the computer mouse. Click the Next button to check out.
Step 6: Choose between Incogni's annual and monthly subscription periods.
Step 7: Select your preferred payment option. Insert payment information to purchase the subscription.
Step 8: Wait for Incogni to complete removing your data from brokers. Once the account is set up, Incogni will send removal requests to data brokers on your behalf.
📝Note:
Incogni is only available for residents of Canada, the United States, the European Union, Switzerland, the United Kingdom, Norway, Iceland, and Liechtenstein.
How Your Personal Information Gets to the Internet
Look at how the process of getting data on the Internet goes:
Phase 1: Personal information accumulates on the Internet as publicly available data.
This is triggered whenever users engage in any kind of online transaction, such as:
Researching products and education-related information.
Staying in touch with friends and family.
Keeping up with the latest news updates.
Watching videos.
Shopping.
Filling up spare time by idle browsing.
Signing up on websites.
Listening to music.
Personal information like name, email addresses, age, etc., gets on the Internet through social media, messaging apps, websites, etc.
Phase 2: Data brokers collaborate with these online entities to collect your data.
Here are the main ways data brokers collect your information online:
Data brokers collect your personal information from e-commerce sites through web scraping technology.
Companies purchase data from their co-data brokers.
They collect data from third parties through partnerships.
Phase 3: Brokers sell your data.
Data brokers always have buyers for your valuable data. These commercial companies use your data to find specific ads or content you may be interested in.
Threats to Personal Data on the Web
Data threats are the potential risks of using your personal information for malicious practices such as phishing.
Threats could be intentional, such as an intruder breaking through a firewall, or unintentional, such as an employee unknowingly exposing confidential information.
Here are the potential threats to your data you should know about.
Cybercriminals remain the number 1 threat in cybersecurity.
Despite continuous monitoring, black hat hackers remain the biggest threat to data security and privacy.
Through them, threats to security such as Emotet, phishing, Man in the Middle, Denial of Service, password attacks, etc., continue to flourish.
Facial recognition databases leave room for data exploitation.
Technologies that scan facial profiles are currently building an extensive database of user profiles. Companies like Facebook and Google+ maintain that this data is kept safe. However, little is known about what happens behind the scenes.
Also, the sale of these kinds of data is unregulated. For all you know, your facial recognition data is sold to data brokers without your consent.
Data in the cloud is not secured.
36% or more of US consumer content is stored in the cloud. However, cloud storage is problematic when it comes to security.
The holes in cloud security allow for continuous hacking of the storage technology in multiple ways. While cloud data is frequently encrypted, decryption stages present an opportunity for exploitation.
Cookie proliferation continues.
These simple text files monitor user movements within websites. However, the monitoring activities developed into something more sinister throughout the years.
From data tracking, cookies became a tool for data brokers to get sensitive consumer data without explicit permission.
Conclusion
Scrubbing yourself entirely from the Internet takes work. Certain types of data, like public ones, are searchable. Additionally, some sites prevent opting out of cookies.
However, there are steps to prevent your personal information from getting on the Internet. For instance, doing frequent privacy audits, such as a name search, is beneficial.
FAQs.
---
How many times has my name been Googled?
There is no way to know how many times your name has been Googled. However, you can use Google Alerts to be notified of these activities.
Do pictures stay on the Internet forever?
No. Pictures on the internet can be removed, replaced, or changed over time.
Leave your comment
Your email address will not be published.
You may also be interested in.