Facebook is an all-in-one social media platform for networking, business, connections, news, and entertainment. Based on recent Facebook usage data, it is used by 71% of Americans and 81% of American Adults.
Latest Facebook statistics also report that the platform has 2.963 billion monthly active users - making it the largest social networking site in history.
Facebook's search bar includes a comprehensive profile search that can verify a person's identity, conduct a background check, or find a person's location, and other details.
But is it possible to find someone on Facebook without a lot of details? In this article, explore the different methods you can use to find someone on Facebook.
Methods on How to Find Someone on Facebook
There are different methods you can employ to find someone on Facebook.
Depending on the information, time, and money you have, you can find them using any of these methods below:
Method 1: Facebook's Default Features
Facebook has appropriate search filters to help users find what they want on the platform. Users can use these default filters to sift through categories such as location or possible connections.
Here's how to use Facebook's default search features.
People, You May Know
If you're looking for someone within your or your friend's circle, there's a chance their Profile might show up on the "People You May Know" tab.
Step 1: Log in to https://www.facebook.com/ or .

Step 2: Go to your Profile and click the Friends tab. Click on the Find Friends.

Step 3: You can access this through the Facebook Menu on the left-hand side of your Facebook page by clicking the Friends icon.

Step 4: This will redirect to the Friends page. Scroll down until you see "People You May Know." Scroll to see the profiles. Click See All to change it into a list and quickly view the profiles.
Facebook Search Bar
The Facebook search bar can search for friends, people, businesses, groups, locations, pages, and more. It also has access to filters to help you sort through their results.
Step 1: Log in to https://www.facebook.com/ or open your Facebook app.


Step 2: Type their name or username on the search bar. Tap enter.

Step 3: On the left-hand panel are the filters. Click on People.

Step 4: You can filter through Friends, City, Education, and Work.

Step 5: Scroll within the searches until you find who you are looking for.

Method 2: Using Real Names
You may encounter someone personally and want to connect with them on Facebook. But, this person may use a different name or disable their account for privacy reasons.
If that is the case, you will need reliable third-party platforms to search for people alongside other information you might need. This is where BeenVerified can be helpful.
BeenVerified is a premium subscription people search site that offers a comprehensive 4-point data search using a person's name, number, address, username, and email address.
They gather data from readily available resources such as public records, criminal history, and social media - including Facebook.
BeenVerified aims to help you find the easiest way to search for someone, whether for Facebook or personal use.
You can also use BeenVerified to know if a person may have blocked you or if they are using a different name. Here's how to use the site:
Step 1: Go to https://www.beenverified.com/
Step 2: On People Search, type their name or aliases. Click Search.
Step 3: Input their City and or State to Continue. Click on I'm not sure if you don't have their location details.
Step 4: Add their Age or Middle Name to Continue. Click on I'm not sure if you don't know.
Step 5: Select the information you need. If you need their Facebook details, select Social Media. Click Continue.

Step 6: Click the checkbox and tap Agree. Input your email address, full name,

Step 7: Wait for the results to load and input your payment details to avail of their features.

Method 3: Using a Phone Number
Phone numbers can also help you find a person's Facebook account. Phone numbers can also be linked with Messenger accounts.
If you still cannot find them, they might have disabled or set their numbers to private. The solution here is to use a reverse phone lookup.
This method allows you to search for a person using a phone number.
Intelius is one of the best sites we've seen that may help.
Intelius is a people search site that can search for a person's details such as age, address, and more. They have an A rating from Better Business Bureau and Online Trust Alliance.
Their search can access public records and online information from social media, including Facebook. One of their best features is reverse phone lookup.
If you're at a loss on how to find someone on Facebook through a number, you can use Intelius. Their reverse phone lookup is only $0.95.
Below are the steps on how you can use Intelius to find someone on Facebook:
Step 1: Go to https://www.intelius.com/
Step 2: Click on the Phone tab and type in their number. Click on Search.
Step 3: Verify your age and click Submit Age. Wait for the website to load.
Step 4: Click on View Report and on the I Am Not A Robot check box.

Step 5: Enter your name and email address, and click save. Tap on I understand on the pop-up.
Step 6: Click Get Full Phone Report; I Agree next and Agree and Continue.

Step 7: Register for their payment plan to view your results.
Method 4: Through Social Media Platforms
Everyone has at least more than one social media account. If you're looking for someone on Facebook without knowing their name or phone number, you can try investigative work by checking their other accounts.
You can look at TikTok, Snapchat, Instagram, Twitter, and more. Chances are, their names or aliases will be there.
You can use this information to search for them on Facebook. You can also search their friends or follower list.
If this still doesn't work, you can try TruthFinder.
TruthFinder is a monthly subscription background check site that provides subscribers access to comprehensive data searches.
They provide reverse lookups, transparency, and substantial reports, including digital footprints from social media.
You can avail TruthFinder's free and premium features. Their premium data includes features mentioned in our review.
Step 1: Go to https://www.truthfinder.com/
Step 2: Read the Notice and click on I Agree.
Step 3: Enter their name and state. Click on Search.

Step 4: Add more details. Click on I don't know if you have no access to this information.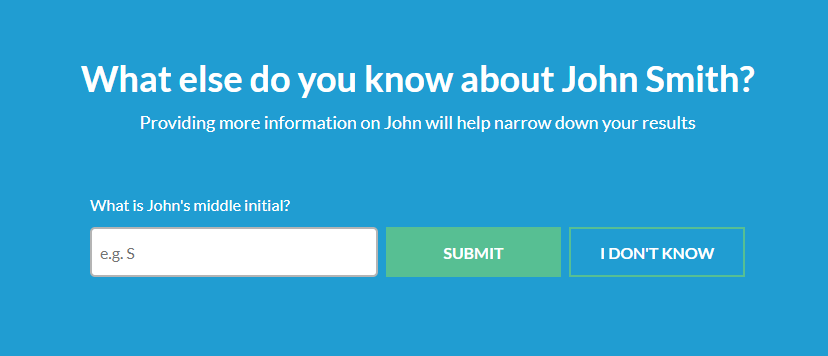 Step 5: A list of names or profiles will pop up. Look for the person you are looking for and click on Open Report.

Step 6: While the report is being compiled. Add additional details if you know. Before continuing, click I Agree to their Terms and Conditions and submit your age.
Step 7: Enter your details to save your search. Click continue.
Step 8: The results will have a waiting time of 3 minutes and more.
Step 9: Once done, a report quality will show. Click on I Understand in the next window. Click on Agree and Continue to proceed to their subscription.
Step 10: Choose an appropriate package for you. After confirming your payment, you will get your results with premium data.
Method 5: Using an Email Address.
Email addresses are the address of social media. All social media platforms require emails, which makes finding people more accessible if you have it.
In fact, statistics show that there are around 200 emails in an average inbox. This number is representative of how important emails are for everyone.
Chances are, the person you're looking for also has their own email. Some users on Facebook might use different names or aliases on the platform.
They may use their nicknames or use their middle names as surnames. In this case, email addresses can be used to find them.
If you know someone's email address, you have a higher chance of finding them on Facebook. Here's how to do this.
Step 1: https://www.facebook.com/
Step 2: Type their email address on the search bar. Click on Search for.

Step 3: On the Filter panel, click on People.


Step 4: A list of people with a pop-up similar to the email address name (Facebook relies on exact keywords, so you may have to narrow your search using the People search filters).

If you can't still find the person you're looking for, they might have disabled their email address from their profiles. You will have to use another method, such as Instant Checkmate.
Instant Checkmate is a renowned people search platform that people can use to search for a person's contact information and other details. Their specialty includes email reverse search.
This can help find a person's Facebook account with your email or other details about them that you need. This is useful for those who want to confirm someone's details to see if they're real or a scam.
You can also use Instant Checkmate to check a person's identity for security purposes or reveal information such as name, other email addresses, social media profiles, and Facebook! Here's how you can use the website:
Step 1: Go to https://www.instantcheckmate.com/ and create an account.
Step 2: Once you have your account, return to the website and click the Email Search tab. Type in their email.

Please take note that Instant Checkmate doesn't provide its services for free. This prevents the use of their website maliciously and covers fees for the public data they acquire. However, they have a trial price of $1 for a 5-day trial period.
Method 6: Reverse Image Search
If a picture or profile photo is the only thing you have, there's only one thing left to do to find them: reverse image search.
A reverse image search allows you to search for a person's details using a single image or photo. It can also reveal their location, email addresses, public data, and social media.
Google Lens provides this option for a basic search. Here's how to use it:
Step 1: Go to https://www.google.com/ and click on the lens icon.

Step 2: Upload the image or photo.

Step 3: The image will load potential matches. Google Lens doesn't search for faces but instead searches for items. To know where the image can be found, click Find Image Source on top of the picture.
Step 4: It will redirect you to a Google search of the potential sources of the image. Scroll or click the links to find the person you're looking for.
The drawback of using Google is that they can only access the same image type, not similar faces or identities. To do a more comprehensive image search, try using Social Catfish.
SocialCatfish is a paid website people search site that identifies whether a person is a scam. They offer quick results for personal background checks and reverse image searches.
They also offer other services, mostly catered to those who use the platform as a dating site for identity verification.
Here's how to use SocialCatfish:
Step 1: Go to https://socialcatfish.com/ and click on Image to upload. Click search.
Step 2: Wait for the photo to be scanned. Click on I Understand.


Step 3: Since SocialCatfish is a paid service, you must subscribe to them before reviewing your results.
If you have exhausted all the methods above, the person you might be looking for decided to delete themselves from the internet or social media.
They can do this for various reasons, such as preventing identity theft, protecting their privacy, staying anonymous, or deciding to opt out of people's search sites.
Conclusion
Finding people on Facebook should be easy - when you know how to do it. If you know more about them, it should be much more manageable. Little details such as age, location, or one of their social media profiles can help.
However, it should be effortless to do so when you use third-party platforms. Background checks or people search sites have data ready for your research. Their prices or rates should be fine if you are interested.
Find a method that works for you until you finally find the person you want.
Frequently Asked Questions.
---
Can I find someone on Facebook without knowing their name?
Yes, you can. You can find them if you know their other details, such as location, employer, work, or school.
Why can't I find a person on Facebook?
The person may have limited their privacy to those who know them personally. Facebook employed new privacy features after the Cambridge Analytica and Nametests Data Breach.
Can a person know that I search for them on Facebook?
No. Facebook doesn't have a feature that lets users know their profile is searched.
Can a person know if I screenshot their profile on Facebook?
No. Facebook doesn't have a feature that notifies users of screenshots taken on their profiles.
Is it illegal to take screenshots on Facebook?
No. However, it is illegal to use these screenshots for malicious purposes.
Ritesh
Ritesh Kumar has a seemingly deep obsession with anything web, tech and SEO (in no particular order). He has more than five years of experience in the background check industry, promoting and collaborating with all the major brands in the space. He is currently the co-founder of LookupAPlate.com - A free tool to report bad drivers and look up license plates. Talk to him about Google algorithmic updates, and he can go on and on till the sheep come home.
Leave your comment
Your email address will not be published.