How to Get Been Verified Free Trial?
Raj Vardhman
Updated · May 13, 2023
If you've ever heard of free reverse phone lookup tools, then people search engines are not new to you. Whatever reason you have for finding someone on social media or elsewhere, phone lookup and people search engines are great tools to use.
Are there free people search engines? Well, some sites are completely free, but there's a visible difference between a free people finder and one that costs.
Many people care for their online privacy and staying anonymous on the internet. This is why gathering information from millions of sources comes at a cost and some entities charge in exchange for their data.
One of the most popular people search engines in the market is Been Verified. This is a background check website with a subscription-based service.
While there is no "free trial" available, you can get the most with the platform at the least expensive price: its initial subscription is crazy low as $1.
In this article, discover the steps to subscribe to Been Verified for just a dollar, how to use it for background checks, and alternative people search engines in the market.
What is Been Verified
Been Verified is a legitimate public records search software. Founders gave birth to it in 2007 to give people easy and affordable access to public records. Now it is one of the most trusted people search websites you can find online.
Been Verified pulls millions of data from publicly available information like social media accounts and criminal records.
It also includes information from the US government, agencies, and private sources. The platform consolidates them into a single report for an easy-to-digest.
With Been Verified, you can run background checks on people; check if an online seller/buyer/business is legitimate, and possibly find someone who scammed you.
Its features include:
People Search
Reverse Email Lookup
Reverse Address Lookup
Property Records
Username Search (tied to social media accounts/message boards)
VIN or Vehicle Identification Number Search
Unclaimed Money Searc
It is important to remember that while BeenVerified aims to provide information about someone else, it is not a consumer reporting agency according to the Fair Credit Reporting Act.
Landlords and employers are not allowed to do background checks on their tenants or potential employees using this tool.
However, if you are just looking to verify someone's identity to protect yourself, then getting the $1 trial from BeenVerified might be a great option for you.
How to Get Been Verified 1 Dollar Subscription
It's true; you can get the most out of Been Verified for just a dollar!
Been Verified has a special offer of $1 for seven days as an initial subscription.
But remember to cancel your one-week access before the seven days are over, or you need to pay a month's worth of subscription.
Here's a step-by-step guide to getting Been Verified's 1 dollar subscription:
Step 1: Go to https://www.beenverified.com/
Step 2: After clicking "SIGN UP", you will see this display telling you to wait.
After a few seconds. Terms and conditions will appear. Check the box and click "Continue".
Step 3: You'll see this display where you can choose a payment plan. Notice that there's no 1 dollar subscription option. The secret is not to choose anything but instead to click the back arrow of your browser.
Step 4: Upon clicking the back arrow, an ad will pop up. Click "Try BeenVerified for $1!"
Step 5: You will be directed to the 7-day trial membership plan. Scroll down and choose a payment method between Google Play, PayPal, and credit or debit cards.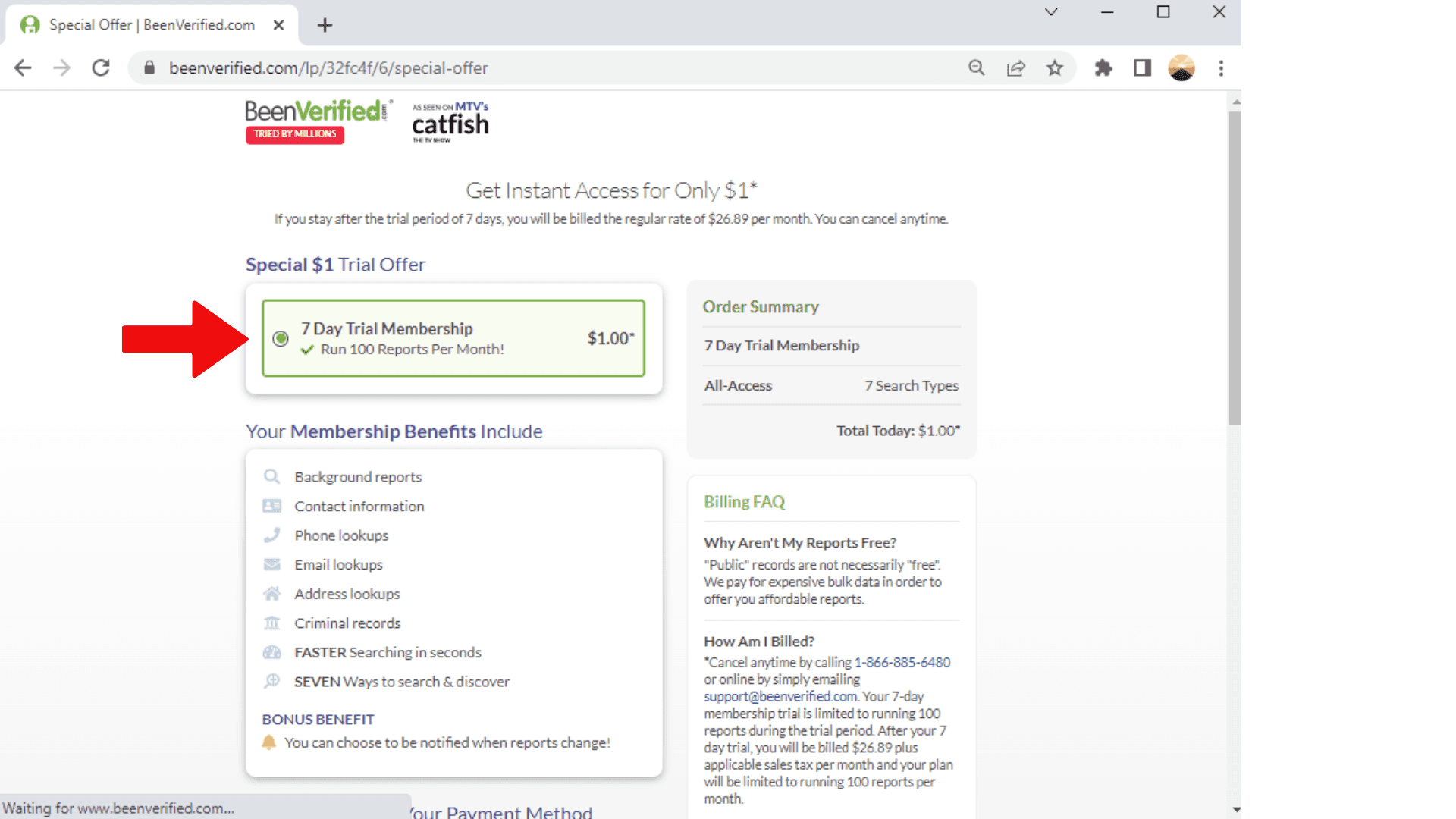 Step 6: Provide all the required information, check the boxes, and complete your payment. After that, you now have access to the Been Verified paid plan.
How to Use Been Verified
Been Verified is easy to use and straightforward. Just follow these steps:
Step 1: Go to https://www.beenverified.com/ and log in.
Step 2: Go back to the dashboard and select which type of search you need.
For people searching, enter the person's name into the search bar. For a narrower search, you can enter more information, like the person's age.
BeenVerified will then create reports for you.
How to Cancel Been Verified Subscription
If you don't want to spend more than a dollar on Been Verified, you shouldn't forget to cancel your subscription before it ends, or you'll pay the regular price.
Canceling your Been Verified subscription is doable in three venues: Website, Phone, and Email.
Cancel Been Verified Subscription via Website
There's no "Cancel Subscription" button in Been Verified's app or website. You have to browse its contact page. Follow these steps:
Step 1: Head to the contact page of the company at https://www.beenverified.com/contact/
Step 2: Click "Choose your topic". A drop-down menu will appear.
Step 3: Choose "Cancel Account." Enter your name, email address, and write your reasons for canceling your BeenVerified account.

Cancel Been Verified Subscription via Email or Number
Another way to cancel your Been Verified subscription is by emailing [email protected] or calling BeenVerified's customer service number at 1-844-823-2869.
Usually, they will ask for your name and email address. If one method doesn't work, we recommend trying the other.
Give it 2 to 3 working days, and you'll receive an email notification from Been Verified that you have successfully unsubscribed.
Been Verified Pricing and Coupons
Been Verified has two main pricing tiers. Each program includes 100 searches per month.
A one-month subscription plan for 26.89 USD
A three-month subscription plan for only 17.48 USD/month
Been Verified also has discounts, promos, and offers. View them using this link https://www.beenverified.com/offers/. As of writing, there are three coupons on their website
35% Off with 3-Month membership
15% Off with Regular Pricing or
1 dollar for a 7-day trial
Been Verified Alternatives
If you think Been Verified isn't for you, check out our list of the best people search sites as alternatives.
TruthFinder
TruthFinder is a public records search service that consistently provides accurate and up-to-date information.
The app has a rich database of online public records and an impressive A+ rating from the Better Business Bureau. With at least a month of subscription, you can enjoy the platform's unlimited reports.
TruthFinder can do the following:
People Search
Reverse Phone Number Lookup
Reverse Address Lookup
Reverse Email Lookup
Specifically, TruthFinder has the following records:
Full Name
Known Aliases
Possible Images
Employment and Education History
Criminal and Traffic Records
Assets
Intelius
Intelius is a low-cost online background checker with a wealth of public records and background information from people within the United States. Commonly used to find information
There's a lot of information that may result from an Intelius search. Some of them are the following:
Documentation of Assets
Phone Numbers
Physical Addresses
Business Licenses
Financial Records
Criminal and Arrest Records.
Instant Checkmate
Instant Checkmate is a background check service provider with 1 billion active users daily. This easy-to-navigate app was originally erected for online daters to check if the person they are seeing is who they say they are. Now it has grown to include several searches.
Here are its features:
Unlimited Background Reports
People Search
Reverse Phone Lookup
Email Search
Location Search
Additional Resources include Criminal Records Database, Instant Checkmate Glossary, People Directory Database, and Inmate Search.
Check out Instant Checkmate as they occasionally offer exclusive deals for you to try before committing to a full subscription.
Bottom Line
Let's be honest; a free people search doesn't have the qualities of a paid search. With free versions, you'll have limited access to information, defeating the purpose of hiring such a search engine.
But it is also important to keep in mind that these sites are also called "data brokers" because they gather and sell information about you.
It is good to exercise care when using these sites. You also have the option to be removed from BeenVerified's database.
That said, Been Verified's 1-dollar subscription offer is the closest you can get to a free service. With just a dollar, Been Verified allows you to access their service without compromising its features.
FAQs.
---
Why do apps offer free trials?
Free trials are provided free to customers so they can experience and learn about the product even though they are limited in some way.
Does a free trial end when you delete the app?
Usually no, if you don't know how to unsubscribe to a free trial, better contact the company's customer care support.
Is it hard to cancel Been Verified?
No, you can easily cancel your Been Verified subscription online. You have the option to cancel it manually via their website, contact their customer care support number or send them an email.
Is Instant Checkmate free?
No, you have to pay to avail of Instant Checkmate's background-checking services.
Does Truthfinder have a free trial?
No, Truthfinder doesn't have a free trial option. But they will offer you a deal of 1 dollar for 5 days of usage.
Raj Vardhman
Raj Vardhman is a tech expert and the Chief Strategist at TechJury.net, where he leads the research-driven analysis and testing of various technology products and services. Raj has extensive tech industry experience and contributed to various software, cybersecurity, and artificial intelligence publications. With his insights and expertise in emerging technologies, Raj aims to help businesses and individuals make informed decisions regarding utilizing technology. When he's not working, he enjoys reading about the latest tech advancements and spending time with his family.
Leave your comment
Your email address will not be published.