How to Hide Your iPhone Caller ID & Keep Your Privacy Safe
Harsha Kiran
Updated · May 07, 2023
If you are looking to hide your phone number when making a call to someone from your iPhone, you have many options.
Many people also opt to hide their caller ID to keep their online privacy protected and to stay anonymous on the internet. Some people want to hide their caller ID to ensure that they will not be a victim of spam calls, especially when these calls are on the rise.
Whatever your reason, there are many ways to hide your caller ID on an iPhone.
In this article, learn how to turn your iPhone caller ID on and off as well as use an alternative method using an app called Hushed.
Legal & Ethical Note:
We provide these suggestions to assist you with your personal phone use. We do not condone any illegal activity. Therefore, before using any suggested apps or websites in this article, please ensure you are legally allowed to use them in your country.
4 Steps on How to Turn On and Off Caller ID on iPhone
Your iPhone can turn caller ID on or off by following these simple steps:
Step 1: Settings
Open your iPhone's settings app by tapping the grey gear icon. You can find this app on your home screen.
Step 2: Phone
Once in the settings app, scroll down until you see the green phone icon. Tap on it to open the phone settings.
Step 3: Show My Caller ID
In the phone settings, scroll down until you see the "Show My Caller ID" option and tap on it.
Step 4: Toggle On and Off
In the "Show My Caller ID" settings, you can toggle the feature on and off by tapping the switch. When the switch is green, your caller ID is visible to the person you're calling. Your caller ID is not visual when the switch is grey.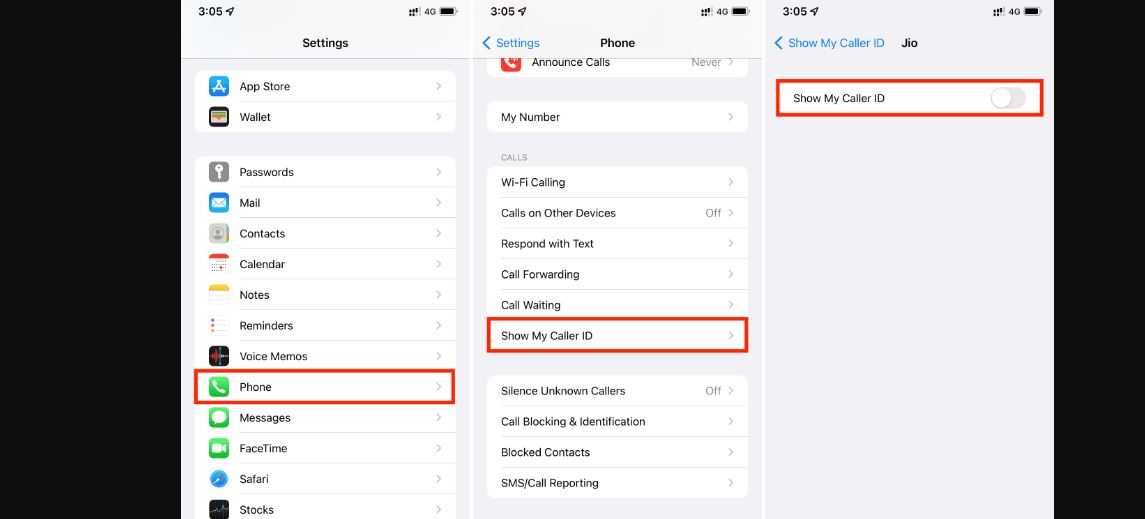 That's it! Your caller ID will be displayed or hidden whenever you make a call based on your settings.
Alternative Method: Hushed
If you want to make anonymous calls regularly or are concerned about the potential legal and ethical implications of hiding your caller ID, you can use an app like Hushed.
Hushed is an application that allows you to make anonymous calls and send texts using a temporary phone number. Because it is possible to track someone's location with a phone number, it is important to stay vigilant when calling others.
You can use a number from Hushed for as long as you need it, and you can choose a number from any area code in the United States or Canada. The app also offers international numbers for an additional fee.
Hushed offers a convenient communication experience. It is also important to always read the terms and conditions before installing this app.
Read on to learn how to get started with these three easy steps.
Step 1: Download Hushed from App Store
To start using Hushed, simply download the app from the App Store and sign up for an account. It's easy and convenient, allowing you to enjoy the benefits of private and secure communication.
Note: Hushed is compatible with all Apple iPhone and iPad devices
Step 2: Choose a Number
Once you've created an account, you can choose a phone number from any United States or Canada area code. You can use the number for as long as you want.
Step 3: Make a Call
Use the Hushed app to make anonymous calls or send texts using your temporary phone number. The person you're calling or texting will see the temporary number on their caller ID, not your personal number.
Hushed offers additional features such as voicemail, call forwarding, and sending picture and video messages.
The app requires a subscription for complete access, with prices starting at $1.99 per week.
The possibility of someone can finding your address using your phone number is always present. Using tools such as Hushed can help you protect your privacy.
Bottom Line
Hiding your caller ID on an iPhone is simple. Whether you want to make anonymous calls or protect your privacy, the steps outlined in this article will help you do so.
Some free reverse phone lookup tools can
Hiding your phone number can help you avoid scam calls and other forms of scams. However, some countries have laws prohibiting unknown calls. It's important to keep in mind that using these features to harass or threaten others is illegal and unethical.
Leave your comment
Your email address will not be published.