How to Make a Logo in Photoshop - Easy and Advanced Examples
Combining elements like vibrant colors, curving lines, and eye-catching fonts will achieve a creative logo.
It appears that everyone these days needs one. And with Adobe Photoshop, you can create a basic logo in minutes.
This well-known photo editing and modification software allows almost anybody with elementary computer skills to produce high-quality logos in less than 90 minutes.
So what are you waiting for? Let's dig into how to make a logo in Photoshop, its benefits, and alternatives.
How to Make a Logo in Photoshop?
Making a design is relatively easy with this popular software. Just follow the below steps.
Basic Logo
Create a new document
After launching Photoshop, click the Create button on the left of your screen. Or you can select File>New from the drop-down menu bar.
Tap the Art & Illustration section at the top of the pop-up window. Select the 1000 pixel grid and give your document a title. Then click Create.
To create a logo in Photoshop, you may also choose from the different templates or set custom dimensions.
Save your file
To prevent losing any work, be sure to save your Photoshop project frequently. To do this, tap File in the main menu bar and select Save As.
Enable Smart Guides
Smart Guides are an excellent way to align items quickly and precisely.
You can enable them by tapping View>Show>Smart Guides.
The Photoshop logo creator will automatically display new layers as you move them inside the canvas.
Add a grid
Grids help structure your design. Enable it by selecting View>Show>Grid.
Choose a shape for your logo
The next step in creating a logo in Photoshop is to pick a shape. It could be a rectangle, ellipse, triangle, or practically anything you want.
The pattern provides a basis for your design.
Begin by right-clicking the icon in the left menu bar to select the desired logo shape.
Add a color
After selecting the shape layer, click the Fill icon to change its color. You can add a picture or choose between solid or gradient.
Add an icon or text
You can add an image or symbol, text, or both when making logos in Photoshop.
You can download a picture or a specific icon you want to use. Then drag it into the Photoshop document, where it automatically creates a new layer.
To add text, tap the T from the tool panel.
Then click anywhere on the image to insert your wording.
You can manipulate your text with the many settings at the top of the screen. Click on the Text tool to change color, font, size, and alignment.
Like the below example, you too can achieve many great results with basic Photoshop logo designing.
But what if you want more?
Complex Logo
Start with the same initial steps when creating a basic logo to kick off this logo design process.
Create a new document and add a background layer
Set the clipboard to 1000 x 1000 PX. Then pick a background color by tapping the color square on the right. Click Create, and you're ready to begin.
Add your logo text
Go to Layer>New>Layer at the top of your screen to add a new layer and give it a name.
From the tool panel on the left, tap the T feature and type your logo text. Then select a font style and color you want.
To make a more appealing Adobe Photoshop logo, select the wrapped T at the top of the screen and choose the text style that fits best.

If you want to be even more creative when designing a logo in Photoshop, you can add a gradient overlay to your logo text. To accomplish this, click on the layer with the text on the right side of the screen.
Then go to Layer in the top menu, tap Layer Style, and select Gradient Overlay…
You find all the layer style options on the panel's left side. Experiment with different color gradients, angles, and opacity until you accomplish the desired look.

Add graphics to the logo shape
You can download an image to help shape the logo. Click File at the top of the screen to add it to your Photoshop logo design, then select Open... and choose the photo.
Once Photoshop creates a new layer for your image, tap the Selection tool on the left and apply the lines to the area you want to cut.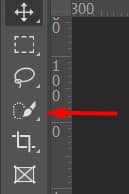 Once ready, right-click on the area and select Layer via Copy.

It will generate a new layer which you have to drag and add to the primary document.
Modify the text, shape, and image
Finish your Photoshop logo creation by resizing the text, shifting the elements, changing the gradient or wrapping, and adding other effects.

Benefits of Using Photoshop for Creating Logos
While it's not ranked among logo makers' top choices, with some practice and effort, you can effectively creative company logos. Let's explore many of its features:
Expansive toolkit
When designing a logo in Photoshop, users receive numerous valuable tools. To effectively employ them, it's best to dig deep into Adobe's comprehensive guides.
And while novice users may find Photoshop intimidating, once you've mastered its tools, you will be free to maximize your creativity when designing new logos.
High-quality logo resolution
Logos must be in high resolution to avoid appearing distorted or excessively zoomed-in when on websites or advertisements.
So when it comes to logo design, Photoshop provides numerous tools to ensure your image resolution meets the grade. And even if you're working with low-resolution files, its tools allow you to improve them.
Alternatives
Adobe Photoshop is undoubtedly a popular graphic design software. And with its lengthy history, it's unlikely to disappear anytime soon. However, it may not be the best solution for logo design.
Here are some alternatives to Photoshop logo creation software:
Canva
Canva is suitable for both beginners and advanced users. It's a versatile program that assists in creating infographics, advertisements, and logos. And unlike Photoshop, you can use it for free perpetually. Though, you need a paid subscription if you wish to access premium features and content.
Wix
The Wix Logo Maker allows you to design high-quality logos quickly. And while its AI can't complete the design, there's sufficient flexibility to fine-tune the experience. And while editing a logo in Photoshop might seem challenging, doing it with Wix will feel like a piece of cake.
Tailor Brands
With Tailor Brands, you don't need a large design budget or technical expertise to acquire a logo. It is a simple and affordable option for creating high-quality logos for your company. With little effort, you can build or modify anything.
Logaster
Creating logo designs in Photoshop is possible, but Logaster may be the option you are looking for. This software allows you to create stunning designs and professional-looking logos. And what's best, it's fast and easy.
Shopify Hatchful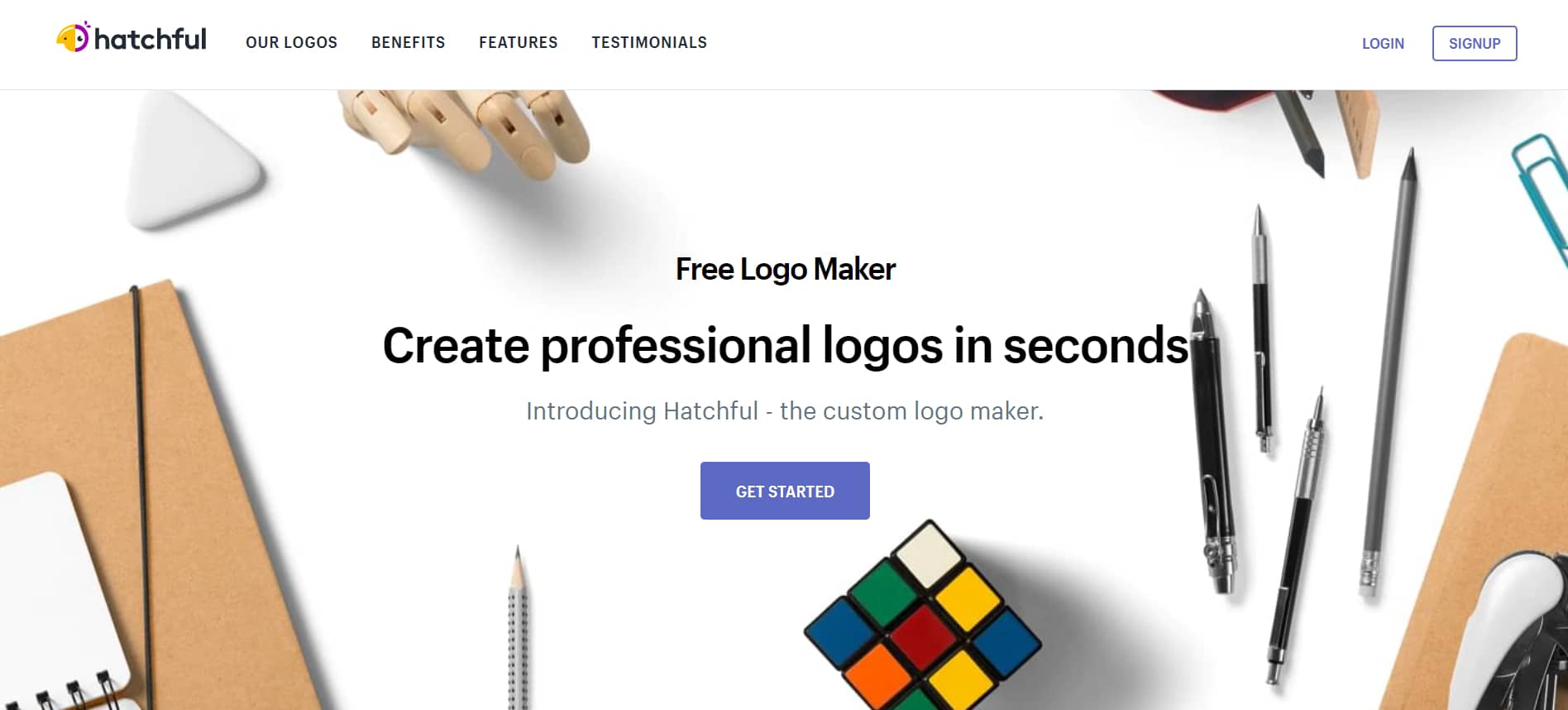 Using Shopify's Hatchful, you can create a variety of logos with only a few clicks. Novice designers will undoubtedly appreciate its intuitive layout.
Modifying your designs with this software is straightforward than editing a logo in Photoshop. You'll also find stock photos in various sizes to incorporate into your work.
Wrap Up
As you now know, there are a few ways to design logos in Photoshop. Whether you want a simple outline or something more complex, you can expect its numerous features to get the job done.
And while logo creation in Photoshop may seem difficult - you can make a wide variety of personalized designs using only basic preset shapes and lines. Start by keeping things simple, and if you think you went wrong, just hit undo and try again.
After mastering how to create a logo in Photoshop, you'll be able to develop professional, colorful, and creative designs.
How can I create my own logo?
Designing a logo is no longer left to the experts. With software like Adobe Photoshop, novices can follow simple steps to create unique designs. Read more about making your logo in this informative guide.
How do I make a high-resolution logo in Photoshop?
After opening your image, alter the size and deselect the resample option. Your photo's current width and height ratio locks in. Adjust the resolution and document size to meet your needs.
After altering the resolution and size independently, you may always resample.
What Adobe program do I use to make a logo?
To create a logo, Photoshop might not be the best option. Instead, use Adobe Illustrator, whose robust design toolbox is suitable for any logo, infographic, or graphic art project.
Is it bad to make a logo in Photoshop?
In general, logos should be basic and adaptable. On the other hand, Photoshop is software that allows you to create intricate artwork based on a predetermined amount of pixels.
As such, you can't resize or alter the logo in the same way as you can with Adobe Illustrator. However, if you're willing to put in the time and effort, you can learn how to make a logo in Photoshop.
Deyan Georgiev
Deyan has been fascinated by technology his whole life. From the first Tetris game all the way to Falcon Heavy. Working for TechJury is like a dream come true, combining both his passions – writing and technology. In his free time (which is pretty scarce, thanks to his three kids), Deyan enjoys traveling and exploring new places. Always with a few chargers and a couple of gadgets in the backpack. He makes mean dizzying Island Paradise cocktails too.
Leave your comment
Your email address will not be published.