How to Recover an Unsaved Word Document - 6 Easy Ways
Losing your work while using Microsoft Word is extremely common. This could be due to forgetting to save it, the application crashing, or other reasons. Don't panic! We can show you how to recover your unsaved Word document. There are many easy ways to do so.
How To Recover an Unsaved Word Document
Do you want to learn how to recover a Word document and avoid potential headaches that often come with data loss? If so, here are six ways to do so.
Recovering an Unsaved Word Document (Temporary Files)
The first step should be trying this URL:
C:\Users\admin\AppData\Local\Microsoft\Office\UnsavedFiles.
Or follow these steps to reach document recovery in Word.
Open

the Word file and select "

File Tab

."

Now, select these in order:
Info

Manager Versions

The

Drop-Down

List
Select "Recover

Unsaved Docoment

." A pop-up window will appear listing every unsaved Office file.
Find your file and select it. Click on the

open

button.
Recovering From a Backup
To keep your data secured, it's necessary to back up the computer regularly. In Windows, the program called File History does just that quite well. Here are the steps on how to recover your unsaved Word document this way. It might be interesting to check some top backup software on the market in the UK as well.
Type your file names into the search box of the taskbar.

Click on File History.
Using the arrow keys, you can go through various

document

versions.

To return the desired Word

document

to its original location, select Restore. Also, by choosing this, you can

save

the file elsewhere.
Recovering Unsaved Word Document (AutoRecover)
Word auto recover is one more option for recovery. AutoRecover file names use the extension ".asd." By default, Word looks for AutoRecover files every time it begins. Any data received from the task panel of Document Recovery is displayed.
If you have difficulties opening the Document Recovery panel, you can look for the auto-recover files manually. To do so, follow these steps:
In

MS Word

, select "File" and then "Options." Now, from the left navigating panel, select "Save." Paste the copied location path of the

AutoRecover

file into File Explorer.

Now, change the interval time аnd confirm by clicking "OK."
Find the unsaved file in File Explorer. Then copy the .asd file.

Select "File," "

Open

," and then "Recover Unsaved Documents" from the bottom of the Word app.
Paste the copied .asd file into the File Name box.

Open

it and recover the Word file.

If Word notifies you about an error, repeat the procedure. This time, select "

Open

and Repair" from the Unsaved

Document

box.
Recovering Deleted Word Document (Recycle Bin)
The first thing you need to do is check the Windows Recycle Bin for deleted or missing documents. It has a unique feature of saving items removed by the operating system. However, you can also look into adding some top Windows backup software as a precaution.
It's easy to retrieve an unsaved Word document if it's still in the Recycle Bin - just follow these steps:
From the desktop or start option on Windows, go to the Recycle Bin.

Find out if the file is still there.

If it doesn't recognize the file name, check the type (DOCX, DOC, DOT, etc.).

For recovery, select the Word file and click "Restore."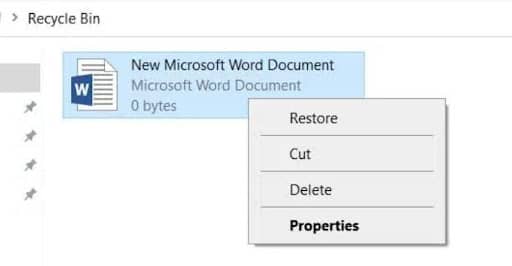 The removed Word

document

will be erased permanently if you empty the bin. In this case, it's most likely impossible to retrieve the lost file.
Recovering Word Document Through Data Recovery Software
Another excellent way for recovery is a data recovery app. These apps mimic how Windows handles data deletion. After cleaning a Word file, they get rid of the logical links. Afterwards the file becomes accessible, and the operating system marks the space as free.
Although data recovery software or apps can mend logical links, the file is only accessible again when the original data isn't overwritten. The steps for retrieving a deleted Word document are explained below. You can also check the EaseUS Data Recovery wizard for recovering lost files.
Download and install Disk Drill.

Select the storage device which contained the deleted file.

Search for recoverable files by selecting the button "Scan for Lost Data."

Check the recoverable files. It's also better to filter the scan results to see only the ones you want.

Select your desired files and

save

them to a secure place.

Select the "Restore" button to retrieve the docs.
Most data recovery programs work similarly. You can check for other software as well.
Recovering Word File After a Windows Crash
Sometimes you can lose your documents if your computer crashes. You can recover them by finding them before other files occupy their disk space. But how can you retrieve an unsaved Word document if such an event occurs? Let's find out.
After getting your system back online, reopen

MS Word.

Usually, the application returns unsaved documents automatically.

Select "File," then select "Options" and "Save."

Copy the location of the

AutoRecover

file and paste it into the File Explorer.
Now, copy the .asd file using the most recent modified time and date.

Go back to

MS Word

, select "File" then "

Open

," followed by "Recover Unsaved Documents."
To restore the copied Word file, paste it into the pop-up folder. Now, open it.
How To Prevent Future Loss
It's always essential to ensure that there isn't any future loss with your Word files. Autosave, syncing to cloud, AutoRecover, etc. - are a few ways of preventing such an incident.
Autosave
To reduce the possibility of Microsoft Office data loss, you can set the autosave feature at one-minute intervals. So, even if you do suffer a crash, you only lose what was done in the last sixty seconds.
To activate this for Windows, go to "File menu," then to "Options," and "Save." In the next window, it's possible to adjust the settings.
If you're on a Mac, open your doc and select the "File" menu, then go to "Preferences." Now click "Save" within this window. From there, make sure that the "Save AutoRecover Info" box is checked. The default save intervals are every 10 minutes; however, you can change that to another length of time if you wish.
Sync to Cloud
Cloud backup applications like OneDrive, Dropbox, Google Drive, etc., are very useful for avoiding future surprises. You don't need to deal with a Word document recovery process with the cloud, as everything is saved in real-time.
It basically enables the user to upload documents, etc., online to a storage facility in the sky. The document is held outside your system but accessible from any device you authorize and with a proper internet connection.
AutoRecover
AutoRecover is also a great way to prevent the loss of your information and was discussed previously in this article. See above.
Wrap Up
The loss of a file can happen at any time. People often forget to save their updates and end up realizing their Word document has disappeared. Therefore, it's necessary to know how to restore them.
AutoRecovery only works for unplanned disruptions like power outages, crashes, etc. The file names use the extension ".asd." This brings up any data received from the task panel of Document Recovery.
Can I recover a Word document I didn't save?
You can recover files from the Recycle Bin using autosave and auto recover features. You can also retrieve your files after a Windows crash using the specific methods listed above.
Where are unsaved Word files stored?
You can find your unsaved Word files in the Recycle Bin if you haven't emptied it. Also, if you have cloud storage, you can access them from there.
Does Word keep backup files?
Yes, it does. If you're thinking about how to recover a Word document, one of the solutions is retrieving files from the backup files. It's a good practice to keep all of your information backed up regularly.
Deyan Georgiev
Deyan has been fascinated by technology his whole life. From the first Tetris game all the way to Falcon Heavy. Working for TechJury is like a dream come true, combining both his passions – writing and technology. In his free time (which is pretty scarce, thanks to his three kids), Deyan enjoys traveling and exploring new places. Always with a few chargers and a couple of gadgets in the backpack. He makes mean dizzying Island Paradise cocktails too.
Leave your comment
Your email address will not be published.