How to Refund a Game on Steam? [All You Need To Know]
Selma Citakovic
Updated · Mar 27, 2023
Are there any recent games you regret purchasing on Steam?
No worries — you can get your money back in no time.
This guide will explain:
How to refund a game on Steam
How to apply even if you fall outside the requirements
What the return policy entails
What counts as refund abuse
Let's see what we can do!
Steam Refund Policy
Steam's refund system is pretty simple. Valve states that you can request reimbursement on nearly anything (we'll get into the specifics in a bit) for any reason, as long as it's within a certain time limit.
The deadline is no more than two hours of logged playtime and two weeks after the purchase. You'll need to fulfill both conditions.
But, you can still try even if your request falls outside this time frame! After all, Valve looks into each appeal and might make an exception.
So, in a nutshell: your reasons aren't vital, but timing is!
Now, let's take a closer look at purchases where you're guaranteed to get your money back.
Where Steam Refunds Apply
Naturally, you can apply for games and software you've bought from the Steam store. But, there are other kinds of content you can return as well. That includes:
Pre-ordered games — refundable any time before the release
DLC — refundable within the standard period, but only if it's from the Steam Store
In-game purchases — refundable within 48 hours of purchase for all Valve-developed titles
Renewable subscriptions — refundable within 48 hours of purchase or automatic renewal, but only if it's unused
Bundles — refundable if the combined usage time for all items is less than two hours
Gifts — refundable within the standard period, provided the recipient initiated the refund for a redeemed gift.
The Steam refund policy states that the content can't be consumed, modified, or transferred if you want to return it. This goes especially for in-game purchases, DLC, and renewable subscriptions.
Furthermore, if you have any doubts about a non-Valve/Steam Store product, you'll be notified ahead if reimbursement isn't possible.
But what about hardware?
It has its own return policy. Here's the long and short of it!
To return your goods, you'll need to cancel the order within two weeks of receiving them. Once you've canceled, you have another two weeks to send back the items.
You'll be reimbursed for the purchase and the delivery charges!
You can't abuse or modify the hardware and still get the full Steam refund.
Where Steam Refunds Don't Apply
Yup, there are situations where you'll be unable to claim your funds back.
There are three such cases:
If it's a purchase made outside of Steam.
If VAC (the Valve Anti-Cheat system) banned you.
If it's video content (like episodes, tutorials, movies, and shorts) that's not part of a bundle with refundable items.
Other than that, some game content may be non-refundable. For example, this can happen if a DLC makes irreversible changes to the game. So, keep your eyes peeled for titles marked as non-refundable before buying!
Steam Refund Abuse
Finally, there's the matter of refund abuse.
Many gamers have been trying to cheat the system and play for free. That means playing for just under two hours, submitting a refund, and then getting the game just to return it again.
Indie game developers have spoken out against this practice! Short games suffer the most.
In any case, if Valve notices unusual activity (too many requests in a short period), you'll get a warning. If you ignore it and continue your spree, you'll lose the ability to refund.
Luckily, you can refund games on Steam when their price goes down and then re-buy them to save a buck. That doesn't count as abuse.
How to Refund a Game on Steam
So, you've decided to return a game!
Let's break down the whole process.
First, you'll need to log into Steam Support via browser. You can't do it with the app — you'll have to go to help.steampowered.com.
Once you're logged in, click on Purchases.
Look for the title you want to refund and click on it.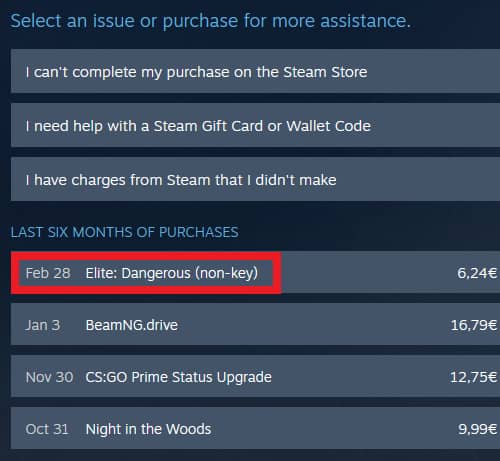 Next, you'll need to select what issue you're having. Simply choose "I would like a refund."
After selecting it, you'll need to click "I'd like to request a refund."
That will open up the Steam refund request form. The top section lets you choose your preferred reimbursement method. You can transfer your funds back to your Steam Wallet or your card (PayPal, Visa, MasterCard, American Express, Discover, and JCB).
Then, you'll have to explain why you're applying. There's also a Notes field in the form for more information you'd like to share.
Steam lists several reasons, such as:
It's not fun.
It frequently crashes.
I purchased this by accident.
You can pick the one that matches your case the best or choose whichever. It doesn't matter! Steam will refund a game as long as you've bought it in the last two weeks and didn't play it for more than two hours.
Finally, you can find the Submit request button at the bottom — click it, and you're done!
Now, all you need to do is wait for the confirmation email that you've successfully submitted your Steam refund request. Once you receive it, it can take up to seven days for your funds to appear in your account. Keep in mind that international payment methods can take a bit longer — up to ten days.
One more thing.
What can you do if you fall outside the refund rules?
Well, remember the Notes field in the request form? You can plead your case there. It'll help if you're polite and keep it short and to the point.
Valve will look into your situation, and you might get lucky!
And if you weren't happy with the game you got, you can always find something else at a cheaper price during Seasonal or Festival sales by following the Steam Sale Dates.
Conclusion
Whether a game just isn't up to par or you've accidentally bought it in a drunken daze, you will be reimbursed. As long as you're within the Steam refund time limit, you have nothing to worry about. The transparent and fair return policy makes sure of it.
And you can see in this guide that the whole refund process is also fairly straightforward! It's only a matter of filling out a form on Steam Support.
So, try not to wait for too long — submit your request as soon as possible. Good luck!
FAQ.
---
Can you refund a game on Steam after 2 hours?
You can still apply even after two hours of gameplay. Depending on your explanation, Valve may approve your request.
Can you refund a game on Steam after 2 weeks?
Yes, but only if it's relatively close to two weeks. Otherwise, you won't even be able to access the request form.
How do I refund a game on Steam 2022?
Here's how to refund a game on Steam in 2022 in five steps:
Go to help.steampowered.com and log into Steam Support.
Navigate to Purchases and select your title.
Choose the issue you have.
Click on "I'd like to request a refund" and pick your reimbursement option.
Click the Submit Request button and wait for the confirmation email.
Feel free to check out the detailed how-to section of this guide!
Selma Citakovic
Selma is a content writer with a love for all things nerdy by day and an internet archaeologist that likes to dig up obscurities by night. Mostly she's trying to balance between many obsessions. Right now, it's bass playing and reading hard sci-fi about vampires in outer space - next week, who knows.
Leave your comment
Your email address will not be published.