How to Scan a QR Code on iPhone? [All You Need To Know]
We are all aware that we spend too much time on our phones. But did you know that mobile usage went up by 24.5% last year?
It's no surprise that QR codes are extremely popular right now. That's not only because of COVID certificates.
However, some people still struggle with the concept.
So, I created a short guide that will cover what the term means and how to scan a QR Code on iPhone.
Let's get started!
What Is A QR Code?
QR code is short for a quick response code. It's a type of matrix barcode, which is mainly used for a locator, identifier, or tracker. It directs you to a website or an application. When you scan it, you access the information encoded in it.
It's made of black squares on a white background. It's in a square shape, so your device's camera can read it both horizontally and vertically. Most gadgets come with an in-built QR code scanner.
It's been among us since the mid-90s. Over the years, it grew more popular when we entered the smartphone era.
For example, nowadays, you can see QR codes in many restaurants. Scanning one will either take you to the menu or a TripAdvisor/Google page, where you can rate the service.
This leads us to a very important question:
How To Scan A QR Code On iPhone?
Okay, tech for dummies time. My favorite.
The device starts scanning from the bottom right of the QR code. Then, it moves up two data modules to the left and goes down. It repeats this right to left, up then down until it covers every data module.
But how can you start this process?
Easy-peasy:
Open your camera.

Point it to the code.

Click on the link that appears.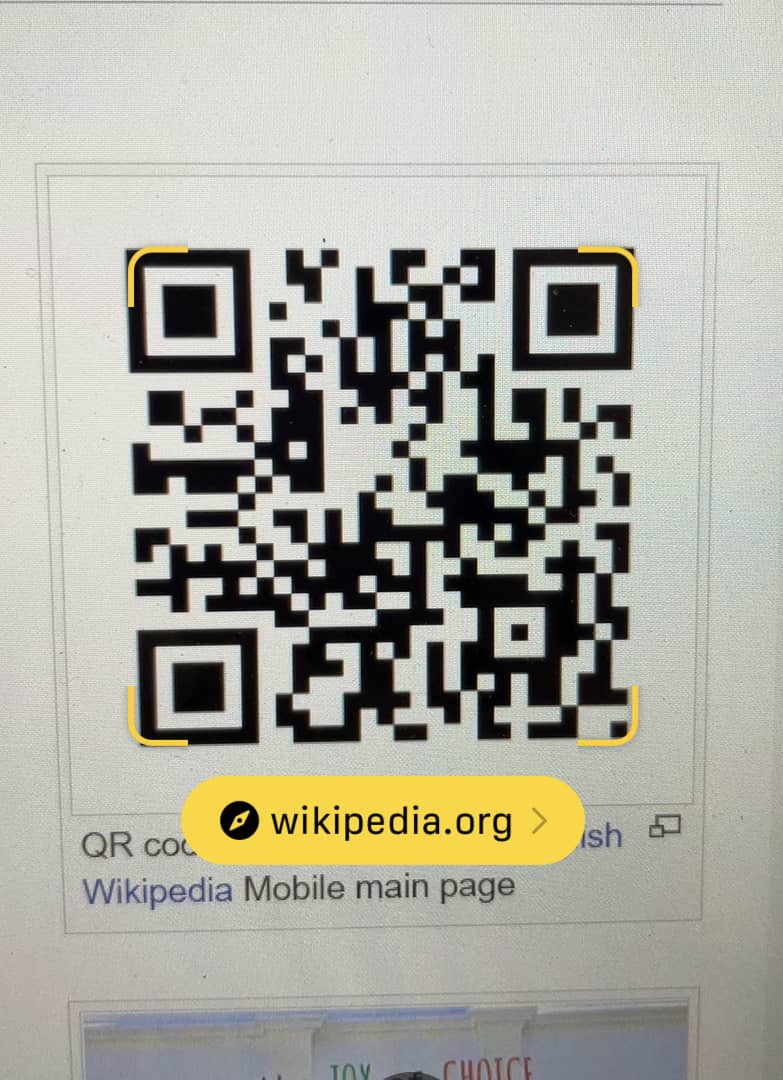 And that's it!
Now you can scroll through the website.
Scan A QR Code On iPhone And iPad
The main process of scanning a QR code on iPhone and iPad is the same. The apps that can do it vary, however.
Here are some examples:
Apple Wallet
This works only for passes. For example, if you have a cinema ticket or a boarding pass.
Here's how to scan code on iPhone in those cases:
Open Wallet.

Click on Scan code.

Point your camera to the code.

When the device reads the code, it'll be automatically saved to the wallet.
Social Media Apps
Let's see what happens in the different social media apps when you scan a barcode on iPhone:
Snapchat - You can add new friends.

Pinterest - You get to see promoted products from brands.

Twitter - Enables you to share and add profiles.

Shazam - Shows you special offers, interactive content, and enables you to buy items or share them with others.

LinkedIn - You can add friends directly without searching for their names.

WhatsApp - Allows you to pair the

desktop

program with the smartphone version. Same goes for Viber.

Facebook Messenger - You can add friends when you scan their code.
Are Your iPhone Or iPad Cameras Automatically Scanning QR Codes?
If you updated your device to a later version than iOS 11, it'll scan the QR codes automatically. However, if your software version is older, you need to manually allow the QR reader on your iPhone.
You'll have to:
Open the Settings app.

Scroll down or type Camera in the search bar.

Tap the toggle switch to enable Scan QR codes.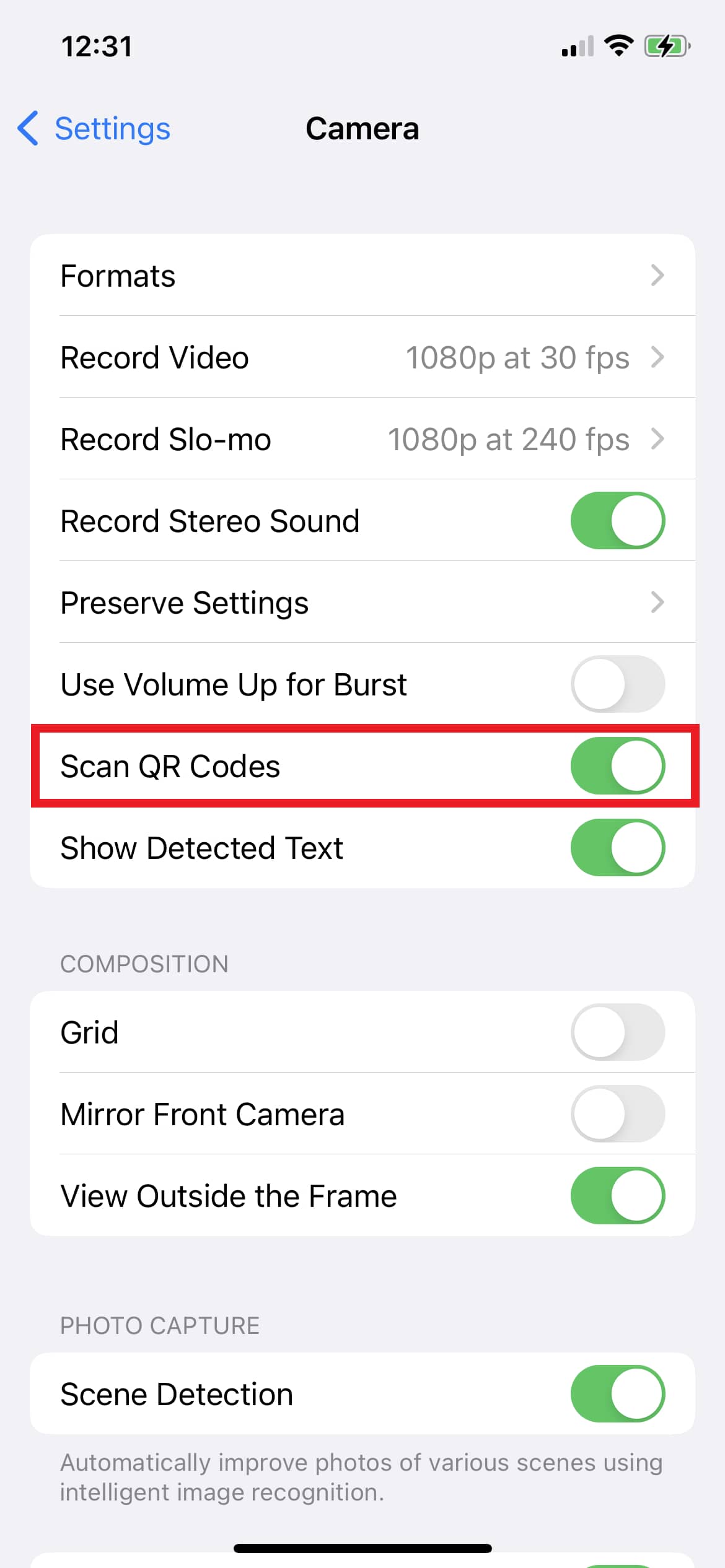 But what about the hidden Apple feature?
What Is A Secret Code Scanner And How To Use It?
There's a hidden QR code scanner app on your iPhone. That's how your device is scanning the codes.
You're probably wondering why you need to use the application when you can easily just use the camera.
There's one difference between the two methods.
When you scan a code using the camera, the links stay open on your browser. So, you may fill it with unnecessary links.
When you use the code scanner, the links disappear when you close the app.
If you want to scan something important that you need to save, use the camera.
If you want to take a quick look at something, use the code scanner app.
Let's see how to find the QR code scanner app on iPhone.
1. Swipe down from the middle of your screen to open the search bar.
2. Type Code Scanner.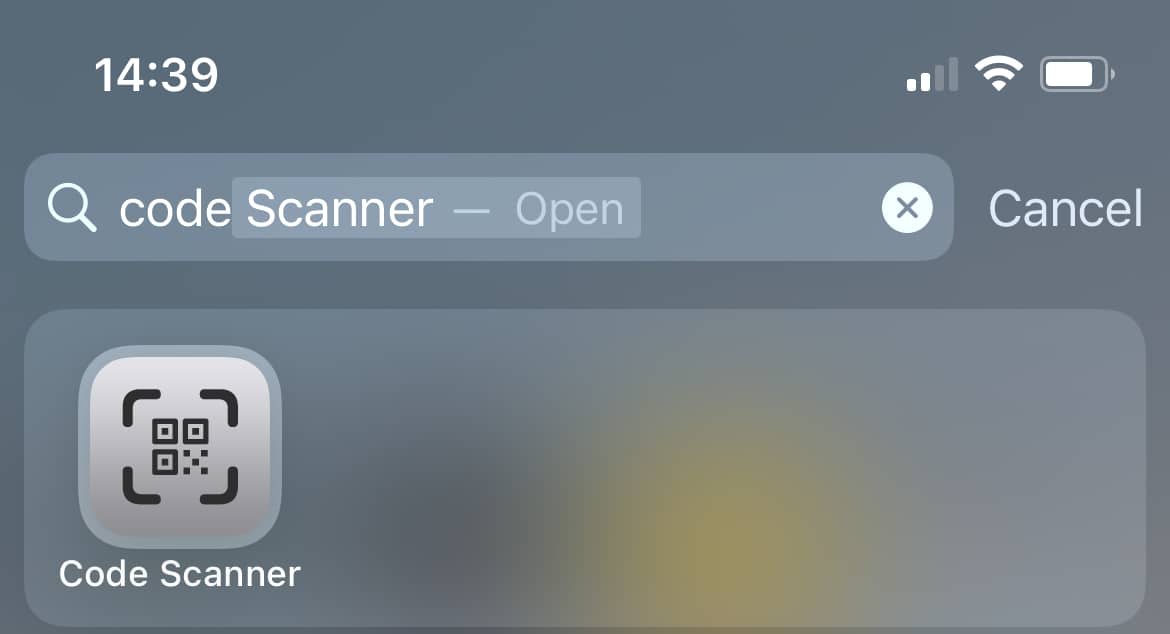 3. Select it.
4. Point your phone to the code.
5. Open the link.
Now you're all done!
If you want to find the QR code reader on your iPhone faster, I have a solution.
How to Add the Code Scanner to the Control Center?
Let's get right into it:
1. Open Settings.
2. Scroll down.
3. Click on Control Centre.
4. Click on the green plus sign next to the code scanner.
5. Now, you can find the app in the menu.
The process is pretty simple, but in the long run, it can save you time when you search for the Code Scanner.
Let's review the apps designed specifically for scanning a QR code.
Best Apps For Scanning QR Codes On iPhone
You're probably wondering, can you scan a QR code from a photo?
Obviously, you can't point your camera to your screen and scan it. So this is where the apps come in handy.
If you see a code on a website or if someone sends it to you, take a screenshot of it or save the image on your phone. This way you can run it through the code scanner.
When you search for a scanner, there are many options in the App Store. However, I singled out the three that caught my eye.
Kaspersky QR Scanner
The first one is the Kaspersky QR Scanner. It's completely free and easy to use. Just point your camera to the code and the link will open. One of its most important features is that it protects you from malicious links with its spam alert. It also saves your history of the codes you scanned.
Qrafter QR Code Reader
The next option is the Qrafter QR Code Reader for iPhone. It has a free and a paid version. The paid version's price is reasonable - $4.99, considering its features. The app allows you to scan and share QR codes and 2D matrix barcodes, as well as making your own from scratch. It also has a user-friendly interface The only disadvantage to this scanner is that you need to watch a five seconds ad before opening the link you scanned.
Rapid Scanner

The last app is the Rapid Scanner. It's free but it comes with ad videos. However, if you're not a fan of that, you can remove them forever for $0.99. It's easy to use, just point your camera to the code and it'll give you the option to open the website. You can also create QR codes and share them via social networks.
The best part is that those apps will also let you scan a QR code from a picture.
Why Is Your Device Not Scanning the Code?
Although this is not very common, sometimes you may have issues when you're trying to scan a barcode on iPhone.
Let's see the different case scenarios and what to do in each.
QR Code Is Blurry
If the code is blurry, your device can't read it. It can't fill in the blanks when something's missing.
Most cameras nowadays have a Super Steady mode. This might help, but only if the image itself isn't blurry.
QR Code Is Too Complicated
Your iPhone can have issues scanning QR codes with too much data. The more complex information there is on the code, the more complicated is the pattern.
Patience is the key here.
QR Code Is Expired
It may sound surprising but QR codes can expire. Maybe they have an end date or a limited number of scans.
Unfortunately, there's not much you can do.
QR Code Is Too Far
If you're not close enough, you'll have trouble scanning the QR code with your iPhone. There's a size-to-distance ratio. The standard distance between the phone and the code is 10:1.
For example, a code that is one inch must be 10 inches away from the phone to be read.
Wrap Up
Great news:
Now you know how to scan a QR code on iPhone!
But why stop here? Let me show you other neat tricks - like how to recover permanently deleted photos or how to change your device's name.
Velina Nenova
Velina describes herself as passionate media savvy and a versatile individual with numerous different interests, most a result of her Media & Communications BA. She has also developed a keen interest in Digital Marketing and Advertising. Her never-ending desire to constantly learn new things and enrich herself and her ultimate dream to go around the globe before 45 are her driving forces.
Leave your comment
Your email address will not be published.