Wondering how to set up a proxy server?
If you have access to the server's details or already have it set up on your network hardware, enabling the proxy on your chosen system is easy.
Today, let's explore all the different ways you can configure a proxy on computers and mobile devices.
Follow my lead:
What is a Proxy Server?
A proxy server is a type of server that acts as an intermediary between your system and the internet.
Simply put, it's a gateway that connects to a web page and other internet services on your behalf and then delivers them to you. Or, in the case of uploading, sends your data to the other party.
Therefore, the proxy's IP address is the only one visible, putting a layer between you and the rest of the world. Proxies aid internet privacy and can let you access blocked content at school or work by masking your geolocation.
On the other hand, if you manage a workplace and mandate everyone to use a proxy, you can also easily restrict what can be accessed via content-filtering. This can also be useful for reducing bandwidth.
You can buy access to proxy servers and there are several good free options too. The provider will give you the server details, which can typically be configured directly on a router and network. Alternatively, you can carry out a manual proxy setup for each individual device or just the web browser on a device.
Proxy servers are commonly used alongside VPNs and other anonymizers for superior privacy and security when using the internet.
What is the Best Proxy Server?

Best for: Best overall

Smartproxy
Smartproxy is a top-rated proxy provider trusted by many. Its 40 million+ proxies from 195+ locations help bypass CAPTCHAs, geo-blocks, and IP bans. It offers a free trial and has a high rating of 4.7 on Trustpilot with 89% 5-star ratings, making it one of the best in the industry.
Visit Website
How to Setup a Proxy Server?
The proxy server settings you choose will depend on your provider and how you wish to configure your network. Installing at the hardware level means each device can use automatic detection. Manual proxy setup requires a few more settings to be configured.
Let's take a closer look at how to set up a proxy server on your operating system or web browser.
Windows
Configuration on Windows is easy. It supports manual and automatic proxy setup from a dedicated settings page.
To quickly access proxy server settings in Windows, press the Windows and I keys at the same time on your keyboard. Then click the Network & Internet settings link and in the left pane, the bottom option is poxy.
At the top you can slide between automatic or manual detection. The automaric will only work if your network is broadcasting the proxy info via the DHCP protocol. In other words, you need to have previously configured the proxy on your router or other network hardware.
If automatic detection is off, you can choose between using a script or manual configuration. To use the former, you must enter the address to the script in the field. This is a configuration file hosted by the server which tells Windows how to connect.
Manual configuration requires you to enter the IP and port of the proxy server. If your provider doesn't use scripts, it should give you the manual details.
MacOS
Proxy server setup on Mac is just as straightforward. First, go to the Apple Menu and open System Preference. Next, click Network and select the service you want to apply the proxy too. Go to the Advanced settings and click Proxies.
Much like Windows, you have the option to auto-configure, use a PAC file script, or manually enter the proxy details. If you choose the latter, you can configure:
a standard Web Proxy (HTTP)
Secure Web Proxy (HTTPS)
FTP Proxy
SOCKS Proxy
Streaming Proxy (RTSP)
Gopher Proxy.
If you only want to use the proxy to browse the web, Mac's go-to browser Safari has its own proxy options (see below).
Google Chrome
If you're looking for proxy server settings in Chrome, you'll be pleased to know there are extensions to configure your proxy at the browser level. This means the proxy only functions when using that specific browser. Other browsers and internet-reliant software will connect using your regular ISP details.
The default Chrome proxy server settings simply open your system's settings, which is not very useful. The solution is to install one of the many extensions that let you manage proxies.
These include:
Proxy Switcher and Manager
IPRoyal
Proxy SwitchyOmega
Proxy Helper
Windscribe
Among many others.
Go to the Chrome web store and search 'Proxy' to find what you need. Moreover, many premium proxy services have their own Chrome extension that you can use to connect to your proxy server via the browser.
Safari
You can configure proxy server details in Safari from the Advanced option under Preferences. Scroll down to Proxies and click Change Settings. Then check Web Proxy and enter the proxy address and port. There are also fields for Username and Password if your provider requires this.
You can also set up https proxy server access the same way. Simply check Secure Web Proxy, in addition to the basic Web Proxy option.
Now whenever you browse the web using the Safari browser, it will be via the proxy server.
This does not apply to any internet requests made outside of the browser.
Firefox
To set up a proxy in Firefox, users must go to Options > Network, and then click the Settings button next to Connection. Here you can choose to Auto-detect proxy settings if you have already configured it on your hardware and/or operating system.
Alternatively, if you only wish to enable the proxy while using the Firefox browser, choose Manual. You must enter the address and port, and check HTTP or HTTPS accordingly.
This will not change any proxy settings configured on the operating system itself.
Microsoft Edge
Like Chrome, enabling proxy server access via Microsoft Edge simply directs you to your system settings, not browser-exclusive settings. However, you can still use a proxy with Edge-only if you use one of several similar add-ons.
These include:
SmartProxy
Proxy Switcher
Hide.me Proxy
Proxy Switcher and Manager
Among many others.
Add-ons are also commonly available from proxy and VPN providers like Mudfish, BelkaVPN, Neo VPN, and others.
Internet Explorer
To create proxy server connections in Internet Explorer, open the Tools menu, select Internet Options, then go to the Connections tab. Choose LAN Settings and check 'Use a proxy server for your LAN settings'.
You will see a list of address and port fields for HTTP, Secure (HTTPS), FTP, and Socks proxies. Enter your information as needed.
You can also add individual web addresses as exceptions that will not be accessed via your proxy.
Android
Setting up your own proxy server on Android is no more difficult than on a computer or laptop.
If you are connecting to Wi-Fi, simply hold the Wi-Fi icon to open the settings, hold the network you wish to connect to, and then select Modify Network.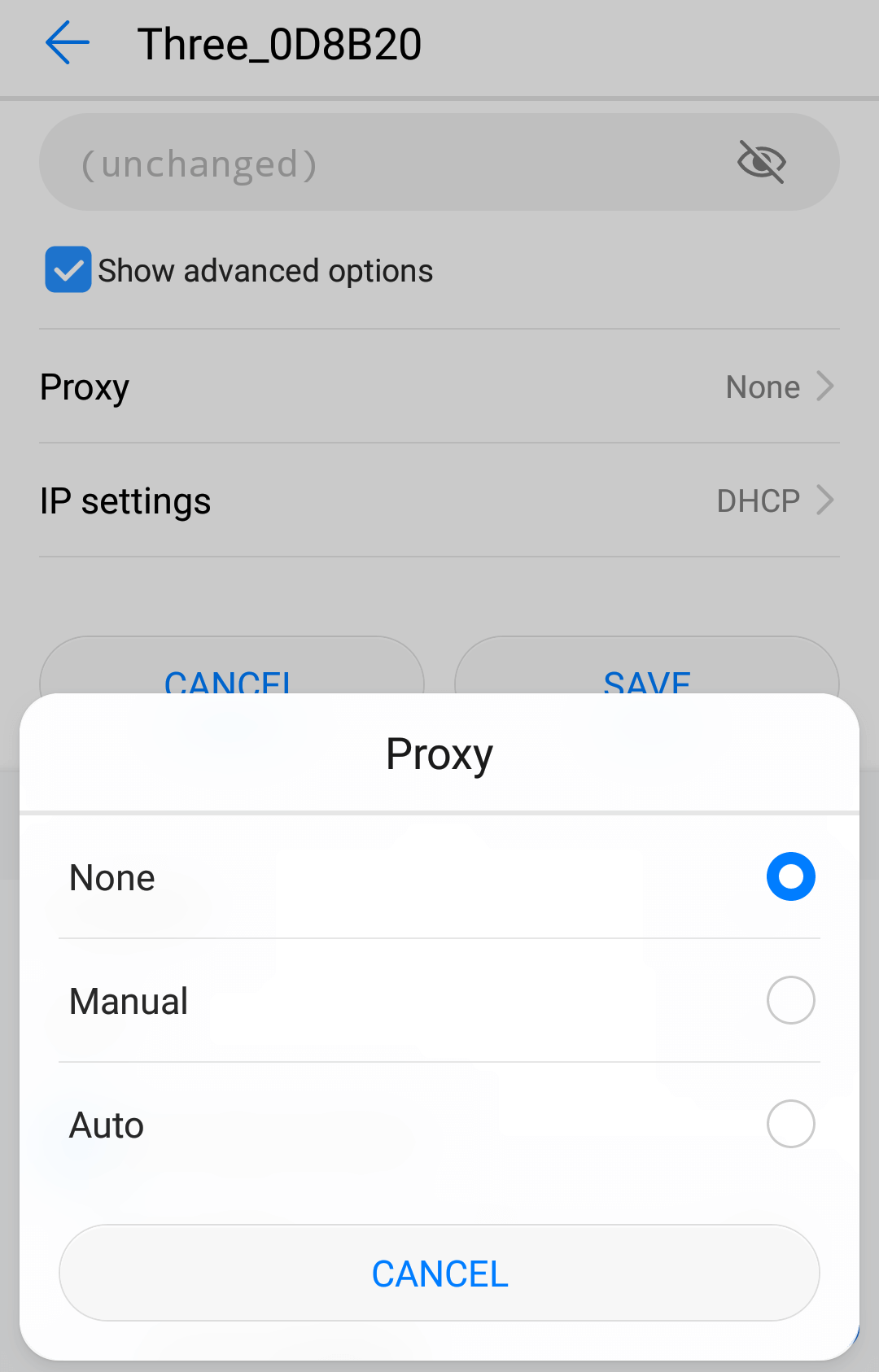 Under Advanced Options, tap Proxy and then Manual. Now enter the proxy address and port into the designated fields and tap Save.
Now, whenever you connect to this network it will be via your proxy.
If you wish to browse via a proxy when using your cellular data plan, find your Mobile Network settings. Here you should see an option for Access Point Name, though it may be hidden within an 'Advanced' tab.
Select the APN that corresponds with your cell provider, enter the proxy address, port, and if needed, the proxy username and password. Save the changes then turn mobile data off and on to enable the proxy.
iOS
To install proxy server access on iOS devices like iPhone and iPad, open the iPhone settings screen, tap the Wi-Fi option, and then select 'Info' from the right-hand side.
If you scroll down, you will see the HTTP Proxy setting. Set it to manual by tapping accordingly, then enter the proxy IP or address, followed by the port number.
If your network itself is already linked to a proxy, your iPhone will automatically try to connect to it if you tap the auto option. You can also turn it off altogether to connect without a proxy.
Note, these proxy server settings only function when connecting to a Wi-Fi network. You cannot use a proxy when accessing the internet via your cellular data plan without additional steps.
If you do wish to use a proxy with your mobile connection, you must have access to a Mac computer and install the Apple Configurator app. Then connect your mobile device to the Mac by USB tether, hit the Prepare tab, Settings, and then set Supervision on.
Now you are free to create what is known as a Global HTTP Proxy, which routes both Wi-Fi and your cellular connection through a proxy.
Under Profiles list, click New Configuration Profile and select Create New Profile. Enter a name, then select Global HTTP Proxy. Enter the address, port and, optionally, a username and password, then save it. Next, select the new profile and click Prepare
Now you can go to your device and depending on your iOS version, open Settings > General > Profiles & Device Management, or Settings > General > VPN & Device Management. Select the new profile to load your proxy settings.
Best Proxy Services
Setting up your own proxy server works best when you use a premium provider. By paying a fee you can ensure a fast and stable connection and lots of setup options. Some of the best-paid proxy services include:
SmartProxy – Provides over 195 locations, HTTPS support, and browser add-ons for the likes of Microsoft Edge. Pricing starts at $30 for 50GB of bandwidth.
IPRoyal – Provides regular and 4G-friendly mobile proxies, with pricing starting at just $1, and extensions for Chrome and other browsers.
Hide.me – Provides unlimited bandwidth and speeds suitable for gaming, streaming, and file sharing. It can be installed in-browser, on individual systems, or at the network hardware level.
Wrap Up
We hope our guide on how to set up a proxy server answers all your important questions. Whether you're on Windows or Mac, Android or iOS, there's a quick solution for everyone.
Artem Minaev
Entrepreneur and online business supporter with more than 10 years experience in SEO and content marketing. Building a portfolio of digital assets: Websites, Blogs, NFTs & Crypto. Currently, working on the Web3 educational resource and knowledge base CryptoDose (https://cryptodose.net/).
Leave your comment
Your email address will not be published.