Led Light Room Ideas
With the current need for saving electricity the world over, LED lighting is one of the ways to cut down on your bills. Being the most efficient bulbs, LEDs can save the day!
Our list of LED light room ideas can help make your home stylish and energy-efficient at the same time.
25 LED Lighting Ideas for Your Home
Your budget is tight, but you still want to change something in your home? LED lights can transform your living space. They are low-cost and require just a few seconds of tool-free installation.
Read on to see our cool LED room ideas that are sure to inspire you.
1. Indirect Light
When the light source is placed behind panels, it indirectly illuminates the room. It can be directed upwards and reflected from the wall or ceiling. If you don't want shadows and contours, indirect lighting will give your room a softer atmosphere. This type of lighting is suitable for anywhere in your home — from the living room to the bedroom.
Credit: InspirationSeek
The light reinforces the presence of the TV in this living room. In the bedroom, you can place the source of light on the wall behind the headboard. It has a lower light intensity which is great for nighttime. Plus, the reflected light creates a warm, relaxing atmosphere.
2. Bed Lighting
Besides hiding it behind the headboard, you can place the LED light around the bed or under it. This type of up-lighting creates an illusion that the bed is floating over the ground. Furthermore, it can showcase elegant linens or an unusual design element.
Credit: Contemporist
This low-level glow is perfect for finding your way in the dark. You can tip-toe out of the room safely, without waking anyone. This makes it very suitable for nurseries and children's rooms.
It can also help you relax at the end of a long day.
3. Wall Lighting
Your living room is usually the place where you receive guests and it should reflect your personality. LED light living room ideas focus on two methods of wall lighting:
Decorative

- placed to create various shapes and figures on walls. LED strips are the best choice for this purpose.

Recessed -

to give your room a sophisticated look. LED lights are installed into your wall or ceiling. This lighting type is also ideal for other rooms — such as the dining room, bedroom, garage, etc.
Credit: DarklightDesign
4. Ceiling LED Lights
Another fantastic option for decoration with LED lights for your room is installing them along the ceiling anywhere in the home. If you want something unique, use your imagination to create a colorful statement ceiling for your living room.
Credit: Lepro
Here, 3D ceiling panels and color RGB lights for the room come together to form an illuminating feature on the fifth wall. If you often host parties and have friends over, this party atmosphere is ideal. You can spice it up even further with music strip lights that dance along.
5. In-floor Lighting
In-ground lights can be both aesthetic and functional. Even though they are often used to illuminate landscape settings, they can turn even the most boring part of the home into a mystical place. However, you need to be careful with indoor in-floor lighting. Stylish living rooms or long winding corridors can look like an airline runway if you use too many lights.
Credit: Decoist
Take a look at this sensible use of in-ground and recessed ceiling lights. Their combination provides cool indoor lighting that makes the room cozy and warm.
6. Stairwell LED Strip Lights
This idea is more practical as it serves to prevent falls. However, stairwell lights are also great ways to add dramatic effects or create a modern look for your home. You can achieve a well-lit staircase with several light strip ideas. One option is to place light strips under your stair panels or alongside the wall. You can even illuminate the railing or banisters to accent your stairs.
Credit: Pinterest
Here, bright white LED strip gets the job done. The stairwell has a classical look and it's functional and well-lit at the same time.
7. Kitchen Cabinet LED Lights
When it comes to practical LED light decor ideas, adding extra illumination in the kitchen is one of the most useful projects. You can position kitchen cabinet lights differently and get various effects:
Under

- provide both ambient and task lighting for food preparation and cooking.

Inside

- decorative to accent displayed china and glassware; they can also serve a practical purpose by lighting hard-to-reach spaces.

Over

- they set the mood of the room because by providing ambient lighting with a warm glow on the ceiling and walls.

Toe kick lights

- these come in handy at night when you're trying to find your way to that last piece of cake in the fridge.
Credit: Lepro
8. Illuminated Kitchen Island
You can be as creative with LED lights as you wish. Once you apply them to the kitchen cabinets, you can try lighting the kitchen island as well. You can use this room inspo with LED lights in the bathroom as well. It can also provide task lighting to your workspaces and the sink.
Credit: LucasLED
You might also consider hanging lights with LED bulbs like in this picture. This type of illumination should not produce much glare.
9. LED Lights in your Drawers
Have you tried to find something you desperately need without turning on a bright white light? Well, I always wake my kids. Or, end up with the wrong item. If you don't want this kind of headache, apply LED lighting. It is one of the most effective light strip ideas out there.
Credit: Ledmy
Some furniture companies install motion-activated designs to help you look for your essentials in the dark.
10. Dressing Room Lighting
Another pretty room with LED lights can be your dressing room. Simply install strip lights behind your closet rods. This idea is both classy and functional. If your clothes are on display, you'll get that department-store vibe that will make sure you're in a great mood. It's also very practical as it will help you get ready at any time of the day.
Credit: ClosetWorks
Consider adding a set of strip lights along the edges of the wardrobe or behind your full-length mirror for extra light.
11. Mirror Lighting
Room decor ideas with LED lights include illuminating your mirror. If you put LED strips on it, it might tell you who's the fairest of them all. And, I'm not joking — LED lighting is even and without shadows. That is why it's bound to make you look your best.
Credit: The Spruce
The classic option is a traditional large vanity mirror with LED bulbs like this dressing table mirror. Alternatively, you can place lights around the mirrors in your bathroom, bedroom, or living room. Whichever variant you choose, it will add a touch of glamor and style to your home.
12. Bathroom Illumination
In addition to illuminating your mirror, you can add waterproof LED strip lights at the bottom of your bathtub. This is one of the most relaxing LED home lighting ideas. The soft glow, the heat, and the bubbles will work together to create a soothing atmosphere.
Credit: Pinterest
Who wouldn't want to finish the day in this spa-style bath? You can install LED light shower heads if you don't have a tub.
13. Shelf Lighting
If you don't want LED light everywhere around your room, choose one focal point — for instance, the bookcase. With just a little imagination, you can transform the boring shelves in your living room into a decorative centerpiece. It doesn't matter where you place the LED strip - under or on top, the effect is similar. Your books and decorations will come into focus.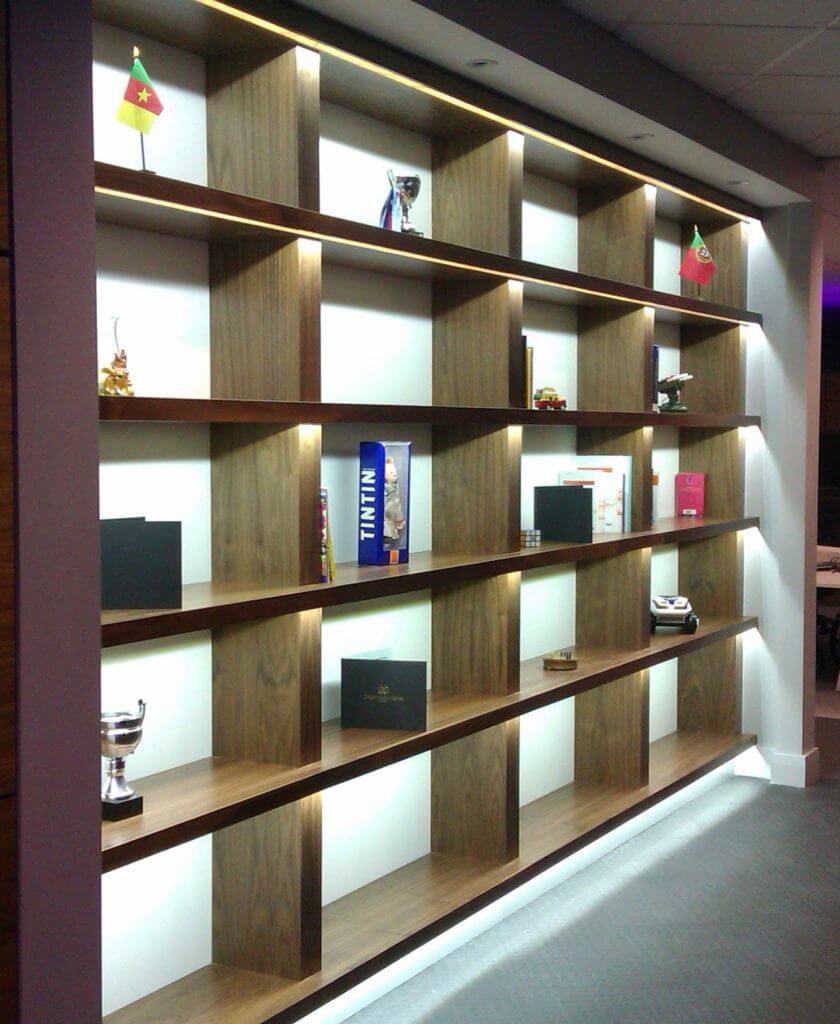 Credit: InstyleLED
What's more, you'll be able to find any book you want much easier. This type of lighting is subtle and practical at the same time.
14. Bias Lighting
This is one of the latest and trendiest LED light color ideas. Adding LED strips to the back of your screen is known as bias lighting. It can help relieve eye strain and make sure you see clearer images and colors at the same time. You can also try RGB LED strips to change the color of your computer screen and create an unforgettable gaming experience.
Credit: Biaslighting
It's best to go for pure white LED light because other hues might affect your ability to perceive colors.
15. Furniture Lighting
Another way to use colorful LED lights for any room is to place them under your furniture. This is not very practical lighting — but it's fun and unique. Here are some pieces of furniture you can apply this accent lighting to:
Sofas and armchairs

- in addition to helping you find your remote, the atmosphere it creates is cool and calming.

Coffee tables

- having them lit by LED lights can add a modern look to your living room.
Credit: Moree
The glow will make a small space look bigger and more welcoming.
16. Artwork Illumination
This is one of the best LED light decor ideas. If you have some artwork in your home, use LED lights to highlight it. These lights do not emit excessive heat and won't harm the paintings. You can even control the colors, brightness, and effects with remote control.
Credit: Canvas
If you don't have paintings on your walls, don't worry. You can light up your photo frames and turn them into unique artwork.
17. Corners Illumination
Chances are there are places in your home where you never thought you could use some lighting. The corners of your bedroom or living room can be turned into a reading nook with just a little bit of LED. You can place a lamp or light strips in awkward, unused corners turning them into cute rooms with LED lights.
Credit: TheCoolector
Find an adjustable lamp like this one that can be tweaked to add just the right amount of light in the right direction.
18. Basement LED Lighting
You can turn your basement from a dark and unwelcoming place into an inviting den. You can use any of the above LED light room ideas depending on your basement size.
Credit: NextLuxury
Take a look at this basement. Ceiling LED lights and strips provide just the right amount of light to make the room a perfect place to invite some friends over.
19. Garage LED light strips
Your garage is the place where you definitely need proper lighting. If you place flexible and waterproof LED strips on the walls or ceiling beams, you can turn it into a space you'll truly enjoy. Strips have a variety of features and light effects for the room. Add them to your tool chest or your shelves, and you'll be able to find anything you need.
Credit: Instructables
20. Home Bar LED Lights
Have you got a place in your home where you display your drinks or wine collection? You can easily turn it into a glamorous speakeasy. All you've got to do is install LED light strips onto the shelves. Their light is not harsh and you shouldn't worry about the content in the bottles. What you get is a highlighted collection with a wow factor.
Credit: DiodeLED
21. Home Office Lighting
While working from home isn't always fun, you can turn home offices into aesthetic rooms with LED lights. You can enhance your task lighting with strips above your desk and under cabinets. Additionally, you can add LED strips behind your shelves.
Credit: En.Paulmann
Workspace lighting is often an afterthought, but it can boost your motivation and work performance. LED strips are energy-efficient and don't take up any of your desk space.
22. Children's Bedroom Night Sky
Once you've applied some of our bedroom ideas with LED lights, it's time for a little fun project.
Light up the ceiling of your kid's bedroom with just the push of a button. Create a night sky with LED light stars for a calming mood. Your children will have a good night's sleep and you can easily check up on them during the night.
Credit: Pinterest
23. Pantry Lighting
Another great place to install LED lights in is your pantry. They can transform it into a stunning food cabinet. Add a LED light tape to light up the shelves and connect it to the door. They'll automatically turn on when the pantry door is open and go off when it's closed.
Credit: Dailymail
24. Outdoor Lighting
If you live in a house, you can apply some of the cool LED room ideas in your backyard as well. Try attaching LED strips around some trees or simply string them up. You can also hide them under steps or furniture. This will create a safer place that can be enjoyed any time of the day or night.
If you live in a flat, your balcony can be turned into a cozy retreat with the gentle glow from LED lights.
Credit: Contemporist
25. Smart LED Lighting System
Finally, if you've got the budget, you can connect LED bulbs to your Wi-Fi network. There are many smart lighting systems that include weather-resistant bulbs, remote controls, dimmer switches, motion sensors, and smartphone applications. Even though they are not cheap, they are easy to install and use, and can transform your home into a futuristic masterpiece.
There are many manufacturers on the market, so you should be able to find the right bulbs for you.
Credit: Gearbrain
LED Light Features to Consider
LED lights are energy-efficient, long-lasting, and good for the environment. However, when looking for room designs with LED lights you should also consider the following features:
Color
LEDs come in a range of colors as opposed to the warm, yellowish hue of incandescent bulbs. We use a Kelvin scale (from 1,000K to 10,000K) as a measurement system to help designate the light's appearance. The lower the number, the warmer the light. A higher number indicates a bluer or cooler light. Certain LED colors work better in different rooms of your home:
Soft and warm white

(2,700K to 3,500K) for your bedroom, bathroom, living room, traditional kitchen, and closet. These colors give an intimate and calming feeling to the interior.

Cool white

(4,000K to 5,000K) for modern kitchens, bathrooms, and garages. If your cabinets are white, you'll want to use this color since it gives the room a neat and clean glow.

Daylight

(5,500K to 6,500K) for home offices and gyms. It is also great for display cases because it helps to see color more easily. It promotes alertness and focus.

RGB color changing

for kitchens, behind screens, and bedrooms if you want to add a little pop of color.
Brightness Level
The brightness of LEDs is also determined differently than that of incandescent lights. It is denoted by its lumen rating, not wattage. The higher the lumens, the brighter the bulb. You can determine the brightness you need by several factors such as:
the size of the room

wall colors

light placement

your preferences
Remote Control
You can control LED strip lights with different remote controllers. You should purchase a receiver and connect it between the power supply/transformer and the light strip. When it's done, all you have to do is pair the receiver and the remote. This feature of LEDs has the benefits of convenience and extra functionalities. You can adjust the lights from the comfort of your bed for the full enjoyment of your trendy rooms with LED lights.
Wrap Up
If you're looking for the perfect way to spruce up your home, try some of our LED light room ideas. They range from the practical to the creative. Just pick the room and transform it into an aesthetically pleasing place.
LEDs are your best choice because they are efficient and last much longer. They're also great for home decoration due to their bigger color palette, brightness levels, and remote control options.
Deyan Georgiev
Deyan has been fascinated by technology his whole life. From the first Tetris game all the way to Falcon Heavy. Working for TechJury is like a dream come true, combining both his passions – writing and technology. In his free time (which is pretty scarce, thanks to his three kids), Deyan enjoys traveling and exploring new places. Always with a few chargers and a couple of gadgets in the backpack. He makes mean dizzying Island Paradise cocktails too.
Leave your comment
Your email address will not be published.