-> Published on: 05-05-2023




-> Benefited Readers - 32 and Counting
24 Online Reviews Statistics You Must Know this 2023
Reading time:
13 min read
Florence is a dedicated wordsmith on a mission to make technology-related topics easy-to-understand.... | See full bio
In this data-driven world, people are grasping every piece of information they can when making decisions. This includes checking online reviews before buying a product.
Statistics reveal 97% of online shoppers aged 18 to 34 rely on product reviews. Then, 93% claim online reviews helped them make purchase decisions.
Reading a trusted review feels like experiencing the product or service firsthand, ensuring you have a clear idea of what to expect. This is why a person who reads online reviews feels assured they're making the right call.
We've compiled the most compelling facts about online reviews' influence with these informative statistics on online reviews.
Editor's Choice
9 of 10 consumers worldwide rely on reviews when discovering a new business.
58% of customers would be willing to spend more or travel further to visit places with good reviews.
59% of consumers expect responses within a half hour when they want to learn more about a product or service.
Reviews made an 18% uplift in sales on average.
A purchase is likely when ratings are in the 4.0-4.7 range.
Almost 30% of online reviews are unauthentic, and consumers cannot tell.
89% of 18-34-year-olds have spotted a fake review, a higher percentage than any other demographic.
71% of survey respondents said negative reviews are as critical as positive in purchasing decisions.
An average review in 2020 has an average of 200 characters.
89% of consumers browse through a company's responses to reviews.
Online Reviews Statistics Overview
Consumers depend on the online reputation of a business before choosing to support them. The importance of online reviews is to give consumers a way to share their shopping experiences with others.
It also provides social proof to other potential consumers. The more proof people are using and enjoying a particular product or service, the others are likely to follow.
These online review statistics will give you a general idea of their impact:
Positive and Negative Online Review Statistics
When it comes to online shopping, most customers rely on brand reviews before buying a product. Online reviews are a business's focal point as they provide an influential factor to potential customers.
Ultimately, a good or five-star product review can reduce cart abandonment, which happens 75.52% of the time globally.
Online reviews vary from consumers, trends, and shopping platforms, so here are some noteworthy stats about positive and negative reviews.
1. 9 of 10 consumers worldwide rely on reviews when discovering a new business.
(Oberlo)
Consumers can easily access products and information online with just one click. Doing so proves essential in buying a product without wasting money.
As a result, reviews have become a fundamental part of a customer's buying process. 90% of shoppers claim reviews play a significant role in learning about a business.
2. Google is the primary home for online reviews as it has 6 times as many reviews as the 3 closest competitors combined.
(Exploding Topics)
The top four review sites that host 88% of all online reviews are:
Google
Yelp
Facebook
Tripadvisor
If you're starting a new business, posting on as many websites as possible might be tempting to get more reviews.
Although that's helpful, here's a more beneficial tip for you:
✅Pro Tip
Focus your budget and attention on building your online presence on the top four review sites mentioned. They will help customers find your business and increase your rankings on search engine results pages (SERPS).
3. 58% of customers would be willing to spend more or travel further to visit places with good reviews.
(Trustmary)
Good reviews reflect outstanding service. These reviews draw more customers, most of which do not mind paying more or traveling further for a guaranteed excellent service and experience.
Based on this information, you can give a competitive price while providing a great customer experience. Doing so assures more customers and profit.
4. 8 out of 10 consumers use their phones and gadgets to search product reviews in your store.
(Search Engine Journal)
In the age of technological advancements, the online and offline worlds are quickly becoming one, even affecting how people search for product reviews. In 2023, 80% of customers search for reviews even when they are already inside a physical store.
Consumers want to see what other people say about the specific product. They will also check to compare prices and see if another shop offers the product at a lower price.
5. 94% of individuals claim reviews have caused them to avoid a business.
(Luisa Zhou)
Modern consumers are courageous enough to share their opinions about a specific product or service. 49% of shoppers shared their experiences regarding a brand on social media. Then, their colleagues use that online when they avail of the product or service.
That practice led to businesses creating an online presence. There are 60 billion business pages on Facebook alone.
These businesses provide a good customer experience. Otherwise, bad reviews can deter customers.
6. If a business had a 1 or 2-star rating, only 13% of individuals would consider choosing them.
(Qualtrics)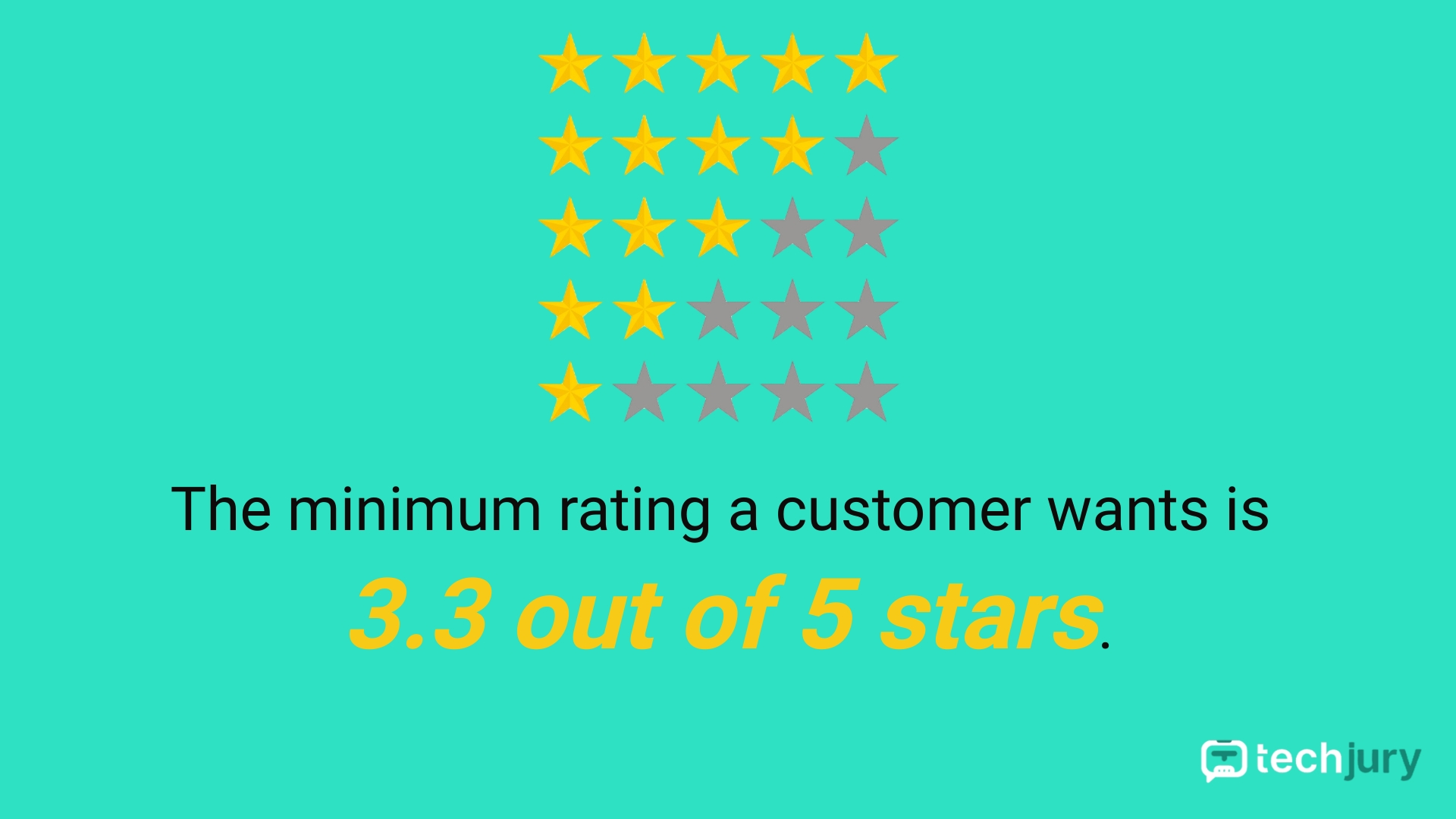 Customers look for good ratings when they browse through reviews. When they see low ratings, they think twice about choosing a business and their products.
If your business gets a rate below 3.3 stars out of 5, customers are more likely to overlook your products and services.
7. 59% of consumers expect responses within 30 minutes when they want to learn more about a product or service.
(HubSpot)
Customers tend to be impatient. Over half of the buyers want a response to their questions within 30 minutes, which rises to 72% when they need customer support. It climbs to 75% when they want to talk to a sales representative.
Statistics on the Influence of Online Reviews
People rely heavily on the experiences of other consumers to tell them about a specific product or service. Customers reading reviews are curious to see if a business is worth considering.
That's why companies must provide remarkable customer experience to ensure they're getting good feedback online.
Below are the most compelling statistics on the influence of online reviews:
8. 60% of people read online reviews at least once a week. At the same time, 93% believe these help them make decisions.
(Frontiers)
People also believe reviews assist them in reducing the risk of loss and making the right decisions regarding their shopping options.
Customers even came up with a strategy when it comes to reading online reviews:
With that, 82% of customers browse product reviews before finalizing their purchases. Buyers tend to be meticulous when they read through product reviews. Here's another step in figuring out online reviews:
More reason for reviews to greatly impact a company's sales.
9. Reviews make an 18% uplift in sales on average.
(Dixa)
Most consumers would prefer a website with a solid number of reviews. These give potential buyers insight into the product quality, reducing doubts and leading to higher conversion rates.
10. Displaying favorable reviews for higher-priced commodities can increase conversion rates by 380%.
(The Chat Shop)
People are instantly attracted to low prices. If your product is priced slightly higher than other commodities, it would be difficult to increase sales. That's why it would help to have good reviews, as that would mean a consumer's investment would be worth it.
11. On Yelp, a 5% to 9% boost in sales can occur because of a one-star increase in ratings.
(Mention)
Even a half-star increase in ratings for a restaurant assured a 30% to 49% likeliness to fill up during their peak hours. When customers like what they read online, they will flock to the place.
The problem, however, for most restaurants on Yelp is that the majority of them get the most trivial reviews. Some customers also understand this phenomenon in Yelp. That's why only 45.18% of customers first turn to Yelp. The rest checks Google reviews first.
Some businesses try to redeem themselves from these negative Yelp reviews by steering into the skid and poking fun at them:
Photo from Reddit
12. 63% of consumers are likelier to buy from a company with good reviews because they have established trust.
(Big Commerce)
Good reviews assure consumers of the product or service. Buyers are likelier to choose a business that has established good customer service and customer trust. Ultimately, good reviews can build brand loyalty.
🎉Fun fact:
Consumers want to see at least 40 comments on a brand posting or an average star rating before trusting a brand.
13. A purchase is likely when ratings are in the 4.0-4.7 range.
(Spiegel Research Center)
Reading a 5-star review may be too good to be true in consumers' eyes. Research found that purchase likelihood peaks at the 4.0-4.7 range yet decreases as ratings get close to 5.0.
Customers believe it more when businesses have few bad reviews but still many good ones.
14. 86% of consumers hesitate to buy from companies with bad reviews.
(Reputation X)
According to a study, negative reviews often contain "disappointed" or "disappointment" in them, which were mentioned 20,000 times. Meanwhile, the word "bad" was mentioned 7,500 times.
When customers see those words in product reviews, they will have doubts regarding availing the company's products or services.
Fake Online Review Statistics
With many products and businesses available online, consumers have many options relying on online reviews to buy products. 9 out of 10 people read reviews before making a purchase.
However, customers must be vigilant because most reviews online are fake. Businesses create positive reviews to boost sales and engagement.
The statistics below will tell you everything you should know about these fake online reviews:
16. 7 in 10 consumers say authenticity is a growing concern.
(Exploding Topics)
In the US, researchers claim that up to 50% of online reviews for certain products like Amazon are highly unreliable.
Consumers want to find a brand they trust, so they rely heavily on reviews to help them make good buying choices. Having this many fake reviews ruin customers' expectations of your brand.
Creating fake reviews is equivalent to ripping-off customers and will affect the authenticity of the business's brand.
17. 82% of consumers read a fake review in 2021.
(Invesp)
Fake reviews can't help businesses in the long run. Brand reputations and products are usually at stake when customers no longer trust them.
More than 50% of consumers claim they wouldn't buy a product if they found a fake positive review. 33% of individuals also think that if a business has exclusively positive feedback, it must mean the reviews are fake.
18. Almost 30% of online reviews are fake, and consumers cannot tell.
(CBS Austin)
As a consumer, you should know how to tell if a review is fake. We understand that doing that is easier said than done, so here's a short guide:
A fake review usually is short and doesn't have a lot of concrete details about the product.


Feedback is also suspicious if you see it's too enthusiastic about a product, especially if they're ordinary stuff like umbrellas or extension cords.
For more tips on spotting fake reviews online, read this helpful Reddit thread:
19. 89% of 18 to 34-year-olds have spotted a fake review, a higher percentage than any other demographic.
(Brightlocal)
It's easier for younger people, especially those between 18 to 34 years old, to spot fake reviews as they've grown up online. They're also wiser in terms of navigating online content.
The younger generation's constant exposure also means they have digital street smarts, making them more aware of reading online reviews.
20. Studies show that 56% of fake reviews have similar wording or comments.
(The Bazaar Voice)
You can refer to this statistic as one guide to spotting fake reviews online. Find a similar product from a different shop and read its reviews. If you see reviews with the same wording, both are fake.
Other factors that make customers suspicious of reviews:
Typographical errors
Ratings without photos
A plurality of 5-star reviews
Mismatched review content to the specified product
Nowadays, customers scrutinize reviews more, making them wary of suspicious listings.
Online Reviews Trend Statistics
Online reviews create trends that vary from what's new to bestselling. Most consumers will also write reviews, regardless of the item and experience.
74% of buyers admit to writing online reviews after buying, 34% claim to have written a positive experience, and 7% admit to have written about a negative one.
More trends below will tell you how your online reviews impact your business in the long run:
21. 88% of small businesses actively keep track of their online reputation.
(Clutch)
Small businesses rely on their online presence to boost sales and engagement. In Instagram alone, brands can reach 675.3 million people using advertisement reels.
However, ads and marketing are half of what makes up a brand's online presence. Reviews and testimonials from buyers are also crucial. They are one of the first things that customers look for.
Potential buyers would also research a small business before reaching out or purchasing products to ensure they're not dealing with scams or fraud.
This is why small businesses are more likely to respond in messages and posting content online.
Note: Social media is no longer just a platform for connecting. These articles will show how it has also become a perfect industry to promote business:
22. 71% of survey respondents said negative reviews are as critical as positive in purchasing decisions.
(The Bazaar Voice)
Negative reviews often contain more detailed data about a product's pros and cons They are also helpful in letting other customers know what to expect.
54% of individuals also assume negative reviews are less likely to be fraudulent. Businesses can use this feedback to engage customers and identify potential product adjustments and improvements.
23. An online product review in 2020 has an average of 200 characters.
(Review Trackers)
Review lengths in 2010 averaged around 600 characters. However, reviews have been 65% more concise since then.
24. 89% of consumers browse through a company's responses to reviews.
(Brightlocal)
42% of consumers are still likely to support a business despite its lackluster efforts in reviews and customer support. However, companies should still try to help their consumers through engaging content and service.
Final Thoughts
9 out of 10 shoppers consult online reviews before purchasing. This means that even if your product leads the market, it would be best to have good reviews online.
Incentivizing customers who leave reviews through loyalty rewards is one way to get good feedback. Most of all, businesses must provide excellent service to each individual.
To ensure that your reviews look authentic, respond to most, if not all, of them. It will tell readers that the reviews are genuine and that you take the feedback seriously.
FAQs.
---
How do I get more reviews?
The most effective way to get good reviews is to highlight good customer service and shopping experience and provide customers with a customized shopping experience.
Should I delete bad reviews?
No. If your listing has only positive reviews, it will look like you're manipulating them. Instead, you should respond to them and offer compensation or accept the criticism with the promise of improvement.
What do I do when I spot a fake review on my listing?
When you find a fake review on your company profile, report it immediately. Most platforms have the option to write reviews that are inappropriate or fraudulent, and you can get them removed by the search engine too.
You can also respond publicly and write a generic, polite answer. Avoid accusing them; instead, ask questions about how you can improve their experience.
Leave your comment
Your email address will not be published.
You may also be interested in.