50+ Stunning X Statistics You Need to Know in 2023
Reading time:
23 min read

Ivailo Ivanov
Content Writer | Joined October 2021

If I was asked to describe myself using just a few words, I'd go with digital marketing expert, ex... | See full bio
Twitter is now X. The rebranding happened on July 23, 2023, which Elon Musk claimed was a significant step to making X a super-app.
According to a post, Musk said the app is now "acquired by X Corp both to ensure freedom of speech and as an accelerant for X, the everything app."
Bringing the revolutionary concept of microblogging, X proved that you don't need to write thousands of words for them to resonate with people around the world. You can do it with just 280 characters. However, the app will change these default settings sooner or later as it undergoes more refining.
Here are some of the latest trends about X's usage, growth, market reach, and demographics.
Editor's Choice
X has 436 million monthly active users, up from 366 million in December 2022.
X earns $1.41 billion in yearly ad revenue.
56.4% of ad audiences are male, and 43.6% are female.
38.5% of X's audience belongs to the 25 to 34 age group.
The X user spends 5.1 hours a month on the app.
X ads reach 10.7% of all internet users.
762 million tweets are sent daily, or roughly 8,817 every second.
A day's worth of tweets would fill a 10 million-page book.
It took 3 years, 2 months, and 1 day to go from the first tweet to the billionth.
79% of X accounts are held outside of the US.
The top countries by X users are the US, Japan, and the UK.
80% of active users access X via mobile.
X Stats and Facts
A dull message from Twitter co-founder Jack Dorsey marked the birth of the microblogging platform back in 2006. It now has more than 400 million active users monthly.
Let's now explore the numbers in more detail.
1. As of 2023, X has over 436 million daily active users.
(Sprout Social)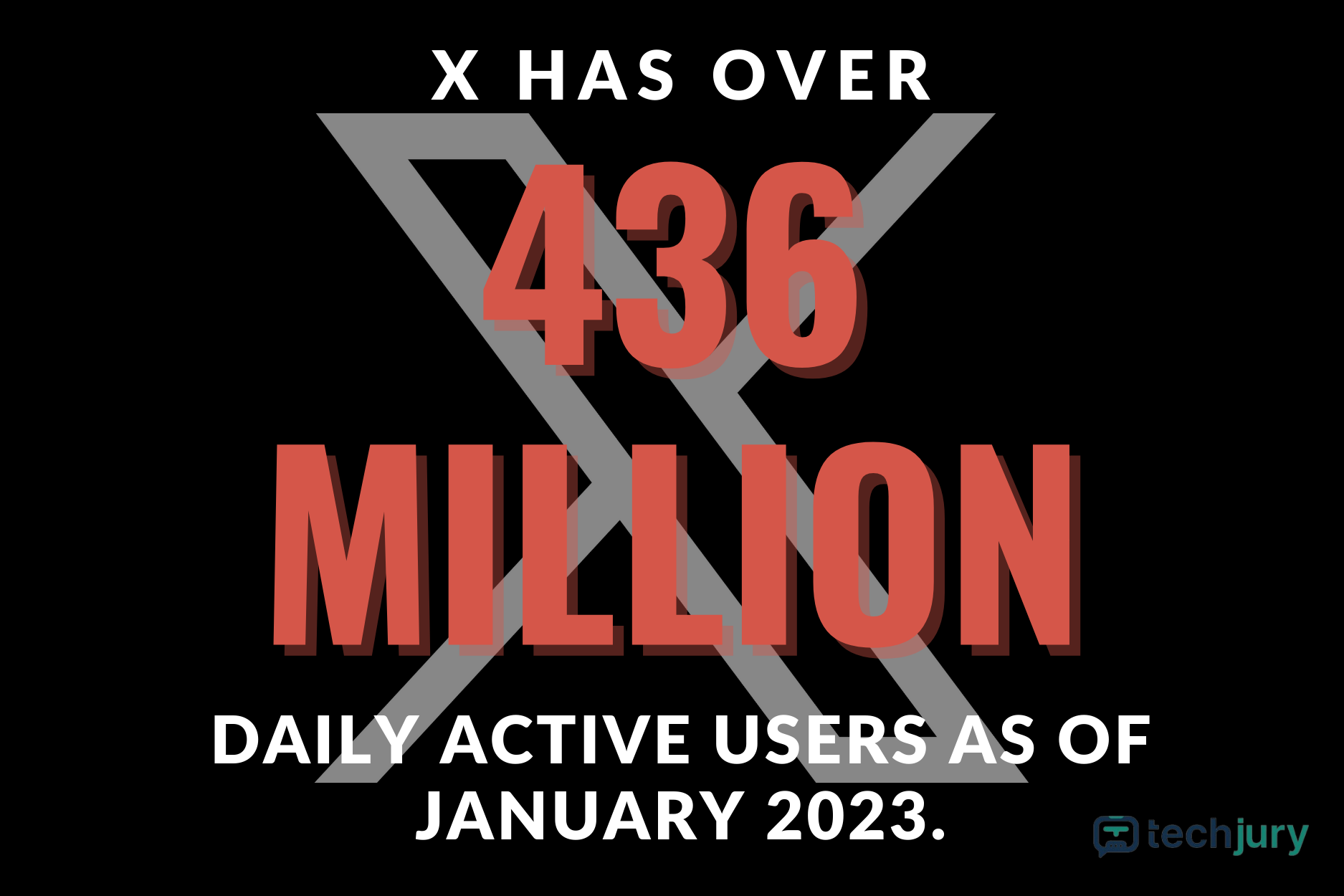 In January 2023, X's monthly active users increased to 436 million from 366 million in December 2022. Although X still lags behind other social networks such as Facebook, YouTube, WhatsApp, Instagram, and TikTok, this growth reflects a significant and rapid rise in user engagement.
As of 2023, there are 4.9 billion users of social media applications globally, and the average user spends at least 2 hours and 31 minutes on social media platforms.
2. Jack Dorsey sent the first-ever tweet on March 21, 2006.
(Wired)
Jack Dorsey, one of the co-founders and the CEO of Twitter, sent out the first-ever tweet more than a dozen years ago. This tweet was disappointing, simply "inviting coworkers" — nowhere near as theatrical or profound as one might expect it to be.
3. The hashtag (#), first proposed by Chris Messina, debuted in August 2007.
(Twitter)
Chris Messina, one of X's early users, suggested to X's audience that they use the hashtag for groups, as they did on other platforms at the time, such as IRC.
The use of hashtags was one of the significant milestones in X's history, as it became a leading feature we associate with this platform.
Aside from X, hashtags are also heavily used on Instagram. These hashtags differ in types: entertainment, branded, niche, location-based, and trending.
4. X has increased its year-over-year DAU by 11%.
(CNBC)
The number of daily active users has been on a steady rise for X, same as with the monthly numbers. Since its founding, the company has managed to either beat or maintain an 11% increase in DAU, year-over-year.
Given the increasing use of the app for entertainment, breaking news, trends, and other content, X's average active users reach 556 million monthly.
5. 762 million tweets are sent per day, or roughly 8,817 every second.
(Internet Live Stats)
As of January 2020, the number is about 762 million. According to X, the categories of posts are general, longer, status, mentions, replies, retweets, and promoted tweets.
For marketing, tweets vary from Q&A, user-generated content, brand announcements, GIFs and memes, blog content, visual content, product teasers, and products and services.
6. 1 in 13 tweets contains a curse word.
(MailOnline)
X users are fairly fond of cursing, as a month-long analysis of tweets showed. During this time, 1 in 13 tweets contained a curse word, and additional X statistics show this swearing reaching its peak between midnight and 1:30 a.m. Users also seem to have favorite curse words; the top seven used words accounted for 90% of all curses.
7. The number of Tweets sent daily is 500+ million.
(Internet Live Stats)
More than 500 million tweets are sent daily which equates to roughly 6000 Tweets each second.
🎉Fun Fact: The founders of Twitter, Jack Dorsey, Noah Glass, Biz Stone, and Evan Williams, established the social media app in 2006. As a microblogging site, Twitter only allows users to post 280 characters. X's fame continuously shapes pop culture, allowing people to discuss trends and discover breakthroughs.
8. A day's worth of Tweets would fill a 10 million-page book.
(Twitter)
If you're having trouble comprehending what 200 million tweets sent daily in 2011 looked like, you can imagine it as a 10 million-page book. That immense book, equivalent to 8,163 copies of Leo Tolstoy's War and Peace, would constantly grow to keep up with X's traffic.
9. X's technology can handle 18 quintillion users.
(Venture Beats)
Users have been consistently creating new X accounts. In order to prepare the platform for even more users and data, the X analytics team has made sure to overestimate the company's future needs and have the infrastructure available to handle 18 quintillion users; more than it will ever need.
10. It took 3 years, 2 months, and 1 day to go from the first tweet to the billionth.
(Twitter)
It took X users over three years to send out the first billion tweets. In 2011, they were much quicker to send out a billion tweets in just one week.
11. X discontinued live streaming in 2021.
(CMSWire)
According to X user statistics, its live-streaming platform Periscope attracted over 10 million visitors upon its launch. However, it ultimately couldn't bring in as much business as the company had hoped. Therefore, X decided to terminate it in 2021.
12. X users considered the app a prominent news source about the US Airways Flight 1549 incident in 2009.
(The Telegraph)
Minutes after the plane had to make an emergency landing on the unusual runway that is the Hudson, videos, and tweets flooded X about the effort Captain Sully managed to pull off, saving all of the flight's passengers.
Even though this was not the first time X was at the forefront of the news, this event was the one that established X as a valid platform for breaking news to the world.
13. During the 2014 FIFA World Cup Final, 618,725 tweets were sent in a single minute.
(Campaign)
X recorded nearly 620K tweets in a minute during the 2014 Soccer World Cup Final, and not a single event has matched it since.
14. The CIA reads up to 5 million tweets a day.
(TNW)
Due to the ever-present threat of terrorism, the CIA monitors all social media, including X. Their intelligence teams have been reporting an average of 5 million read tweets per day ever since they started the surveillance project.
X usage statistics played a significant role in discovering domestic and foreign threats for the CIA. Authorities made numerous arrests due to this type of research, and the issue of government agencies observing more aspects of our lives appears justified to most of the US population.
As of January 2023, 5.16 billion people use the internet. Out of the impressive numbers, 4.62 billion were using social media. Also, screen use continuously increases yearly, making users more vulnerable to cyberattacks.
X Marketing Statistics
Many brands and marketers consider X an effective marketing tool because it allows them to build brand awareness and boost conversions by attracting prospects, engaging with current customers, and funneling new visitors to their sites.
Know more about X usage as a marketing tool through these statistics.
15. Half of X's top 1,000 advertisers stopped spending on the platform.
(CNN)
Since Elon Musk's takeover in October 2022, many companies, including Coca-Cola, Jeep, Merck, and Unilever, have withdrawn their advertisements from the social media platform.
Money spent by Advertisers for ads
| | | |
| --- | --- | --- |
| Month | Number of Still Advertising | Number of No Longer Advertising |
| Sep 2022 | 924 | 76 |
| Oct 2022 | 907 | 93 |
| Nov 2022 | 746 | 254 |
| Dec 2022 | 453 | 547 |
| Jan 2023 | 375 | 625 |
16. X hit by 40% revenue drop amid ad squeeze.
(The Guardian)
Over 500 advertising clients have paused spending since Elon Musk's takeover in October.
X remains in the grip of an advertising squeeze, with the social media platform hit by a 40% drop in revenue after more than 500 clients paused their spending.
Despite the significant revenue decrease in X ads, 40% of online shoppers depend on social media platforms to acquire information about products, services, and brands.
17. X plans to reach $7.5 billion in annual revenue by 2023.
(Reuters, The Economic Times)
The platform predicts more sign-ups in the future, both in the US and internationally. In 2020, X ended the year with 192 million users and a revenue of $1.3 billion in Q4 of 2020, an increase of 28% from the previous year.
The company aims to boost its annual revenue through digital advertising by introducing new features such as building a subscription product and various paid consumer-facing features.
18. 88% of total advertising revenue was from mobile.
(Blue Sky Commerce)
The mobile advertising market continues to soar at an exponential rate. By 2030, research projects that market value will increase from $175.62 billion in 2023 to $750.21 billion.
Advertisers ensure that mobile ads, campaigns, and promotions are specifically designed for mobile devices.
What's going on with all the promoted tweets all of a sudden? Am I the only one?
by u/Bigstar976 in Twitter
19. In 2023, X expects to earn $3 billion, down from 5.1 billion in 2021.
(BBC)
Since the acquisition of Elon Musk of X, it has lost almost half of its advertising revenue, and the company has yet to see any increase in its sales. The decline in X revenues pushed Musk to lay off half of Twitter's 7,500 staff in 2022 to cut costs.
Despite the downward trend of X earnings, Musk is optimistic for 2023. Besides boosting advertising, the company focuses on video, creator, and commerce partnerships.
20. X generated a revenue of $1160 in 2022 Q4, a billion up from $1567 billion in Q4 2021.
(Business of Apps)
In 2022, X generated a total revenue of $4.4 billion, where 90% comes from advertising.
However, there was a more than 50 percent decline in advertising revenue in 2022 because advertisers were shocked by planned changes in the app, such as video and voice call options, messaging, mini-programs, and payment services.
Here's an overview of X annual revenue over the years:
X Annual Revenue 2018 to 2022 ($bn)
| | |
| --- | --- |
| Year | Revenue ($bn) |
| 2018 | 3 |
| 2019 | 3.4 |
| 2020 | 3.7 |
| 2021 | 5 |
| 2022 | 4.4 |
X User Stats
Twitter is undoubtedly the most successful microblogging platform in the world. From 312.7 million in 2019, the number of X users reached 368.4 million in 2022.
Here are the figures to prove how X has stayed relevant with its number of users.
21. 500 million people visit the site each month without logging in.
(Twitter)
The number of people who access X monthly without logging in is 500 million, which includes those who regularly visit X to catch up with what's happening but never log in. It also includes visits when people click on X links in Google search.
X statistics for business owners showed that this is the market they can expand to, causing the company to implement a new ad system that displays ads to everyone visiting the website.
22. 79% of X accounts are held outside of the US.
(Twitter)
According to X's official data, most X accounts are outside the US. With approximately 68 million active monthly users coming from the US, X is at the bottom of the list of popular social networks in the US. Facebook, for example, has over 200 million active users in the US.
X Demographics
Among the few social networks that still have a chronological timeline, X has retained its popularity among many users. The micro-blogging platform is particularly favored by individuals in their 20s, making it a preferred choice for the younger demographic.
Dive into these statistics to take a closer look at the app's demographics.
23. 40% of Americans aged 18–29 use X.
(Statista)
Individuals aged 25-34 showed a high level of engagement on X, constituting over 38% of its users worldwide as of April 2021.
Millennials, who fall in the 25-34 age bracket, comprise the largest group because most have access to mobile devices for entertainment, sharing life updates, and telling their stories.
Here's the global distribution of X audiences by age group:
32% of 13-17-year-olds
40% of 18-29-year-olds
27% of 30-49-year-olds
19% of 50-64-year-olds
8% of 65+ year-olds
24. 43.6% of females and 56.4% of males are X global audiences.
(Statista)
In January 2022, the social media site X had a higher proportion of male users than female users, with males comprising 56.4% of its global user base.
The dominance of male users in usage is because they are followed and retweeted by both men and women in more significant numbers. X users are also more likely to engage with men because they consider them more credible.
25. At 4.3 million, Colombia has the smallest number of X users, while the United States leads with a whopping 76.9 million users on the platform.
(Statista)
As of January 2022, X enjoyed immense popularity in the United States, boasting an audience reach of 76.9 million users. Following closely behind were Japan and India, ranking second and third with user bases exceeding 58 million and 23.6 million, respectively.
Countries with the most X users in 2022
| | |
| --- | --- |
| Country | Audience in Millions |
| United States | 76.9 |
| Japan | 58.95 |
| India | 23.6 |
| Brazil | 19.05 |
| Indonesia | 18.45 |
| United Kingdom | 18.4 |
| Turkey | 16.1 |
| Saudi Arabia | 14.1 |
| Mexico | 13.9 |
26. 80% of X users are affluent millennials.
(Hootsuite)
According to X, most of its users are millennials. Millennials range from those born in the early 1980s to those born in the 1990s and early 2000s, covering all the X demographics.
The affluent and influential X users come from countries with well-developed internet infrastructures, such as the US, Japan, Brazil, the United Kingdom, and India.
27. 30% of Americans who earn more than $75,000 are on X.
(Hootsuite)
Americans who earn $75,000 or more per year represent nearly a third of X's population. This is a precious bit of data for advertisers, as this is the demographic they most commonly target: working middle-class citizens who are predominantly Caucasian.
28. 33% of Americans with college degrees use X.
(Statista, Pew Research Center)
Based on educational background, most of X users have college degrees. 26% of the users said they have experienced college, and 14% said they are a high school graduate or less.
Since Twitter has become a public sphere for discourses, research revealed that X users are younger, more educated, and more likely to be Democrats than the general public. Users consider X a source of real-time information and reactions to specific trends and events.
80% of active users access X via mobile.
(Twitter)
Desktop usage has been on a steep decline, and not only for X users. 80% of all social network visits, including Facebook, Instagram, and Snapchat, have been from mobile phones.
Most Twitter users access the app using their mobile devices because it allows them to check for the latest updates about brand promotions, communicate with friends, follow trending topics, and connect with influencers, politicians, and media personalities.
30. The most popular emoji among X users is the Face with Tears of Joy.
(Brandwatch)
The most common emotion among X users appears to be crying from laughter. Overall, positive emojis outweigh the negative ones in a ratio of 8 to 2, making X one of the most positive places on earth.
31. Journalists make up 24.6% of verified X accounts.
(Adweek)
Nearly a quarter of all verified X accounts are owned by journalists. The other most popular occupations on X are actors (15%), business people (13%), and musicians (12%).
Since many X users open the app to look for the latest news and trends, verification of accounts make journalists more credible.
To encourage more journalists to publish their news articles on the app, Elon Musk shared his plans to change news sharing by removing the headline and only keeping the lead image and the web link to force journalists to write articles directly on X.
Journalist suspended from Twitter describes 'chilling effect'
32. 83% of world leaders have a X account.
(Cision)
Most world leaders are present on X, such as former President Obama, who has a following of over 100 million, making him the most followed former president.
Donald Trump has just over 50 million followers. At the same time, the next two spots on the list are taken by the Indian Prime Minister, Narendra Modi, and the UAE's Sheikh Mohammed Bin Rashid Al Maktoum, with nearly 20 million Twitter followers.
33. The first X user to hit one million followers was Ashton Kutcher.
(CNET)
In a race for the first-ever account with a million followers, Ashton Kutcher beat CNN, making his X account the first to reach this milestone.
The actor live-streamed the finishing hour from his home, while CNN broadcasted live, too, with Anderson Cooper behind the desk. CNN also reached the 1 million mark half an hour later.
34. Three of the five richest people worldwide have a verified X account.
(The Independent)
Bill Gates, Warren Buffett, and Larry Ellison have a combined wealth of more than $205 billion. Apart from their multi-billionaire status, these three all have verified X accounts.
35. The most liked Tweet in 2022 is from the family of Chadwick Boseman @chadwickboseman.
(Path of Ex)
The Tweet confirming Chadwick's death has garnered 7.1 million likes and 2 million retweets.
Next is Elon Musk's "Next I'm buying Coca-Cola to put the cocaine back in," with 4.8 million likes and 704,000 retweets.
In the third position is Barack Obama's "No one is born hating another person because of the color of his skin or his background or his religion…" with 4.1 million likes and 1.4 million retweets.
X Follower Stats
Celebrities have their own armies of X followers. Sometimes, their numbers can surpass a small country's population.
Check out these follower statistics to know more.
36. The average number of followers on X is 707.
(Brandwatch)
Examining nearly 100 million X accounts, Brandwatch found that the average number of followers those accounts have is 707. This number represents an increase in average followers by 220% compared to 2012.
If we want to keep X analytics free of celebrity bias and ignore accounts with over 100,000 followers, the average user has 453 people following them.
37. Carter Wilkerson's tweet has the biggest amount of retweets with 3,637,285 number of retweets.
(Statista)
The X post of Carter Wilkerson reads, "HELP ME PLEASE. A MAN NEEDS HIS NUGGS".
With over 3.6 million retweets, Carter Wilkerson gained the title of the most retweeted a tweet of all time. Challenged by Wendy's, the famous fast food chain, Wilkerson failed to acquire the 18 million retweets for a year's worth of chicken nuggets.
The second and third spot holders, Barack Obama and Penn State IFC are nowhere near Wilkerson's numbers, with 1.7 and 1.1 million retweets, respectively.
38. The two most popular X accounts (@BarackObama and @katyperry) have over 220 million followers.
(Brandwatch)
X follower stats show that, with over 100 million followers each, Barack Obama and Katy Perry have the most popular celebrity accounts on the platform.
39. 391 million X accounts have no followers at all.
(Variety)
More than 390 million accounts on X appear to be dummy or locked accounts with no following and no activity on the network. This issue proved to be a big problem for the company.
With nearly 400 million accounts with no following, X seems to be storing unnecessary data on their servers, leading to increased upkeep costs.
40. X permanently suspended 453,754 accounts in Q1 of 2021.
(Twitter)
The social media website permanently suspended 453,754 accounts due to violations of its Child Sexual Exploitation rules. Its internal tools identified 89% of those profiles, even before anyone reported them.
In addition, X statistics show it suspended 44,974 accounts for promoting terrorism. Again, its tools helped identify 93% of such profiles.
41. 95% of requests to remove content came from five countries.
(Twitter, Reuters)
95% of Tweets that requested account removal for various illegalities came from five countries. The nations are Japan, Russia, Turkey, India, and South Korea, in descending order based on the number of appeals.
Among the primary reasons for content removal include malicious content, disinformation, and violent rhetoric. Some of the countries also have strict content moderation and regulation policies.
X Advertising Stats
X's main source of revenue is advertising. So far, its business is successful. X, as an advertising platform, is continuously gaining traction.
Learn more about it through the figures below.
42. 68.8% of US companies with over 100 employees use Twitter for marketing.
(SPOKES Marketing)
Advertising on social media is what every marketing consultant suggests their clients do. X and other social media platforms can reach millions of users at a reasonably low cost for advertisers.
Nearly 70% of businesses in America with over 100 employees use X to advertise their products or services.
43. 72% of US marketers are confident in creating videos that drive views and engagement on X.
(eMarketer)
Advertisers' confidence in this platform and their own abilities has never been higher. More and more advertisers are employing X for their marketing needs. Nearly 72% of them believe they can create persuading videos that engage with their target audience.
44. 67% of X users said Twitter Promoted Videos in the "First View" position were not intrusive.
(Magna)
Most X users didn't find video ads and promoted videos intrusive in their main feed. Once again, good news for X and advertisers.
45. In 2019, the most popular brand on X is PlayStation.
(Unmetric)
Playstation has garnered 16.9 followers in 2019. Compared to its follower count in 2014, it has increased by 376%, with an average of 6833 additional daily followers.
PlayStation rose to popularity because of the active promotion of its games through trailers, posters, and gameplay footage.
How To Use Twitter For Affiliate Marketing (2 Methods)
47. The average X user follows five businesses.
(Twitter)
With every user following five brands on average, X is the place to be when it comes to advertising. This is to consider that more than a third of people who follow brands buy something from them.
48. 85% of X users who follow SMBs said Promoted Accounts help them discover new businesses.
(CDN)
Users who follow small businesses on X mostly find the Promoted Accounts feature helpful in discovering new businesses relevant to their needs. This proves that advertisements in X are effective as users give positive feedback about it.
49. 80% of Twitter users have mentioned a brand in a Tweet.
(Twitter)
According to X marketing statistics, 80% of users have mentioned a brand in one of their posts. Whether they are talking about their shoes, new cars, good or bad restaurant experiences, and even cute cashiers, X users often mention brands.
50. Companies using X for customer services see a 19% increase in customer satisfaction.
(Twitter)
Jack Dorsey, one of the co-founders of Twitter, declared that an increase of 19% in customer satisfaction was noted by companies using the platform to conduct customer services. This data was declared in Dorsey's welcome tweet to Apple Support, back in 2016.
51. 54% of users report taking action after seeing a mentioned brand on X.
(Twitter)
Over half of X users say that they have either bought an item or a service mentioned on X. They also told their friends about it after seeing someone else tweeting about it or discovering an ad. This type of chain reaction is what advertisers who are serious about their business are after.
52. 77% of X users feel more positive about a brand when their Tweet is replied to.
(Twitter)
Customers who have a complaint or want to engage with a brand for any other reason on X seem to like being appreciated and responded to.
77% of those who tweet at brands reported having a more positive image of that brand after they received a response.
53. 78% of people complaining to brands on X expect an answer within an hour.
(Twitter)
X has a reputation as the social media platform where brand interaction with consumers is the quickest and most satisfactory to customers.
X effectively keeps customer engagement, pushing small and medium businesses to shift their customer support services to the app. The reason why nearly 80% of users expect a quick response from the company they've messaged.
54. The average response time to user queries is 1 hour and 24 minutes.
(Twitter)
Even though most users expect an answer to their questions and concerns within the hour, the average response rate exceeds that time frame by 24 minutes.
Of course, some companies ensure not to waste time responding to customers, but others are slacking and dragging the average response time rate up.
55. 54% of the top 100 global brands send less than one reply per day.
(Simply Measured)
These X statistics show that while users appreciate the brands that respond to their inquiries on Twitter more, 54% of the most popular brands reply to those inquiries rarely.
56. The Cost Per Engagement (CPE) in Q2 of 2021 was 42%.
(Statista)
2021's Q2 saw a 42% CPE growth. That was way higher than Q1's 19%. However, it dropped by 9% during the third quarter of the same year. During the first quarter of 2022, the number grew again – this time by 10%.
57. Tweets with images get 150% more retweets, 89% more likes, and 18% more clicks.
(LinkedIn)
Images attract more social media users than text. Visual assets such as images and videos significantly increase user engagement by 85%.
According to research by Buffer, its last 100 tweets that included images had triple the number of retweets, nearly double the number of likes, and close to a fifth more in clicks. This small-scale data research shows that images can significantly increase user engagement, especially with ads.
FAQs.
---
Who is the most followed account on X?
The CEO of X (formerly Twitter), Elon Musk, is the most followed person on the platform, with 156.3 million followers as of September 2023.
Which country has the most number of X users?
The US is the country with the most number of X users, with 76.9 million as of January 2022.
Is X an effective platform for advertising?
Yes. 43% of marketers use Twitter to advertise their products and services, and 28% plan to use X more.
How many users visit X daily?
Twitter has 237.8 million monetizable daily active users.
Leave your comment
Your email address will not be published.
You may also be interested in.