22 Exciting WeChat Statistics [2023 Edition]
Reading time:
16 min read

Ivailo Ivanov
Content Writer | Joined October 2021

If I was asked to describe myself using just a few words, I'd go with digital marketing expert, ex... | See full bio
Launched in 2011 by Tencent, WeChat is a social media app offering instant text and voice messages. With 90% of people spending their mobile time using apps, WeChat has since cemented itself as one of the top messaging platforms on the web.
Most Western social media apps, such as Facebook and Instagram, are banned in China. Due to the barrier of entry for Western apps, homegrown ones such as WeChat have since grown exponentially, introducing new features such as:
video games
mobile payments
photograph sharing
Check out these mind-blowing statistics to get to know this indispensable Chinese app.
How Many People Use WeChat?
As the dominant platform for almost everything in China, this social media giant is the fifth-biggest social media platform globally. 40% of users say social media apps are the most frequently used app on their phones. WeChat tops the list of apps with the highest usage stats.
Beyond social media to booking taxis, paying for train tickets, and restaurant bills, let's see what WeChat users do on the platform.
1. WeChat has over 1.3 billion active monthly users as of 2023.
(Statista)
The global messaging market is set to soar to $6.9 billion by 2023, and the Chinese population is one of its most influential demographics. WeChat has evolved from a messaging app to a service platform meeting daily needs.
The 2023 WeChat statistics show that the platform has 1.3 billion active monthly users and will reach over 1.67 billion by the end of 2023. Additionally, 120 million post updates on Moments, while 500 million users use Mini Programs daily.
Being the central messaging platform in China, it's unsurprising that WeChat has such a high penetration rate, as almost 90% of its population use it.
2. WeChat is valued at $50.2 billion as of March 2023.
(Statista, Bank My Cell)
WeChat market value is expected to increase to $62 billion by the end of 2023.
While the WeChat of its founding in 2011 was simple and direct, the most current version of the app boasts an independent network of features that keep its users in their app. Some unique features of the app are:
Sending virtual "Red Packets"
Booking online English Classes, doctor's appointments, and visa applications
Paying credit cards, utility bills, and top-up mobile phone balance
With these features alone, it's no wonder that no other social media network on the mainland could even come close to WeChat's popularity within the Chinese Market.
3. 45 billion messages are sent by WeChat users daily.
(Gitnux)
WeChat usage has grown by 25% a year for several years, an exciting growth despite having yet to have certain features staple to Western social media.
One such feature is the "read" notification that tells a sender if their message has been opened. WeChat explains that this is because they don't want social interactions between its users to be forced and keep its users independent.
4. WeChat users send 205 million videos daily.
(Review 42)
WeChat video usage stats show how much users enjoy sending video messages. They are known for using improved bandwidth, making communication more accessible for their users.
Video consumption is up more than ever. With better internet infrastructure and cheaper services, the latest data show that video is the primary information source for 66% of people.
5. People spend 77 minutes every day on WeChat.
(Startup Bonsai, Statista)
China is one of the most technology-driven countries in the world; thus, they spend most of their time online. They can use it to purchase, add new apps, and even create microblogs.
Although Facebook users spend an average of half an hour using the app, WeChat users use the app for longer.
As a "super app" with all the features of the leading app giants like WhatsApp, Skype, Facebook, and Amazon in one place, 25% of its users confirm that they use the app more than 4 hours a day, and 88% say that they use the app every day.
Even in the West, attempts to copy WeChat's success and lifestyle integration have been made in recent years. In June 2023, right after Twitter's rebranding as X, clips of Elon Musk saying that he wanted to "copy WeChat."
6. 60% of users open WeChat at least 10x a day.
(MarketingToChina)
WeChat scores quite highly in terms of user engagement. Over 60% of users open the app more than ten times daily, and the other 21% use it more than 50 times.
China has made significant investments in technological advancements. With that, their internet usage should be high to meet their needs, which would explain their frequent logins to these social networking platforms.
With 63% of people worldwide now using the internet, China had the most cell phone connections as of February 2022, with 1.63 billion.
WeChat Audience Stats
Collectively, social media sites have 4.89 billion social media users worldwide. However, these users are not homogenous. Some use their favorite social media for connecting with friends, talking to family, or simply getting updated on the latest trends.
While younger demographics ages 13-29 primarily dominate social media, WeChat is no exception to fluctuations. Its user base varies widely in age and background.
Let's see what WeChat audiences do on the platform.
7. WeChat user stats show 98.5% of users aged 50 and 80 are in China.
(Technode, China Daily)
Unlike other social networking apps, the app is popular among senior users in China, as stats show 98.5% of users aged 50-80.
WeChat usage trends show that it's become integral to the Chinese lifestyle to the extent that older people mostly use it.
8. Women dominate the WeChat e-commerce mini-program with 71% of the audience.
(The WeChat Agency)
WeChat has several mini-programs, and women are the predominant audience. Mini-programs represent a portal to e-commerce, applications, coupons, and many more.
These mini-programs are also a godsend for many luxury brands since they help promote their goods to the thriving Chinese market. These brands are especially popular with Chinese women with more dispensable income. Within 2018 and 2019, luxury brands in China that adopted Mini-Programs nearly doubled.
Not only is WeChat one of the leading platforms for private individuals, it's also one of the top business channels.
Moreover, more people from the US and Southeast Asia have also started using the app, likely due to China's growing regional influence and opportunities to tap into China's market.
9. In terms of monthly active users of social media, WeChat ranks fifth.
(Statista)
While mainly concentrated in China, WeChat is the fifth biggest social media platform globally, just behind Instagram.
Globally, there are currently 4.9 billion social media users. WeChat user stats show that the platform has attracted a sizable piece of that pie, with about 1.3 billion users.
Expectedly, Facebook takes the lead with over 2.9 billion users, followed by YouTube with over 2.5 billion.
Whatsapp ranks third as the most popular social networking platform, with over 2 billion active monthly users, followed by Instagram.
WeChat stays ahead of other popular apps like TikTok, Messenger, and Snapchat.
WeChat Download Statistics
While desktop access to WeChat is still common. China's mobile-dominant internet ecosystem has led the super-app to remain primarily a mobile application.
In 2020, users downloaded 218 billion apps worldwide. A no-brainer since mobile apps are often much more user-friendly than desktop versions. WeChat's simple user interface makes it easy to navigate, even for first-time users.
Let's check out how WeChat fares in downloads.
10. 34% of China's data traffic comes from WeChat.
(99 Firms, CISCO)
In 2021, 1.4 exabytes of data went through China's internet traffic daily. If you don't know what that means, that's equivalent to 15 million DVDs worth of traffic an hour.
WeChat keeps a large share of the world's data traffic. The Chinese super app uses more data than Facebook does in North America.
China's skyrocketing internet traffic is likely due to more people having internet access and a fast-growing market for mobile apps. The country also belongs to the top five countries with the most data centers.
11. The highest traffic for WeChat comes from China, followed by the US.
(World Population Review, Statista, GSMA)
WeChat user stats show that China generates 24.28% of The traffic – much more than the 15.8% generated from the US. In 2022 alone, China made up a fifth of the 5.3 billion users on the internet.
As the largest online community in the world, it also prioritizes portability, with 99.3% of its population using mobile services.
12. In the US, 23% of users are in the 18-24 bracket.
(World Population Review)
The main findings have shown that the 18-24 age group is the highest among those who have adopted WeChat in the US. In the UK, the highest use comes from the 25-34 age group. The numbers change with age and decrease progressively.
13. 53% of WeChat users are male.
(99 Firms)
The proportion of male and female users on WeChat is slightly different, at 53% and 47%, respectively.
Men are the predominant group that uses official accounts, more than the general WeChat population, where men account for 53% of users.
14. 17% of men use WeChat in the US.
(Statista, Wired, MPI)
19 million people in the US use the app. However, there is a big difference between the share of male and female users on WeChat. While 17% of US men use WeChat, only 6% of women do so.
This figure may be surprising due to China and the US's frosty relationship in the last decade. However, the app is a lifeline for the 5.4 million Chinese people in the US diaspora who use it to communicate.
For many, it is the only way to stay in touch with their friends, family, and contacts in mainland China.
WeChat Revenue Stats
Mobile apps have taken the world by storm. In fact, the global mobile app market's revenue is set to reach $935 billion in 2023 from advertisements to in-app purchases.
Unlike Facebook or Instagram, WeChat is almost entirely free of advertising, with users seeing a maximum of only two ads a day. Despite that, its numerous monetization strategies have increased the social media giant's ad revenue by 55%.
Let's see how business fared based on WeChat's revenue statistics.
15. WeChat has over 4.3 million Mini-Programs.
(Use Sign House & Ad China)
WeChat users use 9.8 sub-applications of less than 10MB. WeChat usage stats show that 47% of these users find food delivery and e-commerce more valuable than other apps.
Their usage increases by 53% during weekends since they have more free time to entertain themselves on their phone.
After three years of WeChat mini-program development, over 4.3 million mini-programs have been launched on the market, covering over 200 categories such as e-commerce, games, food & lifestyle, news, tools, entertainment & media, and travel & recreation.
16. Nearly 800 million people use WeChat Moments.
(China Internet Watch)
There are over 780 million users in the social networking section of WeChat Moments, with over 120 million published updates.
WeChat Moments receive about 10 billion hits every 24 hours. Each Moment user checks their app ten times a day, and that's the minimum. Data shows that 61% of them open Moment every time they use the app.
Users love Moments because it allows them to make and share content like images, text-based postings, quick videos, links, and websites.
17. 34% of WeChat Official Account Owners agree that the app helps cut costs by about 30% more.
(Ad China)
People and organizations who manage WeChat Official Accounts benefit from having them because it helps decrease operational costs. 32% of enterprises have sold goods through these accounts.
40% of businesses have used them to buy services from others.
18. China has over 87% of the global proximity mobile payments user base.
(Statista)
The top 10 payment applications in 2021 will collectively have 3.37 billion users. WeChat was the most used payment app, with over 1.2 billion WeChat Pay users.
China remains a global leader regarding contactless mobile payment adoption rates, enabled by Alibaba's Alipay and Tencent's WeChat Pay. Along with APAC countries, China and India show the highest consumer confidence in mobile payment adoption, with a 24% trust rate.
Convenience stores, supermarkets, and clothing stores now accept many mobile payment services. Consumers' daily routines now include QR code-backed payments.
19. 93% of consumers engage in offline purchases using WeChat Pay.
(99 Firms)
WeChat Pay has had a remarkable breakthrough in the urban market as a digital wallet service. 45% of users prefer to pay via WeChat Pay than in cash!
It is China's top preferred payment method, which works as a digital wallet for online and offline payments.
While WeChat as a messaging app is available for users across the globe, the consumer's ID must be issued by the People's Republic of China to use WeChat Pay.
20. China had the most significant WeChat app downloads in 2022.
(Bank My Cell)
The latest WeChat app download statistics show that China had the most extensive WeChat app downloads, accounting for 66.31 million in 2022.
Other countries, like the US, Indonesia, Vietnam, and Malaysia, contributed 7.3 million app downloads, with the former contributing the most.
WeChat was created primarily for its residents in China because WhatsApp is banned in the country. As a result, Chinese residents make up most of WeChat's users and have the most downloads.
WeChat for Business
WeChat is not just for general consumers but for businesses too. With the sheer number of users who log on to the app daily, it's no wonder celebs, brands, and companies use it to promote their latest services and products.
While global mobile payments remain dominated by Paypal, Google Pay, and Apple Pay, most people also use WeChat commercially.
Let's look at how well WeChat integrated itself into the financial arena.
21. 90% of users in China prefer WeChat for work, compared to email.
(Startup Bonsai)
Email users are expected to reach 4.2 billion in 2023, but it may not be as significant in China as other methods of communication. 90% of the 20,000 users surveyed said they prefer WeChat over other workplace communication tools.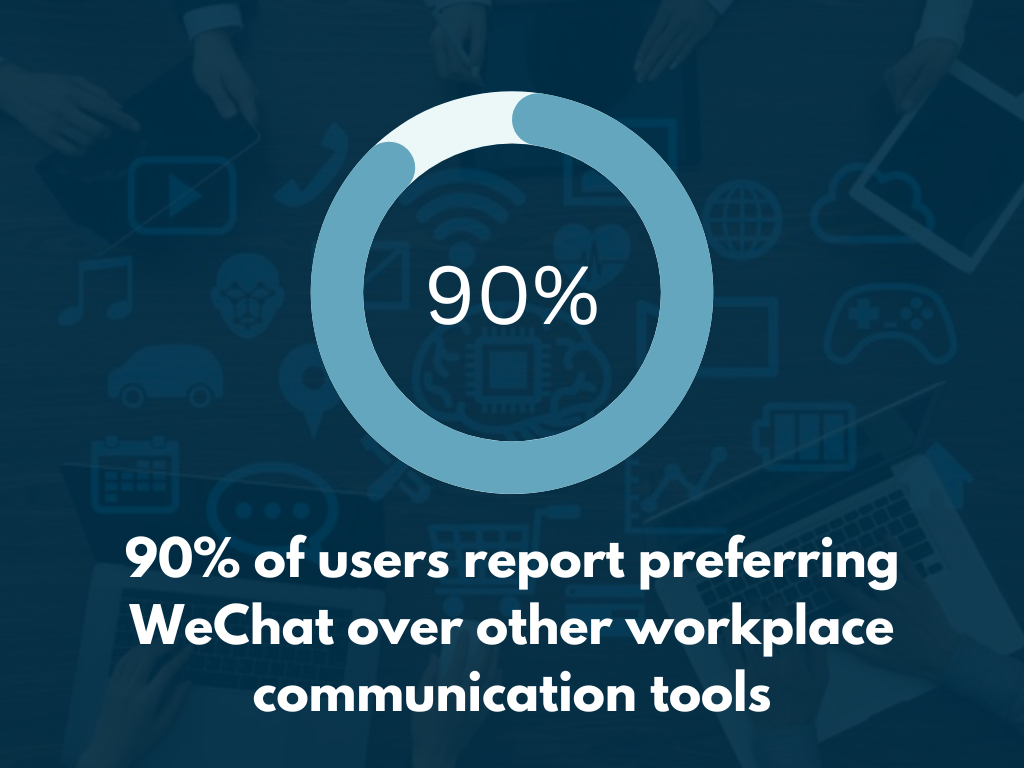 The platform helps them organize their work and read the professional information that counts in their business. It is also an efficient way for people to generate new business leads.
In China, WeChat is the most popular texting platform. It is preferred over email because it has double usage for personal and professional needs.
22. The two main reasons for using WeChat Official Accounts are news and promotions.
(99 Firms)
74.2% of WeChat Official Account users use it to get news and promote their businesses.
WeChat's integrated nature helps promote businesses and brands in China efficiently while keeping users within the app.
Companies and individuals can make WeChat Official Accounts to market to people. These accounts are similar to Pages on Facebook. People can follow them and receive push notifications to alert them of your activities.
Wrap-Up
Many social networking sites face a slowdown at some point, as is the natural way of things. While its primary demographic is still mainland Chinese users, it will likely expand to the rest of the world in the coming years.
WeChat is constantly updating to offer new ways for people to engage, and the service is starting to get into other markets. It's becoming a threat (the good kind) to other players in the social media networking market.
FAQs.
---
How many users does WeChat have in 2023?
WeChat statistics for 2023 show that the platform has 1.3 billion active monthly users and will reach over 1.67 billion by the end of 2023.
Which country uses WeChat most?
China uses WeChat the most. There are 827.2 million WeChat users in China, which accounts for 78% of China's population.
Which is more popular, WhatsApp or WeChat?
As of 2022, WhatsApp had a more extensive user base than WeChat, with 22 billion monthly users. WeChat has around 1.3 billion monthly active users. It is the dominant messaging app in China.
Which is the world's biggest chat app?
WhatsApp is the most popular messenger app globally. In January 2023, WhatsApp had over 2 billion monthly active users. WeChat is in distant second place, with just 1.3 billion monthly active users; Facebook Messenger rolls in to snag third place with 988 million.
Leave your comment
Your email address will not be published.
You may also be interested in.