What is a Media Kit? The Article Every Marketer Should Read
Businesses all want one thing – attention.
It sparks engagement, brings in the leads, and significantly boosts sales.
But newsflash – in this day and age, it's hard to get attention without a proper media kit.
What is a media kit, you ask?
I got you.
In this guide, I'll explain everything about it and show some examples to inspire you. I'll even help you make one yourself!
But first, the big question:
What is a Media Kit?
A media kit is a complete package of information about a business, influencer, organization, or product.
Mostly, it serves as an accessible resource for media entities to talk about your brand appropriately and accurately. But apart from that, it's also an effective tool to pitch your business to investors and prospective collaborators.
In the past, media kits were typically presented in a cardboard folder or some sort of printed collateral. But today, most packages now come as digital pieces, such as:
PDF files

MS Word documents

Zipped portfolios
Usually, audiences can download these materials from the company's website, email, or newsletter.
That's basically the media kit definition. But what exactly is it for?
Media Kit Purposes
Besides catching the eye of journalists and potential partners, media kits are great means to various ends.
To name a few:
It creates instant publicity during events and launches.
If you have a new business that just opened its doors, you want people to notice you.
Distributing your very own media kit is an easy and sure-fire way to create brand awareness. It's giving potential customers everything they need to know about your company.
It's free promotion, too. When you're holding a public gathering or launching a new product, a media package will get you that publicity.
It helps you maintain a good brand image.
Having an accurate source of information allows companies to control their reputation. Without it, it's likely that reporters and clients will just make their own assumptions about your brand. We don't want that, do we?
With a well-crafted media kit, you can present yourself as you want to be perceived.
It attracts new customers.
Yes, having a website with sufficient information is good. But to have an extra resource that presents everything in full detail?
That's better!
An advertising kit will help you convert site visitors to actual customers.
It conveniently explains your company's processes
Aside from giving your audiences a detailed description of your offerings, these kits can also serve as explainers.
Say, you're a company with appointment-setting schemes. Instead of making clients browse through your website pages, a separate file containing your step-by-step process would be more convenient.
Three Types of a Media Kit
So. You already know what a media or press package is.
But did you know it comes in different variations too?
Knowing the types of media kits will help you determine their proper uses and audiences.
Let's discuss them.
Business Media Kit
Simply put, it's the type of information package that businesses use to woo potential clients or partners. These kits can serve as pitches for the following partnerships:
product collaborations

guest posts

social media collaborations

case studies
Businesses can also send them to media outlets, personalities, or bloggers. The media kit contents will supply these people with enough information when doing brand coverage or writing a sponsored post.
Influencer Media Kit
With influencer marketing on the rise, internet personalities typically send out digital media kit proposals to companies they want to work with.
YouTube content creators and Instagram models, for example, can present their ideas to brands for paid sponsorships or promotions.
Micro-influencers with small followings usually bank on media kit-style pitches in reaching out to brands for possible collaborations.
Nonprofit Media Kit
Nonprofit organizations often send out press materials to:
generate awareness about their cause

get more people to join the organization

reach out to potential donors

inform the public about projects and activities
These kits can also entice major publications or media outlets to write or broadcast a story about the nonprofit.
What Does a Media Kit Include?
By this time, you're probably itching to find out what's in a media kit.
Let me preface it by saying that the contents vary from one brand to another. By all means – you're free to add whatever information you deem necessary!
But generally, these are the essential details that every kit must contain.
Company's Biography Or Background
There's a reason why introduction starts with I. Your audiences want to get to know you, so it's only right to give them a proper intro!
Begin with explaining who you are and what you do. For a brand media kit, this section usually includes the company's history, executive team, relevant information, brand story, mission, and so on.
On that note, your media package must have your brand identity written all over it. Make sure to add key details like your logo, themes, fonts, etc.
This is also a good place to add some quotes from the founders or executives. Easier for the press to highlight them in their story.
Contact Details
This one's a no-brainer. It's important to add information that will help the media and audiences get in touch with you easily.
That said, it would be smarter to include contact details that will remain consistent and up-to-date over time. This way, you won't need to change your media kit every now and then.
Demographics
If you're doing a sponsored post with a publication, indicating your demographics upfront is a great move. This will help them write the story in a way that would resonate with your target audience.
As for brand collaborations, it's smart to include bite-sized audience information in your media kit contents. With this, marketers can identify effective marketing campaigns with your brand.
Important And Recent Press Releases
Press releases are great primary sources of information. Be it product launches, awards and recognitions, or executive announcements, these make an excellent addition to your media kit.
Not everything is news-worthy, though. Just add in at least two or three press releases you'd consider as either major or recent company news. These will help journalists get a nice view of what's happening within the company.
Partnerships and Case Studies
If we're talking brand collaborations, what should a media kit include?
For one, successful partnerships will make your business more appealing to clients. It's a testament to your ability to collaborate well.
Case studies you've done for a customer or investor are also a great addition. Concrete results translate to credibility!
Website Traffic
Showing your website stats is a good performance indicator. You can include key figures like your site visitor size and characteristics. You can share stats on your media kit like:
page views

the average duration of site visitors

bounce rate
You can tap on the reporting ability of Google Analytics for sharing website traffic data.
Social Media Following
If you're an influencer, your social media reach is a detail you can't miss on your digital media kit. Make sure to include your follower count, or highlight your engagements on every platform where you have a solid presence.
Rates
Indicating your compensation rates upfront will save audiences the hassle of asking for a quote. With this information, clients can instantly identify whether or not their budget fits what you are offering.
Future Aims And Goals
One of the greatest media kit components you can add is your vision. You don't need to lay down every little step in your future plans. Mentioning key goals and target milestones will do!
By including these, audiences can also visualize their potential role in your objectives. It will also increase client and investor confidence in your brand, knowing you're heading in the right direction.
That pretty much sums up what is included in a media kit.
Again, you're free to add more. Just be sure they add value to what you're presenting.
Now.
Time to set a clear distinction:
What's the Difference Between a Media Kit and a Press Kit?
These terms are used interchangeably, and that's okay.
In the world of public relations, a media kit or a press kit serves to create a good brand image.
However, it's important to note that they each have certain characteristics and that brands use them for different purposes.
So, what's the exact media kit meaning?
It serves as a one-stop-shop of information for potential clients and collaborators. It includes key details about the company such as biography, website traffic, and case studies. With this information, marketers and investors can decide if a partnership is feasible.
As such, this kit is typically used for brand partnerships, sponsorships, influencer marketing, and more.
On the other hand, what's the press kit definition? It's an accessible source of information specifically for journalists, bloggers, publications, and other media entities. It should explain the core facts of your company, so the media can write an accurate story about your brand in general. It can also be for a specific product or event.
With that said, press kits are often used for new launches, important events, announcements, and so on.
How To Make a Media Kit?
If you reached this far, I'm sure you already what a media kit is.
Now it's time to make one!
It's fairly simple, so here's a quick step-by-step process – from designing to distributing.
Gather all the necessary information.
Go through all the components I've mentioned above and make a checklist. Identify the pieces of information you need to include – be it biography, demographics, or partnerships.
Then, compile them into a single document. By having a single source of info, adding them into your kit is easy. You can just paste them onto your pages!
Use the appropriate tool.
Creating a media kit is a lot like making a marketing brochure. So, you will need to use graphic design software to arrange your information.
Canva and Visme are some good examples. These programs have built-in templates, so you don't have to make a layout from scratch. Even if you don't know how to create a media kit, you can easily produce one that looks great.
Include visually-appealing illustrations
Media packages aren't pure text. Remember – you're using them to entice prospective clients and collaborators. Adding eye-catching visuals will do the trick!
Consider adding these important branding elements:
High-resolution logos

– Using a high-quality image of your brand not only looks great, but serves a good function. It ensures that the media has the best versions of your logo which they will use for their posts. It's best to upload logos in SVG file, so it preserves its original quality.

Charts and graphs

– These are a great way to creatively present important figures and stats. Instead of showing basic numbers or reports, just use

infographics

!

Photos

– Realistic imagery will add impact to your offerings, especially if it's a

product media kit

. It will also convey your brand story more beautifully. If you're building your media kit on Canva, you can take advantage of its stock photo library to add royalty-free pictures.

Icons and clip arts

– Text-heavy information kits are no good. To make your package more appealing, you can add vector icons and illustrations. Visme is a convenient tool that has an extensive selection of graphic visuals you can add to your material.

Share your media kit

-

Most programs, like the ones I mentioned, offer convenient ways to distribute your media kit. You can save it as an image, PDF file, then embed it directly into your website.
Or, you can go the old-fashioned route and send your press or advertising kit via email.
Good Media Kit Examples
To get you inspired, let's look at some marvelous displays of media packages by known brands.
Slack's Organized Media Kit
Slack has made it easy for practically anyone to stay consistent with their brand guidelines. When you visit its media landing page, you'll notice that its brand assets are neatly catalogued and organized – from logo variations to workplace pictures.
Uber's Integrated Press Kit
If you want to see a sample media kit that effectively integrates a press kit, take a look at this one. By nature, Uber gets a lot of press attention – both good and bad. So, designing their media page in a way that also highlights their latest updates is a power move!
Airbnb's Impactful Media Kit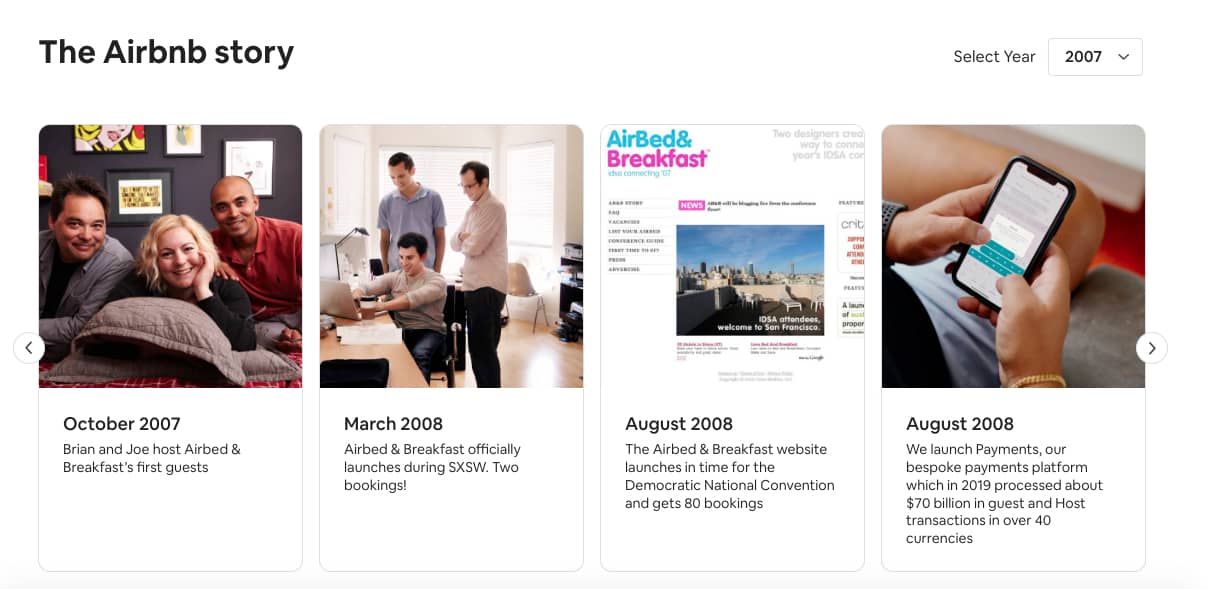 This is one of those media kit examples that effectively convey the company's brand story. Airbnb included a timeline of milestones on their page, which is a subtle yet effective way to show their success. They threw in some fast facts and figures too – great for establishing credibility!
Wrap Up
Again, what is a media package?
It's a well-designed information kit that contains all the bits and pieces about you or your business.
With this, a journalist can feature your brand without scheduling an interview. A brand can see you fit for a collaboration. A regular site visitor can instantly become a client.
The list goes on.
But one thing's for sure – it will give you the kind of attention that you need.
What is a media kit for influencers?
Influencers send media kits to companies they want to work with. YouTube content creators and Instagram models, for example, can pitch their ideas to brands for paid sponsorships or promotions.
What is a media kit for a brand?
A brand or business media kit is designed to entice potential clients or partners to establish:
product collaborations

guest posts

social media collaborations

case studies
Businesses can also send them to media outlets, personalities, and bloggers.
What is the point of a media kit?
Mostly, it serves as an accessible resource for media entities to talk about your company appropriately and accurately. It's also an effective tool to pitch your business to investors and prospective collaborators.
But apart from that, what is a media kit for? It's also used for product/event promotions, lead generation, or reputation management.
How do you make a media kit?
These are the steps to making your own media kit:
Gather the necessary information.

Use a tool like Canva or Visme that offer tailored media kit templates.

Include eye-catching visuals like logos, graphics, illustrations, infographics, etc.

Distribute it by embedding a downloadable file on your website or generating a shareable link.
Nero Peña
Nero is an all-around wordsmith with a degree in Communication Arts— not the vicious emperor you might know in history books. He's an avid reader. A frisky writer. A tech enthusiast and occasional binge-watcher. He likes long walks on the beach. Enjoys deep thinking and shallow conversations. Hates ketchup. Panic! At The Disco.
Leave your comment
Your email address will not be published.