Cartloop Review
Best for: Conversational SMS marketing
Strengths
Two-way text messaging
No SMS sending cap
Risk-free starter plan
Degressive commission rates
Weaknesses
Limited coverage area
Inconsistent live chat availability
Few integrations
What Is Cartloop?
Cartloop is a conversational text messaging platform for Shopify. It's not your average SMS tool. Cartloop edges out its competitors by focusing on two-way communication.
Cartloop's primary use is to collect leads compliantly and address customer churn. But it also bolsters your support efforts and fosters shopper loyalty.
Its current feature set isn't going to blow more established rivals out of the water. But the word on the grapevine is that it has exciting functionalities in the pipeline.
Founded in 2020, this San Francisco–headquartered company received much attention throughout its short history.
Averaging 4.9/5 stars on the Shopify App Store, Capterra, and G2, its positive Cartloop reviews are impressive. Despite its rather divisive pricing model, most of the 107 ratings had zero complaints.
Let's discover what's all the fuss and identify possible downsides.
Cartloop Features
Here's what you can do with Cartloop and what it does for you:
Live SMS Concierge
This software provider has an army of human sales representatives. Using a dynamic approach, Cartloop holds one-on-one conversations with your customers in an engaging manner. On average, they respond to messages within seven minutes.
And despite not officially representing your brand, Cartloop agents competently provide ease to your shoppers' concerns.
During the brand familiarization process, Cartloop agents become conversant with your business. They will mostly depend on your website's information. But may also contact you or your help desk to clarify certain matters.
Cartloop reps do more than just answering questions about your products and business. They can also assist with failed transactions, offer spot-on recommendations, and answer technical questions.
Cartloop's motivated Shopping Experts are available around the clock. But they observe quiet hours and suspend messages from 9 PM to 10 AM in recipients' time zones.
Cartloop also specializes in cart recovery and can increase your bottom line through upselling and cross-selling.
As a leading source of revenue, it's in their best interests to convert your leads into customers.
Brand Personality
Cartloop Experts are responsible for texting personalized messages with your subscribers, especially those who abandoned their carts. Customizing the communication tone helps ensure higher customer engagement.
You can select the voice that best suits your brand with six personality options.
Cartloop Revenue
It's the income Cartloop brings to your store. More specifically, it's the revenue attributed to sales made with the company's direct help.
These funds become Cartloop revenue when a sale happens after your customer:
uses a discount code created through this conversational

SMS

platform,

clicks a link generated through Cartloop,

does both of the above actions.
Cartloop revenue is this vendor's bread and butter. It's also called a success fee because this software provider doesn't count failed sales attempts.
Cartloop has a seven-day attribution window. For this reason, its Shopping Experts waste no time in closing qualified deals.
The company collects its success fee once a month. You can monitor it on your Cartloop account dashboard. This cut ranges from 3.5% to 10%, depending on your plan.
Dedicated Phone Numbers
Cartloop uses 10-digit dedicated local or toll-free phone numbers. It never uses shared numbers to ensure your customers never receive messages from the same number from other senders. This way, all of your brand's interactions with shoppers are in a single conversation.
At the time of writing this Cartloop review, the vendor's dedicated phone numbers cover the following countries:

Australia

Canada

Estonia

Israel

Lithuania

Poland

Singapore

Sweden

United Kingdom

United States



Be aware that not all is what it seems. Cartloop's site says that you can send text messages to shoppers in Czechia. But one of its customer support reps clarified that this information isn't accurate.
Furthermore, the company's coverage area accounts for just 5% of the world. Then again, LiveRecover, one of the main Cartloop competitors, only supports Canada and the US.
Compliance
Cartloop does everything to be on the good side of North America and the European Union regulators. That's why all of its lead-generation tools comply with the Telephone Consumer Protection Act and General Data Protection Regulation.
Moreover, you can use Cartloop to optimize your Shopify store, particularly your Checkout, Privacy Policy, and Terms of Service pages.
Cartloop provides easy-to-tailor templates that make content updating quick.
To initiate SMS conversations, it's key to receive explicit prior written consent from your site visitors. In doing so, you can legally collect their phone numbers and initiate your dialogue.
Migration
Cartloop may accept a subscriber list of yours from an external source.
Before importing your contacts, though, its Compliance Team must first audit and approve them.
Discount Codes
With Cartloop, you can generate unique discount codes to entice your shop's visitors.
If you believe in coupons as a revenue driver, leverage them to convert leads and turn them into loyal customers.
Cartloop's discount code generator is a premium feature, though. As such, you'll need a paid subscription to access it.
Lead Generation
Like Constant Contact, Cartloop is useful for lead generation. However, you'll need Constant Contact's top-tier plan to have text messaging capability and need to pay separately for SMS credits.
On the contrary, Cartloop has no subscription requirement and imposes no SMS caps. Its four compliant lead-generation tools are as follows:
Cartloop Popups
This feature lets you build popup forms that appear on your store and incentivize visitors to share their details. Often, discount codes made on Cartloop act as rewards to entice future customers.
Primarily, Cartloop popups collect phone numbers only. But with the Klaviyo integration, you can invite your visitors to join your mailing list too.
Short Links
These links help grow your SMS subscriber list on social media. It's up to you to determine how to compel your fans or followers to click on them. You may offer coupons or freebies, like promotional materials, or set your imagination free and create a new catchy promotion.
If one clicks on your short link, it will open the person's message app with a predefined text. And if the person sends the message, it triggers a reply, and you'll gain a new subscriber. You get to draft both the predefined text and the response.
QR Codes
Using the Cartloop app, you can generate QR codes that work like short links when scanned. You can capitalize on QR code flexibility to turn your offline prospects into leads.
Keywords
It's a code word that you publicly share on your preferred channels along with your dedicated phone number. Be sure to assign a coupon to reflect the promotion you promised at checkout.
And when a person texts the keyword to your number, Cartloop will offer the corresponding coupon code accordingly.
Audience Segmentation
You can segment your Cartloop subscriber's list to launch targeted campaigns.
Using the various filters at your disposal, you can use Cartloop to broadcast specific promotions to targeted audiences.
Two-Way Campaigns
Unlike ActiveCampaign, Cartloop supports two-way SMS campaigns.
ActiveCampaign is great at automating promotional and transactional text message sending. But it can't match the ability of Cartloop to hold one-on-one conversations.
Cartloop reps can go back and forth with your interested subscribers. Conversational text messaging can be more persuasive than bots or canned responses. As such, you can expect to increase the success rate of your SMS marketing campaigns.
Sendlane is one of the few ecommerce marketing solutions that also enable two-way communication. But this vendor can be an expensive alternative to Cartloop for launching SMS campaigns. Plus, text messages on Sendlane are viewable and trackable for 30 days only.
Custom Branded Links
You can create custom short URLs that include your brand name with a premium subscription.
This way, Cartloop incorporates your cart recovery links and other relevant URLs mid-conversation in a more professional manner.
Conversational Insights
As a premium subscriber, you'll be able to receive feedback Cartloop Experts glean from their chats with your customers.
Cartloop displays all insights on your dashboard, so they're readily available when you log into your account. For more in-depth Cartloop analytics, you'll have to sign up with its top-tier plan.
Likewise, the relationship marketing platform Sendinblue can provide insights related to the performance of your SMS marketing campaigns. But its detailed reports are more formal and suitable for email collaboration.
Cartloop isn't ideal for distributing two-way surveys, though. If that's what you're aiming for, you'll be better off with Qualtrics.
Cartloop Integrations
To add more spice to this platform's functionality, you can link it to any of the following:

Carthook

Gorgias

Klaviyo

Recharge

Shopify

Shopify Plus

Zendesk

Zipify



By industry standards, this list of Carloop integrations is short.
In comparison, Mailchimp is compatible with a staggering 304 third-party tools. They make up for this marketing automation platform's lack of native SMS support.
Cartloop Rewards
By signing up with Cartloop, you gain access to Cartloop's rewards marketplace. It features a curated list of exclusive deals worth over $20,000 from the company's network of tech partners. The roster includes Clearco, Prisync, Shogun, Malomo, ShipBob, and LimeSpot.
By redeeming your free Cartloop Rewards credits, you can install the apps needed to operate your digital storefront.
Agency Partners
Cartloop isn't trying to be an omnichannel solution like Flowz is. But it's not as one-dimensional as its resume suggests.
This software provider teamed up with 20 agencies you can use to enhance key areas of your business. For instance, you can hire SEO and social media advertising specialists or even venture into dropshipping.
How Does Cartloop Work?
The functionality of the Cartloop SMS marketing platform is as easy to understand as its utility. You don't need to be an experienced online retailer to master it effectively.
In terms of setup, Cartloop has a no-nonsense process.
Just search for it on the Shopify App Store and add it to your online shop. And if everything's in order, Cartloop could be up and running in minutes.
Its system accepts masked email addresses from solutions like Blur. So if you're big on privacy, you can register and create an account without disclosing your actual email.
Right off the bat, the app asks you to pick a brand personality and generate a discount code.
Then, you proceed to store content optimization for compliance.
After picking your preferred plan, you can explore the Cartloop dashboard. It has a familiar interface, so you should navigate with ease.
The left panel displays the following tabs: Conversations, Integrations, Subscribers, and Insights.
In the upper right-hand corner of the screen, you'll find all the necessary admin options. You can make changes to your account and manage your billing to name a few. In the Company settings, you can create custom short links and adjust discount properties.
Overall, this app is intuitive and forgiving. If you make mistakes or can't figure something out, you can quickly consult Cartloop's support options.
Cartloop Customer Support
If you have any questions about the Cartloop SMS marketing platform, you can contact this vendor's help desk through email. You can send a message directly or submit a support ticket.
To get immediate replies, use the company's live chat support. Though, its representatives go offline.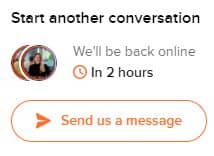 But when active, they tend to respond in a matter of minutes. The chat agents I spoke with were all courteous and professional.
My only grievance against Cartloop's live chat support is that it's hard to predict when its agents are available.
A reliable help desk is consistently active during certain periods of the day. Unfortunately, this company's chat reps aren't.
You may text Cartloop's US mobile phone number if you live stateside.
And if you prefer to speak with someone over the phone, you may book a 15-minute call with chat representatives. This vendor will grant your request even if based outside its coverage area.
To see the Cartloop app in action, you fill out the demo request form to schedule a product walkthrough.
If nobody's available to address concerns, you may conduct a bit of research instead. This software developer has a decent knowledge base with 12 article collections. Some, though, have barely any entries.
Although Cartloop's Help Center doesn't answer everything, its handy search feature can find relevant reads immediately.
With the Pro plan, you enjoy private Slack assistance from your dedicated Success Manager. It's the channel Cartloop uses to share insights more thoroughly.
On social media, this vendor's accounts include Facebook, Twitter, and LinkedIn. It's relatively quiet on these social networking platforms, though.
Cartloop tends to tweet and post on LinkedIn instead of posting on Facebook.
Cartloop Pricing
As a service, Cartloop is freemium. In other words, it has a free version with limited functionality. And you can unlock more features as you upgrade to higher plans.
It doesn't bill by usage, as it charges based on the success rate of its sales reps. Subscription fees are just a secondary source of income.
Essential, the starter plan is 100% risk-free, purely performance-based, and perfect for abandoned cart recovery.
Growth, the basic premium package, can develop your business and drive down support costs thanks to its extra features.
Signing up for Pro, the top-tier premium plan is worth the expense to maximize customer potential.
Currently, Cartloop pricing plans are month to month. Due to the lack of semi-annual and annual options, upgrading is the only way to drive down your subscription fee.
Have a look at what each plan offers:
$0/month
No monthly subscription 10% success fee Live SMS Concierge Dedicated phone numbers Two-way campaigns Compliant popups and short
$49/month
14-day free trial $49/month 7% success fee All features in Essential Discount codes Custom branded links Conversational insights
Frequently expressed reservations in Cartloop reviews tend to revolve around its pricing model. Not everybody is happy to pay a fee per order. But even those who dislike this policy find it understandable.
Apart from the above standard packages, Cartloop also offers an Enterprise plan, which you get to create from the ground up. Since it's customizable through and through, it's quote-based.
To settle your Cartloop bill, you make payments using a credit card or Paypal through your Shopify account. Unless legally forced, the vendor doesn't issue refunds.
Verdict
Cartloop is a worthwhile Shopify app.
Its conversational SMS capability trumps one-way personalized text messages any day. With no SMS sending limit, you never have to worry about buying text credits.
This software provider's no-refund policy may scare some would-be subscribers. But that's why it has a free version. And besides, a premium plan shrinks Cartloop's slice as you try to increase the size of your pie.
Most of its perceived drawbacks are due to being a relatively new app. Its global footprint and integration count should increase as it continues to mature.
The biggest takeaway from this Cartloop review is that its usefulness is a no-brainer. Still, the unpredictable availability of its live chat support is inexcusable.
Romj Amon
Romj is a veteran copywriter who used to be a Jack of all trades. Now, he's trying to be a master of one: technology. He jumps down the rabbit hole to size the latest innovations up. As a content contributor for TechJury, he hopes to help you keep up in our fast-paced world with his discoveries.
Leave your comment
Your email address will not be published.