Best for: Businesses looking for an affordable SEO marketing solution
Strengths
Easy to use
Clean user dashboard
Brand monitoring
Affordable pricing
Weaknesses
Clunky on small screen devices
No mobile app
Average customer support
Did you know that Google changes its algorithm around 600 times a year? Yes! You read that right. And you must always be on your toes to master the latest SEO trends.
The good news is Marketing Miner is here to help. You can use this platform to find and analyze data at scale. Moreover, it helps you discover new opportunities to accelerate your online efforts.
While it's built for professionals, beginners will also find it easy to use due to its simple and intuitive dashboard. Apart from that, the affordable pricing plans offer flexibility and great value for money.
But is it worth all the praises seen in Marketing Miner reviews?
Let's find out.
What Is Marketing Miner?
Marketing Miner is a robust SEO solution for marketers and website owners. Based in Ceske Budejovice, Czech Republic, it started as a data mining tool for agencies. In 2015, the company switched gears to include:
Keyword research
Competitor analysis
Rank tracking
Brand monitoring
Link building
The platform is mainly for conducting bulk research for SEO. Its export and import tools are ideal for scaling up fast. Developers can use the API function to automate workflow and tasks as well.
The Marketing Miner traffic analytics tool is also integratable with third-party solutions. That includes the likes of Google Analytics, Ahrefs, and Majestic. Google's Data Studio is also available for colorful data visualization.
There are four pre-configured plans to choose from, including a free tier. You can also create a custom option to benefit from flexible pricing. Away from that, over 40,000 customers globally enjoy using this service, including the likes of IKEA, Decathlon, and Danone.
So, what's in store?
Features
Here are the top Marketing Miner features that make it stand out:
Keyword Research
Understanding your customers' needs is a vital part of SEO. To do that, you can use the Marketing Miner keyword research tool and quickly find trending search terms. That way, you'll know what to target and how to optimize your strategy.
Once you key in a phrase, you get the following info:
Volume – the number of queries for a keyword in Google over a given period.
Cost per click (CPC) – the amount marketers are willing to pay to use a search term in online ads.
Difficulty – determines how easy or hard it is to rank for a keyphrase.
Trends – a phrase's popularity in the last 12 months.
You can also use Marketing Miner to get keyword suggestions and outsmart competitors. It shows related and emerging terms closely linked to your main query. Additionally, there's a separate section for discovering questions people are asking on the web.
However, I think that the tool's difficulty function could use some improvement. There were instances when it didn't show the score for a large part of keywords.
SEO Audit
Analyzing what's affecting your ranking is challenging and time-consuming. So, the Marketing Miner SEO audit feature is here to make your work easier. It can reveal the various technical aspects of your site as follows:
Indexing checker – tracks your URLs to highlight pages that don't bring you traffic.
Search visibility – helps you identify the keywords accounting for most visitors to your site.
Page speed – shows you issues that cause your web pages to load slowly.
Broken links – helps you find and fix inaccessible inbound/bound links.
Plagiarism checker – provides info about websites that copy your work.
It also lets you find pages that your users share the most on social media. Besides that, its content analysis tool provides actionable insights for improving your content.
Competitor Analysis
If you want to outpace your peers, use the Marketing Miner competitor analysis feature. It's effective in spying on your industry to find golden nuggets that drive traffic and discover low-hanging fruits to supercharge your business.
Here's how:
You can use it to compare your performance against the competition on search engine results pages (SERPs). You can see their traffic volume, top-ranking URLs, and keywords. The tool also provides data on rivals' CPC strategies for you to capitalize on.
What's admirable about it is the included Marketing Miner content analysis gap option. With a few clicks, it finds hidden search queries your competitors are using. From here, you can pick juicy ones to boost visits to your sites.
Rank Tracking
Marketing Miner rank tracking is another tool you can use to keep tabs on the competition. You can monitor their SERPs, keywords, and market share so you don't lag behind. Furthermore, you'll appreciate using it to find content ideas.
This feature makes it easy to notice any performance changes in competitors' sites. Examples include variations in rankings, traffic volume, CPC marketing, etc. As a result, you can analyze their web pages and emulate their strategy.
But.
The limit for five websites is a bummer going by Marketing Miner user reviews. You'll have to create multiple projects to get around it or use Similarweb to monitor hundreds of sites simultaneously.
Brand Monitoring
You can use Marketing Miner brand monitoring to enhance your business's image. It's ideal for keeping track of mentions and important keywords. With this tool, you can find:
Hints relating to your competition
Positive and negative reviews of your products/services
Seasonal trends that you can profit from
At present, this feature can only watch your brand on the web. Unlike top dogs like Ahrefs, it can't pick up mentions from social media.
Link Building
Marketing Miner link building is ideal for enhancing your online presence by establishing and winning the trust of search engines. This will help your web pages rank higher, driving tons of free traffic to your site.
One way it does it is by providing suggestions about websites within your niche. The tool also comes in handy when looking for contacts to network with, so you can reach out and request backlinks to your content.
And another thing:
Brand monitoring is another sure way to build links.
It helps reach out to publishers who mention your sites, thus allowing you to establish partnerships without breaking a sweat.
Application Programming Interface (API)
The Marketing Miner API feature helps automate workflow without accessing your account. But the catch is you need to be a developer.
The feature offers over 10 endpoints extracting data in bulk. Examples include keyword suggestions, search volume, website stats, and more. Other advanced functions comprise CPC marketing trends and filter operations.
Marketing Miner provides a reports API for exporting your queries. It supports popular file types such as CSV, Excel, and Google Sheets. It also integrates with your Google Data Studio if you prefer visualizing info in style.
Others
The platform offers 40+ tools. While I can't touch on all of them in this Marketing Miner review, the ones below also deserve your attention:
Bulk data analysis: You can analyze up to 100,000 keywords/URLs at once.
Third-party integrations: You can import queries from your Ahrefs, Majestic, Google Analytics, and Search Console accounts. You can also integrate Marketing miner with Google Sheets, Google Data Studio, Keboola, and Excel.
Structured data checker: This feature snoops for schema markup ideas from your rivals.
Alerts: You'll get Marketing Miner reports and important updates straight to your email.
Projects: You can use this option to track domains and keywords regularly.
Now it's time to look closely at how Marketing Miner works from the inside.
Ease of Use and Interface
The Marketing Miner dashboard is where it all happens. The first thing you'll notice is the simple and clean user interface. You'll love how easy it is to find your way around on big-screen devices.
The homepage has a search bar for quick analysis of keywords, domains, and URLs. Below is a summary of your projects, reports, and a blog for updates. This vendor has also squeezed in a useful knowledge base.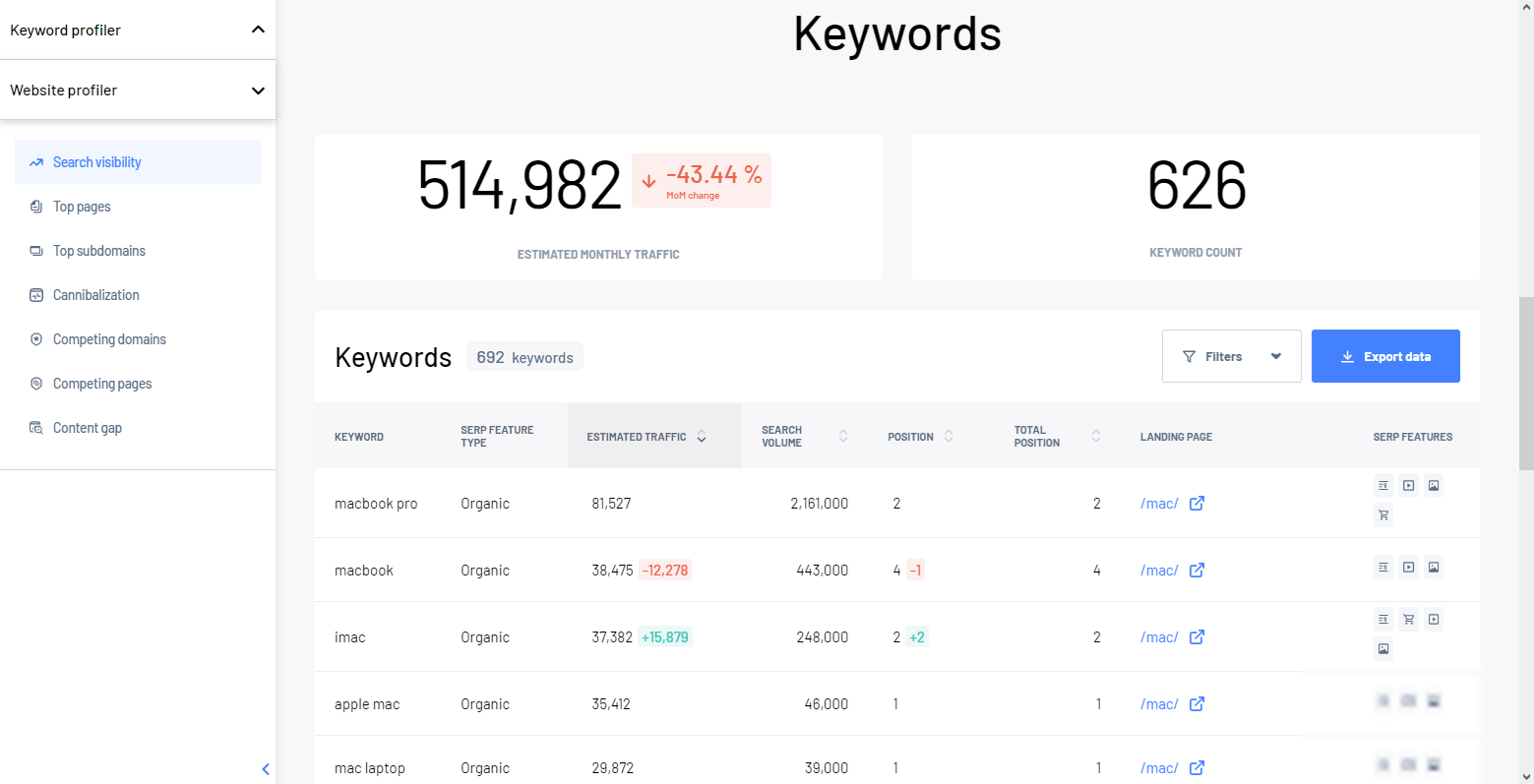 The Marketing Miner control panel has fewer features listed on the main menu bar. The other tools become visible when you expand the navigation drawer.
Sadly, the platform feels a little clucky on small screen devices. The information formatting feels off and requires lots of scrolling. Besides, the absence of a mobile app makes it challenging to use on the move.
Altogether, the Marketing Miner data mining solution shines when it comes to data visualization. It employs colorful and easily readable charts and graphs.
Analytics and Reporting
Marketing Miner offers excellent reporting quality. As I noted earlier, it uses graphs and charts to display information. That way, even newbies to the game will find it easy to understand and use.
While no SEO solution is 100% accurate, Marketing Miner does noticeably better than Similarweb. Moreover, you'll get almost similar results with Ahrefs and Semrush when analyzing datasets. These include metrics for search volume, difficulty, trends, CPC, etc.
Again, the ability to process over 100,000 keywords and domains for SEO is remarkable. Another thing I found unique is the tracking suggestions feature. It's available when creating reports, projects, and searching for queries.
At times, generating the data you need can take a bit longer than expected. And as mentioned, the difficulty metric of the Marketing Miner traffic analytics tool is problematic. These minor issues, however, hardly overshadow all the upsides.
Customer Support
The Marketing Miner customer service is average at best. You can reach support using live chat and email. From my experience, availability is during business hours in the Czech Republic's time zone.
Another thing is the agents are a bit slow to respond to queries when chatting.
On the upside, it takes an average of 4 – 8 hours to get a reply via email, which isn't bad at all. The company's reps are friendly, engaging, and always willing to help.
Pricing
Here are the Marketing Miner pricing plans:
You'll get 30% off if you purchase any plan using our discount code, TECHJURY. All you have to do is apply it to the pricing when making a purchase.
Verdict
The Marketing Miner SEO solution truly delivers on its promises. It's ideal for bulk analysis of keywords, URLs, and domains. By using it, you'll be able to keep your competitors in check.
Unlike similar platforms, this tool is easy to use, even to complete beginners. It employs simple data visualizations without including complex jargon.
But, as I've noted in this Marketing Miner review, some areas need improvement. The keyword difficulty metric is wanting, and usability on small screens is a problem. Waiting time when gathering bulk data also needs tweaking.
All things considered, it's a great choice if you have a tight marketing budget. It lives up to the promise of providing highly accurate results. And its free-forever plan is the icing on the cake.
Daniel Wabuge
Daniel is a curious thinker that loves everything about tech. If he spots something interesting, rest assured that he'll reverse-engineer it. Besides being an internet addict, he loves building web servers from scratch. Well, it's not his profession per se. But it's a passion he picked up after a series of unfortunate events involving terrible hosts.
Leave your comment
Your email address will not be published.