Best for: McAfee Total Protection Users
Strengths
Above-average speeds
Gets around ISP throttling
No leaks
Supports torrenting
Weaknesses
Poor privacy logging
Lacks features
No Mac version
McAfee Safe Connect for Windows and other devices is an easy-to-use VPN platform. It protects your identity online by encrypting data sent to and from your home or public network and hiding your actual IP address and location. This helps prevent web trackers, hackers, the government, and your own ISP from snooping on your internet activities. It also lets you access content from foreign countries that would usually be blocked.
There's a McAfee Safe Connect trial to give it a test, and it's compatible with Windows, Chrome OS, Android, and iOS. However, there is no McAfee Safe Connect Mac support.
What else does the company offer? And how to use McAfee Safe Connect? Let's find out!
McAfee Safe Connect VPN Features
Whether you're a McAfee Safe Connect desktop user or are on the go on your mobile device, here are the features you can expect:
Safe reconnect
When doing this McAfee Safe Connect VPN review, I discovered the heavily criticized lack of a kill switch. However, the function has now been quietly implemented in the settings tab. It's called Safe Reconnect and works the same way, keeping your location and data private until it automatically reconnects to a viable server.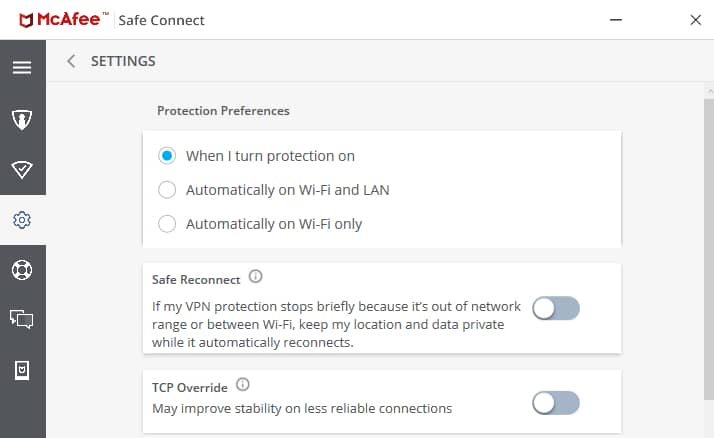 The only issue is that it's not turned on automatically. You could easily find yourself exposing your real IP and internet requests without knowing it if you're not an experienced user and unaware of the kill switch's importance. So, install the Safe Connect app and hit that slider right away!
For those unaware, a kill switch freezes or otherwise protects your session if you become disconnected from the VPN.
Auto-connect
You can set various rules for automatically turning on the VPN under 'Protection Preference.' This includes automatically connecting on WiFi and LAN or WiFi only. In other words, whenever your computer or mobile device connects in this way, the VPN will jumpstart its protection.
Note, however, that you need to manually set this on, as it's not functional by default.
Split tunneling
To my dismay, split tunneling is a feature only available on McAfee Safe Connect for Android. You can choose the specific programs, apps, sites, or type of traffic that is protected – a standard feature for most VPNs. In other words, some data goes through the encrypted tunnel while some don't.
This is useful when you're not concerned about your privacy or don't want to deal with the speed drops that all VPNs create.
Simultaneous connections on multiple devices
You can use McAfee Safe Connect on mobile and desktop simultaneously, with a total of five devices of any supported kind. Depending on your situation, that would suit a small family or one busy user with lots of home and work devices.
This functions on a first-come, first-served basis, so you'll need to disconnect one app to run it on another device if you've hit the limit.
McAfee Safe Connect VPN Advanced Features
Most Safe Connect Plus reviews agree that there isn't much in the way of advanced features. That's not a bad thing for inexperienced users but it would be nice to see split tunneling across devices, more control over the servers you connect to, and a choice of protocols. There are also no multi-hop or double VPN settings, so it's not ideal for traveling or getting around the great firewall of China.
McAfee Safe Connect for Google Chrome
The McAfee Safe Connect extension for Chrome uses is the only form of split tunneling you'll find on Windows. This allows you to turn on the VPN when only using the browser, leaving all other software vulnerable. Of course, you may not be using that software and just want a simple way to protect your privacy while browsing the internet. For that, this is a great feature.
TCP Override
TCP Override is an advanced feature only accessible on the Windows version. This switches from the usual UDP connection method used by OpenVPN to another supported method called TCP. While slower, it provides a more stable connection and should be your last resort if you keep experiencing connection drops.
Reasons why your connection can't handle UDP can vary. The McAfee Safe Connect app itself might be under heavy load. However, usually, it has something to do with your own connection and internet provider. It might be one of those days when it's just a bit spotty, or the ISP is running maintenance.
Furthermore, some ISPs have become smart to VPN use and can recognize UDP connections, deliberately slowing down speeds in an effort to curtail use. They can't necessarily prove you're using a VPN, but they can 'throttle' speeds based on the type of traffic you're using.
You may only need this option temporarily, so remember to turn it off and test things again at a later date.
Location chooser
You can choose the location of the VPN servers McAfee connects you to. This is useful if you want to bypass specific geo-blocks, i.e., Netflix unblocking or to get a better speed. As a rule, a location closer to home should be faster, but other factors such as the load from other users can impact speed as well. As a result, sometimes, it's worth playing around to find the fastest current location. While McAfee claims to do this for you automatically, it doesn't always go to plan.
McAfee Safe Connect VPN Servers and Locations
The Safe Connect VPN has a small number of locations compared to other providers. You get just 23 countries with no individual city or server selection, which is a disappointment.
However, McAfee Safe Connect servers have good distribution, covering New Zealand, Japan, the US, UK, India, Brazil, Hong Kong, Canada, Mexico, Australia, and Singapore. Across these countries are 2,000 servers in total, which is above average.
It also has acceptable speeds, which makes up for the below-average number of locations.
In short, for such a giant in the computer security industry, McAfee Safe Connect is subpar when it comes to locations but at least has a large number of servers that shouldn't get overloaded with users.
McAfee Safe Connect VPN Speed
Data has to travel through encrypted servers, resulting in speed drops whenever you use a VPN. To test how much of an impact McAfee had, I used SpeedTest.net to compare my unprotected internet connection speed with other servers provided by McAfee. My regular speed in the UK came out as follows:
When selecting the US as a location using McAfee Safe Connect desktop, speeds actually increased, suggesting some ISP throttling may be going on. However, the ping was more than double, which could be an issue for gaming lag if it gets much higher.
When using France as a location (close to the UK), speeds were even better without much ping difference at all. This reinforces the notion that McAfee can bypass ISP throttling. On the other hand, if you personally have particularly fast internet, the results might not be as impressive even if your ISP artificially slows down speeds.
As expected, going halfway across the world to New Zealand resulted in the biggest drop in the download speed of around 31% and almost seven times the ping latency. Meanwhile, upload speed stayed remarkably strong – even faster than without the MacAfee Safe Connect protection.
To conclude, McAfee produces speeds well within the average for VPNs, despite not having a lot of locations. Moreover, in apparent cases of ISP throttling, it provides impressive results. I can upload faster from a server in New Zealand than when not using a VPN at all.
McAfee Safe Connect VPN Privacy and Jurisdiction
McAfee Safe Connect security is what you would expect from a VPN, but its logging policy is one of the worst. The cornerstone of a VPN is its ability to keep you anonymous. Not only does it fail to mention a logging policy at all, but in the course of this McAfee VPN review, I discovered it wanted my home address and phone number, not just payment info and an email address like most providers.
Furthermore, it logs private information, including:
Session times
Your IP addresses and geo-location
Browser type
The sites you visited before and after turning on the Safe Connect app
And most flagrantly – the requests you make while using a McAfee Safe Connect server itself.
That doesn't necessarily mean it's handing any of this off to anyone else, but it certainly conflicts with the principles of a virtual private network. You'd struggle to find another provider that would collect such information.
More worrying is McAfee's headquarters in the United States. The country is a member of the Five Eyes alliance, which requires companies to hand over data to the government if requested. Most VPNs have strict no-log policies, so there's nothing to hand over. McAfee does not seem to be such a fan of internet privacy.
Of course, the old saying "if you've got nothing to hide, you've got nothing to worry about" might get bandied around. Other McAfee Safe Connect reviews suggest it could be appealing to its existing mass customer base, who are not well versed in the concept of VPNs.
On a positive note, it uses what it calls bank-grade 256-bit AES encryption. This is the standard encryption across the VPN industry and is also used by the military.
McAfee Safe Connect VPN Security and Protocols
McAfee Safe Connect for PC and mobile uses the Catapult Hydra protocol for encryption and managing your private connection. This has been criticized because it's not open source like OpenVPN and has had security vulnerabilities in the past.
Catapult Hydra is Hotspot Shield's proprietary protocol, developed by AnchorFree. Notably, this protocol isn't compatible with routers and consoles.
McAfee is not open about the protocol, which is a bit of a red flag. Another downside is that this is the only option available, and there is little in the way of tweaks or settings. You get what you get.
McAfee Safe Connect VPN Leak Test Results
According to McAfee, turning on protection means your ISP and others cannot see your IP address, DNS info, or the sites you visit. I can vouch for this by using IPLeak.net. It clearly showed all US information, despite my real location being within the UK. See the comparison below:
This proves Safe Connect VPN is working as a VPN should.
McAfee Safe Connect VPN and Streaming Services
McAfee Safe Connect Netflix results are not quite up to par. In the past other McAfee Safe Connect reviews shunned the service for completely failing to unlock international versions of the streaming service.
While things have improved since then, I still found Netflix inconsistent. Sometimes it would work just fine. Other times it would discover I was using a VPN and stop it in its tracks. The same occurs with Disney+ and Amazon Prime. That doesn't say much about the reliability of the servers and how the apps have been developed.
If you do get connected, speed is not an issue. But it's a bit of trial and error, which isn't fun if you want to relax after a long day and watch some international shows.
YouTube had no issues, but it's not a particularly popular service when it comes to geo-restrictions on content in the first place. Furthermore, every VPN can handle YouTube because there's very little in the way of protection on its end.
How Good Is McAfee Safe Connect VPN for Torrenting?
McAfee Safe Connect torrent use and other P2P sharing are possible. You should be able to fire up your favorite P2P app and receive reasonable speeds, including when uploading, as long as you're securely connected. With the addition of a kill switch, even if there's uncertainty over their overall privacy policies, which you can read about below.
Can McAfee Safe Connect VPN Bypass Geoblocks?
We should clarify that the VPN McAfee site promotes itself as having no geo-restrictions whatsoever. We've already seen that this isn't always the case for streaming services. However, it unblocks bog-standard websites like GDPR-blocked news sites just fine.
When conducting my McAfee Safe Connect review, I found anything purely web-based without an added component like streaming or gaming can be unblocked. Thus, it deserves some credit for doing what a VPN should.
Ease of Use
Regardless if you are using McAfee Safe Connect VPN for PC or mobile, it couldn't be easier to use. Moreover, you don't get confused moving between devices because the intuitive layout is similar across the board.
It's essentially just a window with your account, usage stats, and settings available via tabs down the left-hand side. Simply hit 'start protection' for it to find the fastest server (usually in your country) or use the dropdown window to select a location. On iOS and Android, it's simply a case of tapping and swiping instead.
You can also connect by right-clicking the icon in the Windows system tray if you're using the desktop software.
In addition, there are tabs for accessing help and sending feedback. The help section just embeds the FAQ page from the McAfee website. Feedback provides a vague form where you can suggest how the provider can improve the app.
Customer Support
Reaching the McAfee Safe Connect customer support team is easier from the website than from the app. There is an extensive FAQ page to answer common queries, while you can reach staff directly via email and live web chat. As part of the McAfee Safe Connect review, I reached out to the support team.
My test question was answered in 10 minutes when sent via live chat, which is perfectly acceptable.
McAfee Safe Connect VPN Price
McAfee Safe Connect Free is a 'forever free' version of the software that gives you access to all the features. It imposes a 250MB a month limit, making it practically unusable for a long-term solution. Instead, it's a good way to test the VPN before committing to a premium plan:
$7.99/month
$47.99/year ($3.99 monthly equivalent).
Limited First Year Deal: $19.99/year ($1.66 monthly equivalent)
Even if you jump from the McAfee Safe Connect free version to premium, you still get a 30-day money-back guarantee, so you can get your cash returned if it's not up to scratch.
If you're wondering, does McAfee Total Protection include VPN tools, you're in luck. The full VPN software comes as part of any of the suite's plans.
Verdict
So, is McAfee Safe Connect a good VPN?
To conclude this McAfee VPN review, there are definitely concerns over its overreaching traffic and personal data logging. Furthermore, it lacks a lot of features, as well as a Mac version. However, it's easy to use, speeds are good, and it supports torrenting.
Because there are so many great VPNs out there these days, I recommend McAfee Safe Connect for those already paying for or considering the Total Protection suite. If you just want a standalone VPN solution or one installed at the router level, there are better options to choose from.
Aditya Rayaprolu
Aditya is an Azure DevOps and Infrastructure Virtualization Architect with experience in automation, infrastructure management, and designing and implementing virtualization solutions. His expertise encompasses both on-premise and cloud-based systems. Aditya's articles on TechJury serve as a reliable resource for individuals and organizations looking to harness the power of cloud computing, embrace automation, and leverage infrastructure-as-code practices.
Leave your comment
Your email address will not be published.