PrivateVPN Review
Best for: Streaming and torrenting
Strengths
Allows for P2P file-sharing
Military-grade security
Great for getting around geo-restrictions
Weaknesses
Not the largest network
No 24/7 live chat
Performance may be negatively affected by your region
PrivateVPN is a standard OpenVPN-based cloud VPN, giving its users a fast and safe browsing experience. Its service is based on 256-AES encryption but allows for up to four different protocols.
You can connect up to six devices per account. On top of that, the PrivateVPN offers great geo-restriction unblocking for streaming apps such as Hulu, Netflix, Amazon Prime, and more.
With a seven-day free trial and a 30-day money-back guarantee, it's worth trying.
But before you do, we'll discuss all the various features of the VPN below.
PrivateVPN Features
In this part of our PrivateVPN review, we will address some of the best features. Let's take a look.
Unlimited Bandwidth
With PrivateVPN, you get to enjoy unlimited bandwidth that allows you to attain high speeds. Since there are PrivateVPN servers across 63 different countries, the speed reduction is minimal.
Your internet connection will be fast and safe, which is ideal for streaming, gaming, and downloading.
Multiple Devices
With PrivateVPN, you can simultaneously connect up to six devices to your account. It's also possible to switch servers as much as you like. You get these benefits no matter the length of your subscription.
Security
PrivateVPN uses various security protocols, including UDP/TCP, L2TP, IPsec, PPTP, IKEv2. Your data is always protected and anonymous.
High-quality Imagery
PrivateVPN offers reliable, stable streaming of 4K imagery for streaming and HD video conference calls. You don't have to sacrifice speed or quality for privacy!
Multi-Platform Killswitch
A killswitch is a must-have feature for any VPN. Whenever your VPN connection fails, it automatically disconnects you from the internet to ensure your actual IP address stays hidden. It won't reconnect you until your VPN is up and running again.
The PrivateVPN killswitch function was recently added across Windows, macOS, Linux, iOS, and Android.
PrivateVPN Advanced Features
These are some of the more advanced features that come with a PrivateVPN subscription.
Encryption Protocols
PrivateVPN allows you to use up to four different encryption methods: 128-AES GCM, 256-AES GCM, AES 128 CBC, and AES 256 CBC. This ensures that your data is secured and undecipherable by hackers.
You can choose which type of encryption you'd like to use, which is ideal for shaving extra MBs off your browsing speed. 128-AES encryption is generally a lot faster than 256-AES encryption but a little less secure.
Stealth Mode
Using a VPN in China can be tricky, to say the least, because of the VPN ban. Luckily, PrivateVPN found a way around it. Enabling the "stealth mode" allows you to get through the Great Firewall of China.
PrivateVPN Servers and Locations
PrivateVPN has over 200 servers across 63 countries. While there are other VPNs with more servers, they are spread out across the globe for good coverage. Especially with servers in the Americas, Europe, Africa, the Middle East, and the Asia Pacific, PrivateVPN gives you plenty of options.
PrivateVPN Speed
Many other PrivateVPN reviews praise the service for its speed. So we decided to try it ourselves.
Our base speed sat around 100Mbps, and we connected to servers in America, Europe, and Australia during the test. Here are the results:
The American server saw the biggest decrease in speed, with around 55%:
European servers performed much better, with a reduction of less than 10%:
Australia servers saw similar results, with a reduction of 10-15%: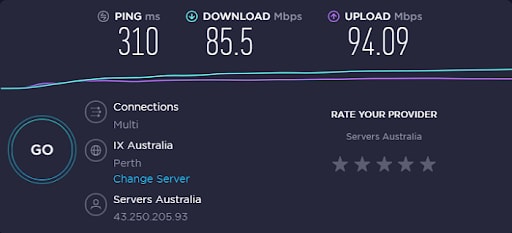 Considering that the VPN industry average for download and upload speed losses sits around 65%, PrivateVPN performance is outstanding. Speed losses vary depending on your physical location, but we were pleased with the results.
PrivateVPN Jurisdiction and Privacy
PrivateVPN is a Swedish company based in Sollentuna. All the data housed across their network is licensed under Swedish and European IT rules and laws. It's also important to note that Sweden is a member of the 14-eyes alliance.
However, PrivateVPN states in its privacy policy that it doesn't collect data from its users. It does not store information about your browsing history, IP addresses, or data content.
You can further your privacy by using Bitcoin to pay for your subscription.
PrivateVPN Leak Test Results
We were happy to find no IP address leaks when using PrivateVPN for Windows. The DNS leak test only showed the VPN's IP.
It is also advisable to utilize the IKEv2 protocol on your device to help add extra protection to your internet connection.
PrivateVPN and Streaming Services
PrivateVPN is one of the best VPNs you can use for unblocking streaming services. With it, you can access content on Netflix, Disney+, Hulu, Amazon Video, HBO, ABC, and even BBC iPlayer.
According to other PrivateVPN reviews, it's even possible to access content from within China. While the great firewall of China generally blocks OpenVPN and PPTP, you can use PrivateVPN's L2TP.
How Good Is PrivateVPN for Torrenting?
PrivateVPN has a high-speed and well-secured server network. On top of that, it allows P2P file-sharing at a high download rate. Download speeds should not be affected by any more than a 10-18% speed difference throughout the download.
Especially with its no-log policy, the company will keep your activity private.
Can PrivateVPN Bypass Geoblocks?
Yes, PrivateVPN can bypass geo-blocks on most apps for the majority of regions. The VPN tends to do better on streaming sites and platforms due to its high speed and wide range of servers. With PrivateVPN, Netflix and other streaming services are easy to watch.
The service utilizes obfuscated servers and 'stealth' mode to help you gain access to the web from behind even the strictest firewalls, such as China.
Ease of Use
PrivateVPN is a very simple-to-use software. All you have to do is flick the "on" switch and select the region. You can find all other settings, such as security protocols, encryption methods, and server settings, in the easy-to-navigate main menu.
It's possible to change regions while surfing through the menu above the 'on' button or add a VPN layer by entering the IKEv2 settings through the main menu.
While there is no PrivateVPN extension available, the software is easy to understand and use.
Customer Support
PrivateVPN offers a variety of support channels. The fastest way to get in touch with the support team is by using the live chat on the website. When we asked a few questions, a representative got back to us within a couple of minutes. They were friendly and knowledgeable.
However, the live chat isn't available 24/7. You can still submit a support ticket, and the team will get back to you as soon as possible.
Alternatively, you can check the FAQ, which covers a ton of general issues. There also are many resources for setting up the VPN on the "get started" page.
In their PrivateVPN reviews, customers seem to be happy with the support options. And we couldn't agree more.
PrivateVPN Price
PrivateVPN isn't expensive. Every plan includes the same features but only differs by the length of the contract. If you want to test it first, you can opt for the seven-day PrivateVPN free trial. The company also gives a generous 30-day money-back guarantee.
Prices for the paid plans are:
Monthly: $8.99

Three months: $6.00/month

Two years: $2.50/month
There are multiple payment options, including most debit/credit cards, Paypal, and Bitcoin.
PrivateVPN Review - Verdict
After reading many PrivateVPN reviews and testing the software ourselves, we have established that it is an excellent service.
The software is easy to use and quite accessible. It does a fantastic job at unblocking Netflix and keeps speeds fast when streaming.
It's also ideal for gaming as it reduces lag tremendously. PrivateVPN is available on basically every device and OS, making it very easy to set up.
While it doesn't have the largest network of servers, the speeds are fast, and the service gives good coverage across the globe.
We highly recommend you give it a go on their free trial and test it yourself!
Yes, PrivateVPN is an excellent service. It does a fantastic job at unblocking content while keeping stable speeds. While it doesn't have the largest network of servers, the VPN comes at an affordable price and is easy to set up.
Is PrivateVPN good for Netflix?
Yes, PrivateVPN is perfect for Netflix. It does a great job at getting around geo-blockers for Netflix and other streaming services. On top of that, it keeps steady speeds while watching your videos in 4K.
Is PrivateVPN good for gaming?
Yes, PrivateVPN is good for gaming. The VPN doesn't reduce browsing speeds much while using it. You won't experience much lag or crashes while gaming.
Does PrivateVPN have Killswitch?
Yes, PrivateVPN has a Killswitch. PrivateVPN reviews state that the company has recently migrated the killswitch feature to all platforms, making it available on Android, Mac, iOS, Windows, and Linux.
Deyan Georgiev
Deyan has been fascinated by technology his whole life. From the first Tetris game all the way to Falcon Heavy. Working for TechJury is like a dream come true, combining both his passions – writing and technology. In his free time (which is pretty scarce, thanks to his three kids), Deyan enjoys traveling and exploring new places. Always with a few chargers and a couple of gadgets in the backpack. He makes mean dizzying Island Paradise cocktails too.
Leave your comment
Your email address will not be published.