YT Saver Review - Is It Still Good in 2023?
Best for: People looking for easy-to-use YouTube converter software
Strengths
Supports over 10,000 platforms
Video converting to over 20 formats
Private mode
Turbo-fast download
Weaknesses
Crop available only for YouTube videos
Pricey
No mobile app
What Is YT Saver?
YT Saver claims to be the best video downloader out there. The company behind it offers several audio and video solutions as a free alternative to expensive software. The company was founded in 2019 and is currently located in Hong Kong, with Jack Ma as its co-founder and CEO.
Features
YT Saver is a simple, yet powerful program that helps you save videos online. It deploys as a desktop client but doesn't affect your computer's speed. Here are its main features:
Download Videos
This is one of the key features and the main reason you'll want to get this software to download a YouTube video in MP3 or any other format.
All you have to do is paste the URL in the designated fields, click the button, and wait for the software to finish processing the file. What's more, you aren't limited to one video only – you can download vids from multiple URLs at the same time.
This includes the option to download playlists. Just copy the playlist's URL, paste it in the field, and the software will get you all the videos.
They can be saved in 20+ output formats and up to 8K resolution.
Built-in Browser
While researching for our YT Saver review, we were pleasantly surprised to see that this software supports about 10,000 websites and social media networks. You can download videos from:
YouTube
Spotify
Facebook
Instagram
Dailymotion
TikTok
Mixcloud
V LIVE, and more
Additionally, you can access all these platforms right from the desktop client, so there's no need to go around looking for the video you need. This is made even easier with the login feature, which lets you log in straight to your account on the desired platform and access all your videos.
Offline Access
YT Saver PRO also lets you access videos when offline and decide which ones you'll edit or convert later.
Ultra-Fast Speed
If you want to speed up the process, this software has a Turbo-fast mode. It gives you up to 10x higher speed while downloading and converting YouTube videos to MP4 or working with other formats.
Download Playlist
The Download Playlist option lets you download entire playlists and access all your downloaded stuff, including those in Private Mode. With this feature, you'll never lose another video again.
Video Converter
This feature lets you convert videos right as you're downloading them. Open the Downloading tab in the program, choose the format (MP3 or MP4), and decide how you want to save your videos.
A pop-up will appear, asking you to set up the video quality, file destination, subtitles, and more. This video converter is one of the easiest ways to turn YouTube videos into MP3 files.
Video Cutter
What's more, you'll get an integrated video cutter, so you can crop or trim the vids and save the parts you like. This option is currently available only for YouTube videos. Cropping and trimming is simple. Just adjust the timeline bar to the desired timeframe and click the Cut button.
Private Mode
This feature lets you hide the videos you downloaded from others. It will keep your videos in a password-protected folder, so only you can access them. Simply use the YouTube to MP4 converter, choose the Private Mode, and set up a password.
How To Use YT Saver
Getting started with this software is simple. Just head over to the official website, download the setup file, and run the installation. Once you've installed it, you'll immediately get access to downloaders for over 10,000 websites. Let's see how it works for YouTube.
There are two ways you can go about downloading a video from YouTube. The first one is to look for the video you want on YouTube, copy the URL, and paste it into the downloader.
You can also use the YT Saver to search for the video. Head over to the Online tab and click YouTube.
Once you're there, you can log in to your YouTube account or browse for videos without logging in. Find the video you like and click the red Download button next to it.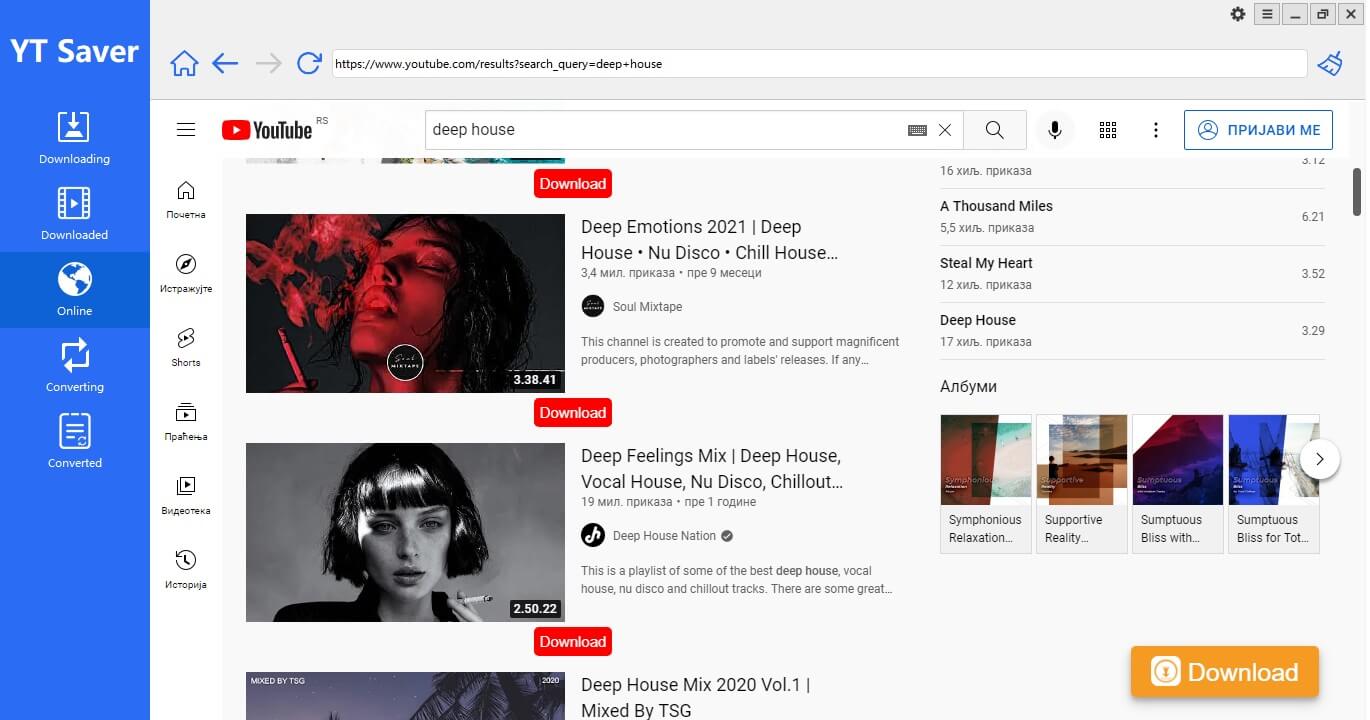 Keep in mind that clicking the orange download button will get you the search query, which you won't be able to download. You can use the orange button only on the videos you open and view.
Go to the Downloading section of the program, wait for it to analyze the video, and download it.
Ease of Use and Interface
This software is highly user-friendly. Everything you need is placed on the left, so you won't have any trouble finding the feature you want. Numerous other YT Saver reviews confirm that users are happy with the app and find it quick and effortless to use.
Pricing
You can test out what this YouTube to MP3 converter has to offer with its free version. However, if you want the full experience, you'll have to upgrade to PRO.
What's more, there's a 30-day money-back guarantee, free customer support, and a lifetime of free updates once you upgrade.
The pricing plans for Windows users are:
The pricing plans for Mac are as follows:
YT Saver Review - Verdict
We've tested the program in-depth for this review, and we can confirm that it's one of the best video converters and downloading apps out there. It has everything you need lined up in a simple interface, suitable for all kinds of users.
With YT Saver, you can forget about looking for online video downloading sites. Some features are limited to YouTube. Still, this doesn't affect the app's functionality.
That said, some users may find its pricing plans a bit expensive, considering that it's just a basic program.
Deyan Georgiev
Deyan is an avid enthusiast and self-proclaimed fan of the Windows operating system. His passion for discovering new functionalities and hidden gems within Windows drives his insatiable curiosity and fuels his desire to share his findings with others. As an avid writer, Deyan frequently shares his expertise through articles that provide tips and tricks to optimize the Windows experience.
Leave your comment
Your email address will not be published.