10 Best 3D Printer UK for 2023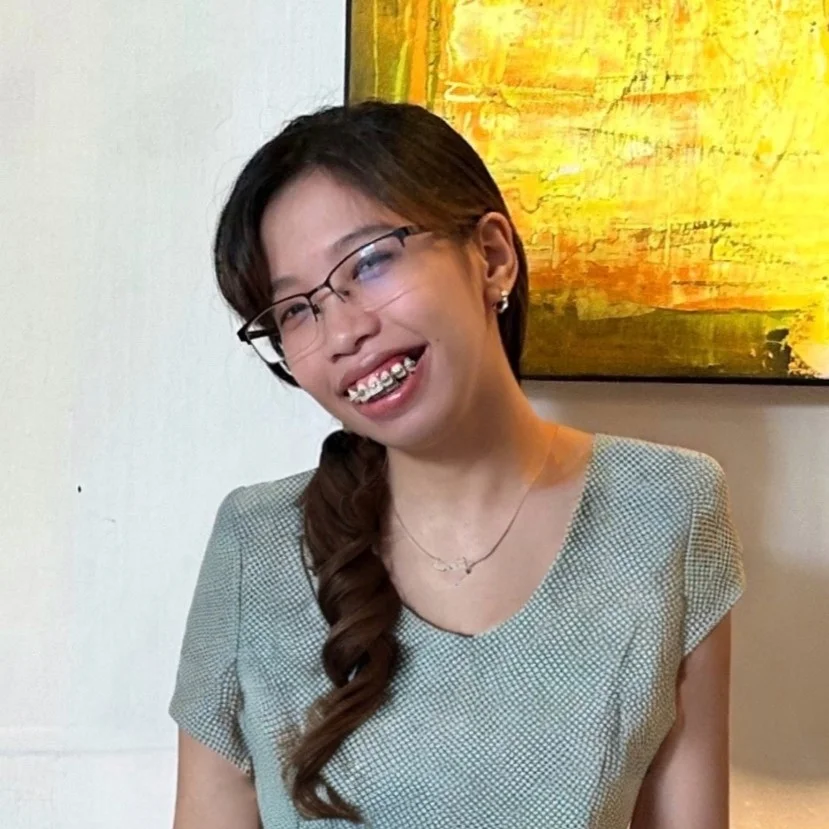 April is a proficient content writer with a knack for research and communication. With a keen eye fo... | See full bio
Recently, individuals and businesses are obsessed with 3D printers and creating commercial products. We took 10 of the leading printers in the industry and put them through their paces so you can find the best 3D printer in the UK for your needs. We looked at:
Price

Ease of use

Technology and features

Materials

Printing capabilities

Print quality
Whether you're looking for the best cheap 3D printer in the UK for your home or something larger and more productive for your business, we can help.
Read More
How Do 3D Printers Work?
3D printing is not much different from printing on paper, just on a larger scale with more robust materials and a three-dimensional outcome. You connect to the printer via o USB or your local network, though it might have more options. Give it its instructions by loading a special computer file. Then, as long as it's properly set up and loaded with the right filament or other material it will deliver your chosen design.
There are several different types of 3D printing technologies. Almost all can be called 3D colour printers because they accept all colours their materials come in.
Fused Deposition Modeling (FDM): The most common type of 3D printing process. Your item is built layer by layer by extruding/squeezing out heated filament from a nozzle onto a plate within the build area. Software known as Slicers allows you to manipulate 3D designs and export the files needed to instruct the printer how to properly layer for your design. Different printers allow for various sizes and complexities of objects. Once cooled and hardened the object is ready. FDM is also sometimes called fused filament fabrication (FFF). The top 3D printers UK customers can buy tend to be FDM, but they are very pricey.
Stereolithography (SLA): This uses a liquid resin instead of the harder filament. It extrudes and hardens on a plate before being lowered into a tank. Here it is subject to heat again from a laser for shaping. Once complete the item may be washed with a solvent and then put in a chamber of ultraviolet light to finish the process. However, this process is often also done within the printer itself. Options like the Elegoo Mars UV use a simple UV covering.
Digital Light Processing (DLP): Similar to SLA but with an extra source of light. A liquid plastic resin is extruded in layers and then an LCD (Liquid Crystal Display) that encases the object and projects UV light to harden it quickly. This produces fast and smooth results but may still require washing with ethanol. These are some of the cheapest 3D printer options in the UK. They still produce extremely high-quality results.
Selective Laser Sintering (SLS): SLS uses high-powered lasers and unsintered powder to bind the liquid material into a 3D model, as per the CAD instructions. It is most commonly used in prototyping for products. We did not review any of these on this page as they are quite rarely available for the mass user. SLS is also commonly known as selective laser melting (SLM) and selective heat sintering (SHS).
Chances are more versions of 3D printing will take hold with emerging technologies.
Top Recommendations and Reviews
Dremel DigiLab 3D45 3D Printer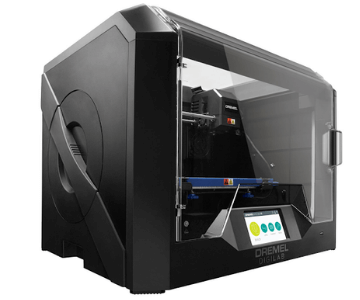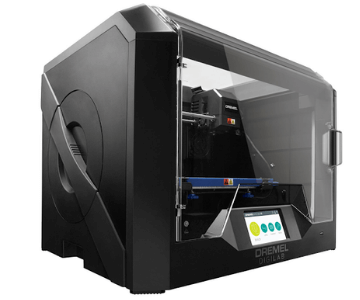 Dremel DigiLab 3D45 3D Printer
At just over £1,600, the 3D45 Digilab by Dremel is one of the best 3D printer products UK customers can buy. It is full of features, has great software, and most importantly it prints accurately.
The first thing you'll notice is the FDM printer is fully encased and see-through. You can do your printing safely. If you're doing it at home, it's surprisingly quiet as well.
Lift up the lid and inside the 20.5" x 16" x 15.9" printer, you'll find a high-quality plate that gives you a large print area of 25.4 x 15.2 x 17 cm. It's a single spool design, so your filament is fed from the spool on the left. The 3D printer extruder and nozzle smoothly slide back and forth as per your print instructions.
At this size and at a weight of 47lbs, it's best suited for a workbench or table. In that sense, it is aimed more at the professionals, though if you have space it is still easy to use.
The 3D45 is a very versatile 3D colour printer that has both Wi-Fi and an ethernet port. You can connect to your home or business network to easily send print jobs. Alternatively, you can use the USB port for loading print files from a thumb drive.
This is positioned next to the 5-inch touchscreen display, which is one of the only downsides of this machine. It just doesn't respond that well. You'll sometimes find yourself having to press twice, though over time you'll get used to the pressure it needs.
You can also connect the printer directly to your PC via USB, but obviously, a machine of this magnitude needs its own power supply.
The other thing worth mentioning is that compared to some other plastic printers, its colour variety is quite limited. You'll get white, black, red, blue, pink, orange, gold, silver, green, and purple. This is compared to 15 or 20 colours offered elsewhere.
PLA filament is the most obvious choice for the Digilab, but you can also use Nylon, ABS, and Eco-ABS. That doesn't mean it's more 'eco-friendly' but more economical. Dremel describes it as stronger, more flexible, and more durable – perfect for production or design studios.
Eco-ABS and Nylon are more expensive than traditional PLA, which you can find at prices between £13 and £30 for a 0.5kg spool. A bit like printer ink, quality can vary slightly, and thus you can opt for the 'official' recommended Dremel filament or something compatible with a third party.
The DigiLab 3D Slicer is a great piece of software that allows advanced users to take full control over their 3D modeling. It's based on the open-source Cura platform.
The software lets you easily open the models you've downloaded. You can also manipulate them to varying degrees and slice them ready for print. When you save it, you will get a .3gdrem file, which is Dremel's own format. You can also go straight to print with a G-code file you've found or created elsewhere.
Overall, the print quality is excellent, and you can even remotely monitor the job via 720p camera.
We made a number of test prints and didn't experience any major errors or problems. If you have the budget this is definitely in contention for the best 3D printer for 2022 in the UK.
Available for between £2,000 and £3,000, the MakerBot Replicator+ isn't for those on a tight budget. It is, however, great for those that want superb print quality from a 'desktop 3D printer'. It's easily one of the best 3D printer options for home use in the UK.
The Replicator+ measures 16.2 by 17.4 by 20.8 inches (HWD) and weighs in at around 35lbs. So, it's not all marketing; this really can just about fit on your desktop and performs quietly, so it's also ideal for the home. However, we'd still recommend a sturdier work style bench or table to be on the safe side.
Design-wise, rather than completely boxing the components in and requiring a lid, the Replicator+ is open framed. This gives the best of both worlds. You get easy access, but the sturdy frame still prevents bumps and accidents.
Meanwhile, the build area is 16.5 x 29.4 x 18cm, providing plenty of room to print most people's desired models.
It's an FDM printer so requires PLA filament, which MakerBot itself will sell you in 0.22kg spools. They cost just over £21. Alternatively, you can buy compatible third-party filament at 1.75mm.
Similar to Dremel's Eco spools, you can also get a more durable 'Tough PLA' along with an additional 'smart spooler' for an extra £150. We'd only recommend this if you've become well acquainted with the original setup first.
To load any filament, you just have to press the button on the LCD control panel and feed some through. The Extruder will then grab it automatically.
In terms of connectivity, there's no ethernet port so you will need a stable Wi-Fi connection to do printing over a network. There is, however, a USB port to connect directly to a computer or to use a thumb drive with print-ready files.
We found the native software to work well, allowing you to easily open 3D printer files and start print jobs. As long as the printer is on, you can also use a mobile app to control everything over your Wi-Fi. It is a bit buggy though and wouldn't be our first choice to operate things.
A particularly useful feature is when you're printing multiple parts for a single model. You can load these in a queue as part of one project to make things more efficient. This makes it one of the best 3D printer options for UK businesses.
Printing quality is about as good as it gets, and you can choose between 400, 200, and 100 microns in resolution. The lower the number the better, but even at 200, we had no problems with quality or failed jobs.
There are 15 colours to choose from, including orange, yellow, green, red, purple, and blue, in translucent – giving it a slight glow or see-through effect.
The MakerBot Replicator+ is considered a fast 3D printer and can be set at various speeds. Though the faster you go the more likely are you to get an error or for the quality to be off. Even then, 3D printing is not yet a quick process and you'll still need at least an hour for the easiest and fastest models.
If you want one of the best home 3D printer solutions in the UK, that can produce detailed, complex, and high-resolution items, you cannot go wrong with the Replicator+.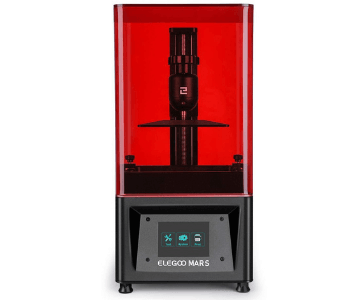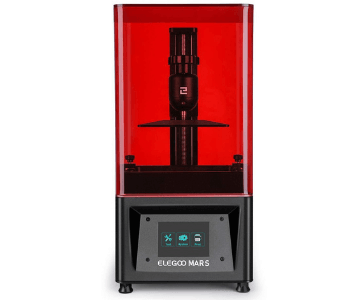 High resolution and detailing
Yes
Small enough for desktop
Yes
At less than £200, the Mars UV by Elegoo is definitely in contention for the best budget 3D printer UK customers can buy. And, just because its budget doesn't mean it doesn't have great performance.
The Mars is slightly different from a typical FDM printer. It's better known as an LCD/DLP and uses liquid resin instead of filament spools. This extrudes out onto a building plate that lowers layer by layer to form the shape as it is blasted with UV exposure.
It runs faster and quieter than most of the high-end printers on the market. The downside is it's not quite as capable as them at producing complex objects in terms of limbs and interconnected structures. It can, however, make incredibly smooth shapes with great surface detail. Sometimes you'll get a bumpiness known as the anti-aliasing effect, but this is arguably more pleasing than obvious layering from a poor FDM print job. Either way, the price difference is stark, and this is easily in contention for best starter 3D printer in the UK.
It's not that heavy at 16.5lbs and although it will remain sturdy during printing, you can also easily move it around a table. One design flaw that means you'll probably be doing a lot of that moving is the annoyingly positioned USB port at the back.
This is how you connect it to your computer or a USB stick to do print jobs. It does not support Wi-Fi or ethernet connections, so you cannot send print jobs over a network. That's the only real trade-off for getting cheap 3D printers.
Nonetheless, it's extremely easy to set up and use and it comes completely pre-assembled. Loosen some screws and lower the plate as instructed and when you're ready to print. Just slot on the UV blocking casing which keeps you safe and allows the printer to do its thing. There's not much more to it.
It comes with firmware called ChiTu and ChiTu's 'Box' slicer software is used on your PC to prepare your models and print files. With resin models, choosing hollowing and support structuring is important, but you can make many other adjustments with the program if you are creative or have the experience. Hollowing simply saves resin and print time and structuring makes sure your model is stable when finished. On the printer itself is a 3.5-inch colour touchscreen display with controls and so you can check the status of your print.
You can buy the resins for about £20 in 500g bottles from Amazon and you do not need a special brand. Just find the colours you want, and they'll be compatible. However, it's quite harsh stuff and we would recommend wearing gloves and certainly keeping it away from children. You might also want a window open as it smells strong too.
Overall, for the price, the Elegoo Mars UV is very good quality, beginner-friendly, and just an all-around good piece of tech. It's easily the best 3D printer under £300 in the UK, or £200 if you don't buy any addons.
High quality and detailed
Yes
Light enough for desktop
Yes
Software
Beginner-friendly
A formidable entry into the DLP side of 3D printing comes from FormLabs Form 3. You know it's made a mark when there are so many imitation products that have copied its design and process. The originator, however, remains the best and you can get everything you need in the basic package from the official site for £3,299. These are high-end, not cheap 3D printers.
With overall dimensions of 20.9" (53 cm), width of 15.9" (40.5 cm), and depth of 14.8" (37.5 cm), the company markets it as a quiet desktop 3D printer thanks to its lightweight of less than 1kg.
Instead of the usual SLA method of a laser to shape the resin model, it pioneered the DLP method. That's using a liquid crystal display, light processing unit, and a whole chain of projectors and mirrors in the lower tank. It makes the process faster.
The Form 3 is able to hit the resin from all angles and can travel diagonally towards the plate in order to shape more complex models. Unlike cheaper printers the edge-to-edge quality is superior, and the finished product will be smooth and detailed.
We used a number of complex geometric print tests and all were successful. The standard resolution can get as good as 25 microns and we found some print jobs can even go as detailed as 12 microns. That's one of the best UK 3D printer resolutions on the market.
The main thing about this type of 3D printer is keeping it clean and dust-free. Dust in particular can block light paths and also sometimes get embedded in the model. This can create various artifacts, making for a less than perfect print. Fortunately, FormLabs are very hands-on with their customers and they have good guidance where this is concerned.
Furthermore, if you're getting an abnormal amount of errors and failed prints, they are more than happy to help diagnose the problem and under warranty, send any replacement parts if the machine is at fault.
The Form 3 connects to your computer via Wi-Fi, Ethernet, or USB, and it can take print jobs directly from a USB stick if it contains compatible print files. This is coupled with a nice colour touchscreen on the machine itself. Print jobs are monitored closely and the printing status, including any errors, is clearly shown on this screen and/or on your connected PC.
As noted, SLA and DLP printing use a harsh liquid resin that you can purchase from third parties in any colour you desire, from 500g bottles to larger KG tanks. Print jobs are estimated in millimeters of resin and the printer will let you know if you have enough for your project.
The build area is a respectable 14.5cm x 14.6cm x 18.5cm, which is comparable to a lot of home 3D printer choices in the UK and those used by professionals.
The Form 3 uses software called FreeForm that walks you through setup, including reminding you to level the non-slip feet on the printer and to connect it to your PC. You must then make an online account and you handle most things from this dashboard.
PreForm is very beginner-friendly and will automatically adjust compatible models ready for printing, adding extra support, hollowing, and positioning it in the right way. The more experienced can get stuck in and make changes themselves.
It's fast, can basically do one-click printing, and is excellent at detecting and averting errors. What more could you want?
Geeetech Acrylic Prusa I3 Pro B
Geeetech Acrylic Prusa I3 Pro B
Very affordable FDM printer
Yes
Customizable and upgradable
Yes
Good software across platforms
Yes
Arguably the best 3D printer under £200 in the UK, the Geeetech Acrylic Prusa I3 Pro B, keeps things simple. It offers beginner users an affordable FDM filament option to test the technology before buying anything more expensive.
It's also what is known as a DIY printer, in that it comes as a kit that must be assembled. That might sound daunting to newcomers, but the instructions are surprisingly easy to follow once you get started. If you've built anything from flat pack furniture to a personalized computer, it shouldn't be too much trouble. Ultimately, it's just a big jigsaw with a lot of getting part A slotted into part B and tightening one area using screw C and another with screw D.
Still, take your time and actually read the instructions. If you get it wrong it's not going to print correctly.
The I3 Pro B will connect your PC via USB. You can also use the USB slot for print-ready files on a thumb drive. There's even an SD Card slot with the same function. It accepts both stereolithography file format (STL) and G-code files. At the very top of the printer is a basic display with a dial and other physical buttons for controls.
In the regular pack, you will get a nozzle that only supports regular PLA filament. However, the cool thing about the I3 Pro B is it's highly customizable. There are many addons to improve performance and functionality. You can buy other nozzles separately that support Nylon, ABS, PETG, POM, and other filaments.
One thing lacking from the standard package, however, is a casing to enclose the printer. That's asking for trouble, especially while printing unless you keep it in a nice clean room out the way of anyone else. Nobody said the best DIY 3D printer in the UK was the easiest to clean.
In terms of software and compatibility, it will run on any Windows, Mac, or Linux computer and uses its own GT-Host software. This converts your files ready for printing and there are numerous changes you can make depending on your experience level, ready for slicing. Before you hit print, you will be given a visual representation of the end product, its layering, how much filament it will use, and whether there are any glaring problems.
Alternatively, Geeetech printers also support the third-party Repetier-Host software.
The build volume on the plate is quite large, at 20cm x 20cm x 18cm, so it easily competed with some of the most expensive models in terms of the size of your model. Print quality, however, is not the best. We suggest this is best used by beginners who don't need absolutely perfect models or those doing rapid prototyping as proof of concept.
Overall, though, this printer is extremely affordable and one of the best DIY 3D printer kits UK consumers can buy. It's in the FDM class, so it's also the best 3D printer under £300 in the UK as well.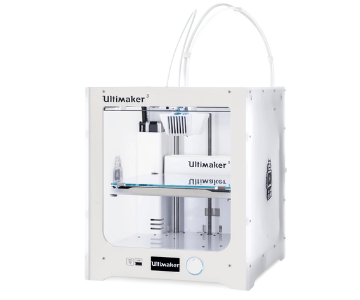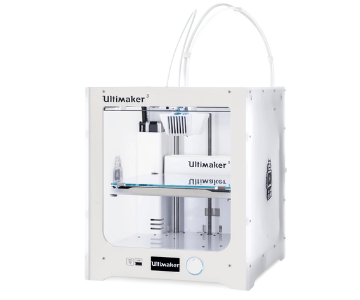 Hot swapping dual extruders
Yes
The Ultimaker 3 is a partially encased FDM dual-extrusion 3D printer, with lots of innovative features. It set the standard when it was first released in 2017 and remains one of the go-to solutions for high-end 3D printing in 2022. For that, you will have to pay around £3,500.
As well as having an overall high-quality and reliable printing reputation, it also stands out with its ability to combine different materials in one print job. It also uses Near Field Communication in its dual spool/extrusion mechanism for accurate and efficient layering, and easy filament replacement.
During printing the print cores are 'hot-swappable' so you can change in and out spools of filament and even nozzles of different sizes. This can save a print from failure if you simply run out or allow you to create advanced, multicoloured, and multi-material models. This is all done on a large build area of 21.5cm x 21.5cm x 20cm, making it one of the best 3D printer options for UK schools and businesses that need a large base machine.
The pre-assembled machine is mostly encased, though the front is open for easy access. As long as you keep it away from children and pets, you shouldn't have any safety issues. We didn't notice the open front having any negative impact on the actual printing. The only time you might have an issue is with the PVA. It is a bit waterier and more prone to splashing. In this case, you can buy a front screen as an add-on to make it one of the best 3D printers UK enthusiasts can purchase.
The Ultimaker 3 is Wi-Fi enabled, so you can easily connect it to your computer over your network. Alternatively, there's the trusty USB slot. This also accepts your USB thumb drives that contain model files ready for printing.
It runs on the popular Cura software for loading, manipulating, and sending your model files to print. When doing a dual print, Cura requires two STL files that combine together. You can choose different materials for each extruder and each corresponding model before merging them and sending them to print.
If you choose the highest quality, you'll notice little difference between single material extrusion and dual extrusion. The only time the bonding and materials aren't quite right is in low resolution.
The trade-off is quickness. The best quality is always going to take longer and the only thing that really goes against the Ultimaker is that it cannot be described as fast.
XYZPrinting da Vinci mini w+
XYZPrinting da Vinci mini w+
Compact for small spaces
Yes
Self-calibrated UK 3D printer
Yes
Our pick for best 3D printer under £500 UK for UK customers, XYZPrinting's da Vinci mini W+ is a sturdy and well-designed open-framed solution. It can be purchased for just shy of £360.
First off, it's great for beginners, not just because of the price but also because it comes fully assembled. Even the filament spool is ready to go on the side of the printer. You can go with a standard black design to the frame or several other colours, including a vibrant orange.
Unlike a lot of models out there, PLA filament is not the native material. You will have to buy 600g spools of XYZ's cheaper and less metallic material at about £16. Otherwise, you can pay to upgrade to a better nozzle and can then use PLA filament that fits said nozzle. You get a 300g reel of the standard stuff for free to start you off.
Although the Mini W+ is open-framed, that frame is thick and sturdy and provides a lot of covers. Likewise, the non-slip base is a few inches tall and keeps everything secure. It has more of a sewing machine vibe than some of the flimsier printers in the same class.
To set things up, first, you need to connect the printer to your PC with a USB cable. Then you can find it on your Wi-Fi network and do away with the cable if you want. The downside is this USB port does not accept thumb drives to print from file.
When setting up, you'll be prompted to use the XYZPrint and XYZWare slicing/printing tools to get your models ready.
This is mostly an automated process in terms of resizing, repositioning, and extra support structures. Beginners can, in effect, load a print file and print it. More advanced users may also want to use XYZMaker to create their own models or manipulate existing ones in more detail.
Although it's called a 'Mini', the actual build area on the plate is not much smaller than most UK home 3D printer options. You'll get an even 15cm x 15xm x 15cm.
Oddly, the plate isn't heated, which can lower the quality somewhat. It can also get fiddly as XYZ recommends applying their special tape and glue if the room temperature is below 25C. To solve this, you might actually consider using a heated room – blast up the radiators or use an electric heater.
Everything else works smoothly and the extruder and other parts calibrate themselves. Overall, print quality isn't perfect and you'll struggle to print detailed smaller objects, but once set up the process is simple and ideal for beginners.
Although it might not be priced low enough if you are searching for a 3D printer in the UK cheap, it's still one of the cheapest FDM solutions and ideal for those that don't like getting their hands dirty with resin.
Hot swapping dual extruders
Yes
Loads of supported materials
Yes
This large professional-grade 3D printer comes with dual-extrusion and supports a wide range of materials. At prices ranging from £3,400 to £3,600, it's one of the more expensive. You do get superb quality and performance that make it all worthwhile. Cel-UK is one of the best 3D manufacturers in the UK.
Firstly, this isn't for a flimsy desktop. At 26kg and 61cm x 50cm x 51.3cm in overall size, you'll want a solid table or workbench to keep it secure. What this does mean is you'll get the largest build volume that any 3D printer review has found on this page.
The plate and chamber allow for 21cm x 30cm x 40cm in space. So, if you need to build a larger model or part, this is the 3D printer for you.
The next top feature is interchangeable print heads, allowing you to change filament size or entire materials with ease. This includes regular PLA, but also ABS, PC, PVOH, and Nylon. The system onboard automatically recognizes materials, spools, and sizes, and adjusts itself accordingly.
This also allows for multiple materials via dual extrusion. In other words, one nozzle can layer in one material, while the other layers in another. Midway through you can even pause and swap things around to create a truly unique and complex object.
Performance is further improved by fast heating and layering. Nozzles can get as hot as 300ºC, improving speed and efficiency, regardless of the material you use.
Of course, you don't want to touch something that hot. That's why the RoboxPro is also a fully encased machine. It's designed for professional users, so has flawless network connectivity via Wi-Fi or ethernet, and it can be fully controlled by an intuitive touchscreen display. You can use the prompted AutoMaker software to control multiple Robox machines at one time over the network, making it perfect for an industrial setting. That's not to say it isn't one of the best UK 3D printer options either.
The display is also helpful in informing you of the materials and printheads in use, printing status, temperatures, errors, and much more. Next to the display is the USB port, which can connect to your computer and accepts virtually any external drive with printable files stored on them.
Overall, print quality is about as good as it gets from a dual extruder at the high-end. You can choose a custom resolution between 50 and 500 microns or quickly go to a preset in increments of 100. It takes some time to find the right balance between speed and the required resolution for the best results for a chosen model, but if you haven't got materials to waste it's always best to choose the lowest micron setting. This is the highest resolution.
Setting up is almost plug and play. All you have to do is slot in your desired printhead and feed in some filament, which will automatically unravel once detected.
To conclude, the CEL-UK RoboxPro is a step up from home 3D printers or hobbyist machines and is not your average cheap 3D printer in the UK. If you run a design studio or are an engineering professional, this will be a welcomed addition.
The younger brother of the 3D45, Dremel's DigiLab 3D40 is the more affordable option at £1,200, though we still wouldn't call it a budget 3D printer. UK users will be happy to learn that it doesn't lack in performance or print quality, despite being the cheaper model.
Perhaps the key difference and why it's more suitable for homes or the classroom, rather than the workplace, is its restriction to PLA-only filament. You cannot currently use any other materials. It also lacks the remote monitoring camera, so it's best suited on its own to be monitored by the user rather than part of a larger network of machines.
Apart from that, it remains a well-built single extruder printer, that's easy to use, and provides high-quality and detailed prints. Its best micron resolution is 100, while its high-speed setting offers 340 microns. This is more suited for drafts of models you're not sure about before deciding on a full-quality print.
The 3D40 is fully encased with a see-through window for safety and is still a sizable machine. It weighs 44lbs and measures 18.5 by 23 by 19.5 inches (HWD). That means you'll still need a sturdy table to secure it like the 3D45. This also means it has a respectable build area of 17cm x 25.4cm x 15.2cm.
There's actually an improved 4.5-inch touchscreen panel this time around with none of the responsiveness issues of the 3D45. This allows you to monitor printing and control many settings, including calibration, networking, and a handy preheat setting so printing is faster when the time comes.
Everything else can be controlled via the Cura-based DigiLab 3D Slicer software. This has automation and prompts for beginners and all the required options for experienced users. You can change the level of hollowing, support, detail/quality, and more. You can print via G-code or Dremel's own 3gdrem format.
In order to use the software, you'll need to connect via Wi-Fi, Ethernet, or USB for local-only printing. You can also print via a USB stick that has compatible files on it.
Overall, the Digilab 3D40 is an excellent package for enthusiastic beginners, allowing them to start with the basics and progress without needing to upgrade to a better printer. This particular model is good in an educational setting and comes with lesson plans aimed at school children.
Of course, don't let that put you off buying it. This isn't for children, it's just a good solution for teachers to introduce 3D printing to students. It's easily one of the best 3D printer products in the UK.
ANYCUBIC Photon UV LCD Resin
ANYCUBIC Photon UV LCD Resin
Prints
Smooth high-quality
At under £200, if you want a resin-based solution or just an affordable option, this is the best cheap 3D printer UK customers can buy in the DLP class. This involves liquid solution going through digital light processing to form a model's shape, rather than layering heated filament like FDM printers.
And, if you think that price means poor quality, think again! The ANYCubic Photon supports a resolution between 25 and 100 microns, which is better than the starting point of many of the more expensive printers.
The main downside for some is that it's small and compact, which means an odd build area of 11.5 x 6.5 x 15.5. On the other hand, for beginner home users, you can stick this on your computer desk, and it will work great at creating your small figurines and objects. Just make sure the room is ventilated as resin can be quite noxious like cleaning products.
It's also worth noting that unlike FDM printers, Resin models require you to wash them in ethanol to finish them off – in this case by hand. Plus, you will need to regularly clean the build plate and LCD panels. That's why it's recommended for adults. It all takes some care, but there is more than enough guidance along with the purchase to ensure you do things safely.
To set things up you will need to connect the printer to your computer via USB. There is also a 2.8-inch touchscreen display for print monitoring and basic settings. Print jobs are sent from your computer using its own native slicer software, though you can also print directly from an SD Card slot.
The software is basic but has all the necessary settings to turn a file from the internet into something compatible to print successfully. The most important setting will be the support structures, which can be automatically generated. That way the model will come out with a flat base or other elements to stop it from falling over or collapsing entirely. This makes it one of the best UK 3D printer choices for beginners.
Overall results were incredibly positive, with few errors. The objects came out very detailed and smooth objects. If you find an excess of resin, be thorough but delicate in your ethanol washing. If you find it needs further curing, instead of restarting the entire print from scratch, one trick is to leave the model out in the sun where it can catch natural UV rays.
If you're on a budget and don't mind the extra processing steps, the ANYCUBIC Photon UV LCD Resin is the best hobby 3D printer in the UK for 2022.
What Can You Create With a 3D Printer?
3D printing can create many different types of objects depending on the size and complexity of the printer. Usually, you either print fully formed shapes, such as small solid figurines or interconnected structures. Or you print several parts that you assemble manually for a larger and more complex item. Pre-designed objects are all over the internet for you to try. These models can be manipulated with software or printed as-is if compatible.
The material used in most common types of 3D printing machines is of a plastic filament or resin-like nature, though nylon and other materials can also be used in FDM printing.
Where Can I Find 3D Models for Printing?
3D models for printing can be easily found online. These are shared in the most common file types. They therefore may be ready to print right away or need slight adjustments by your printer's splicer to get it compliant in terms of size or complexity. You can even change the design yourself with more advanced computer-aided design software and export it as a new file ready for printing.
Some of the most popular sites that have databases of models to download include Cults3D.com, Pinshape.com, SDShook.com, GrabCAD.com, 3DExport.com, among many others. Depending on the site some models are free, and others cost a premium.
Simply Google something along the lines of 'Download 3D models for 3D printing' and you will find hundreds of sites with thousands of models.
How To Choose the Best 3D Printer for the UK
Whether you want the best budget 3D printer in the UK or the top-performing regardless of price, there are a number of things to consider before making your choice.
Price
Price is going to be a big factor when you buy a 3D printer in the UK. There will be a difference between a cheap 3D printer on the UK consumer market in terms of its performance and capabilities. Typically, the more expensive, the better. There are also differences in printing types that may appeal to different people. Generally, for a good printer, you should be looking to spend between £200 and over £3,000. You can get some of the best 3D printer options for under £1,000 in the UK.
Do-it-yourself kits are also much cheaper because they require full assembly. Resin-based printers that use digital light processing and UV also tend to be cheaper but also require extra steps, such as washing your object in ethanol by hand to finish the process.
Tip: Buy from a UK retailer online or offline so you get a 3D printer price UK customers aren't subject to import taxes on.
You should find a 3D printer cost to meet everyone's budget on this page.
Purpose
Ask yourself what the reason is you want a 3D printer. If you are a beginner that just wants to test out the process, there's no point in spending £3,000. It's better to get a smaller and cheaper entry-level printer. However, if you are a business that makes prototypes, actual products, or product parts; you will want a high-performing and reliable solution that has network connectivity, all the best features, and the ability to use multiple materials. It will be more expensive upfront, but your sales should offset that cost.
Materials
The most common material is PLA filament for FDM printers, which are basically plastic printers. However, there's a wide range of other materials supported by some FDM printers, including everything from Nylon to an acrylic thermoplastic called ABS. That's without mentioning resin which is used in an entirely different class of 3D printers. Some of them are the best budget 3D printer choices in the UK.
Most people won't know what material they need and will be fine with PLA or resin. If you do know, make sure the printer you're looking at supports it out of the box or via an addon.
Size and Weight
Your average 3D printer is not just something you can stick on the side of a cheap computer desk. They are usually heavy and when operating, will cause vibrations, heat, and varying degrees of loudness.
There are a couple of 'mini' and small resin-based printers that you may get away with on your computer desk. We'd point you to the XYZPrinting da Vinci mini w+ or ANYCUBIC Photon UV LCD. However, the latter produces noxious fumes from the resin and can be messy when cleaning.
Ideally, you will want a sturdy table or workbench a bit out of the way of other technology to run a 3D printer effectively and safely. Remember to check the full size and weight from our specs list and match that with your home or business space to find the best UK 3D printer for you.
Build Volume
Build volume or area is the size in which the object itself can be printed in. If you want to print larger objects, then obviously the build area needs to accommodate this. The largest on our list is the RoboxPro with a build area of 21cm x 30cm x 40cm.
Connectivity
The more ways in which you can send a print job the better but what you require depends on your own setup. If you're comfortable with a permanent USB to PC connection, then you won't need Wi-Fi or an Ethernet port for networking. If you, however, want to send print jobs from a computer on your network some distance away, Wi-Fi, USB sticks, or SD Cards with print files are necessary. The best budget 3D printer products in the UK will still have many of these features.
Software
All 3D printers come with some form of software and slicer because each printer needs to make slight adjustments to get your model ready to print. Often this is just scaling, repositioning, changing materials, hollowing, or adding extra support structures. A lot of this can be automated with good software.
More advanced users will want the ability to have manual control over the changes they make to a model before printing or even the ability to create models from scratch. You'll need to check the native software's capabilities match your needs or whether it supports third-party software applications that do. Likewise, there are different file types, depending on the printer in question. G-code and STL are common, and often even if you've downloaded a format that's not compatible your software will be able to convert it. However, double-check all this before spending your money.
We've also made it easier for you by curating the best 3D printing software out there.
Wrap Up
Whether you're looking for a cheap 3D printer in the UK just to test the concept at home or you want something a bit more advanced – our reviews cover 10 of the best options.
We did all the heavy lifting, but in the end, you're the judge. So, what do you think – which one is the best 3D printer for UK customers?
If you're still unsure of the best UK 3D printer for you, or you want to know more about them – check out our answers to your most commonly asked questions below:
What is the best 3D printer for home use?
3D printing for home use typically requires a smaller printer to fit in the home office or garage, a more user-friendly setup, and good software.
Our top pick for home use goes to the Dremel DigiLab 3D45 3D Printer. It's big but not too big and is priced somewhere in the middle. It's also one of the best in terms of performance and print quality. It also uses excellent Cura-based software, which is good for beginners and experts alike.
What is the best cheap 3D printer?
Based on raw performance and ease of use, our pick for the overall best affordable 3rd printer in the UK goes to the £360 XYZ Printing da Vinci mini w+. However, if you're willing to use resin, the ANYCUBIC Photon UV LCD is the best and cheapest, followed by the ELEGOO MARS UV.
If you don't mind a bit of DIY, the Geeetech Acrylic Prusa I3 Pro B is the best cheap 3D printer UK kit.
What is the best 3D printer for beginners?
Beginners don't want to print overly complex objects and tend not to have advanced CAD skills for making or manipulating their own designs. They also require a user-friendly printer with good software.
As per our UK 3D printer reviews, our 2022 pick for best 3D printer for beginners goes to the XYZPrinting da Vinci mini w+, which comes fully assembled. If you're ok with assembly but unfamiliar with the printing itself, the Geeetech Acrylic Prusa I3 Pro B is a great 3D printer kit that's cheap in the UK.
What is the best 3D printer for under £1000?
If your budget maxes out at £1,000, the perfect 3D printer for you right now is the XYZPrinting da Vinci mini w+, which is £360.
How much does the cheapest 3D printer cost?
There are many cheap 3D printers that do a poor job. All the products in our reviews meet a minimum standard of quality, reliability, and user-friendliness. The cheapest we feel is worth the money is the ANYCUBIC Photon UV LCD, though you will need to be willing to handle the resin, which doesn't appeal to everyone.
The cheapest 3D plastic printer worth your money is the XYZ Printing da Vinci mini w+.
How much is a decent 3D printer?
If you're looking for a budget 3D printer in the UK, the price varies based on size and type. All the printers we've reviewed are good. So, you should expect to spend anywhere between £160 and upwards of £4,000, which enters CEL-UK RoboxPro territory. The best 3D printer in the UK for you will depend on your individual requirements and budget.
If you want a practically expensive printer but don't have the budget, you could find 3D printers that are relatively cheap on the second-hand and refurbished market.
Keelan Balderson
Keelan Balderson is a journalist with a special love for technology. Whether researching the latest tech products release or exploring a tech product like a 3D printer for days, as a professional journalist, he is dedicated to providing readers with fact-backed analysis and thought-provoking, insightful, and well-researched tips.
Leave your comment
Your email address will not be published.