10 Best Home Security Cameras in the UK for 2023
For a Secure Home
Securing your home is both necessary and confusing, especially with all the new technology available. We decided to make it easy for you.
We researched all the home security cameras UK customers can buy and found the 10 best.
Our home security cameras review is UK-only and looks at:
Pricing
Recording Quality
Local and Cloud Storage
Indoor and Outdoor use
Features
Check out our quick feature list below or read on for more detailed reviews to help you find the best home security camera for the UK.
Read More
Arlo Pro 3
Now in its third generation, the Arlo Pro 3 is a weatherproof and wireless wifi security camera. You'll never have to wonder who is scoping out your property again, thanks to its high-quality 2K video and wide viewing angle. You get two cameras for whatever combination of indoor or outdoor use you require. Overall, one of the best outdoor security cameras UK consumers can buy.
Suitable for outdoor use
Yes
Swann Floodlight
A combination of floodlights and security cameras are an obvious but not all too common mix, which works well thanks to Swann's most recent addition to the market. It is intended for outdoor use, though it can still work without the floodlight indoors. The device can record in HD, store recordings internally, or straight to the cloud. It also benefits from 2-way audio with a microphone, speaker, and siren. The best outdoor home security camera UK customers can buy, if looking for a floodlight.
Hive View
You can't go wrong with a Hive Camera and the View is great indoors, with motion detection and two-way audio. It also has a good viewing angle, a flexible stand for placing on surfaces, and the free cloud storage is sufficient for most users. Couple that with full 1080p HD recording, you've got a great offering from Hive Security.
Video Quality
720p or 1080p
Storage
Free for 24 hours
Ring Stick Up
Ring's latest generation Stick Up Cam does it all at an affordable price. It can remain wired or run on battery power, tolerate outdoor use, and performs well at 1080p. While there's no internal storage, the monthly subscription is cheap enough for it to be a viable choice. It's easily the best home outdoor security camera UK shoppers can buy on a budget and the best from Ring CCTV.
Arlo Ultra 4K
Gone are the days of analogue CCTV systems with grainy footage nobody can identify. Arlo's new 4K wireless CCTV system provides crystal clear video with all the 'smart' features you need. With colour-enhanced night-vision, a 180-degree viewing angle, 2-way audio, and an alarm, you can rest assured you're safe. Arguably the best indoor and best outdoor security camera system available.
Netatmo Welcome
With facial recognition technology, the Netatmo Welcome knows who to 'welcome' to your house and who might be a threat. On top of that, it does all of the main things expected of home security cameras in the UK, such as full HD and smartphone pairing, as well as Google Assistant voice support, 130-degree viewing angles, and an ethernet port to prevent Wi-Fi dropouts. There's no storage subscription needed because you'll have to use your own microSD card or an adapter. This wireless CCTV camera is for indoor use only.
Free cloud storage
14 days
Neos Smartcam
Simple design and easy to use with a free cloud storage option, the Neos Smartcam is a great entry-level indoor security camera for those who have never considered a Wi-Fi camera before. It's indoor only, but should anyone get in you'll soon be notified thanks to its night vision motion detector. And, you can talk directly to the intruder with 2-way audio support. Rather than continuous recording it only begins when an event is detected. Footage is stored free for 14 days and you can also record directly on to a microSD card.
Free cloud storage
14 days
Google Nest IQ
One of the best security cameras for home use in the UK, the Nest IQ doesn't disappoint. With 4K video for its latest update, native Google voice assistant, and obvious easy integration with other smart Google devices, it's the perfect addition to a Google home. There's facial recognition, effective night vision, and 3 hours of internal freeze-frames. The rest goes to the cloud where you'll need to purchase a subscription to make it worthwhile. Overall, a big step up from the original Nest Secure UK.
Google Voice Assistant
Supported
Suitable for outdoors
Yes
Logitech Circle 2
With 1080p HD video at a respectable 30fps and an impressive 180-degree field of view, the Logitech Circle 2 has all the home CCTV features you need. The special weatherproof casing makes it suitable for outdoor use. There's high-quality 2-way audio so you can speak to the delivery driver or ward off any intruders. All gets sent to the cloud at 24-hour intervals before needing to pay extra. You can pick up one of these home security cameras for less than £150, making a good mid-range choice.
Viewing angle
180 degrees
Cloud storage
Free for 24 hours
Ring Indoor Cam
The best home security camera in the UK for budget indoor use, the Ring Indoor Cam provides full HD video, motion detection, and two-way audio for just £49. While it doesn't have any other major image enhancements, it's ideal for monitoring who enters your property. It's ideal if you've been searching for Cheap CCTV.
Home Security Camera Features
Here are some common features of smart home security cams and what they mean:
Wi-Fi
Smart cameras operate over your home Wi-Fi network, sending video data to the cloud or downloading it locally. You can use your home Wi-Fi to tune in to the live feed or your mobile data if you're away from the property. Depending on the stability and capacity of your broadband, 1080p and 2k/4K videos might not always be attainable, in which case most cameras will downgrade the quality accordingly.
Wireless
Home security cameras with wireless in the UK simply refers to cameras that can function with a rechargeable battery or other power source without being plugged into the mains. This also means they support Wi-Fi and do not need a wired internet connection.
Motion Sensors
Most smart cameras use motion sensors that detect sound and visual movement before recording. This saves power, space, and bandwidth. It also allows for easy access to footage of interest, without you having to fast-forward through hours of video. The better cameras let you set the sensitivity of motion detection depending on your environment and whether you receive notifications when something has been detected.
Weatherproof
Simply put, some house security cameras are suitable for indoor use only while others are weatherproof and can also be mounted outside the property. The range of an outdoor camera will depend on your Wi-Fi and whether it needs to be wired for power.
Night Vision
The best home security cameras in the UK have night vision technology. This means they can record well in the dark. There are a few different methods for accomplishing this; some better than others. Basic night vision is infrared and uses invisible LED light to illuminate objects in the dark. This is recorded in black and white as it's easier to see on playback. Some, mostly outdoor cams, also come with floodlights that illuminate objects when detected, to make recording clearer, and to disturb any intruders. More advanced cameras can record in colour at night and use High Dynamic Range (HDR), which allows for more detail in both dark and bright environments.
Viewing Angle / Field of View
The viewing angle or field of view of a camera determines how much it can observe in a single frame while fully zoomed out and stationary. This is represented in degrees and the higher the number the more you can see. The best available viewing angle is 180 degrees, which means if your camera was mounted on a flat wall on one side of the room it would be able to view the entire width of the room in one image. Wide viewing angles create a 'fisheye effect' which creates rounding at the edges of the image, though some cameras digitally correct this. Cameras might also pan, tilt, and zoom to observe areas beyond their natural viewing angle or to focus on objects in the distance. Wide viewing angles reduce the need for multiple cameras in one area.
Pairing
Pairing is the process of connecting a smart device (usually your phone) to the camera over your Wi-Fi network. You can then control the camera and access its features via an app. Depending on the camera you might also be able to pair multiple cameras together. You can also pair your camera with a device that uses voice assistants like Alexa for voice control. Most wireless home security cameras in the UK are now based on pairing.
Two-Way Audio
A camera with two-way audio doesn't only record sound from the camera's vicinity. It also allows you to use your smartphone's mic to talk out of the camera. This is useful for talking to loved ones, pets, the postie, or to ward off intruders.
Alarm
A camera with an alarm or siren feature can make a loud sound that is manually triggered via the app or automatically set off on persistent detection to ward off intruders and warn others. Outdoor home security cameras in the UK tend to have alarms.
Local Storage
The camera has the ability to store footage locally on the camera or smart hub, a microSD card, or similar. You won't have to pay for a subscription for remote storage, but it can be less practical.
Cloud Storage
The camera sends footage to the cloud or a remote storage account which you can access through the app to watch or download. It is not stored directly on your camera or device. This saves storage space and the hassle of microSD cards but can cost in subscription fees and requires an internet connection to access.
Facial Recognition
This feature recognizes the faces of family members or those who regularly access the property. This is useful to prevent false alarms and to warn you when a stranger is around. It often includes the ability to send notifications when a face has been recognized so you can track if a loved one got home safely, for example.
Top Recommendations and Reviews
Suitable for outdoor use
Yes
When it comes to wireless home security cameras in the UK, the Arlo Pro sets a high standard. The third-generation device uses Wi-Fi, is completely weatherproof, and can record video up to 2K. You'll always be able to distinguish who's at your door, day or night. It's also a 'smart cam' so it pairs with most devices. You get two cameras in the set and can add more for a reasonable price. These security cameras are at Argos and all major retailers.
Image Quality
Image quality is where the Arlo Pro 3 really stands out. It records in 2K, which is better than HD but half of 4K. If you use a single camera and have a good Wi-Fi connection you shouldn't experience any lag or picture downgrading. However, if you run both cameras at once, the performance will suffer.
The cam supports High Dynamic Range (HDR), which means it can produce a more detailed picture in the dark or extreme light.
Features
You'll get viewing angles of up to 160 degrees, allowing you to fully scope one side of your property.
One of the leading outdoor home security cameras in the UK – guaranteed performance in rain and heat.
The spotlight version provides motion-sensor lighting to ward off intruders and improve vision. You also get:
Colour-enhanced night vision to further help you see the details
Two-way audio allows you to communicate with anyone at your door
Easy to use Arlo smartphone app
The option to pair up with Amazon Alexa or Google Assistant for voice control
A 'piercing alarm' to scare off intruders which can be set off manually or by sensors
Long-life rechargeable battery or add-on solar panel for continuous power (which you'll have to buy)
Unfortunately, there is no cable power option.
Storage
The smart hub which comes with the camera offers a generous 2TB of storage space so you can keep several days-worth of footage in case you need to go back and check something.
You will also get 7-days free rolling cloud storage before you're required to purchase a subscription. Footage sent to the cloud is in 1080p to reduce bandwidth.
Subscriptions for further cloud storage start at £2.49 per month for a single camera and £12.49 for the Elite multi-camera plan (5 cameras with 30 days of storage).
Verdict
If you're looking for the best home camera security system in the UK, the Arlo Pro 3 is a serious contender. It does everything you need well and does burden you with storage fees. If you're not bothered about the 4K (which we think is a bit of a gimmick for most home security needs), then the Pro 3 is a great choice.
Swann Floodlight
Brand: Swann
Swann Floodlight
Brand: Swann
One of the most affordable UK home security cameras on our list! The Swann Floodlight surveillance camera is less than £200 but provides full HD recording, motion detection, night vision, and 2-way audio. There's also a siren to scare off potential intruders, voice control support when paired, and as the name suggests, a powerful floodlight. Just set things up using the app on your phone and you're good to go.
Image Quality
The Swann is a full 1080p HD camera, so you should have no problem getting a clear view of your property. We found it to be crisp and clear and competent even when zoomed in. The floodlight itself helps illuminate any would-be intruders and the night vision technology further improves the image when it is dark.
The camera will usually adjust at night but there is also a specific night setting so you can be sure the quality is optimized.
Maintaining HD quality will depend on your internet connection. We found the camera disconnects if it doesn't receive the strongest possible signal. You can always downgrade to 720p or lower to improve connection stability.
Features
The main benefits include:
Fully weatherproof in all climates but also suitable for indoor use
Easy set up via the smartphone app to make the Wi-Fi connection and control the device
Real-time view from within the app, including audio
Pairing up with Siri, Google Assistant, or Amazon Alexa for voice control
125-degree viewing angle to get a good range of sight
Clear night vision technology
Loud alarm for crime prevention which can be fully controlled with the app
Two-way audio and intercom system, though sound quality could be better
The sensitive motion sensor camera can be set from low to high depending on your surroundings (i.e. trees in the wind or pets). This can be frustrating, especially given that other cameras seem to do fine with an automatic setting.
The Swann also comes with a powerful LED floodlight that runs at 5000K/2500 Lumens. It can be set on motion detection or switched on or off. The accompanying app also allows you to set the brightness.
Storage
The built-in storage is 8GB and can accommodate roughly 7 days of HD recording, allowing you to go back and access data at any point in time. This is further supported by 2 days of free cloud storage.
If you would like longer cloud storage you can purchase a subscription for £4.95 per month. This gives you access to the past 30 days of recordings.
Note: The camera does not record continuously for 24 hours. It begins recording when motion detection is triggered. This is more efficient and saves bandwidth but could be a problem if you've set the motion sensor too low and it fails to pick something up.
Verdict
If you have a solid internet connection and don't mind spending time getting used to the motion detection setting, the Swann Floodlight cam is the best home security camera with a floodlight for outdoor use.
Video Quality
720p or 1080p
Storage
Free for 24 hours
The Hive View provides competent CCTV for home indoor use. If you want something for the outside, you'll need to look elsewhere. That considered, you'll get full 1080p HD recording, real-time viewing via the app, 24-hour storage, night vision technology, and effective motion detection.
Although it is technically wireless, we think this is misleading - the battery will only last about an hour, which is quite bad when compared with other Hive Security cameras.
Image Quality
For indoor use, the 1080p quality is more than acceptable and it records at a high framerate, so you won't get any old-fashioned stuttering. Quality can be lowered if you do not have a stable enough internet connection.
You can easily tune in via the app and watch video streaming over the internet. The footage itself is stored for free on the cloud for a 24-hour period.
Thanks to night-vision technology the image remains clear in the dark when it is most needed.
One downside is that the lens has a 'fish-eye' bubble effect, meaning the edges of the security camera video are rounded as a result of the viewing angle.
Features
Control your indoor security camera from the Hive app on your smartphone, tablet, laptop, or PC.
Sensitive motion detection means the camera only starts recording when movement is present. You'll receive a notification on the app and can view the screen to see if there are any intruders.
Two-way audio allows you to hear everything in the vicinity of the camera and talk back. This is helpful if you have a visitor while you're away or if you want to comfort a pet.
The camera comes with a built-in stand and allows for a 130-degree viewing angle.
But it's not all sunshine and rainbows.
We were let down by the lack of alarm. Also, poor battery life means the camera needs to be plugged in to use for any length of time. If you need it for the outdoors, you will need to purchase a separate Hive outdoor camera.
Storage
We particularly liked the straight-forward storage solution. Nothing is stored on your devices, rather 24-hour's worth of footage is stored for free on the cloud and you can easily view, download, and share any point along this timeline via the app.
If you require further storage you can pay a reasonable £4.99 for 30 days, which is more than enough for you to recognize a breach and pinpoint when it happened.
All recordings can be stored in full 1080p.
Verdict
If you're looking for the best Wi-Fi home security camera in the UK at a mid-range price, the Hive View is worth considering. It is great for basic indoor use if that's all you require. While it must remain plugged in for power, most users will keep it by their front or back door without moving it regularly. Alternatively, you can get a Hive security camera for outdoor use with slightly different specs.
Ring Stick Up
Brand: Ring
Ring Stick Up
Brand: Ring
The Ring Stick Up Cam is one of the most affordable home security cameras UK customers can buy. You can pick it up for less than £100 with features usually reserved for cameras double the price. This includes a great app with live view, motion detection notifications, two-way audio, quick-release rechargeable battery, and an alarm.
The key let down is that you cannot store any footage without a paid cloud subscription, so you must factor this in when weighing up the cost.
Image Quality
You don't have to worry about distortions or lag with sharp 1080p video quality which can be downgraded to 720p or lower if your Wi-Fi is unstable. The field of view reaches 130 degrees and there's also infrared night vision to ensure detection in the dark, though this is not colour enhanced.
Features
Wireless indoor or outdoor use with a quick-release battery pack or the ability to remain plugged into the mains (not a major gripe but the angle of the wire is unnecessarily awkward)
Easy set up via the app on your smartphone.
Live view the camera at any time via Wi-Fi or your mobile data on the go.
Different settings for the sensitivity of the motion detector and notifications whenever it is triggered
Two-way audio allows you to hear and speak to visitors, intruders, or pets from the app.
Alarm to ward off intruders.
Purchase multiple cameras and control everything from the app, switching between cameras
Can be paired with Amazon Alexa for voice control
Storage
The Stick Up Cam's storage ability is a bit of a let-down because it does not support local storage and there is only a 30-day free trial for the Ring subscription. After that, you must pay at least £2.50 per month for a single device to continue with 30-day storage. The multi-cam setup would be £10.
That being said, the up-front cost is low and if you were going to pay for storage anyway it's still cheaper than many competitors.
Verdict
Ring's Stick Up Cam is one of the best external home security cameras UK customers can buy on a budget. It has all the features required for good home security and does it all in full HD. It is also fully wireless with good battery life for indoors and outdoors. As long as you can get over the lack of local storage, you can't get a better multi-use camera for less than £100.
Arlo Ultra 4K
Brand: Arlo
Arlo Ultra 4K
Brand: Arlo
Arlo's Ultra 4K cam is maybe the best home security camera system for UK users, but it will cost you around £670 for the basic set of two cameras and a smart hub. Its obvious benefit is that it's one of the few cameras to support 4K quality recording, which although not necessary, can make the difference for large homes or commercial properties that need a clear image at a distance. You'll need at least 3mbps internet speed to utilize 4K.
Image Quality
The Arlo Ultra has one of the sharpest and clearest images on the market, supporting full 4K UHD recording and even High Dynamic Range (HDR), which provides greater detail in very dark or very bright environments. It is currently the best home security camera for image quality.
It also has an integrated spotlight to illuminate anyone in its vicinity and colour-enhanced night vision.
Even though it has a deep 180-degree viewing angle it also auto-corrects the 'fisheye' effect so there's no rounding to the edge of the image.
Features
Two security cameras for home use and outdoors with full weatherproofing
User-friendly app, that works on all smart devices and pairs with Alexa, Siri, or Google Assistant for voice control
Wi-Fi stability, enhanced via the smart hub which can support up to 8 additional 4K cameras
Noise-canceling two-way audio to listen in and talk back to visitors, intruders, or pets
Sensitive motion detection that can be adjusted to better suit your environment
Notifications whenever motion is detected.
Auto-zoom and tracking when a moving object is detected for superior identification (disabled at 4K)
Loud alarm on detection or manual triggering
Real-time view from the app
Storage
Thanks to the smart hub, the Arlo Ultra supports local storage recording at 4K via microSD, though this will soon fill-up if you don't have multiple cards. Alternatively, you can record in a lower quality for more convenience.
You will also get a generous 1-year trial of 30-day rolling cloud storage. In other words, you have access to 30 day's worth of footage and can easily view it via the app or download it for local playback.
After the trial expires you will need to pay between £3.99 (single camera) and £12.49 (up to 5 cameras) for 30-day 4K cloud storage.
Verdict
The Arlo Ultra 4K camera is the highest quality product of its kind, offering the best features. However, it's also the most expensive of the home security cameras the UK offers. So, if you're looking for something more budget-friendly, see the other options on our list.
Netatmo Welcome
Brand: Netatmo
Netatmo Welcome
Brand: Netatmo
Free cloud storage
14 days
The Netatmo Welcome is a welcome addition to the Wi-Fi security camera market, introducing facial recognition technology. You'll know immediately whether it's your loved one, the postman, or a stranger at your door. With full HD recording, night vision, and a 130-degree viewing angle, it ticks most of the boxes.
But.
It cannot be used outdoors and only has one-way audio. This knocks a star off considering there are cheap security cameras that can be used outside.
Image Quality
The Welcome camera provides a clear 1080p HD picture regardless of lighting. This is accomplished with night vision technology, powered by an infrared LED. 1080p applies to both live streaming and recorded video playback.
You can also let the quality auto-adjust depending on the stability of your Wi-Fi connection.
The 130-degree viewing angle is comparable to other cameras on the market. However, there is no pan or tilt feature, so you need to be certain of the position when you set it up.
Features
Netatmo's core feature is its facial recognition technology. It allows you to capture faces you'll need it to recognize later. This means when any of your 'allowed faces' trigger the motion detection the camera won't record or send out a notification. Alternatively, you can set to receive notifications, for example, to check if your children have arrived home from school. If you're using it as a front door camera or looking out a window, you can recognize regular postal workers as well.
Advanced motion sensor technology saves storage space by only recording when someone is detected by the camera.
You can also watch what is going on at any time via your paired device, even when on the go. So, if you're at work you can check in to see who's at the door. Control everything with the app on your paired device, quickly setup the Wi-Fi and monitor recognized faces. Alexa helps with voice control.
The 130-degree field of view makes up for the lack of pan and tilt. The 'fisheye' screen effect is removed by digital processing.
One downside is there's now two-way audio so you cannot converse with anyone in the vicinity of the camera. It also does not come with any wall brackets or mount so you'll either have to create this yourself or rely on a table.
Storage
Storage is done locally via a microSD card. This is promoted as a security measure. The downside is that you cannot remove the card to transfer any of the videos manually. It wipes the card clean, so instead, you must use your paired device and password to download the footage.
Verdict
The facial recognition and microSD storage are major plusses for the Netatmo Welcome. However, for you to commit to the price tag you must be certain that you do not want outdoor support or two-way audio.
Neos Smartcam
Brand: Neos
Neos Smartcam
Brand: Neos
Free cloud storage
14 days
A good alternative to a basic wireless doorbell camera, the Neos Smartcam is one of the best cheap security cameras on the market. While it lacks in image quality and cannot be used outdoors, for just £29.99 it has a surprising number of features. It is perfect if you just want a camera near the front or back door of your home to monitor deliveries and potential intruders.
Image Quality
Neos does record in 1080p resolution but this is a bit misleading as the framerate is only 15fps, half that of the best security cameras. In other words, while each frame is crisp and clear, playback itself can be choppy.
Nonetheless, with night vision technology you'll still be able to clearly recognize if someone is trying to get into your home.
Features
An acceptable 110-degree viewing angle to monitor most entrances
Recording triggered by noise or motion and will take a 12-second clip or continue to record if the disturbance remains
Night vision technology to see clearly up to 9 metres away in complete darkness
Mobile app that pairs with Alexa for voice control
Real-time camera monitoring
Two-way audio to talk to people or pets while away from home
Magnetic base to attach the camera to walls and ceilings
USB or 3-pin plug charging
Storage
Neos does local storage better than a lot of higher-end cameras, allowing you to record directly to a microSD card.
The one downside is that the app does not let you view this footage. It must be manually downloaded and viewed as a video file by itself.
You also get 14 days' worth of continuous free cloud storage before requiring a £2.49 subscription. Most people will not need to pay any more than the camera price.
Verdict
Neos is cheapest on our home security cameras UK list. You simply cannot beat the value for money. And while you won't get the image quality of higher-end cameras, home security is not the same as home-theatre. It does the job.
Google Nest IQ
Brand: Google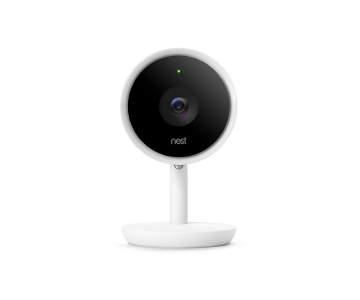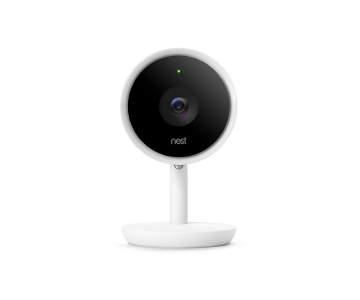 Google Nest IQ
Brand: Google
Google Voice Assistant
Supported
Suitable for outdoors
Yes
Arguably the best wireless home security camera system UK customers can buy for indoor use. The Google Nest Cam IQ is one of the few to provide 4K video. It will however set you back over £250, at least £100 more than the regular Nest CCTV Cam.
Image Quality
You won't get a crisper or clearer image from an indoor cam than the one from Nest Cam IQ. The 4K support is improved further with several extra features, such as HDR. High Dynamic Range enhances the detail of an image in overly bright or extreme dark conditions. Meanwhile, the 940nm infrared and dual LEDs illuminate the pitch black.
Features
The IQ indoor comes with an impressive array of features, including built-in Google Assistant for voice control. If you've got a house full of Google devices, it will fit in nicely.
The 6-core processor aids the camera's impressive facial recognition, so you'll know who crosses its path. Your paired device will then be sent a 'person alert'.
Close-up tracking is available thanks to its 4K video, so you can zoom and follow people or objects as they move within its 130-degree field of vision. The motion detection allows it to do this automatically, recording only when needed.
Two-way audio with noise cancellation and echo suppression means you can clearly hear and talk to people in the vicinity.
You can use the Nest completely wireless or leave it plugged in at the mains (needed at night due to battery-life).
Multi-camera/multi-room support can be controlled from a single account.
Storage
All Nest cameras are cloud-only devices, so you cannot record video locally yourself and must access it via the app. The last three hours of footage can be watched in freeze frames, so you'll know if an incident has occurred. However, you'll need a £5 a month Nest Aware subscription in the UK to properly access security camera recordings for the past 30 days.
If you get the Plus subscription (£10 per month) you can set this to 60 days or 10 days of continuous 24-hour recording.
Verdict
If you only require an indoor cam and 4K is a feature on your list, then the IG Indoor from Nest Home Security is a front-runner. It's user-friendly and full of helpful features like facial recognition and close-up tracking. However, the subscription-only model is quite disappointing.
Logitech Circle 2
Brand: Logitech
Logitech Circle 2
Brand: Logitech
Viewing angle
180 degrees
Cloud storage
Free for 24 hours
With a great viewing angle of 180-degrees, full HD indoor and outdoor use, and 24-hour free cloud storage, the Logitech Circle 2 is a good all-round wireless CCTV camera. You can purchase it for under £200, however, with some performance issues at night and no local storage, it is not our first choice.
Image Quality
The wide area lens and 180-degree field of view come hand-in-hand with a full 1080p HD image, which you can live-stream at any time with the supporting app. Pan, tilt and zoom are also supported, but the quality will drop.
Logitech Circle 2 also does not perform brilliantly at night and lacks some of the extra technology like colour-enhancement and HDR. Instead, you will get black and white images. It works best capturing footage of people and objects in its immediate vicinity. You're better off placing it just inside or outside your property's entrance.
Features
2 wireless security cameras in the set with window mount, plug mount, rechargeable battery, and outdoor extension. While it's not quite a spy camera, UK customers will be pleased with its numerous mounting options.
When it comes to speed, you won't complain. High-speed, Wi-Fi Internet connection: 802.11 a/b/g/n 2.4GHz or 5.0GHz.
Supports Alexa, Apple HomeKit, and Chromecast for voice control and streaming. Otherwise, controlling the cam and watching footage is done via the native iOS or Android app on your paired device.
An advertised 3-month battery life, though we found this can be considerably less. To tackle this, you can easily leave it plugged into the mains.
Weatherproof out of the box or use the 15ft wired extension for outdoor mains power.
The motion-activated camera sends a notification and thumbnail to your paired device without needing to open the app itself.
The two-way audio lets you listen in and respond to visitors, pets, or would-be intruders, though faces cannot be recognized.
There's also time-lapse technology that allows for easy playback.
Unfortunately, there are no alarms even when outdoors.
Storage
Footage is sent encrypted to the cloud. You can access 24 hours of this for free before having to pay for a subscription.
For 14 days of footage, you must pay a monthly subscription of £2.99 a month for one camera or £5.99 for up to 5 cameras. 31-day storage is £7.99 for one camera and 13.99 for up to 5.
Unfortunately, there are no local storage options and all footage must be first accessed via the secure cloud storage account before viewing or downloading.
Verdict
It's not the best outdoor security camera system, but the Logitech Circle 2 stands out with its wide viewing angle and outdoor extension. Other cameras perform better at night and a lack of local storage will irk people that do not wish to pay extra fees. That being said, 24-hour free cloud storage will still do the job if you stay on top of your alerts and download the footage promptly.
Ring Indoor Cam
Brand: Ring
Ring Indoor Cam
Brand: Ring
Want a very affordable wireless security camera that you can pick up for less than £50? The Ring Indoor Cam may not be the very best home security camera in the UK, but it has many features and comes with a full HD 1080p video. You get a 30-day cloud storage trial expires you will have to pay at least £2.50 a month. This cam must always be plugged in for power.
Image Quality
With a good 140-degree field of view, you can capture most of a room from a high vantage point. The image is recorded in full 1080p HD that you can watch from your paired device at any time or on-demand via cloud storage.
You can also see quite clearly in the dark with black & white night vision technology. There are no lights or colour enhancement.
Features
If you're looking for hidden security cameras for your home in the UK, the Ring Indoor Cam can be placed on a flat surface or mounted high up for better concealment.
Easily pair it with your smartphone, tablet, or Echo control it with the native app. Alexa support allows for voice control. You can view the camera from anywhere using your phone and the app, talk to visitors or pets, or ward off strangers. Effective two-way audio allows you to hear everything that's going on and talk back.
You can connect multiple Ring cameras (including different models) and easily switch between them on the app. You can also adjust motion detection sensitivity and receive different types of notifications.
Storage
Ring cams come with a 30-day free trial for 'Ring Protect', their cloud storage solution. Once the trial expires you will need to pay at least £2.50 per month to continue to get 30 days of storage. This allows you to watch back any security camera footage on the app or download it locally.
For £8 a month you also get extended warranties and other perks with your Ring subscription UK.
Verdict
Like its cousin the Stick Up Cam, the Ring Indoor Cam is a great choice if you need cheap CCTV. It has most of the features you need for good quality detection and recording. While you will eventually have to pay £2.50 for cloud storage, this will not break your bank balance.
How To Choose the Best Security Camera for the UK
Choosing security cameras for a home will depend on your individual requirements. Some of the main factors include:
Price and Storage Subscriptions
Wireless CCTV systems are very affordable with the highest end products, such as the Arlo Ultra 4K, not surpassing £700. Even the cheapest cameras have most of the features the average person needs for less than £100. Expect to pay more for cameras that capture beyond HD and have added image quality features, like HDR and colour night vision.
You must also account for the cost of a cloud storage subscription if you want access to several days of old footage. Alternatively, this can be avoided if the camera has a good local storage option and you don't mind archiving footage manually using a microSD card.
Indoor or Outdoor?
Typically, the larger the property and surrounding land, the more cameras you will require and the more benefit you will gain from an outdoor camera. This is especially true for commercial premises. On the other hand, a small home or flat might only require a single indoor camera near the front door. The best security cameras for home use in the UK are suitable for both indoor and outdoor use.
Quality and Viewing Angle
The standard level of image quality on a Wi-Fi CCTV camera is vastly superior to the cams from just a few years ago. The cheapest option on our list captures full 1080p HD at 30fps, while the best security cameras do 2K or 4K. Any HD option is adequate for indoor use covering a small area, such as an entranceway or medium-sized living room. However, if you need to protect a large room, long hallway, or vast outdoor space, you might consider 2K or 4K cameras with the best night vision features and widest viewing angles. Furthermore, the higher the overall image quality, the better the camera will be at zooming in on objects without distortion.
Note: A 2K or 4K security camera system requires a fast and stable Wi-Fi connection, else the quality will be automatically downgraded.
Multi-Camera Setup
If you wish to fully protect your property with a full-blown wireless CCTV camera system, you need to check whether you can control multiple cameras from a single app. While some products come with two cameras as default, you also need to factor in the cost of multiple cameras (there is usually a discount for buying a set), and how this affects cloud storage fees. The best Wi-FI home security cameras in the UK support multi-cam setups.
Battery Powered or Wired?
Wifi CCTV with rechargeable batteries is easy to install and can go pretty much anywhere your Wi-Fi can connect. Considered battery life – you don't want the charging process to become a chore. A wired home security camera gets constant power but is less portable.
Communication
Home security cameras will let you communicate, not just observe. Two-way audio, for example, allows you to speak to people or comfort an anxious pet. If you want to ward off intruders, particularly outdoors, you should look for features like floodlights and alarms.
iOS or Android?
Your home CCTV system will be controlled by your phone or similar smart device. While most of the cameras on our list support Android and iOS, if your home is filled with Android/Google devices you may benefit more from a Google Nest camera, for example. Whatever you go with, make sure to read reviews about how user-friendly the wireless camera is.
Conclusion
Whether you want to protect your family from break-ins, keep an eye on your pets, or monitor other unexpected activity, our list of UK home security cameras has something to suit everyone's needs. For less than £100 a good indoor camera can easily monitor who enters your property. Spending a few hundred more on an outdoor wifi camera can protect a vast estate with 4K video and colour night-vision. Whatever you choose, we promise peace of mind and better sleep at night.
In addition to securing your home you can also secure your devices from online dangers. You'll find plenty of suggestions on our site.
FAQ.
---
Which home security camera system is the best UK?
For best overall features and performance, we rank the Arlo Ultra as the best home security camera UK sites sell. It works flawlessly indoors and outdoors and provides sublime 4K quality video with HDR, a spotlight, and colour-enhanced night vision. However, at over £600 it is the most expensive camera system we've reviewed. At nearly half of that price, the Arlo Pro 3 has many of the same features as the 2K, while the Ring Stick Up Cam is best for those on a budget that still require a weatherproof solution. You can pick this up for less than £100.
Which CCTV camera is best for home?
Looking for the best security cameras for home in the UK? Our pick is the feature-rich Google Nest Cam IQ Indoor. Not only does it provide 4K video and facial recognition but it's incredibly easy to use and benefits from full Google support, including Assistant voice control. If £299 is out of your budget or you're an Apple user, then you can't go wrong with the Ring Indoor Cam. It can be picked up for less than £50 and provides 1080p video, Alexa support, and a 30-day free cloud storage trial (£2.50 thereafter). A great high-end option that can be used inside and outside is the Arlo Ultra.
How much is CCTV for your home UK?
Security cameras for home UK shoppers can buy are more affordable than ever, with our luxury pick, the Arlo Ultra 4K, topping out at under £700. At the budget end, you can find outdoor solutions like the Ring Stick Up Cam for just under £80. For indoors, we recommend the Neos Smartcam for only £29.99. There are many other options in between these price points, all providing at least HD and motion detection.
The extra cost to look out for is a monthly cloud storage subscription which can range from £2.50 to £5 for basic plans.
Which brand of security cameras is the best?
At the high-end Arlo has consistently provided the best home security cameras in the UK, such as the Arlo Ultra and Arlo Pro. The Amazon-owned Ring brand provides surprisingly high quality and feature-rich range at less than £100, such as the Stick Up Cam and Indoor cam. Ring is also known for the best video doorbell UK customers can buy.
What outdoor security camera should I buy?
Depending on your budget there are several home security cameras in the UK that perform excellently outside, including the Logitech Circle 2, Arlo Ultra, Arlo Pro 3, Ring Stick Up Cam, and the Swann Floodlight.
For overall performance, we'd point you to either the Arlo Ultra or Arlo Pro 3. Since these will set you back several hundred pounds, we think the Ring Stick Up Cam or the Swann Floodlight, in particular, get the job done at a fraction of the cost. Read our individual reviews to find out more about home outdoor security cameras in the UK.
What are the best ip cameras for home security UK?
The term IP cameras is somewhat obsolete in the era of Wi-Fi and smart cams. It simply referred to any security camera that used an internet-based network connection to receive and store data over the local network. In a sense, the home security cameras for the UK that we recommend are IP cams but that term is rarely used anymore.
Aditya Rayaprolu
As a cloud architect at McKinsey with experience handling Fortune 500 clients, this individual has comprehensive expertise in cutting-edge technologies and tools such as cloud computing, virtualization, network security, data storage, and disaster recovery. They have a wealth of experience in creating and executing virtualization solutions for both on-premise and cloud-based systems, with a primary focus on enhancing efficiency, dependability, and security.
Leave your comment
Your email address will not be published.