Need a VPN router in the UK but aren't sure where to look or what features you need? We've got you covered.
Our reviews have narrowed it down to ten leading products, so you're able to choose one that suits you.
To help determine the best VPN router UK customers can buy, we looked at:
The pricing
Performance and speed
Bandwidth management
VPN compatibility
Other features
Read on to learn more!
Read More
at Linksys WRT 3200 ACM Router
Linksys WRT 3200 ACM Router
If you're looking to keep your home data private and secure, the Linksys VPN router is a good choice. It's suitable for gamers and provides MU-MIMO and Tri-Stream. The wireless router is also very easy to set up and supports OpenVPN out of the box. Alternatively, you can replace the stock firmware with open source alternatives like DD-WRT. It's very customizable and allows a lot of freedom!
OpenVPN and DD-WRT
Supported
Vilfo VPN Router
This dedicated VPN router has inbuilt support for over 26 leading VPN providers. You'll get blistering speeds of 1Gbps on WireGuard, and it works with the OpenVPN protocol out of the box as well. It's also one of the most powerful in terms of RAM and CPU – something regular routers overlook as they don't need to encrypt and decrypt traffic like Vilfo.
Protocols
OpenVPN and WireGuard
Asus RT-AC5300 Router
This beastly looking tri-band router with VPN provides very fast 2.4GHz and 5GHz throughput. It is suitable for online gaming and even 4K streaming. It's also MU-MIMO enabled, has OpenVPN, and an endless number of settings and tweaks for the expert user. If you're building a large network, you can benefit from AiMesh support to easily connect multiple ASUS VPN routers. AiProtection constantly monitors your network for threats.
Netgear Nighthawk X4S
If your home is full of Wi-Fi devices and clients, you've probably experienced insufficient bandwidth. The Netgear Nighthawk X4S router solves this with a good implementation of Multi-User Multiple Input, Multiple Output (MU-MIMO). There are lots of management settings, fast and stable 5GHz performance, Alexa voice controls, etc. Some outlets will sell it to you as a pre-configured VPN router, so you don't have to install DD-WRT yourself. Capable of handling up to 45 devices, it's definitely worth considering.
Supported devices
Up to 45
ASUS RT-AC86U
A good all-rounder, this Asus VPN router is a solid and secure VPN Wi-Fi router. Simple to configure, fast enough for gaming and streaming, with multiple traffic management options -what more can you ask for? Its overall look might be a little too aggressive for the average consumer, but gamers will love it. You'll find Game Boost and Adaptive QoS to optimize gaming bandwidth, and you'll also get 4 ethernet ports alongside the WAN, a USB 2.0 and USB 3.0 port.
Connectivity
WiFi and USB
Bandwidth distribution
Efficient
at Linksys WRT32X Gaming Router
Linksys WRT32X Gaming Router
The WRT32X by Linksys is built from the ground up with gaming in mind. Its core feature is total prioritization on the network, as long as you are connected to supporting devices like Alienware, Razer, or Gigabyte. It does this via Rivet Networks' Killer Prioritization Engine (KPE), which works alongside MU-MIMO streaming. It also has above average file transfer speeds and excellent 2.4GHz throughput. For VPNs it has a user-friendly interface with OpenVPN support, allowing you to set things up quickly. You can also install DD-WRT or buy it preconfigured.
at Netgear Nighthawk X10 AD7200
Netgear Nighthawk X10 AD7200
Looking for a Netgear VPN? With great performance at 5GHz, this dual-band VPN enabled router is a high performing device. It supports Multi-User Multiple Input, Multiple Output (MU-MIMO) for efficient use of bandwidth. It is one of the few to also offer 60GHz 802.11ad networking and a 10G SPF+ LAN port. Speeds come close to enterprise level! It is arguably the best router for VPN in the UK.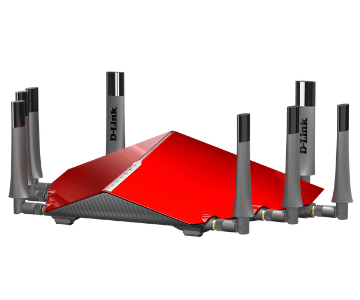 at D-Link AC5300 Ultra Wi-Fi Router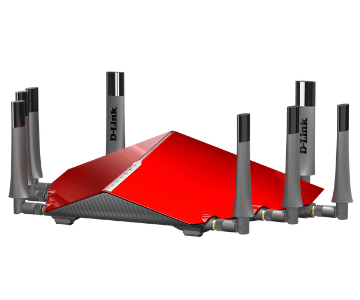 D-Link AC5300 Ultra Wi-Fi Router
This striking looking router with VPN support from D-Link provides top of the range 5GHz tri-band Wi-Fi, Multi-User Multiple Input/Multiple Output (MU-MIMO). It has some of the fastest throughput and file transfer speeds. And, while it doesn't have 802.11ad, it performs close to those that do. VPN Server, VPN passthrough, and OpenVPN support cover all your VPN bases. Some vendors will supply the wireless router preconfigured if you don't want to set it up yourself. Whether you're streaming 4K, gaming, or enjoy VR, the D-Link AC5300 Ultra handles it all at fast speed.
at TP-Link Archer C7 AC1750
TP-Link Archer C7 AC1750
Want impressive performance at an affordable price, but are on a budget? The TP-Link Archer C7 AC1750 is worth considering if you need a router-based VPN. For that, you'll get dual-band 2.4GHz and 5GHz at 802.11n, and combined speeds up to 1.3Gbps. You can connect up to four Ethernet cables, there's a Gigabit WAN port, USB port, and it supports IPv6. There's also good VPN support, which can be set up via Open VPN or PPTP from the control panel.
Asus RT-AC3200
An impressive tri-band router with VPN compatibility, the Asus RT-AC3200 provides good speeds at 5GHz. It handles bandwidth well across all 3 bands. It's easy to use thanks to the well-designed Asus interface. You can set up your VPN server via PPTP or OpenVPN in just a few short steps via its dedicated VPN tab, without the need for any other VPN hardware. Alternatively, you can also pick up a preconfigured one on DD-WRT from select providers.
at TP-Link AC1900 Touch Screen
TP-Link AC1900 Touch Screen
If you're looking for a UK VPN router that does its job in style, the TP-Link AC1900 Touch Screen is certainly the best looking of the bunch. The screen itself makes setup much less daunting. You don't even need a computer! Under the hood you'll get competent dual-band performance, with solid 5GHz throughput, topping out at 1.3Gbps. It also supports VPNs via PPTP & L2TP/IPsec.
Custom firmware
Supported
What Are the Benefits of Using a VPN Router?
If you are new to the concept of using a VPN for router traffic or a VPN at all, there are a number of benefits
Superior Privacy
As a modern internet user, you will be well aware of privacy and security concerns. Always use strong passwords, be wary of the data you share on social media, limit location services on your phone, and consider blocking cookies and ads. Routers themselves come with basic firewall protection but a virtual private network (VPN) takes things further.
Its protection encompasses your entire internet activity from the source. It does this by redirecting your traffic and changing its location. It will look like your phone, computer, or any other device is geographically located somewhere else. It also encrypts the data you send over the internet so that no one, including your actual ISP, can intercept it and use the information. This is useful because some internet service providers will throttle your bandwidth or even warn you if you are doing things like file-sharing or torrenting.
Although it is not failproof, it is a way to increase your anonymity and offer broad stroke protection.
A VPN service is primarily delivered via software and requires a paid subscription for the fastest and most secure experience.
Prevent Wi-Fi Poaching
If someone is trying to connect to your Wi-Fi to use it without your permission or worse, to gather information about you, you'll have a level of anonymity that makes poaching for data worthless. They won't be able to see what you're sending or receiving. Furthermore, if the poacher decided to use your network for illegal purposes, it cannot be traced back to you either.
More Efficient
If you're wondering why you would buy a VPN router in the UK instead of simply adding your VPN to each of your devices, it comes down to efficiency. Today, most home networks have many connected devices. In fact, 87% of UK adults own a smartphone. Considering the numerous smartphones, TVs, games consoles, computers, speakers, Alexa – it can be a hassle to install a VPN on all of these. In fact, some devices are very limited and are unable to connect via a VPN at all.
By setting up your VPN at the router level you automatically protect every single device that connects to it. There's no need to apply any VPN settings to each individual device. The connection is remembered and as long as you set it up correctly, it will do its thing for the foreseeable future.
Some VPN providers also limit the number of devices you can install their VPN on. You have a better chance of bypassing this limit at the router level because it is sometimes only registered as one VPN device, despite serving your entire network.
Using your router as a VPN box also means any guests who you allow to connect to the network are also instantly protected...and you're protected from them.
Save Money
Some VPN providers charge you per device, which is ok if you're an individual and just want to protect your phone or PC. If you want to protect an entire home network this model can be costly. In that case, you can pay for an unlimited or router-based VPN provider. It is usually cheaper than many individual devices or you may even get away with paying for your router as a single device.
Either way, using a VPN at the router level is cheaper for large networks and much more efficient.
Unlocked Content
One of the key benefits of using a VPN, especially a premium service, is that you can choose and change where your traffic is routed through. This allows you to access region-locked content on the web. It is especially beneficial for streaming services like Netflix that often has different shows in the US and Europe.
Using a router VPN in the UK also means you can access overseas content immediately from any of your devices that connect to the network.
Likewise, as well as region-locked content you can also access content that has been blocked by your ISP. For example, in the UK many ISPs block file-sharing and BitTorrent websites. Some even block so-called 'fake news' sites.
Buy Preconfigured
Because VPNs are becoming a lot more popular and many modern routers are compatible, VPN providers and third-party vendors are selling them preconfigured. This means the device will be ready to use with the VPN service out of the box... or at least has been configured to make it even easier to set up your desired VPN service. Sometimes this involves custom firmware being installed on the router, so the user interface and some of its settings may be different from what's advertised by the manufacturer.
You can buy a pre-configured VPN router in the UK for popular VPN providers like Express VPN and Nord VPN, allowing you to use their VPN services on the router straight out of the box. One popular retailer of the pre-configured VPN router is Flashrouters UK. Alternatively, just search for Express VPN router or Nord VPN router to find others.
A flash router is just another name for a router that has had custom firmware installed.
Top Recommendations and Reviews
Linksys WRT 3200 ACM Router
Brand: Linksys
Linksys WRT 3200 ACM Router
Brand: Linksys
OpenVPN and DD-WRT
Supported
If you're looking for the top VPN routers in the UK, the Linksys WRT 3200 ACM is worthy of anybody's list. It's got great speed on the 5GHz band, is very user-friendly, and is good value for money.
On the VPN front, it's also one of the best WRT compatible routers on the market, allowing experts an endless number of options via OpenWRT and OpenVPN. You get dual-band coverage and MU-MIMO, allowing you full control over bandwidth prioritization settings. All of this is available to you for around £200 and some vendors will sell it to you pre-configured for VPN.
Features
1.8GHz dual-core CPU - allowя you to handle the largest of home networks without slow-down.
Dual-band 802.11ac Wi-Fi - excellent speeds at 5GHz, though the 2.4GHz band could be faster.
Solid four antenna set up - two for 5GHz and two for 2.4Ghz, providing excellent range throughout the home or office.
An eSata/USB 2.0 port, along with a USB 3.0 port for printer sharing, NAS, and DLNA server streaming. You also get the standard four ethernet ports and a wide area network port.
Supports the IPv6 protocol so you can be sure you're getting the fastest possible experience.
Quick guest network setup - you can share your network with visitors without putting your data at risk.
Easy to use interface - you can set up your VPN. As an OpenVPN router, UK users can quickly configure VPN services like NordVPN or ExpressVPN.
Support for open-source firmware for those who like to experiment, including DD-WRT. Some vendors will sell it with DD-WRT pre-installed and set up with a VPN provider already in mind.
Full MU-MIMO support - allows for simultaneous gaming, file sharing and video streaming on multiple devices, with added bandwidth prioritization settings.
Performance
You'll get great speeds on the 5GHz band, topping out at 2.6Mbps on paper and 600 Mbps on the 2.4Ghz band. The file transfer speeds are also good and within the expected range at this price point. The only downside is that it does not perform brilliantly if you put one or two thick walls between your device and the router. While this goes for all routers, some on our list perform better with distance and obstructions.
Verdict
Overall, if you want a router that you have full control over, with excellent VPN options and competitive speeds, then the Linksys WRT 3200 ACM is the one. However, if you're a beginner its many features might be a bit overwhelming.
Vilfo VPN Router
Brand: Vilfo
Vilfo VPN Router
Brand: Vilfo
Protocols
OpenVPN and WireGuard
If you want a router with a built-in VPN, Vilfo has designed one from the ground up specifically for that. It comes preconfigured to support more than 26 of the top VPN providers, making it an excellent choice for the non-tech-savvy user.
While it provides great speeds via dual-band Wi-Fi, it truly shines as a wired solution. Plus, unlike your average router, it sports a high-frequency Intel Celeron processor, 2GB of RAM, and even 16GB of SSD storage space. All of this results in a latency-free encryption process for flawless VPN connections.
It's currently available in EUR and USD, at €339 and $399, respectively.
Features
Powerful 1.7G GHz Intel Celeron processor that enables bandwidth-intensive activities.
Up to 8 dBi antennas with 2.5GHz and 5GHz dual-band Wi-Fi, giving excellent coverage across your home or office.
A quick 1Gbps of consistent speed over WireGuard or 500Mbps with OpenVPN. It's tried and tested for streaming and gaming, so you can carry out your favourite activities without worrying about VPN speed drops.
3 LAN Ethernet ports and 1 LAN port for multiple wired options.
Control split tunneling from the router's body, choosing which sites and applications are protected and which should make regular connections. E.g., open things up for gaming but keep everything else on the VPN.
Beginner-friendly plug-and-play VPN hardware means you don't have to install firmware or go through lengthy configurations. Its user interface is second to none and immediately recognizes more than 26 VPN providers.
Get insights into what's happening on your network with real-time bandwidth reporting and push notifications to keep you informed on the go.
Performance
Vilfo performs like a charm, with real-world tests easily reaching 100Mbps (wired). Latency is almost non-existent, and it can handle multiple users streaming and gaming at the same time. This includes 4K HDR and intensive modern games.
You don't get these results from regular DD-WRT compatible routers and manually configured VPNs.
On the downside, the Wi-Fi speeds aren't great, but you'd expect that when your traffic is routed through the VPN tunnel.
You can increase efficiency by opening its intuitive interface and micromanaging each connected device. For example, you might put your smartphone and tablet on one band and streaming on the other. You can take any device offline in a click or set it to bypass the VPN for a standard connection.
One of its most notable features is the ability to run multiple VPN clients simultaneously.
Verdict
Though this VPN device has specs that fall below other routers we've reviewed on paper, its powerful and finely tuned hardware brings a level of consistency not seen elsewhere. In many ways, it's a minicomputer crafted into a router.
Its ease of use makes it the best choice for beginners and those who just want to plug it in and secure their network right away. All it really lacks are some of the extra bells and whistles for Wi-Fi, and the speed there is a bit lacking. On the bright side, it's hard to beat for wired networks.
Asus RT-AC5300 Router
Brand: Asus
Asus RT-AC5300 Router
Brand: Asus
With 8 antennas the RT-AC5300 from Asus has an almost primal look, though its performance is distinctly modern. The tri-band router with built-in VPN support is one of the fastest on our list, providing a strong Wi-Fi range and around 5Gbps speed. You'll get the standard four LAN and one WAN ports, along with a USB 3.0. This is the only real let down, as the USB speed is slower than expected and there's no eSATA. Still, it's perhaps the fastest OpenVPN router in the UK. You also get MU-MIMO support for bandwidth efficiency.
Keep in mind that the RT-AC5300 is one of the pricier options on our list. However, it's worth every penny.
Features
Dual-core 1.4GHz processor - rarely runs high and is able to manage tonnes of devices on your network.
Top of the range tri-band Wi-Fi delivered via 802.11ac - one of the fastest on the market for the 5GHz band.
Eight antennas - you'll get a solid connection at a distance.
Only one USB 3.0 port, whereas other routers will give you a 2.0 alongside it or a combined eSATA. This is a bit of a let down because the speed of the port is also not that great compared to others.
User interface chocked full of both basic and advanced settings, making it suitable for beginners and router experts. You'll also be able to set up a guest network with a few clicks so you can safely share your connection with others.
Asus Smart Connect automatically assigns clients to one of the three bands for optimum throughput at any one time.
MU-NIMO further optimizes bandwidth allowing for prioritization based on application and simultaneous streaming, gaming, and file sharing without any user being slowed down.
Lots of vendors can provide the RT-AC5300 preconfigured with a VPN, though it's definitely not difficult to set this up yourself via the Asus router VPN server tab in the control panel. All modern Asus routers are OpenVPN ready and recommended by VPN providers.
Performance
The Asus RT-AC5300 is fast, topping out at around 2.1Gbps on both 5GHz bands and a great 1Gbps on the 2.4GHz band. With the 8 antennas, you've got the perfect setup for 4K video and intensive gaming. File transfer speed is also good, testing around 33Mbps average downstream and 26Mbps write speed.
The MU-NIMO works well. Gaming, particularly, excels thanks to the Game Boost feature which can direct almost all resources towards online gaming when required.
Verdict
If you're looking for the best router for VPN, the Asus RT-AC5300 is certainly one to consider. It's among the fastest and most reliable we've reviewed. It caters well to intensive users, especially gamers who want to direct all resources to their session. Pricewise, it's on the high-end territory. It's also quite large and bulky compared to the home and small office routers of the past.
Netgear Nighthawk X4S
Brand: Netgear
Netgear Nighthawk X4S
Brand: Netgear
Supported devices
Up to 45
The Netgear Nighthawk X4S is simple to manage, fast, and reliable. It is also a VPN router UK vendors are offering pre-configured so you can get it to work out of the box. If not, you will need to install DD-WRT firmware yourself to use the OpenVPN routing protocol. The router's implementation of MU-MIMO is one of the most versatile, allowing you to use numerous tools to fully control bandwidth allocation or just let it do its thing automatically. Along with the usual 4 LAN, one WAN setup, you also get two USB 3.0/eSata ports. It can be picked up for less than £200 which is a good price considering its excellent performance. If you're on a strict budget there's also a downgraded R7000 Netgear VPN router, which is basically the same but without MU-MIMO.
Features
Powerful 1.7GHz processor ensures you'll have no performance issues, even when simultaneously gaming and streaming,
802.11ac and dual-channel Wi-Fi technology provide up to 2.5Gbps wireless bandwidth with a great range from its powerful four antenna configuration. At 2.4GHz it's ok but it's the 5GHz band where it starts to shine.
Quad-Stream technology allows multiple devices to get faster speeds at the same time. Dynamic QoS automatically prioritizes network traffic by application and device for the most optimum experience.
Excellent implementation of MU-MIMO has many other options for distributing bandwidth.
One of the few routers to offer two USB 3.0/eSata ports, allowing you to connect everything you could need.
User interface isn't as good as some routers. But as long as you aren't a beginner, you'll soon pick it up. It also supports custom firmware if you have a better platform you want to use.
Configure IPv6 via the Advanced Setup tab in the control panel.
To set up your router with a VPN server, go into the advanced tab and check VPN Service, then enter the required details like the network address, etc. Before you can configure OpenVPN the router requires DD-WRT firmware.
While it is not a cheap DD-WRT router, when you take into account its performance and overall features, the X4S is the best value for money.
Performance
On paper, you get up to 2.5Gbps, which equates to around 1.7Mbps on the 5Ghz band and 800Mbps on the 2.4Ghz band. In reality, it also fairs well at a distance, maintaining 5Ghz further than 10 metres and through walls, with 40Mbps.
USB performance is also good, clocking up to 66Mbps.
Verdict
The Netgear Nighthawk X4S is a good VPN enabled router, whether you do intensive online gaming and video streaming or just browse the internet. Its only downside is a less than stellar user interface, but actual performance more than makes up for this. Since the VPN protocol of choice is now OpenVPN you will need to consider buying the router pre-configured or installing DD-WRT firmware yourself.
ASUS RT-AC86U
Brand: ASUS
ASUS RT-AC86U
Brand: ASUS
Connectivity
WiFi and USB
Bandwidth distribution
Efficient
At under £200, the ASUS RT-AC86U is the best VPN router UK consumers can buy at this price point. It's insanely customizable and at 5GHz it produces some of the best speeds on the market. Although it's often marketed at gamers, it's just as great for streamers and other types of users, thanks to its excellent MU-MIMO implementation. It also excels at VPN, allowing you to use numerous VPN protocols, including OpenVPN out of the box. You can also find it preconfigured from some specialized outlets. Other handy features include a fast USB 3.0 port and Trend Micro protection to monitor security threats to the network.
Features
1.8GHz 64bit dual-core processor gives it considerable computation power, allowing an impressive USB data transfer speed of up to 110Mbps from the USB 3.0 port.
Dual-band 802.11ac Wi-Fi with combined speeds up to 2.9Mbps and impressive wireless coverage via three detachable antennas.
Real world averages on the 5GHz band are currently some of the best on the market.
Effective MU-MIMO implementation allows you to connect multiple devices doing different tasks and for them to still meet their bandwidth requirements simultaneously using the 5GHz band. This is particularly effective for online gamers and those that stream in HD and higher.
Specific settings include Game Boost and QoS for prioritizing your chosen devices.
One of the better user interfaces with tonnes of customizable features. Beginners are guided without being overwhelmed. You can hover over every setting to reveal a concise explanation about what it does.
VPN setup is particularly easy thanks to the Setup Wizard and OpenVPN support.
Asus's patented AiProtection keeps your network safe and secure without additional tweaks.
Performance
ASUS ensures your router VPN performs well without any bottlenecks from the device. On the 2.4Ghz band you're looking at 750Mbps, while the 5Ghz band performs at an impressive 2167Mbps. All it lacks is tri-band, though most people will not need this unless they have a particularly active network.
Real world testing at 50 feet is more than acceptable, averaging around 600Mpbs on the 5GHz band. Even at 150 feet it maintained a solid connection and average speed of around 487Mbps, making it ideal for larger homes.
Verdict
At a mid-range price point, the ASUS RT-AC86U is our number one pick, providing great speeds and stability for all applications, bandwidth prioritization, router VPN support with easy setup, all the ports you need, and extra security. At under £200, choosing it is a no-brainer.
Linksys WRT32X Gaming Router
Brand: Linksys
Linksys WRT32X Gaming Router
Brand: Linksys
If your main focus is online gaming and you want a simple router that can manage this with OpenVPN support, choose the Linksys WRT32X Gaming Router. It makes use of both MU-MIMO and the Killer Networks Prioritisation engine to ensure you get the most amount of bandwidth while playing games. It can do this without sacrificing other devices and applications as long as they aren't doing anything too intensive. It's 2.4GHz band performs particularly well and file transfer speeds are also fast. Its only real downside is that it has a weaker signal than others at a distance. The Linksys WRT32X can now be picked up for £200.
Features
Four detachable antenna, has four LAN and one main WAN port, along with a USB 3.0 and USB 2.0/eSata port, both capable of supporting an external hard disk or flash drive.
Powered by a dual-core 1.8GHz processor, ensuring that even the most intensive network doesn't experience any lag.
Dual-channel Wi-Fi tops out at a combined 3.2Gbps and utilizes DFS (Dynamic Frequency Selection), allowing compatible devices to effectively receive double the 5GHz band's 80MHz channel width. This results in faster throughput speeds.
Multi-User Multiple Input, Multiple Output (MU-MIMO) allows simultaneous data streaming, while 'Beamforming' pinpoints the location of your devices for direct data transmission.
The Killer Prioritisation Network (KPE) optimizes bandwidth for online gaming and 4K video streaming, though the connected device must have compatible hardware, so not everyone will be able to make use of it. Alienware and MSI gamers are the most likely to benefit.
Like other WRT routers from Linksys you aren't locked into their native interface and settings, you are free to install your own custom firmware if you prefer. That being said, it has tonnes of options and is a good interface out of the box. Custom firmware will also remove the router's ability to use Killer Networks Prioritisation.
You can easily configure your VPN for router settings from within the Advanced tab of the interface, with OpenVPN support out of the box. Alternatively, you can install the DD-WRT or other network operating systems.
Performance
The WRT32X is a dual-band router that provides speeds up to 600Mbps on the 2.4GHz band and 2600Mbps on the 5GHz band, for a combined 3.2Gbps.
Real-world testing shows speeds around 150Mbps at close proximity on the 2.4GHz band. At 30 feet distance, it still performs well, at around 85Mbps.
The 5GHz band will give you over 460Mbps per second up close but at distance, it's not the best. Transfer speeds are also fast and stable.
Verdict
If you are a gamer with Killer networking hardware, the Linksys WRT32X Gaming Router is designed specifically for you. More general users might not benefit from this feature directly. However, it still performs well as an all-around Wi-Fi router when compared to other routers used as VPN hardware. OpenVPN and DD-WRT compatibility makes it suitable for any of the major VPN services in the UK.
Netgear Nighthawk X10 AD7200
Brand: Netgear
Netgear Nighthawk X10 AD7200
Brand: Netgear
Another great entry from Netgear, the Nighthawk X10 AD7200 is one of the best VPN routers available in terms of speed and performance. However, OpenVPN can only be configured using custom DD-WRT firmware. At nearly £400, it's also one of the most expensive. If you can afford it, you'll be paying for lightning quick 5GHz throughput and an extra 60GHz band. It also supports MU-MIMO, 802.11ad, and has 160MHz networking abilities. If you want to prep your network for future advances in technology, this is one of the best, but you'll need some experience if you don't buy it preconfigured for your VPN.
Features
Powerful quad-core 1.7GHz processor, ensuring even the most bandwidth-hogging VR gaming and 4K streaming runs smoothly.
One of the few VPN routers UK consumers can buy with 60GHz 802.11ad Quad-Stream networking and 160MHz Wi-Fi.
Reaches speeds of up to 4.6Gbps on the highest band, though the connected device itself needs to also support 802.11ad. In that respect it's an investment in the future as there aren't many networking devices that can utilise 160Mhz.
Multi-User Multiple Input, Multiple Output (MU-MIMO) suffers from middling and QoS lacks detailed settings, but on a beast like this it still clocks up scores better than almost all the competition.
Two 3.0 USB ports and ReadyCLOUD/ReadySHARE, allows you to easily access connected USB devices wirelessly and via the cloud.
DLNA lets you effortlessly stream media on TVs and games consoles.
Plex Media Server allows you to easily stream and share all of your videos and multimedia.
Superior Wi-Fi range is achieved via four dual-band antennas and amplifiers.
Quick Amazon Drive backup, allowing you to send all of your USB data to Amazon Drive.
Amazon Echo and Alexa voice control support.
Intuitive user interface with endless options, though you can still install custom firmware if you have something else that you prefer.
Easily setup a basic VPN server from within the settings of the user interface or get more control with third-party DD-WRT firmware and OpenVPN. One of the best DD WRT compatible routers.
Performance
As a tri-band wireless router with quad-stream on each band, the Nighthawk X10 AD7200 has incredible performance. At 60GHz it can reach speeds of up to 4.6Gbps, on the 5GHz band you're looking at 1.7Gbps, and at 2.4GHz you'll get up to 800Mbps.
Quad-stream means you can have four simultaneous up and down data streams per Wi-Fi band. That gives large networks of multiple devices plenty of room to use bandwidth efficiently before any sign of slow down.
There are 6 Gigabit Ethernet local area network (LAN)ports and you can combine two ports for faster file transfers. You also get the coveted 10G LAN SFP+ port for fast access servers.
Verdict
It is true that the Netgear Nighthawk X10 AD7200 is going to set you back around £380, but for that you've future-proofed your network and will get a feature rich and blazing quick experience. And, while it doesn't necessarily have the best MU-NIMO implementation, its raw hardware more than makes up for it. Simply put, it has the fastest throughput of all the routers on our list. Just for that we can rate it as the best VPN router UK users have access to if they are experienced enough to install DD-WRT. Or, if they don't mind buying it preconfigured from a third party.
D-Link AC5300 Ultra Wi-Fi Router
Brand: D-Link
D-Link AC5300 Ultra Wi-Fi Router
Brand: D-Link
It might look like a creature out of a sci-fi movie, but don't let that scare you. The D-Link AC5300 Ultra Wi-Fi Router steps it up a gear, providing fast transfer speeds, a high-performing 5GHz band, and good implementation of MU-MIMO. You can also easily set up your VPN from the native user interface or flash it to DD-WRT.
As a tri-band router, even the largest networks with tonnes of devices will be able to make full use of their up and down streams without being throttled. The only downsides are that it doesn't support wireless bridging and availability is low, allowing sellers to inflate the price to around £500.
Features
1.4GHz Dual-Core Processor ensures performance never drops regardless of your network size and the number of tasks it's handling.
Eight antennas provide maximum possible Wi-Fi coverage in the largest of homes or offices.
802.11ac and three Wi-Fi bands, one 2.4GHz and two 5Ghz, produces speeds of up to 5.3Gbps. This is ideal for intensive online gaming or 4K video streaming.
One of the best performing MU-MIMO routers on the market, for flawless simultaneous gaming and streaming across many devices.
Performance enhanced by 4x4 data streams, i.e. four independent streams to deliver data.
Advanced beamforming technology pinpoints the exact location of your devices to send a strong and direct signal.
4 ethernet ports, a WAN port, USB 2.0 port, and USB 3.0 port, for sharing and NAS functions.
Fully supports IPv6 and a variety of IPv6 connection types.
User-friendly interface and easy setup of your traditional VPN server or OpenVPN. Alternatively, the firmware can be downgraded and flashed to DD-WRT.
Performance
One of the best performing DD-WRT compatible routers on the market! You will get speeds of up to 2.1Gbps on either the 5GHz band or 1Gbps on the 2.4GHz band. In real-world tests, it maintained over 515Mbps on the 5GHz band at close proximity and an impressive 324Mbps at 30 feet.
File transfer is also fast, clocking a read speed of 78Mbps and a write speed of 39.5Mbps.
Verdict
While its distinctive design might not be for everyone and it lacks 802.11ad circuitry, its raw performance is top of the line. Its throughput speed at 30 feet is the fastest of our reviews. It also has great MU-MIMO implementation, and is fully compatible with any VPN setup, with a little DIY. If you're looking to buy a VPN router in the UK that can easily handle 4K video streaming, VR online gaming, and a large home network - D-Link AC5300 Ultra is for you. Unfortunately, it is no longer widely available and will cost you a premium to track it down.
TP-Link Archer C7 AC1750
Brand: TP-Link
TP-Link Archer C7 AC1750
Brand: TP-Link
The TP-Link Archer C7 AC1750 is the least expensive router with VPN support on our list but that doesn't mean it can't perform. The dual-band setup allows all but the most intensive bandwidth users to get a stable connection. There are also four Gigabit LAN ports to give your devices a wired connection and a USB 2.0 slot as well. With on paper top speeds of 1.3Gbps on the 5GHz band, its lack of MU-MIMO will not be a major loss. Furthermore, you can set up a VPN connection via OpenVPN or PPTP, which is easily done via the user-friendly control panel.
Features
720MHz single-core CPU manages well since it is not as feature-rich as other routers.
802.11ac dual-band Wi-Fi can reach an acceptable 450Mbps on the 2.4GHz band and 1300Mbps at 5GHz. Strangely, it manages to perform really well at long-range 802.11n but only average in the same room.
Standard three 5GHz antenna setup for good coverage throughout your home or office, with the 2.4GHz band, served internally.
USB supports printer sharing, NAS/access servers, and DLNA server streaming.
Quick guest network so you can protect your data from visitors and still share your internet.
Easily login into the web-based interface or if you're a newbie used the supplied CD to walk you through the process. Setup your VPN via this interface.
Quick buttons on the side for WPS, wireless, and power.
It's only downside, which is the trade-off for the low price is that there's no true MU-MIMO support, so bandwidth can still be inefficiently distributed.
Performance
Real-world tests put its speed at around 50Mbps as far as one room away using 802.11ac, but upstream struggles to reach 15Mbps. This is oddly worse than 802.11n performance, which also did surprisingly well at long-range. Overall, that's not bad for a tool well under £100.
Verdict
If you're looking for a straight-forward VPN client router and do not have a house full of intensive bandwidth users, the TP-Link Archer C7 AC1750 is the best cheap VPN router UK consumers can buy. However, it's not suitable, if you need something faster or the ability to properly prioritize and control bandwidth.
Asus RT-AC3200
Brand: Asus
Asus RT-AC3200
Brand: Asus
The Asus RT-AC3200 is a large and powerful tri-band router with VPN server support, with OK speeds, and a total of 6 antennas to ensure the best possible Wi-Fi coverage in your home. On the 5GHz band it performs well. The 2.4Ghz is not as impressive and file transfer speeds could be faster, considering the price. Setting up your VPN is easy with the RT-AC3200 and this can be done over PPTP, L2TP, and OpenVPN. Some providers will also sell you the router preconfigured for their VPN service.
Features
User-friendly web interface.
Four ethernet ports for multiple wired devices, a gigabit Internet (WAN) port, and one USB 2.0 port (USB media server support and printer sharing).
Two external aerials for each of the three bands.
Dual WAN support for backup WAN connection.
2.4GHz band and two 5GHz band, further enhanced by beamforming technology to deliver a strong and direct signal to exactly where your wireless devices are located.
Unique Tri-Band Smart Connect replaces the three bands with a single SSID and automatically assigns clients an appropriate frequency depending on their range.
Adaptive Quality of Service (QoS) to manually prioritize the bandwidth of devices and applications, such as gaming or streaming.
Asus AiProtection monitors your network in real-time for threats.
Access your data on the move via AiCloud.
Easily set up restricted access to the network using the Guest Network section.
As a router with VPN, Asus's patented Quick VPN setup supports PPTP or L2TP. The OpenVPN setup only needs a few steps – no firmware flashing or confusing tutorials.
Performance
The Asus RT-AC3200 is stable, delivering an average speed of around 85Mbps when in close proximity on the 2.4GHz band, and over 190Mbps on the N-mode 5GHz band. It's ideal if you have a combination of 802.11n and 802.11ac devices on the network.
On the 5GHz AC band, you're looking at over 450Mbps, though file transfers could be faster - they don't exceed 30Mbps. Overall, it gets the job done.
Verdict
If you've never used tri-band this is an excellent upgrade. It allows you to experience stable gaming, video streaming, and many other applications across all three bands throughout the home. With an intuitive user interface, smart connect, and easy VPN setup, it's beginner-friendly. However, the price is a little high for the overall speed performance.
TP-Link AC1900 Touch Screen
Brand: TP-Link
TP-Link AC1900 Touch Screen
Brand: TP-Link
Custom firmware
Supported
It has taken routers a while to catch up with the touchscreen technology, but the AC1900 TP Link VPN router seems to have nailed it. The router allows you to quickly set things up without first using a computer, and managing the settings is easy from that point onwards. Compared to other dual-band routers that support VPN, it isn't the best. However, the ease of use gives it a deserved spot on our list. Here's everything you can expect:
Features
1GHz dual-core processor performs just as well as other more powerful routers.
802.11ac dual-band Wi-Fi with a combined top speed of 1.9Gbps, enables stable bandwidth across multiple devices, whether you're gaming or streaming at the same time.
Three detachable dual-band antennas for good Wi-Fi coverage throughout the home.
Beamforming technology identifies where your devices are and directs the signal accordingly for a more reliable connection, even when you move around with your smartphone.
Control exactly which devices are currently connected and prioritize traffic, though (MU-MIMO) itself is not a feature.
Dynamic guest network password displays on the screen for easy and secure guest access.
4 Gigabit Ethernet Ports, 1 Gigabit WAN Port, and a USB 3.0 port and USB 2.0 port.
Easily set up your VPN with the touchscreen. All you have to do is configure the PPTP settings from within the WAN tab of the control panel and you've got a dedicated VPN router. The downside is that to enable OpenVPN you must first upgrade to the latest firmware or have custom firmware installed. It might get confusing for beginners.
Performance
Real-world testing puts the AC1900 somewhere in the middle when it comes to performance. You'll get around 530Mbps 5GHz throughput in the same room and around 90Mbps at 2.4Ghz in close proximity.
File transfer could be better, not surpassing a 26Mbps middling transfer speed.
Verdict
While the touchscreen definitely makes things easier, if you're buying this type of router in the first place you probably already have some experience with setting them up. The question is are you willing to pay a premium for convenience when performance is not any better than other non-touch TP-Link routers?
How To Choose the Best VPN Router for the UK
Which router is best for you will depend on your individual requirements. Let's take a closer look at the factors involved and the features to look out for.
Budget
Routers suitable for a VPN come at different price points, ranging from £100 to £400. Price typically reflects the number of features, speeds, and range of coverage the router can accommodate. You'll also get better quality LAN/WAN and USB ports on the more expensive models. While you can always get a cheap VPN router that does the basics, it won't perform well with multiple devices. That's irrespective of whether you use it with a VPN or not.
VPN Method
Routers that are VPN compatible do not all function in the same way. There are several protocols that handle VPN traffic. You will need to check which protocols the router supports and whether your chosen VPN service is compatible with these protocols. The best option right now is called OpenVPN.
PPTP
The oldest and most basic VPN protocol is PPTP. This means it's simple to set up and has broad compatibility. It's also the most vulnerable and can be compromised by skilled hackers and government agencies. That's not to say it isn't a step up from having no VPN at all, but there are better options.
L2TP/IPsec
Layer 2 Tunnel Protocol is combined with IPsec encryption to provide a secure VPN which is fairly easy to set up. It offers better direct protection than PPTP but can often be identified because it can only be used on UDP port 500. This means region-locked content etc may still be inaccessible because the hosts can tell that you're using a VPN.
OpenVPN
Getting more popular by the day, OpenVPN uses the OpenSSL encryption library and SSL v3/TLS v1 protocols. It is constantly improving thanks to the open-source principle. As far as anyone knows, it has not been compromised and will result in a safe and encrypted VPN. It can also be disguised on any port, which basically means it cannot be identified and blocked. Most of the major VPN providers now support OpenVPN and even if a router doesn't, you may be able to install custom firmware that does.
SSTP
Similar to OpenVPN without the openness, SSTP emerged with Windows Vista and is very efficient on Windows systems. It works better than L2TP/IPsec or PPTP but is still not as good as OpenVPN.
DD-WRT
DD-WRT is not a VPN protocol, rather it is a custom Linux-based firmware that can replace the regular operating systems on some routers. This gives it a different user interface and settings. Some experienced users prefer DD-WRT, likewise, vendors of pre-configured VPN routers will often install DD-WRT. It's easier to set up a VPN and supports OpenVPN. Read our reviews to find the best DD-WRT router for your needs.
Your Usage
How you use your network is a key factor in deciding which router to choose. For example, if you're setting up a small office/home office without many devices you do not need to spend money on a high-end router. On the other hand, if you have lots of devices that will be used simultaneously across a large home or office you will want to pay a bit extra for good range and performance.
Wi-Fi Bands
If your network is loaded with devices and users, you will also want to look for features that distribute bandwidth more efficiently, optimizes it for different uses, and allows simultaneous up and down streams.
Routers first addressed this by providing dual-band signals, completely separate Wi-Fi signals sent at different frequencies – usually 2.4GHz and 5Ghz. More expensive routers now offer tri-band, which is three signals.
MU-NIMO and Bandwidth Features
On top of this Multi-User Multiple Input, Multiple Output (MU-MIMO) support is a key feature to look for. This allows the router to communicate with multiple devices at the same time, rather than dealing with one before the other. In other words, if one family member is streaming Netflix, another is gaming, and another is uploading a video to YouTube, nobody will experience any major slowdowns.
Other such features include 'quad-stream', which provides four independent up and down streams per Wi-Fi band, and Quality of Service (QoS) which prioritizes the most important traffic first.
The Best VPN for Routers in the UK
If you're looking for the best VPN for your router there are many good providers in the UK. Two of the most popular are ExpressVPN and NordVPN, which we have previously reviewed.
ExpressVPN
ExpressVPN is router compatible via OpenVPN, L2TP/IPsec, and PPTP, which means every router on our list can be configured to use the service.
It works great for streaming, torrenting, and bypassing geo-restrictions. In terms of speed, it averages only a 10-20 percent drop than if you weren't using a VPN at all. You can even choose exactly what location and server you want to use, so you can be sure it will work well.
ExpressVPN also doesn't keep any logs that can track your activities and they have never been known to have a security breach.
You can subscribe on a monthly basis for $12.95, which is just under £10.
NordVPN
NordVPN is based in Panama but accepts subscribers from across the world, including the UK. It is one of the fastest VPNs available, providing high-bandwidth streaming and dedicated servers for Torrenting large files. They also offer a tonne of extra security features and a no-logs policy, so you know your data is secure. It does not, however, support port forwarding.
NordVPN is compatible with L2TP/IPsec but only with added encryption via NGE and IKEv2. It is also now OpenVPN compatible. Your best option to ensure you have an appropriate router is to buy a preconfigured NordVPN router from the likes of FlashRouters UK or a router from our list that supports OpenVPN, including:
the Linksys WRT 3200 ACM
Asus RT-AC5300, ASUS RT-AC86U
Linksys WRT32X
D-Link AC5300 Ultra
TP-Link Archer C7 AC1750
Asus RT-AC3200
The latter which the company themselves calls the best router for NordVPN. Any of these choices will allow you to easily get NordVPN on your router.
The Netgear Nighthawk X4S and Netgear Nighthawk X10 AD7200 require a little extra effort because you must install custom DD-WRT firmware before OpenVPN can be set up correctly. Once done, the Nighthawk X10 AD7200 is arguably the best DD-WRT router on the market.
The TP-Link AC1900 needs to be updated to its latest firmware to support OpenVPN or have custom firmware installed, such as DD-WRT.
A standard monthly NordVPN subscription is $11.95, which is less than £10.
Other VPNs
If you're not interested in ExpressVPN or NordVPN, we have reviewed the Top VPN Services, including PIA, CyberGhost, Perfect Privacy, Windscribe, and many others.
Conclusion
If you want superior privacy for your network and online activities, a VPN router is an ideal choice.
All of the routers reviewed on this page offer excellent overall performance in terms of speed and connectivity. All work great with the leading VPN providers, whether out of the box or via custom firmware. The exact one you choose will depend on your individual requirements and experiencе.
That's exactly why we made our guides - to help you narrow down the list. We've listed only the best solutions. You won't be disappointed!
FAQ.
---
A VPN router is any router that is VPN compatible. This means you can configure a virtual private network from within the router's settings. Functionally, the router must have the ability to establish a secure VPN connection at the hardware level to be considered a VPN router and you can get a VPN router for home or business. There are different ways VPNs can be configured, such as PPTP, L2PT, OpenVPN or via custom firmware and DD-WRT. Furthermore, a pre-configured VPN router is ready to use out of the box and is usually only sold by third-party retailers or VPN providers.
Which router is best for VPN?
All of the routers we've reviewed are compatible with a VPN and a lot of them can also be purchased pre-configured with specific VPN providers in mind. From a raw performance standpoint, the Netgear Nighthawk X10 AD7200 offers the most features but will set you back nearly £400. It also requires custom firmware if you want to use OpenVPN. At a much lower price point, the D-Link AC5300 Ultra can match these speeds and is OpenVPN compatible out of the box. For that reason, we think it is the best overall choice.
If all you care about is VPN, Asus VPN routers have long been OpenVPN compatible out of the box and are specifically recommended by NordVPN. The Asus RT-AC3200 is particularly known as the NordVPN Asus router.
If you're searching for a VPN compatible router and aren't sure whether a particular product is suitable, just search its make and model followed by 'VPN' or 'OpenVPN'.
What is the best VPN to use in the UK?
You can get a free VPN for your router in the UK but if you want high speeds and the ability to tweak the settings you will need to pay for a premium service.
The best of these is ExpressVPN, which guarantees stable video streaming from the likes of Netflix, and NordVPN - the most affordable and guarantees access to international streaming sites.
Check our reviews to find a suitable router or search for ExpressVPN or NordVPN router UK to find pre-configured options.
Do any routers have built-in VPN?
Yes, all of the routers we've reviewed are to some degree VPN compatible. This means you can configure the router with most of the major VPN providers in the UK from within the user interface. This may be via OpenVPN or another method.
If you are looking for a router that is already configured, you will want to purchase what is known as a pre-configured VPN router. These aren't typically available from the manufacturer or regular retailers. However, VPN providers and third-party sellers sometimes have their own stock that they have already configured. This is often called a DD WRT router in the UK because most pre-configured routers use the custom DD-WRT firmware. The Nighthawk x10 is arguably the best router for DD-WRT on our list.
Is a VPN router worth it?
If you want the added security and encryption of a VPN without having to configure multiple devices on your home network, a home VPN router is definitely worth considering. The one you choose and the amount you spend will first depend on the speed provided by your internet service provider and the type of tasks you'll use it for.
For example, someone with fast fiber internet, who has lots of connected devices, who streams video between devices and from the web, and games online, will want the fastest and best VPN router in the UK. However, someone with average broadband, who only uses a computer and a phone, doesn't game and only watches Netflix from time to time, doesn't need the best VPN router for home. They can get away with a cheap small router. In fact, they may simply opt to install a VPN service on each device rather than doing it at the router level.
Keelan Balderson
A qualified journalist and longtime web content writer, Keelan has a passion for exploring information and learning new things. If he's not writing or pushing his own brands, you'll find him watching pro wrestling or trying not to rant about politics online.
Leave your comment
Your email address will not be published.
You may also be interested in: