Nothing is more fun and immersive in gaming and entertainment than virtual reality. We've reviewed 9 leading solutions to help you find the best VR headset UK consumers can buy. We looked at:
Price
Comfort
Performance
Ease of use
Tracking and freedom
Content library
If you're looking for the best VR headset, check out our quick fact list, in-depth reviews, and guides below.
Read More
Best for:&nbspAndroid VR headset
Oculus Quest
The Successor to the Oculus Go, the newer Quest ups its performance in every way for a superior VR experience. There's extra positional tracking, a higher quality display, and it's even more comfortable to wear. At £499 in the UK, it's also reasonably priced. It's arguably the best standalone VR headset on the market.
Best for:&nbspOverall VR headset
Valve Index
Suitable for Windows and Linux, the Valve Index is essentially Steam's VR headset, meaning it has a great selection of fun computer-based games. You get a wide field of view, directional 'off-ear' headphones/speakers, and excellent tracking. It also has an LCD display with a high resolution and refresh rate. Overall, this is a powerful high-end VR device for serious gamers.
Class-leading display and resolution
Yes
Best for:&nbspVR headset for PC for the money
Oculus Rift S
If you're looking for the best VR headset UK, the £299 upgraded Rift S is definitely a strong contender. It's backward compatible and provides a combined 2K display with software-based pupillary settings for a clear and sharp image. As well as its own game library it's also compatible with Steam VR, making it the most versatile 'entry-level' product available. Furthermore, it's very comfortable and uses the latest 'inside out' positional tracking cameras.
Best for:&nbspBudget VR headset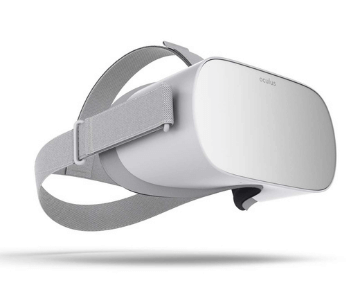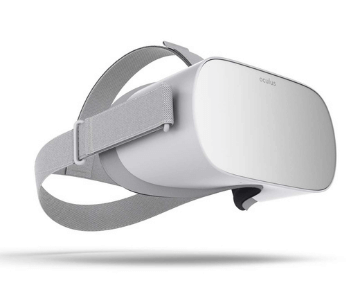 Oculus Go
One of the best PC VR headset options, the Oculus Go is the company's budget model. However, its performance is not that far behind the Rift and has a similar selection of exciting content. Arguably more comfortable than the flagship, the Go is untethered and connects via Wi-Fi. The Android-based device is also compatible with PC titles via Steam and backward compatible with Samsung Gear VR software. It's ideal if you're looking for an affordable VR gaming headset.
Best for:&nbspSony VR headset for PlayStations
PlayStation VR
If you're a serious console gamer and the PlayStation 4 (or 5) is your console of choice, then PlayStation VR headset is an easy choice. At £249.99 it's also an affordable one. Now in its 8th generation, it provides a full HD 5.7-inch OLED display and a refresh rate of up to 120Hz. The game library is also impressive and always expanding. From Triple-A games like Resident Evil 7 and Star Wars Vader Immortal to fun puzzle titles, there's something for all tastes. It's simply the best VR headset for gaming on the PlayStation.
Best for:&nbspVR headset controllers
HTC Vive Cosmos
If you want a higher-end product, this HTC VR headset is an upgrade to the original Vive. It offers good dual motion controls, is base station-free, and has a sharp display. You also have access to the Steam VR and its own exclusive Viveport game library. One unique but simple design element is the flip-up display. You can see your friends and real world without having to take the whole headset off. The Vive Cosmos is our pick for best VR headset with controller grippers, thanks to its aptly named 'knuckles' controllers.
Best for:&nbspMobile VR headset for Samsung
Samsung Gear VR
A top contender for Best VR headset for Android users in the UK! The Samsung Gear VR allows you to slot your phone into the device to experience 360-degree video and orientation mobile gaming. If you have one of the compatible Galaxy S6, S7, S8, or Note 5 smartphones, it's a no-brainer for an affordable virtual reality experience.
Simple and affordable
Yes
Free with some phone deals
Yes
Great for mobile gaming
Yes
Best for:&nbspVR headset display
HP Reverb
The Reverb by HP is a solid entry into the tethered PC class of VR. The user has full 6-degrees of freedom to move around their playing space and use their hands. It has one of the best displays we've seen. We had no issues finding quality video games to play - we got access to both the Windows and Steam VR libraries.
Best for:&nbspPhone VR headset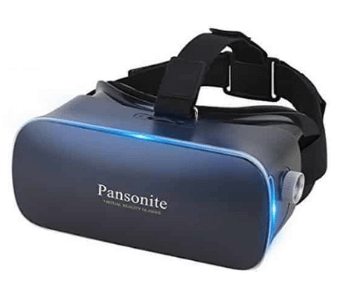 at Pansonite 3D VR Headset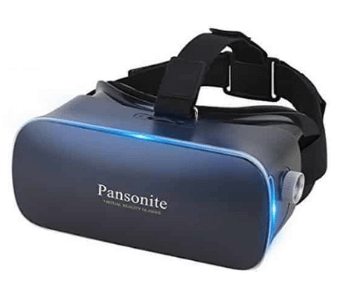 Pansonite 3D VR Headset
The best cheap VR headset in the UK, the Pansonite is the perfect solution for viewing 360-degree video and playing panoramic mobile games. It supports iOS or Android smartphones. The size is between 4.7 and 6 inches. There are no cables as the connection is made via Bluetooth. For the most basic of virtual reality, this is the best smartphone VR headset in the UK.
Prices
Between £16 and £25
Smartphone compatibility
Broad
What Are the Different Reality Types?
Reality – that real world we must face every day. Thankfully, because of advances in technology, we can escape from time to time into the virtual realm. But not all altered reality tech is the same. Let's inspect the different types:
Virtual Reality (VR)
VR fully encapsulates your vision and immerses you in a complete (though often still quite wonky) digital world that you can interact with to varying degrees of realism. From walking to picking things up, to fighting, or traveling to a faraway tourist spot. VR is as realistic as it currently gets.
Augmented Reality (AR)
AR is VR's less immersive cousin. It occurs with the user fully aware of the real-world around them but brings virtual elements into it. A hologram is AR, as are the filters on apps like Snapchat. Tech like 3D TVs and games like Pokémon GO are other examples of AR. There are limited augmented reality headsets on the market.
Mixed Reality
Mixed reality takes augmented reality to the next level. Reality is mixed when virtual objects are available in regular reality and the user can interact with them. In advanced cases, the virtual world completely changes the real-world environment but does not block it out like VR.
Top Recommendations and Reviews
Oculus Quest
Brand: Oculus Quest
Oculus Quest
Brand: Oculus Quest
Straight out of the box you will notice how stylish the Oculus Quest looks. It has one of the best designs on the market and it's durable too. At just 12 x 11 x 9cm the Oculus VR headset is also small and lightweight, making it comfortable for longer sessions.
The materials are a mixture of matte plastic, tough fabric, and comfortable foam padding. You also get Velcro straps to secure yourself. There's no slipping or wobbling here.
You get a 3.5mm headphone jack if you want immersive directional audio, which we recommend you use because the built-in speakers are not the best quality.
Next, there's the power button, volume wheel, and a focus slider all on the headset. The latter is on the underside of the device and helps you fine-tune the display to your own eyesight for optimum performance.
In the box you'll find the hand controllers, charging cable and adapter, all the required batteries, and a glasses spacer.
The 2 touch controllers are smooth and dare we say 'ergonomic'. We had no trouble with the way they fit in our hands.
Setting up was straightforward and even if there's a slight learning curve, that's the norm for VR. As long as you take some time with the instructions and tutorials, you'll get the hang of it quickly.
The good news is you're not tethered by wiring and get a minimum of 2 meters x 2 meters or 6.5 feet x 6.5 feet of playing space.
Another stand out feature is the super HD 1440 x 1600 per-eye resolution. It's not quite a 4K VR headset but beats a lot of the competition. The display is sharp and clear and you'll rarely experience the screen door effect.
The headset does not use the latest Qualcomm, but its Snapdragon 835 processor is still a step up from what Oculus uses in the Go. You will not have any trouble playing compatible games, apps, and videos, even if it's not as powerful as the Oculus Rift on paper. The main downside is it only has about 2 hours of battery life.
Setting up is simple enough, requiring you to pair the app and headset. You also need to connect to a strong Wi-Fi ne2rk and calibrate the controllers, but this is all walked through for you.
Having good tracking (i.e. how the VR devices relate to your body movements in-game), is one of the most important things. After many hours of play, we found the Quest to be one of the best out there. It's all thanks to its wide-angle sensors on the side and new 'inside out' technology for precise movement replication.
You also get a fair field of view of 95 degrees horizontally and around 92 degrees vertically/up and down.
Overall, it's the best standalone VR headset in the UK at this price point.
Display and resolution
Class-leading
At around £919, the Valve Index came out in late 2020 and is a leader in its class with great tracking, audio, and display features. It's easily the best VR headset for PC users in the UK right now.
Looks-wise, it does not particularly stand out. You get a nice glossy finish and 2 front-facing cameras for extra tracking. On the inside is ample padding to support your head, and you can turn a dial to tighten the headband.
There's another dial that changes the distance of each lens to suit the distance between your pupils. In effect, this creates a sharper and more focused picture and prevents motion sickness.
The display itself is a high-quality LCD that jumps past HD to an impressive 1440 x 1600 resolution per eye. Where the Index really stands out is with its responsive and crisp 80Hz to 144Hz display. This puts it on a par with many gaming monitors. You'll experience no lag and fast virtual reality.
Inside the box, you get the 2 'knuckle controllers' for hand tracking and control. You'll also find the base stations, which are the other sensors for tracking your movements. Place them around your playing area.
Although we found these to work well, they're a little dated when you consider the Oculus Rift doesn't require any external sensors.
Meanwhile, for those with slightly older PCs, the Valve VR headset works fine on older graphics cards, including the likes of the Nvidia GTX 980. You won't need to purchase a new GPU when you've just spent upwards of £1,000 on the headset.
Of course, in the future, you probably will need that upgrade, but right now the Steam library for the Valve Index is easily handled by the hardware.
For a device with a built-in sound, it performs excellently, offering distortion-free directional audio without the need to use headphones. This is particularly beneficial when playing with friends who probably don't want to be constantly sharing earbuds.
We found the Index to work almost perfectly out of the box, which will give those who had older models a sigh of relief. The only real annoyance is if you move any of the base stations you will need to recalibrate.
All-in-all if you're looking for the best VR headset for gaming on PC it's hard to argue against the Valve Index. While it's not perfect, neither is VR itself and the technology is still developing.
Oculus Rift S
Brand: Oculus
Oculus Rift S
Brand: Oculus
For £299 at many online shops, the Oculus Rift S is a great entry-level into PC-based virtual reality. Of course, when we say entry-level, we don't mean the device itself is lacking. Far from it, it's one of the best on the market. You don't have to mess about with external tracking sensor stations, the visuals have improved this generation, and it's backward compatible.
The Rift S connects to your PC via USB and DisplayPort, but the lengthy cable means you aren't restricted any more than the required playing area. Alternatively, you can go completely wireless, but the poor battery life means it's not always worthwhile.
The fit is different from the original S. We wouldn't say it's any more or less comfortable, rather the plastic band curves around the base of your skull and forehead this time, with padding but no Velcro.
Now that it has gotten rid of the base stations, you get 2 front-facing cameras, 2 on the side and 1 on the top for optimum tracking. You also get handheld controllers that double as trackers. Both of these elements make for a responsive and precise VR experience.
The controllers also have thumb buttons and joysticks which allow you to effectively replicate thumb and finger grip in-game. There is also a trigger button for your index finger, and everything is light, intuitive, and responsive.
For audio, you get directional in-built speakers to give a surround sound experience and no earpiece swapping with friends. However, the quality could be better and lacks bass.
The display is slightly different from the older models, using a Fast-switch LCD. While you cannot change the pupillary distance manually, the software version of this setting is adequate for most people.
Combined, the display resolution is 2K 2560 x 1440 with a refresh rate of up to 80Hz, which is acceptable at this price point. It is worth noting, however, that a small portion of people will get motion sickness at this rate. We ourselves did not experience this.
We liked the fact that the Rift S is more-or-less plug-and-play. All you have to do is calibrate the sensors by drawing out the physical space you have room to play in with your controllers. Then the device will keep you within this area while playing. It took us no more than 5 minutes to set up.
Although the Rift S is technically 'second generation' it's almost fully backward compatible and will play most games from the original Rift, as well as the Oculus Quest. It's also compatible with Steam, which offers some of the best VR headset games.
Overall, the Oculus Rift S is the best VR headset in terms of value for money.
A relatively cheap VR headset for PC gaming, Oculus' budget-level GO can be picked up for less than £200. Performance-wise it's not too different from its older brother the Rift and it's wireless, so you don't have to worry about being 'tethered'.
In effect, it runs all by itself. There's no need to be directly connected to a PC and you don't need a smartphone to slot inside. This is perfect for those on a budget who want to casually experience high-quality VR without any extra messing about.
It can also lay claim to being the best VR headset for movies because it's one of the few that supports 3D video. This adds a pop and depth perception that's not possible with regular 360 video.
The all-gray design features soft elastic straps that fit across the top, middle, and back of your head, though that still doesn't always prevent it from slipping down. The worst part is light can get through if you're one of the unlucky people who cannot get it to fit properly.
This is one of the few design flaws that has been corrected by the other Oculus models and competitor VR devices, so we're forced to knock off half a star here.
However, we give some allowances here because everything that makes the device tick is inside the headset, so it was always going to be heavy.
Speakers sit either side of your head and are surprisingly high quality, considering how hit-and-miss implementation has been on other headsets.
You get one point and click/trigger-remote control that tracks through the virtual space. It's not quite on par with the dual controllers you get with the Rift. It's more apt at selecting or shooting than gripping and picking up objects.
It's also worth emphasizing that while you can experience a 360 world and interact with things in the distance. I.e. shooting something. Unlike the more expensive devices, you cannot actually move closer to the object yourself by walking or reaching in real life. Your position is stationary or better known as 'orientation only'.
This is great for video and simple games where the world can move around you but there aren't any top-flight VR compatible titles. This is more for the casual user to experience VR for the first time.
However, that's not to say the tracking you do get is off or that the games aren't immersive and fun. You also get an impressive combined 2560 x 1440 2K display. This is 5.5 inches and has 538 pixels per inch, so the screen door effect is not very noticeable. The FOV is 101 degrees.
In the box, you get a glasses spacer so spectacle wearers can have a comfortable experience. This is accompanied by the controller, all required batteries, and a Micro USB cable for charging.
With a library of over 1,000 compatible titles that's growing every day, the Oculus Go is the best VR headset UK consumers can buy for their first VR experience.
You better make it quick as unfortunately the device is set to be discontinued. It's the best budget VR headset for PC games currently.
PlayStation VR
Brand: PlayStation
PlayStation VR
Brand: PlayStation
PlayStation 5 compatible
Yes
If you're a PlayStation console gamer, then PlayStation VR is a must-have. It's also more affordable than many of its PC counterparts despite similar performance. It has been outselling them all since 2017.
You can pick the headset up for £249.99 for the starter pack. There are also numerous other packs and accessories to take your PS4 VR gaming to the next level.
What immediately stands out is its excellent lineup of over 500 games. From challenging puzzle titles like Statik to first-person shooters like Farpoint to topflight games like Resident Evil 7 – there's no lacking in quality content.
The starter pack is made up of the headset, PlayStation camera and adapter, all the required cabling (including an extra HDMI), and a set of headphones. Note, the headset doesn't have its own speakers, so you'd need to use your own or the sound from your monitor/TV.
You're tracked by the camera that would typically sit on top of your monitor or TV and it's compatible with the regular DualShock 4 gaming controllers. However, if you're serious about VR you'll want to buy the PlayStation Move or dedicated VR controller, which comes separately from the starter pack.
To get the most out of the device, you will need at least a 6ft by 10 ft area to play. This will allow you to move around physically in games that support it.
The headset itself is one of the more comfortable, with an adjustable and stretchable padded headband, and an 'optical scope'. This finely tunes the display to your eyes. The in-built mic also allows you to easily chat with friends or foes.
While it doesn't look wildly different from other VR headsets, it gives off a premium vibe and the build quality is good.
As far as the display, it handles 1080p games and has a refresh rate of 90Hz or 120Hz depending on the game or content you're using. It's a 5.7-inch OLED with a 100-degree field of vision. It also boasts a locked 18ms response rate, which means you won't notice any latency.
The headphones support digital surround sound so you can hear directional sounds and distinguish where noises are coming from in the distance. Likewise, you can hook up your own surround sound speakers for a similar experience.
The only real downside to the PlayStation VR is it's prone to light leakage, especially if you wear glasses.
Other than that, the PS VR headset is an excellent addition by Sony and easily rivals PC products. It also beats the lack of an Xbox VR headset.
HTC Vive Cosmos
Brand: HTC
HTC Vive Cosmos
Brand: HTC
At the higher end of the scale comes the second-generation HTC Vive, now called the Vive Cosmos. For under £700 you get a cool looking and high performing VR headset that doesn't need external sensors.
You'll immediately notice the more striking and colorful vibe given off by the Cosmo, with its blue patterning and logo. It fits comfortably with faux leather, foam padding, and elasticated straps. Plus, it comes with its own on-ear headphones.
Its display is a per eye, 1700 x 1440 resolution, besting the Oculus Quest and its cousin the HTC Vive Pro. Forget about the screen door effect, the image is sharp and one of the best we've seen. You also get a good 110-degree field of view.
Meanwhile, don't worry about lag as it manages a 90Hz refresh rate, which is fairly standard across VR headsets right now.
The Vive cosmos does not require any external stations/sensors to track movement, it makes use of 6 cameras on the headset itself. This effectively maps your playing area and is accompanied by a set of motion controllers for hand movements and triggers.
This all connects to your PC via a small 'link box' that plugs into your computer via USB and mini DisplayPort. You also have to remain tethered, but you get 15 meters of cable, so you aren't going to overstep any boundaries.
Gamers have a good selection of content to choose from, as Vive has partnered with Steam. So, although you'll get Vive's own interface and store, the Steam VR library is available to you. You can buy individual games, but it might be more cost-effective to take out a monthly or yearly subscription.
Samsung Gear VR
Brand: Samsung
Samsung Gear VR
Brand: Samsung
Simple and affordable
Yes
Free with some phone deals
Yes
Great for mobile gaming
Yes
The best VR headset for your phone if it's a Samsung, the Gear VR is designed specifically for the popular Galaxy range. It uses the simple principle of blocking out the exterior world with the headset while using your phone display for 360-degree video and VR mobile games.
At less than £100, it's one of the cheapest VR headsets on the market, but it also has its limitations. There are obviously no top-flight PC or console games and you are locked under the Samsung and Android umbrella. Nonetheless, if you have such a phone it is an affordable entry into the world of virtual reality content.
The device fits well with a familiar Velcro strap and foam padding. Your phone locks into place and connects via USB, and there are numerous buttons on the side of the headset. The focus wheel is particularly useful if you need to adjust for pupillary distance.
You also get a Bluetooth connected hand controller, so you don't have to use the annoying buttons on the side to select things and interact with your content. This is either purchased separately or comes as part of a slightly more expensive package.
Although there's no dedicated glasses spacer, our tester found the device large enough to accommodate their glasses anyway.
Regardless of which phone you use (Galaxy S6, S7, S8, and Note 5), the Samsung VR headset gives you a respectable 101-degree field of view at any given angle. The resolution is dependent on what smartphone you are using.
While the device is orientation-only and you cannot physically walk around and get tracked in the virtual world, it still works well for mobile games and 360-degree video. We found it comfortable and didn't get much light leakage during an hour-long test.
In the end, the Samsung Gear VR is not for the hardcore gamer or virtual reality enthusiast. It's aimed at casual users who already own a Samsung and want to experience a bit of 360-degree video.
That's certainly not a bad thing, especially at less than £100 and sometimes completely free as part of various Samsung phone contract deals.
If you're looking for the best VR headset for Android, the Gear is a worthy contender.
At £600 the HP Reverb is a strong attempt at entering the higher end of PC VR headsets, but it's not without its faults. It can be difficult to set up, has an unusually thick cable, and tracking can be finicky.
But.
It still might be worth your time if you have a little patience.
The headset itself is one of the comfier on the market. This is in part because of soft high-quality materials and padding, and because it weighs less than most.
It has a really sharp premium LCD screen with an impressive 2160 x 2160 per-eye resolution. Couple that with a respectable 90Hz refresh rate and 110 to 114-degree FOV, and you get a brilliant foundation for virtual reality. It also makes it one of the best for playing video and dare we say, it could be the best VR headset for porn for the same reason.
There are also inbuilt retractable headphones, a separate headphone jack to plug in your own, and 2 microphones that support basic voice commands.
As far as the library, you have access to Windows titles and SteamVR, so HP is clearly aiming to be the best VR headset for PC. Where it begins to falter is with the tracking; particularly when moving from side to side or taking steps. You'll notice stuttering and lag that isn't present with rotational movements.
The device also runs on Windows Mixed Reality, which has inconsistent calibration. In one game you'll be perfectly orientated and then in another, you'll be way off position. This forces you to go through the settings again or to restart the game entirely.
Once you are calibrated, it's still a fun experience and works well 90% of the time. There are no external sensors and you can map up to 5m x 5m of playing space. However, we're not sure the tracking performance fits the price.
Pansonite 3D VR Headset
Brand: Pansonite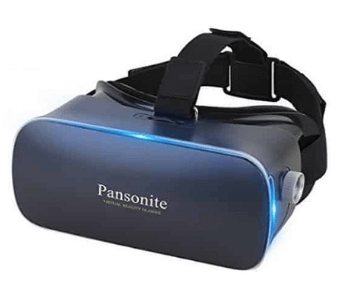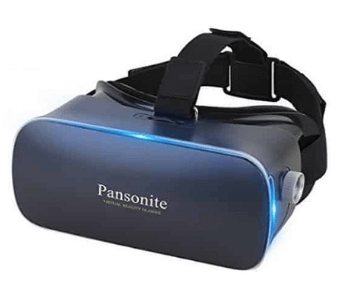 Pansonite 3D VR Headset
Brand: Pansonite
Smartphone compatibility
Broad
Our pick for the best cheap VR headset, the Pansonite is less than £25. Of course, at that price, you're not going to be playing AAA PC games. It's still in contention for the best mobile VR headset UK consumers can purchase, however. Especially if you consider its value for money.
It supports a wide range of iPhones and Android smartphones between the sizes of 4.7 and 6 inches. Just slot in your device and you're ready to go. The connection is made via Bluetooth, so you don't need a USB adapter.
The Pansonite allows you to view any 360-degree panoramic content that your phone can access, whether that be via the browser, social media, apps, games, or directly downloaded files. Everything is navigated using a game-style controller with a d-pad, which incidentally makes playing mobile games an enjoyable experience.
This is an orientation-only device, which means there's no motion tracking or physical movements you can make in games with your hands or by walking around. You can only look around in a fixed position with your head, giving the illusion of virtual reality because the light is blocked out by the headset.
That doesn't mean it isn't fun to use. Good developers can still give the impression of movements, such as racing or virtual tours. And, VR headset porn is increasingly popular, allowing you to look around what appears to be a 3D environment.
The headset itself is very lightweight and comes with a comfortable adjustable head strap. It uses an HD resin aspherical lens in front of your phone and provides a wide 120-degree field of view.
On the side is a set of adjustable over-ear headphones for a more immersive experience. There's also a dial to fine-tune your pupil and focus distance. You can get the sharpest picture and prevent vertigo and motion sickness.
Our tester had no trouble fitting the headset over their glasses, so you'll still be able to see clearly without having to put in contact lenses.
While the Pansonite 3D isn't revolutionary, it does everything a panoramic headset can do well and is definitely worth the price if you're yet to experience 360-degree video or games. It's also arguably the best VR headset for iPhone UK users because there are so few options out there.
VR Terminology Explained
Wondering what all those technical terms mean when making a VR headset comparison?
We'll explain:
Per Eye
VR headsets usually come in 2 forms when the display is designed within the headset. You'll find either a single display across the entire viewing space or 2 separate displays measured as 'per eye'. Single displays range from 1080p to 4K, while per eye displays tend to have a separate measurement that might together be the equivalent of a higher resolution.
The exact resolutions vary, but you're always going to get what is effectively an HD or higher experience.
Light Leakage
The best VR headset will be one that does not let light in or out. When you can see gaps in the sides or around the bridge of your nose, this is known as light leakage. Too much of this can ruin the VR experience because you are more aware of your outer surroundings and will be distracted by the light.
Most headsets we've reviewed have minimal light leakage.
FOV
FOV stands for Field Of View and is the degree to which you can see the virtual world when looking vertically or horizontally. For example, the Oculus Quest lets you look around 95 degrees horizontally/straight on and around 92 degrees vertically/up and down.
The virtual world is limited because it has to exist within your own gaming space and the width of the display.
HMD
HMD is a VR device that uses a head-mounted display. The best VR headset designs are like goggles that block out the real-world and show you the virtual reality space via a display right in front of your eyes. They're designed in such a way to immerse you in the virtual world without outside annoyances or parts of the headset being visible when using it.
The most basic form is the Google cardboard VR headset and simple designs that cover your smartphone and allow you to watch the panoramic video.
Tracking and Sensors
In VR, tracking refers to how the technology detects your positioning in the virtual world. It does this via cameras on the headset display and controllers you have in your hands. You sometimes also need to place sensors around your room.
Good tracking allows for a seamless VR experience. Bad tracking or poorly calibrated controllers produce annoying glitches where you can't seem to pick up objects or move around as desired.
Orientation Only
An 'orientation only' device is not the best VR headset – it only allows you to move your head or turn 360 degrees in orientation to the content you're watching or the game you're playing. It lacks the sensors and tracking technology to allow you to register your own physical movement as movement within the virtual world, so you're stuck in a fixed position.
In other words, you cannot walk forward a few paces in the real-world to move your character forward within the virtual world.
Orientation only headsets are better for video content and games that can orientate the world around you. This typically applies to smartphone-based VR.
Refresh Rate
Like TVs and gaming monitors, VR headset displays also have a refresh rate. The Oculus Quest, for example, has quite a low refresh rate while the Valve Index can reach 144Hz like a gaming monitor. This refers to the number of images that are displayed per second.
Once you get below 50Hz, you'll clearly notice lag and input delay and some people report virtual reality sickness and eye strain when using VR at lower rates.
SDE
SDE stands for screen door effect and is a visual effect that plagues many VR headsets. When you experience SDE, it's like looking at the world via a mesh fence or 'screen door'. Technically, what's happening is you're seeing the black spaces between pixels because your eyes are so close to the display.
The effect can occur because the content is poor quality, the display has a low resolution, or the display is made from poor material. It can also simply be a focus issue that can be tweaked.
By today's standards, the screen door effect mostly affects cheap VR headset products and those with lower resolutions.
Glasses Spacer
A glasses spacer is a mechanism that allows VR headsets to accommodate players wearing glasses.
Pupillary Distance
Pupillary distance is the length of space between the pupil of each eye. While in general, most people can get away with an average distance, some people require physical or software-based alterations to get the best out of VR.
Tethering
Tethering is the opposite of wireless and refers to a VR headset that must be wired to your computer or console to work. Fortunately, most tethered headsets come with very long cables, so you aren't really restricted in your movement. It also means you can utilize the power of your PC directly.
Standalone VR
A standalone VR headset is one that functions without a PC or console, does not need to be tethered (wired) and has its own in-built display. I.e. you do not have to slot in your smartphone. They often still allow access to PC game libraries, but this is typically done through its own interface or sometimes streaming from a PC via Wi-Fi.
6DOF
This stands for 6 degrees of freedom and refers to the ability to walk, move your arms and hands, and look in any direction within a playing space. Stationary or basic panoramic headsets are sometimes called 3DOF in contrast.
Stereoscopic
360 photos and footage taken with twin lens systems are called stereoscopic. This is to give a different perspective and therefore more realistic perspective for each eye when viewed in VR.
How To Choose the Best VR Headset in the UK
Choosing the best VR headset for you depends on several factors. Here's what you should know and look out for when doing a comparison of virtual reality headsets.
Price
The cheapest headsets below £100 are typically for smartphones and only let you view 360-degree content from a fixed position. Currently, the cheapest VR headset worth your money is the Pansonite 3D. It can be found for less than £25.
If you want to play advanced VR games where you can physically walk and pick up objects by using hand motions you will need to spend at least a few hundred pounds.
A cheap VR headset for PC will not perform well. On the other hand, high-end VR headsets can surpass £1,000 and provide high resolutions and excellent motion tracking.
Platform and Devices
The devices and platforms you already use may be a consideration when choosing a VR headset. For example, PC users may want a tethered or at least a Wi-Fi-connected headset to access PC VR game libraries like Steam VR.
PlayStation users are limited to PlayStation's own VR device. There is no Xbox One VR headset. In that scenario, you might opt for a standalone or mobile-only solution.
The Samsung Gear VR is the best cheap VR headset for Android users on Galaxy phones.
Display
The quality of the headset's display plays a big role in how good your VR experience will be. The higher the resolution and refresh rate, and the wider the field of view, the better.
A cheap VR headset display will leave you with a restricted field of view, poor focus, and the screen door effect (SDE).
Tracking
Good VR is all about effectively tracking your movements. This is typically done via cameras and sensors on the controllers and headsets. Older technology, though not necessarily worse, uses base stations placed around your room.
Either way, if users report that tracking is off or hard to calibrate, steer clear of that particular headset.
Space
Full VR requires space because you might be flailing your arms to attack a monster, walking forward to get to a destination, or bending over and picking up an object. Check the size of your room meets the minimum requirements. Or, if you have a particularly large room in mind, you may want to look for the best VR headset with the largest room-scale available.
Wrap Up
Whether you want a simple mobile VR experience or to dive right into high-end virtual reality gaming, there's no shortage of fun to be had. Our quick specs list, in-depth reviews, and guides will help you find the best VR headset in the UK, no matter what you require.
Ready for the fun to begin?
FAQ.
---
What VR headset should I get?
If the price is no concern, we'd go with the Valve Index. If you're looking for the best value VR headset in the UK, then the Oculus Rift S is about half the price without much difference in performance.
For the best smartphone VR headset, you should opt for the Samsung Gear VR if you have a Galaxy phone. Choose the Pansonite 3D budget VR headset for iPhones and everything else.
Is it worth buying a VR headset?
If you are a gamer or have the budget and want a fun thing to do with friends, a VR headset is a brilliant investment. While the technology is not yet perfected and pricing can be high, it's an exciting experience that is only going to get more advanced with features like eye-tracking emerging. Get used to it now and you'll be ahead of the curve for the next generation.
At the least, you should try a smartphone solution like the Google VR headset 'Dream' for watching basic 360 orientated content.
How much are virtual reality headsets?
VR headsets are still a relatively new technology that has yet to fully take hold, thus pricing is quite expensive. At the entry-level, you're expected to still pay around £200 and at the higher end, you can spend thousands.
There isn't much difference in price between a wireless VR headset and a tethered one. Price mostly comes down to the quality of display and the motion tracking capabilities.
Experts believe pricing will be more affordable in the years ahead when there are some clear winners in the market and standardized technology to work with.
Is there a VR headset for Xbox One?
Looking for the best VR headset for Xbox One? Unfortunately, it does not have a native solution like the PlayStation but there are several third-party products that can do some VR functions.
For example, you can wear the HTC Vive Cosmos and Oculus Rift S by using the Xbox streaming app. However, this means you only get to view the game on the headset's screen, there is no tracking or even panning.
It's still more immersive than a monitor since it blocks the light out and you can experience directional sound, but it's not virtual reality.
A proper Xbox VR headset will most likely emerge with the new Series X and S.
What is the best VR headset in 2022?
In 2022, the Valve Index leads the pack for VR headsets. The PC compatible device cannot be beaten with its LCD, 2880x1600 resolution display and 144Hz refresh rate. It also has one of the widest fields of view at 130 degrees. It will, however, cost you close to £1,000.
What is the most affordable VR headset?
The Pansonite 3D is the most affordable VR headset, costing no more than £25. However, it is strictly an orientation-only phone headset for viewing 360-degree video, apps and VR mobile games. You cannot move freely.
What is the best VR headset for racing?
Racing games played in VR provide a unique and realistic simulator, especially if you already have a wheel, pedals, and a racing chair.
PlayStation VR is the best VR headset option for console users, but for PC racing simulation games the Valve Index offers high resolution and high refresh rates that fast racing sims require. You can also access lots of racing games via Steam. The Oculus Rift S is a more affordable option with Steam access but has a lower refresh rate.
Keelan Balderson
A qualified journalist and longtime web content writer, Keelan has a passion for exploring information and learning new things. If he's not writing or pushing his own brands, you'll find him watching pro wrestling or trying not to rant about politics online.
Leave your comment
Your email address will not be published.
You may also be interested in: