Do your computers or devices receive a weak network signal or lose connection?
Dead spots occur when your router isn't powerful enough to reach your devices.
The good news? An affordable device can boost WiFi range throughout large homes and offices, while further stabilizing connections.
If you're looking for the best WiFi extender UK customers can buy, we've narrowed the search to nine contenders.
Read More
Best for:&nbspEntry-level TP Link repeater
TP-Link RE220
TP-Link delivers the most affordable wireless router extender. But the dual-band device shows excellent throughput to maintain performance on the 2.4Ghz band. Furthermore, High Speed mode can be used by busy households to get the most from both bands.
Best for:&nbspTri-Band routers
at Netgear Nighthawk X6 EX7700
Netgear Nighthawk X6 EX7700
It's uncommon to find tri-band support, but Netgear's Nighthawk X6 EX7700 is one of the best WiFi extenders in the UK because of it. With a huge 2,000 to 3,500 square ft range and Mesh network capabilities, it's hard to beat at £79.99.
Parental controls
Available
Connected devices
Up to 40
Best for:&nbspValue TP-link range extender for WiFi 6
TP-Link RE505X
This WiFi 6-ready TP Link WiFi extender stands out with great real-world 5GHz speeds. OneMesh technology also ensures Mesh network setup is easy. For less than £60, RE505X provides excellent performance for the price.
Best for:&nbspOverall range
at TP-Link AX1750 Wi-Fi 6 Range Extender (RE603X)
TP-Link AX1750 Wi-Fi 6 Range Extender (RE603X)
The TP-Link AX1750 (RE603X) is the best WiFi range extender for WiFi 6 routers on the UK market. Multiple devices can download and upload without being restricted or beaten to the bandwidth. This is thanks to excellent speeds on both bands and genuine MU-MIMO.
Best for:&nbspValue for money TP-Link WiFi extender
TP-Link RE300
TP-Link's RE300 is packed with features, making it one of the best WiFi extenders the UK offers in the budget range. You still get the super-easy mobile app and a MU-MIMO-like high-speed mode. In addition, the smart indicator light lets you know exactly if it's positioned in the right place.
Best for:&nbspOverall, WiFi 6 support
at Netgear AX1800 Wi-Fi 6 Mesh Extender (EAX15)
Netgear AX1800 Wi-Fi 6 Mesh Extender (EAX15)
Ready to spend some cash on the best WiFi booster in the UK? Netgear's AX1800 is worth considering. With WiFi 6 compatibility, 1.8Gbps top speeds, and Mesh network support, it does it all. Moreover, it has proper MU-NIMO/ OFDMA implementation.
Best for:&nbspTop for Apple users
at Amped Wireless AC1750 Wi-Fi Range Extender (RE1750A)
Amped Wireless AC1750 Wi-Fi Range Extender (RE1750A)
This £70 'amped up' top WiFi extender gives you premium 2.4Ghz results. In addition, you get some unique Apple related features. We liked its long range and you'll never be out of wired stability with its five ethernet ports.
View Amped Wireless AC1750 Wi-Fi Range Extender (RE1750A) Details
Range
Up to 12,000 sq. ft.
Best for:&nbspAll-rounder
at Netgear Nighthawk X4 AC2200 WiFi Range Extender (EX7300)
Netgear Nighthawk X4 AC2200 WiFi Range Extender (EX7300)
The AC2200 hits you with the fastest 5Ghz band on the market and a bunch of extra features to make that a worthwhile thing. Firstly, you get MU-MIMO and beamforming. Further, you don't even have to mess with plug wiring. For example, just slot it right into the wall. If you're searching for the best internet extender, it doesn't get much better than this.
View Netgear Nighthawk X4 AC2200 WiFi Range Extender (EX7300) Details
Parental Control
Available
Best for:&nbspDLNA streaming
at D-Link Wi-Fi Dual Band Range Extender DAP-1650
D-Link Wi-Fi Dual Band Range Extender DAP-1650
The DAP-1650 from D-Link is for those that want a little something more from their smart WiFi extender, without paying ultra-premium prices. Its striking feature is DLNA streaming. That is to say, it acts as a hub between devices to stream content directly between them on the network.
What Is the Difference Between a WiFi Extender and WiFi Booster?
There is no actual difference between a WiFi signal booster and a WiFi extender, UK or otherwise. It's usually the manufacturer's decision based on marketing rather than the devices' features. In fact, the terms are used interchangeably.
In the past, there was perhaps more of a difference. The term booster referred to any device that provided a 'boost' to WiFi range. This included what we commonly see today but some other antiquated technology as well.
Today, the WiFi booster vs extender debate isn't legitimate. The primary products on the market all have the same core function – extending the range of a router to cover dead spots where signals are poor, or connections lost altogether. Obviously, the best WiFi booster UK consumers can buy will have lots of features and the latest tech. But it's still a WiFi router extender or 'booster'. In short, what the box says is irrelevant.
Top Recommendations and Reviews
TP-Link RE220
Brand: TP-Link
TP-Link RE220
Brand: TP-Link
The RE220 by TP-Link is a competent and affordable way to extend WiFi range across your home. Firstly, it has great 2.4Ghz performance and is very easy to use. We also think it looks great. Therefore, let's see what's under the hood:
Features and Performance
2.4Ghz and 5Ghz Bands
The 2.4Ghz band deserves all the praise but both are extended well by the RE220. Maximum data rates are 300Mbps and 433Mbps receptively. I.e. Just less than 750Mbps dual-band.
In practise, in close proximity, you can expect up to 80Mbps at 2.5Ghz. Meanwhile, at 25 feet, it's no more than 35Mbps, and at 50 feet speed throughput drops below 30Mbps.
5Ghz is obviously faster, but it should be. Compared to other models it doesn't quite hold up. You'll get around 115Mbps at close range, 70Mbps at 25 feet, and less than 50Mbps when you pass the 50ft mark.
Performance-wise, it's not good at multitasking or targeting devices directly with its signal due to a lack of MU-MIMO and beamforming technology.
Still, this is a budget WiFi amplifier that's extending coverage. It's better than no extension at all and for anyone but intense users, it does the job fine.
Control Panel
The Android and iOS mobile app called Tether easily controls the app. Similarly, you can use a web panel. Both display the extender's current status, and you can choose between wireless WPA, WPA2, WPA/WPA2, or WEP.
Other settings also include WiFi name and password, auto or manual IP addresses, and scheduling power on and off times.
High Speed Mode
High-speed mode is the closest you'll get to a MU-MIMO or a 'gaming mode'. For instance, it lets you choose a primary band for most traffic and the other band for backhaul traffic. Similarly, auto mode decides the best configuration for the current moment.
Design
The RE220 plug extender look is really nice and will blend in with most homes. For example, it could be mistaken for an air freshener.
As a 'miniature' it measures in at 4.3 by 3.0 by 2.6 inches, and down the front are its LED lights. So – green is good, red is weak. You can also observe WPS and LAN activity. The LAN port is at the bottom and shouldn't be too fiddly unless you have abnormally low plug sockets. This sits alongside a master reset button.
Price
Mediocre performance can be forgiven for such a great price. In short, you can pick up the TP-Link RE220 for just £22.99.
Verdict
If you live in a large home, want better WiFi outside or in summer houses, or you just experience a bad connection for unknown reasons, choose this. The RE220 is a good entry-level extender if you've never used one before. You will notice a difference immediately.
However, intense internet users who need the best performance and have some familiarity with WiFi range extenders will want a more premium model.
Netgear Nighthawk X6 EX7700
Brand: Netgear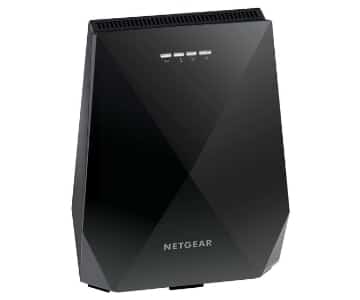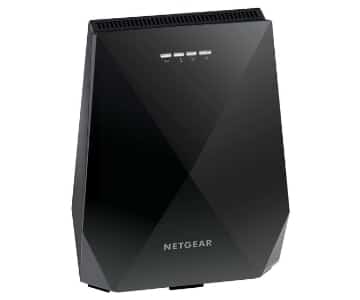 Netgear Nighthawk X6 EX7700
Brand: Netgear
Parental controls
Available
Connected devices
Up to 40
The X6 EX770 is an excellent triband middle-ground between Netgear's entry-level EX7500 and premium EX8000. The WiFi mesh extender uses four internal antennas. Meanwhile, it's capable of speeds up to 2.2Gbps.
Features and Performance
Triband
The X6 WiFi range extender kicks things up a gear with three separate bands. FIrstly, two 802.11AC 5GHz bands deliver speeds up to 866Mbps, while a 2.4Ghz band gets up to 400Mbps. Subsequently, performance is vastly improved as one of these bands is dedicated to back-end networking traffic.
In essence, this is MU-MIMO – multi-user, multiple input, multiple output. One person might play a game, another stream Netflix, and when someone else connects to browse the web on their phone nobody will experience any slowdown. Above all, if you're a 4K streamer but have experienced dead spots, this is a brilliant solution.
Range
Most people won't need 2,000 square feet of range, but the fact it's possible is reassuring. It also means that signal strength for devices in the average-sized home is very strong.
Up to 40 Smart Devices
Netgear guarantees smooth connections between 40 different devices, such as smartphones, a television, or a laptop. This is more than enough for the average household.
Parental Controls
The intuitive Netgear app houses the control panel. One useful feature is parental control that allows you to set timed schedules for your children's connected devices or block them altogether.
WPS Setup
Using a WPS button, the wireless extender links with your wireless router in seconds and will only take a few minutes to configure fully with your network.
Design
The X6 EX7700 is an edgy black box that measures 7.8 by 6 by 2 inches, so far from large. However, it does not plug directly into the wall. Instead, you get a standard cable and plug. Furthermore, to the rear is the power button, two ethernet ports (ideal for consoles and smart TVs), and a reset slot.
In addition, the LED notification lights sit at the top of the front side of the device.
Price
The Netgear Nighthawk X6 EX7700 has an MSRP of £79.99, which is more than reasonable for its excellent performance.
Verdict
There's nothing not to like about this WiFi range extender. It has exceptional reach, can handle loads of devices without slowing down. For example, 4K and intense gaming is no problem. Furthermore, it's well priced. It might be overkill in smaller flats, but in large homes and offices, it's one of the best WiFi extenders on the market.
TP-Link RE505X
Brand: TP-Link
TP-Link RE505X
Brand: TP-Link
Aimed at newer WiFi 6 routers, TP-Link's RE505X Wi-Fi extender informs users where to position it for best performance. Meanwhile, the dual-band device does excellently on the 5GHz band, with top data transfer speeds of 1.2Gbps.
Features and Performance
WiFi 6
This means the wireless extender is compatible with WiFi 6 routers, the newer technology that supports a new maximum speed of 9.6Gbps, as opposed to the previous 3.5Gbps. Of course, that's the speed of the router, not the extender. But when combined, you're in a better overall position for speed.
Dual Band
The RE505X is a dual-band router extender with wireless speeds of up to 1.5 Gbps. That's 1.2Gbps on 5Ghz and 300Mbps on 2.4Ghz
Real-world testing puts the 2.4GHz band at about 80Mbps in close range, 30Mbps at 20 feet, and 9Mbps at 40 feet. This is less than the cheaper RE220, though it has better overall connection stability and the RE220 is obviously not Wi-Fi 6 compatible.
It does better in the 5Ghz band, jumping to 350Mbps at close range, 245Mbps at 20ft, and 203Mbps at 40ft.
Walls and other interference will play a role, but there's no denying the 5Ghz band does well.
Adaptive Path Selection
Another feature that improves performance is APS. This utilizes the most ideal network path to the router to maintain speeds.
OneMesh
The OneMesh technology makes use of compatible routers for a more seamless experience across your home or business. Firstly, routers and extenders share the same name, and any device simply connects to this. Moreover, whatever extender or router currently provides the best connection automatically applies to the device.
The downside though is the router must be compatible to experience the benefits of a Mesh network.
Easy Setup
The TP-Link Tether app allows for easy WiFi extender setup by Android or iOS.
Design
The straight in the wall design does away with those annoying wires, though its chunky antennas aren't the most visually appealing. Positioned down the right hand side you'll find the LED indicators.
For even faster wired gaming consoles or smart TV streaming, you get a Gigabit Ethernet port at the back.
Price
You can purchase the RE505X from trusted online retailers for less than £60, which isn't a terrible price. Its sister product, however – the TP-Link RE603X – is a similar price with slightly better performance.
Verdict
TP-Link's RE505X can easily extend WiFi range with solid performance at a good price. It has WiFi 6 and OneMesh support and is very easy to set up. However, its RE603X cousin has less 2.4Ghz middling and there's barely a price difference.
TP-Link AX1750 Wi-Fi 6 Range Extender (RE603X)
Brand: TP-Link
TP-Link AX1750 Wi-Fi 6 Range Extender (RE603X)
Brand: TP-Link
For as little as £5-£10 more than the RE505X, TP-Link delivers superior WiFi 6 and OneMesh performance over the RE505X, with the same features and ease of use. It's time to say goodbye to dead zones.
Features and Performance
WiFi 6
TP-Link continues its support for faster and more efficient WiFi 6 routers. This results in less latency, overall higher speed capacity, and the ability to connect tonnes of devices at once without wireless network slowdowns. That's everything from a desktop PC to smart TVs and smart speakers.
Dual Band
This dual-band WiFi signal extender provides superior performance over the RE505X, with top potential speeds close to 1.8Gbps. Experience 1.2Gbps on the 5Ghz band – perfect for 4K streaming and online games. Furthermore, the 2.4Ghz band is great for regular browsing at a top speed of 574Mbps.
Real-world examples record 100Mbps of throughput for 2.4Ghz at close range. 38Mbps at 20ft, while 12Mbps is recorded at 40ft.
5Ghz gets over 350Mbps at close range, 251Mbps at 20ft, and 200Mbps at 40ft.
In short, these are great results, suitable for any home or office user.
Smart Roaming
Like router beamforming technology, smart roaming follows your devices around the house and seamlessly switches extenders or routers to provide the best possible connection as you go.
AP Mode
The above combined with an adaptive path provides the best possible route through your network.
OneMesh
If your router supports OneMesh, you can get more out of the TP-Link AX1750. This eliminates devices' normal process of searching for the router as every device compatible within the home falls under the same WiFi node.
High Speed Mode MU-MIMO
High Speed Mode is a form of MU-MIMO that splits both bands among different types of devices and uses one band for upstream and another for downstream. Effectively, all devices perform well without the network clogging up. It's very useful to replicate this on a WiFi range extender.
Mobile App
You can easily do the initial setup and further management via the popular TP-Link Tether app for Android and iOS.
Features include parental control and a black/white list to screen out inappropriate websites.
You can also view the status of all your devices, block ones from connecting (perhaps you just want your phone to use mobile data for a while). Moreover, this is where you manage High Speed Mode.
You can check signal strength and performance in relation to the router and where the extender is located, too.
Design
It comes in a familiar bulky white design with two extended antennae. It plugs straight in the wall for convenience and has a Gigabit Ethernet port for faster gaming and TV streaming.
Price
The RE603X currently retails for around £65 compared to the RE505X's £60 price tag. We see no reason not to pay that little extra.
Verdict
This is the best WiFi extender UK customers can buy for WiFi 6 range.
TP-Link RE300
Brand: TP-Link
TP-Link RE300
Brand: TP-Link
This budget TP Link extender provides a respectable 1.1 Gbps top potential speed over dual band. It has Mesh network support and roaming signal. It's an affordable choice for the average family that needs to boost the WiFi signal to cover dead spots around the house.
Features and Performance
Dual-Band Performance
Dual Bands allow different devices to get full performance without interfering with each other. It also means lots of devices can connect to the network and get good speeds.
This WiFi signal extender has a combined potential speed just shy of 1.2Gbps. The 2.4GHz band delivers 300Mbps and is ideal for regular browsing, while the 5GHz provides capacity for 867Mbps.
Actual speeds depend on your router and broadband capabilities themselves. We found spots that drop the signal altogether, such as the garden summerhouse. We could get between 20Mbps to 30Mbps on the 5GHz band, which was a pleasant surprise.
OneMesh
So your devices remain connected to the strongest band (or network if you have multiple), OneMesh keeps everything under one connection name. Regardless of how your network(s) are set up, you get the best possible signal strength when moving around the house.
You also may connect directly to the extender, router, or other Mesh-compatible device.
Two-Step Setup
Setting up for the first time takes just two steps! Just press the WPS button on your router and wait at least 10 seconds. Secondly, press the WPS on the powered RE300. They should now be connected and in most cases, that's all that's required.
Web or App Management
If your router doesn't have WPS or you want to tinker with additional settings, the Tether app for Android and iOS is all you need. On the other hand, the same interface is available via a web browser.
Here you can view network status, which devices are connected and their signal strength, and even set up a private guest network with its own password.
You can block any device from connecting to the network, while parental controls also allow you to schedule set times for when your children's devices can go online.
Smart Signal Indicator
You can see signal strength within the control panel, but an even easier method is via the indicator light on the network extender itself. This goes from green (A-Okay) to red (not so good). Worry not – moving it to a different wall outlet should solve the issue.
High-Speed Mode
This implementation of high-speed mode combines both bands into one powerful connection. When nobody else needs to use the internet, this is best used for gaming or high-quality streaming.
Adaptive Path
AP Mode automatically chooses the best path between the router, WiFi repeater, and devices to maintain the fastest possible experience.
Design
The familiar design looks nice in any home. It's simply a white box that plugs directly into the wall socket. Its power button, WPS, and reset slot are on the side, while indicator lights are on the front.
For game consoles and Smart TVs that cannot be wired to the main router to benefit from increased stability and speed from the plug extender, we would have liked to see an Ethernet port.
Price
At just £33.49, the RE300 is a great option for the average family that wants full broadband coverage all over the house.
Verdict
Overall, TP-Link's RE300 is a good WiFi extender that will immediately boost any home network. It doesn't quite have all the bells and whistles as its more expensive counterparts, but TP-Link hasn't scrimped when it comes to their usual features. You get OneMesh, Adaptive Path, High Speed Mode, and the app. What more could you need?
Netgear AX1800 Wi-Fi 6 Mesh Extender (EAX15)
Brand: Netgear
Netgear AX1800 Wi-Fi 6 Mesh Extender (EAX15)
Brand: Netgear
Netgear's high-end long-range WiFi extender is WiFi 6-ready and has some of the best speeds on the market. This is particularly noticeable on the 2.4GHz band.
Features and Performance
Dual Band
Both wireless bands deliver transfer speeds of up to 1.8Gbps – 600Mbps from the 2.4Ghz band and 1.2Gbps from the 5Ghz band.
In practise, they're still impressive. 5GHz stands out with over 350Mbps at close range, 170Mbps at 40ft, and 130Mbps at 20ft.
Although impressive, it's slower than the cheaper TP-Link RE505X, which is £30 cheaper.
The 2.5GHz band also trails the RE505X in the real world, netting 65Mbps at close proximity. But at further distances of 20 and 40 feet it surpasses the competition.
Smart LED
The smart LED signal light glows from green to red to let you know the network extender signal strength in relation to your router. Green is what you want, while if it's red, it's time to find a wall socket closer to the router or vice versa.
OFDMA/ MU-MIMO
Up to four devices can efficiently upload and download simultaneously with no noticeable latency. This includes streaming, gaming, video calling, etc.
Mesh Wi-Fi 6
If you have a WiFi 6 router, you get approximately four times the amount of device capacity than previous WiFi technology. The Netgear AX1800 supports WiFi 6, which means no inherent slowdowns of this new network technology.
You can also set up a Mesh network using your current WiFi details. This allows you to connect to the closest node directly (your router, WiFi extender, or another device), so coverage is much more efficient around the house.
WPS Setup
There's no messing about with WPS. To get connected, firstly just hit the button on your router, then the Netgear WiFi booster.
Nighthawk App
Nighthawk is Netgear's iOS and Android app for managing your extender. Firstly, it lets you view and remove connected devices. Secondly, it runs speed tests, and manages your WiFi settings.
Design
An elegant and compact white design plugs directly into your wall socket. Despite its performance, it measures just 5.9 by 2.7 by 2.1 inches.
The LED indicators are placed vertically down the right hand side of the front panel. In addition, the WPS button, reset slot, and an Ethernet port are on the left side. Just plug it in and it will fire up, no power button is required.
Overall, this is one of the better-looking, understated Netgear WiFi extenders and would sit great in any home or office.
Price
At just over £90, this won't meet everyone's budget. Especially for something as innocuous as a plug-in WiFi extender.
Verdict
If you have the budget, the Netgear AX1800 (EAX15) has excellent throughput at 2.5GHz, a very long-range, and doesn't overwhelm with settings. In conclusion, based on raw specs, it's easily in contention for the best WiFi extender UK customer can buy.
Amped Wireless AC1750 Wi-Fi Range Extender (RE1750A)
Brand: Amped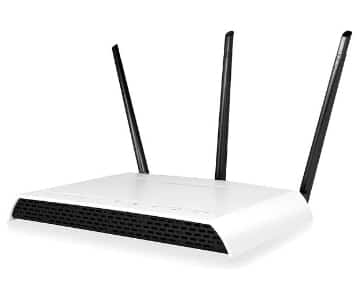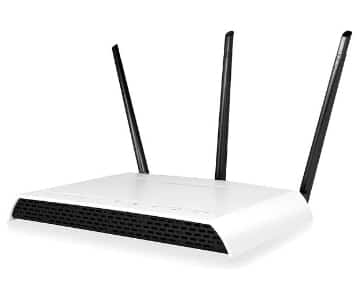 Amped Wireless AC1750 Wi-Fi Range Extender (RE1750A)
Brand: Amped
Range
Up to 12,000 sq. ft.
The Amped Wireless AC1750 (RE1750A) model is a premium and powerful wireless signal booster, with lots of ports. Similarly, it has an excellent management panel. The 2.4Ghz band delivers the throughput we like to see on a dual-band WiFi extender, while it also has great Apple support.
Features and Performance
Apple-friendly
AirPlay (streaming), AirPrint (for printers), and Home Sharing, means Amped works seamlessly with all Apple networking features.
Five LAN Ports
You get what you pay for, and five Gigabit LAN ports are one such feature. This isn't necessary for the average person. But if you want the perks of wired gaming and streaming without the router within immediate reach, this is the best WiFi repeater UK consumers can buy.
Web-Based Management
Amped aren't on par with other brands that provide a mobile app to control the wireless repeater, yet its web-based control panel is second to none. And – you can load it on a phone browser anyway, so it isn't a big deal.
You get an overview of connected devices, usage stats, and signal strength. Furthermore, its basic and advanced settings suit users of all capabilities and there are enough written explainers to guide you along the way.
You can set up guest network access, add additional security, and block devices (parental control). This includes allowing access for X amount of time.
Boost Band
Amped's version of High-Speed mode or MU-MIMO is Boost Band, but it did little for us. The idea is the 5Ghz band is reserved just for router communication, but it had no noticeable impact on speed.
Speeds and Range
Long-range WiFi of 12,000 square feet must be a record for a Wi-Fi extender. Likewise, on paper users get around 1.75Gbps combined data speeds. Results are still impressive in the real world.
The best performance is found at 2.4Ghz, which scored nearly 47Mbps in close range. It recorded 27.5Mbps at 25ft, and at 50ft performance jumped up to 38Mbps. I.e. This is best used at longer distances than mid-range.
The 5Ghz band had some middling but we will not say it performed badly. At close range you can expect over 56Mbps. 25ft performs at 41.5Mbps, however, as far as 75ft you can experience a solid 47-48Mbps speed.
Design
The Amped WiFi repeater is on the larger side because it packs performance. As a result, you get a pass-through plug, rather than just being able to stick the whole thing straight into the wall like the smaller models. So, like a router, you might need a coffee table handy.
Its 3 external antennas deliver an impressive range, whether you're in a massive house or office environment. Performance, surprisingly, isn't reduced a great deal when these are removed. Perhaps consider this if you're in a flat that has dead spots, not because you want WiFi to cover a nine-bedroom house.
Antenna or no antenna, there are three 2.4GHz amplifiers. Three 5GHz amplifiers, and six low-noise amplifiers internally also help.
Towards the rear, you'll see the five Ethernet ports, a USB 2.0, and power jack. The WPS button allows fast network connection, and the reset switch is alongside. We especially liked the indicator switch that allows you to turn off all lighting indicators. After all, once you know it's working, glare and flashing can be quite annoying in a dimmed room.
Price
You're looking at around £70 which is pushing the high-end of the market.
Verdict
This is a great WiFi repeater UK customers will see deliver immediate results. The range is superb and speeds consistent, even if there's some middling on the 5GHz band. It also has Apple support in terms of Airplay, etc. The TP-Link AX1750 and Netgear Nighthawk X6 EX7700, however, outperform it in many areas. So, it's not good value for money.
Netgear Nighthawk X4 AC2200 WiFi Range Extender (EX7300)
Brand: Netgear
Netgear Nighthawk X4 AC2200 WiFi Range Extender (EX7300)
Brand: Netgear
Parental Control
Available
A fast wall plug-in with simple controls, and proper MU-MIMIO, highlights the greatness of the Nighthawk AC2200 Netgear WiFi range extender. It's about as premium as you can get, but nothing's perfect.
Features and Performance
Control
No mobile app this time but it's easy to type mywifiext.net into a browser to access settings. You get all the signal and traffic status, along with individual device profiles. Both bands are used automatically and efficiently, but the tech-savvy will appreciate the advanced settings.
Whether you want to set up WPA2 security or change WiFi passwords, it's all here.
Speed
The EX7300 is the fastest WiFi booster UK users can buy, on paper. Speeds reach a staggering 2.2Gbps combined. It also has some of the highest speeds available in real-world testing.
The 5GHz band returns just shy of 340Gbps at near range – the best yet. It also dominated at 170Mbps at 25ft, and 115Mbps.
FastLane Technology
Users can utilize both WiFi bands at once for combined speed and efficiency. When nobody else is home to interfere, this is designed to drive all resources to intense gaming sessions or 4K streaming.
MU-MIMO
Full MU-MIMO allows devices to send and receive data simultaneously instead of sequentially. I.e. no single device comes first and hordes bandwidth, slowing everyone else down. If you have a good internet provider, to begin with, this is the holy grail of streaming and gaming.
Beamforming
Beamforming spreads the signal from the Netgear router extender in a more direct line towards the connected devices rather than one big circle. This provides a faster and more stable connection that follows the device around.
Mesh Network
Netgear creates a simple home-wide Mesh network with your current router, using the same password and details. Mesh networks further extend reach to those hard-to-reach areas that usually struggle with connections.
Smart LED
Know how strong the signal is between the router and the Netgear wireless extender, so you know whether either should be repositioned for better results.
Design
Despite packing the power, it maintains a compact direct plugin design that hides its powerful antennas internally. Performance isn't hindered at all.
At the back is a Gigabit LAN port for wired performance. There's also the power button and the timesaving WPS button to get setup in minutes.
The LED indicators are useful for knowing where to position your Netgear range extender. Green means it's strong. Amber is acceptable, while red requires a rethink.
Price
At £109.99, it won't meet everyone's budget. With class-leading performance, however, it's a no-brainer for those that want the Best Netgear WiFi extender in the premium class.
Verdict
Fast speed on paper and in real life, make this an exceptional premium choice. Furthermore, MU-MIMO and other technology like beamforming and Fastlane, can make full use of your internet connection for different scenarios. All it lacks is WiFi 6 support.
D-Link Wi-Fi Dual Band Range Extender DAP-1650
Brand: D-Link
D-Link Wi-Fi Dual Band Range Extender DAP-1650
Brand: D-Link
The DAP-1650 is one of the best wireless extender options on our list. It's packed with a bunch of other excellent features that make it more than just a WiFi booster or extender.
Features and Performance
Speed
D-Link supply combined speeds of 1.2Gbps; 200Mbps on the 2.4Ghz band and 867Mbps on the 5Ghz band.
The 5Ghz performed great in testing, recording close to 65Mbps at close range. Above all, it shined at long range, with 39.5Mbps at 75ft, one of the highest on the market.
The 2.4Ghz band was also good, scoring 39.2Mbps in the same vicinity and 18Mbps at 50 feet. The let-down was it couldn't hold a connection at 75ft, so this might not be the best option for large homes or offices.
Media Server
The DAP-1650's stands out thanks to a unique media server feature. This allows you to use it as a DLNA streamer and iTunes server. To sum up, that means you can directly stream media content to different devices on the network seamlessly.
The DAP-1650 lets devices easily talk together. E.g. if you have videos on your Windows 10 PC that you want to play upstairs in bed on your phone.
Depending on how your network is set up, it also operates as an access point.
WPS Setup
Setup is easy with WPS functionality. Just press the button on the device and then your router and the connection will take hold. Then all your other devices are good to go.
Design
The DAP-1650 has a modern cylindrical design like a hub and is currently only available in black. You get a nice four Gigabit Ethernet ports to ensure even better stability with devices like consoles. In addition, is a USB 2.0 port, and the power button.
You'll need to use an adapter to plug it into the wall socket.
Meanwhile, four internal antennas (one for each band) help deliver excellent range.
Price
£63.22 is a good price considering the great speeds and extra features. It's not the fastest but not far off.
Verdict
The D-Link Wi-Fi DPA-1650 is a competent extender WiFi networks will instantly benefit from. The DLNA feature is particularly useful for gamers and streamers and is a unique touch. Speed and performance are far from bad but there are cheaper options that do it better. It also lacks Mesh networking at genuine MU-MIMO.
This purchase comes down to whether its unique features outweigh other mediocre performance measures.
How To Choose the Best WiFi Extender in the UK
Choosing the best WiFi extender UK retailers sell requires a little knowledge about your router, network, and location. Here's what to consider:
Price
Since an extender is just a small WiFi amplifier, not a full-blown router, you don't have to spend a lot of money. Prices start at less than £25 and stay below £110. The differences in performance between entry-level and premium products are negligible. Unless, of course, you have a large home with lots of users, are intensive in your internet use, or are kitting out in a busy office.
It's more important to get a modern wireless range extender rather than worrying too much about the price.
Range
Range is the single biggest factor when looking for the best WiFi repeater. Why bother if it doesn't reach where you want it to? Most importantly, this covers an entire household easily when positioned in a central area between the router and the troubled spots.
When the signal is strong or needs to be repositioned closer to the router, indicator lights on many of the best broadband extender products let you know. In some cases, it's the router that should really be moved if possible.
Though nobody enjoys spending money, it is possible to use more than one broadband extender if one isn't doing the trick. Theoretically, you could have several plugged-in downstairs and upstairs, or all over the office.
The Amped Wireless AC1750 has the best range on the market, at a staggering 12,000 square feet, though it lacks in other areas. It's also a bit unnecessary unless you live in a large estate.
The Netgear Nighthawk X6 EX7700 follows with roughly 2,000 to 3,500ft.
Speed
It's worth noting that the speed of a wireless network extender cannot be faster than:
The speed your internet provider delivers
The speed your wireless router delivers
It extends the range (distance) at which devices can connect and how strong those connections are.
Therefore, to ensure the best possible speed, you will want to choose an extender with capabilities as close to your router as possible.
Anything with a combined dual-band speed of 1Gbps or greater is a good place to start.
Ports
Ports allow for wired connections to your devices and are ideal for gaming PCs and streaming TVs that might not be wired to the router but want the next best thing. A lot come with one, some come with as many as five.
Having one or more ethernet ports is similar to router LAN ports. It ensures a stabler and faster connection. Of course, with an extender the overall signal is still wireless, it just means your wired device will be more stable with the extender.
Bands
Like routers, a router extender typically falls into dual or tri-band. This means devices on the network can use either 2.4Ghz or a separate 5Ghz. Or sometimes, two of one of these bands.
The more bands, the less latency, and the more devices can be used simultaneously without slowdowns. For example, if someone is gaming on a single 2.4Ghz band and someone else is streaming a video on the same band, traditionally one task would be processed at a time. This is inefficient and causes slowdowns for both users. Dual bands keep things separate. Tri bands even more so. The Netgear Nighthawk X6 EX7700 excels as a tri-band extender.
Additional features like MU-MIMO (multi-user, multiple input, multiple output), take this further and allow for multiple up and down-streams on all bands without interference from each other.
Look for MU-MIMO for the best WiFi extender for gaming,
There can be slowdowns if the overall internet speed is impacted, but this isn't caused by the router/extender picking and choosing which request to process first.
In short, if multiple household users want to game, watch Netflix, browse the web, etc. – they can.
Note: For these features to be effective the router itself must support the same modes and protocols.
Router Compatibility
The best range extender is one that works with all routers. Fortunately, this is the norm rather than the exception. Nonetheless, a TP Link range extender might have a slight advantage over a TP-Link router, when it comes to advanced settings.
Unless your router is exceptionally old, there's nothing to worry about with compatibility.
Pass Through or Direct Plug
Functionally, there's not a major difference between pass through and direct plug design. A direct plug is part of the extender itself, slotting into the socket like an air freshener, where it sits freely. Meanwhile, a pass through comes with a cable/and or adapter that leaves a wire between the wired WiFi extender and the wall socket.
It's not always the case, but the more expensive products are larger and therefore suit the pass through design better. You may, however, need a table or window ledge to place it.
Almost all whole-home WiFi extenders are plugged in at the mains and don't run on batteries because this would be impractical. Don't confuse WiFi for wireless.
How To Set Up a Wireless Extender
Wondering how to set up WiFi extender devices? Fortunately, it's similar regardless of the brand. The device is either plugged directly into the wall like an air freshener or has a cable and plug and needs to be sat on the floor or a nearby table. No batteries are needed.
Once it's powered on, it needs to connect to the router. This can be done by fast pairing using WPS, or via the provided control panel. This is accessed via a web browser, app, or in older cases, computer software.
You will need your router/network login details on hand, much like if you were connecting to the network with any other device. Therefore, the other settings can be configured. That's the WiFi extender setup in a nutshell.
Wrap Up
So, we looked at nine of the Best WiFi booster UK options. Each has its own pros and cons, but if you want to stop network drops and areas that can't get a signal at all, these little devices will work wonders.
We explored all the top features you need and some of the extra perks available.
Whether you need a WiFi extender for gaming, or an outdoor WiFi extender for that summerhouse, garage, or security cameras, we've got you.
Still have questions about the best WiFi range extender UK retailers could offer you? We answered your most commonly asked ones below:
FAQ.
---
Do WiFi extenders really work?
Yes, WiFi network extenders are a well-established technology used by millions of people and businesses to, firstly, improve the range of their wireless network, and secondly its strength.
However, there are limitations depending on the particular model you use. Nonetheless, every product on this page does a good to great job.
How to extend WiFi range?
Some considerations include:
Router Location: Aim for a central location without being right next to obstructions or excessive electronics that could cause interference.
Wireless Dongles: Devices themselves need adequate Wi-Fi receivers. Built-in solutions are not always the best, so consider buying USB dongles for devices that support them. Some even come with antennas for improved signal strength.
The best option is to use a wireless range extender that takes the signal from the router and extends it further with limited strength drop-off. Better performance can be found when combined with a good wireless dongle.
How to setup TP Link extender
TP Link WiFi extender setup is one of the easiest things you can do. In most cases, thanks to WiFi Protected Setup (WPS), you just need to press two buttons.
First, plug the TP-Link extender into the wall and press the power button. When the power light is green, head over to your router and press its WPS button. After a few seconds (don't wait longer than 5 minutes), return to the extender and press its WPS button. The two devices are now immediately talking to each other.
Occasionally, you may need to reconnect any devices to make use of the boosted signal.
If your router doesn't have WPS, you'll need to go into the web panel or TP-Link app, and it should recognize your router. After that, you should be connected by logging in with its credentials.
After that, the control panel lets you configure all other settings.
What is the best WiFi extender?
In terms of raw performance in range and speed, the best WiFi booster UK consumers can buy in 2022 is the Netgear Nighthawk X4 AC2200. Though it does not support WiFi 6, its MU-MIMO almost negates this.
If you want better value for money, something like the Amped Wireless AC1750 is an excellent choice and has the longest range of all. On the other hand, at the budget/entry level we had tremendous results with the TP-Link RE220.
What is the strongest WiFi extender?
The top WiFi extender in terms of range or strength has to be the Amped Wireless AC1750. For instance, it can reach 12,000 feet in some scenarios.
How to increase WiFi range
Your extender's capabilities and your router's capabilities determine WiFi range. A larger dongle with an antenna allows it to pick up a stronger signal. Also try not to have too many obstructions between the router, extender, and devices.
How to use a WiFi extender
Using WiFi range extenders is an easy addition to your typical router network setup. Plug them into the wall socket and hit the power button. They need to be close enough to the router to pick up a strong connection and then repeat it across a further distance. Pressing nothing more than the WPS buttons on all relevant devices is a feature found on the best WiFi extender UK users can purchase.
Keelan Balderson
A qualified journalist and longtime web content writer, Keelan has a passion for exploring information and learning new things. If he's not writing or pushing his own brands, you'll find him watching pro wrestling or trying not to rant about politics online.
Leave your comment
Your email address will not be published.