10 Best 3D Scanners for 2023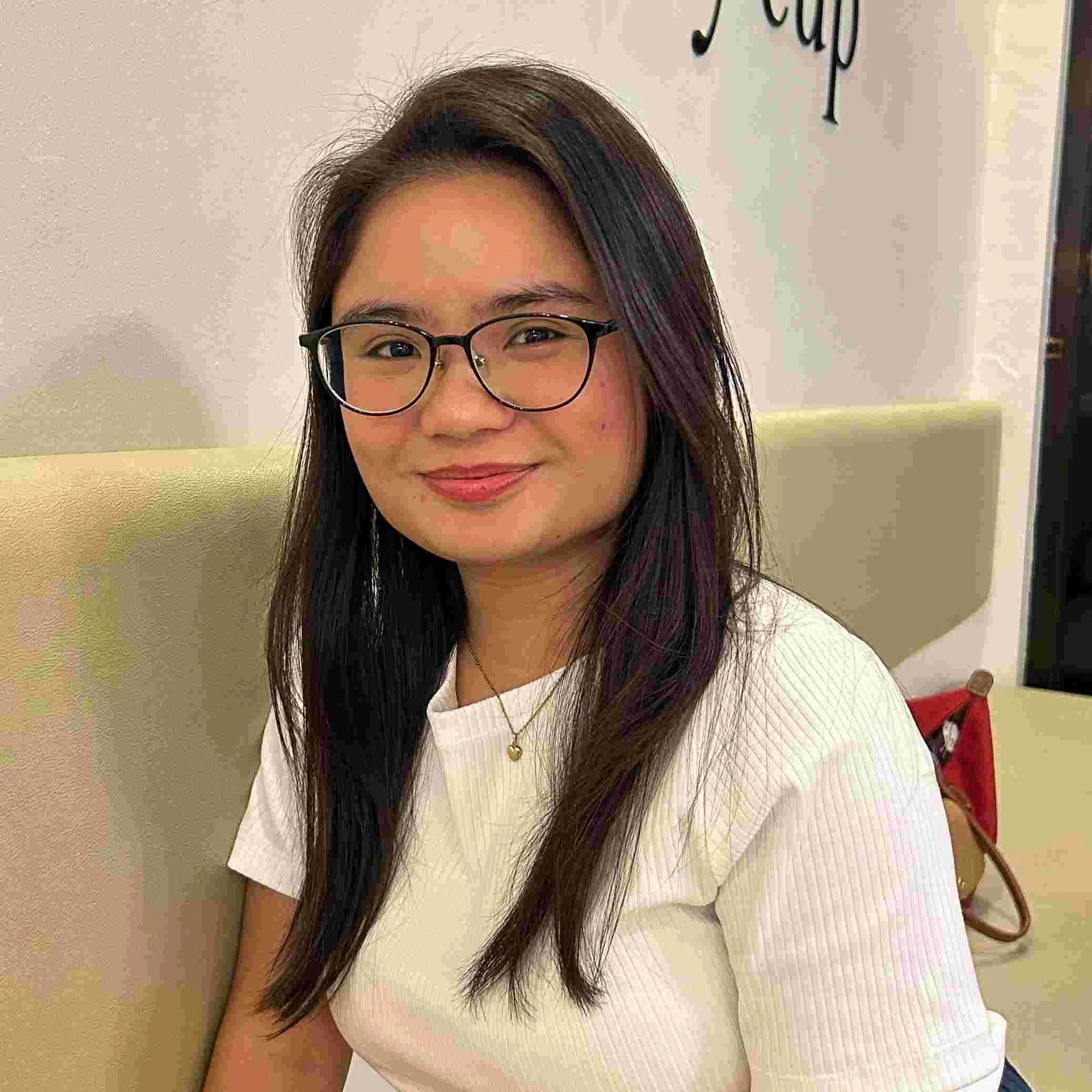 Lorie is an English Language and Literature graduate passionate about writing, research, and learnin... | See full bio
No matter if you're an individual, designer, or part of a larger business, 3D scans will soon take over your world. We've taken 11 of the top devices in the industry and put them through their paces. We'll help you find the best 3D scanner for you. We looked at:
Price
Features
Quality and accuracy
Supported object sizes
Speed
Accompanying software
Whether you need the best handheld 3D scanner or something larger, our 3D scanner reviews and guides will point you in the right direction.
Read More
Top 11 3D Scanners for 2023
Best for:&nbspHome users
at SOL 3D Scanner by Scan Dimension
SOL 3D Scanner by Scan Dimension
Suitable for all, the SOL 3D Scanner is available for less than $1,000. You can scan 3D objects with ease. It utilizes a turntable to scan objects 360-degrees. It has two modes - one to capture the overall geometry of your object and another to get the detailed texture. You can then export to familiar file types. Overall, a good 3D scanner for 3D printing.
Connectivity technology
USB
Light
Laser and structured
Best for:&nbspValue for money 3D scanner with turntable
at Matter and Form V2 3D Scanner MFS1V2
Matter and Form V2 3D Scanner MFS1V2
The MFS1V2 is a powerful foldout 3D scanner that's easily portable and does its 360-degree scanning via an in-built turntable. Its +Quickscan technology means you can scan simpler objects in as fast as 65 seconds. At just under $750 MSRP it's also affordable for home users and hobbyists, as well as individual professionals. For its price, it has surprisingly detailed scans.
Price
Relatively ffordable
Best for:&nbspSemi-professional scanner at an affordable price.
at Revopoint POP 3D Scanner
Revopoint POP 3D Scanner
The POP is a handheld device that you use in controlled environments and out in the field. It supports multiple modes for scanning objects, faces, and bodies, with or without markers. Even complete novices will feel at ease thanks to its beginner-friendly software. You'll hardly find a more flexible scanner at this price point!
Infrared light
Structured
Best for:&nbspProfessional use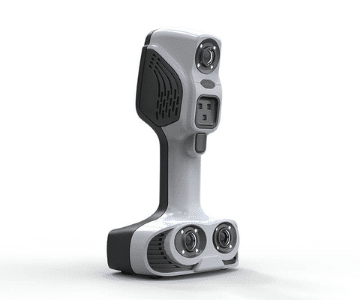 at iReal 2E Color 3D Scanner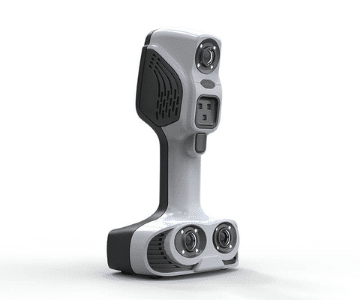 iReal 2E Color 3D Scanner
The iReal 2E Color 3D hand scanner from Scantech is a handheld powerhouse. It effortlessly captures medium to large objects, including the human body. Plus, it does all this without needing markers! With a data collection speed as high as 1.5 million PPS and a 720mm scanning depth of field, the results are fast, smooth, and detailed.
Light
Infrared and Invisible
Field of View
580 x 550mm
Measurement rate
Up to 1,500,000 points/s
Best for:&nbspSmartphone scanning
Phiz 3D Scanner
The Phiz 3D model scanner is suitable for professionals and beginners alike. It uses your smartphone instead of inbuilt cameras, making it very affordable. Furthermore, its patented machine learning algorithm optimizes scanning for the best results possible.
Best for:&nbspHigh-resolution 3D scanner for individual professionals
at Shining 3D EinScan Pro 2X Plus
Shining 3D EinScan Pro 2X Plus
With a 0.04mm accuracy and high-resolution geometry and texture scanning, the Shining 3D EinScan Pro 2X Plus leaps into high-end territory. It is also very versatile, allowing you to do regular hand-held, extra fast 'rapid', and fixed scans if you get the package with a turntable to get 360-degree coverage. There are many add-ons to improve performance and functionality.
Resolution and accuracy
High
Best for:&nbspLaser 3D scanner for budget enterprises
Artec Eva
At close to $15,000, the Artec Eva is aimed at enterprise use rather than individuals. It is one of the most powerful and advanced 3D image scanner solutions on our list. It has a high accuracy of up to 0.1mm and can scan up to two million points on an object in just one second. Its single scanning mode handles geometry and texture mapping, capturing everything in full and accurate color.
Working distance
0.4 – 1 m
Best for:&nbspApple users
at Occipital Structure Sensor 3D Scanner MARK II
Occipital Structure Sensor 3D Scanner MARK II
One of the best and most affordable 3D scanners for individuals, particularly if you are an Apple user. It easily attaches to all modern iPads, can use several different apps and software depending on your preferences. It offers many of the features from scanners that cost thousands more. It can scan from a maximum range of up to 10m and has an accuracy between 1.7mm and 0.2mm.
Software choices
Multiple
Best for:&nbspOverall handheld 3D scanner for the industry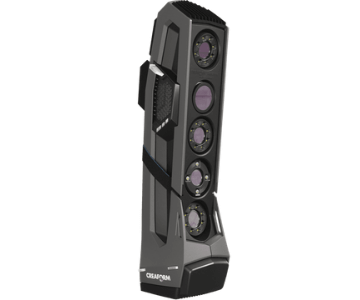 at Creaform Go!SCAN SPARK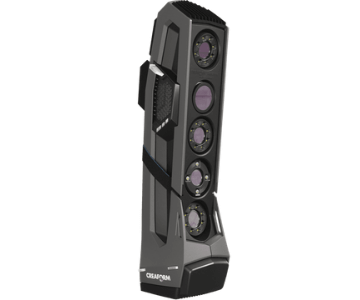 Creaform Go!SCAN SPARK
The Go!SCAN Spark by GreaForm is an enterprise-grade 3D handheld scanner that suits industries from aerospace to VR development. You'll be paying for superior power, speed, accuracy, and the ability to scan almost any size object. It can 3D scan a car, full human bodies, and even entire rooms! You also get access to the best suite of scanning and modeling software out there. Ultimately, this is the best laser scanner for 3D modeling on the market
Suitable for
Industrial scale
Best for:&nbspHome users
at XYZprinting 3D Scanner 1.0 A
XYZprinting 3D Scanner 1.0 A
Individuals looking to try their first 3D scanner, the XYZprinting handheld 3D scanner is an ideal solution. It's fine-tuned to scan faces, head and shoulders, full bodies, and objects. The 1.0 A is very easy to use and beginner-friendly. The software can do many of the important things automatically and exports files in comm formats, making it an ideal 3D scanner for your 3D printer.
Max Scan Volume
39.3 x 39.3 x 78.7 inches
Scanning Distance
5.9-9.84 inches
What Is a 3D Scanner?
Much like a regular scanner, laser scanning 3D uses various methods to analyze a physical object and then relay that data to a computer to create digital 3D models. The 3D digitizer process might be automatic or users might need to complete the model to their requirements by using software. The aim is usually to get an accurate model to the right standard and format, ready for 3D printing, for virtual reality applications or other purposes.
Such scanners are used in many professional industries, but with advances in home 3D printing, there are now also a good variety of home options. They are sometimes called portable 3D scanners or handheld scanners if they're designed as such. These allow you to easily scan small to medium-sized objects for 3D printing.
Some come completely assembled while others, like 3D printers themselves, you'll have to put them together by yourself. The benefit for those that are good with that type of thing is it reduces the price and allows for easier upgrades and modifications.
Scanning is typically done using laser triangulation or various forms of structured light to surround the object and measure its 3D dimensions or 'geometry'. High-quality 3D scanner camera lenses also capture the color and surface texture of the object. Using accompanying or third-party software, the model can then be scaled up or down, or completely modified.
It's never been easier to scan 3D objects!
How Do 3D Scanners Work?
So, how do you scan 3D objects into a computer? Whether it's on an industrial scale, at a small business, or on a desk at home, 3D scanners all share similar characteristics in the way they work.
The majority use laser and/or white light technology and cameras. The physical object is placed in a bed, tray, or suitable location. Electromagnetic light bounces off the object, measuring its circumference, full dimensions, and all its finer details.
Depending on the scanner it may use multiple light sources, cameras, and other tech to aid this process. The collected data is called a point cloud, which refers to the number of points captured by the laser.
The more points collected the more accurate the scan. A high-resolution scanner can capture hundreds of thousands of points in seconds and reach millions overall. The whole process only takes a few minutes.
While the light tends to be a measure of the object's geometry, HD cameras tend to capture the surface detail and color.
The data recorded can then be fed into a computer-aided design program or similar software for inspection and manipulation. E.g. if you're planning to use it for 3D printing, the model might need scaling up or down, hollowing, have added support structures, be re-colored or have brightness/contrast changes, etc.
There are, of course, different types of 3D scanner and scanning technology. So, let's take a closer look at each one:
Types of 3D Scanners
There are several 3D scanner types. Before making your decision check out the section below:
Handheld vs Stationary
Handheld and stationary 3D scanners often use the same technology and can overlap in their functions. The difference lies mainly in the design.
A handheld scanner has a grip and lets the user move around the object themselves to capture it at every angle.
A stationary scanner has to be positioned in front of the object, which is typically placed on a rotating plate and captures it as it spins 360 degrees. The user may have to reposition the object several times to capture every angle.
Newer designs are becoming smaller and more easily portable.
Laser Triangulation
The most common technology used in 3D scanning is laser trigonometric triangulation. It records millions of different points on the surface of the object to build an accurate overall polygon mesh. These are common in handheld options and industrial-grade scanner machines. They can also work long-range and for laser-tracking objects.
Structured-Light 3D Scanners
Similar and often used interchangeably with laser triangulation, structured light or 'white light' projects itself in a grid-like pattern over an object. It can then measure the structure of that grid as it applies to the object by using sensors/3D scanner cameras and triangulation.
Long Range
Longer range scanners use phase shift or pulse technology that can capture millions of points while rotating 360 degrees with the aid of mirrors. This is more commonly used to scan large objects like cars or buildings.
They might also use 'time of flight' technology that measures the distance of an object in relation to the speed of light and the time it takes for it to return to a sensor.
This is less relevant for everyday 3D scanning and printing.
3D Scanning Applications
There are many different applications for 3D laser scanning - from those for 3D printing at home, to prototyping, industrial scale medical supply production and even architecture.
Hobbyist 3D printing
Cheaper 3D scanners are typically used by home users for scanning simple objects and 3D printing them for fun.
Medical
The medical field and dentistry commonly use 3D scanning to create implants and aids to serve their patients' needs. For example, scanning people's feet with a high-quality 3D scanner allows for the creation of orthotics (shoe inserts). It is also used in the creation of prosthetics.
Virtual Engineering
Industrial 3D scanners are used both in the creation and quality control of cars, planes, and even aerospace. It ensures existing parts are as accurate as their original models and that new viable parts are made.
Reverse Engineering and Repairs
From the home computer desk to the manufacturing floor, 3D scanning allows users to reverse engineer or copy existing objects. Saved models also allow for the reconstruction of damaged objects.
Virtual Reality
From creating realistic 3D worlds to the people that occupy them, 3D scanning devices are integral to the growing virtual reality industry. This ranges from AAA video games, virtual cinematography, and computer-generated imagery (CGI), to virtual tours and office meetings. It is also a side industry to motion capture.
Forensics
CSI has come a long way. Forensic experts nowadays don't just have to rely on memory, photos, and evidence of a crime scene. They can capture the entire location in a full 3D model for closer inspection and for running through different scenarios.
Archeology and Archiving
From museums to libraries, 3D scanning is being used to log and preserve everything from artifacts to digitizing books. This also gives experts and the public remote access.
Architecture
3D scanning can also help architects map the areas they will be designing their buildings in, take inspiration from existing architecture, and aid in building miniatures/prototypes.
What Should I Know Before Buying a 3D Scanner?
Before you buy a 3D scanner, there are several things to consider:
your budget
what you'll actually be using it for
it's speed and accuracy
the device's other features.
3D Scanner Cost
3D laser scanner price ranges vary greatly. On the cheaper end, you may be able to pick one up for home for just shy of $300, like the XYZprinting 3D Scanner 1.0 A. However, if you want the highest overall quality and the ability to scan small and large objects. Or, if you're a professional and need a 3D part scanner in a field like medical implants or automotive parts, you're looking at anywhere between $3,000 and $35,000.
Typically, it's best to look for 3D scanners for sale online where you can find the best selection and prices.
3D Printing
While a dual 3D printer scanner combo is rare, if you want to scan models for 3D printing, you will need to make sure it has good accuracy and resolution. The software also must be able to export to a usable format. You will need to check your 3D printer and its own software to see what file types it accepts and then choose your scanner accordingly.
Fortunately, almost all of our 3D scanner reviews include devices that can export in common file types like OBJ and STL.
It's typically only the more expensive scanners that are good for other applications, like VR, full-body scanning, architecture, and engineering.
Handheld vs Stationary
We already explained the difference, but basically, a handheld scanner is mobile, while the stationary one will require you to move and adjust the object. Neither is necessarily better than the other, it's all down to your needs.
Speed
How fast is the scanner? Do you have a lot of spare time or require the job to be done as fast as possible? All 3D scanners will take a few minutes to complete, while many scanning complex objects in high resolution can talk half an hour or longer.
Accuracy and Resolution
Accuracy refers to how close to the object being scanned your digitized model will be, measured in millimeters. Therefore, the smaller the better. The term resolution may be used interchangeably with accuracy or refer to the resolution of any cameras being used as part of the scanning process.
Generally, the lower the millimeter, the better. Other factors also play a role in overall quality, such as lighting conditions, color, and depth.
Object Size and Space
Some types of 3D scanners excel at scanning small objects while others are better at medium to large. Others are all-rounders. Before buying a scanner, you should decide the general size of the items you will be scanning.
You will also need to make room for the scanner. Although all the products on our list are small and relatively portable, stationary scanners at least need a table to work from. Likewise, there will be a minimum and maximum distance the scanner must be in relation to the object being scanned.
You'll need more room when scanning larger objects in full.
Connected Devices
All 3D scanners need to be connected to a computer or device to help monitor the process and for saving the digital model. This is usually done via a USB or HDMI cable. You will need to check that your computer or laptop meets the minimum requirements for the scanning and modeling software. Also, make sure that you have a tablet to make real-time monitoring easier.
Software
Your device will either come with its own software or a popular third-party program to aid the process and to help touch-up the model once it's scanned. Different 3D printing software is better suited to different skill levels. Some programs have a lot of features for experienced users and others do most of the basic tasks automatically. Check our 3D scanner reviews to see the software each device comes with and how advanced and easy to use it is.
Top Recommendations and Reviews
SOL 3D Scanner by Scan Dimension
Brand: SOL
SOL 3D Scanner by Scan Dimension
Brand: SOL
Connectivity technology
USB
Item dimensions
45.7 x 35.6 x 20.3 centimetres
Power Source Type
Corded Electric
Scan Dimensions have created a portable white light 3D scanner that suits both hobbyists and more experienced users. It's ideal for fast scanning of new objects, to get them ready for 3D printing, as well as replacing damaged parts of existing models, and everything in between.
And, while it's not the cheapest 3D scanner, it's more affordable than it was just a couple of years ago. You can pick it up online for less than $1,000.
Although it is technically a DIY 3D scanner with high resolution, there are only four parts to assemble. You just have to tighten a few screws. Then simply connect it to your computer via USB cable.
It's a simple and sturdy design with a rotating bed where you place the object you wish to scan. This allows for full 360-degree scanning without having to move around the object yourself. However, you will have to reposition it for different angles. It can support objects up to 2kg and in its furthest position, you can scan objects with a diameter of 17cm / 6.7 inches and a height of 17cm / 6.7 inches. In its nearest and highest resolution position, it's 10cm by 10cm, with a 0.1mm accuracy/resolution.
The scanner utilizes both structured light/white light to analyze the texture of your object and a laser to scan its dimensions and geometry. One session can also accommodate scanning from 3 different angles, combining all data for the best possible 3D models when combined later.
It comes with its own software that takes a lot of the hassle out of digitizing your model. It can do manual meshing and output print-ready files, including OBJ and STL. You can also further manipulate these in your favorite slicers like Cura, for the best 3D scanner/3D printing combo.
The software also gives you the status of your scan and the estimated time remaining. Once finished, it will make a noise to alert you and you can even have SMS messages sent to your phone, for when you're not in the room.
During our tests, full scanning took between 15 and 17 minutes, which is more than acceptable.
If you're looking for a relatively affordable and portable 3D scanner with good software, the SOL 3D by Scan Dimension is an excellent choice.
Matter and Form V2 3D Scanner MFS1V2
Brand: Matter and Form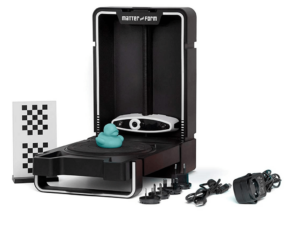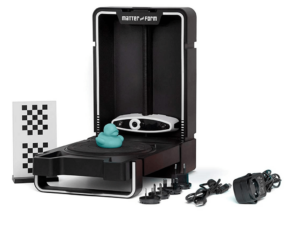 Matter and Form V2 3D Scanner MFS1V2
Brand: Matter and Form
Scanning
As fast as 65 seconds
You can pick up this handheld 3D scanner for less than $750, which takes us into cheap 3D scanner territory. However, being relatively cheap doesn't mean the Matter and Form V2 doesn't perform well. It's actually one of the fastest on the market, scanning objects within 65 seconds when using the new +Quickscan mode.
That being said, its size and capabilities mean it won't suit professional or industrial-scale projects. But it is perfect for individual hobbyists, artists, graphic design teams, and teachers that want something students can observe and use with ease.
The scanner works right away and just needs hooking up to your PC or Mac via USB. You will however need a dim to a darkroom to get the best results. Scanning is done out in the open and outside light sources can interfere.
Some people have gotten around this by using a makeshift box to put over the scanner, but it would be good if Matter and Form released their own lightbox add-on. Nonetheless, it's not too much trouble to shut the blinds and get scanning right away.
Design-wise, the MFS1V2 is the perfect portable 3D scanner, folding right up to slot into a bag or store in a drawer. When unfolded it has a simple flatbed and rotating base, so the object can get a full 360-degree scan. The upright portion of the scanner houses the laser and sensors and can move up and down according to the size of your object.
It can accommodate the scanning of items at 25cm (9.8 inches) high and 18cm (7 inches) in diameter.
The process itself is done in two main steps. First, you scan the geometry of the object, i.e. its outer overall shape or shell, size, and volume. Then there's the texture and finer detail, or what it should look like on the surface. So when it comes to printing or CAD you automatically get the as accurate color as possible.
Although the scanner rotates, you may still need to maneuver the object to different angles. It is easy to do and bring everything together under one project.
In fact, one area that stands out is Matter and Form's user-friendly software that can perform many advanced features without overwhelming the user. It does this by providing a hover-over explanation about what each setting does.
Overall, this is a solid entry-level 3D laser scanner. If you want the highest resolution and detail, or the ability to scan larger objects, however, you will need to look elsewhere.
Revopoint POP 3D Scanner
Brand: Revopoint
Revopoint POP 3D Scanner
Brand: Revopoint
Infrared light
Structured
The Revopoint POP 3D scanner fills the spot between expensive portable and stationary devices quite nicely. For under $600, it's an appealing mix of versatility and affordability.
Let's zoom in a bit and see why.
You can use this handheld scanner both indoors and outdoors. It weighs 0.50lb, and it's made out of black plastic — nothing too fancy but still sturdy. You can set down the practical handle into a tripod.
Furthermore, you can connect it to your PC or phone via the HandyScan app. It's compatible with Windows, macOS, iOS, and Android. It comes with a USB cable for data transfer and power supply. The single Micro USB B 3.0 port is all you need.
But what about its scanning quality and accuracy?
The POP uses binocular structured light combined with an RGB camera to capture texture and color faithfully. It's infrared and eye-safe, so no worries on that front.
It can do 3D scans with 0.3mm max accuracy. For this price point, that's more than decent. The single capture range is 210mm x 130mm, and the working distance is 275mm±100mm. The scan speed is up to 8fps — overall, not too shabby.
However, while these are all solid specs, the Revopoint POP scanner truly shines when it comes to its flexibility. It offers five 3D scanning modes, fit for a variety of situations:
Feature — the default setting for objects
Marker — suitable for adding reference points
Black — for dark surfaces that otherwise can't be captured
Face — specialized for scanning faces
Body — specialized for scanning bodies.
You're limited to freehanding things if you opt for the standard package. But, the starter pack adds a 3D scanner turntable for quick and efficient scanning of smaller objects.
Now.
Let's take a look at its software.
The POP comes with HandyScan. It's proprietary software, great for beginners and hobby users. Installing it is a piece of cake, and the UI is also very straightforward and intuitive.
Users looking for more advanced features to finetune things will probably want something more serious. Still, it can be perfectly adequate depending on your skill level and needs.
But, the bigger issue is the occasional freezing. The 3D scanner camera stopped responding so we had to reboot the software and continue. Luckily, we didn't lose any of our progress.
On the bright side, Revopoint updates its software regularly to fix hiccups like this.
All in all, the POP is a smart and novice-friendly option for users looking to experiment with different 3D scan modes and environments. It also won't break the bank!
iReal 2E Color 3D Scanner
Brand: iReal
iReal 2E Color 3D Scanner
Brand: iReal
Light
Infrared and Invisible
Field of View
580 x 550mm
Safety
CLASS І (eye-safe)
Measurement rate
Up to 1,500,000 points/s
iReal 2E is a professional handheld color 3D scanner manufactured by Scantech. It's been used in many fields including education, design, and healthcare.
Its VCSEL structured infrared light is capable of scanning large color objects with quick precision. This includes difficult textures like glossy surfaces, deep blacks, and even human hair. HD color accuracy is high, even for traditionally difficult elements like eyes.
Indeed, its full-body scanning is particularly impressive thanks to scanning stabilization algorithms. This means the subject can sway or make slight movements without disrupting the finished model. What's more, its light emission is non-visible to the human eye, so you don't have to worry about safety or strain when 3D scanning people.
The iReal 2E is compact and lightweight, with an ergonomic shotgun grip. It measures in at 5.5 in x 3.7 x 10.2 inches and weighs in at just 1.9lbs. This small stature is all the more noteworthy when you factor in its massive scanning field.
Its field of view is 580 x 550mm at a depth of 720mm. You can easily capture high-precision 3D data on objects of all sizes. These rapid scans are aided by a sensor and optimized algorithm for mixed alignments. At the maximum performance, it can acquire data at 1,500,000 points per second rate - all without attaching markers. It also has a 100-micron point accuracy.
It's no slouch at just shy of $5,000. You can use it for:
Body Scan

Customization and re-creation of artistic portraits
Film, video, game, VR, AR and other CG character modeling
Medical rehabilitation
Human body parts customization

Sculpture and Art Design

Medium and large sculptures
Cultural relics
College art training, Clothing design, creative design, derivative product development, etc.

Digital Acquisition Analysis

Plant growth morphology analysis
Forensic identification
Medical diagnosis
3D comparative analysis of local body shape changes
Monitoring and analysis of cultural relic morphology

Science and Education
Healthcare
So, essentially any industry that benefits from 3D modeling.
It's easy to set up. Just connect it to your computer and it will be recognized right away. You'll know things are going well thanks to a real-time feedback light that shines green.
It has its own proprietary iReal 3D V3.0 software. Engineered by an AI-powered algorithm, this update of iReal 3D software enhances the users' experience and speeds up the 3D digitization process. The functions including optimized data quality, real-time color map, mixed alignment modes, and multi-scene switch enable smart and simple 3D measurement.
The box also contains a charger and power cord, along with a set of markers. As noted, you don't need the markers, but they can make things easier in certain scenarios.
Phiz 3D Scanner
Brand: Phiz
Phiz 3D Scanner
Brand: Phiz
Scanning algorithm
Laser Triangulation
If your typical scanner prices have your head spinning, the Phiz 3D knocks off a nice chunk by replacing an inbuilt processor and camera with your smartphone. Your average mobile device has good enough specs to make this a worthwhile purchase whether you're a professional, hobbyist, or newbie.
Your phone simply clamps into place. It's compatible with the iPhone 6 range (iOS 12 and higher) and most modern Android phones (7.0 and higher). Tablets, however, are too large.
What these 3D laser scanners provide is a light source and turntable. The rest of the work is accomplished via a powerful mobile app. It even uses machine learning to keep scan quality high.
It supports STL, OBJ, and PLY file formats, making it compatible with most slicers, software, and 3D printers. This includes assets for 3D animation, game development, or augmented reality.
You can easily reverse-engineer any 3D object up to the size of 40cm x 40cm x 40cm. Or, if you already have a digitized model, this can help you improve and refine it by doing a re-scan. You get a great resolution of 0.2mm, with a maximum of one million vertices.
So, how does a laser 3D scanner like this work? It uses the traditional triangulation method, with your phone camera trained on the target as it spins. Meanwhile, the illumination comes from the main beacon. Depending on the complexity of your object, it may take several scans in different positions to generate a fully-formed 3D model.
Because every phone is different, there is no fixed distance between the laser and camera. The machine-learning algorithm then comes into play to determine all the dimensions involved. All you really need to know is it works well. We found performance to be on par with many mid-range alternatives.
Of course, in this case, the overall quality and speed of scanning will depend on your phone camera. Kiri Innovation gives an average scan time of between 4 and 30 minutes and our tests suggest this is an accurate range. As with any 3D laser scanner, the higher you set the resolution, the longer it will take.
The app is called 3DScanLink and is available from the Google Play Store and Apple Store. Simply get it installed, hit 'Connect to device' and it should find the Phiz 3D beacon in seconds via Bluetooth. It will give you some start-up tips and when you're ready, set the resolution and tap 'Scan start'.
The screen shows the entire process, before cleanly displaying the finished model. Moreover, this is maneuverable so you can see how it looks from every angle before deciding to export. You can then re-scan or send it to your computer or another device to continue your project.
Although there are some obvious variables due to relying on your phone, the Phiz 3D Scanner produces surprisingly fast and accurate results. For just $379, it's excellent value for money.
Shining 3D EinScan Pro 2X Plus
Brand: EinScan
Shining 3D EinScan Pro 2X Plus
Brand: EinScan
At $8,500 MSRP, the 'EinScan Pro 2X Plus' by Shining 3D is about as high-end as you can get for a handheld 3D laser scanner. It's aimed at professional users in fields like engineering, education, healthcare, and video games/VR development.
That means it produces incredibly high-quality models and can scan the most complex of objects. It can scan unique and detailed ones and reverse engineer parts. I.e. you can scan a part so accurately that you can replicate it.
Design-wise it doesn't look much different than any other handheld, hand-grip style 3D scanner. It's just a lot more powerful and does things fast. You can get to over one million points per second in handheld mode and half a second in fixed scan mode. In this mode, you can use a rotating plate instead of moving around the object yourself.
You also don't have to be right on top of your object to get high-quality results. Objects as small as 3cm around can be successfully scanned from up to four meters away. That makes it a good 3D scanner for small objects and larger objects alike.
Furthermore, when in fixed-scan mode the accuracy is 0.04mm, which is excellent when 0.1mm is still considered good.
Depending on your requirements and budget you can further upgrade the Pro 2X plus with numerous packs and add-ons. For example, you can add a turntable for fixed 360-degree scanning or a color pack for a full spectrum of color scanning even in geometry mode. There's also the HD Prime pack that improves the quality even further and speeds things up by 30% - as if it wasn't fast enough already.
The scanner comes with proprietary ExScan Pro software that is intuitive and easy-to-use and has enough guidance to quickly get you up to speed on the various features. You can export in all of the major 3D model formats, such as STL, OBJ, PLY, ASC, and P3. You'll have no trouble 3D scanning for 3D printing.
That's without mentioning its advanced CAD features. They include:
convergent and synchronous modeling
reverse engineering
a simulation mode to test things
the ability to manipulate any scanned model in all ways conceivable
Really, the only limitations with the Pro 2X Plus are limitations with the underlying technology. This means it can still struggle with overly shiny surfaces and hair, but there are many industry workarounds.
Overall, the Shining 3D EinScan Pro 2X Plus is easily in contention for the best handheld 3D scanner, working flawlessly and quickly. It's even good for 3D scanning people!
Working distance
0.4 – 1 m
One of the older products on the market but still a strong contender is the Artec Eva portable 3D scanner. It has found its home on the professional scene where it offers regular studio software updates and enterprise support. At $14,685 it's out of the reach of most individuals. For those in industries where 3D scanning is needed or emerging, however, the Artec Eva is an ideal package.
First off, it's worth noting that its physical design and style have not really changed since 2012. It looks a bit like an old router, is quite heavy, and all status alerts and operational control come from a connected laptop or computer. You get nothing but a few LED lights from the scanner itself.
Its structured light scanning, however, can accommodate medium and large items in high resolution. It creates full-color models and is one of the few 3D scanners to get hair right. This makes it perfect for head and shoulder or even full-body scans for VR applications. In that sense, think of it as a practical Jeep Wrangler instead of a fast but pointless Ferrari. It doesn't necessarily turn heads, but it gets the job done.
In fact, if you were going to use a device to 3D scan car parts, it would be the Artec Eva. It's also used widely in the manufacture of medical devices.
Scanning the geometry and texture of objects is done in one fell swoop. It does this with an accuracy of up to 0.1mm and a resolution of up to 0.5mm. That's some high-level detail and it does this at a class-leading speed of two million points per second. It also doesn't even have to be calibrated.
Furthermore, while cheaper scanners boast similar accuracy and resolution, in practice none beat the Eva when it comes to difficult objects - think really shiny or dark surfaces or human hair. Its only hiccup is with large flat surfaces that require you to add some markers (like masking tape), so it understands that there is indeed a surface there.
Another slight inconvenience is it needs to remain plugged into the wall and a computer at all times unless you spend extra on a portable battery. Then you can get away with a USB connection to a tablet and can be more mobile.
One area it particularly stands out is its Artec Studio software, which is updated regularly and provides a full suite of tools to edit and tweak your scans. It also has a real-time mode, showing you the skeletal-like 3D mesh as you scan. It allows you to pause and even go back and redo areas that were missed or need a better angle.
On the enterprise level, if you need something that excels at medium to large objects and can scan practically or surfaces quickly and in high quality, the Artec Eva is the best 3D scanner. However, unless you have serious money to burn, individual professionals and hobbyists need to look for something more affordable.
Occipital Structure Sensor 3D Scanner MARK II
Brand: Occipital
Occipital Structure Sensor 3D Scanner MARK II
Brand: Occipital
Software choices
Multiple
The Structure Sensor Mark II scanner by Occipital performs high-quality 3D scans, with a depth resolution of 1280×960 pixels. You can get as close as 12 inches to effectively capture smaller objects. It has an impressive maximum range of 5m for full-body scans and other larger objects. You can even 3D scan a room. This is complemented by a wide-angle lens and a built-in IMU laser tracker.
While that's all impressive, what really stands out is the price. You can purchase it for just $527, making it perfect for individual professionals and home users. For that you get the thin handheld scanner, a bracket adapter to attach it to a laptop or tablet for a fixed scan, and a USB cable for charging and connecting to your device.
The easily portable 3D scanner is just 1.8cm x 10.9cm x 2.4cm, so can easily fit in a bag or even your pocket. It's also one of the few that focus on Apple, easily attaching to all of iPads and working flawlessly on the operating system.
You can choose software to use. iPad owners get the 'Scanner' app developed by Occipital or can use the third party itSeez3D app. Alternatively, you can opt for the Skanect program which works on both PC and Mac. The latter supports wireless scanning via your Wi-Fi network, but only with an iPad. It's also compatible with Android and Linux, so it's got all the bases covered.
The easiest setup is to attach it to a tablet so you can easily see what the scanner sees while getting into position and starting the process.
For $695 you can get an upgraded bundle that includes the pro version of Skanect (premium software). Furthermore, if you were an original Mark I owner and still have it in good condition, you can trade it in with your purchase of the Mark II and get $100 off.
From opening the box, you can get everything up and running in five minutes. Scanning itself is also fast and can even provide good detail, texture, and color in direct sunlight.
Whether you're scanning basic objects for 3D printing at home or capturing the shape of a patient's foot to fit shoe inserts, the Structure Sensor 3D scanner is suitable for many purposes. It cannot be beaten at this price range – especially for Apple users.
Creaform Go!SCAN SPARK
Brand: Creaform
Creaform Go!SCAN SPARK
Brand: Creaform
Suitable for
Industrial scale
This high-quality 3D scanner is a big and beastly-looking device, but it's also powerful and aimed at professional and enterprise users. The Go Scan 3D price is also over $35,000, so it isn't something you're going to buy unless it's for your business and you're heavily invested in 3D scanning.
Released in 2019, the Spark is a third-generation upgrade that can scan fast and shows you the mesh on-screen in real-time. It is capable of everything from scanning for VR to reverse engineering and inspecting products for defects and quality control. It is used across the automotive, aerospace, and computer-aided manufacturing (CAM) industries. The scanner benefited from powerful proprietary software called VXelements, created by parent company Creaform. There's a bit of a learning curve when it comes to using the modeling side of the software but there are ample support and training sessions if needed.
Since these are industrial 3D scanners, they come in a heavy-duty carry case and require a mains power supply. Its USB cable is for connecting to a computer or device, not for charging.
The beefy vertical design accommodates a lot of tech, including its white light projector, color camera, and separate tracking cameras for geometry. The downside is it's quite heavy at 1.2kg, but any able-bodied person is not going to have a problem unless they're working with it all day. To help with grip and prevent you from dropping it, you can be strapped to it over the top side of your hand.
The Spark is fast and very high quality, capturing 1.5 million points per second at a resolution of 0.1mm, and accuracy of up to 0.05mm. The makers recommend scanning objects sized between 5cm and 4m. Anything smaller or bigger can still be captured, but you will start to get accuracy issues.
The good thing is you can tell if things are going smoothly by checking your screen or simply looking for the green light on the device. It lets you know you're at an adequate distance from the object being scanned and that it is, indeed, scannable.
To make things easier you can simultaneously attach the scanner to a tablet for better live viewing while still sending all the data to a main laptop or computer.
Support is great and you can send the scanners back to Creaform once a year for factory re-calibration and maintenance. Just keep in mind that this will cost you around $3,500.
In conclusion, if you're looking for an easy to handle 3D scanner for professional and industrial purposes, the Go!Scan Spark is expensive but flawless in performance and quality.
XYZprinting 3D Scanner 1.0 A
Brand: XYZprinting
XYZprinting 3D Scanner 1.0 A
Brand: XYZprinting
Max Scan Volume
39.3 x 39.3 x 78.7 inches
Scanning Distance
5.9-9.84 inches
Our XYZprinting 3D scanner review team found the 1.01 A to be a versatile and affordable solution. It's more suitable for home users, hobbyists, and individual professionals than industrial-scale users. The small, portable and lightweight device can charge and connect to your computer, laptop, or tablet via USB. It also has a likable curved design that can be bought in blue or red.
It's not the highest resolution or most accurate scanner out there but it's competent and has a lot of easy-to-use features. Spatial resolution is between 1mm and 2.5mm and it uses a 1920x1080p color camera. It's also ready to go out of the box, all of which isn't bad for less than $300.
Once you've installed the drivers and software you can choose between 4 scanning modes:
objects at a max scale of 60 x 60 x 30cm
head and Shoulders at 80 x 50 x 80cm
mask mode for just faces
a full-body scanner at a maximum of two meters tall
The scanner's field of view is between 30 and 100cm and you'll want to be between 30 and 50cm away from your object for an optimal scan. The software will let you know when you're in the ideal spot.
You can start scanning from the software or by pressing the touch thumb button on the scanner. A long press also cycles through the four scanning modes. Objects should be placed on a desk or table with your screen visible. The software will guide you through four different angles to get a full scan, locking on to the target and giving you the okay when it's done. If you're not happy you can reposition your object and redo any of the steps.
You will get the best results in a slightly dim 3D scanning room with no direct light shining from windows and where there are minimal shadows. Simple objects without a lot of detail or textured surfaces will scan the best. While it will do faces, hair will end up more of a blob, though even scanners that cost thousands still struggle with hair.
Once done, you can open your model in the XYZscan software and alter the color and scale. Then you can save it in a 3D printable format like STL or OBJ, or for further editing in other 3D design software.
You can adjust brightness and contrast, and slice shave, and delete areas of your model. However, you'll want to go elsewhere for more advanced features.
Ultimately, we consider the XYZ 3D scanner a fun and competent entry-level handheld solution that any member of the public can use.
Wrap Up
Whether you're looking for a tool for your home or something more on an industrial scale for your business, our 3D scanner reviews have something for everyone. From handheld devices to structured lightboxes with turntables, you'll be creating 3D models or reverse engineering parts in no time. Perhaps you'll even do a 3D selfie or two!
If you're still unsure about 3D printing after reading our reviews and guides, check out our answers to your most commonly asked questions below.
FAQ.
---
How accurate is 3D scanning?
The accuracy of a 3D scanner really depends on the device itself. And generally, the more expensive the more accurate the results. Most of the scanners we reviewed have adequate accuracy for their target user-base. They carry out both a 3D structure scan and texture scan of an item, along with its color. This is done via either several 360-degree scans on a rotating plate at different angles or by the user themselves if using a handheld scanner.
3D scanner accuracy is measured in millimeters and is sometimes called spatial accuracy or special resolution. A good range is considered between 0.5mm and 0.001mm. The smaller the number the better - this measurement refers to how close the scanned model is to the original. I.e. inaccuracies lead to incorrect sizes. An extremely bad scan would produce a blurry blob that could end up several millimeters bigger than the original.
Like regular photos and videos, resolution can also play a role in accuracy and detail. Where accuracy is the parent measurement of how correct the scan is overall, when compared to the original, resolution refers to the distance between each scanned point of the object. The higher the resolution the less blurry the surface of the model will be. Think how low-resolution images look pixelated, though not necessarily inaccurate.
Many software programs that come with scanners allow you to set the resolution upon saving the model. A particularly high resolution can take up computer resources and may not necessarily result in much difference when 3D printed if the object itself is not that complex, to begin with.
Regardless of accuracy and resolution, most devices have trouble with 3D scan textures when it comes to hair because it has such fine detail.
How do I choose a 3D scanner?
Choosing your 3D laser scanning equipment can be confusing, but our 3D scanner reviews and guides will point you in the right direction.
You should choose based on your budget and then aim for the scanner with the best accuracy and resolution. Take note of the advantages of handheld scanners vs stationary scanners. Make sure you choose one that works well with the size of objects you wish to scan.
How do I scan something for 3D printing?
The process of scanning a 3D object can vary from scanner to scanner but getting your model ready for 3D printing is mostly a software task.
Stationary scanning involves the light source focusing on your object. You will have to move the object into various positions to capture all of the data required for a full 3D model. You can get a 360-degree turntable for this.
A handheld 3D scanner allows you to scan over the object yourself with guidance from software and your computer or tablet screen.
When scanning is complete you will use your scanner's software to make any changes and render the model for exporting into a 3D printing format. You can then use 3D printing editing software and slicers to further prepare it for your particular printer.
What is the best 3D laser scanner?
3D laser scanning comes down to accuracy and overall quality, speed, and ease of use. With that in mind, our pick for overall best device that can scan in 3D goes to the Creaform Go!SCAN SPARK. It's by far the highest quality and most productive option. However, at $35,000 it's aimed at businesses than the average consumer.
An all-rounder that suits both professionals and hobbyists at home is the Shining 3D EinScan Pro 2X Plus – arguably the best handheld 3D scanner we've reviewed.
At the entry-level, the best 3D scanner is a toss-up between the $799 SOL 3D Scanner by Scan Dimension and the $527 Occipital Structure Sensor 3D Scanner MARK II.
All of the 3D scanners on our list are worth the money and there are several that just missed the mark that you might want to check out. These include the Atlas 3D Scanner and various Solidworks 3D scanner options, such as the industrial HandyScan 3D the price of which must be quoted. There are also numerous other Go Scan 3D solutions at more affordable prices.
Keelan Balderson
Keelan Balderson is a journalist with a special love for technology. Whether researching the latest tech products release or exploring a tech product like a 3D printer for days, as a professional journalist, he is dedicated to providing readers with fact-backed analysis and thought-provoking, insightful, and well-researched tips.
Leave your comment
Your email address will not be published.