As the crypto market continues to grow, more and more traders are looking for reliable platforms to buy, sell, and trade digital assets. One platform that has gained significant popularity in recent years is PrimeXBT. Established in 2018, PrimeXBT is a multi-asset trading platform that offers a wide range of financial instruments, including crypto futures and traditional asset CFDs on stock indices, forex, and commodities. Catering to both retail and institutional traders, the platform provides access to an extensive selection of cryptocurrency futures contracts, enabling traders to speculate on price movements and take advantage of advanced trading strategies such as hedging or portfolio diversification.
This in-depth review will delve into the features and benefits of trading crypto futures on PrimeXBT in 2023. We'll take a closer look at the platform's leverage and trading capabilities, the available trading pairs, as well as its competitive fees and security measures. We'll also explore the platform's advanced charting tools, customizable workspaces, and a range of order types, including limit, market, and stop orders. Additionally, we'll examine PrimeXBT's best features, such as its copy trading platform, educational platform, weekly competitions, and available customer support options. Whether you're a seasoned trader or just starting, this review will provide valuable insights into the world of crypto futures trading on PrimeXBT.
PrimeXBT Crypto Futures Review
PrimeXBT futures offers a powerful tool for traders looking to speculate on the price movements of digital assets. This form of trading allows traders to profit from both rising and falling markets through long and short positions. With PrimeXBT, traders can access up to 200x leverage for cryptocurrency futures, providing a significant opportunity to control larger positions with relatively small amounts of capital.
The PrimeXBT crypto futures platform is intuitive and user-friendly, offering customizable interfaces, advanced charting tools, and a range of order types, including market, limit, and stop orders. The platform also allows traders to add stop-loss and take-profit orders when opening or modifying a position, giving them greater control over their trades.
PrimeXBT Futures Platform: Available Cryptocurrencies
PrimeXBT supports an extensive selection of cryptocurrencies for futures trading, including major cryptocurrencies like Bitcoin (BTC), Ethereum (ETH), and Litecoin (LTC), as well as numerous altcoins. The platform continually adds new assets based on market demand and trends.
The current list of supported cryptocurrencies includes:
Cardano (ADA)
Algorand (ALGO)
Cosmos (ATOM)
Avalanche (AVAX)
Axie Infinity (AXS)
Binance Coin (BNB)
Dogecoin (DOGE)
Polkadot (DOT)
Elrond (EGLD)
EOS (EOS)
Filecoin (FIL)
Fantom (FTM)
Helium (HNT)
Internet Computer (ICP)
Klaytn (KLAY)
Chainlink (LINK)
Decentraland (MANA)
Polygon (MATIC)
NEAR Protocol (NEAR)
The Sandbox (SAND)
Shiba Inu (SHIB)
Solana (SOL)
Theta (THETA)
Tron (TRX)
Uniswap (UNI)
VeChain (VET)
Stellar (XLM)
Monero (XMR)
Ripple (XRP)
Tezos (XTZ)

PrimeXBT Futures Trading: Leverage and Margin
Leverage enables traders to open significant positions with much smaller amounts of capital than what would typically allow. However, leverage can also magnify potential losses, so it's crucial for traders to manage their risk carefully. PrimeXBT offers both cross and isolated-margin trading across a simple sliding system, giving traders the ability to adjust risk based on market conditions, available margin, and other factors.
The platform's order placement system makes it clear how much margin impact each trade will have, as well as how much margin will be left available and at what price the position will be liquidated. Traders are notified with a margin call before a liquidation level is reached to enable them to top up their account margin. Because PrimeXBT futures account collateral is based on crypto or fiat deposits, users get access to both speed and convenience if they do need to add margin to cover a position.
PrimeXBT Futures Trading Fees and Funding Rates
PrimeXBT charges competitive trading fees for cryptocurrency futures contracts, with most pairs incurring a fee of 0.05%. Additionally, traders must pay a funding rate every 24 hours, which varies depending on the trading pair. The funding rate for most pairs is 0.0694%, while for BTC/USD and ETH/USD, it's 0.0389%. These rates are subject to change based on market conditions and serve as a mechanism to balance long and short positions in the market.
Traders should consider these fees and funding rates to ensure profitability when developing their trading strategies. However, it is worth noting that PrimeXBT's fees are highly competitive compared to other leading cryptocurrency futures trading platforms. In fact, PrimeXBT currently charges no fees on most traditional assets. All PrimeXBT futures fees are subject to change, so be sure to check the official website for the latest details.
PrimeXBT Traditional Asset CFDs
PrimeXBT's platform also offers traders access to traditional asset CFDs, including forex, commodities, and stock indices. By offering both cryptocurrency and traditional asset trading on a single platform, PrimeXBT provides traders with greater flexibility and convenience. Traders can diversify their portfolios by taking positions in multiple financial markets, all in one place.
The platform's traditional asset CFDs offer a range of trading opportunities, with high leverage available on forex, stock indices, and commodities. Some of the available traditional asset CFDs include popular currency pairs like EUR/USD and USD/JPY, commodities such as crude oil and gold, and indices like the S&P 500 and NASDAQ.
In addition to the various traditional asset CFDs, PrimeXBT has recently added base metal pairs to its list of trading instruments. This expansion gives traders even more opportunities to diversify their portfolios by trading on the price movements of metals like aluminum, zinc, lead, copper, and nickel. The platform's high-leverage options for these base metal pairs offer traders the potential for substantial profits with relatively small amounts of capital.
PrimeXBT Copy Trading
Copy trading is an increasingly popular trading strategy that enables traders to follow and copy the trades of top-performing users on the platform. PrimeXBT offers a copy trading feature that allows traders to do just that, making learning from successful traders and diversifying their trading portfolios easier.
With PrimeXBT copy trading, traders can browse through a list of top-performing traders on the platform and see their performance over time. Once a trader has identified a top-performing user to follow, they can easily copy their trades with just a few clicks. This feature particularly benefits novice traders who may need more experience and knowledge to make profitable trades independently. Strategy managers also benefit from followers by earning a profit share of followers' copied trades.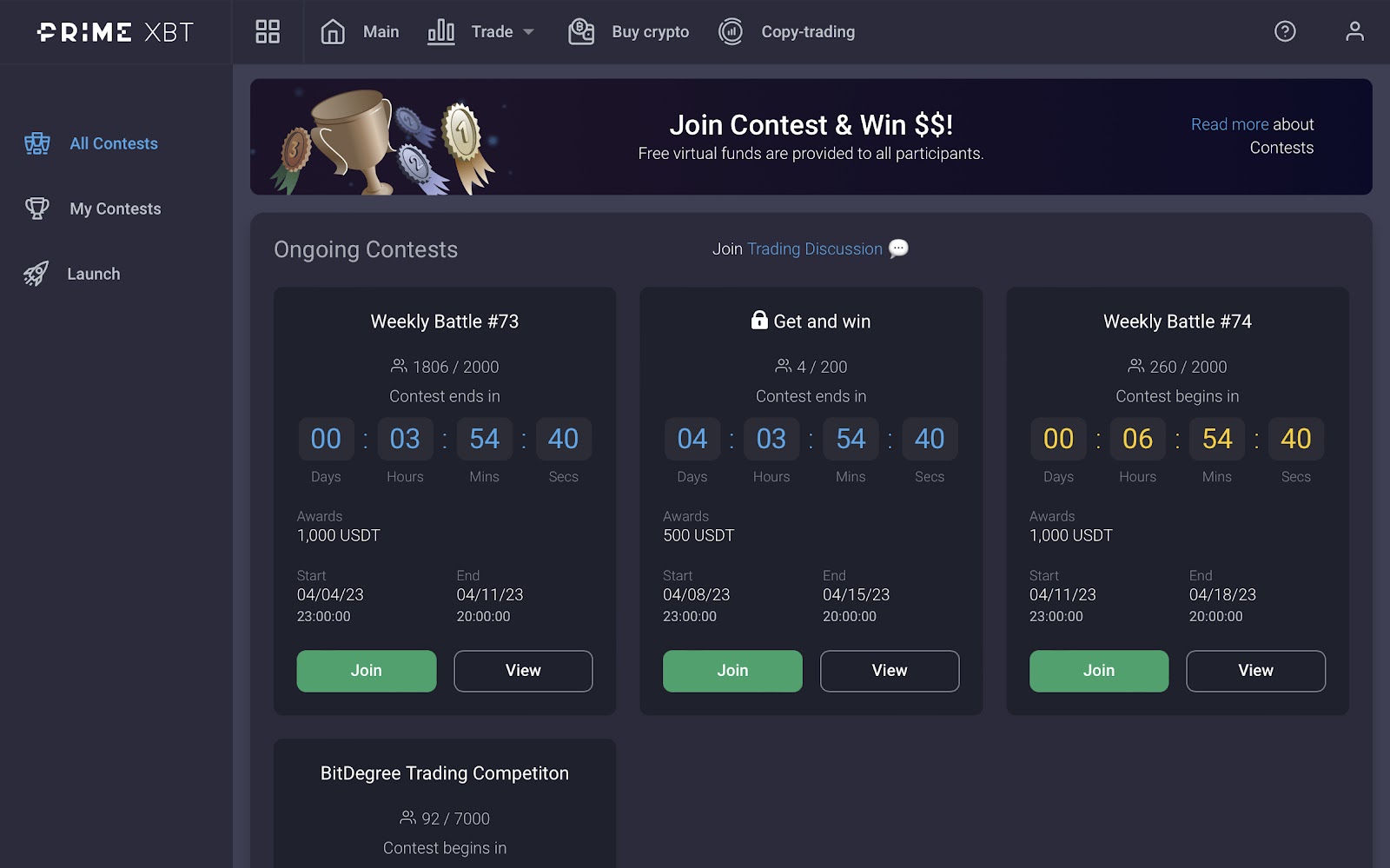 PrimeXBT Contests
PrimeXBT Contests offers weekly trading competitions for traders to showcase their skills and compete for crypto-based prizes. The risk-free demo funds offered also allow traders to practice their strategies and test their trading abilities against other traders. The contests feature a variety of assets, including cryptocurrencies, forex, and commodities.
The contests have a set duration, with winners being determined based on the highest returns at the end of the competition or other unique factors. PrimeXBT offers a range of prizes, including crypto rewards and trading bonuses, to top-performing traders. The company also utilizes PrimeXBT Contests to test new platform features with live traders.
Joining the contests is easy, and traders can register right from their PrimeXBT dashboard. Traders can participate in multiple contests simultaneously, and the results are updated in real-time on the leaderboard. PrimeXBT contests provide traders with a fun and exciting way to improve their trading skills while competing for valuable prizes.
PrimeXBT Trading Academy
PrimeXBT offers an extensive trading education program through its Trading Academy. The Academy provides traders with comprehensive educational resources to help them develop their trading skills and strategies. The resources include articles, tutorials, videos, and webinars on a range of topics, including technical analysis, risk management, and trading psychology.
Hosted by expert trader Dirk Hartig, PrimeXBT Trading Academy is suitable for traders of all skill levels, from beginners to advanced traders. The resources are designed to provide traders with a structured learning experience that covers everything they need to know to become successful traders.
Traders can access the Trading Academy from the PrimeXBT website without logging in. The Academy's resources are updated regularly to ensure that traders have access to the latest information and trading strategies. The PrimeXBT Trading Academy also has a presence on YouTube, and is a valuable resource for traders who want to improve their trading skills and achieve their financial goals.
Is PrimeXBT Futures Exchange Safe? Security and Regulation
PrimeXBT prioritizes ensuring the security of its platform, user funds, and personal information. The platform employs industry-standard security measures, including cold storage of user funds, two-factor authentication (2FA) for account access, and encrypted data storage. Most user funds are kept offline in cold storage wallets protected by multi-signature technology and only accessible by authorized personnel.
Although a specific financial authority does not regulate the platform, it adheres to industry best practices to provide a transparent and secure trading environment. PrimeXBT has implemented various measures to ensure compliance with regulatory requirements, such as Know Your Customer (KYC) and Anti-Money Laundering (AML) policies. The platform has also undergone rigorous security audits by third-party experts to identify and address any vulnerabilities. With its robust security measures, PrimeXBT provides a safe and secure environment for trading cryptocurrency futures and traditional assets.
PrimeXBT Futures Review: User Interface and PrimeXBT Mobile App
PrimeXBT futures offers a highly intuitive and user-friendly interface designed to cater to both novice and experienced traders. The platform provides advanced charting tools, customizable workspaces, and a range of order types, including limit, market, and stop orders. The order placement process is straightforward and quick, and the platform provides real-time market data to help traders make informed decisions.
PrimeXBT also offers a mobile app for iOS and Android devices, providing traders with the flexibility to trade on the go and manage their positions from anywhere. The app features the same intuitive interface and trading tools as the web-based platform, including real-time market data, the ability to buy crypto or make a deposit, and a comprehensive suite of trading features. With the PrimeXBT mobile app, traders can stay updated on the markets and manage their positions anytime, anywhere.
Deposits and Withdrawals
PrimeXBT offers a range of deposit and withdrawal options to cater to different users' preferences. Traders can fund their accounts using various cryptocurrencies, including Bitcoin (BTC), Ethereum (ETH), Tether (USDT), USD Coin (USDC), and more. Users can also deposit fiat currency in USD and EUR through credit and debit cards. The platform's diverse deposit options make it accessible to users globally. However, some jurisdictions are restricted.
Withdrawals are similarly straightforward, with traders able to withdraw their funds in the same currency they deposited. Withdrawals are processed quickly and typically take less than 24 hours to complete. PrimeXBT exchange also prioritizes user security by implementing two-factor authentication (2FA) for all withdrawal requests.
It's important to note that PrimeXBT does charge a small fee for withdrawals, which varies depending on the currency and withdrawal method. Traders should factor these fees into their trading strategies to ensure profitability.
PrimeXBT Futures Support and Help Center
Users can access PrimeXBT's customer support through live chat, email, or the platform's extensive knowledge base. The live chat function is available 24/7, ensuring that users can receive prompt assistance whenever needed. The email support team is also highly responsive and provides detailed answers to queries within a short time frame.
PrimeXBT's comprehensive help center provides answers to frequently asked questions and guides on various topics. The help center includes sections on PrimeXBT account management, trading, funding, and security. The guides are well-organized and written in clear, concise language, making them easy to understand for traders of all skill levels. The company also offers an official blog with important announcements and more.
PrimeXBT Futures Review Summary: Choose PrimeXBT for Your Crypto Futures Trading Needs
PrimeXBT's crypto futures trading platform offers a powerful and comprehensive trading experience trusted by traders worldwide. The platform is designed for both novice and experienced traders, featuring an intuitive user interface, advanced charting tools, and a wide range of tradable assets. With high liquidity and up to 200x leveraged trading, PrimeXBT is one of the most competitive cryptocurrency futures trading platforms in the market. The platform also supports a broad range of traditional asset CFDs, making it a one-stop-shop for all trading needs.
PrimeXBT has won several industry awards, including Crypto Expo Dubai's Most Trusted Crypto Asset Trading Platform of 2022, reflecting the platform's commitment to providing a secure and reliable trading environment for its users. Additionally, PrimeXBT's customer support team is available 24/7 to address any questions or concerns that traders may have. The platform's extensive help center provides access to valuable resources, such as educational materials and trading guides.
In conclusion, PrimeXBT's cryptocurrency futures trading platform is a top choice for traders looking to trade digital assets and traditional assets on a single, trusted platform. With competitive fees, high liquidity, and advanced trading tools, PrimeXBT is ideal for traders of all experience levels. Sign up for PrimeXBT today and start trading with confidence.
Darko Jacimovic
With over six years of writing experience, Darko is a prolific writer in multiple industries including, but not limited to, technology, digital marketing, and finance. Acquiring a BA in English pushed him to pursue his lifelong dream to conquer the internet and take over the SERPs with high-quality content. Darko became an expert in technology the hard way—he broke a lot of computers and cellphones. Now, he tries to give back to the community by crafting some of the most popular tech guides and articles on the World Wide Web.
Leave your comment
Your email address will not be published.