Best for: Existing PowerPoint educators
Strengths
Easy to use
Affordable
LMS compliant
Huge content library
Weaknesses
Requires Microsoft PowerPoint
Cloud tool lacks features
Limited video editing capabilities
What Is iSpring?
iSpring Solutions is a long-running developer of educational technology. It first launched in 2001 as a simple PowerPoint tool. Nowadays, it has grown into a fully-fledged eLearning system for schools and workplaces.
The flagship iSpring Suite is in its tenth major release and lets educators create everything from media-rich courses to basic slides. You can administer and track these to check progress and success with iSpring Learn, a learning management system (LMS).
Moreover, a cloud service allows collaboration between multiple designers and stakeholders. It has never been easier to produce online lessons!
Currently, there is no official iSpring for Mac because of its relationship with Microsoft.
Available Tools
Let's take a closer look at all the powerful tools for building and distributing your eLearning content:
PowerPoint Integration
iSpring software is based on PowerPoint. Although it has greatly evolved over the years, you still need PowerPoint to make the most out of its features. These are accessible via an additional tab and ribbon within the Microsoft program.
The idea is to use PowerPoint as the base for creating courses, while including the more advanced iSpring elements for added appeal. It has a library of over 68,000 templates, images, and other multimedia.
The newest release also offers a standalone interface for accessing its features, with some tools working by themselves.
The good thing about PowerPoint integration is that most educators and workplaces are familiar with creating slides. iSpring takes what's already working and introduces more possibilities.
Narration
The narration panel in PowerPoint opens the iSpring Audio-Video Editor. It lets you record high-quality videos and audio from your computer's microphone and webcam. While not the most advanced editor, it's good enough for creating straightforward course content.
You can fade in and out, remove noise, completely silence parts of the track, and move bits around.
It's meant for narrating slides. Therefore, your project text displays within the editor for easy reading. Record your narration or film yourself giving the presentation and this is seamlessly inserted into the appropriate slides.
As long as you don't get overambitious, the tool is incredibly useful. Boring slides soon come to life. Moreover, the editing process often forces you to improve text that you may have previously okayed.
Screen Recorder
Capturing what is happening on your screen is a creative way of demonstrating computer-based tasks. Perhaps you're giving a tutorial for a piece of software or providing a tour of a workplace system. You can also use the iSpring video recorder for your webcam and include video narration alongside the onscreen steps.
Dialogue Simulator
The iSpring TalkMaster tool is for creating fun dialogue simulations between characters and learners. Select a character avatar, their demeanor, then type what they say. This sets the scene for the interaction. In response, the learner must choose from multiple reply options.
It's often praised in iSpring user reviews as one of the outstanding features of the software.
Depending on their selection, conversations can branch off, resulting in different outcomes. Did they handle the situation correctly or cause a nuclear meltdown? Include as many scenes or characters as your scenario requires.
It also supports custom backgrounds and images to better reflect your branding.
Quiz Maker
The iSpring Quiz maker has been a mainstay since the early days of the software. Choose from survey style questions for data collection or graded style, for traditional quizzes and interactive tests.
There are no limits on how many quizzes you can include in a single PowerPoint file. A common approach: include one at the end of different topics to test the user's knowledge and reinforce what they've learned.
The tool is versatile enough to meet anyone's needs, however. You'll find 14 different question types including multiple-choice, multiple response, drag-and-drop, and essays. There are also introduction templates, which include forms to capture the user's details and slides with the instructions.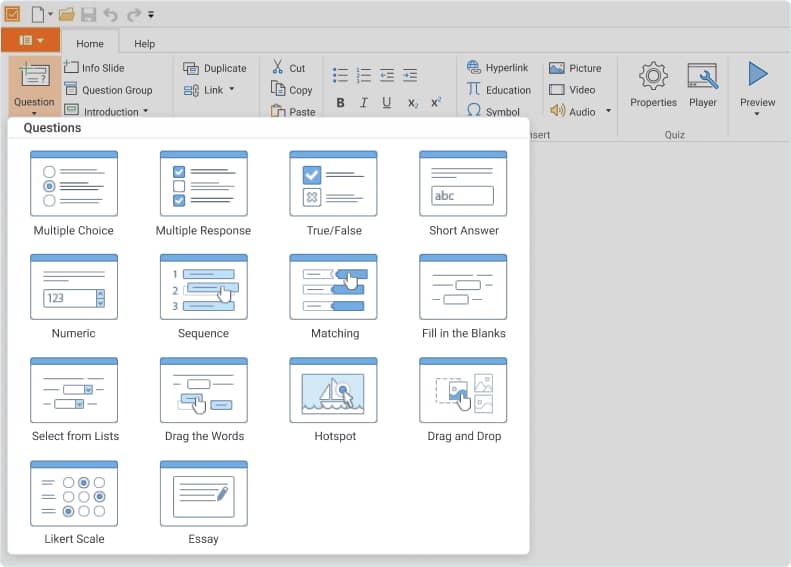 To keep things fresh, question order can be randomized. Yet, you can group together a series of related questions that need to stay in a specific order. You can also import quiz questions from an excel sheet.
iSpring stores each quiz on the main slide, regardless of the number of questions you include.
Interactions
Another user-favorite, judging by iSpring reviews.
Interactions are a creative way of involving the learner, so they retain important information. PowerPoint already has a process for hyperlinks and triggers, but iSpring improves on this with some engaging template choices. That's without mentioning saving time on trying to create something from scratch.
Interactions are found right next to the quiz maker and include step-by-steps, timelines, pyramids, catalogues, FAQs, etc.
When you've got the one you want, just enter your text and any imagery, then insert it into your slides.
Content Library
iSpring's huge content library is one reason it's so powerful. Gone are the days of rushing a plain or ugly-looking PowerPoint presentation. You get 68,000 pieces of content, including professional templates, images, icons, and human characters for tools like the dialogue simulator.
It's actually surprising the difference a good content library can make to your creations. Moreover, you don't have to pay a designer if you want to impress audiences.
iSpring Convertor Pro
iSpring's original purpose was to convert PowerPoint to Flash. While Flash has fallen by the wayside, HTML5 and MP4 have taken their place. Today, the iSpring PowerPoint Convertor is available as a single tool or as the suite's final step in the creation process. It also supports cmi5, xAPI (Tin Can), SCORM 2004, SCORM 1.2, and AICC.
HTML5 is the most flexible option. It maintains all your PowerPoint effects, such as animations, triggers, transitions, and links. Moreover, it also maintains iSpring additions like advanced quizzes and dialogue simulations.
It's as if you're still using PowerPoint. But most importantly, the format is viewable from any device with a browser. That means when you conduct a presentation or users access materials online, PowerPoint isn't needed.
That's perfect for clunky workplaces or disparate learners that don't always have access to the program. It's also compliant with the leading LMSs, letting you publish directly to your favourite eLearning platform.
MP4 is more limited because viewers cannot physically interact with the slides. As a universal video format, however, it's still more accessible than PowerPoint. Furthermore, it's a good secondary format for sharing content to sites like YouTube.
It still preserves elements including slide length, transitions, and animations, just in a linear fashion. Plus, you have full control over how everything looks before exporting. MP4 is perfectly suitable for lectures and presentations that don't require real-time audience input.
iSpring Flip
The Flip tool is an offshoot of the regular publishing method. You can take any existing PowerPoint, Word, or PDF file and convert it into a flipbook.
But what's that?
It's a page you publish to a website or LMS in HTML5 format.
In effect, it's an eBook that features a simple page navigator, thumbnail page previews, and the ability to zoom in and out. Furthermore, readers can go full screen on any device and swipe between pages.
Flip is an excellent way to quickly deploy content in an accessible way, without worrying about file formats. You might use it for classroom materials, company policies, or actual eBooks. The difference between this and publishing a course is the content remains flat without multimedia or interactive features.
iSpring Space
Modern software wouldn't be complete without cloud access. iSpring Space provides Suite users with 20GB of storage and an online authoring tool. While this does allow you to create courses and quizzes in your browser, it lacks all the features of the Windows software.
The advantage is it's completely mobile-responsive. So, instead of needing a computer, you can edit projects on the go with your iPhone.
It's most useful as a hub for stakeholders and collaborators. You can share projects or grant full access to the account, allowing for seamless contributions and feedback. If a collaborator needs the full power of the software, they can download the project, edit it with Suite, and reupload it.
We'll get to iSpring's native LMS next, but there's also nothing stopping you from using Space to share content with learners too. Sharing is as easy as emailing a link. Furthermore, you can manage your entire team and their permissions. Roles include author, reviewer, and participant.
iSpring Learn
iSpring is a learning management system that can integrate with iSpring Suite, but it should be purchased separately. It is compatible with over 150 learning management systems including Moodle, Canvas, CourseMill, and Digital Chalk. For those unfamiliar, schools, universities, and companies use these as internal platforms for eLearning.
When you hit iSpring's publish button in PowerPoint, you can export to a profile compatible with your LMS. These include:
SCORM
AICC
CMI5
Experience API
Learn is the native iSpring LMS solution, bringing course creation and publishing under one roof. It's suitable for onboarding new hires, training, and certification. It's also perfect in the education system. Everyone gets their own profile with the appropriate permissions.
Staff or students can log in to the online portal, check their alerts, and access their online courses. They also get a mobile-friendly experience thanks to apps for iOS and Android. Meanwhile, admins and educators upload the content, assign courses, and manage the backend.
What's more, data can be integrated with your HRM, CRM, and other existing IT systems. Moreover, it's compliant with GDPR in Europe and other regulations in the US.
It's a comprehensive online learning platform.
Ease of Use and Interface
The iSpring authoring tool flawlessly integrates into PowerPoint and all the options logically group together under a dedicated tab. From the left you'll find the narration tools, followed by other insertable elements, then the content library, with publishing to the right.
Opening iSpring Suite by itself provides another route to its tools, as well as links to managing your account and accessing Space.
Furthermore, you can find some key tools as standalone programs, including the 'Audio-Video Editor', Flip, QuizMaker, and TalkMaster.
It's not immediately clear why it provides so many avenues for accomplishing the same tasks. In fact, it labels some tools with different names in different areas, which might cause confusion.
Of course, the elephant in the room is the reliance on PowerPoint. Those accustomed to making slides will find the iSpring authoring tool an invaluable add-on and easy to pick up. Those who have never used PowerPoint will face more of a learning curve.
And if you avoid PowerPoint altogether, you've probably stopped reading at this point.
iSpring Space is equally easy to use. It's similar to Google Drive and other cloud storage platforms. The project tab on the left is where you find materials, while the blue 'Create' button launches the online authoring tool for new pages and quizzes.
This couldn't be easier, mostly because it's a bare-bones version of what you'd find in the main suite. As a result, it's ok for throw away content for a short lecture or class. You'll, however, want to go back to PowerPoint to create those professional evergreen materials.
Support
iSpring software has a lot of moving parts and may require support from time to time. Fortunately, the wizards and tutorials hit you from the start.
Open iSpring Space for the first time to view a YouTube beginner's guide. This overviews the entire suite, not just its cloud features. Similarly, launching the software on Windows takes you to a course template, while a 'quick start' guide opens in your browser.
A live demonstration teaches new customers how to turn PowerPoint presentations into courses, create different materials, and upload content to an LMS.
If you still need support after going through the walkthroughs and knowledge base, your options include email, phone line, and live webchat. Staff are available 24/7 and are always prompt and helpful.
Other support options include Facebook Messenger and Twitter. Moreover, the community forum is a good place to get insight from other users.
Overall, you'll have no issue getting answers from iSpring Solutions.
Pricing
iSpring pricing depends on whether you want the full suite or individual features. The Learn platform is also on a completely separate pricing structure. Here's a breakdown of each plan:
iSpring Free
This is a scaled-back version of the PowerPoint Suite, which can be used for free forever. It includes the Quiz Maker and the ability to embed YouTube videos and web objects. However, there is no audio-video editor, dialogue simulator, content library, eBook maker, or any of the other tools found in the Suites.
Max Suite
$970/ year/ author – Includes all features, content library, iSpring Space, and one author.
$820/ year/ author – Three authors.
$770/ year/ author – Five authors.
Suite Only
$770/ year/ author – Includes most features, but no content library or cloud service. One author.
$650/ year/ author – Three authors.
$620/ year/ author – Five authors.
iSpring Learn LMS
$3.66/ month/ user (billed annually) – 100 users, 50 courses, one authoring tool.
$3/ month/ user (billed annually) – 300 users, unlimited courses, one authoring tool.
$2.82/ month/ user (billed annually) – 500 users, unlimited courses, two authoring tools.
Individual Tools
Presenter: $470/year – All free features, plus video tools.
Page: $97/year – Cloud authoring tool only.
QuizMaker: $370/year – Quizzes and interactions only.
iSpring Pro Convertor: $270/year – PowerPoint to HTML5 and SCORM converter.
Cam Pro: $227/year – Video tools only.
Flip: $227/year – Flip-book creator only.
When looking at the iSpring Suite pricing, you get a 30-day free trial for the regular and Max editions. There is also a 30-day money-back guarantee on all plans.
Overall, the Suite costs somewhere in the middle compared to other education authoring solutions. Some cost more but are completely standalone software. In that sense, it's reasonably affordable.
iSpring Review - Verdict
There's not much you can't accomplish with this powerful PowerPoint partner. Together they help you create all kinds of simple and complex educational courses and materials.
It's also extremely intuitive to use if you've already mastered PowerPoint.
The addition of the cloud environment means you can not only share content with your team but also create basic projects on the web.
Couple all this with iSpring's Learn LMS, and you have absolutely everything you need to create, collaborate, and administer an online education program. All for a competitive price!
The main downside, which has always been the case, is it still won't appeal to non-PowerPoint users. But they've probably left the review a while ago ;)
FAQ.
---
It does have a free version that limits you to quiz-making and embedding certain web content. This gives you a taste of the software but lacks templates and most of the engaging multimedia tools.
It does have a free version that limits you to quiz-making and embedding certain web content. This gives you a taste of the software but lacks templates and most of the engaging multimedia tools.
What is the use of iSpring?
The iSpring Suite vastly increases the effectiveness of PowerPoint presentations by providing a wide range of additional templates and tools. Share your creations with other collaborators in the cloud or publish in HTML5, don't just throw them on a USB stick.
Courses are also compatible with SCORM and other learning management systems.
If you need a more versatile and integrated method of delivering eLearning, iSpring is an ideal solution.
What is included in iSpring Suite?
iSpring is not just a PowerPoint tool, though that plays a major role in the creation of courses. Tools in the Max edition include:
Video and Audio editing
Webcam recording
Screen recording
Quiz making
Dialogue simulation
PowerPoint file convertor
And more.
The software seamlessly brings all these elements together for exciting interactive courses. For more information, check the iSpring review above.
Keelan Balderson
Keelan Balderson is a journalist with a special love for technology. Whether researching the latest tech products release or exploring a tech product like a 3D printer for days, as a professional journalist, he is dedicated to providing readers with fact-backed analysis and thought-provoking, insightful, and well-researched tips.
Leave your comment
Your email address will not be published.