Secretlab Titan Evo 2023 Review
Best for: Long-term comfort
Strengths
Exceptional comfort
Premium materials
Adjustable
Smooth hydraulics
Weaknesses
Pricy
Short warranty
Magnetic pillow can slip
Secretlab is a popular gaming chair company founded in 2014 in Singapore. It's quickly grown to one of the industry leaders, producing comfortable chairs at multiple price points.
Secretlab has also expanded into gaming desks and other accessories, including everything from desk mats to RGB lighting.
Today's topic is a Secretlab chair review - the latest Titan Evo 2022, to be precise. It expands on the previous Titan series chair models and draws further inspiration from the Omega series. It's big, sturdy, and comes with magnets! And its unique materials give it an edge over the competition.
Furthermore, it has six different general variations – three for size and three for the type of upholstery. When we include the different colors and special editions, the possible combinations increase drastically. It doesn't get more luxurious than that.
Secretlab Titan Evo 2022 Full Specifications
This Secretlab gaming chair encompasses many complex parts and materials to deliver superior comfort and adjustability. Not just for gamers, but anyone that needs long-term durability for work or leisure.
Let's take a closer look.
Materials
Secretlab makes its standard edition from NEO™ hybrid leatherette. It's a form of PU leather, but it's 12 times more durable. It's accompanied by memory foam in the seat, back, and armrests. The latter can be replaced with a firmer but more durable Technogel variety, which is still very comfortable.
Overall, it's a high-quality build involving aluminum, plastic, and rubberized wheels. Furthermore, the height hydraulics are smooth all the way down. This makes for a silent chair, even when rolling or adjusting.
Now.
The Secretlab Titan SoftWeave® Plus fabric.
While it's more of a personal choice, SoftWeave® is generally more comfortable (hence the price increase). Furthermore, it's more resistant to scratches from pets than PU leather, but the tradeoff is that it stains.
The luxury option is genuine Napa leather. This is more durable and comfortable than the faux variety. The $1,000 price tag, however, is not for everyone.
Designs and Look
Like every Titan series chair, the Evo 2022 has the classic bucket/racing seat shape, with curvature on either side of the backrest and seat. In addition, there are countless cosmetic color schemes and designs.
Secretlab Titan Stealth is essentially all black, bar some gold branding. Classic adds white stripes down each side of the backrest. There's an all-black version, including the lettering, and an Ash gray with black stripes. My personal favorite is the Royal Blue.
The more expensive Esports Editions represent licensed Esports teams and events and are all eye-catchingly vibrant. Then there are other special licensed editions, including everything from Batman to a bright yellow Cyberpunk 2077 video game detailing.
Whatever your personal vibe, this chair will turn heads.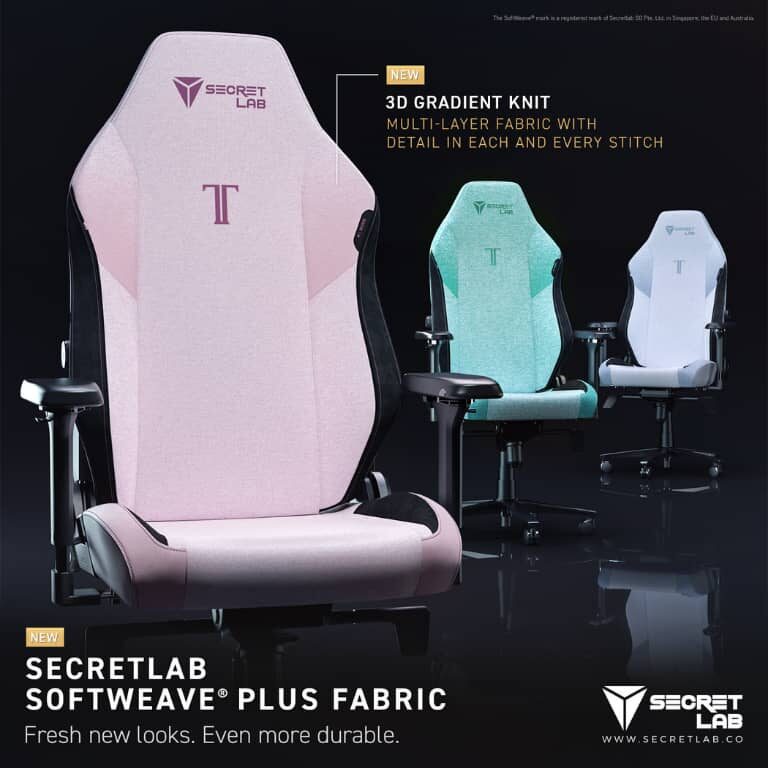 Magnetic Headrest
The new magnetic headrest is both a blessing and a curse. The problem Secretlab aims to solve – the fiddly straps to attach the cushion make it fall off if you nudge it too hard.
The move towards simplicity is commendable. Just take out the pillow and it pops into place. However, strong Velcro is just as effective on other chairs and likely costs less.
In the Box
The chair requires assembly but, in the box, you will find a full toolkit to get the job done. This includes a long Allen key, a Phillips magnetic screwdriver with reversible Hex screw bits, and just four screws.
The wheelbase, seat, backrest, and wheels are all separate pieces.
While the box includes the headrest, any Secretlab Titan lumbar support cushion is an additional accessory.
Assembly
Gaming chairs are never the easiest to assemble - they're much more advanced than your average computer chair. While conducting this Secretlab chair review, however, I found out that I worried in vain.
Fortunately, you get an email assembly video and guide with your purchase, so you can go through it all step-by-step.
One good featurе - instead of its screw holes awkwardly stuck behind the seat's upholstery, it has metal plates with holes at the back of the chair. Easily line these up with the hinges on the seat. There are also magnetic covers that attach over the joints to give a smooth and professional finish.
Beyond the four main screws to attach the seat and backrest, everything else either slots together or has a self-screwing mechanism. I.e., the wheels themselves simply screw into the wheelbase.
The whole process of slotting, screwing, and securing takes less than 20 minutes. Adjustments, however, can take a little longer.
Adjustability
Almost every aspect of this Secretlab gaming chair is adjustable, which only adds to its comfort level.
Firstly, smooth hydraulics allow you to adjust the height of the chair from the wheelbase using a familiar lever mechanism under the seat.
Secondly, another lever on the right of the seat allows you to recline almost fully horizontal. Lock the position into place or use manual tension. This accommodates resting just as much as gaming.
Alternatively, you can tilt it slightly forward if this suits your posture but as most Secretlab user reviews concur, this is not particularly important.
The armrests can rotate, move up and down, forwards and backward, and side-to-side. So, whether you're a serious elbow leaner or want them completely out of the way, you've got the solution.
The lower back can be finicky if you already have pain. Fortunately, a new in-built hump replaces the lack of a lumbar pillow, for the lack of a better term. You use dials on the sides, to move it in and out and up and down. Compared to a pillow it's firmer and less prominent. Fortunately, if you don't want support at all or prefer a traditional pillow, the mechanism retracts completely.
In addition, to suit your height, its magnetic headrest easily slides up and down or can be removed with little force.
Like the rest of the chair, the rubber wheels are firm and sturdy but move smoothly.
Size
The three available sizes are small, regular, and extra-large, making it the best Secretlab chair when it comes to catering to the human form. All have the same features except the extra-large. It comes with a heavy-duty tilt mechanism and Class 4 hydraulic piston to withstand more load.
S
Small is ideal for gamers between 4'11" and 5'6", with a maximum weight of 200lbs.
R
The regular Secretlab gaming chair supports a height between 5'7" and 6'2". The maximum weight is 220lbs.
XL
The extra-large version supports up to 395lbs and suits heights between 5'11" and 6'9".
How Comfortable Is It?
Here's my favorite part of every Secretlab Titan series review – testing how comfortable a chair is.
The Evo 2022 is great. I spent more or less a whole day working and gaming and didn't once get tension or muscle aches.
You can't pinpoint any one aspect as the sole reason for its comfort, the entire build lends itself to an ergonomic experience. The cold-cure memory foam, however, plays a huge role. Find this in its seat, backrest, pillow, and armrests. It gives in just enough while remaining firm and the cold gel prevents the uncomfortable sweating that cheaper chairs are infamous for.
Moreover, being memory foam, it springs back into action when you leave – no slumping into a hard crater here.
NEO™ Hybrid PU leather further improves the new Titan Evo 2022 gaming chair. As the base option, this is a cut above regular faux leather. It's smoother, doesn't have stickiness, and is more durable for long-term comfort. Cheaper chairs tend to start peeling, which is never fun.
At 5'10" the regular variety almost hugs me and my shoulders in position. The new 'pebble seat' also guides your body at a slight incline into a better position than previous chairs. I'd be a liar if I say I haven't contemplated sitting in Secretlab's chair and having a nap.
I'm not always a fan of the head pillow that comes with each Titan Evo 2022. It can force your head forward if you're at the wrong height. At the right height, however, it only bolstered comfort.
Overall, this is one heck of a comfortable chair. The one catch is you'll need to spend a little while making adjustments, however.
What's New?
After I finished my test for this Titan Evo 2022 gaming chair review, my opinion was set in stone - this chair is definitely better than the rest.
Beyond the new Secretlab Titan lumbar support system, magnetic pillow, and pebble seat, the new materials are also improved. You'll find its NEO faux leather twelve times more durable than its traditional PU leather edition. This is thanks to the resin laminate and microfiber polymers. It's still not like the more expensive Napa Leather, but looks fantastic!
Furthermore, SoftWeave® Plus is 3.5 times stronger than the original SoftWeave®, while simultaneously being softer.
The magnets' use extends past the headrest and to the armrests. While the rests themselves securely fix to the chair, it's the padding on top that you remove. Having used several Secretlab chairs over the years, I can surely say these are the first to wear out. So, I love that I can easily replace them.
You can swap them out for a new pair of standard Evo CloudSwaps or upgrade to Technogel.
Initially, I was concerned the magnetism might not be strong enough and the padding would easily come loose and slip. Thankfully, that was not the case.
Pricing
The Evo 2022 Titan Series Chair price is based on the size you choose, the upholstery, and the design (special or regular). All come with the magnetic memory foam head cushion.
Small and Regular NEO™ Hybrid Leather - $519
XL NEO™ Hybrid Leather - $549
Small and Regular SoftWeave® - $517
XL SoftWeave® - $569
Small and Regular Napa Leather - $949
XL Napa Leather - $1,049
Small and Regular Special Editions - $529
XL Special Editions - $579
The Secretlab chair price jumps up if you opt to pay via their monthly 'affirm' program. This starts with plans at $50 per month and you'll pay about $100 more for the privilege.
All chairs come with a standard three-year manufacturer's warranty, which is a bit short. You can extend this to five years, however. There is also a 49-day refund and return policy for unwanted and unused items or items received damaged.
In the US each Titan series chair ships from Utah by UPS or FedEx and typically takes three working days. It can take longer, however, when sales volume is high.
Secretlab Titan Review – Verdict
To sum up, the Titan Evo 2022 is nothing short of a class-leading gamer's chair.
The new materials are not only more durable but more comfortable. Arguably, the most comfortable option currently on the market. The move to a magnetic headrest and inbuilt lumbar support demonstrates an impressive will to evolve. There's still, however, room to refine these unique design elements.
Furthermore, Secretlab offers three sizes, while maintaining its impressive selection of luxury upgrades and special edition styles.
As with any mid to high-end chair, the $499 base price tag won't fit everyone's budget. The price, however, is more than justified.
If it's long-term comfort you want, you just found the perfect chair!
Frequently Asked Questions.
---
Is the Secretlab Titan good?
Secretlab maintains its position as one of the best game chair brands out there, while the Titan Evo 2022 becomes the flagship. It's stable, durable, and comfortable, making it great for any purpose – especially gaming.
Is Secretlab Titan or Omega better?
The new release is essentially the best of both worlds. It takes what's good about previous Titans and the Omega line and delivers a new and improved option. With that in mind, the Evo 2022 is the better choice than an Omega.
It's $100 more expensive. It is definitely worth it, though.
Is Secretlab Titan good for posture?
Absolutely, this Secretlab gaming chair is built for ergonomics. Its bucket design secures your entire body, and it allows for endless adjustments. The fact that it comes in multiple sizes further bolsters posture benefits.
Is Secretlab Titan durable?
Yes, the new Evo 2022 is the most durable of the Secretlab chairs so far and arguably near the top of the entire gaming chair industry. Check the full Secret Lab gaming chair review above for more details.
Are Secretlab chairs comfortable?
Yes, the Secretlab gaming chairs are some of the most comfortable on the market. They come loaded with padding but are firm enough to support your posture without the dreaded sinking or slipping feelings. Moreover, there are options for different sizes and types of upholstery. Extras like head and lumbar pillows only up the comfort level.
To sum up my Secretlab Titan review, this chair is definitely worth the money. It's comfortable, durable, adjustable, and stylish. It's great for both intense gamers and people working from home.
Keelan Balderson
Keelan Balderson is a journalist with a special love for technology. Whether researching the latest tech products release or exploring a tech product like a 3D printer for days, as a professional journalist, he is dedicated to providing readers with fact-backed analysis and thought-provoking, insightful, and well-researched tips.
Leave your comment
Your email address will not be published.