Movavi Video Editor Review
Movavi Video Editor has been in the market for over 18 years. It prides itself as an easy-to-use platform with little to no learning curve. However, is that really the case?
In this article, let's take an in-depth look at this video editing platform's capabilities, ease of use, and cost.
Comprehensive Review
We've extensively tested the Movavi Video editor on a Windows desktop for this article. However, the program also has an Apple version for iOS devices.
These are the main criteria for our review:
Key Features
Movavi Video Editor is generous with features, which is why it's considered by as an iMovie alternative. The software is also loaded with built-in templates.
You'll see the software's toolbar to the left of the screen. The toolbar consists of the following:
Import
Audio
Titles
Transitions
Effects
Elements
Effects Store
Let's discuss this further.
Movavi's import tool lets you add your source files to Movavi.
The tool also allows its user to choose from a collection of pre-made intro videos so you can "Hey guys, welcome to my vlog!" to your heart's content without much effort.
More than 40 musical selections and sound effects are available with the Movavi audio editor. Just so you know, the music may be rather loud, so turn down the level before trying it.
The titles tool lets you insert "stylish" texts, titles, and logos in your video. This tool is a blessing for content makers, as there are templates for adding social media graphics to your edits.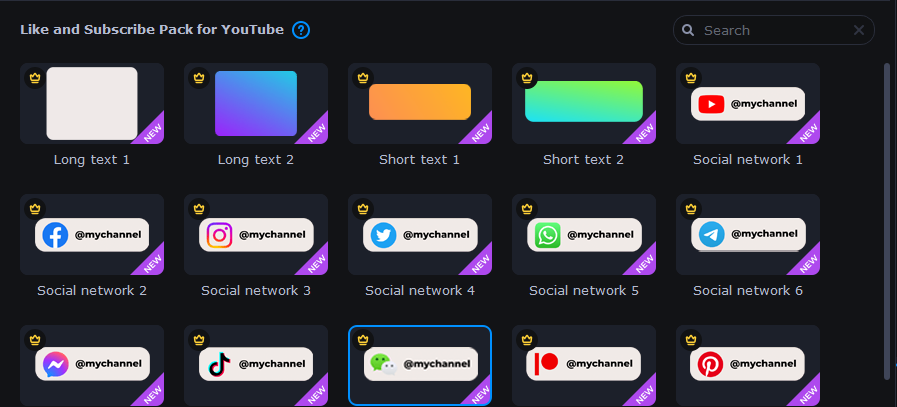 Movavi has more than a hundred transitions available, including:
Fades
Blurs
Color changes
However, some in-built transitions look too cartoonish, which might not be the aesthetic some want.
There are almost 200 built-in effects in Movavi's effects tool, such as:
Vignettes
Motion blurs
Lens flares
Color filters
It's nice how you can adjust the effects to certain degrees. This tool is a convenient way of adding an artistic feel to your videos.
The Elements tool lets users insert available logos within the software. Movavi also allows you to insert your pictures, icons, and graphics if you don't feel like using the ones in the Elements.
Another notable feature is AI. It can be used to remove the background and stabilize the video. The software can also remove or suppress background noises.
Other audio effects, such as noise compressors, synchronizations, and autocorrects, are available. The software also has a Beat Detection effect which sees and shows beat markers on the timeline.
The video editor also allows users to create a portable save file, append existing projects, and export the media directly to their chosen video-hosting platform.
Movavi's media exporting features are straightforward. Formats and quality levels can be selected at the discretion of the user. You can also select the media format for your devices.
Ease of Use
The Movavi Video Editor is one of the most accessible editing software to learn and use. Unlike some of its peers, Movavi's design caters to those with little editing experience.
How to create your own video
Here are the notable aspects of its usability:
Simple interface: The interface isn't overly simplified. The UI design makes the editing experience convenient and less stressful.
Accessible User Manual: Users can access the User Manual in the Help bar (or by pressing F1), which will take you to the tab.
Intuitive editing set-up: The software's tools are simple for video and audio edits. You can cut and paste clips easily. You can even right-click the clips to find more options.
Customizable shortcuts: The users can even customize Keyboard Shortcuts by accessing the Help Bar.
Cost
Movavi has several options to choose from:
Movavi Video Suite Bundle
The Movavi Video Suite offers a Video Editor + Video Converter + Screen Recorder bundle.
The bundle is a 1-year subscription for $28.95, discounted from its original price of 70.70$.
The Movavi Video Editor account has two options:
1-year subscription ($16.95)
A lifetime subscription ($21.95)
Both provide the needed features of Movavi Video Editing, such as video editing, effects, animations, and AI features.
Video Editor+Effects Pack Bundle
Movavi also offers a Video Editor+Effects Pack bundle which allows users to use the built-in media packs in the Effects Store.
Note: This bundle is discounted for $21.95 until May 14, 2023.
The original price is around $48.95 for a 1-year subscription.
Final Verdict: Is It Worth It?
Definitely.
Movavi Video Editor is a software with minimal memory and storage requirements.
The software is as convenient as it gets. Its user-friendly interface and essential features make the editor a remarkable competitor in the video editing market.
Movavi offers video editors a compact, lightweight tool that packs a mean punch to knock out its competitors.
What are you waiting for? Try it yourself and edit that dance video you've always wanted to make!
Eve-Carrie
Eve-Carrie is an esteemed tech blogger who tests and reviews various apps and software. With her passion for technology and a keen eye for detail, she has made valuable contributions to renowned websites such as Huffington Post since 2016.
Leave your comment
Your email address will not be published.