Best for: Free platform for landlords and agents
Strengths
Renters insurance
User-friendly
Detailed reports
Free for property representatives
Weaknesses
No money-back guarantee
Uses one screening service
Limited advertising options
What Is RentSpree?
RentSpree is a platform that simplifies the collection of rental applications, tenant screening, and management.
Michael Lucarelli and Paul Sirisuphang founded the company in 2016. Its headquarters are in Los Angeles, California.
More than 900k renters and 90k realtors, landlords, property managers, brokerage firms, etc. rely on it to help them pick the ideal renters.
How Does RentSpree Work?
We've covered what it is, but how does RentSpree work?
I'll tell you all about it using a few simple steps:
Go to Tenant screening and ensure you check the TransUnion agreement box. After that, fill in your details and click on Next. On the Screening Options window, pick whether you'd like to pay or prefer the tenant to do it.
The system will bring forth something like this.
Click on Next, and you'll find this. Hit Confirm & Continue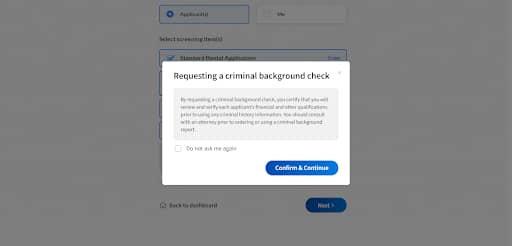 You'll have a couple of options on how to request your renter for approval to proceed with the RentSpree background check.
The first option is entering the applicant's email address or phone number on the screen. Alternatively, you can share your ApplyLink with them via text or email.
The last method is via Print Screening Handout. It allows them to scan a QR code for the procedure to begin.
Here's how that looks:
Next, click on Go To Applications to take you back to your dashboard.
Once the renters receive your requests, they'll fill out the RentSpree application and make the payment if necessary.
After that, the solution will get all the necessary reports and send you a notification. You can decide what action to take.
RentSpree Features
Without further ado, we'll discuss the most outstanding ones:
RentSpree Tenant Screening
RentSpree uses the TransUnion SmartMove ResidentScore to provide criminal, eviction, and credit histories. It's rental-specific and only pulls the relevant soft reports following your applicant's approval.
After searching, you'll get:
Criminal Background Check
This one combs over 200M state and national databases and displays criminal records in 44 starts. It eliminates information from New Jersey, Kentucky, Hawaii, Wyoming, South Dakota, and Massachusetts listings. Examples of information that it reveals are:
Drug-related felonies
Sexual offenses like pedophilia or rape
Appearance on the most wanted list
RentSpree Credit Report
This essential inquiry determines a person's creditworthiness. It will reveal if they can make timely payments, if at all. It covers 50 states and shows things like:
Credit score
Collections
Liens
Bankruptcy
Payment history
By the way, do you know why users rave about this solution in most RentSpree reviews?
It doesn't do hard pulls, which can damage one's score.
Eviction History
This search combs over 25 million records to reveal whether former landlords have kicked out a potential tenant from their properties.
That could be due to a variety of things, such as:
Destruction of property
Criminal behavior
Disruption of peace
Late/inconsistent payments
Note that this report isn't available for New York.
Rental Online Application
This feature helps you reduce paperwork and ensures you capture everything right the first time.
Basically, one can't proceed to the next step until they fill in all the necessary information. So ‌ you won't need to chase after clients, reminding them to complete the sign-up process.
Renters Insurance
RentSpree makes it so much easier for you to verify your applicants' coverage. If they don't have one, you can encourage them to make purchases right from within the platform.
It basically ensures that their household items remain safe from theft or damage. Therefore, should anything happen to them, they won't get a financial setback as they try to replace their property. That could have a ripple effect on them making timely payments.
Rent Estimates
Is it taking too long to fill vacant houses in your rental?
Your rent might be too high.
Luckily, RentSpree for landlords can provide you with a comprehensive analysis of your pricing points. It compares your prices with similar properties in your neighborhood to determine whether your rates are fair.
A few things that go into this evaluation are your areas:
Crime rates
School rankings
Unemployment levels
RentSpree Rent Payment
You'll love this:
This online service lets you collect rent without banging down anyone's door.
Instead, it uses Stripe, a secure digital platform, to collect the rent on your behalf. After that, it deposits the money directly into your bank account.
You just need to set a schedule, and the software will pick it up from there. It'll even remind your tenant that their rent is almost due!
RentSpree listings
This software can help you create captivating visuals to showcase your property. All you have to do is provide a few details, like:
Address
Unit Number
Property Type
No. of bedrooms and bathrooms
Terms
Online Signatures
Once you get your dream tenant, you don't need to hunt them down to sign leases. You simply need to upload the documents, and the recipient can append their signature on the go.
That's not all:
The system allows you to track signatures from your dashboard. For renters that might not have seen their notifications, you can easily nudge them by resending an email reminder.
Accept/Deny
Most RentSpree reviews rave about how easy it is to approve or decline applications. The entire workflow flows so seamlessly that you'll need to either send welcome or adverse notices by the end of it all.
Acceptance letters let a tenant know their application went through and that you'll reach out later with more details.
Note that the system generates the letters; hence all you have to do is hit send. Although they aren't customizable, you can choose a reason for not choosing an interested party.
Client Manager
RentSpree helps with tenant-landlord relationships.
With it, you can import spreadsheets full of your contacts. Alternatively, you can save them right from within your account using Create Contact.
In addition, you can keep your contacts in a central location. So your entire team will have access instead of reaching out to you when they need to reach a renter.
And a sneak peek at what's to come:
The organization plans to include pulling client information from Gmail soon!
Agent Profile
RentSpree for agents is fantastic for lead generation.
Here, you can showcase your listings to potential tenants. It's also a great way to get landlords to contact you for your services.
The best‌ thing about this feature is the site already incorporates SEO. So, reaching the right audience won't be a problem.
Ease of Use and Interface
RentSpree is so easy to use! It's super intuitive, making the next step almost obvious.
Let me share with you what my experience using it was:
Signing up took me less than a minute, and I could start the RentSpree online screening right away.
I also made a couple of listings and conducted rent estimates with ease literally two minutes after creating my account.
Zero learning curve.
My dashboard was also clean and uncluttered. There was a neat list of all the functions on the far left side of my screen. The chat button was at the bottom-left and within easy reach whenever I needed it.
Bottom line, you don't need prior training or technical knowledge to use this platform.
Customer Support
The RentSpree founder and co-founder have created an outstanding customer service team. It works Monday through Friday between 7 a.m. to 5 p.m. On Saturday and Sunday, it's available from 8 a.m. to 12 p.m. PST. You can reach the company's customer service via:
I contacted the employees severally, and they were super responsive, polite, and friendly, yet professional. They truly understand their product inside out, and their willingness to help was simply amazing.
I was a little disappointed that there wasn't anywhere for me to leave a 5-star rating.
RentSpree Pricing
RentSpree has a one-month free trial for its Pro package. It, however, doesn't have a money-back guarantee. Now, let's have a closer look at RentSpree cost:
*Although it's free for property owners, the solution transfers a $30 per check to those looking for housing.
RentSpree Review - Verdict
The biggest drawback with RentSpree is that it only has one advertising avenue, i.e., onsite listing. That's unlike organizations like TurboTenant that allow listing on multiple places like Craigslist, across the web, or professional flyers.
Additionally, unlike other sites that use up to three background screening sites, RentSpree only uses one - TransUnion. However, the reports are comprehensive, giving you more insight into your applicant.
So.
This service has some powerful features to help you manage your rentals better. On top of that, doing a RentSpree background check creating listings, amongst other things, is as easy as ABC. It's also affordable and has a top-notch customer service team!
FAQ.
---
So, is RentSpree legit?
RentSpree is one of the good ones.
That's because it has a consumer satisfaction rating of 4.63 on Sitejabber, and that's out of 75 users. On TrustPilot, it has an average score of 4.6 from 503 reviews.
Just to mention a few.

Also, I didn't notice anything suspicious, when I was testing it out.
Is RentSpree safe for tenants?
RentSpree is absolutely safe for tenants.
It encrypts all data to prevent cybercriminals from accessing screening reports and all other communications.
Does RentSpree affect your credit?
Not at all.
It only does soft pulls that do not have a negative effect on your rating. This type of inquiry happens when you pre-authorize it or do it yourself.
What does RentSpree check for?
It sheds more light on stuff that the software seeks to find out regarding a potential occupant, for instance:
Criminal past
Credit score
Eviction history
For more info, check out my RentSpree review.
Eve-Carrie
Eve-Carrie is an esteemed tech blogger who tests and reviews various apps and software. With her passion for technology and a keen eye for detail, she has made valuable contributions to renowned websites such as Huffington Post since 2016.
Leave your comment
Your email address will not be published.