Passvers iPhone Unlocker's New MDM Bypass Feature: Is It Safe?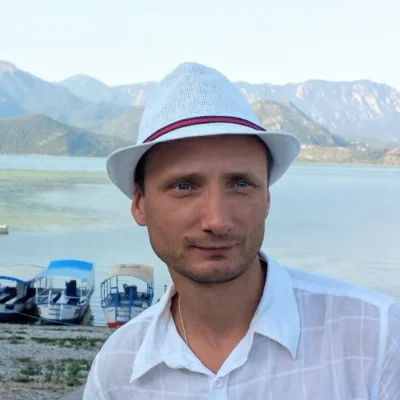 Florence is a dedicated wordsmith on a mission to make technology-related topics easy-to-understand.... | See full bio
The well-known unlocking program for iOS devices, Passvers iPhone Unlocker, has released the MDM removal function on its latest version.
The new feature allows you to access your iPhone/iPad settings, decode MDM profiles, and delete them for you. This is why some users probably consider whether they can trust its security.
After testing this new feature to evaluate all aspects, this review will talk about one thing: "whether Passvers iPhone Unlocker's new MDM bypass feature is safe or not."
Continue reading to find out.
Release of Passvers iPhone Unlocker's MDM Bypass Feature
Apple defines MDM as software that:
| | |
| --- | --- |
| | "[…] lets you securely and wirelessly configure devices by sending profiles and commands to the device." |
MDM can update your device's settings, monitor your compliance with protocols, and lock your devices remotely. Apple devices are known to be capable of supporting MDM.
However, restrictions set by MDM can lead to some app usage restrictions, limited app features, or conflicts while using the device. This makes MDM bypass a necessity.
The newly-released MDM bypassing function of Passvers iPhone Unlocker provides a one-stop solution for the following purposes:
to let you get rid of supervision by third-party organizations, schools, or companies
After weeks of careful testing, TechJury acknowledges that Passvers iPhone Unlocker's MDM removal is quite competitive.
Its compatibility and enhanced features are the tool's best points, proving its powerful processing ability.
Compatible with All Major MDM Servers
During the testing of Passvers iPhone Unlocker's MDM function, MDM encryption services provided by some of the world's popular MDM servers were used. These are:
IBM
ManageEngine
VMWare Workspace ONE UEM
Then, MDM removal using Passvers iPhone Unlocker was processed.
According to the testing results, the program can smartly detect the MDM profiles added by all the servers mentioned above. It also managed to remove them without any errors.
This means Passvers iPhone Unlocker is fully compatible with most MDM profiles generated by different MDM servers, ensuring a high success rate in removing MDM.
For those who do not know the released sources of the MDM profiles on their devices, you can trust Passvers iPhone Unlocker because of its high compatibility and success rate.
📝 Note
Speaking of compatibility, Passvers' iPhone Unlocker works for iPhones with iOS 16 and former versions.
Nevertheless, it is highly recommended to keep your system updated regularly—especially since iOS 17 will be released soon (September 2023).
Better Features for More Powerful MDM Removal
Passvers iPhone Unlocker adopted multi-core hardware acceleration techniques in the new feature. This lets you enjoy ultra-fast speed, whether you're scanning the devices or initiating the removal of MDM profiles.
Another highlight of the program is it won't notify the administrators. It won't even ask you to enter any passcode to manipulate the MDM removal, which is an excellent convenience in bypassing supervision.
How to Remove MDM Using Passvers iPhone Unlocker?
Passvers iPhone Unlocker offers two modes to remove MDM on iPhones and iPads. You can execute the process even if your device has been disabled or is still working correctly.
⚠️ Warning
MDM may result in data loss. Make sure to back up your files before initiating the removal process.
Check out the steps below to know how the process works depending on your device status.
For Devices Functioning Properly
If your iPhone or iPad is working properly, MDM removal is more straightforward. Here's how you can do it:
Step 1: Install Passvers iPhone Unlocker and run the program.
Step 2: Connect your iPhone/iPad to build up a connection. Select the Remove MDM option on the main feed.
Step 3: Follow the on-screen instructions to turn off Find My before removing MDM.
Step 4: Tap Start. The program will begin the MDM removal.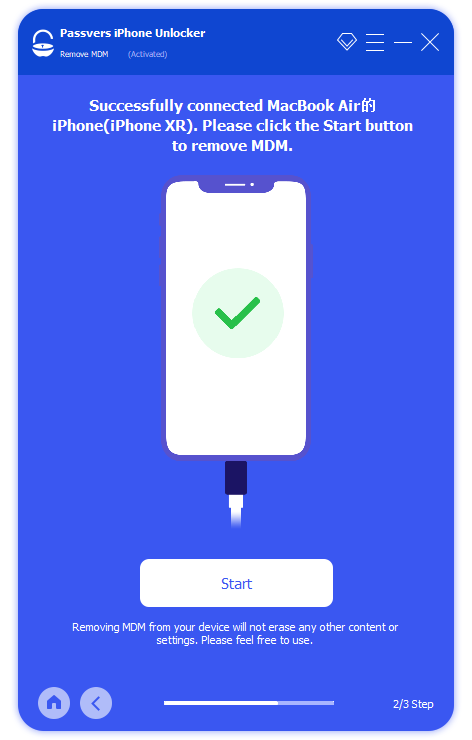 Just like that, you can get your iPhone/iPad out of the MDM supervision within seconds.
For Disabled Devices
Removing MDM in disabled iPhones and iPads requires firmware package installation. Follow the steps below to do it:
Step 1: Follow the first two steps in the previous mode (for functioning devices).
Step 2: In the Remove MDM function, select Disabled and tap Start Removing.
You're supposed to enter 0000 to authorize the program to access your device.
Step 3: A pop-up will appear with instructions on switching the device into Recovery Mode.
Step 4: Once your iPhone/iPad is reset, Passvers iPhone Unlocker will display the device information to you.
Click on Start to install the firmware package to the device.
Step 5: Once the firmware package is installed, select Device Activated to initiate the MDM removal process.
For a moment, Passvers iPhone Unlocker will complete the MDM bypass and return the unsupervised device to you.
Is Passvers MDM Removal Safe to Use?
Regarding security, Passvers iPhone Unlocker guarantees 100% safe performance to process MDM removal for you. It is evident in these two aspects.
Installation Safety
Usually, malicious software like adware attaches itself to programs or browser extensions on the web.
Fortunately, the set-up of Passvers iPhone Unlocker is not bundled with any third-party programs or extensions. This reduces the risk of malware invading your device system.
Also, the clean interface of Passvers iPhone Unlocker restricts any ads appearing to prevent leading users to any phishing sites by accident.
Adopt Advanced Encryption Techniques
One of the risks of MDM removal is data breach. Considering that 3 out of 5 organizations experienced data breaches, it can be alarming for most.
The good news is that you do not have to worry when using Passvers iPhone Unlocker.
The tool adopted advanced encryption techniques for data security and privacy information protection. This prevents hackers from attacking user devices through the program.
Moreover, the program does not access or store user data to avoid privacy disclosure.
Final Verdict on Passvers MDM Removal
Overall, Passvers' strength is evident in every product and feature it offers its users.
Passvers has provided advanced iOS solutions over the years—with a high success rate and excellent compatibility to fulfill demands, device models, and life scenarios. The brand still lived up to its reputation with its iPhone Unlocker's new MDM Bypass feature.
The new feature's encryption techniques provide 100% safe services without any hidden dangers like privacy disclosure or exposure to malware.
With this MDM removal feature, along with its other products and services, Passvers is highly recommended when seeking solutions to unlock or recover iOS devices.
FAQs on Passvers MDM Removal .
---
​​Can MDM be removed from iPhones permanently?
Yes, it is possible. However, keep in mind that even though MDM restrictions come with several conflicts, permanently removing MDM is also risky.
What are the risks of not having MDM?
The lack of MDM can affect organizations and users. Without MDM, they become more vulnerable to security risks like data breaches and malware.
Is Passvers iPhone Unlocker free?
No, Passvers iPhone Unlocker is a paid service. A monthly license costs $35.95, suitable for 6 devices. However, Passvers offers a limited but free trial that lets you experience some of the tool's features.
Leave your comment
Your email address will not be published.
You may also be interested in.