Ultimate Review for VideoHunter - Download Videos from Any Site
Best for: Downloading High-quality Videos from the Internet
Strengths
Batch download videos from 1,000+ sites.
Download videos of high quality.
Faster download speed.
Free download up to 3 videos per day.
Weaknesses
Limited formats.
Requires subscription to access advanced features.
VideoHunter - Download Videos from Any Site
VideoHunter can help you save any videos and movies from 1,000+ websites, including NetFlix, YouTube, Dailymotion, Facebook, Pornhub, etc. All you need to do is copy and paste their URL.
VideoHunter will batch download these videos and playlists to MP4 in one go, bringing you a crystal-clear video playback experience. If the video has multiple languages, VideoHunter can also download subtitles in different languages.
What is VideoHunter?
VideoHunter is an all-in-one desktop tool designed to download multiple videos and audio files from the Internet. Different from other ordinary video downloaders that only allow you to download videos from a single website, VideoHunter lets you download videos from 1,000+ websites, so you can be sure to get any video you want online.
Better still, the app is compatible with Mac and Windows. It even launches an Android version for those who prefer watching videos and movies on the phone. If you prefer saving and watching YouTube videos on your Android phone, you can turn to the Android version of VideoHunter.
Outstanding Features of VideoHunter
Download Videos and Audios from Any Site.
Different from other normal video apps and online tools, VideoHunter stands out for downloading videos from 1,000+ video websites, such as YouTube, Netflix, Facebook, Twitter, Instagram, and so on. Whenever you come across a video on the Internet and try to watch it offline, simply copy and paste its URL on VideoHunter. The app can download it in seconds.
Offering Superior Video and Audio Quality.
Supporting high resolutions ranging from 720pHD and 1080p Full HD to 4K and 8K, VideoHunter can save movies and videos in high quality as well as the original ones to offer the best and most immersive viewing experience. Besides, videos can be downloaded in MP4 or WebM so that you play them on common devices and platforms.
Grab any audio you like and download them to MP3.
Apart from downloading videos, VideoHunter can extract audio from videos on any site, such as music videos, video clips, and talk shows, to MP3. You can listen to them on your PC when the Wi-Fi connection is awful or transfer them to your device and enjoy them anytime and anywhere.
Watch videos from various sites of high quality without a watermark.
When downloading videos from sites like TikTok, there is always an annoying watermark left in the video. To solve this problem, VideoHunter cleans up video clips from annoying watermarks in the downloading process.
Download or Merge Subtitles as You Like
Considering that not every platform can read external subtitles, it is sometimes necessary to download subtitles and merge them with the video. VideoHunter can not only separately download or merge subtitles with videos but recognize multilingual subtitle files and allow for downloading subtitles in specific languages. In this way, you can watch videos with subtitles and catch more details.
Batch Download Multiple Playlists and Private Videos.
Downloading videos one by one can be a hassle. So why not download playlists and videos using VideoHunter? Its batch download feature will help you download your favorite videos from websites or contained in playlists quickly and effortlessly.
How To Use VideoHunter
After downloading and installing the app, first search and find the video you would like to download. Copy and paste its URL to Videohunter. Click "Analyze".
After the video finishes analyzing the URL of the video, a window will pop up to ask you to set video format and resolution. Here we choose MP4 and go for 1080p. You can also download subtitles by checking "Original Subtitiles" and choose the language of subtitles. Click "Download".
Once the download is finished, you can access your downloaded video by hitting "Finished".
Pricing (US Dollar)
To help you reach the videos you want to watch and meet your entertainment needs, VideoHunter offers 2 different pricing models for you. Check the plans below to find out which one suits you best.
Download limited videos up to 3 per day. Select resolutions up to 480P. Convert audio files to MP3 in 320kpbs.
$14.95
Download unlimited videos and playlists every day. Unlock resolutions up to 8k. Access to batch download feature and tech support. Enjoy the VideoHunter Android version for free.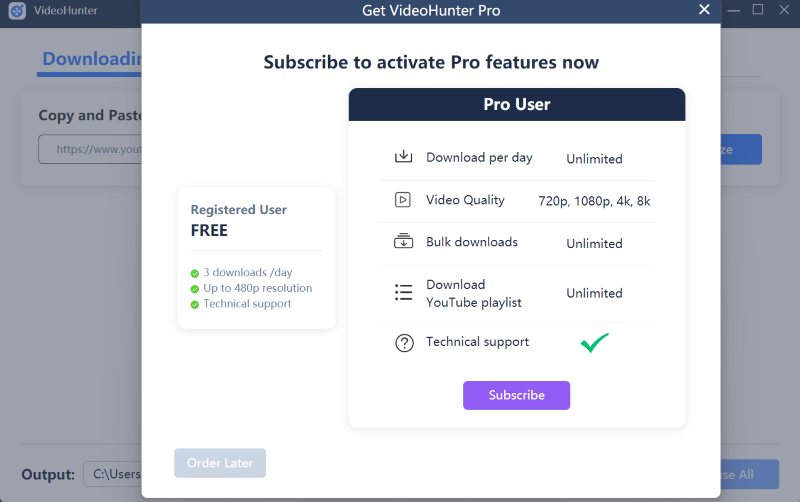 Final Summary
All in all, VideoHunter is a powerful video downloader that helps you download and save any videos you're interested in from websites, be it short videos, classic movies, or foreign films. VideoHunter can download them and subtitles quickly in high quality, so you can watch videos and movies whenever you want. With different plans offered by VideoHunter, you can start with the free one to have a try at the powerful functions of VideoHunter.
Raj Vardhman
Raj Vardhman is a tech expert and the Chief Tech Strategist at TechJury.net, where he leads the research-driven analysis and testing of various technology products and services. Raj has extensive tech industry experience and contributed to various software, cybersecurity, and artificial intelligence publications. With his insights and expertise in emerging technologies, Raj aims to help businesses and individuals make informed decisions regarding utilizing technology. When he's not working, he enjoys reading about the latest tech advancements and spending time with his family.
Leave your comment
Your email address will not be published.