What Does Google Know About Me?

Ivailo Ivanov
Content Writer | Joined October 2021

If I was asked to describe myself using just a few words, I'd go with digital marketing expert, ex... | See full bio
Google was just a simple search engine when it started. From then, it became an essential part of our digital lives, from emails to maps, drives, and photos.
With around 4.3 billion Google users worldwide, this search engine holds 92% of the market share. With data coming from all these users, it shows how much Google knows.
Google's apps and services are difficult to avoid as everyone is using them in their daily work. If you also use Google, you might wonder what data Google has about you.
Keep reading to know how Google knows about you.
🔑 Key Takeaways
Google is the most used search engine, collecting data from every user.
Some collected data include visited websites, search history, purchases, location, and email.
Google collects data by tracking every activity and using cookies. It collects data with every Google app.
You can manage the data that Google collects through your Google Account settings.
If you don't want Google to collect every data, you can find more private search engines online.
5 Things That Google Knows About You
As the mainstream search engine, Google collects user data to create individual profiles.
The created profiles make advertisement easier with 5.16 billion internet users. This method is helpful when targeting a specific audience with ads.
Here are some personal information that Google knows about you:
1. Visited Websites
Google can see what users visit on Chrome. They can see how many times the user visits it and how long the user stays.
One way to solve this issue is by private and safe browsing, a privacy feature in modern web browsers.
It prevents the browser from keeping any data that tracks online activity. It creates a temporary session that offers a layer of privacy and anonymity.
2. Search History
As we use Google as the leading search engine, it can record all your search history and find out what you search for.
✅ Pro Tip
You can also use Private or Incognito Mode to solve this issue, but it doesn't offer complete anonymity. It's best to use private browsers like DuckDuckGo for better browsing privacy.
3. Purchases
Using Google when buying things online means the search engine can collect your data. This data includes your banking details, location, and purchases.
Google can also collect that data if you use your Gmail account to receive updates on your order.
They would place similar products on your feed and the sites you visit since it's what you bought.
4. Location
Google can access your location when you allow them to check your device in Google Maps.
The company earns its revenue from the ads they show. Since Google knows about the user's data, they can send ads in users' interest.
5. Email
With over 1.8 billion Gmail users, Google's email service is one of the most used worldwide.
By tracking messages and data, Gmail collects information about its users. It's also helpful when advertising on every email account.
Why does Google Collect Information?
Using Google demographics, they can group the data and examine user trends. They also suggest useful things for users.
This data improves users' online experience since what they see is the same as what they like. The only downside of this was the unwanted information collected.
If you don't want this search engine to collect your data, you can delete your Google Account.
How Google Collects Information
Google knows users' data like names, dates of birth, numbers, and even location. Using more Google products would also let Google know more.
According to Similarweb, users visit Google 89.3 billion times monthly. With this number, Google would know a lot of information about almost everyone.
Google tracks every activity users do in their apps. They use cookies to keep track of users' information. It includes data from watching a video, visiting a website, or purchasing.
This YouTube Video explained how cookies collect user data. It also shows how the cookies use the collected data to align with the user's interest.
Google Lawsuit on Personal Data Collection
Like other companies, Google also experienced lawsuits. Most lawsuits involved complaints against Google's personal data collection. Here are some of them:
Illinois Lawsuit Against Google
Google violated the Illinois privacy law. This law requires companies to get users' consent before collecting.
The Illinois judge approved a final $100 million settlement in the lawsuit for this case.
California Lawsuit Against Google
A court case against Google claims that "anyone who used Google search between October 25, 2006, and September 30, 2013, and clicked on a link in the search results can collect part of the settlement."
Google paid $23 million to resolve this lawsuit in California Court.
40-State Coalition of Attorneys General
Google received another lawsuit stating that it violated states' consumer protection laws.
It was for Google's continued data collection when it should convince users to disable them.
The New York Times said Google paid $391.5 million with this settlement. The settlement also required Google to clarify its tracking disclosures starting in 2023.
Arizona Lawsuit Against Google
Google got another lawsuit in Arizona for secretly obtaining user data to sell ads. Arizona Attorney General Mark Brnovich reached an $85 million settlement.
Arizona prosecutors have been investigating this case since 2018. It involves Google misleading consumers about its user tracking and location data.
Manage Your Data on Google
Users can manage their Google data by getting their summary data in their Google Account. Here are the steps to do to find an overview of your data.
Step 1: Go to your Google Account.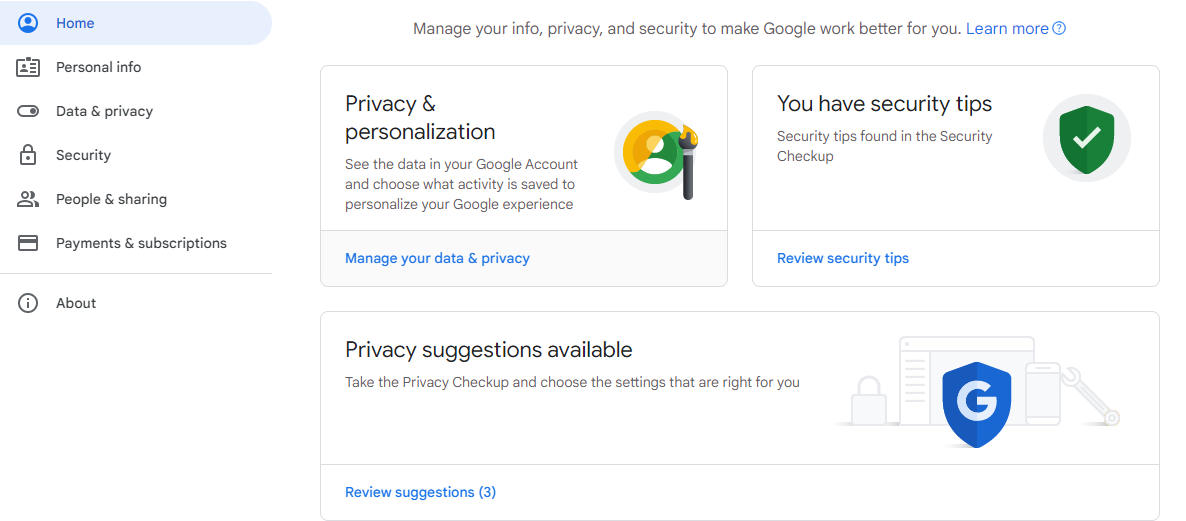 Step 2: Click the "Data & Privacy" under here, and select "Data from the apps and services you use."
Step 3: Go to Content saved from Google Services.
Step 4: Search the name of the Google services in your dashboard to find a more specific service. From here, you can save a copy of your data by clicking Download your data.
Step 6: You can also go to Settings and then Help Center for more information.
Google Alternatives
To avoid unwanted data collection, here are some alternative private search engines.
DuckDuckGo
DuckDuckGo is one of the most private search engines in the market. In 2020, there are more than 80 million users.
| | |
| --- | --- |
| Pros | Cons |
| Blocks Trackers | Limited Services |
| Offers Email Protection | No Personalization Options |
| Free | Inconvenient |
Startpage
Startpage is a search engine that allows users to choose when to block targeted and retargeting ads when turned on. It can be accessible just like the Google Chrome extension.
| | |
| --- | --- |
| Pros | Cons |
| No Search History | Works for Profits |
| No User Profiles | Inconvenient |
| Free | Collects Some Personal Data |
SearX
Searx is an open-source search engine inspired by the Seeks project. This search engine makes it easier to hide personal data by proxied direct links.
| | |
| --- | --- |
| Pros | Cons |
| Doesn't Track IP Addresses | Time-Consuming |
| Doesn't Save User Agents | Inconvenient |
| Free | No Relevant Contents |
Ecosia
Ecosia is known as the search engine that donates 80% of its profits to planting trees. This website is also safe if the user wants an alternative with a privacy-friendly search engine.
| | |
| --- | --- |
| Pros | Cons |
| Doesn't track and share location | Fewer Personalized Ads |
| Doesn't collect personal data | Limited Search Results |
| Free | |
Final Thoughts
Before using Google, users would need to set up an account to use the products of Google. The company uses these accounts to gather data.
Google is a search engine that collects personal data to improve the online experience. It would cater to your interest, from emails to ads and purchases.
Users can use Incognito to avoid Google collecting too much data. However, users can't be completely invisible while using Google.
FAQs.
---
Are my searches being monitored?
Google and your Internet Service Provider can track your searches. Thus, it's always best to use a VPN to encrypt your data for protection and privacy.
Can someone see me from my camera?
Someone can see you if your device has spyware. Anyone who can create spyware can use your camera for spying.
Should you always trust Google?
While Google has almost every data, it doesn't mean everything is trustworthy. Wrong data can always get past Google's algorithms, so be cautious and check the data you get from it.
Does Google track your incognito searches?
Incognito mode doesn't protect you from getting tracked online. Thus, Google still gets data from every search you make, and they can see what sites and services you visit.
Leave your comment
Your email address will not be published.
You may also be interested in.